PulpMX.com Fantasy Pick & Trends
Gotham puts a damper on scores.
After a one-week hiatus, Supercross returned to MetLife Stadium last weekend and it was kind of a weird day for racing, and fantasy. For a second consecutive race, weather somewhat played a part. The NY Metro area has experienced significant rainfall this spring, and the week leading up to the race was no different. This left a lot of speculation to be had regarding track conditions. The track itself was a weird layout, in that the first turn area almost doubled back on itself, and featured a long double that eventually had to be removed for safety reasons. The track also featured two very difficult whoop sections that definitely separated the field, and basically ended Eli Tomac's chances of winning.
Speaking of separation, that's exactly what MXDad725 did from the rest of the field! MXDad put up an awesome 300 point score, taking down the overall victory by nine points. MXDad had a fairly chalky lineup, and dodged a bullet by not picking Bradley Taft who scored zero points and had a 40% pick trend. He instead chose Jeremy Hand, who put up 46 points with a 1% pick trend. As we've pointed out before, this is all it takes sometimes to take down the overall.
MXDad's 250 team consisted of Jeremy Hand – 46 points, ARod – 42 points, Jace Owen – 30 points, and Mitchell Oldenberg in the all star slot for 26 points.
His 450 team featured the key combo of Henry Miller – 52 points and Josh Grant – 46 points. They put up the two highest scores in the class. He also had Justin Starling – 32 points, and Ken Roczen as his all star, for 26 perfect points.
Interestingly enough, for the second week in a row the overall winner did not choose a first lap leader.
Congratulations MXDad on taking the win!
Now, let's take a look at the rest of the scores.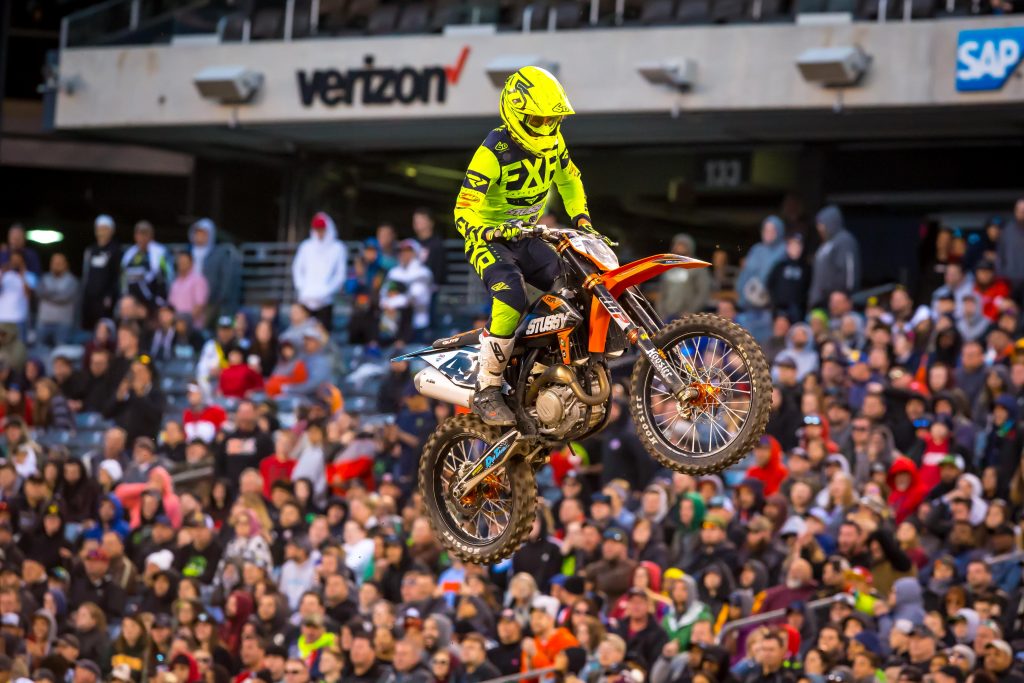 Most picked riders AKA "the chalk"
Some very high pick trend percentages again this week. The 250 class saw Jace Owen rocket past the 50% plateau and land in the rare air of a 61% pick trend! The class also saw significant focused ownership on ARod (7) – 41%, Bradley Taft (14) – 40%, and Chase Sexton (1AS) – 38%.
Henry Miller (16) had the highest pick trend in the 450 class at 41%. Henry was the layup – free square pick of the week. If you did not have him, you need to examine your process! Ken Roczen (6AS) – 34%, and Justin Starling (10) 32% rounded out the plus 30% crew.
Low owned players who delivered – AKA great contrarian play
As we stated in the overview of MXDad's winning team, Jeremy Hand (16) was a difference maker with his 46 points and 1% pick trend. The Mantua, OH native qualified 24th overall with a 56.8 second lap time. This was within a second of 16P qualifying Fred Noren.
Over the last few weeks we have seen this happen time and again. I'm surprised that Hand's ownership was as low as it was, given his 16 handicap.
James Weeks (16) had a great fantasy result for the second straight week; he scored 38 points for zero percent of team owners. We also saw Cade Autenrieth (9) and Justin Thompson (12) land 36 points scores for very few owners; Cade had a 5% pick trend, while Justin had zero ownership.
There were two standout riders in the 450 class, Theodore Pauli (16) snuck through with zero percent ownership after qualifying in 28th place and scored 38 points. We also had Ryan Breece (9) score 36 points for only 6% of owners after qualifying 23rd.
Fantasy Duds
Bradley Taft (14) made his first return to racing since Indy and it did not go well for him, or his fantasy owners. After qualifying 15th overall he wound up not qualifying for the main event. This took 40% of PulpMX fantasy teams out of contention for the overall this week.
Not much to report in the 450 class here, the highest owned rider to not deliver was ARay (7) who had a smallish 19% pick trend and delivered only 11 points via a 19P finish.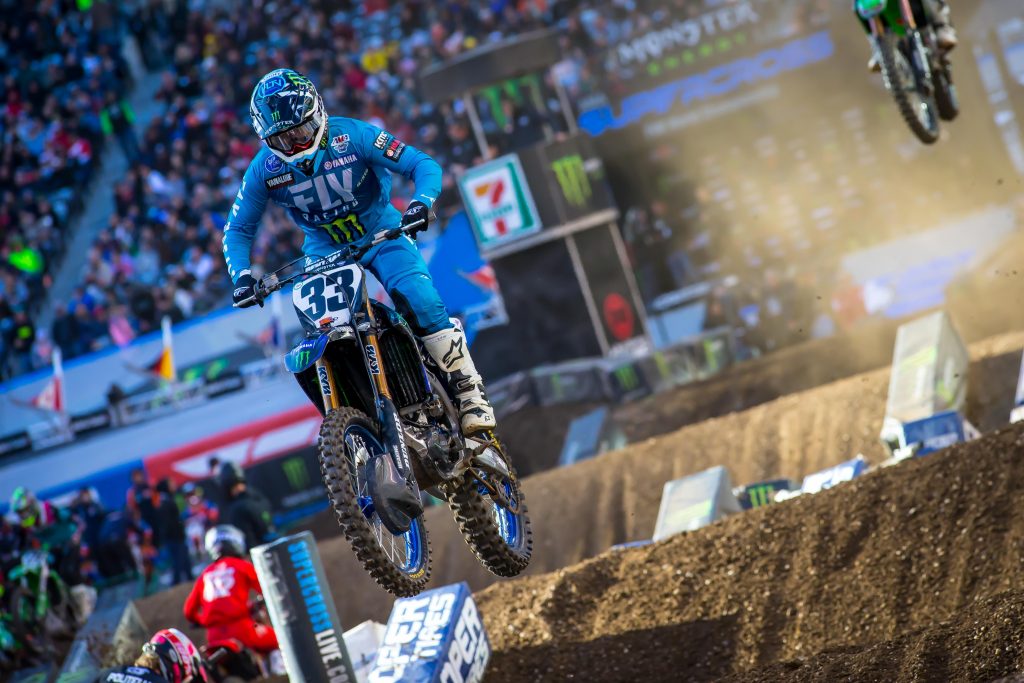 Fantasy Studs
 The big scores came from the big bores again this week! Starting with mucho owned Henry Miller (16) who put up 52 points for 41% of teams. We also saw Josh Grant (6) have a second great fantasy week, scoring 46 points via an 8P finish for 29% of team owners.
Anthony Rodriguez (7) makes his first appearance this season in this section. ARod put up a great 42 point score via a 10P finish for 41% of team owners. Congrats ARod on the great ride and score! He was the lone standout high score – high ownership % rider in the 250 class.
The 100% "Lead Pipe Locks"
The big four of Paul, Dan, Steve and JT were on air again this week and clearly chose their 100% Lead Pipe Locks. JT chose Jace Owen and Josh Grant for 76 points, Paul chose Owen and Justin Starling for 62 points, Steve chose Owen and the 722 for 30 points, and Dan went with Ramy Alves and the 722 for zero points.
Congrats to JT for taking down this week's 100% Lead Pipe Lock with a great 76 point score!
First Lap Leaders
The days of making a lock pick in the 250 East class are long over. This week 20.2% of team owners chose a first lap leader, and only 1% correctly chose the Troll Train – Alex Martin. I'm guessing that most of the picks were for Davalos.
First lap leader pick trends for the 450 class were average, 18% of team owners chose, with 22% correctly guessing Cooper Webb. Cooper has put down very strong first laps all season, so no surprise here.
 Final Thoughts – Vegas Picks
Holy cow, this season went by fast! We are down to one race left and champions will be crowned in all three classes.
Vegas will be a weird week to pick teams. Riders will have different motivations; some will definitely be going through the motions, while others will be putting in the full effort.
In the 450 class, I think Zach Osborne makes a great pick again this week, even with a -4 handicap. I also like Justin Bogle again this week; he will have a 1 handicap and is putting in a resume ride.
The 250 class is going to be tough this week as it's a shoot out. Over the last three races, Jordan Bailey has consistently finished between 8th and 10th place and will have a 7 handicap. I also like Enzo Lopes. He has had some very strong finishes on hard pack tracks this season and will enter Vegas as a 12 handicap.
Well that's it for this week. Thanks everyone for reading and playing this season. We will be back for the outdoors – Hangtown, if you didn't buy the package deal prior to the start of Supercross, please consider joining in the fun and signing up!
Also, please remember to support the PulpMX Fantasy sponsors when you shop for all of your off road, motorcycle and MTB needs.
Hope I see you on the leaderboard!