Daytime Program
Hangtown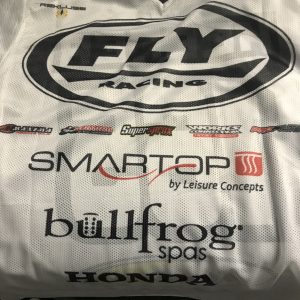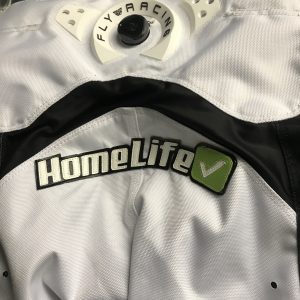 Where do I even start? It was a whirlwind few days up in Northern California for the Lucas Oil AMA Pro Motocross Series and since I didn't get to see much of the "Top 40" racing at Hangtown, let's break down a timeline for you all from the week up in Sacramento shall we?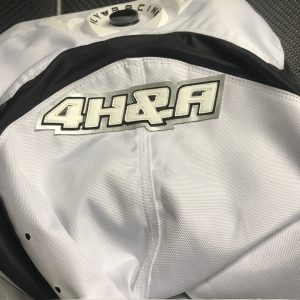 Weather: As you all know the weather played a huge roll this week and with Press Day getting pushed back until Friday so it made for a long couple days before the big day on Saturday. I am not used to sitting around for that long and with a couple days to kill before the actual race itself I found my ADD kicking in hard. Poor Mrs. Keefer has to wrangle me in when there is downtime.
Wrecked Ridgeline: So with the weather being crappy and Press Day getting cancelled we headed off to Whole Foods to get lunch on Thursday. As I am turning into Whole Foods another vehicle decided to merge into the same lane and we end up getting in a car wreck. Nothing as bad as Henry Miller, but nonetheless the Ridgeline was dented up and the other car had some nice sized damage across the side of it. The weekend is starting off great!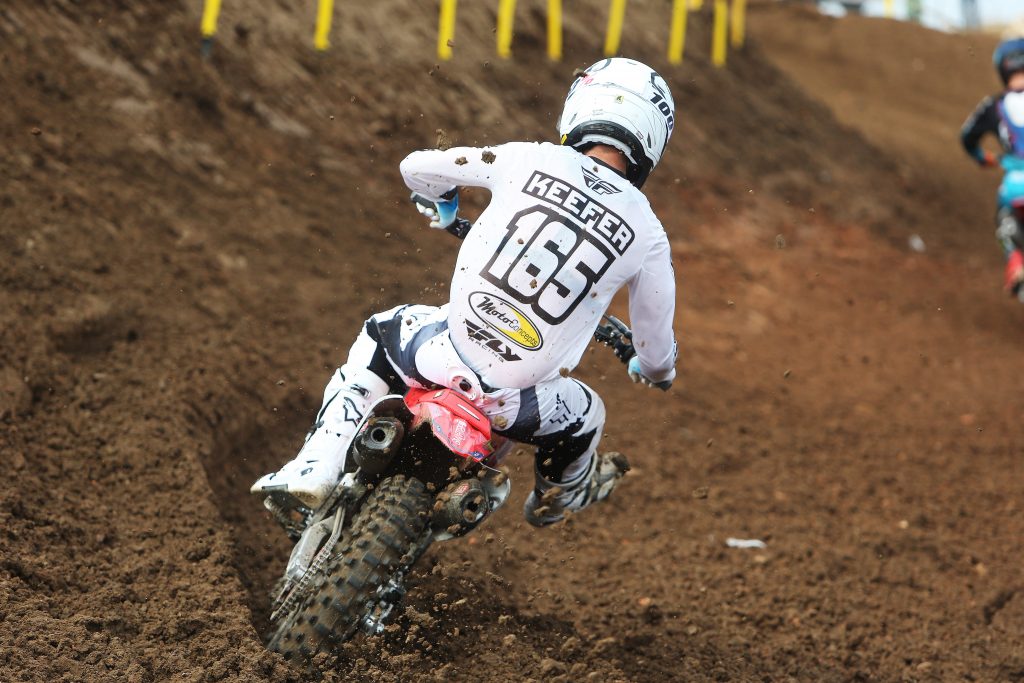 Press Day: We got a chance to ride the track Friday at 1:00 PM for thirty minutes and boy was it ever soft! When you see top riders dog paddling and falling over in corners you know you're in for a tough thirty minutes. I managed to get most of the obstacles nailed despite the conditions (besides the triple step up) and learned that whatever tracks I can practice on in Southern California does ZERO for me when it comes to riding a National track. More on this later…
Cooper Webb Run In: As I was setting up a short steep step up from the outside, I caught an orange flicker out of my left eye and then I was on the ground! What happened? As I picked myself up and looked to see what it was, I saw a #2 on the back of a Thor jersey. As pissed off as I was at first, I immediately laughed out loud and screamed "Thanks Coop for the initiation"! Yes, the Supercross champ sawed my front end off and broke my front brake line so my Press Day was done. However, after practice, when I was back at the rig, I was told that Cooper was out front and wanted to speak with me. As I walked out Cooper was sitting there and told me he was extremely sorry and that he got cross rutted and didn't mean to wipe me out. I responded with, "I thought you were just trying to jump me into the series the correct way". We laughed and he went on his way. I thought it was cool to have Coop come over personally and apologize as he really didn't have to do shit, but he did. That's bad ass and tells me a lot about his character.
Team Manager Update #1: It's Friday, we left the track and still no sign of him. I did have more people wanting to talk to Steve on Friday than me, so there's that.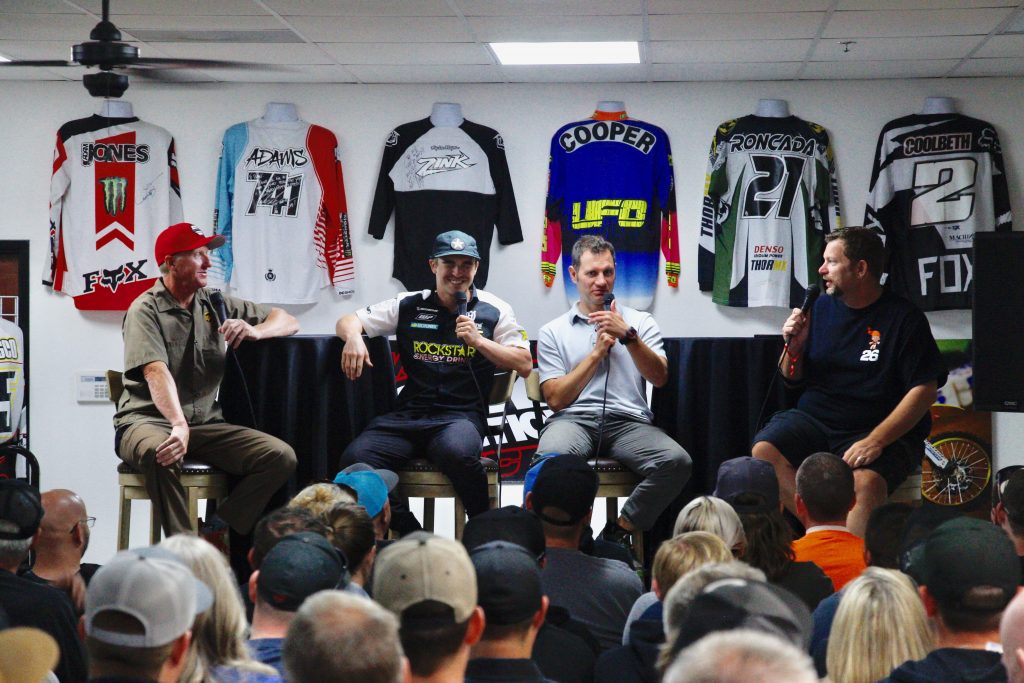 Pulp MX/Works Connection Live Show: Eric Phipps (owner of WC) and Steve put together an intimate live show at the Works Connection offices on Friday night, which was awesome! Heather, Aden and I arrived to around 100 or so people that were enjoying some food trucks, games, and bench racing about Saturday's race. Zach Osborne showed up, even though he's a title contender, has two kids, a wife, a lot on his plate, and gave us 30 minutes or so of his time. This dude is truly one of the best guys in the paddock. I managed to wear a UPS uniform on stage courtesy of Eric's buddy Scott much to the delight of the crowd, but maybe not Mrs. Keefer. If you don't know this inside joke take a listen to the Vegas Live Pulp MX Show and you'll hear all about it.
Friday Night (Night Before Race): I slept maybe two hours and got up to pee at least four. My brain must have went over the track at least 289 times. I felt fresh and ready for Saturday! NOT!
Qualifying: I managed to get into "A" practice and tried to lay down a "fast lap", but honestly the track was tougher than I could have even expected. Instead of picking between four ruts per corner I had about 14 to choose from, which overwhelmed me pretty hard. It's tough to explain how local tracks here in Southern California do nothing to help professional riders get ready for national caliber tracks (except maybe Pala). When landing off a jump I had to really concentrate on which line I was in and where it was taking me. If I was two feet off my landing on a jump I was in a completely different rut/line and it didn't feel the same as the other. This is something I struggled with and is one of the main reasons my "heaters" were frigid. I ended up qualifying 55th and was in the Consolation Race.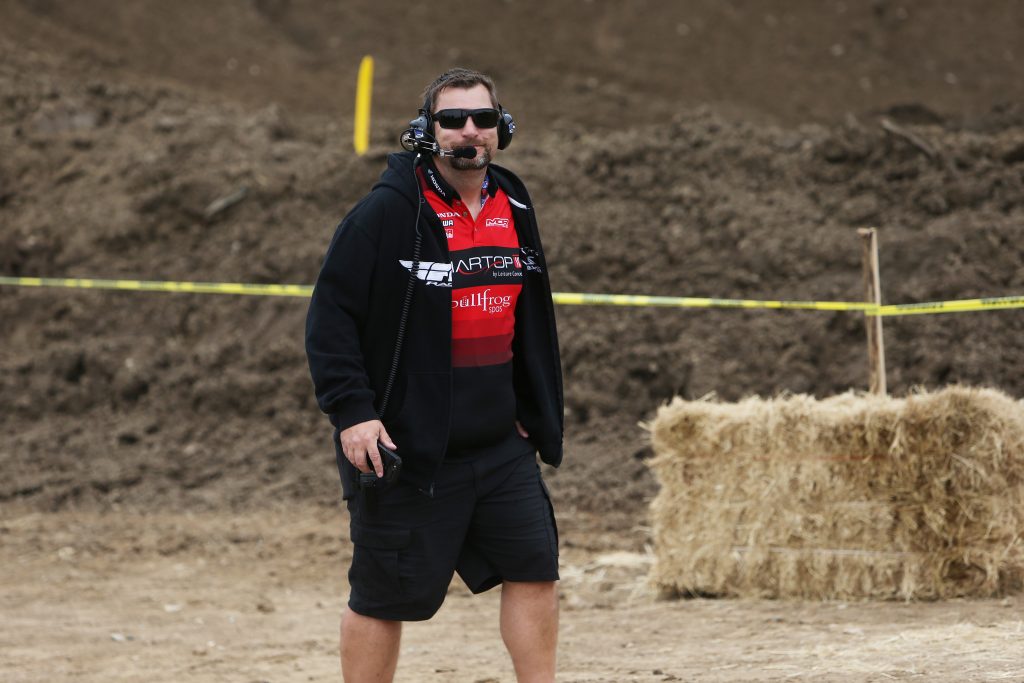 Team Manager Update #2: Team manger showed up on time, made sure the mechanics were good to go and let Heather handle my BS. Steve migrated over to Aaron a lot over the course of the morning as you can see he has a lot of that "sentimental mechanic mindset" attachment inside of him. Maybe crew chief instead of "team manger"?
LCQ Life: Aaron (my mechanic) and I had the 19th pick to the gate, but I knew my bike was fast so a start wouldn't be a problem. I got a great jump and was in around sixth to the second corner only to get bottlenecked up coming down the off camber hill. I ended getting 17th in the LCQ and had the ride of shame back to the pits.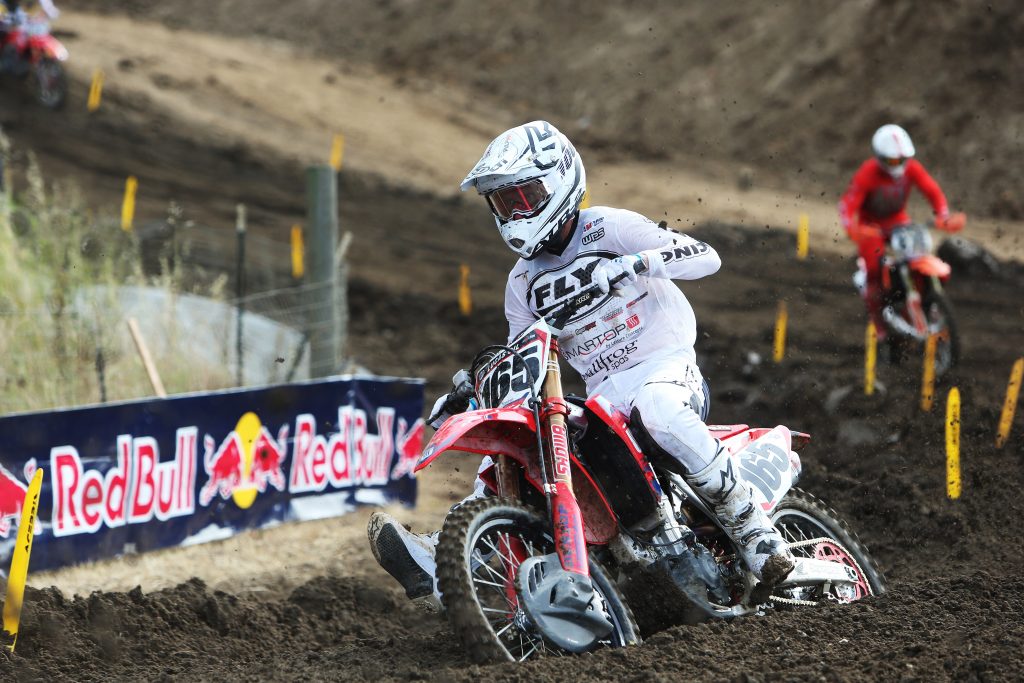 My Smartop/BullFrog Spas/Honda Race Bike: The riders on this team have a great package behind them and Chad at XPR really dialed in my bike for how I like to ride. There is not one thing that I would have changed with my engine as it was a much better bike than I deserved. Riding with Showa factory suspension is amazing and I probably could have pushed the bike a lot harder than I was. The Showa set would have been just fine and work better, but I have to untuck my weiner from between my legs, so I can actually use these bad ass bumps sticks to their abilities.
Aden Not Happy With Dad: I got chewed out by Aden because I didn't jump the triple in the LCQ. I had no comeback for him. Way to go Dad!
Fly Racing Gear: ALL WHITE GEAR!!!! THANK YOU MAX! I had some special buttpatches that Steve got made up for the weekend as well as a matching white 6D helmet and Tech 10 boots. If there was any kind of award from the weekend I would have nailed it if I would have qualified. But…
Team Manager Update #3: Steve is a man of few words as team manager and he wasn't in my shit at all during the day (when I was sucking it up). I am pretty sure he knew that I would beat myself up just fine, so no words were all he needed to get the point across to me. I think walking around with a headset on was the highlight of his day. I feel like a Supercross would have been a better choice for him than an outdoor national though. No glitz and glam in the outdoors people!
What Do I Really Think: I have always been a transparent guy to a fault so why stop now. Look… Am I bummed out? Of course I am. Am I on suicide watch? Not at all. I completely bombed my first opportunity, but it's not the end of the world. I let the nerves of a big race take over and I can learn from all of my mistakes from Hangtown. I have never been a true factory rider and I let the thought of everyone taking care of me put too much stress in my mind. I am the type of guy that hates getting birthday presents, Christmas gifts, etc., and to have Aaron, Cooler, Steve, Tony, Genova all do this for me was overwhelming. Instead of concentrating on what I needed to do I was worried about letting people down.
When Heather and I started this it was just going to be her, Aden and I and that is what I am used to, but was I going to let this chance of a lifetime slip by? Hell no, so I took this opportunity and I am learning from it. I am 42 years old and am still learning things everyday about riding technique, racing, testing, and more importantly life lessons that I never experienced at a younger age. I am a better rider than what I showed at Hangtown and I will go to Fox Raceway next Saturday and work on being better than I was a week ago. That's all I can do is try to be better the next time I am out there. I don't blame people for talking shit. I get it! I sucked, but this is the reason Heather and I wanted to go racing in the first place. We have a son that needs to learn how to handle adversity. You're not always gong to come out on top, so I need to be a father and teach him how to accept failures and move along so he can succeed. These two races are bigger than just "making the show". I also need to g back east more and learn to ride different conditions so I am more of a well rounded rider, not just a "west coast", local condition type of rider.
Special Thanks: I am fan of quality people and Eric Phipps (owner of Works Connection) and his wife Lynne are awesome. They let Heather, Aden and I come crash at their place for a few days and made us feel like home. Eric is not that usual pompous/successful business owner, yet is just the most down to earth, nice, well thought out dirt bike fan that just happens to own a very successful and well known business. Works Connection has been around forever and makes some of the best bolt on hardware parts for your motocross machine. His staff nailed the set up for the live Pulp MX Show and worked their asses off providing a great atmosphere for the fans that came out to watch. Thank you!
Special Thanks Part Two: I appreciate Tony Alessi, Cooler, Aaron, Nick, and Mike Genova for investing their time and money into all of this. They didn't have to come racing for these two rounds, but they did and chose me. That's pretty damn cool and I am grateful for the opportunity to at least show others the other side of our sport. This industry needs more teams like this to grow our sport as well as get more fans involved and invested in other riders besides the "top dudes". SEE YOU AT PALA!