Mount Morris/Latvia
I wanted to do something a little different this week since I was bouncing back and forth between the Lucas Oil AMA Pro Motocross from Highpoint and the MXGP from Latvia. I can never decide on which race I am going to watch first and then I find myself binge watching six hours of moto! I came back from testing on Saturday/Sunday, sat on the couch and studied both races/series and wanted to give you some thoughts on the weekend's racing.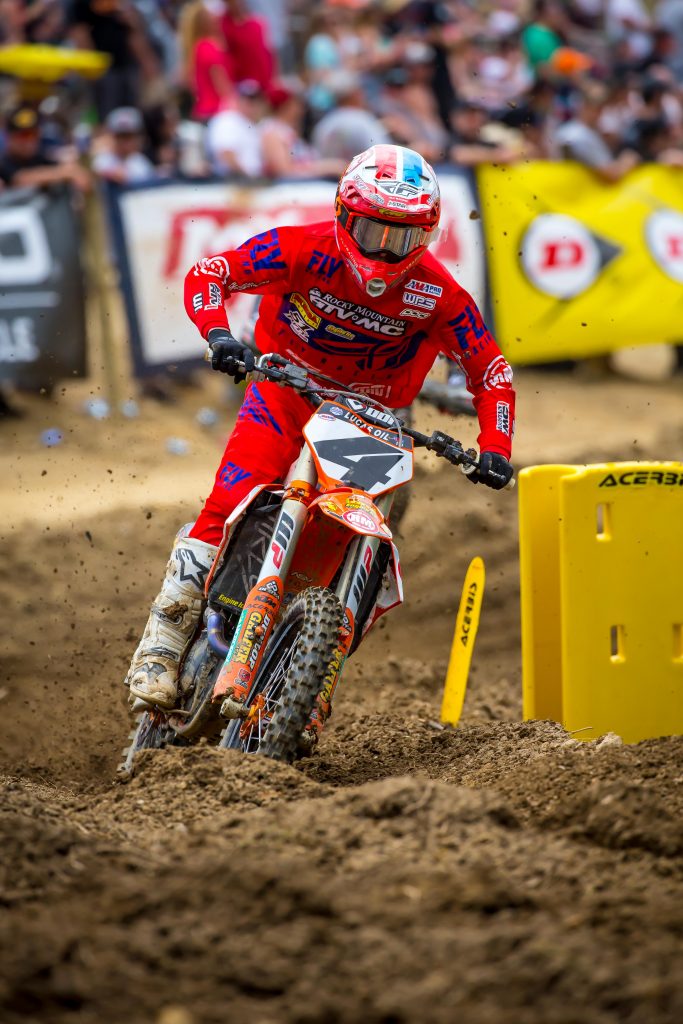 Blake Baggett: The ol' Chupachabra was back and he looked mean the first moto. The bad part about Baggett is I don't think he has that old Chupachabra Pro Circuit speed where he can just come through the pack and win a moto. The 450 class is a little different and it's much tougher to come from 10-12th to win a race. If BB4 gets a top three start you can put him in the category of "Tomac's Kryptonite" because he is that good of a rider outdoors. It's fun because I don't hear a lot about how good of a test rider BB4 is, but I do hear a lot of riders using Blake's set up when they seem to get lost with their own.
Ken Roczen: I am not going to sugar coat this for you all out there… The reason why you see a 6-1 from Kenny is simply due to going the wrong way on bike set up. Yep! If his bike is not set up correctly he will get a sixth. "Let's go back to my old setting". Boom! Win! This is the finicky nature of this Honda CRF450R. Don't let factory bikes fool you. If they are set up correctly they are a dream! If they are off, they are tough to handle and ride, just like the standard CRF450R production machine can be at times. I like that Roczen is never scared to speak his mind about his bike and will make drastic changes between motos. The team works hard on that machine to please 94, but when they get him happy we see rides like we did at Hangtown, Thunder Valley, and Highpoint.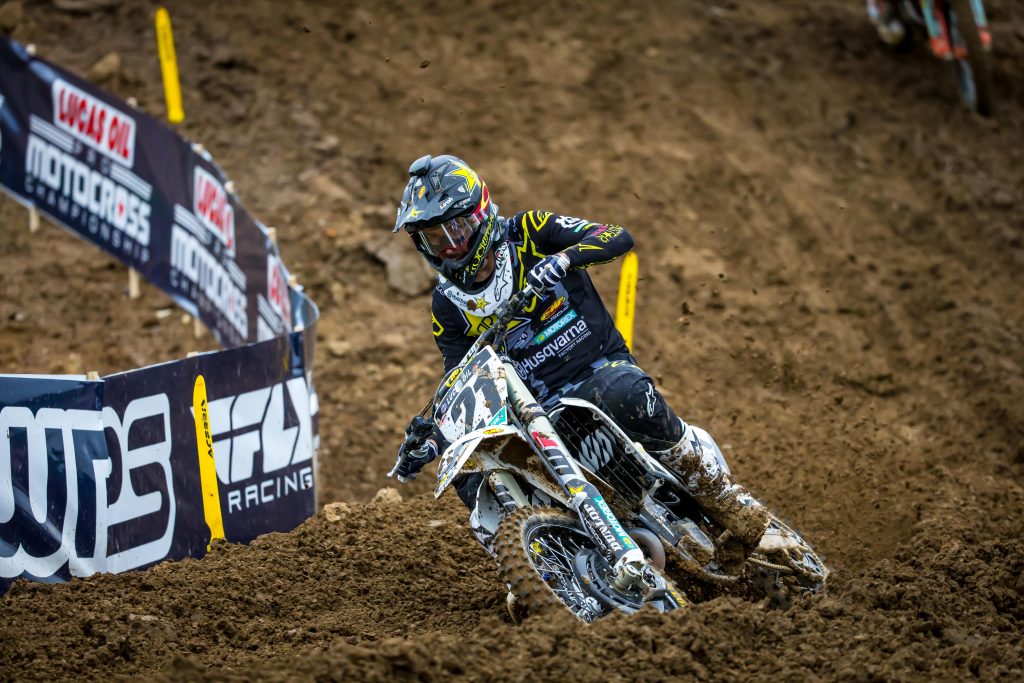 Jason Anderson: This guy is my favorite rider to watch attack the track next to Roczen. We haven't seen a rider move around on the bike so much since DV did back in the day, but to me Anderson is ten times prettier to watch ride than DV. I also have to give huge props to JA for getting up to speed so quickly after missing so much time from racing. Another podium for Anderson with a 2-5, but to me this is the most fun rider to watch on the track. While Roczen is beautiful to watch ride, he makes it look so deceivingly easy. Anderson just makes riding the track look like so much fun! When I watch 21 ride I want to go ride myself!
Zach Osborne: Then theres Zach-O… When you watch Zach ride you can see his heart hanging on the handlebars every time he's out there! The dude leaves it all out on the track and if you're not a fan of that I don't think you're a fan of motocross. Zach is a fan of the GP's in Europe of course, but I asked him what his favorite style/technique was from a GP rider and he said "Tonus". This boggles my mind as I can think of a few riding styles I would like have before Tonus, but maybe he sees something I don't. I will research and get back to you all on this…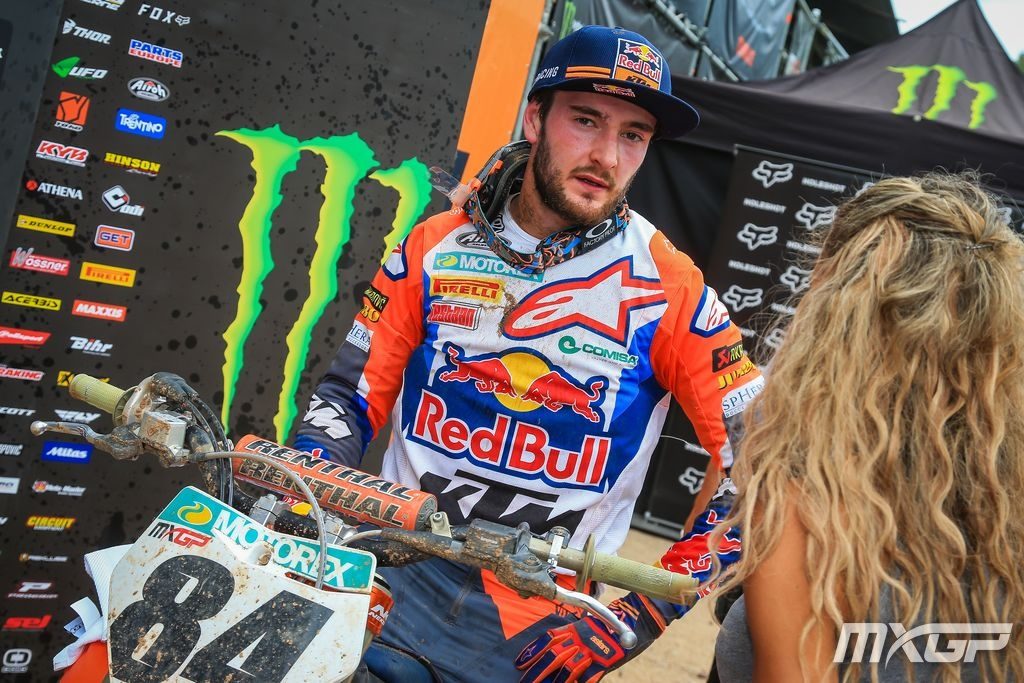 Jeffrey Herlings: Son. Of. A. Bitch. On the parade lap? COME ON! HOW? WHY? The series just lost another great rider. Again! Herlings crashes on the landing of a jump, on the parade lap, manages to line up for the first moto and comes back to win the moto! Then he bails to the hospital and tells us he's got a micro fracture in his ankle. When it rains it pours on this dude, which sucks because it would have been fun to see Cairoli, Herlings, and Gasjer all go at it!
Antonio Cairoli: It is so weird to see Tony make the mistakes he has been making lately. The "waves" have been eating up a lot of riders in the series and this week in Latvia it swapped out Cairoli. Tony was my sentimental pick this season because I love to see him beat up on the younger kids in the class. I honestly feel like he could have got the points lead back from Gasjer and won his tenth title. A separated shoulder is not something you just bounce back from in a week so the title looks all but lost for 222.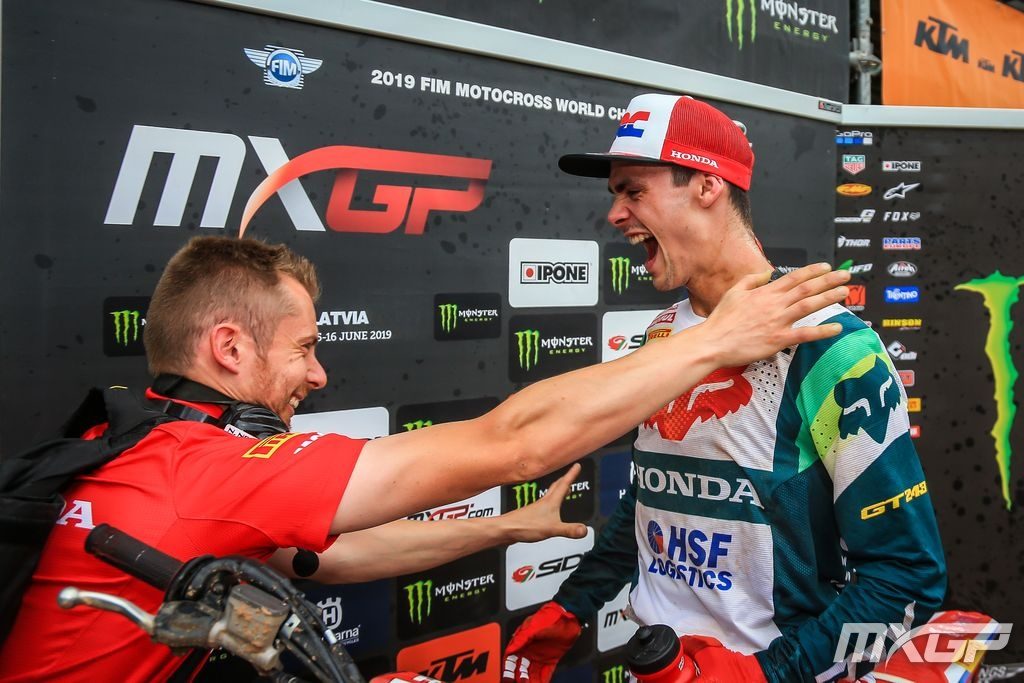 Tim Gasjer: Tim is not the best sand rider, but he has been improving that steadily over the years. Gasjer is like a Tomac, but on steroids. He is not scared times two and will come back from the gnarliest crashes I have seen! He's seriously like Gumby! Gasjer's Honda is nothing like Roczen's, but if Kenny had Gasjer's machine he wouldn't be going 6-1, I feel. The works Honda has a completely different frame, swingarm, and overall geometry that makes it much friendlier to ride than Kenny's factory bike here. If you have been watching the MXGP series closely this year look how much calmer Gasjer's chassis is now compared to round one and two. Things evolve quickly over in the HRC paddock in Europe and the turnaround for new parts is also much better than it is here in the states.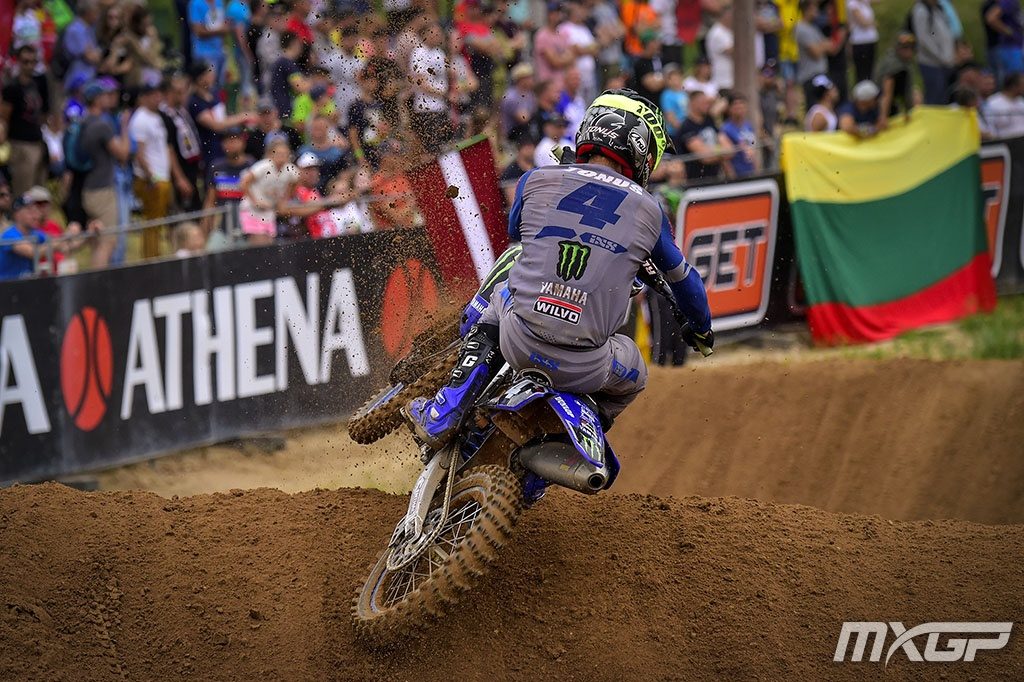 Monster Energy/Wilvo Yamaha MXGP Team: Insert puzzled emoji here. The Monster Energy Yamaha team here in the states have been struggling with results lately and I have heard that set up has been an issue for the riders. Well if it wasn't for Seewer, Febvre, and Tonus over in Europe the YZ450F wouldn't be looking too good. All of the Yamaha riders are fast and can take a win from Gasjer at any round. Especially Tonus right now! He has got some confidence and will win one soon!
Bike Set Up Between Each Series: Even though the tracks are much different in Europe compared to here, you can still see a lot of differences in the bikes. Our bikes are just naturally stiffer, which is what you need early in the morning while it's deep and heavy, but as the day goes on, our tracks harden up a lot and I feel our riders aren't as good at adjusting their bikes accordingly for the changing conditions. In GP's they have two days to get it dialed, which to me is easier to manage. With GP's the track is only deep Saturday morning for practice/qualifying and then it's basically like AMA/American second motos all say Sunday for their races. Our riders have to adjust their machines against a moving target (so to speak) all in one day so nailing a setting is much tougher for American riders than GP dudes.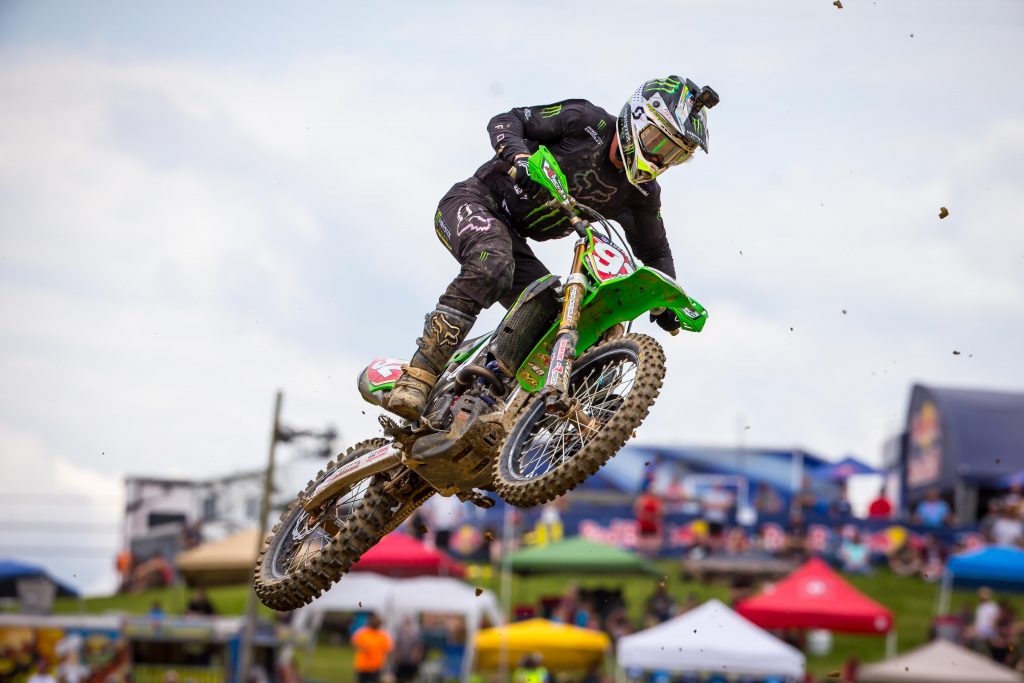 Adam Cianciarulo: He has won our in a row. Thanks Adam for the reminder! Just like we suspected AC is pissed off from Vegas and is now taking it out on every rider in this series. You got a lead in the first moto Hunter? No problem I will get second and win the second moto for the overall. There is no panic when he doesn't get the start and he looks like he is more calculated than he used to. It's going to be tough to beat AC as long as he stays upright and on two wheels.
Hunter Lawrence: I honestly didn't think Hunter would do this good this year, but to me he looks like he slowly building steam and could get an overall very soon. The trouble in Hunter's armor is his starts. He needs to be more consistent with his starts if he wants to challenge AC for these wins.
Chase Sexton: The Roczen of the 250 class. That's what I call him around our house. Sexton has a stye similar to Roczen where he stands up a lot and looks effortless. Rare for a young kid. Like unicorn rare. I suspect Chase to do really good in Florida next week!
Cameron Mcadoo: Come on! Hell yeah! The kid is driving Christian Craig's bus to the races the first couple rounds and now is racing for the TLD/KTM team! An 8-7 for seventh is a great way to show your bosses that you were the right choice! This kid has a great work ethic, is down to earth, and will literally ride the wheels off of the bike for you. Think about this: Cameron hasn't been around the "pro scene" that long. He is young and still very raw so he can still develop and be an asset to any team. You can "work with speed" people and MAC is a perfect example.