PulpMX.com Fantasy Pick & Trends
Southwick fantasy scores soar, despite Florida heat hangover.
What a crazy week for PulpMX Fantasy! Southwick delivered some huge individual scores, especially in the 250 class and a really interesting mix of pick trends amongst the high point scorers. It set up an interesting overall result as well, the weekly championship was taken down with a fairly high score (560), but nothing too crazy considering the volume of 70+ point scorers we had this week.
This week's overall winner is ChuckNorris! Heck yes, who knew the world's toughest man plays PulpMX Fantasy? Chuck took down the overall without mercy, besting second place by 18 points. Let's take a look at who Chuck had hiding in his beard.
250's: Chuck had the two highest scoring riders on his roster; this was huge, especially considering the ownership percentage of his top scoring rider. He chose Jerry Robin (18) – 100 points at 7%, Brandon Hartranft (6) – 94 points at 31%, local Jake Pinhancos (18) – 54 points at 28%, and Dylan Ferrandis (2) – 50 points at 41 points.
450's: Chuck's 450 team also featured the top point scorer, at an even lower pick trend. Chuck chose Coty Schock (17) – 100 points at 1%, this is really huge when you consider the second highest point score was 82 points. Chuck also chose local Chris Canning (12) – 52 points at 44%, Taiki Koga (18) – 52 points at 3%, and Justin Barcia (6) – 50 points in the all star slot at 17%.
Once again a team with a less than optimal lineup takes down the overall. As we have seen with other winning lineups over the last few weeks, Chuck avoided some high pick trend busts, and most importantly, landed on the low pick trend – high scoring gems, it was enough to get him to the top. Congratulations Chuck!
Now, let's take a look at the rest of the scores.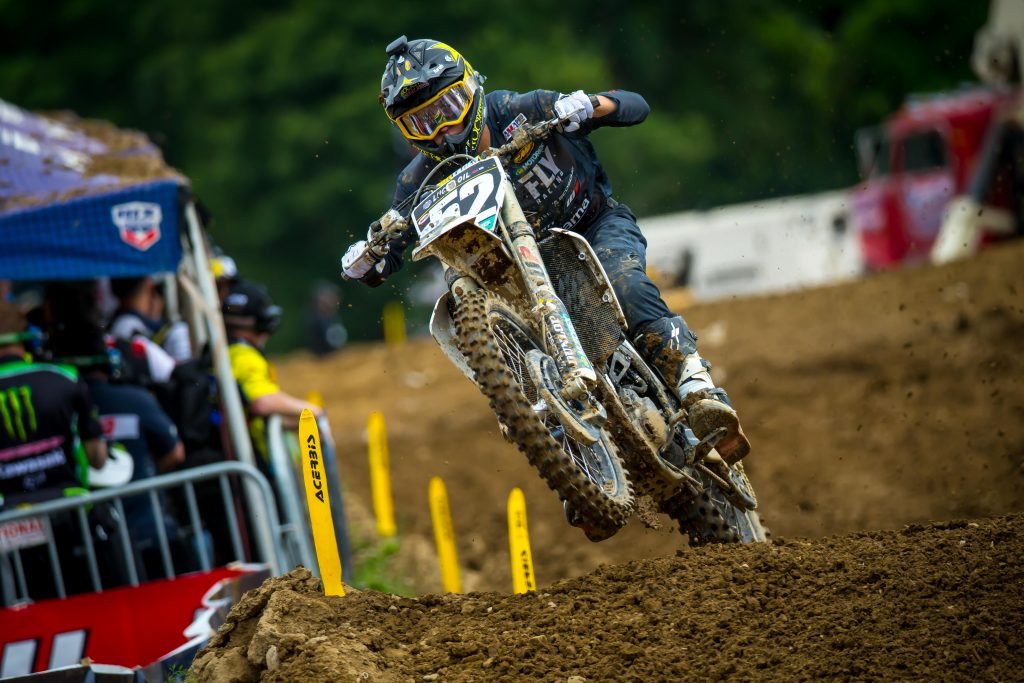 Most picked riders AKA "the chalk"
For the second week in a row we had three riders in the 250 class with >30% pick trend. Jordan Bailey (7) topped the 250's with a 42% pick trend then failed to deliver a good fantasy score, despite qualifying in 8P (more on this below). All star Dylan Ferrandis (2) followed at 41%, and Brandon Hartranft (6) – 31% rounded out the top three.
The 450 class only had one rider over 30%, New England local Chris Canning (12) looked strong in qualifying, landing the 13th gate pick, but didn't get good starts and could only manage 21-19 moto finishes for 52 fantasy points.
Low owned players who delivered – AKA great contrarian plays
Selecting a low pick trend – high scoring rider was crucial to Chuck Norris' success this week and he only managed to choose a few, there were others who could have made a significant difference. This included Ramyller Alves (16) – 94 points at 3%, We also saw Nick Gaines (13) who qualified 19P have a good day at Southwick with 86 points at 5%. Finally we saw Cameron Mcadoo (3) put up 66 points at only 6%.
450 class: Ryan Dowd, was the highest scoring local at the Wick. He qualified in 30P then went out and put up 16-24 moto scores for 21OA. This was good for 76 points at only 7% pick trend. Aaron Lampi is another "local" from NY, he qualified 25th, right in that high scoring sweet spot we like for 18 handicaps, then put up 24-22 moto scores for 66 points at only 1%.
 Fantasy Duds
Who had you screaming at your iPhone this week? There were a few! Rockstar Husky's Jordan Bailey arrived in Southwick not fully recovered from Florida and it showed in his results. His day started well, qualifying in 8P and went downhill from there, his 15-18 moto scores only netting only 36 fantasy points at a 42% pick trend. We also saw Derek Drake (8) fade badly. The KTM TLD rookie managed only 14 points at 29%.
Just like the 250 class, the 450 class highest pick trend rider did not have a banner fantasy day. Chris Canning's 52 points may not sound horrible, but it was just barely in the top ten for fantasy scoring. Definitely a tough hit for 44% of team owners.
Fantasy Studs
 Brandon Hartranft (6) tops the 250's this week. He looked great all day, qualifying 10th, then put up 7-8 moto scores for 7th OA. This was good for 94 fantasy points, making 31% of team owners very happy!
The 450 class did not have a thirty plus percent pick trend rider with a huge score, but I did want to give John Short (10) a mention here as he had a solid day, scoring 82 fantasy points at 26%. This was good for the second highest fantasy score in the premier class, behind only Coty Schock and his perfect 100.
The 100% "Lead Pipe Locks"
This week we had JT, Dan, Paul, and Steve make 100% Lead Pipe Lock picks on the podcast.
JT: Mitchell Oldenberg and Benny Bloss – 70 points
Dan: Ramyller Alves and John Short – 176 points
Paul: Derek Drake and John Short – 96 points
Steve: Yusuke Watanabe and Benny Bloss – 36 points
Congratulations to Dan for taking down this week's 100% Lead Pipe Lock expert pick with a new record – 176 point score!
First Lap Leaders
Last week we noted that Justin Cooper has been a near lock for first lap leader in the 250 class and judging by the correct pick percentage, nearly everyone had him. The percentage of teams who chose an FLL remained average, at 58.3% with only 6% correctly choosing Adam Cianciarulo.
The 450 class saw 52.1% of owners choose, with only 8.7% correctly selecting Zach Osborne or Marvin Musquin.
All Stars
Another average week for all-star performance, the 250 class saw three of eight riders, Dylan Ferrandis, AC, and RJ Hampshire achieve a perfect 50 point score. Lowest scoring all-star that lined up was Chase Sexton with 12 points.
The 450 class also had three of eight get to fifty, Cooper Webb, Zach Osborne, and Justin Barcia landed perfect scores, with Ken Roczen having the lowest at 26 points.
Final Thoughts – Red Bud!
The series move west to Red Bud this week, and I think we have to give consideration to the physical health of riders who struggled in Florida and last week at Southwick. Personally, I am going to avoid guys like Ken Roczen, Chase Sexton, and Jordan Bailey until they show that they are recovered.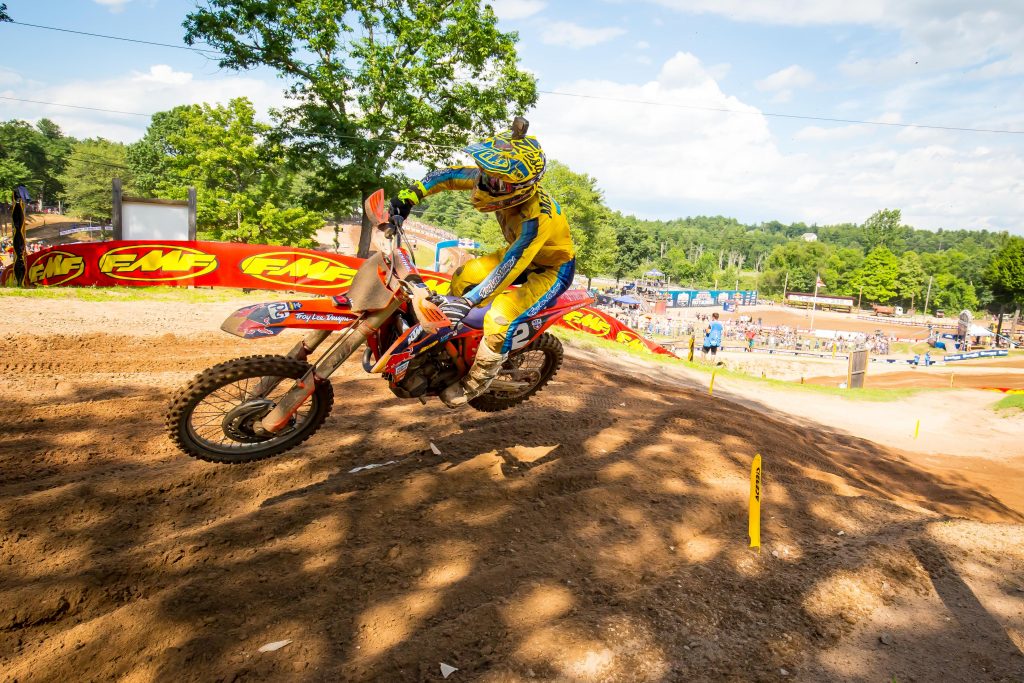 Shane McElrath is trending up of late. He netted a top 5 finish at Southwick and had been a consistent top 5ish rider at Red Bud. Over his last three races there he had gone 4th, 8th, and 5th overall. He is still double points eligible this week at a zero handicap.
I would also keep an eye on Cameron Mcadoo. The Red Bud local has finished top ten in 2 out of three races this year and will be double points eligible at a 2 handicap.
For the 450 class, I think there's still some value left with Fast Freddie, he is 2x points eligible with a 1 handicap and very capable of running in the top 7, giving him a solid point total and good base for your team.
We will also see the return of Dean Wilson at a 2 handicap. It's been a bit since Deano lined up, so it might make sense to give him a week, we shall see!
Finally, Justin Barcia makes a solid 450 all star pick at a 6 handicap. His last three overalls at Red Bud were 3rd, 5th, and 4th. There's no reason for that trend not to continue.
Well that's it for this week, please remember to support the PulpMX Fantasy sponsors when you shop for all of your off road, motorcycle and MTB needs.
Hope I see you on the leaderboard!