Going with the theme of "refinements" like a lot of manufactures are doing for 2020, Honda introduced the new CR450R at Fox Raceway in Pala, California last week. Minimal changes were made to Honda's flagship motorcycle, but we had a chance to put those refinements to the test over the course of a few days and here is what are initial impressions were of the latest CR450R. We will be getting you guys some recommended base settings along with more tips and tricks in a couple weeks as we put more time on the red machine. If you want to learn more about the 2020 Honda CRF450R, listen to the RMATVMC Keefer Tested Podcast and actually hear my thoughts, instead of just reading them. 
New For 2020: 
The battery position is lowered by 28mm to move the center of gravity downward in order to try and improve chassis balance/handing. 
All new Honda Selectable Torque Control with three levels of intervention; three mode HSTV monitors rpm spikes and responds by temporarily reducing torque to aid rear traction; a separate switch accesses revised mapping for riding modes for simple tuning depending on rider preference or course conditions. 
Revised internal fork and shock settings to help with chassis balance while trying to combat pitching (off-throttle). 
New rear brake pad material for improved performance, increased durability; elimination of lower rear brake rotor guard improves heat dissipation reducing unsprung weight.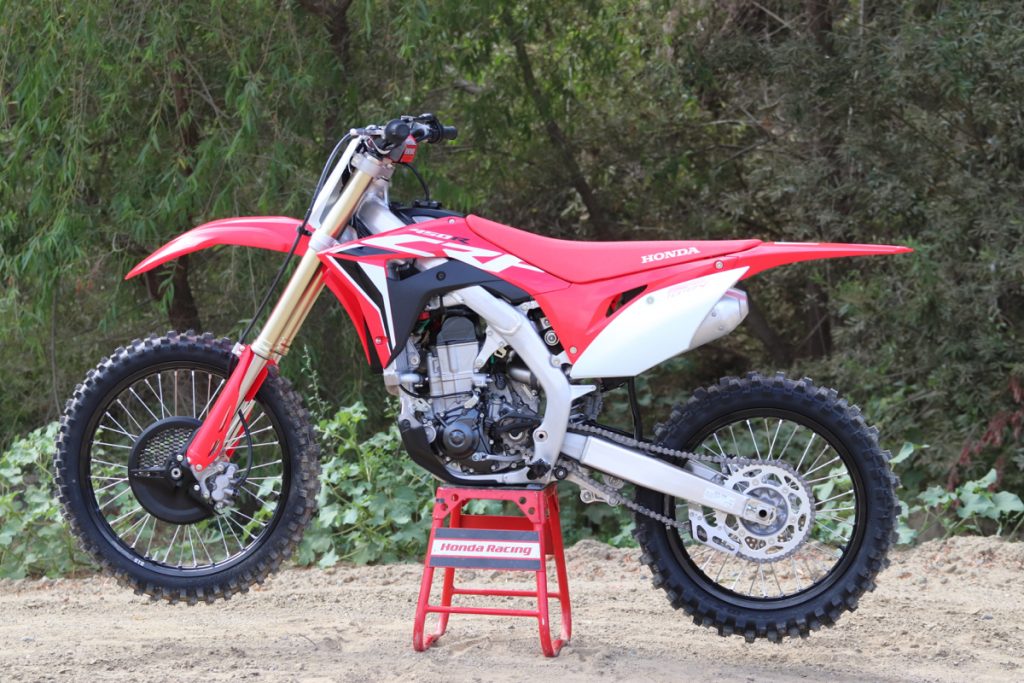 On Track Feeling:
The engine on the 2020 CRF450R rolls on slightly smoother than the 2019 in map one, but still has plenty of excitement coming out of corners. The 2020 still could use a more linear pull down low for novice type riders though. If you lack technique through corners, do yourself a favor and ride the Honda CRF450R in map 2. Trust me, you will be much happier. You will find a noticeable difference in the CRF450R's mid to top end power pulling power (with the 2020 mapping). It is slightly longer than 2019 and can let you become a little lazier with your shifts. The 2020 CRF450R can be left in second and third gears longer than the 2019, but just know that second gear is strong and can tire you out quicker. The benefit of having all that bottom end power is you'll be able to ride the CRF450R in third gear through corners, which can lighten up the workload a little in longer motos. If you're a heavier or gnarly dude head on over to map 3 and enjoy the harder hit than you had in map 1. Last year's engine character was snappy and fun, but lacked some control down low, but for 2020 the red bike has a little more control which helps the chassis balance. Don't worry on paper it's the fastest bike (peak horsepower) in class.  
The 2019 CRF450R chassis still needed some help because of its aggressive and stiff nature. The 2020 ECU mapping has calmed down the CRF450R's chassis slightly, which is great thing for you future buyers! You can have the fastest engine in the world, but it isn't going to mean anything if the bike or rider can't handle it right? The rigidity balance on the track hasn't changed much for 2020, but the slightly smoother engine character doesn't bind up the chassis as much under heavy throttle. The 2019 felt harsh when the track got hard packed and choppy, but the 2020 frame feels like it flexes slightly better because the engine delivery is chilled down a bit. With these ECU changes Honda made in 2020 the chassis feels like it sticks to the ground a little better on throttle while accelerating down the straights. 28mm doesn't seem like a lot, but with the battery box lower this does translate on the track while entering corners. All three riders that we had testing the 2020 bike against the 2019 noticed the "tip in" was easier on the 2020. Your initial lean doesn't feel as heavy on the new Honda and the bike falls into corners even better than the 2019 did. The CRF450R is already one of the best cornering bikes and with this change for 2020, it helps this even more.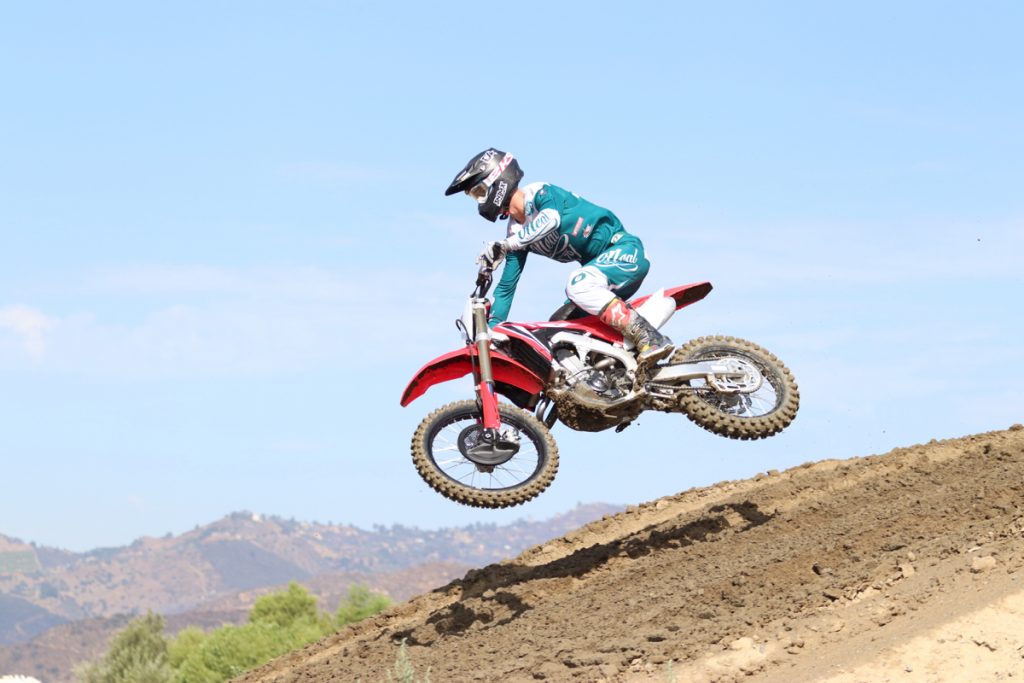 The CRF450R's suspension holds up higher in the stroke for 2020 and gives the rider decent comfort on the small chop, but don't expect it to be better than the KYB suspension that comes on the Yamaha. All three riders that tested this bike (165, 170, 175 pounds) went stiffer on the fork to help the Honda from diving under heavy braking. Even with the fork changes Showa made for 2020 we still wanted some more hold up. If we rode the CRF450R around at 80%, the fork had enough comfort and hold up, but when pushing the bike hard the fork needed some added performance. Once going a little stiffer (compression) and slower (rebound) the front end felt calmer and allowed for a more aggressive riding style. The shock has a ton of comfort initially, especially coming out of rough/choppy corners, but on heavy g-outs or steep jump faces the end of the stroke is empty (soft) feeling. Going stiffer on high speed compression a quarter turn will help hold up and prevent you from going to the chiropractor later that afternoon. We ended up going with a 105mm of sag as that pleased all three riders and left them with the best balance on and off throttle.  
Does The Honda Selectable Torque Control Work? Yes, that's right you have another three modes to play with on the Renthal Fatbars now! These three modes actually can come in handy in slippery conditions and can even further customize the engine delivery for less experienced riders. Mode one is for track conditions that still have some moisture and traction, but can get slippery on exits of corners, mode two is for conditions that are slippery in most areas of the track, and mode three is for a track that is hard packed or very slippery in all areas. We messed around with all three modes and a couple of our riders came away pleasantly surprised. The track we were riding wasn't extremely slick at the end of the day, but having the ECU in map one along with the HSTC on in mode one; the CRF450R felt more stable and planted to the ground than it did at the beginning of the day, when the track was semi fresh. Two out of the three test riders thought it was an advantage and our fast pro moto guy (Colton Aeck) didn't think it did much for him. This is something that we will test more and will get back to you with in a future RMATVMC Keefer Tested Podcast.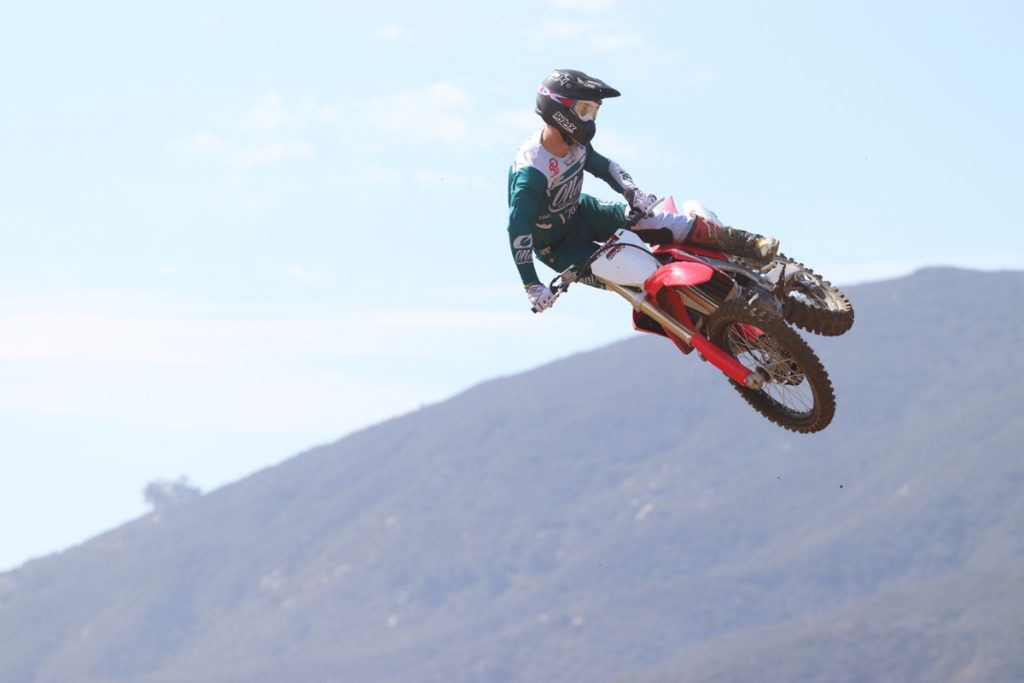 Something about hopping on a Honda and feeling comfortable right away is almost always unanimous with every rider that gets on one. I even overheard other media outlet testers saying that the Honda has the best cockpit (rider triangle) out of any other bike available today. Honda did a great job with the seat to peg to handlebar measurements. Other manufacturers take note please. 
As usual I will be completely honest… I didn't notice any performance enhancements in rear braking or the "unsprung weight" Honda tells us they saved weight with the removal of the rear plastic disc cover. Plastic cover be damned! We no longer need you! Boom! Marketing team unite! Unsprung weight!  
I get a lot of emails asking these two questions so I will save myself a few of them by answering them right here… -KK
Is it worth getting a 2020 Honda CRF450R (compared to a 2019)? If it is a matter of saving you a couple thousand dollars? No, get yourself a fresh 2019 and use that money you saved to get your ECU re-mapped or better yet get a Vortex ignition done up by Chad at XPR Motorsports and thank me later. If it's a matter of a thousand dollars or less than get the 2020 because the mapping alone is worth that much.  
Keefer…Is the 2020 CRF450RWE worth the extra money compared to the 2020 CRF450R? I don't know yet… Give me another month, so I can ride the "WE". Chill down… 
Come on back to keeferinctesting.com and pulpmx.com in a few weeks for a full breakdown of settings, tips, and tricks to make this 2020 Honda CRF450R even better.