After spending a day sweating my cajones off in the sweltering southern Maryland heat these are my burning thoughts on the top five in both classes at Budds Creek.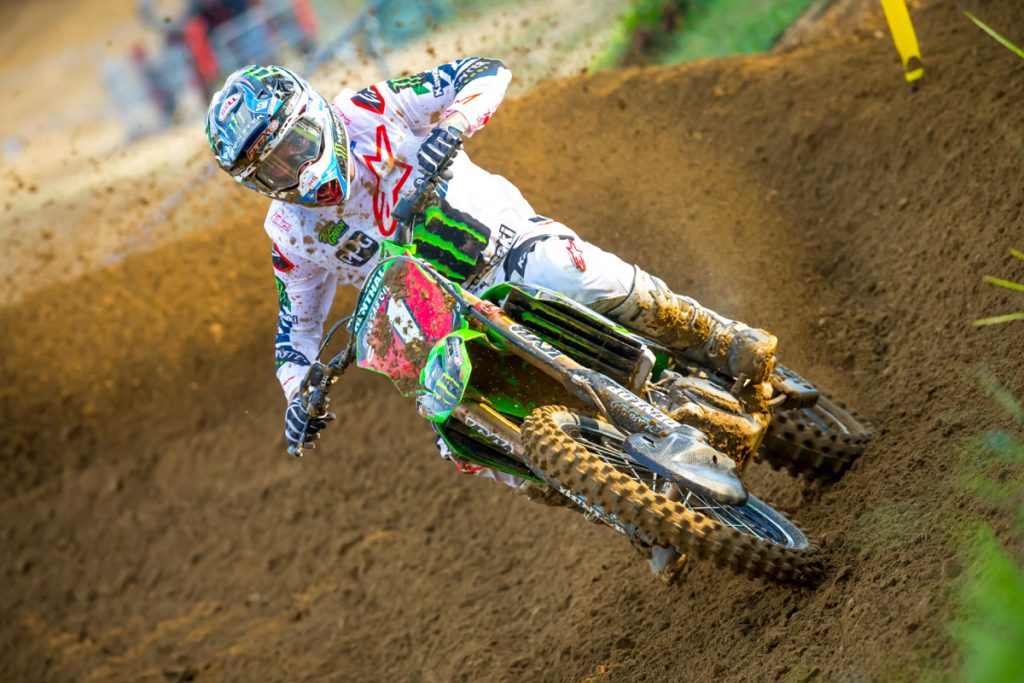 1st Place 450 – Eli Tomac: Riding rating (10 Bob Gnarly out of 10) Gear rating (5 out of 10) Amazingly, I have actually liked most of Eli's normally whacky Alpinestars gear this season. The purple and green sets were actually pretty sweet but this white stuff was a bit boring IMO. 
If you follow me on social media you probably already know that I am not the biggest Eli Tomac fan. I was always a Ryan Dungey guy and with the Dunge gone, I have had to switch my affection to Carlos' new charge, Cooper Webb. While I respect Eli's undeniable talent, I find his personality to be somewhat cold and his all-over-the-place results to be head-scratching. He does not drive me to distraction like RV's constant beat-downs of Dunge did, but he also does not endear me with much affection.
Love him or hate him, you have to respect his ability and accomplishments. Three straight 450 Motocross titles are nothing to shake a can of chain lube at and he really earned the win that gave him the title at Budds. It was hotter than Hades and muggier than a Mississippi swamp-romp and he just wore those guys down. Kudos to Eli and Kawasaki on a well-earned third-straight outdoor title.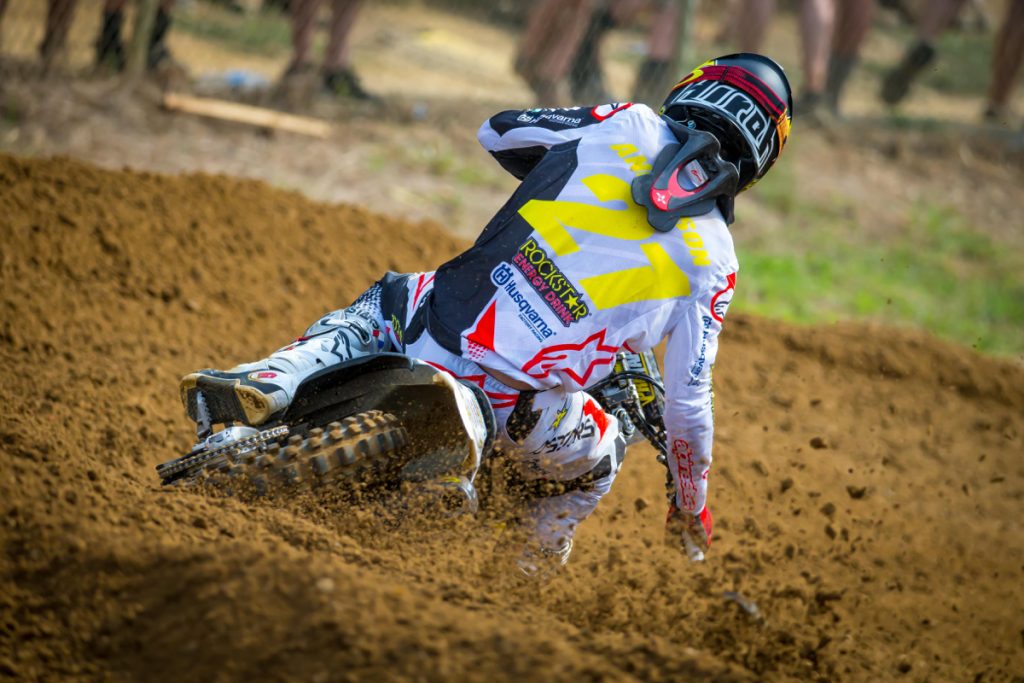 2nd Place 450 – Jason Anderson: Riding rating  (7 pseudo-Swedes out of 10) Gear rating: (5 flapping jerseys out of 10) 
Jason Anderson is another guy I have never connected with. On paper, I am not sure why, because he seems like a funny and easy-going kid. Early on, I was not a fan of his propensity to torpedo guys for no apparent reason and maybe I have never gotten over this bias. Regardless, I have started coming around on El Hombre. His hard charges this summer and his willingness to represent his county at the MXoN have raised his stock 66% in my book. He is fun to watch and I love how creative he is on the track with his choice of lines. Next year I may have to consider myself an Anderson fan. 
3rd Place 450 – Marvin Musquin: Riding rating  (7 consistent croissant connoisseurs out of 10) Gear rating: (8 purring kittens out of 10)
The likable Frenchman rode consistently at Budds and put in a solid 3-3 finish in the Maryland heat. While certainly good, that was not enough to keep Tomac from clinching the title once again. As he has been the last few seasons, Marv was just too slow to get going and too erratic in his results. Win, crash, get pinned under a bike…repeat.
 Basically, that has been the story of Musquin's US career. Fast at times, but prone to bad luck and oddball finishes. If he is ever going to get that elusive 450 title, he is going to need to figure out a way to avoid those off weekends and keep it near the front every week.  Maybe next year.
On a more cheery note, Thor finally seems to have come out of their post-Reed funk and started to offer gear actually worth wearing. For the first time in years, they have a lineup of gear that does not make me scratch my head. No offense if you like kittens, but that stuff was a hard pass for me. The yellow Pulse Pinner gear that Marv was rocking at Budds was really clean and nicely colorful. It popped on the track and made Marv stand out as he blasted by.  Aside from the pink Fast Boyz gear (more on that later), the rest of the 2020 lineup is far cleaner and less psychedelic than in years past and a solid improvement in my book.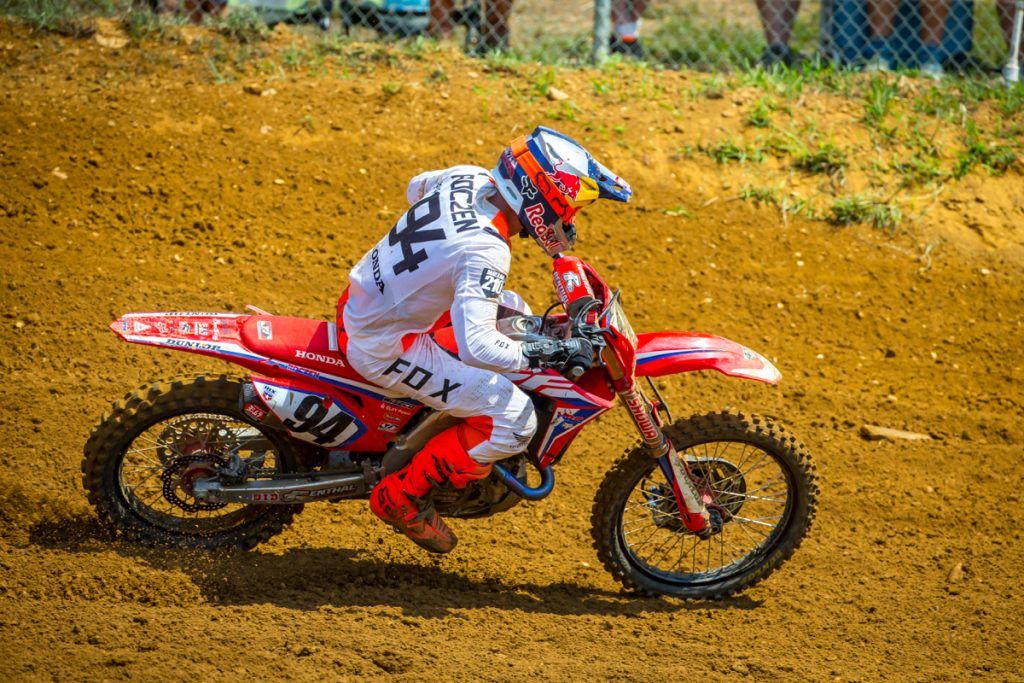 4th Place 450 – Ken Roczen: Riding rating  (6 delirious Deutschlanders out of 10) Gear rating: (9 dapper Deutschlanders out of 10) 
Ken is one of my favorite riders on the circuit and I was so hoping he would follow up his fantastic Unadilla ride with another sweep at Budds. After he took the pole in practice, I still had a glimmer of hope, but the super-hot conditions had me worried. Even at the start of the first moto, I thought it might be Ken's day, but as Eli slowly walked away my hopes were dashed. In the second moto, things got even worse as Zee German hit the proverbial wall and faded from second back to seventh. On the bright side, at least he looked super sano doing it in his 2020 Fox duds.
I love Ken and I sure hope he can get whatever medical thing is going on with him sorted out by next year. I went through a similar medical deal about five years ago and it took me a year and a half and half a dozen doctors to finally get things sorted. Diagnosing a person is not like diagnosing a car and I think people who have gone through medical issues understand just how little the doctors actually seem to know at times. Sometimes, it is just getting lucky and finding the right doctor and occasionally that process can take years. Hopefully, Kenny can find that guy (or girl) and get things back to 100% for 2020.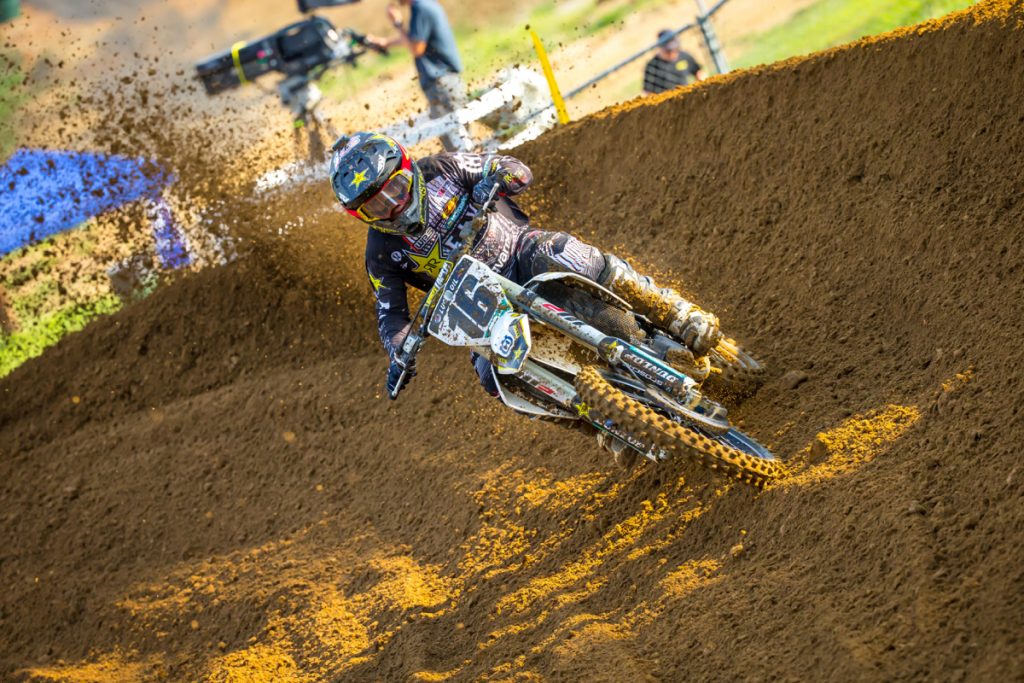 5th Place 450 – Zach Osborne: Riding rating (6 great American patriots out of 10) Gear rating (9 Fly white guys out of 10) 
I've been hoping for another Southwick performance out of my fellow Virginian for a month now, but he has not been quite the same since his crash. A 4-4 is certainly nothing to sneeze at, but another win would have been awesome. Zach's red Fly gear looked great out there and was a welcome change from the boring white Rockstar gear his teammate was wearing. Personally, I love the monochromatic look Fly has been going for the last couple of years and this kit looks great against that Husky.  Here is hoping Zacho has saved up that win for Team USA in Assen. USA! USA! USA!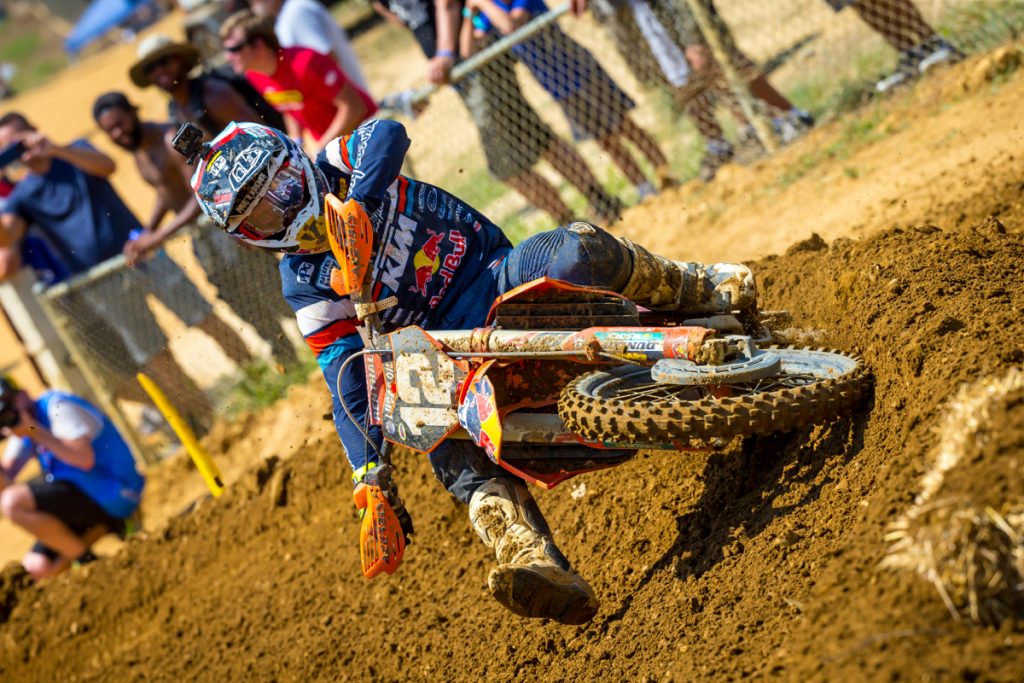 1st Place 250 – Shane McElrath: Riding rating (10 WTF just happened out of 10) Gear rating (6 out of 10)  Not bad, but I liked the fruit-stripe gum colorway much better.
Wow, just wow. What the heck did I just watch? Where has this guy been all season? This victory was a bit like Cooper Webb's at Spring Creek, minus the muddy conditions to sort of explain it. Yesterday was dry and beautiful (except for the heat) and Shane just waxed these guys like he had been doing it all season. 1 effing 1…weird. 
If he had been leading motos and finishing on the podium all season I might have seen it coming, but this was literally out of the left field. A few weeks ago I was worried about Tyler Keefe drinking a pint of Troy Lee's paint thinner, now his team is on top of the world. Like I said…weird.
The question is, was this a breakthrough, or just one of those days? Like Brian Swink at High Point in 1991 where we will look back later and say "hmm, that was odd." Personally, I don't see Shane going on a tear and waxing everyone next week at Ironman, but who knows. Maybe he will get on that Yamaha in 2020 and kill everyone. It could happen, but I doubt it.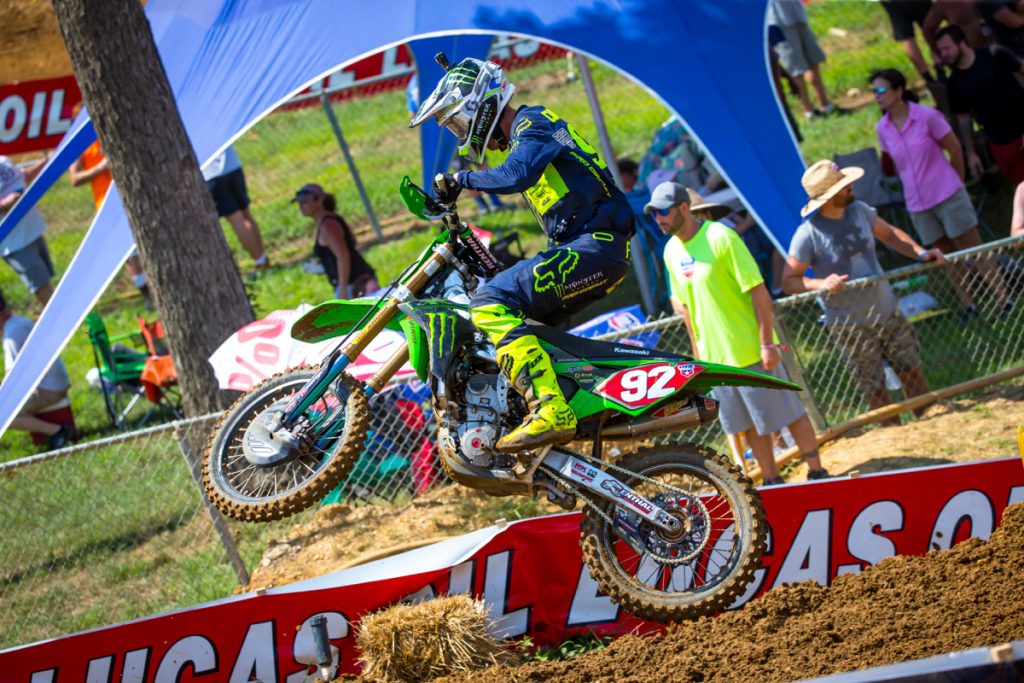 2nd Place 250 – Adam Cianciarulo: Riding rating (7 pressure cookers out of 10) Gear Rating (5 out of 10) Not my favorite of the great Fox gear the team has used this season.
Under normal circumstances, I would rate a 2-5 day as a fairly pedestrian performance from a potential champion, but its crunch time now and all Adam needs to do is protect his commanding points lead. Yesterday that is exactly what AC did on his way to second overall.  Heck, he even padded that lead a little bit with Ferrandis' first moto fourth. Early on, I thought he was going to pass Ty Masterpool and walk away from the pack, but he pushed it a bit too hard on one of Budds' many off cambers and crashed. From there, he had to fight to get back to second and forget about catching the reincarnated McElrath out front.  Considering the points situation, Adam had a great day and if he can duplicate it next week, he will have a much-deserved 250 National Motocross championship to add to his many amateur titles. Personally, I really hope he does it.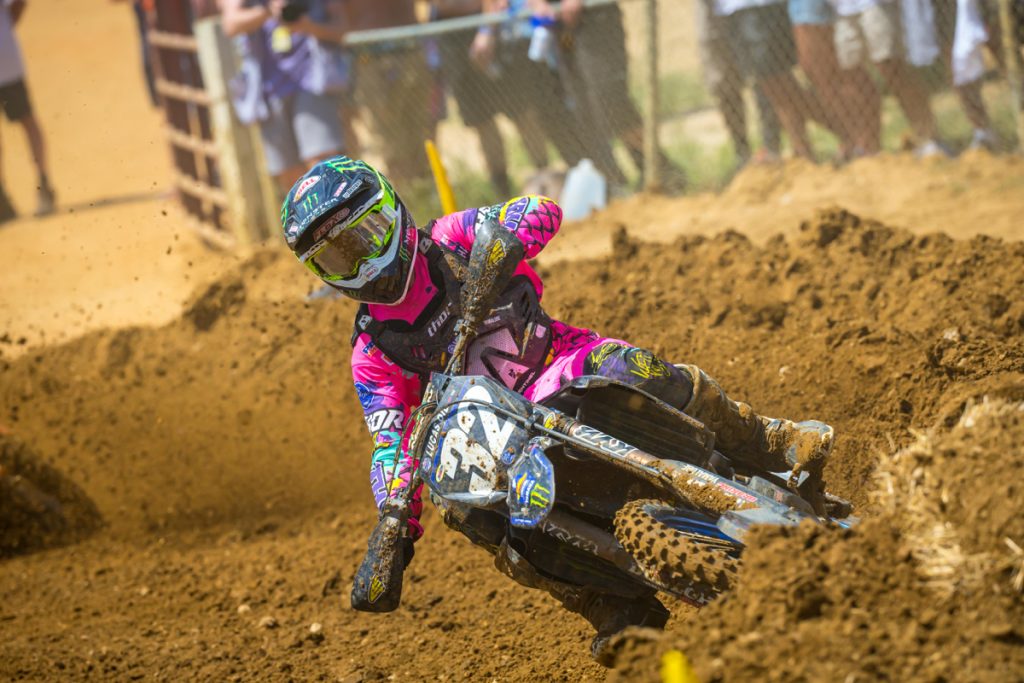 3rd Place 250 – Justin Cooper: Riding Rating (5 out of 10) Gear Rating (6 cotton candy Slurpees out of 10) 
Justin Cooper is another rider I don't really quite get. His personality seems a bit gruff at times and he seems a bit cocky as well, but there is no doubting his speed. Late in the year, the wheels have come off championship train a bit, but he has to be a heavy favorite to be one of the contenders in 2020. His 6-2 at Budds is probably not what he was hoping for, but he is young and there is always next season. 
On the gear front, I am really torn on this Thor Fast Boyz stuff. I hated it in 1991, and I am not sure I like it much better now. True, it does have a retro appeal, but that bubblegum pink is a BOLD choice. If I had to go with it, I would stick with the white version, but there is no doubt it stands out on the track. Either way, it is still a shit-ton better than cats and sharks…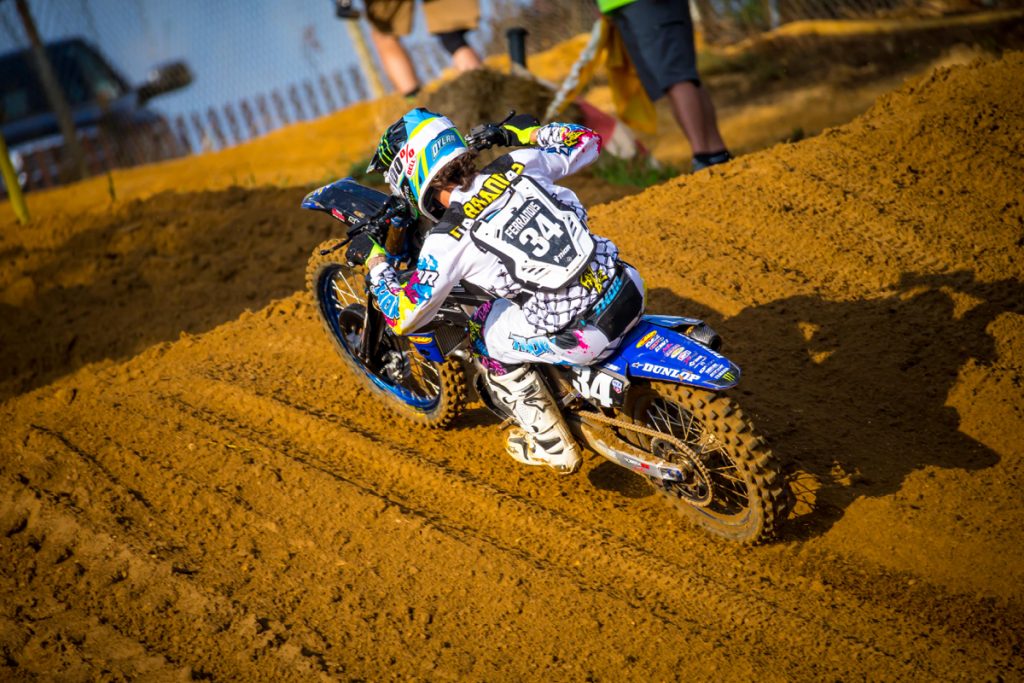 4th Place – Dylan Ferrandis: Riding rating (5 crappy starts out of 10) Gear Rating (7 Fast Boyz out of 10) White >Pink
Dylan's day was a tail of terrible starts and crazy mishaps. Not the stuff of championship runs, unfortunately. What he needed was two holeshots, and what he got, was a mouth full of roost and 70 minutes of fighting through the pack. In the end, his pair of fourths was actually good considering his starts, but the starts count and this was not what the flat-billed Frenchman needed.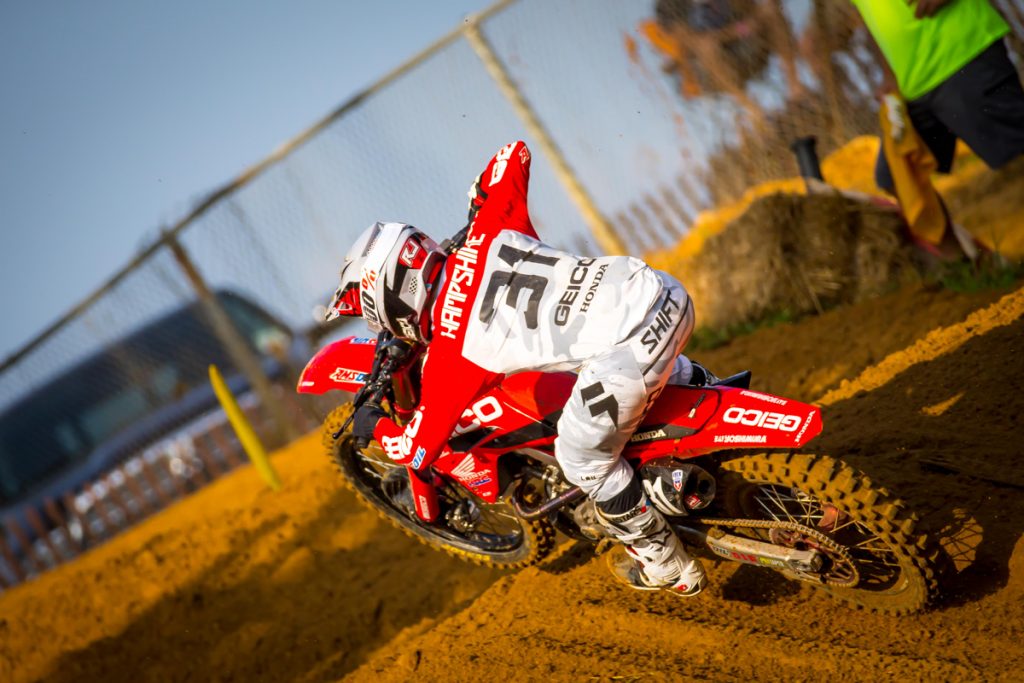 5th Place – RJ Hampshire: Riding rating (8 hard charges out of 10) Gear Rating (9 red Rambos out of 10) Love Shift, love the camo.
Even though he got a fifth overall, this was not a true indication of RJ's speed at Budds. He was on fire in both motos and charged to the front looking great in his badass camo Shift gear. His pass on Michael Mosiman in the first moto was an epic display of determination and his charge from last to eight in the second (after basically throwing away the holeshot) was even more impressive. RJ may not have always lived up to all the hype he had coming out of Loretta Lynn's, but his talent was certainly on display in Maryland.