It's HERE!! The Karcher Power Washer Product Review
I test dirt bikes for a living, not power washers, but I do use the crap out of these things and have gone through my fair share of them over my 15 years or so of testing. Steve has annoyed me enough to get up a review on the Karcher G 3200 X Pressure Washer in a hurry, so more or less, I am giving you a first impression and not a longevity type test. First, let me give you some back story on my pressure washer history before we jump into this thing ok? I have gone through a mix of electric and gas powered power washers and had good luck with both. However, for where I live and how much I ride I prefer gas powered washers as they just seem to handle my work load more efficiently than an electric washer does. Karcher has been in the American pressure washer business since 1982 and the name Karcher has been used to clean the likes of the Statue of Liberty, Mount Rushmore, the Seattle Space Needle, and some more popular structures in different parts of the world. I thought that was pretty cool!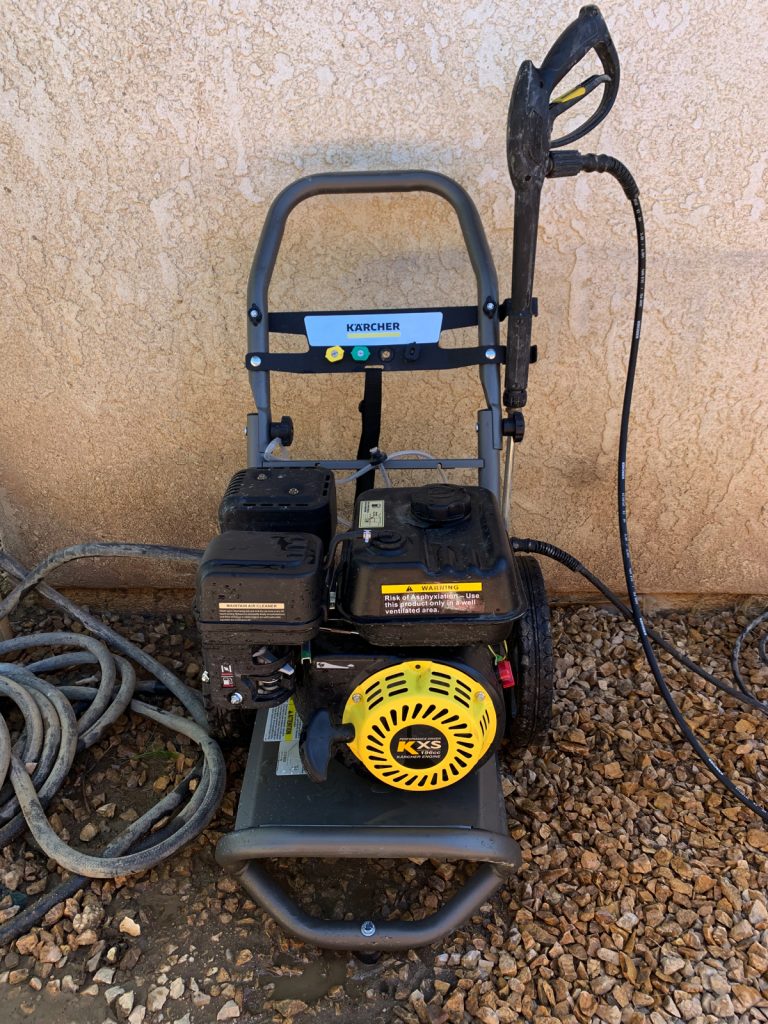 The G 3200 X was developed to offer strong cleaning performance that has been both easy to use and store (when I did store it). This gas pressure washer delivers 3200 PSI of TruPRESSURE™, ensuring you get the highest level of cleaning power for your dirt bike. The G 3200 X is powered by the performance driven Karcher KXS 196cc engine, which is backed by a 3 year engine and 2 year pump warranty. This was designed with the user in mind with features like one-half gallon removable detergent tank, four different powered spray nozzles, oversized 12″ wheels, onboard accessory storage, and easy access to all hose connections.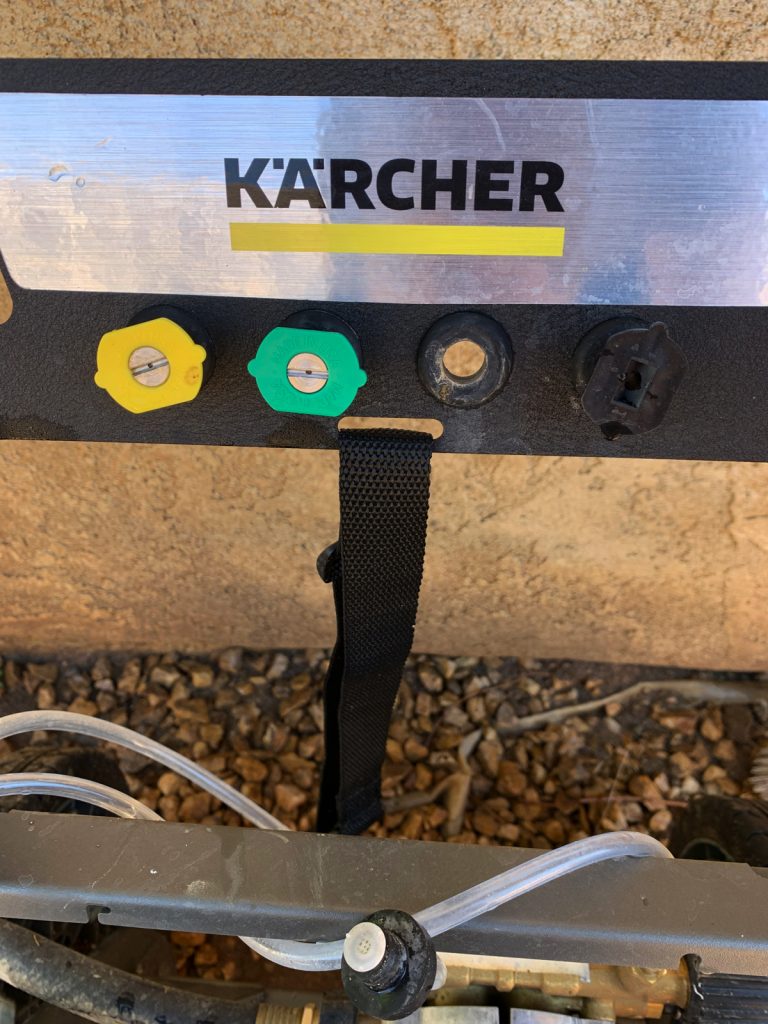 Installation was painless for my novice like mechanical skills and rolling it back and forth from the shop was easy. I will say that I normally DO NOT bring the Karcher back inside the garage after washing bikes as it has its own place near the back of my house where my wash bay exists. The Karcher has spent its time sitting in the 100 degree desert heat, through a few thunderstorms, and even some hailstorms this summer and hasn't seen any weather type damage, plus it's still running like a champ. So what exactly are some of the things that I liked about this pressure washer? Here are few standouts from my time using the Karcher G 3200 X:
This gas pressure washer comes with a large removable detergent tank. That will surely make your life easier during the cleaning process.
The larger and quality wheels make this super maneuverable.
The high-quality handle of this unit helps to move it with ease, and you can fold that handle down for compact storage.
Trigger gun holder helps to keep the gun securely when not in use. Trigger also has held up from dropping it on cement and hasn't leaked yet.

 

Easy to assemble.

 

Sturdy and has been durable so far (over 50 washes).

 

An incredibly powerful unit, but be careful getting too close to bearings and seals with the trigger gun. It will take WARNING stickers off like a hot knife through butter.
Excels in performing tough/muddy jobs.

 

The commercial-grade trigger gun works flawlessly and is easy to use.
Has been easy to start. My 13 year old skinny arm'd kid can start this unit, so that makes it easier for me to tell him to wash my bikes. WINNING!
White nozzle spray attachment is best for cleaning bikes/boots.

 

The Karcher has ran on pump gas, Pro 6, T4 and still is performing flawless. It smells so good running on VP MR Pro 6!

   
As far as experiencing any negatives to the Karcher G 3200 X, I have only one: 
Engine is loud and could disturb neighbors if you are living in a residential housing track.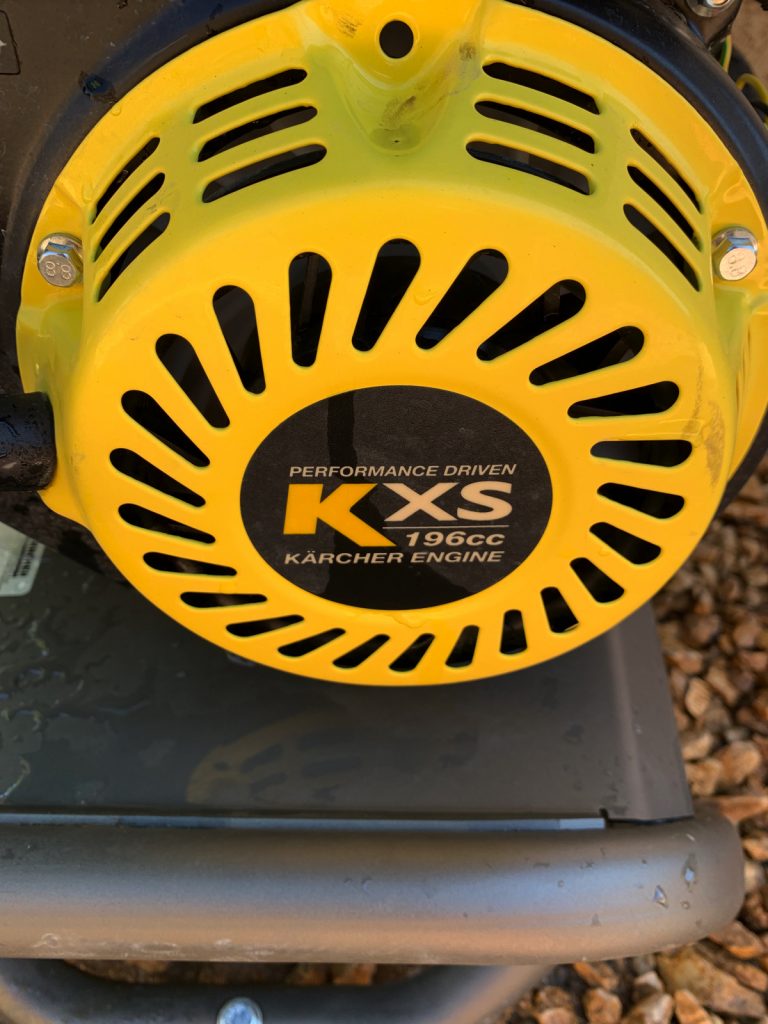 So as you can see this Karcher G 3200 X has been a great pressure washer that hasn't given me any headaches as of yet. It has done its job when called upon and is easy enough to use that my kid can be self sufficient. To me that is worth its weight in gold! I will be continuing to abuse this sucker and will give you a more formal durability type of article after the winter months. I also think we should support a company that supports our sport, so if you're in the market for a new power washer, try to consider a Karcher. They offer several different styles (electric and gas powered) so I am sure you can find one that suits your needs. You can go to https://www.kaercher.com/us/ and check out their complete line up of power washers.
Use Discount code PULPMX on the Karcher website to save!