PulpMX.com Fantasy Pick & Trends
I have to admit; Budd's Creek pretty much fried my brain. I mean, has there been a weirder round of real world or fantasy motocross this season? In real life we had TLD KTM's Shane McElrath qualify 18th then ride to a perfect one/one day. Following the season he's had, pretty weird. Then we had GEICO Honda's Jo Shimoda, who put up zero points at his Unadilla debut go out and crush it, scoring a perfect 100 points. The weirdness didn't stop there though, the 450 class saw yet another incredible ride from Monster Kawasaki's Eli Tomac, following a lackluster ride that left everyone scratching their head last week. And can we talk about GEICO Honda's Jett Lawrence? I really wish we could drop the "what the hell just happened" Tony Alessi sound drop into these things, or at least a face palm emoji.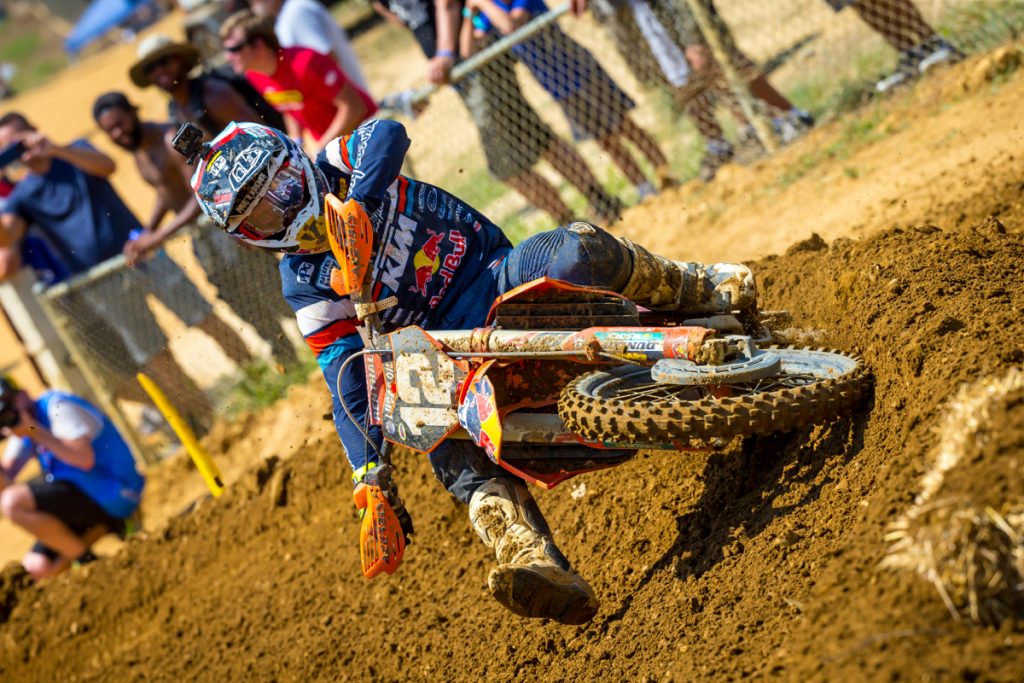 Speaking of weirdness, the PulpMX Fantasy overall was a tie this week, each team scored 543 points, and of course they got there with different lineups, weird, right? Why not, anyways…
Congratulations to JaxxInTheBoxx and 810Ramit on taking down the overall this week!
Their teams shared only two riders in each class. In the 250's it was Adam Cianciarulo – 43 points at 46% and Jo Shimoda – 100 points at only 9%. Their shared 450 riders included Eli Tomac – 50 points at 34% and Jeremy Hand – 80 points at 17%.
They had quite a bit of differential elsewhere. Jaxx really rolled the dice with Jerry and he did not disappoint, putting up 76 points at 16%. Jaxx also rostered Mitchell Falk – 54 points at 17%, he's been another rider who has had a ton of variance this year, rostering them both and not getting burned? Weird and highly improbable! Jaxx also chose AC and Eli as first lap leader. This earned them an extra, and very critical 8 points.
Ramit did not choose any FLL's and instead chose higher scoring players to get to 543. They went with Factory Yamaha's Aaron Plessinger – 80 points at 22% and perennial fantasy stud Coty Schock – 82 points at 19%. In the 250's Ramit rostered Mitchell Oldenburg – 58 points at 22% and Nick Gaines – 50 points at 31%.
Great job by both and really interesting to see how they rose to the top with vastly different lineups. Congratulations again!
Now lets take a look at the rest of the scoring.
Most picked riders AKA "the chalk"
The weird theme continues with the high pick trend riders. Typically each class features an average of three riders with a pick trend greater than 30%. This week, the 250 class had five riders at the over 30% mark and only one of them scored more than 50 points! We had Adam Cianciarulo (1AS) – 43 points at 46 points, Chase Sexton (5AS) – 39 points at 35%, then Jordan Bailey (5) – 52 points, Hunter Lawrence (0) – 30 points, and Nick Gaines (10) – 30 points all at 31%, because, why not?
The 450 class was more typical with three riders above 30% pick trend. Kyle Cunningham (5) had another solid week with 70 points at 38%. He was followed by Isaac Teasdale (11) – 62 points at 35%, and Eli Tomac (2AS) with a perfect 50 points at 34%.
Low owned players who delivered – AKA great contrarian plays
So much variance this week in scoring! The 450 class saw Toshiki Tomita (14) top the 450 class with 86 points at only 3%. He was followed by Jacob Runkles (17) – 80 points at 1%, and James Weeks (9) – 72 points at 3%.
The 250 class saw Jo Shimoda, who completely grenaded last week at Unadilla, go out and put up 100 points at only 9%. To make things even weirder, Shane McElrath, put up 88 points at a -1 handicap, for only 3% of team owners. Shane had a perfect real world day and an optimal fantasy day!
Fantasy Duds
Another weird thing this week, of the seven riders in the 450 class with a pick trend at 20% or greater, not a single one had what anyone would call a "bad" fantasy day. The lowest amount of points scored by a double points eligible rider was 62 by Benny Bloss. Nice job 450 guys!
Not so much in the 250 class, as the brothers Lawrence proved to be a fantasy wrecking ball. Hunter was the better of the two with 30 points at 31% but it was little brother Jett who really sunk his teams with only 2 points at 24%. Crikey mates!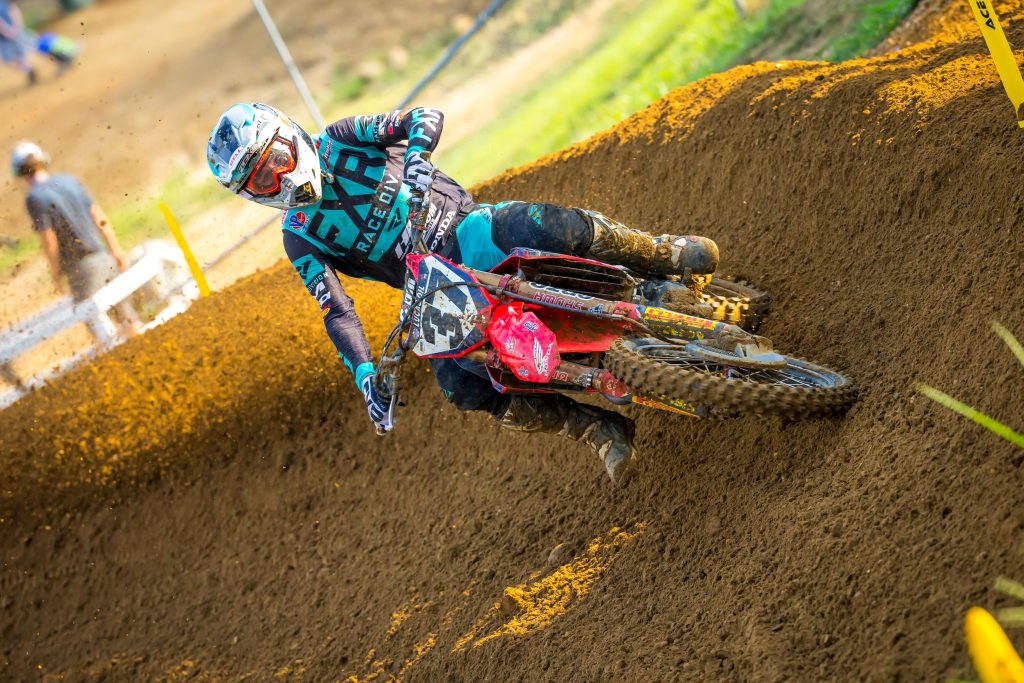 Fantasy Studs
Typically we reserve this section to mention riders who had a pick trend of more than 30% who put up top scores. As Budd's Creek was bizarro world for PulpMX Fantasy, we're going to drop that down by a bit and mention some great performances at slightly less ownership.
Lets start off with the 250's. Jerry Robin (16) put up 76 points at 16%; good for third highest score on the day, Jerry didn't Jerry! Cam McAdoo (3) followed, his 62 points was fourth highest score at 22%.
Three riders to note in the 450 class, Coty Schock (12) had highest score with 82 points at 19%. Jeremy Hand (16) – 80 points at 17% and Aaron Plessinger (6) – 80 points at 22% rounded out the top three high score "high pick trend" riders.
The 100% "Lead Pipe Locks"
The podcast crew this week included JT, Paul, Steve, and Dan. JT went with Oldenburg and Tomita for 144 points, Paul went with Lopes and Schock for 140 points, Steve with with Nick Gaines and Schock for 132 points, and Dan went with Jett Lawrence and Plessinger for 82 points.
Congratulations to JT for taking down this week's 100% Lead Pipe Lock pick with an awesome 144 point score!
Season Point Standings.
Dan: 1353
Paul: 1207
JT: 995
Steve: 892
First Lap Leaders
It was a good week to avoid picking first lap leaders! We saw historically low correct pick percentages. The 250 class had an above average 56.1% of owners making a pick with only 0.1% correctly choosing Mitch Oldenburg or Ty Masterpool. The 450 class was a bit better with 51% of team owners choosing and 10.7% correctly choosing Eli Tomac or Justin Bogle.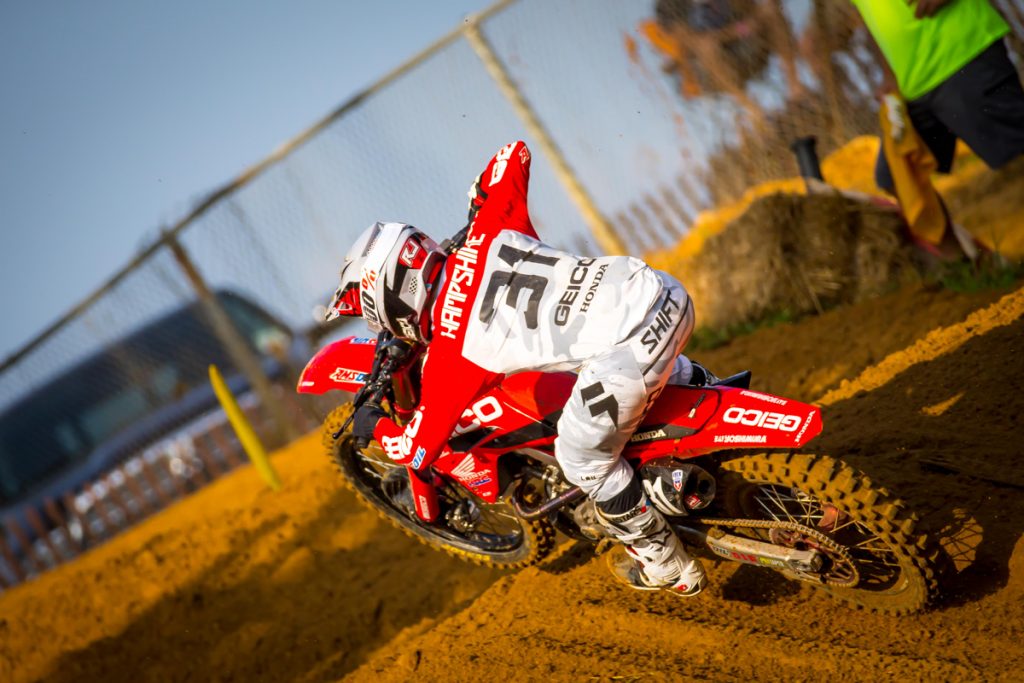 All Stars
The weirdness continues. Not a single 250 class all star scored a perfect 50 points. Highest scoring 250 all star was R.J. Hampshire at 47 points, with low score coming from Colt Nichols (crash) with zero points.
450 all-star scoring was above average with four riders, Eli Tomac, Jason Anderson, Marvin Musquin, and Justin Barcia each scoring 50 perfect points. Low score was from Justin Bogle with 9 points. (Note, Cooper Webb was the 8th all star but did not line up due to injury.)
Final Thoughts – Ironman!
Holy shit, it's almost over! We have crowned a 450 champ and the 250's are TBD, so I'm wondering how that will affect racing this week? I would definitely pay attention to riders who are in need of a contract, or need to prove something.
I'm writing this on Wednesday and the weather forecast for race day looks optimal, 74 degrees and partly sunny, let's hope that holds!
I think we can still look at Aaron Plessinger this week, he fits into the "something to prove" category and has put in good results at Ironman in the past. He was a 6 handicap at Budd's and I am expecting that to drop down to around a 3. With the attrition in the 450 class, I think he still has some nice value.
I would also look for a bounce back from Fast Freddy Noren this week. He did not have a good week at Budd's at a zero handicap, so I would expect to see him with a little more value this week, and once again, something to prove.
Hunter Lawrence had an abysmal weekend at Budd's and I expect a big bounce back from him. He was a zero handicap last weekend so I would guess that he would be a 2 or 3 at Ironman, giving him solid value.
Finally, remember Zane Merrett? For a few weeks he was the darling of the fantasy world, who then saw his handicap rise above his value. Well, that handicap is back. It was a 16 last week and I would expect it to be the same, or higher at Ironman. Zane is yet another rider with something to prove, he might make a solid pick.
Well, that's it for this week, thanks for reading and I hope to see you on the leaderboard! Please remember to support PulpMX Fantasy sponsors with all of your off road purchases.
If you want to ask me a question or hit me with a comment, hit me on Twitter, @msweeneyphoto.