The Yamaha YZ450F is winning a lot of shootouts this year with it's completely redesigned frame and engine layout as well as a stiffer suspension package that makes the bLU cRU ride a race-ier type of machine. I am fan of machines that are fun to ride as well as make me want to ride faster and this 2020 YZ450F does this for me. Over the past few weeks I have really got to know this bike better by racing it and riding it all over Southern California. Here are some of my settings that hopefully can help you go faster at your local track.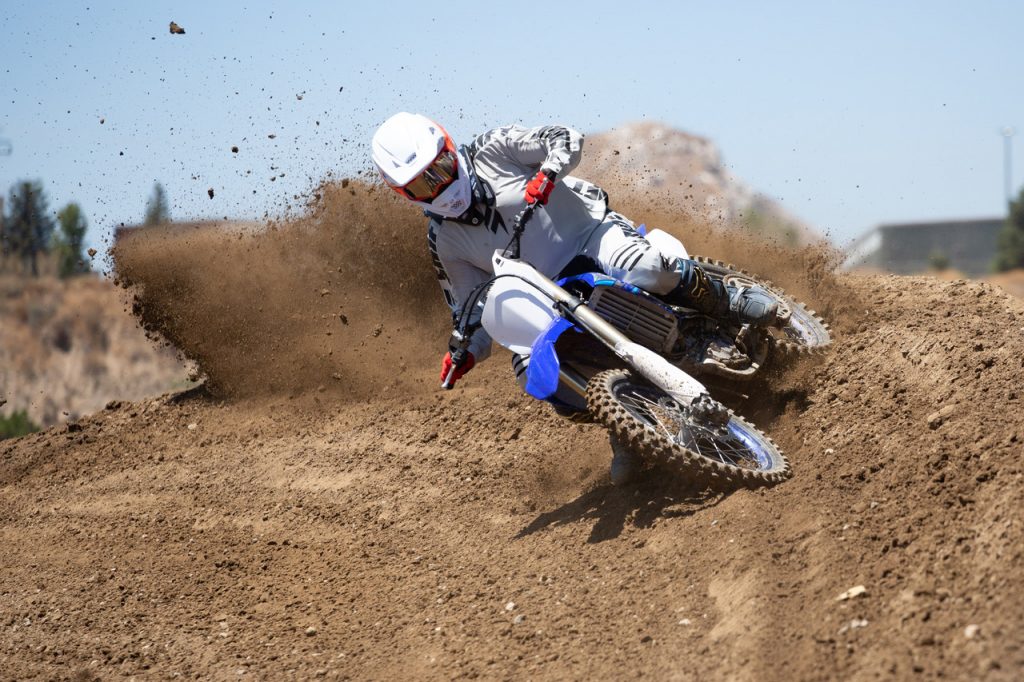 Suspension: In stock form the 2020 Yamaha YZ450F's suspension settings are still slightly soft (once suspension is broke in) at times on bigger bumps at speed. Going slower on the action as well as stiffening the compression really helps the whole bike remain planted around the track. The comfort that this KYB suspension has is unmatched and the track toughness it provides makes your life so much less stressful on set up. This setting below will work for most riders ranging from 170-200 pounds. 
Fork: 
Height: 5mm
Compression: 7-8 clicks out
Rebound: 8 clicks out
Shock: 
Sag: 103mm
Low Speed Compression: 8 clicks out
High Speed Compression: 3/4 turns out
Rebound: 8 clicks out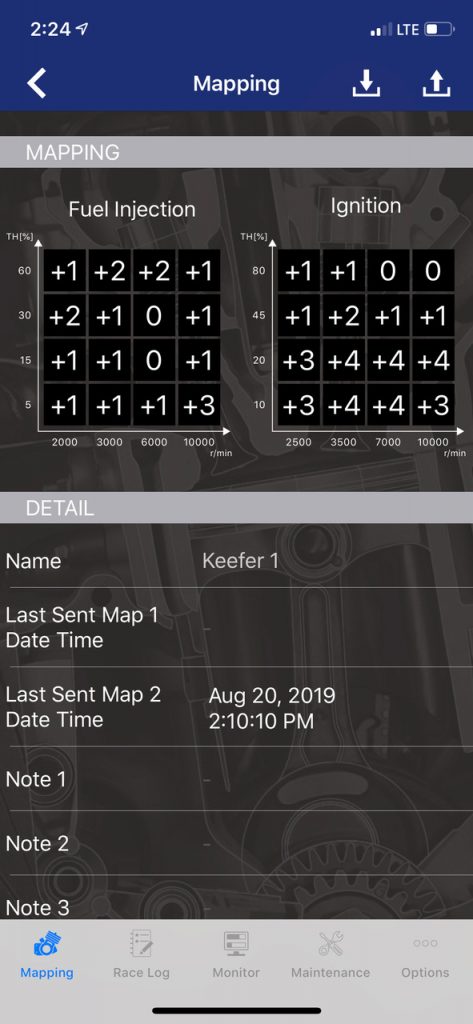 Engine/Power Tuner App: I have tried several maps on the YZ450F, but have always came back to the two below. The stock engine has a lot of bark from 0-10% throttle opening and for the tracks that we have out here (on the west coast) it's too much at times. For you east coast riders try the "Keefer 1" map as that should be plenty enough bottom to mid range delivery to get you out of that soft soil, yet keep it manageable/linear to hold onto for a 20 minute moto (YES, I AM JEALOUS OF YOUR DIRT!). For all the rest of you, try the TP 3.0 map as that is the map that I use 80% of the time. The linear/easy to roll on throttle delivery along with the longer pulling power that this map has makes it a tractor around the track. I raced four motos with this TP 3.0 map and pulled 3 out of 4 holeshots at Glen Helen. The connection to the rear wheel is much better for 2020! Yes, these maps will also work on your 2019 YZ450F…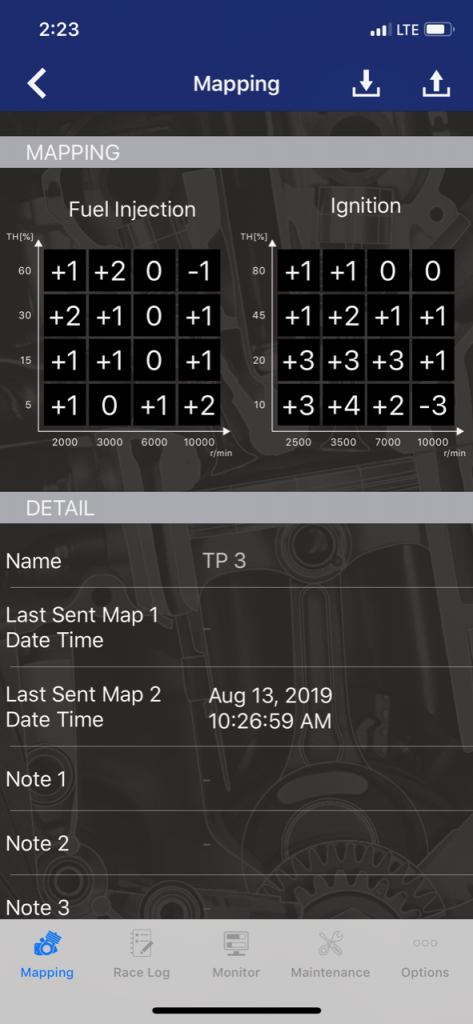 Muffler: As of right now I am running the stock muffler system, but currently have a Akrapovic, Pro Circuit, and FMF in the shop to test, so hold tight to see if any of these are better than stock. There is nothing wrong with the stock YZ450F muffler so don't be scared to run a stock muffler on your Yamaha for a long time. Relax. Yamaha makes a great stock muffler system so don't be shy about running it.  

Handlebar Set Up: I really tried hard to like the 2020 Yamaha YZ450F handlebar set up, but couldn't come to grips with the way the bar mounts forced my upper body through corners. It put me in a weird position when diving into ruts and it actually affected my corning speed. I went back to the rear hole with mounts forward and fell in love all over again. I am 6'0 and prefer the 2019 stock hole placement. I love the stock Yamaha bar bend and use that bar bend on almost all of my test bikes, but if you want a little more flex, go with a Pro Taper EVO SX RACE bar (same bend as the Yamaha stock bar). The stock Yamaha bar has a 5mm wall thickness and the Pro Taper EVO has a 4mm wall thickness, so you'll get more flex.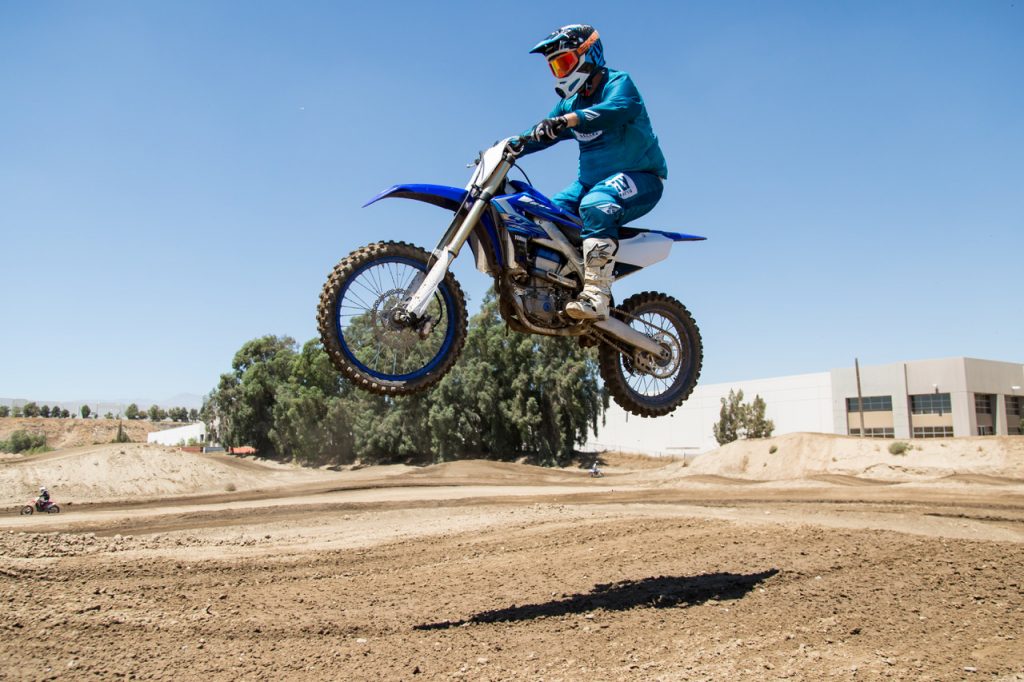 Seat: If there is one problem area of the Yamaha it is the seat. The seat still breaks down quickly and can feel clapped out. This makes you feel like you're riding in the Yamaha and not on top. I am usually not a fan of taller seats, but Yamaha's Accessory (GYTR) 20mm taller seat is actually pretty good. It puts you on top of the bike more and helped my sitting-to-standing transition out of corners. This helps you get off your ass out of the corner because the transition from sitting to standing is not as drastic. Soaking jumps up with your legs is always faster than seat bouncing. If you don't go with the GYTR seat then go to gutsracing.com and get yourself a firmer or taller foam.
MX3S Front Tire: Yamaha will not want to hear this, but I feel the Yamaha corners better with a Dunlop MX3S front tire rather than the stock MX33. Yes, the MX3S is coming back and will be in stock in a couple weeks. If you're having trouble with initial lean into corners, get yourself a Dunlop MX3S front and thank me later. 
Gearing: I tried a 13/50 gearing set up for all you novice riders, but it didn't work as good as the stock 13/49 set up. The stock gearing is just fine for 90% of tracks because the Yamaha's engine has so much torque that it can pull third gear. Yes, even for you novice riders! Third gear is that "lugable" that you will not stall through corners, just make sure to cover the clutch lever. 
Triple Clamps/Offset: The Yamaha YZ450F doesn't need aftermarket triple clamps nor does it need an offset change. The rigidity balance that the stock clamp has is a blend of comfort and performance that is hard to find with aftermarket clamps. Still having a hard time in corners? Don't purchase clamps, simply go to a 102mm shock sag setting or go to a fork height of 7mm. I suggest trying one or the other, not both at the same time. This keeps balance as well as keep the superb bump absorption of the chassis/clamps. Some other machines accept aftermarket clamps better than others, but this Yamaha has the most comfort/performance with the stock clamp. Don't go backwards on your set up by purchasing parts you don't need!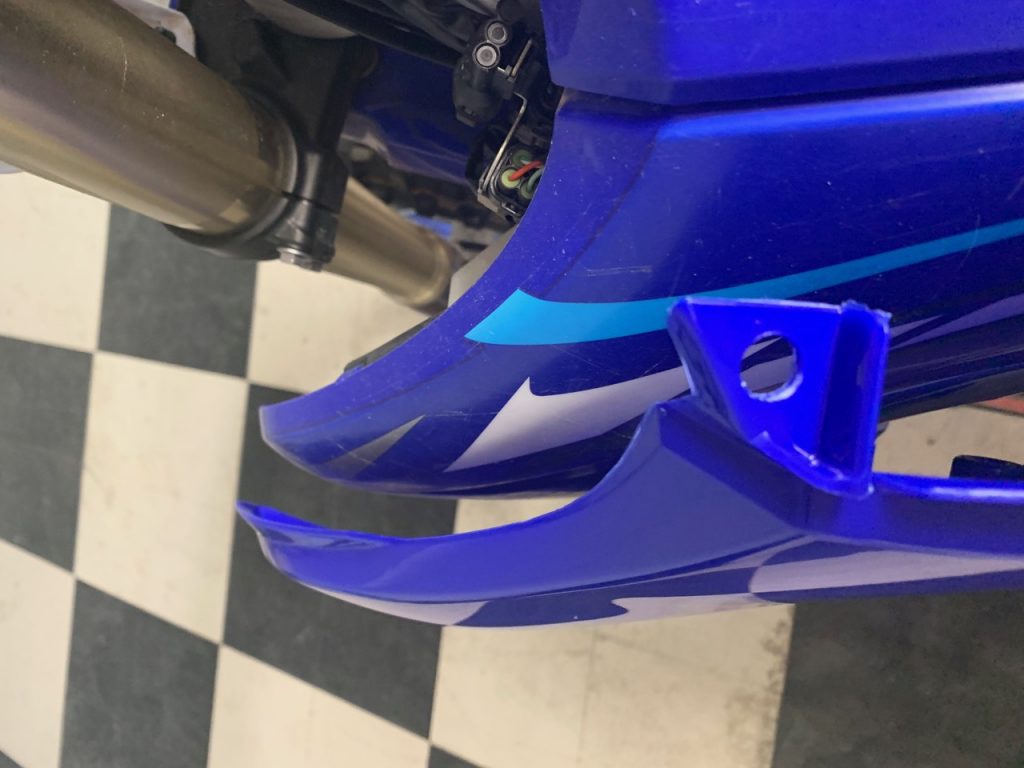 Cycra Powerflow Shrouds: If you want the visual appeal of a thinner mid section you can go to Cycra Powerflow shrouds that are thinner at the top of the shrouds than the stock pieces. I like that the Cycra shrouds also feel slightly thinner when squeezing the Yamaha while I am standing.