The Monster Energy Cup was Saturday night and although it didn't stack a ton of top names this year, it did provide enough excitement for me to sit and type about a few things that I thought were worth mentioning.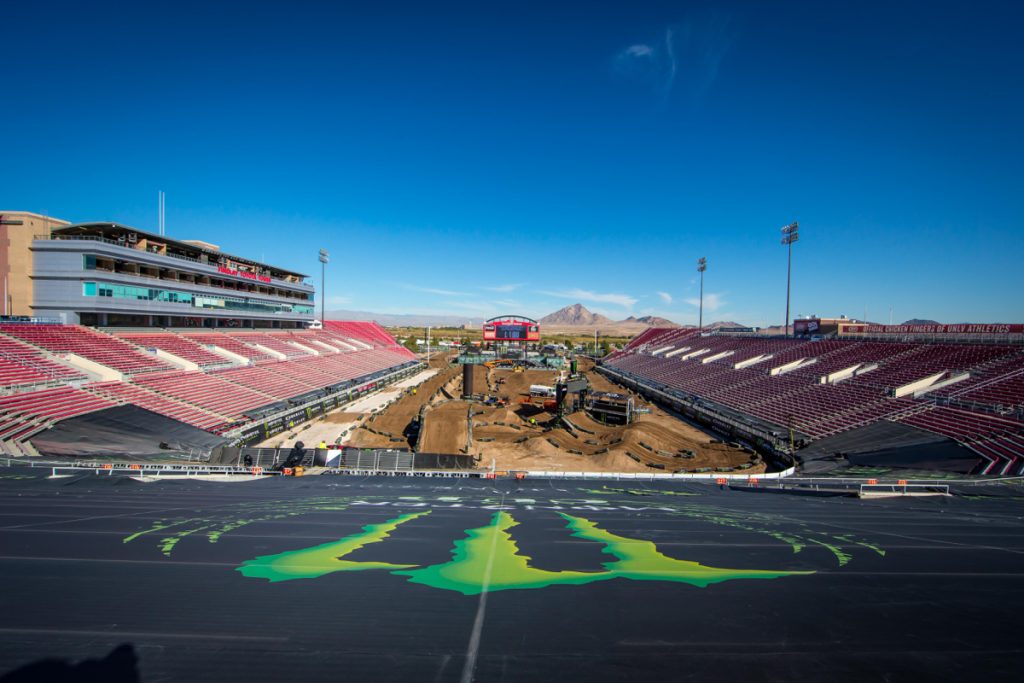 MEC Track: I know some riders didn't like it that much, but I thought it was pretty cool from a fans point of view. I think if it wasn't for the track going backwards we wouldn't have seen Eli make that mistake over the single and then it could have been a boring three main event night in Vegas. I like that at least they are trying to do something new and are working on bringing something different to the table. I don't know what starting the riders outside of the stadium really does, but maybe it's the anticipation of all of them coming back into the stadium? If there is someone that can appreciate anticipation, it's me, but the start on the outside was kind of useless. Maybe do a dead engine start for the third main event next time? Le Mans? 
Dean Wilson: This sucks! Dean was hauling ass this off season and I expected him to be a top three guy in Vegas this weekend! To have him crash the way that he did on a jump that really didn't need to be there was a real downer. I understand he is going to heal and be ok, but what people on the outside do not know is how much it can take out of you mentally. Being hurt every year for a few years can just demoralize your drive and your ability to "dig deep" to really see how much you want this kind of life. Let's hope Dean not only heals quickly physically, but also can heal his psyche as well. We all want him back out there!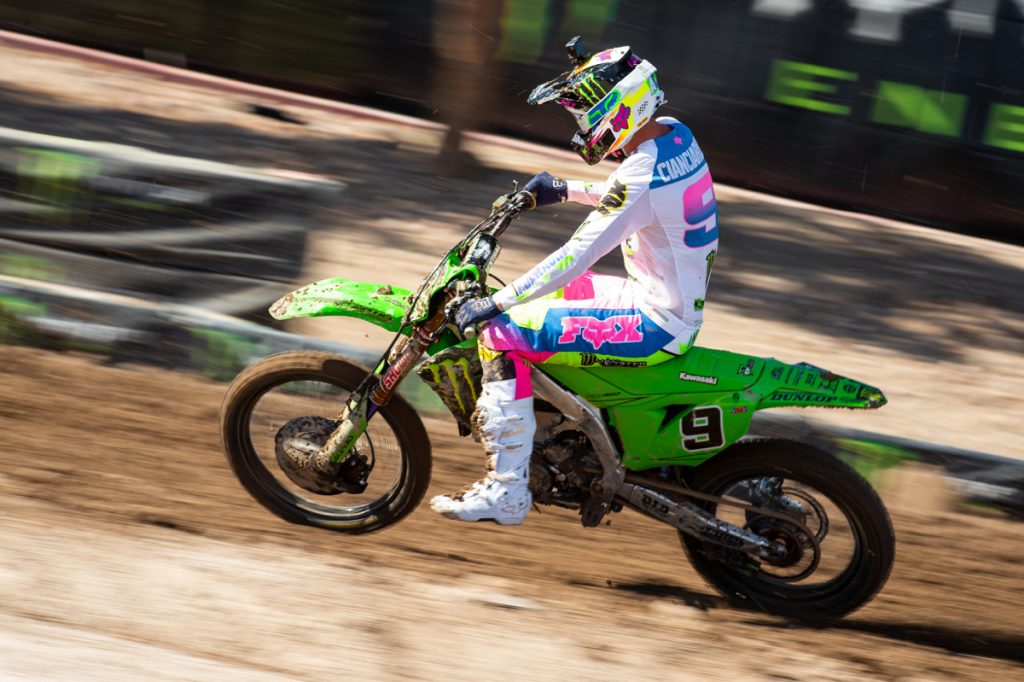 Adam Cianciarulo: Didn't I say AC will podium before Salt Lake next year? But seriously, if what we witnessed Saturday night is any indication of how well his 2020 season will go, we are in for a treat. AC could sneak in a win next year if the right circumstances were given to him. He may not have the raw speed of Tomac or Roczen, but he looks way more in control on this 450 than he ever did on his 250. It looks like his whole style has changed since getting off of the 250 and that style is much more efficient now on a big bike.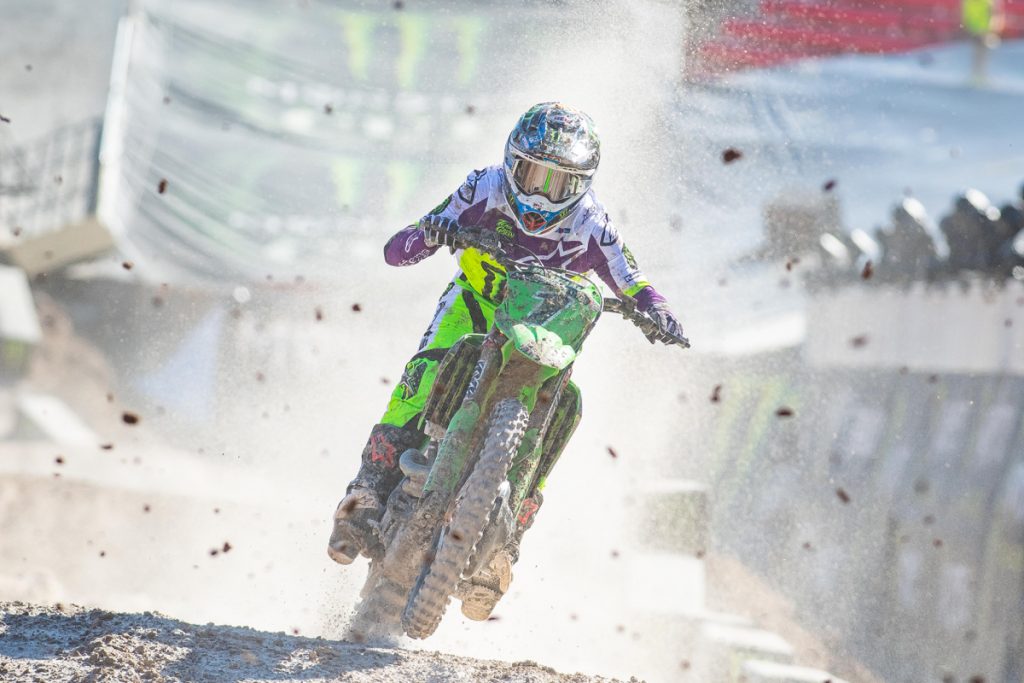 Eli Tomac: Fastest guy on the track, but a couple mental errors bit Tomac Saturday night. He was faster than AC in the third main, but it's tough to pass when the insides are slick and the outsides were too far to really get a slingshot effect. I also don't know why Eli wears the same gear colorway all the time. 
Tim Gasjer: He did it! He got through the race and actually rode very good! I know he's a World Champion, but riding indoors is A LOT different than his usual GP landscape. Honda stuck some actual SX suspension underneath him and gave him time on some fairly mellow Supercross tracks to get him comfortable. You could tell with each passing main event that Gasjer was creeping over the front of his bike more, which means he was gaining confidence. In the first main he was neutral to on the back of his Honda and the third main he was soaking up some of the bigger rhythms. Glad he came out ok, unlike his GP counterpart Tixier.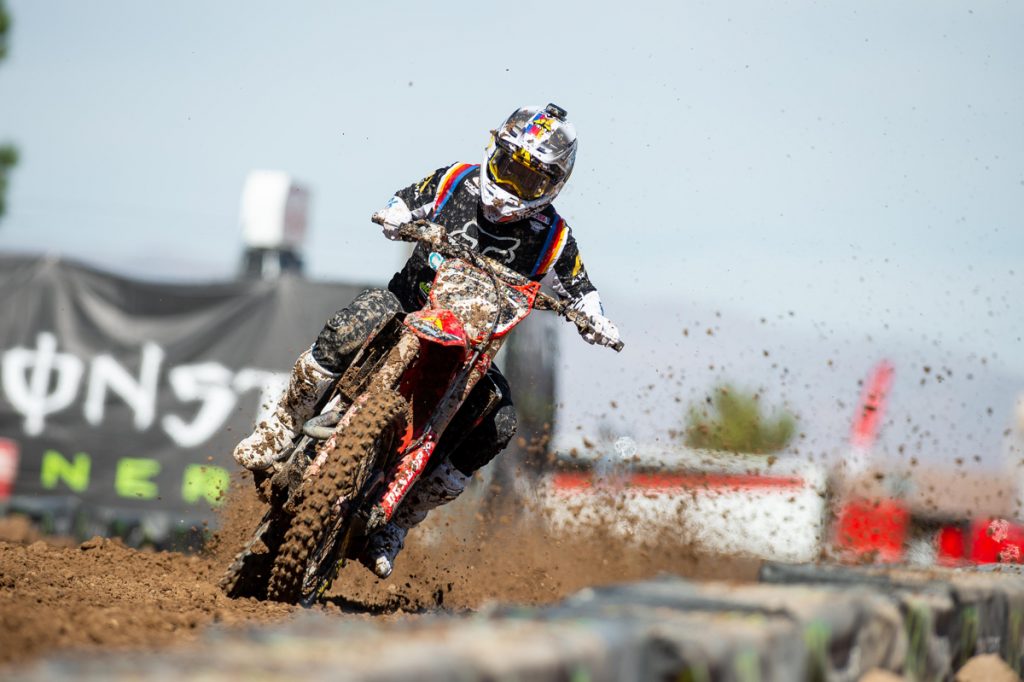 Chad Reed: Chad apparently didn't have much time (if any) on his new Honda so getting a great result isn't a shocker, but I like that he DGAF and goes out and races. Getting in via the LCQ was sketchy, but he managed through that and raced his way to a 8-12-10 for a ninth overall. Chad was quoted by saying he chose the Honda for 2020 because it was the bike he could go race the easiest without having to put too much into it. Makes sense as the Honda has an incredible stock engine, can corner well, and is stiff enough in the chassis to make Chad happy through the whoops. Plus he had Mike Gosselaar back in the pits this weekend! He knows a thing or three about a Honda.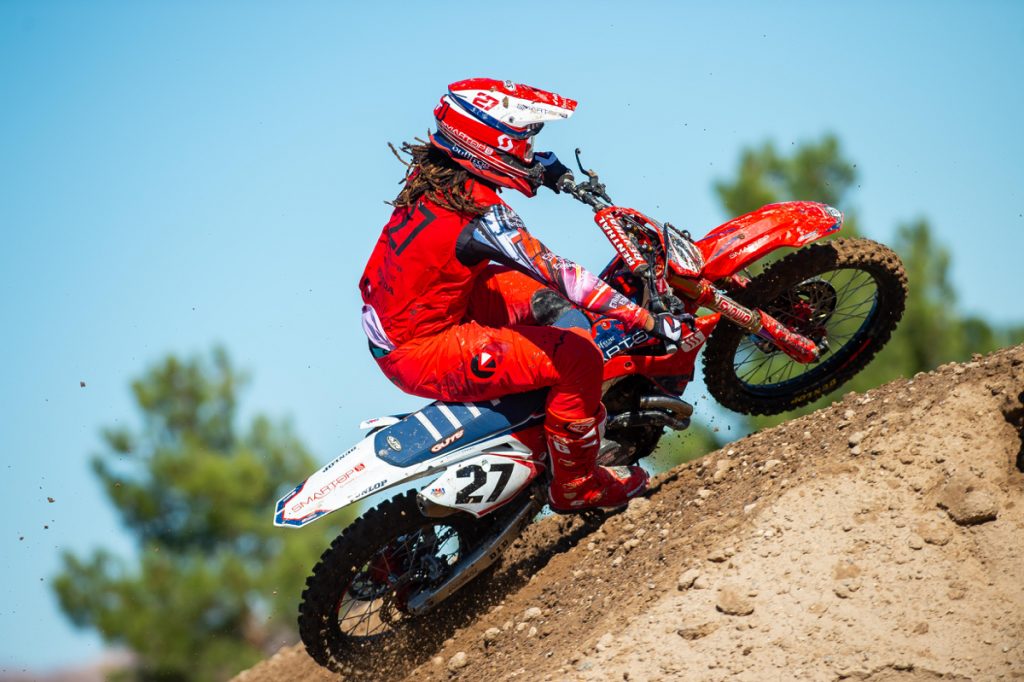 Mookie: Who isn't happy for Malcolm? He is one of the most upbeat guys in the paddock and has been putting in work with the Smartop Honda team for a while now. You could genuinely see the relief/happiness after his second moto/main win and that right there will get this dude the confidence he needs to go into the 2020 Supercross Series knowing he can win. What's even cooler is that I personally know how good his bike is and how much work Tony and the team put into their riders. Chad at XPR Motorsports does the team's engines and I know that with the combination of their updated engine spec, along with the new Akrapovic muffler system, that they have one of the best engines in the class. Look at the starts by Mookie and Vince all night.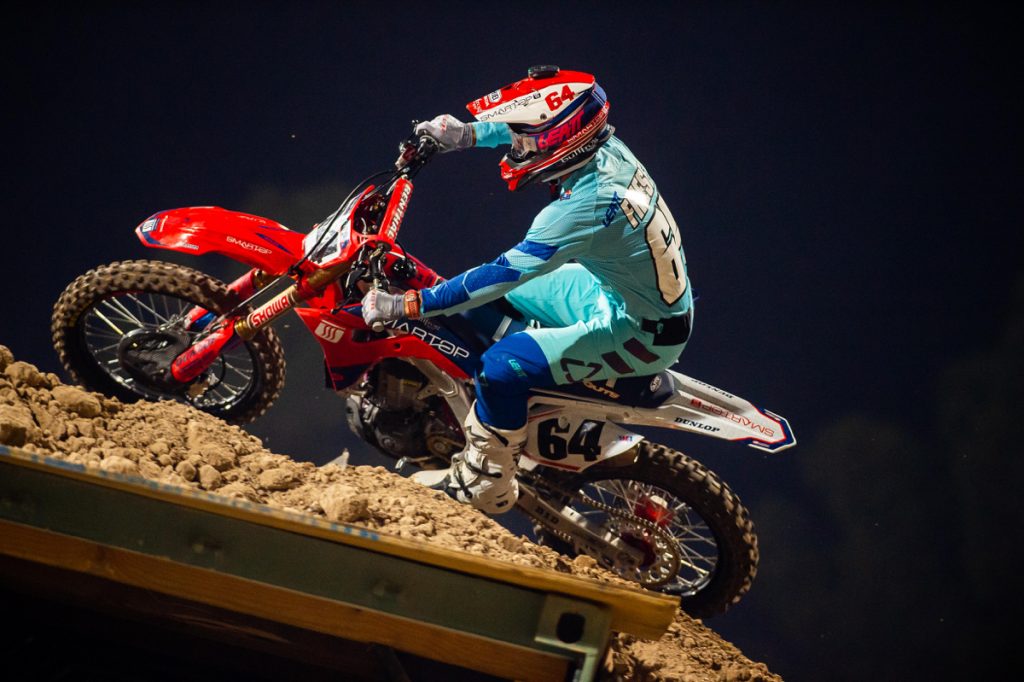 Vince Friese: Vince has got so much better at Supercross the past few years. It's rare to see the advancement of a rider that is getting up there in age. Let's face it, Vince isn't a young spring chicken, but he continues to improve his SX skills. Vince is a great starter and that will help him out a ton when it comes to the 2020 series. I think that practicing with Mookie has really helped Viince with his speed as well as having a bike that he really likes. It's always best to ride with someone faster than you, no matter how good you are.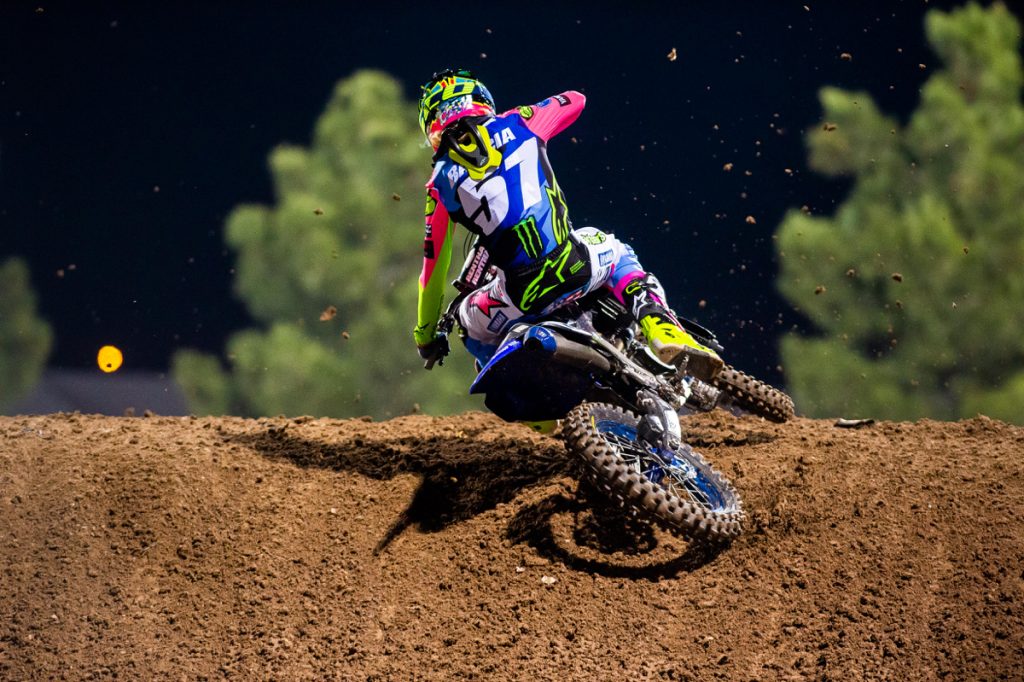 Justin Barcia: I thought he would be a podium guy this weekend, but I think he is still working on some things with the team on the updated YZ450F for 2020. Stay tuned…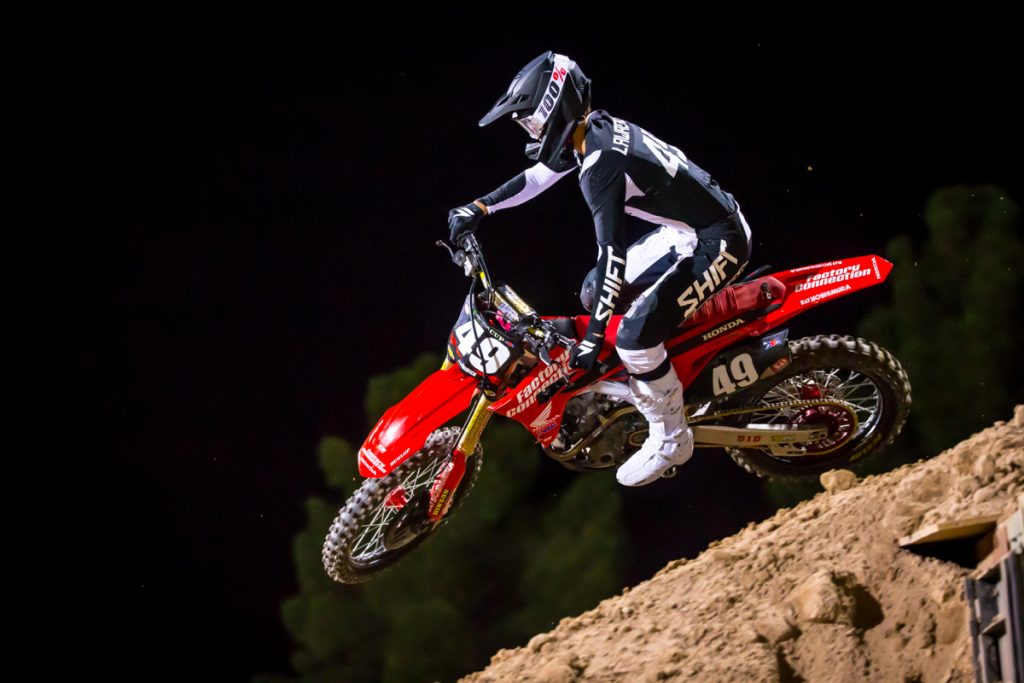 Jett Lawrence: Good style. Great cornering technique. Ate a donut on the podium. I like this kid.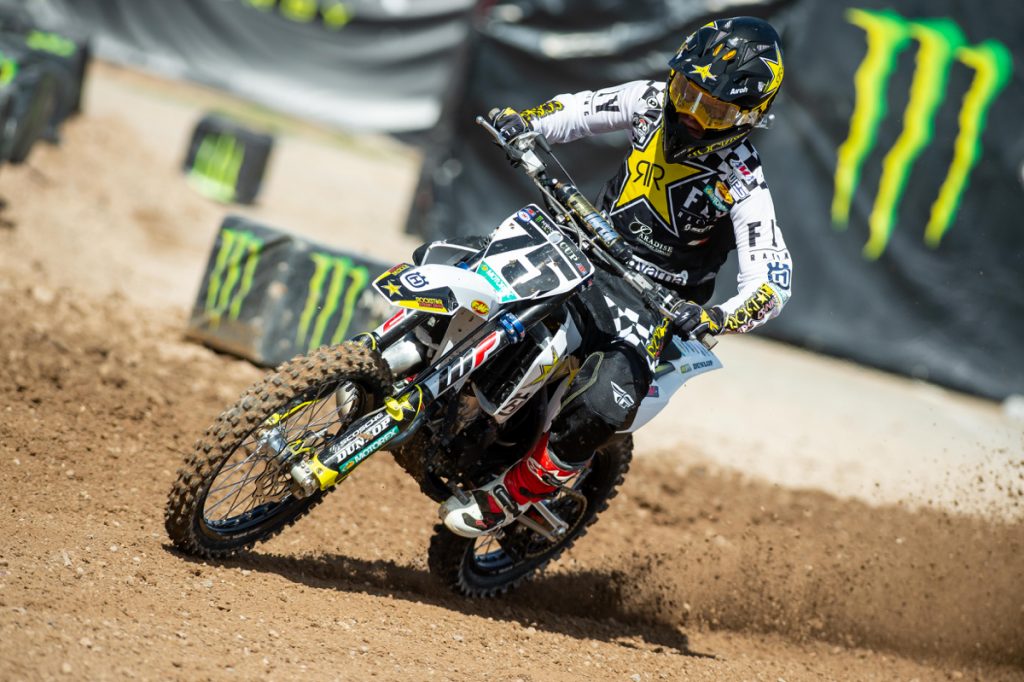 Evan Ferry: Having a Supercross track on your property helped "Little Red Dog" Saturday night. It was impressive that he jumped on a new bike (at least team) the week before and rode so solid. Timmy must be getting someone else to help with starts because god knows Timmy wasn't known for his starting ability.  
Best Dressed: Matthes thinks that Adam's Fox look was the best at MEC and I will agree that is was awesome, but I really liked Barcia's whole Alpinestars set up. It was bright, loud, and stood out against the blue Yamaha. 
Best Looking Bikes: The Monster Energy Kawasaki bikes of Eli Tomac and Adam Cianciarulo were bad ass. I liked the all green look as well as the number font/style D'Cor Visuals used along with the green carbon accent of the Pro Circuit muffler end cap!