With the Yamaha YZ450F getting a chassis/engine updates, as well as different suspension specs for 2020, I had to go back and re-evaluate some of the modifications that I wanted to make to the new year model. As far as stock bikes go, this Yamaha is one of the best machines to leave stock-ish and ride fast. I honestly think the more modifications you do to the YZ450F the bigger the chance you have of going backwards for the average rider on set up. The Yamaha YZ450F is one of the only bikes that DO NOT like more power or a ton of chassis mods. Doing so results in a YZ450F that doesn't handle well when trying to ride fast on a rough track (more on that in another article). However, if you're the type of rider that must "tinker" and add aftermarket parts to your 2020 YZ450F, these are the "Top 5" modifications, in no particular order, that I would recommend, that actually make the bike better. These aren't life changing modifications, but they do make a more well rounded 2020 Yamaha YZ450F without breaking the bank. Obviously you can get the suspension re-valved for your weight, ability, and riding style, but I wanted to give you a stock valving/setting suspension spec, in order to get the most comfortable ride straight from the dealer floor.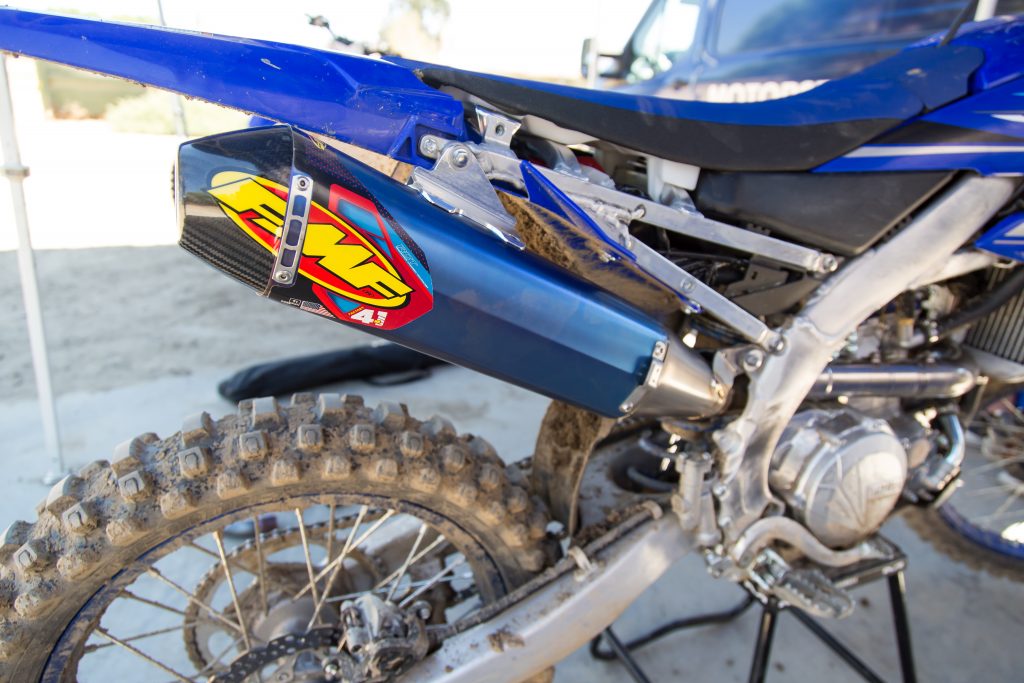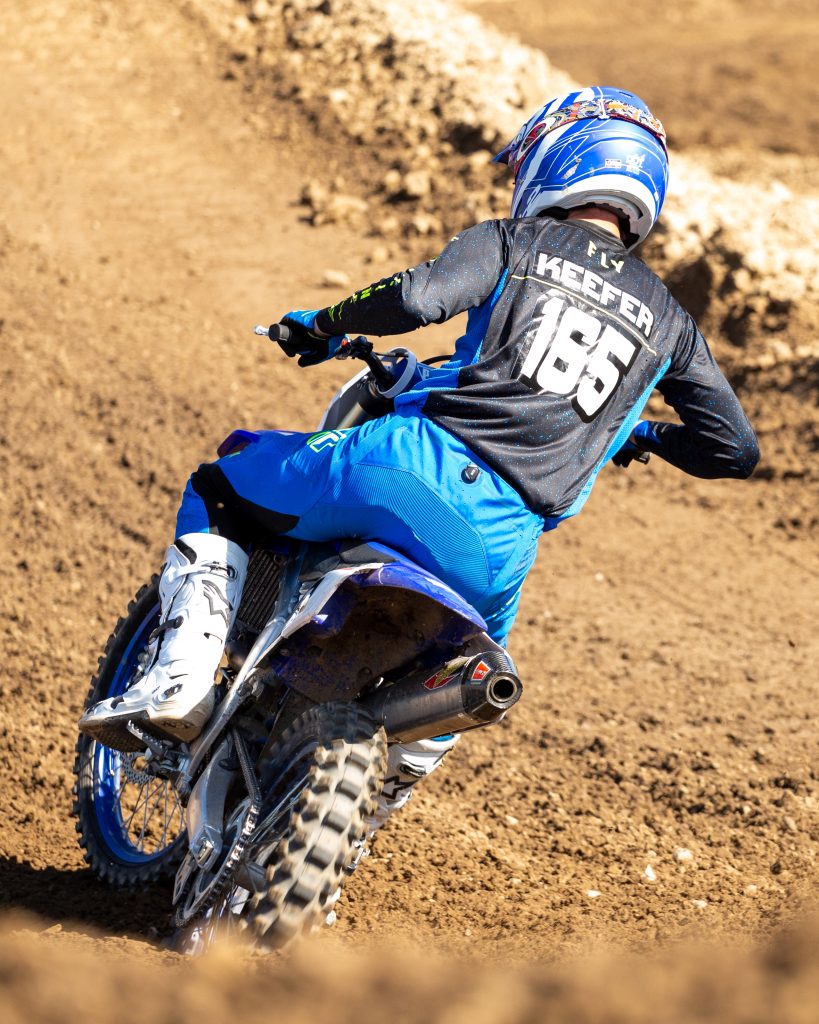 1. FMF 4.1 Or Pro Circuit Ti-6 Pro Muffler Systems: Both companies have done a great job of improving on the already really good stock system. Neither of these mufflers will have the low end RPM response of the stock system, but will add some improved bottom end roll on power with a meatier/healthier mid range pull. You are still able to use third gear through corners and if you make a mistake the recovery time of each muffler is better than what the stock muffler provides. I have no problem lugging my YZ450F in third gear with either the Pro Circuit Ti-6 Pro or FMF 4.1 and each muffler is almost 1.5 pounds lighter than stock! The top end pulling power is as good as stock on the Pro Circuit, but the FMF will out pull the PC near the rev limiter. Don't look for more over-rev with either of these systems, but both do a great job of giving you an easier YZ450F to ride. Each system will also have better rear wheel connection than stock. That equals to more traction and an easier bike to corner for you. Yes! An easier cornering Yamaha because of a muffler system. You can read a review on both mufflers right here: https://www.keeferinctesting.com/offroad-testing/2019/11/25/fmf-vs-pro-circuit-2020-yamaha-yz450f-muffler-comparison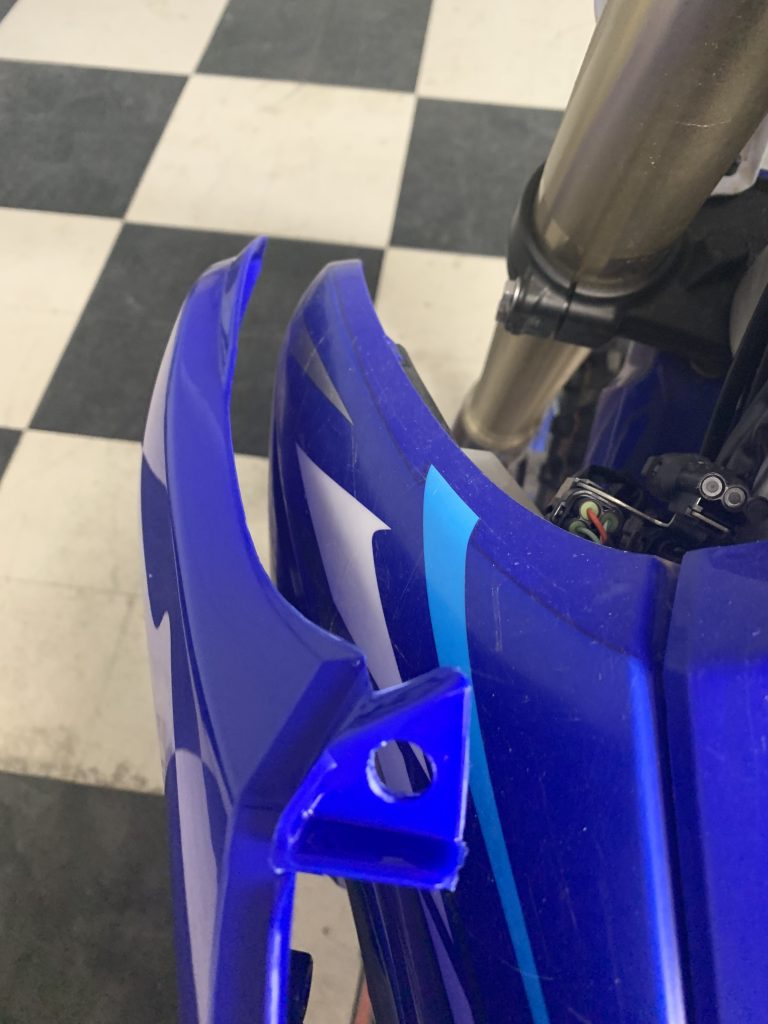 2. Cycra Powerflow Radiator Shrouds: This isn't really a performance gain, but the Cycra Powerflow Shrouds are thinner near the top of the shroud (near the top of the air cleaner) and give me a seamless feel when sliding around on the bike (as well when lifting my leg in ruts). The stock shrouds can catch on my pants when lifting my leg high in ruts, but the Cycra Powerflow shrouds are angled a little lower and are thinner which leaves me with zero hang ups. The Cycra shrouds are also visually narrower (even though they are only millimeters narrower across) than the stock shrouds so for those riders that "feel" like the shroud area is wide/fat, the Cycra shrouds can ease their mind. The placebo effect is real!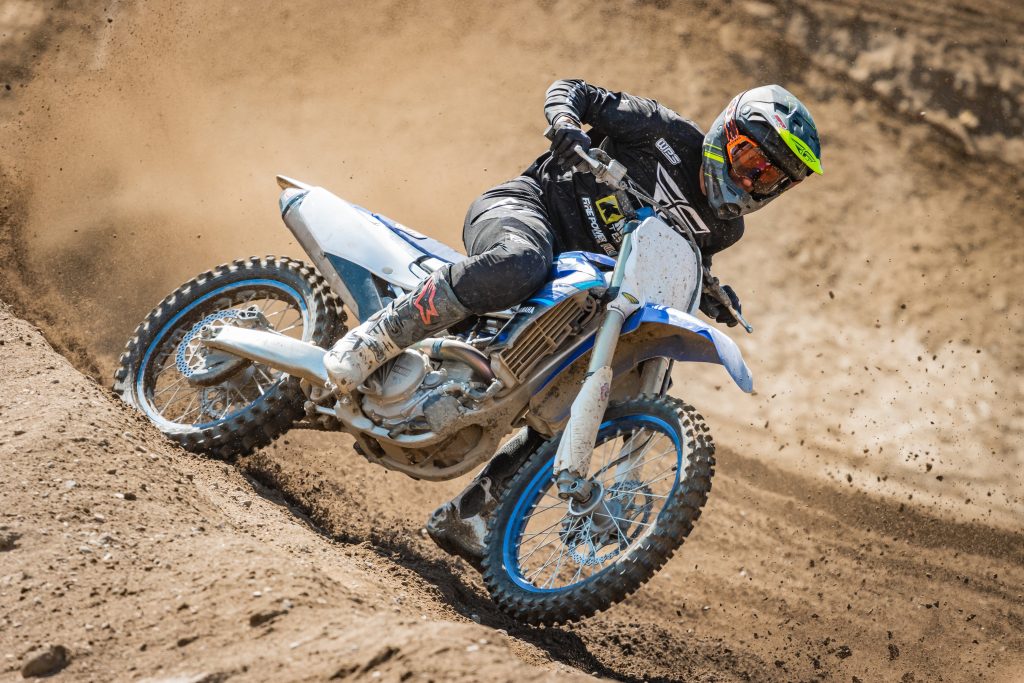 3. Suspension Setting: In stock form the 2020 Yamaha YZ450F's suspension settings are still slightly soft (once suspension is broke in) at times on bigger bumps at speed. Going slower on the action as well as stiffening the compression really helps the whole bike remain planted around the track. I did also discover that adding 5cc of oil to the fork will help with front end diving as well as give me a little more comfort when charging into bigger bumps. The comfort that this KYB suspension has remains unmatched and the track toughness it provides makes your life so much less stressful on set up. This setting below will work for most riders ranging from 170-200 pounds.
Fork: 
Height: 5mm
Compression: 8-9 clicks out
Rebound: 8 clicks out
Plus 5cc of oil (stock valving/springs)
Shock: 
Sag: 103-104mm
Low Speed Compression: 8 clicks out
High Speed Compression: 3/4 turns out
Rebound: 8 clicks out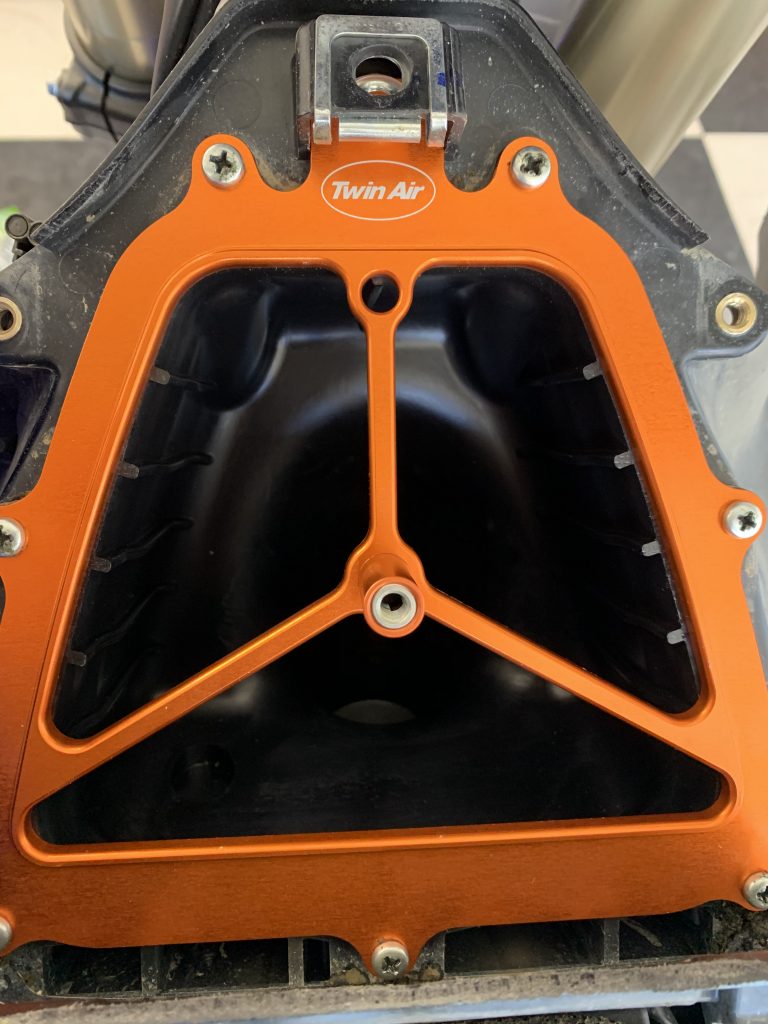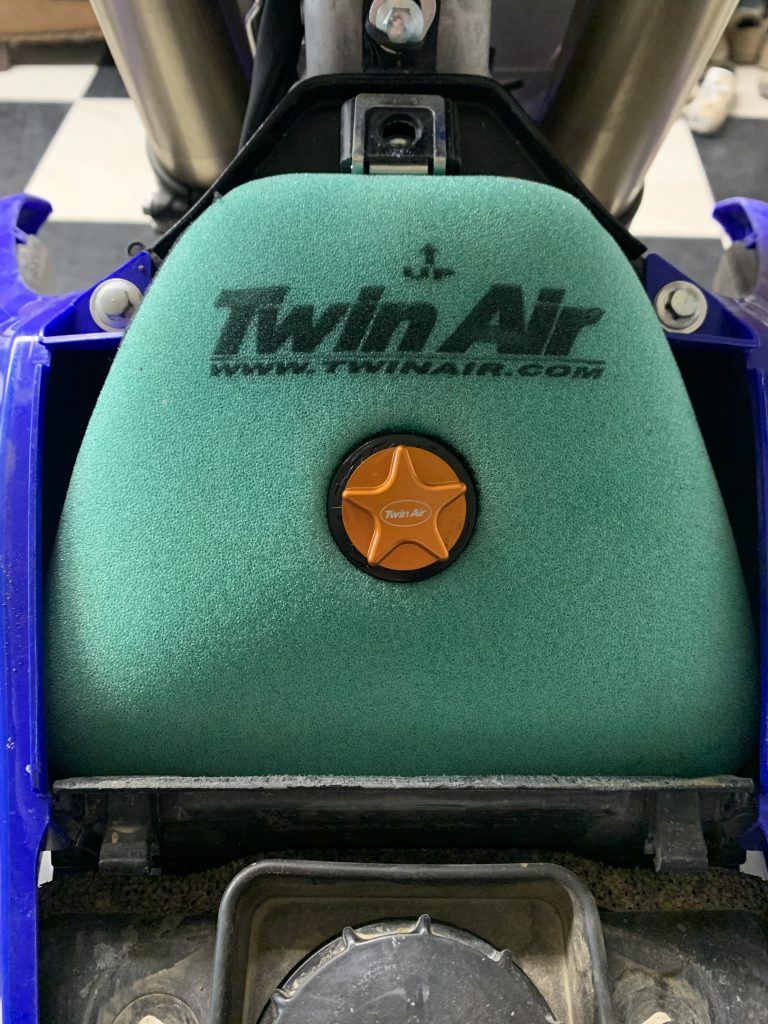 4. Twin Air Powerflow Filter Kit: If you want to get rid of the somewhat janky stock air filter cage system of the 2018-2020 YZ450F, go with the Twin Air Power Flow Filter Kit. To me the Twin Air YZ450F PowerFlow kit is the best all-around filter system for the YZ450F airbox. Why? With this kit, Twin Air replaces the stock sealing ring with an anodized aluminum mounting plate, gets rid of the backfire screen for uninterrupted airflow, adds an internal filter cage (that supports a bigger air filter), and finishes it off with a CNC-machined aluminum knob to hold the filter in place. This design brings in more air volume, increased air velocity, better sealing around the edges and better throttle response/bottom end pulling power. Yes, that is right, you will notice more rpm response out of corners as well as better pulling power out of soft loamy berms.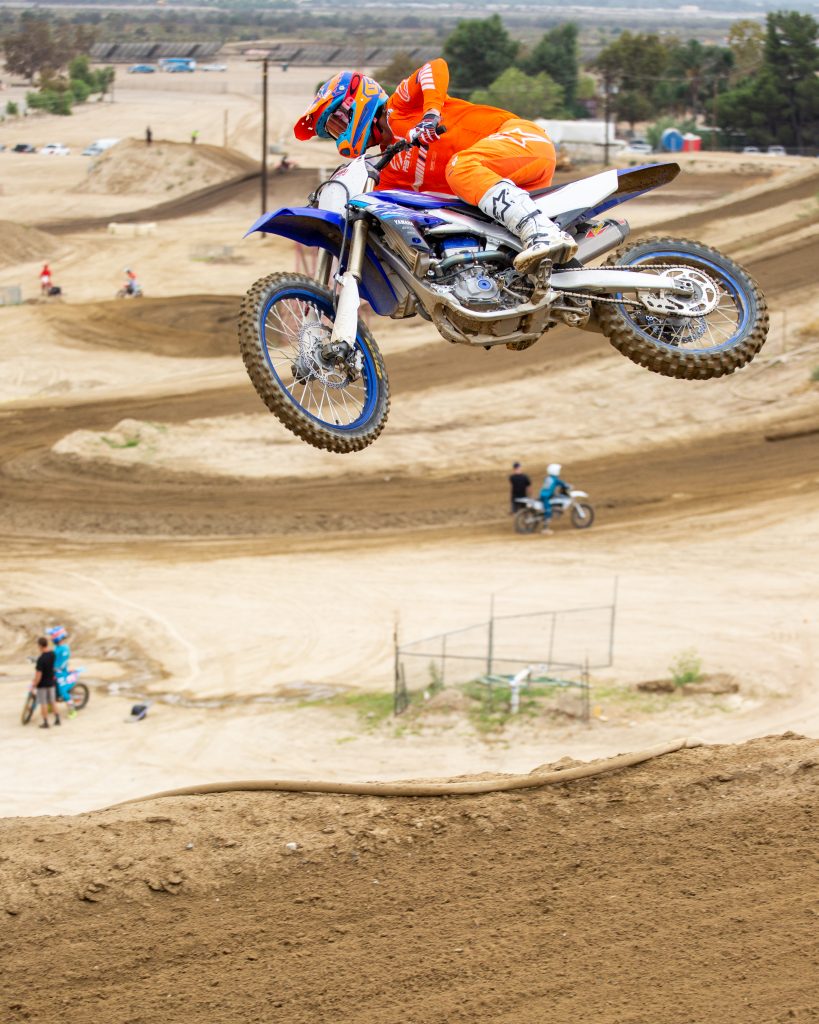 5. Dunlop MX3S Front Tire: It's baaaaaaaaaaaaack! The Dunlop MX3S front tire will increase the front tire lean angle traction in soft to intermediate terrain and give you a little more confidence knowing where that lean angle breaking point is. The MX33 doesn't give you enough warning when it breaks loose, instead it will simply just wash out unexpectedly. The carcass of the MX33 is also harder and will last longer, but since I am a big front end steering guy I want performance and will take less durability to get it. Run 13.5-14 PSI with the MX3S and enjoy the softer front end feel on sharp square edge bumps as well as a more consistent cornering feel. 
2020 YZ450F Tips/Extras: 
Throttle Play: If you are experiencing a lot of throttle play and have no more adjustment at the cable near the throttle housing, you will have to adjust the play down near the throttle body. Once you adjust some of the play out near the throttle body you can go back up and adjust the throttle cables near the throttle housing itself.
ECU Mapping: The two maps I have used the most is the TP3.0 and the Keefer1 maps. I usually go with the Keefer1 map when the track is in good condition, but when the track gets really rough or dry the TP3.0 comes in handy to help me manage the power better. To view maps, click on keeferinctesting.com and go to YZ450F Start Up/Baseline Settings.
2019 Modifications: Below are the top 5 modifications from last year as well as if those mods are still applicable on the 2020 YZ450F. 
Battery: The 2020 Yamaha YZ450F battery has had zero issues, but I have installed a FirePower battery to save on weight and to ensure that I have no battery failures. 
GUTS Racing Seat Foam And Gripper Seat Cover: The 2020 YZ450F stock foam will break down and get soft after 15 hours. If you aren't going with a GYTR taller seat foam (which GUTS makes) I would be using a medium foam with a gripper seat cover to keep my ass planted in the seat. The GUTS foam will last longer than the stock foam and even though the medium GUTS foam is advertised as stock firmness, it's a little firmer feeling than the standard foam. 
Heavy Duty Chain: Getting a heavy duty chain is still recommended because the stock chain will not last long (maybe 7 hours). I use a DID ERT2 gold or Fire Power heavy duty chain.
FMF 4.1: See above.
Front Brake: The 2020 YZ450F received several updates in the braking department.The front brake has a new larger piston caliper, bigger brake pads, and 16 percent more surface area on the 260mm front disc. The rear brake received a new caliper and hanger for a claimed weight savings of a quarter pound. The rear disc diameter has been reduced by 5mm to 240mm as well. I do not feel like I need to upgrade my front brake to the Brembo parts like I did last year. 
If you have any questions about your Yamaha YZ450F, please feel free to email me at kris@keeferinctesting.com.