Can we all agree the racing has been amazing this year?! A combination of the competition improving and better built tracks seems to be the magic in creating edge of your seat racing each and every Saturday evening. The number of storylines is plentiful and we'll touch on some of the others in a bit, but the one I want to focus on is the long, long awaited Eli Tomac vs. Ken Roczen championship battle. What looked to be happening back in 2017 has finally arrived in 2020.
On the surface, Ken Roczen and Eli Tomac are in the early stages of a very close title fight. They sit 1st and 2nd in the standings, are separated by a mere 3 points, and both have 2 wins. However, Ken Roczen and Eli Tomac's first five Saturday nights of the season couldn't be more different. Just look at the side-by-side comparison of key stats below and follow along.
Eli is actually qualifying better, 2 versus Ken's 4. But Ken is getting better results in the heat races, an average finish of 1 vs. Eli's average finish of 2. The important result of this is Ken has a better gate pick of 2 vs. Eli Tomac's 3. Not a big advantage but enough that Ken is selecting his gate before Eli every single main event. Most importantly, Ken is nailing the holeshots with incredible regularity. He currently has a season leading 4 of 7 holeshots. Eli has 0 holeshots. Ken's great holeshots are leading to a first lap position of 2 versus Eli's abysmal 8. This means that Ken rarely has to work through the pack as evidenced by his +1 total position change for the season. On the other hand, Eli leads everyone with +35 position changes over just 5 rounds. Note Eli led the 2019 season with +49 total position changes. At current pace, Eli would have +119 position change on the season! He has to improve his starts and put himself in a better position early in the races, like 2018 where he had 8 holeshots. Last but not least, Ken has led 81 laps versus Eli's 25.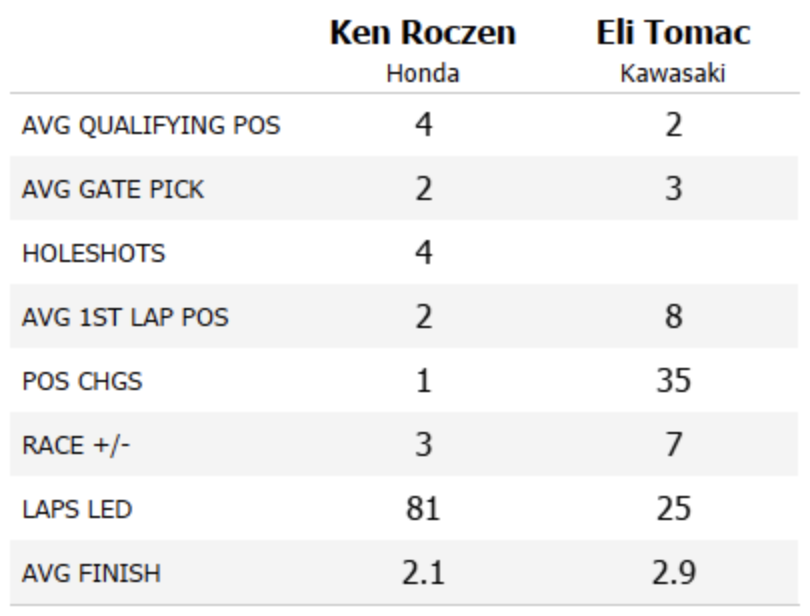 So while Ken Roczen and Eli Tomac are only separated by 3 points after 5 rounds, how they are getting results is entirely different. Eli is working significantly harder than Ken. If Eli figures out his starts similar to this evening in Oakland, the season could rapidly turn in his favor. Of course, our 2019 champion Cooper Webb is gaining steam after starting the season sick and our 2018 champion Jason Anderson continues to consistently lurk in the top five. No matter the outcome, we the fans are benefitting from the great racing every Saturday evening.
One last point to consider. In 43 years of supercross championships (excluding 1974-1976), the rider who gets to 3 wins first, wins the championship 72 percent of the time. Since 2000, it's 85% of the time. Ken Roczen and Eli Tomac both have 2 wins. Who do you have for winning their third main first!?
As always, drop me a line on Twitter or Instagram @3lapsdown with any questions or just to bench race. Hope you enjoy the analysis. And a shout out to Mike Sweeney for the idea on first to 3 wins stat.
250 CLASS ADVANCED ANALYTICS
STAT OF THE RACE
Best lap time of the race was a 59.75 by Austin Forkner of the Monster Energy Pro Circuit Kawasaki team. On the broadcast, there was a lot of talk that Dylan Ferrandis, on his Star Racing Yamaha, was faster. However, the numbers don't lie. As Austin said on the podium, he made too many mistakes and given how close they were in times, it's very difficult to make up for those mistakes. Honorable mention to Alex Martin and his holeshot on the JGRMX Suzuki. It's not often that you see Alex upfront on the starts, but tonight he nailed it and went on a 4th place finish, his season best.
PRIVATEER SPOTLIGHT
Aaron Tanti of Silverdale, New South Wales, Australia riding the Complete Parts/Serco Yamaha has been steadily improving each week and got a season best 9th place in Oakland. He started in 11th position and passed his way forward to that 9th tonight and is showing that missing the main at the first round was a fluke. One of handful of Australians competing in the 250 west coast series, Aaron is demonstrating the skill of an ever increasing talent pool down under.
WEEK 3 SHAKER & STUDS, FADERS & DUDS
Disclaimer: It's hard to give out a Fader or Dud award when you're talking about the fastest supercross riders in the world. I've a ton of respect for everyone on the entry list though the numbers are the numbers and they tell a story. Don't shoot the messenger.
SHAKER
Another week and we're talking about Derek Drake of the Troy Lee Designs Red Bull KTM team. To be clear, we're not talking about his starts as he rounded lap one in 15th position. But from there, he made +8 position changes and finished the night a team best 7th. The rookie is making strides the last couple of weeks.
STUD
Luke Clout of the Penrite Honda team, another of the Australian contingent, finished in a career and season best 5th place. He's obviously incredibly talented having challenged Justin Brayton for the AUS SX national title. Now five rounds into the series and he's starting to find his footing and put full, consistent nights of racing together. On this night, he also mixed it up with the title contenders in both his heat race and the main event.
FADER
Mitchell Falk dropped -12 positions. I don't have more details for you other than it looks like he potentially fell on laps 2, 4, and 9. He's a young talent attempting to make it as a pro and unfortunately, tonight did not go well for him. If you haven't go read Kellen Brauer's interview with him on Racer X. It's a great read.
FANTASY HERO
It's not often that one rider makes such a stir, but congrats to Taiki Koga on his first main event and his significant contributions to many fantasy sx teams (not mine)!
450 CLASS ADVANCED ANALYTICS
STAT OF THE RACE
-2. Both Ken Roczen and Adam Cianciarulo had a -2 position change and finished 3rd and 4th, respectively. Obviously both riders had great nights but each let a few points slip away in the waning laps of the main event.
MANAGER SPOTLIGHT
From most all aspects, it looks like Tony Alessi's "Believe the Hype" campaign is coming to fruition in the careers of Malcolm Stewart, Justin Hill, and Vince Friese. Not to mention helping keep Justin Brayton on top notch equipment that ultimately led him back to a factory Honda HRC ride. The Smartop Motoconcepts Honda team sits in 7th, 11th, and 14th in the standings. Congratulations to Justin Hill on a heat race win followed up with an 8th place finish. #PNW
PRIVATEER SPOTLIGHT
What's the saying… Chiz is gonna Chiz? Kyle Chisholm is back racing after a bad crash at the third round. While he didn't have a particularly spectacular night, he started racing in 2006 and continues to make main events with a regularity that many of his much younger competitors dream about.
WEEK 3 SHAKER & STUDS, FADERS & DUDS
Disclaimer: It's hard to give out a Fader or Dud award when you're talking about the fastest supercross riders in the world. I've a ton of respect for everyone on the entry list though the numbers are the numbers and they tell a story. Don't shoot the messenger.
SHAKER
Justin Barcia had to qualify through the LCQ after a mechanical. With 19th gate pick in the main event, he ended up buried in 11th place after the first lap. He then went to work passing +5 riders to finish 6th overall on the night. Don't look now, but Justin's maintaining his momentum and has not lost sight of the title contenders, unlike years past. It's possible he's getting his bike set-up under control and that could mean that he's in the fight down the stretch.
STUD
Eli Tomac takes the award this week. He started in 3rd and passed both his teammate and title rival. After a mistake that cost him 3 seconds about 14 minutes into the 20 minute main event, he recovered from his mistake, immediately laid down the 2 fastest laps of the 2nd half of the race (2 of only 4 that were below 1 minute after the halfway mark), and repassed for the lead and win. Seeing his smile on the podium was very telling of just how comfortable he was out there.
FADER
Zach Osborne had a great start and held his own for most of the race, but consistent 1:03 and 1:04 lap times in the second half of the race allowed Justin Barcia, Dean Wilson, Justin Hill, Blake Baggett and Malcolm Stewart to pass him. It's possible that he's still dealing with the lingering effects of an early season flu. Either way, he can't be happy seeing his competitors consistently hitting 1:01 and 1:02 lap times. Additionally, many fantasy owners cried on the last lap of the night when Malcolm Stewart made the pass and dropped him out of double points (I feel you Voice of the Drunken People, I feel you!).
DUD
Vince Friese started in 15th and finished in 14th. At the bottom end of riders on factory equipment, I'm sure Tony Alessi wants better results.