PulpMX.com Fantasy Pick & Trends
Scores soar in NorCal
Hey everyone, thanks for checking out this week's PulpMX Fantasy wrap up! Oakland delivered great racing and a tie at the top of the PulpMX Fantasy League! Congratulations to chancp786 and Bsmith831 on the awesome 296-point scores! Unfortunately, we can only have one winner. This was decided by their score from last week at Glendale, which was also very close, 244 to 249, with chancp786 taking it down. Pretty crazy that over two weeks they were only separated by 5 points. Let's take a look at chanc's winning team.
Chanc's 250 team was optimal – they selected the highest possible scoring team. It was topped by Aaron Tanti and Taiki Koga, each scored 46 points. Tanti via a 7 handicap – 9P finish and Koga via a 16 handicap 18P finish. Luke Clout put up a great 38-point score at a one handicap via his 5P finish, and they rounded it out with Justin Cooper – 26 All Star points at a one handicap.
Their 450 squad was topped by Dean Wilson who bounced back in a big way from Glendale, scoring 42 fantasy points, via a 7P finish, 4 handicap. They also chose Justin Hill – 34 points at a 2 handicap, Kyle Cunningham – 30 points at 11 handicap, and Cooper Webb in the All-Star slot with 26 points at a 4 handicap.
Chancp786 also chose FFL's and went one for one, guessing correctly with Roczen, and incorrectly with Justin Cooper.
Keys to success: This week it was a simple one for one swap, choosing Taiki Koga and his 46 points at 7.1% over Cameron McAdoo's 11 points at 42% was a huge difference-maker. This resulted in a 35-point swing over a huge chunk of the field. Congratulations again to Chancp786 on the great score!
Let's take a look at everything else.
 Most picked riders AKA "the chalk"
Pick trends rose a bit this week as we had 7 riders with >30% pick trends. This included only two All-Stars, which is a bit of a drop. This season most of the chalky picks have been All-Stars, so it's cool to see 2x point eligible riders pick trends rise.
The highest pick trend this week was Dean Wilson (4) at 45.7%. He was followed by Adam Cianciarulo (6AS) – 41.7% and Zach Osborne (0) – 38.9%.
250 class chalk was topped by Cameron McAdoo (2) at 42%, Justin Cooper (3AS) – 37.9%, Luke Clout (1) – 34.6%, and Aaron Tanti (7) 30.8%. Aussies are dominating the chalk!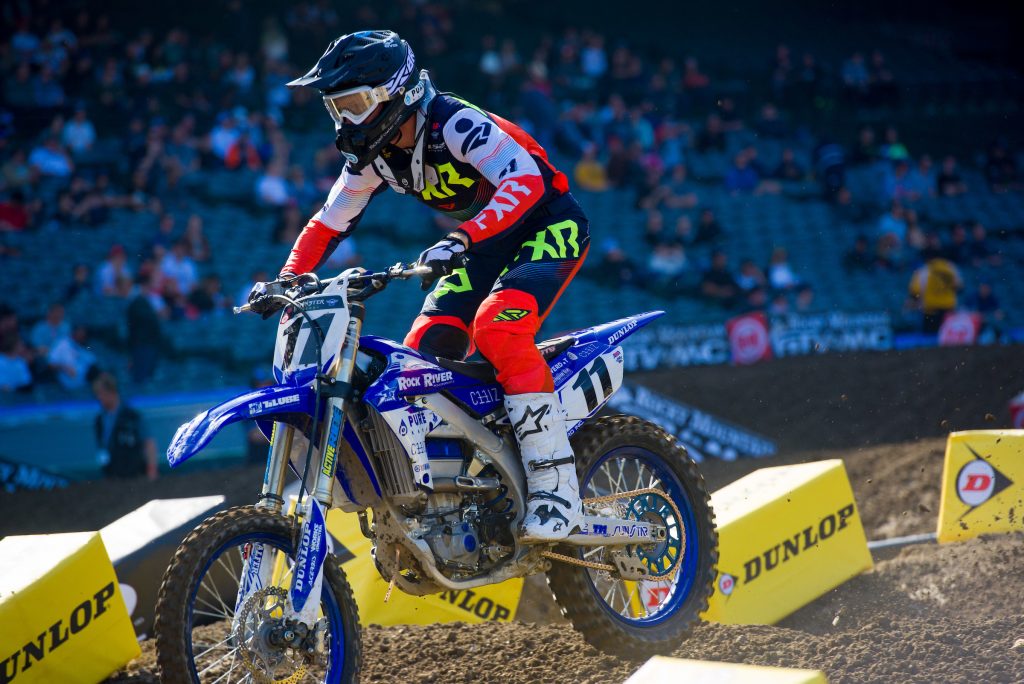 Low owned players who delivered – AKA great contrarian plays
The Bay Area is notorious for fog obscuring the views and I'm wondering if it might have had an effect on picking some high handicap 450 riders who put up great scores? We saw not one, but two riders put up a top 3 score at less than 2.2% pick trend. Cade Autenrieth (15) topped them all via his 36 points score at 1.1%. Granted, Cade hasn't raced for a while, but a quick look at the RacerX Vault shows some top 20 finishes over the last few seasons and he qualified in 22P, just off Ryan Breece and ahead of the 722, both of whom had higher pick trend percentages. We also saw great scores from Joshua Cartwright (16) – 34 points at 2.2%, and Kyle Chisholm (11) – Chizz chizzed and almost nobody picked him! He put up 34 points at only 6.2%.
If you listened to the PulpMX Fantasy podcast last weekend, you know that JT was ridiculed for his firm belief that Koga was going to have a big day by the bay. As it turns out, JT was 100% correct, Taiki topped them all with his 46-point score at only 7.1%. We also saw Michael Leib (9) have yet another great fantasy day, scoring 38 points at only 8.1%, and Lorenzo Camporese (13) get back on the board with 32 points at only 0.2%
Fantasy Duds
Who burned the field? Let's take a look.
I'm happy to report that the return to the "normal" Supercross format netted fewer duds than we saw last week in Glendale. We did see a couple of notables to mention though. Ram it lived up to his nickname for anyone who picked him in the 250 class, and it was a bunch of you, Cameron's return netted only 11 points for 42% of you.
Zach Osborne (0) had another tough day in real life and fantasy. He delivered only 12 points at 38.9% via an 11P finish. We also saw Blake Baggett (0) wind up here for a second straight week. While his 28 points weren't horrible, it still felt like he underperformed given his speed and handicap. I'm guessing 29.5% of PulpMX Fantasy owners would agree with me on that.
 Fantasy Studs
 These are the riders with high pick trends who delivered!
The 250 class scoring was dominated this week by two high pick trend Aussies, Luke Clout and Aaron Tanti. Clout with 38 points at 34.6% and Tanti with 46 points at 30.8%. We also saw Derek Drake (1) with another great score, 34 points at 21.9%.
Dean Wilson was the only 450 class high pick trend, high point scorer. He had a 45.7% pick trend and rewarded his owners with the highest in class score of the weekend, 42 points. We also saw another high pick trend for AC at 41.7%. He put up 26 perfect all-star points at a 6 handicap.
 The 100% "Lead Pipe Locks"
It seems that none of the experts want to win the steak dinner and donuts! Steve, JT, and Paul all chose chalky Cameron McAdoo as their 100% Lead Pipe Lock pick. Only Dan went contrarian by picking Jay Wilson. In the 450 class, Steve and Paul chose Dean Wilson, while JT & Dan went with Blake Baggett. Dan's contrarian pick allowed him to take down this week's 100% Lead Pipe Lock win with 54 points, followed by Steve & Paul at 53 points, and JT at 39 points.
For the season, Dan has taken a slim one-point lead, with 216 points, followed by Paul at 215, JT at 181, and Steve in last at 177.
 First to Finish Line (First Lap) Leaders
FFL pick trends were close to normal as we were back to the regular "one-shot" format for correctly choosing the FFL. This week we saw 31.7% choose an FFL in the 250 class with 1.2% of you somehow landing on the Troll Train. Brave pick! The 450 class had a lower percentage of owners rolling the FFL dice. Only 25.9% chose, with 53% correctly picking Ken Roczen.
 Fun Facts & Stats 2020 Supercross Season
Highest pick trend to date: 61% Adam Cianciarulo (Anaheim 1)
All Star perfect scoring: Ken Roczen saw his perfect scoring streak end at four rounds. Eli Tomac has a 4 round perfect streak going, will we see him extend it to 5 this weekend? Justin Cooper made it through the first three rounds with a perfect score but was unable to stay golden in Glendale. He does have the most 26-point scores though, at 4 out of 5 rounds.
For the season, we saw a drop in 450 Class perfect score percentages. Through 5 rounds we have seen 19 out of 40 riders with a perfect score (47,5%). The 250 class saw a slight increase, they are now at 21 out of 40 perfect scores (52.5%). This is up a bit from average, which hovers around 37.5%.
Highest score by a rider – 46 points by Aaron Tanti and Taiki Koga, both at Oakland.
Highest and lowest correct FFL pick % for the season (regular format). Both came at St. Louis! 55.9% correctly chose Austin Forkner, with only 0.4% correctly choosing Zach Osborne.
Highest team score – 296 points, both at Oakland by chancp786 and Bsmith831.
Championship leader average score – eastcoastlifestyle11 is leading the PulpMX Fantasy Championship League with a whopping weekly average of 246.8 points.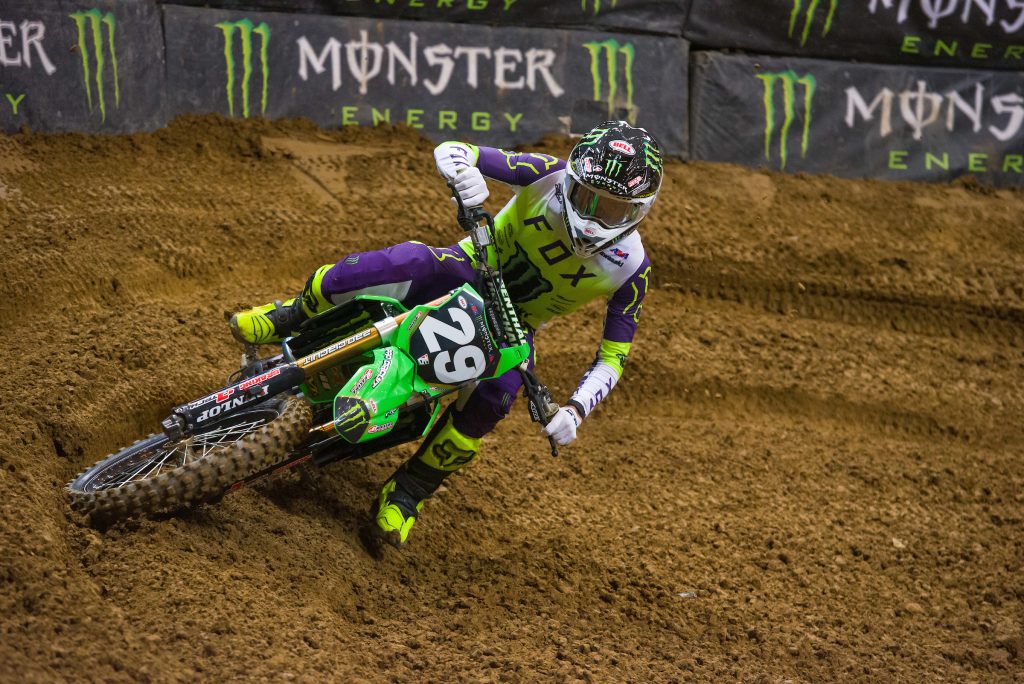 Final Thoughts – San Diego Round 6
As always, keep an eye on two things, the injury report, and riders who are underperforming.
We should see Benny Bloss return from his Glendale concussion. When we last saw Benny, he was a 9 handicap. I would expect that to rise up a bit, or at least remain the same, giving him lots of upside.
I would also keep an eye on Blake Baggett who will remain a high ceiling value proposition at a zero or higher handicap. Same for Zach Osborne, who was also a zero at Oakland. Both riders are due for a great fantasy week.
If you are one of the 58% who is able to pick Cameron McAdoo this weekend, I would give it serious consideration. He will be 2x point eligible again this week and should have even more value than he did at Oakland. Also, keep an eye on Jacob Hayes. He is also 2x eligible and has finished in the top ten at 3 out of 5 rounds this season, with a best finish of 5P. He should be a high floor – high ceiling pick!
That's it for this week. Thanks, everyone for reading and playing. Please remember to support the PulpMX Fantasy sponsors when you shop for all of your off-road, motorcycle and MTB needs.
Hope I see you on the leaderboard!