PulpMX.com Fantasy Pick & Trends
Low pick trend riders dominate 250 scoring.
San Diego always seems to deliver. Whether it's due to Military Appreciation Night, the downtown location, or the usually good weather, it always seems that something good is in store. This year, we had a great night of racing in both classes and some really interesting fantasy scoring. We also had one PulpMX Fantasy player rise to the top, congratulations to Ericsol who took down this week's Championship League by two points with a great 280-point score!
Ericsol did not pick a perfect team in either class, as that would have been nearly impossible due to some very low pick trend riders nearing the top of this week's scoring. His picks were solid, and he didn't make any mistakes, especially with his 250 picks. That's all it took.
Eric's 250 team was led by Michael Mosiman's 38-point effort via his 4th place finish. This was a great pick as Mosiman was due and presented a ton of value. He rounded out the squad with Jay Wilson at a 6 handicap – 23% and Logan Karnow 10 handicap – 5.7%. Each scored 36 points. Finally, Eric chose easy money, Austin Forkner, at a 2HC all-star for 26 perfect points.
The winning 450 lineup was topped by Blake Baggett at a super high value zero handicap. Blake delivered 42 fantasy points via his 3rd place finish. He also chose Benny Bloss (11) and Martin Davalos (6), they scored 34 points each, Benny at 45.4% and Marty at 40.7%. Chris made another great all-star pick in the 450 class with Cooper Webb at a 3HC. Coop delivered 26 perfect points via his 1P finish.
Finally, Eric went one for two in picking FFL's, correctly guessing AC and incorrectly guessing Austin Forkner, for 8 additional points.
Keys to success: He played the good plays! Sometimes it's as simple as that. Chris chose a lot of great value plays, didn't get fancy and didn't overthink it. Mosiman and BB4 were great plays this week if you guys were able to choose them and didn't, reexamine your process! He was also unable to choose Cameron Mcadoo who busted many PulpMX Fantasy teams yet again. More on him below.
Let's take a look at everything else.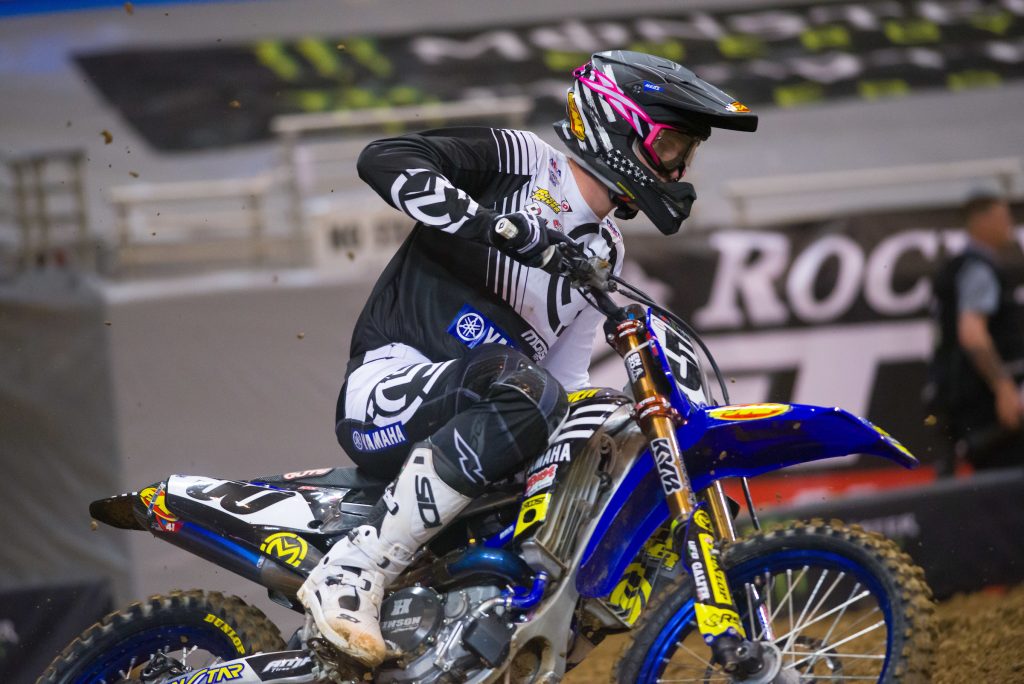 Most picked riders AKA "the chalk"
The high pick trends were interesting to look at this week as we had a slightly higher than normal amount of chalk, with nobody above 50%, which is unusual. The highest pick trend rider was Benny Bloss (11) at 45.4% – he was followed by Martin Davalos (6) 40.7%, and Blake Baggett (0) at 37.3%.
250 chalk was topped by Austin Forkner (2AS) – 41%, Michael Mosiman (0) – 40.6%, and Cameron Mcadoo (3) – 31.8%.
 Low owned players who delivered – AKA great contrarian plays
There were a ton of low owned 250 riders! Bryson Gardner (16) topped 250 class scoring this week by putting up 42 points via his 19P finish at 0.1%. This was Bryson's first professional supercross race, and he made the main event on his first try, nice job Bryson! Cheyenne Harmon (I think Steve talked him up on last week's podcast) met the value of his 12HC via his 16P finish, scoring 38 points for 0.9%. Logan Karnow (10) had another solid night, scoring 36 points for 5.7%. We also had Ludovic Macler (13) – 36 points at 1.5%, Carson Brown (2) – 34 points at 6.5%, and Killian Auberson (6) with another strong night, 32 points at only 3.3%. The last three have been pretty solid picks all season, I am surprised at how low their pick trends were.
The 450 Class didn't present as many. Jason Clermont (16) topped scoring for the low-owned with 38 points. According to the RacerX Vault, this was his first Supercross as well, so it's easy to see why he had a 0.1% pick trend. We also saw Aaron Plessinger (2) score 30 points for only 6% and Swap Moto's own Alex Ray (10) with 28 points at 11.1%
 Fantasy Duds
Who burned the field? Let's take a look.
Cameron Mcadoo's comeback from injury has not gone to plan. For the second straight week, he burned a huge chunk of the PulpMX Fantasy field, this week via a 4-point performance at 31.8% pick trend. We also saw Michael Leib with a rare DNQ – zero points at 18.1%.
Not much in the 450 class other than Jason Anderson's sub-optimal 13 point all-star performance at 25.7%.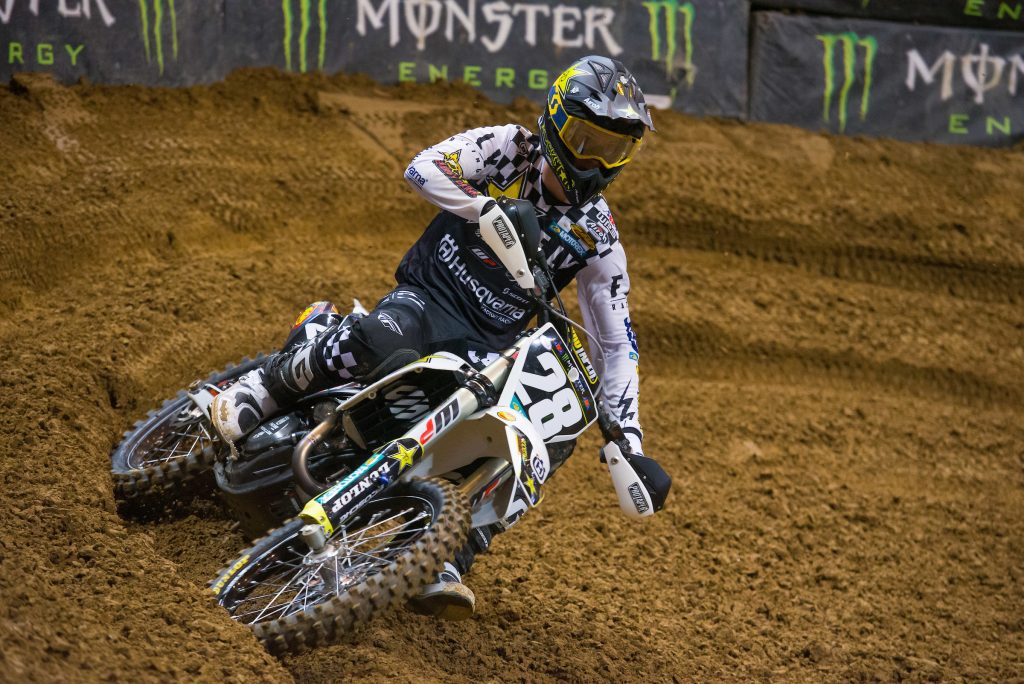 Fantasy Studs
 These are the riders with high pick trends who delivered!
Michael Mosiman tops the 250's via his 38-point score at 40.6%. I'm surprised his pick trend wasn't higher, 86.1% of owners were able to pick him this week. We also saw Jay Wilson (6) continue to be consistent, this week delivering 36 points at 23%.
Riders who we mentioned at the beginning of this article topped the 450 class, Blake Baggett with 42 points at 37.3%, Martin Davalos with 34 points at 40.7%, and Benny Bloss with 34 points at 45.4%.
 The 100% "Lead Pipe Locks"
Last week's podcast featured all four regulars, and they bunched up on their picks again. Steve and Paul chose Michael Mosiman, while Dan & JT went with Cameron Mcadoo for their 250 class picks.
The experts had some variety in their 450 picks with Steve choosing Benny Bloss, Dan choosing Marty, JT choosing Zacho, and Paul choosing Blake Baggett.
The final tally was a runaway win for Paul with 80 points, followed by Steve's 72, Dan's 38 and JT's 30-point score.
For the season, Paul now has a commanding lead at 295 points, followed by Dan at 254, Steve at 249, and JT falling to last place at 211 points.
 First to Finish Line (First Lap) Leaders
FFL pick trends continue to hover at around 30% of teams selecting. Note, every winning team this season has benefitted from the bonus points provided by correctly choosing an FFL. This week we had 33.1% choose a 250 FFL with only 0.2% correctly picking Michael Mosiman. The 450 class saw a lower than average 28.2% of owners making a choice, with 14.2% correctly picking AC.
 Fun Facts & Stats 2020 Supercross Season
Highest pick trend to date: 61% Adam Cianciarulo (Anaheim 1)
All-Star perfect scoring: Eli Tomac saw his 4 round perfect streak end at San Diego. To date, nobody in the 450 class has topped 4 weeks in a row! Cooper Webb is next up; San Diego was his fourth consecutive perfect score. Will he be the first 450 all-star to score five in a row? Dylan Ferrandis and Justin Cooper have each had a perfect score in 5 out of 6 rounds.
For the season, the 450 class has had 24 out of 48 all-stars achieve a perfect score (50%). The 250 class is slightly higher, they are now at 27 out of 48 perfect scores (56.25%). This is up quite a bit from average, which hovers around 37.5%.
Highest score by a rider – 46 points is still the score to beat! This was done by Aaron Tanti and Taiki Koga, both at Oakland.
Highest and lowest correct FFL pick % for the season (regular format). 55.9% correctly chose Austin Forkner at St. Louis. Lowest to date was set this week, with only 0.2% correctly choosing Michael Mosiman.
Highest team score – 296 points, both at Oakland by chancp786 and Bsmith831.
New Championship leader! Shurandy_Suga_SX has taken the lead in the PulpMX Fantasy Championship. They have scored 1472 points total with a massive weekly average score of 245.3 points.
Final Thoughts – Tampa Round 7
The series moves east this weekend, landing at the home of the Tampa Bay Buccaneers. The weather looks to be perfect, on race day, topping out at 74 degrees with sun, and a nighttime low in the mid-'60s.
We will nave a new batch of 250 class riders to choose from! This is going to be fun, Paul tweeted last night that he was going through the handicaps and noted that there are 19 riders with national numbers, 29 who have made mains, and three rookies with factory rides. It should lead to some good value!
I recommend watching practice closely and as we saw from this week's winner, play the good plays! In other words, don't take huge risks on plays that have a low floor.
For the 450 class, I like Aaron Plessinger again this week, especially if he's anywhere near the 2 handicap he had at San Diego. I would also keep an eye on Justin Brayton (team homelife) and Justin Hill, who had an epic ride at Tampa a few years back. Finally, Broc Tickle will make his return to racing and it looks like he will be on a JGR Suzuki. I'm really interested to see how he rides and what his HC will be. I'm guessing he will be a 5 or 6 handicap.
That's it for this week, thank you for reading and please remember to support the sponsors who support PulpMX.
Hope I see you on the leaderboard!