PulpMX.com Fantasy Pick & Trends
Scores are boomin' in the dome!
If you felt like you put up a great score last week, and it didn't show as such in the overall results, don't sweat it, you're not alone! Round 9 at the Mercedes-Benz Stadium in Atlanta GA turned out to be the highest-scoring race of the season. (excluding Triple Crown format)
It took a whopping 330-point score to take down the PulpMX Fantasy Championship League this week and that was accomplished by Spencer 267, congratulations Spencer, let's take a look at their team!
250's. Spencer picked an optimal team for this class. The team was led by Nick Gaines (7) at 52%, Enzo Lopes (5) at 34%, and Hunter Sayles(13) at 3.7%. They selected Jordon Smith (6) as an all-star at 13.8%.
450's. This is interesting as Spencer chose a 450 team that left a lot of points on the table in that they were part of the 30.4% who chose Justin Brayton. JB10 was only able to score 26 fantasy points, yet nobody else found the right combination to score more than 330. Spencer's 450 team was topped by Martin Davalos (6). Marty had a perfect fantasy night, scoring 52 points at 21.1%. He was followed by Benny Bloss (10) at 21.3%, and finally, Ken Roczen (2) as their all-star at 37.8%.
Finally, Spencer chose Chase Sexton and KROC for FFL's and went one for two, giving them an additional 8 extra points.
Keys to success: Avoiding Pierce Brown, who put up a blistering fast time in qualifying and couldn't back it up in the main. Pierce had a 44.5% pick trend and was only able to manage 11 fantasy points. The other big key, picking one of only three 250 class riders who put up a 46-point score. Of the three, Hunter Sayles had the highest pick trend percentage at only 3.7%
Let's take a look at everything else.
 Most picked riders AKA "the chalk"
Atlanta handicaps led to a bit of concentrated ownership this week as we saw five riders in the 250 class with >30% pick trends. Topping them were Nick Gaines (7) at 46.9%. He was followed by Pierce Brown (5) – 44.5%, Cedric Soubeyras (6) – 36.5%, Chase Sexton (1AS) – 34.8%, and finally Enzo Lopes (5) at 34%.
The 450 class had four riders with >30% pick trends. Ken Roczen topped them all at only 37.8%. He was followed by Dean Wilson (1) – 34.2%, Chad Reed (9) – 34.6%, and finally Justin Brayton (2) at 30.4%.
Low owned players who delivered – AKA great contrarian plays
This was dominated by 250 riders this week as we saw three riders put up a 46-point score at under 4% ownership. This was accomplished by Hunter Sales (13) at 3.7%, Kevin Moranz (12) – 2.5%, and Grant Harlan (16) at 0.1%. Note, Grant made it to the main after qualifying P40. Amazing! The 250 class also saw great 38-point scores at low ownership from Jalek Swoll (5) at 17%, Joe Shimoda (1) at 6.2% and Luke Neese (16) at 0%.
Two riders to discuss in the 450 class. Daniel Herrlein (16) nearly topped scoring in class with 46 points at only 0.7% Daniel is a classic "bubble" qualifier that we need to give serious consideration to if we're playing to win. He qualified 24th at a 16 handicap. This is exactly the type of rider to select if you're willing to roll the dice on a max score. We also saw the 722 (14) put it into the main again after qualifying P19. I'm surprised his pick trend was only 11.9% given how much of the field is now missing. Adam put up a great 42-point score via his 17th place finish in the main.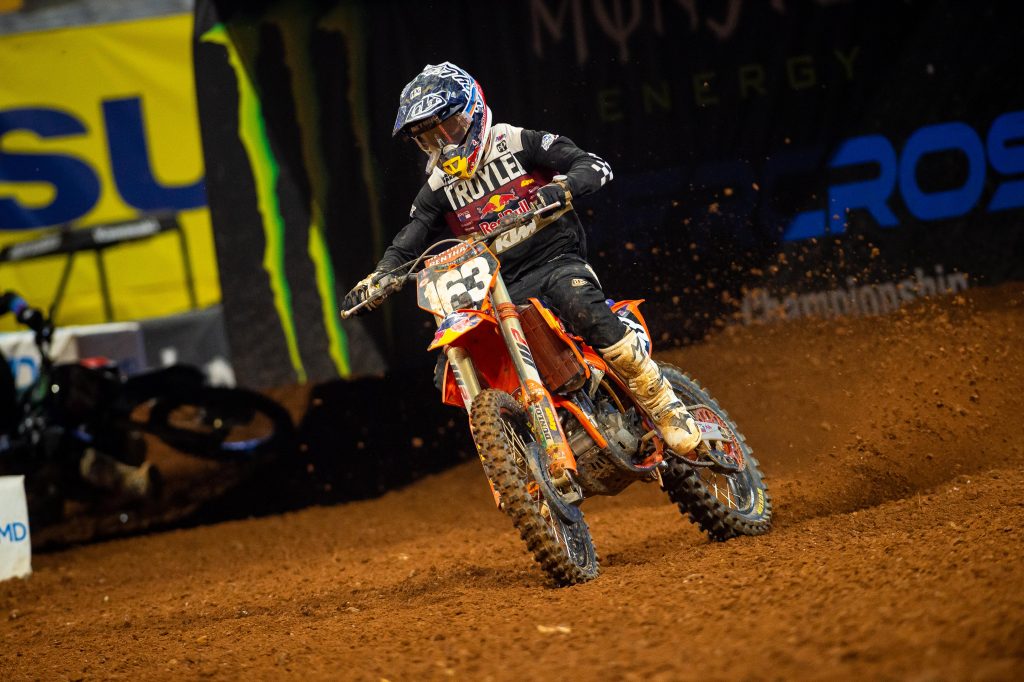 Fantasy Duds
Who burned the field? Let's take a look.
As discussed already, Pierce Brown was the chief culprit in the 250 class. We also saw less than stellar fantasy results from Dean "overdue" Wilson (1) who only managed 28 points at 34.2% and Justin Brayton who had an even worse fantasy night, scoring 26 points at 30.4%.
 Fantasy Studs
 These are the riders with high pick trends who delivered!
In the 250 class it was the Nick Gaines and Enzo Lopes show. Each put up a 52-point score at very high ownership. Nick at 46.9% (highest of the evening), and Enzo at 34%.
The 450 class saw Marty go from "dud" last week to "stud" this week, as he put up a massive 52-point score. It looks like he did suffer a bit from recency bias though, as his pick trend came in at a low 21.1%. We also saw Benny Bloss put up an overdue good fantasy score with 42 points scored at a 21.3% pick trend.
The 100% "Lead Pipe Locks"
The ATL Pod featured the usual fearsome foursome of Steve, JT, Paul, and Dan prognosticating on who the top picks will be.
This week we had a tie at the top as Steve and JT scored 78 points. Steve got there with Nick Gaines and Justin Brayton, while JT chose Enzo Lopes and Brayton. Paul followed with 62 points via his choice of Souby & Brayton, followed by Dan who chose Sanayei and the 722 for 42 points.
New season leader! Steve has surged to the lead with a 459-point total! Paul drops to second at 448 points, followed by Dan in third at 398, and JT in fourth at 376 points.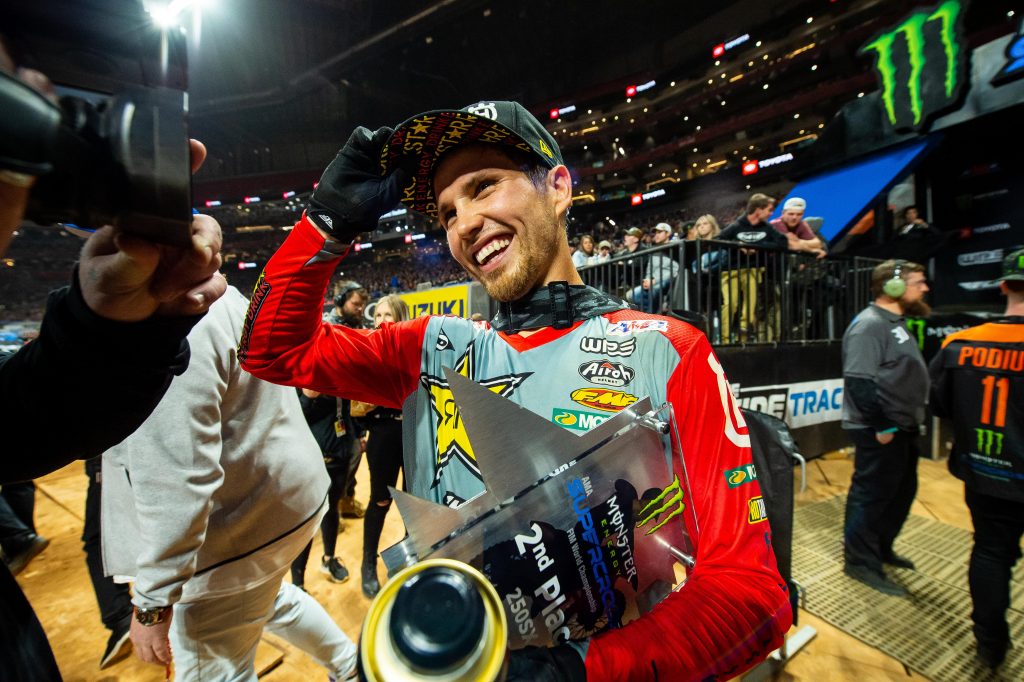 First to Finish Line (First Lap) Leaders
RJ gets no love! This week saw a normal percentage of teams choose an FFL, with almost nobody correctly guessing PulpMX's own RJ Hampshire in the 250 class! 26% of teams chose and only 6.2% correctly had faith in our man RJ. The 450 class was much higher, with 24.9% of teams risking the biscuit. Of them, 73% correctly chose KROC as FFL.
 Fun Facts & Stats 2020 Supercross Season
ATL was the highest-scoring regular format race to date this season. We saw two perfect scores in the 250 class and one in the 450 class. We also saw a massive 330-point score for the overall winner.
Highest pick trend to date: Still 61% Adam Cianciarulo (Anaheim 1) – will this be topped this season?
All-Star perfect scoring: Ken Roczen is the most consistent to put up a perfect score. He has now done it 7 times.
Sneaky good: Mookie has now put up a perfect score at 4 consecutive rounds, can he get to five?
Chase Sexton has put up a perfect all-star score at all three rounds in the east. Can he make it four?
For the season, the 450 class has had 39 out of 72 all-stars achieve a perfect score (54%). The 250 East class is now at 13 out of 24 perfect scores (also 54%).
Highest and lowest correct FFL pick % for the season (regular format). 55.9% correctly chose Austin Forkner at St. Louis. Lowest to date was set this week, with only 0.2% correctly choosing Michael Mosiman.
Championship League, Chancp786 retains the overall lead with a massive 262.4-point weekly average, good for 2362 total points.
 Final Thoughts – Daytona Round 10
It's the 50th Anniversary of the Daytona Supercross, and the track looks to be interesting this week! As of this writing, the weather looks pretty typical for Florida this time of year, with a bit of rain on Thursday, and a cool partly sunny day on Saturday. No weather concerns to speak of!
Once again, we are looking for Dean Wilson and Blake Baggett to finally have a good week. Both are long overdue and should retain some solid value due to some bad luck of late. I'd also keep an eye on Benny Bloss. He looked much better at ATL and should do well on the choppy Daytona track.
For the 250 class, I'd look for Pierce Brown to bounce back this week. It's a classic case of burning a huge chunk of the field, then being unavailable the next week.
That's it for this week, thank you for reading and please remember to support the sponsors who support PulpMX.
Hope I see you on the leaderboard!