Daytona Super Speedway Delivers Low Scores
Hi everyone, thanks for stopping by to check out the Daytona edition of the PulpMX Fantasy wrap up. Daytona delivered scoring that was much closer to normal compared to the last few weeks and a continued streak of bad luck for a high profile KTM rider who had a >50% pick trend.
This week it took "only" a 296-point score to take down the PulpMX Fantasy Championship League overall. That was accomplished by "eggy" who got there by picking a very high scoring 250 squad that was topped by Pierce Brown (7) at 52 points. The key player to his high overall though was Carter Halpain (16) who put up 46 points at only 2.1%. Eggy also chose Lorenzo Locurcio (9) – 42 points at 36.3% and Jeremy Martin (4AS) with 26 perfect all-star points.
Eggy's 450 team was led by Benny Bloss, his 38-point score topped the 450 class and his 45% pick trend nearly did as well. Eggy also chose Ryan Sipes (10) – 34 points, the 722 (12) – 32 points at 14.9%, and Eli in the all-star slot with 26 perfect points at 37.7%.
Keys to success: As mentioned earlier, choosing Carter Halpain at only 2.1% played a huge part, but there were also some riders that they avoided who would have spelled disaster, we'll get into them below.
Let's take a look at everything else.
Most picked riders AKA "the chalk"
Finally, a new season-high pick trend! Jeremy Martin's 63.3% pick trend is a new PulpMX Fantasy Season-high. Jeremy delivered 26 all-star points at a 4 handicap. We also saw Chase Marquier (13) – 36.5%, and Lorenzo Locurcio (9) at 36.3%.
The 450 class was topped by Blake "bad luck" Baggett. Blake was picked by 51.9% of the field at a 3 handicap. We also saw Benny Bloss (8) – 45%, Eli Tomac (1AS) – 37.7%, and Ryan Sipes (10) at 36.1%.
Low owned players who delivered – AKA great contrarian plays
Grant Harlan qualified P27 then went out and finished 13th in the main, good for 52 points. His pick trend was understandably low, only 1.8%. We also saw Carter Halpain put up a great 46-point score at only 2.1%, and Jalek Swoll with 32 points at 5.1%.
450 class low trends were topped by Henry Miller (13) who put up 38 points at only 1.3%. We also saw Chad Reed continue a good run of late, with low ownership, he scored 36 points at only 16%. Aaron Plessinger had a successful return to Daytona, scoring 34 points at a 0 handicap for only 11.4% and finally, Ryan Breece (11) put up 32 points at only 1.4%. There were a lot of points left on the table!
Fantasy Duds
Who burned the field? Let's take a look.
A pair of DNQ's topped the 250 class. Nick Gaines (4) and John Short (7) each had pick trends above 17% and both missed the night show for zero points scored combined, ouch!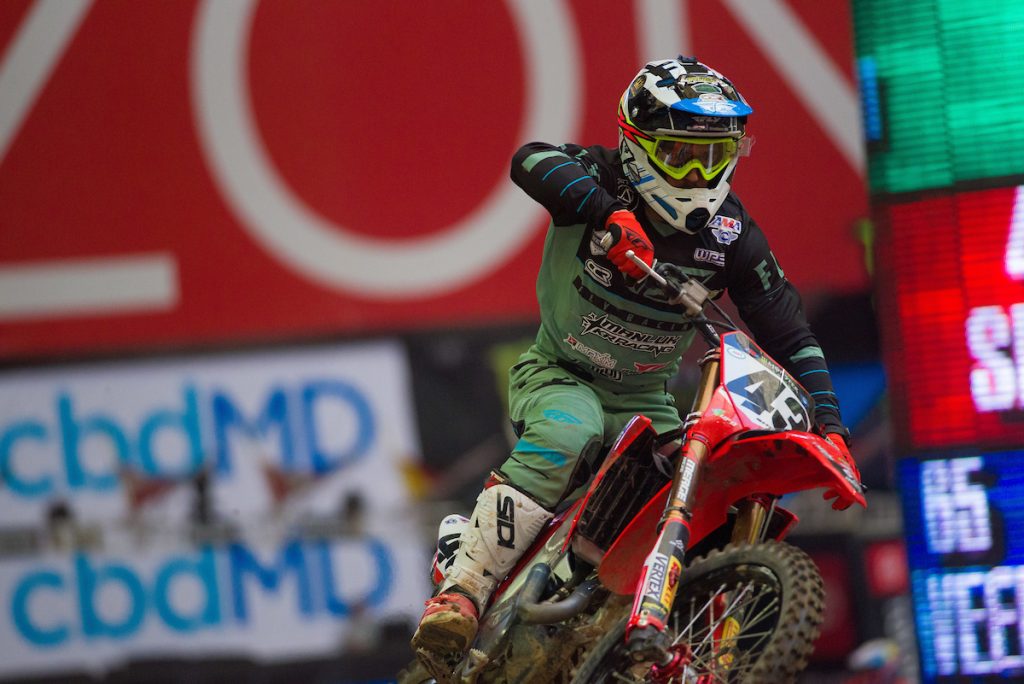 The 450 class saw Blake Baggett crash out in the first turn, continuing his rotten run of luck. His 0-point score took down 51.9% of the field.
Fantasy Studs
These are the riders with high pick trends who delivered!
Lorenzo Locurcio continued a great scoring run of late, putting up 42 points at 36.3%. The 250 class also saw Chase Marquier (13) reward 36.5% of the field with 38 points.
The 450 class was topped by Benny Bloss, he rewarded the 45% who ignored recency bias and topped the field with 38 points scored. We also saw Ryan Sipes who presented great value at a 10HC score 34 points at 36.1%.
The 100% "Lead Pipe Locks"
The Daytona Pod was short of manpower as only JT and Steve were able to make an appearance, luckily Dan and Paul were able to send their picks in via email or Twitter
This week was a low scoring week for the 100% LPL experts as it took only 56 points to take down this week's overall. Congratulations to Paul on the win this week with Pierce Brown and Blake Baggett. JT was second with 46 points via his choice of Lorenzo Locurcio and Baggett, Dan was next with 34 points from Dean Wilson and John Short, and finally… Steve. The boss man nearly got skunked this week as he chose John Short and Blake Baggett for a total of only 4 points.
New-season leader! Steve's one week at the top came to an abrupt end as Paul surged to the lead at 504 points, Steve drops down to second overall at 463-points, followed by Dan in third at 432, and JT in fourth at 422 points. 
First to Finish Line (First Lap) Leaders
If you played an FFL at Daytona, you were probably not happy. The 250 class saw 22.6% choose with only 0.4% correctly guessing Garrett Marchbanks. The 450 class was also super low, 24% chose an FFL and only 1.6% correctly guessed Jason Anderson. It's amazing how low those numbers get when KROC isn't the FFL. It shows that not choosing him is a great gamble that has the upside of putting you up on approximately 20% of the field when he's not first to the finish.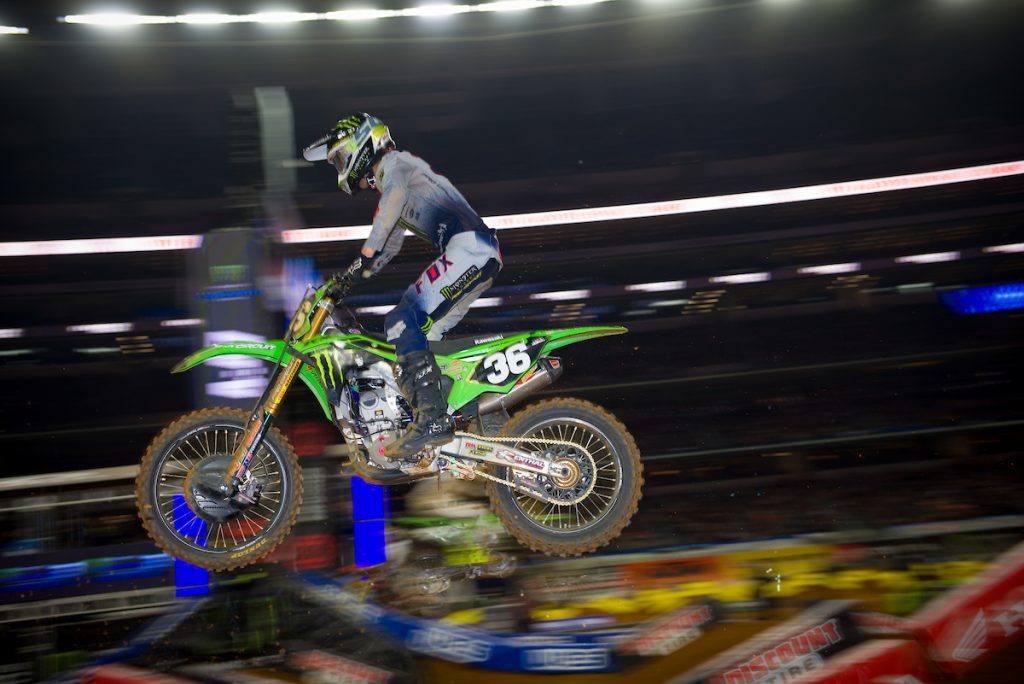 Fun Facts & Stats 2020 Supercross Season
New highest pick trend to date: 63.3% chose Jeremy Martin at a 4 all-star at Daytona. Adam Cianciarulo drops to second a 61% going all the way back to Anaheim 1.
All-Star perfect scoring: Ken Roczen continues to put up perfect scores. He has now done it 8 times with Daytona being his 4th consecutive. 
Sneaky good still! Mookie has now put up a perfect score at 5 consecutive rounds, and 6 times overall. Webb and Tomac each have 7 perfect scores.
For the season, the 450 class has had 44 out of 80 all-stars achieve a perfect score (55%). The 250 East class is now at 16 out of 32 perfect scores (50%).  
Highest and lowest correct FFL pick % for the season (regular format). 55.9% correctly chose Austin Forkner at St. Louis. Lowest to date was set this week, with only 0.2% correctly choosing Michael Mosiman.
Championship League, MXCoryJ has surged to the top of the PulpMX Championship league at 2562 total points. He is averaging a massive 256.2 points scored per week. Last week's leader, Chancp786 dropped down to 4th overall with a 255.2-point per week average, good for 2552 total points. 
Final Thoughts – Indianapolis Round 11
The season moves to the Midwest for Round 11. This is a dome race, so no weather concerns, it also typically features pretty good dirt, so the racing should be good.
Unfortunately, we had a bit more attrition in the 450 class at Daytona as we saw Justin Brayton leaving FLA with a broken hand, this will sideline him for at least a few weeks. His absence will provide more opportunity for guys like ARay to succeed, as always, he will present a high-ceiling, low floor pick. I am also interested to see what Benny Bloss and Aaron Plessinger will have for a handicap. If they still have some value, they will make strong picks.
Can Harlan and/or Halpain do it again? It will be really interesting to see what they do at Indy on a more traditional Supercross track. Also, keep an eye out for Pierce Brown. He is still 2x eligible and is very capable of a top-ten finish. If he's a 2 or higher, give him strong consideration.
That's it for this week, thank you for reading and please remember to support the sponsors who support PulpMX. If you have any questions or comments, please hit me up on Twitter @msweeneyphoto.
Hope I see you on the leaderboard!