It's delayed. Again. The long awaited championship battle between Eli Tomac and Ken Roczen is yet again delayed. But what's another 5 months when we've been waiting for this battle since 2013.
Back in 2011, Eli Tomac and Ken Roczen were both supercross rookies starting their careers. Eli Tomac had raced one outdoor series where he won his first professional race and Ken Roczen was coming off a 2nd place finish in the MX2 Grand Prix championship. They both had stellar rookie supercross seasons but also made prototypical rookie mistakes.
Tomac won twice and stood on the podium at 6 out of 9 rounds for 2nd overall in the series, but he also finished 10th at Round 1 in Anaheim after an abysmal 17th place first lap position. Roczen won once and stood on the podium at 3 of 9 rounds for 6th overall in the series but he crashed out of Round 2 in Phoenix. Interesting to note that Roczen also missed the Seattle round as he was still racing MX2 in the GP's (a title he went on to win). Most perplexing is that Tomac's Anaheim 1 performance as a rookie has repeated itself for almost an entire decade.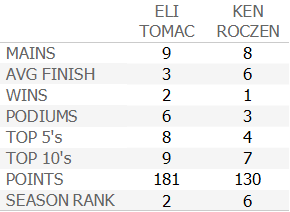 Eli Tomac gets the best of Ken Roczen in their rookie supercross season.
In 2012, they raced different coasts. Tomac won his first championship on the west coast with 5 wins and 8 podiums. Roczen finished 2nd in the east coast series with 1 win and 5 podiums.
In 2013, we got the first taste of what we all expected would be a decade of season long, championship battles. This was the beginning of another decade of Stew vs. Reed like battles between two very different personalities and racers. In 2013, Ken Roczen and Eli Tomac would fight until the final round in Las Vegas to decide the champion and it was a rollercoaster season for both riders.
Tomac started the season with 3 wins in a row and led 28 laps compared to Roczen's 0. He asserted himself as the dominate male. But like so many times since, he threw it away at Round 4 in Oakland and only scored 1 point. The weird part is that he threw it away in the whoops, something we can all agree is uncharacteristic of the Eli Tomac we know today. At the time, Davey Coombs of Racer X wrote "…this superbly fit and well-rounded racer also has what appears to be an Achilles heel: the whoops." He wrote this because it was the second season in a row that Eli had thrown away a sizable championship lead because he had crashed in the whoops. He was fast, but he hadn't yet become the rider who in 2020 has been fastest in 5 of 12 whoops segments. Maybe more interesting is that Eli was putting himself in precarious positions in championship battles very early in his career, something that we've seen him repeat with cringe worthy consistency on the 450's.


In a relatively short west coast series of 9 rounds, Roczen now held a commanding 15 point lead. The next weekend, back in Anaheim for Round 5, Roczen took his 2nd win in a row while Tomac was only able to work is way back to 3rd place following a bad start (note it was Martin Davalos that finished 2nd). Adding insult to injury, Tomac had consistently faster lap times throughout the main event. He was the fastest rider on the track but a poor start kept him off the top step of the podium. Again, we see themes of Tomac's career in this 2013 season, specifically bad starts causing him to come through the pack. Tomac was now down 20 points with only 3 rounds remaining.
At Round 6 in San Diego, Eli won and cut Ken's lead to 17 points.
At Round 7 in Seattle, Ken won and extended his points lead back to 20 points.
At Round 8 in Salt Lake City, Ken didn't qualify for the main event!
Our own Steve Matthes wrote "Ken Roczen, with a 20-point lead, didn't make the main event. Yes, I'm serious! The kid that made the podium at every single race didn't make the main event, which was a massive mistake on his and his team's part." The short story is that Roczen crashed twice in his heat race and decided to pull off which resulted in a horrible gate pick for the LCQ. In the LCQ, there was a first turn crash and he was part of the mayhem. Roczen did not make the main and Tomac was handed a gift, but what happened next is the equivalent of Eli Tomac's performance in New York in 2018.


Eli Tomac came apart. It was such an epic meltdown that Davey Coombs compared it to Damon Bradshaw's meltdown at the last round in 1992 in his Racer X 250 words column. Tomac started in 3rd position, proceeded to drop all the way back to 9th before regaining a few positions to finish 6th. As a spectator, it was part baffling, part infuriating. Here's one of the most talented supercross rider to grace this planet and he was struggling to find his groove and especially so in the whoops. He was blowing a golden opportunity. In a night where he could've take the championship lead or at least tied, he ended up only scoring 15 points and still sat -5 points behind Roczen heading into the last round in Las Vegas.


Eli would win in Las Vegas, but Ken finished second and took the championship by 2 points. Roczen won the first of many championship battles to come… except those championship battles never materialized.
2014, Eli missed seven rounds due to injury.
2015, Ken gets injured at round 9 and is out for the season.
2016, Ryan Dungey dominates, only missing the podium once all season.
2017, Roczen out after Round 3 and a potential career ending injury.
2018, Roczen out after Round 5 with another broken arm.
2019, We're teased with 7 great rounds, but Roczen struggles with an unnamed illness throughout the 2nd half of the season.
Finally, in 2020, we have the long awaited, week in, week out, championship battle between two future hall of famers. The last 5 laps of racing in Daytona is what we've been waiting for since 2013. Two hall of fame riders fighting tooth and nail for the most coveted championship trophy that has eluded both of them. Two riders that have methodically improved their racecraft and minimized their past weaknesses. Roczen is healthy. Tomac has eliminated the mistakes. They now sit a mere 3 points apart with 7 rounds remaining.
And we wait. Once again, we wait. 5. More. Months.
That's a long time so while we wait, let's bench race on their full 450 career stats (including triple crowns excl wins/podiums/top 5's). Hit me up on Instagram or Twitter and let me know who you think takes the 2020 championship and whose had the better supercross career so far…