For this edition of Classic Steel, we are going to take a look back at what the major magazines thought of the 250 class of 1986.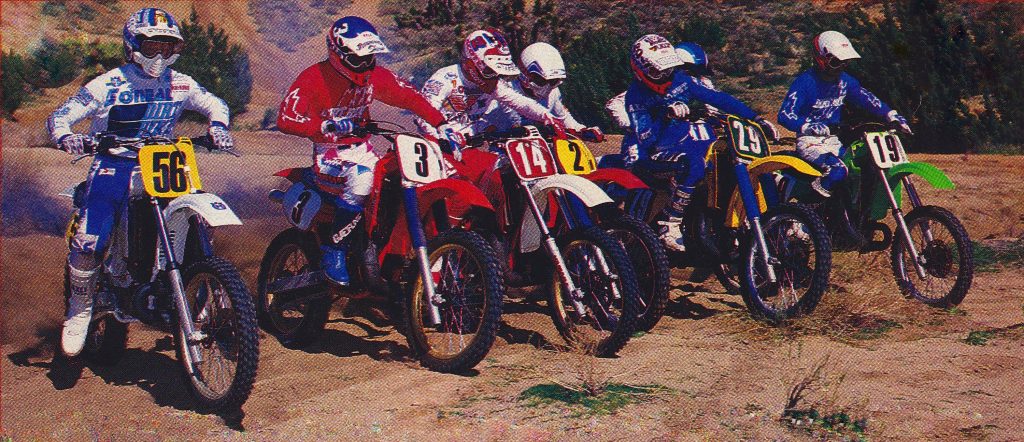 The 250 class of 1986 was a very diverse group comprised of Old World heritage and Far East innovation. Photo Credit: Dirt Bike
The mid-eighties were a great time for motocross. Innovation was still moving forward at quasar speed (just compare a 1980 CR250 with the 1986 version; the differences are mind-blowing) and there were still several players making machines in an attempt to gain your hard-earned cash. For a paltry $2598 you could score a brand new CR250R with works-style cartridge forks, a powerful power-valve-equipped liquid-cooled motor, and impeccable build quality. Even the worst of these machines would have wiped the floor with even the best of their predecessors from only a few years before. Motocross growth was strong, the bikes were good, and the tracks were plentiful. In short, 1986 was a great year to be chasing the motocross dream. 
In 1986, there were still several European players in the 250 class, but their days at the front had already come to an end. Once-powerful brands like Maico and Husqvarna were on the ropes and even Austria's KTM was far from the powerhouse they are today. Just seeing one of the Euros in the wild was an unlikely occurrence and only Dirt Bike deemed them relevant enough to include any in their 250 shootout. In reality, the Japanese had already won that battle by 1986, and all the other magazines treated it as such. Still, I thought it might be fun to include them here to get a feel for what they were actually like at the time. For these rankings, I am only including their placing for motocross. Some of the magazines rated their usefulness off-road as well, but those rankings will have to wait for another article. Here is a rundown of the 250 motocross class of 1986 through the eyes of the magazines that tested them.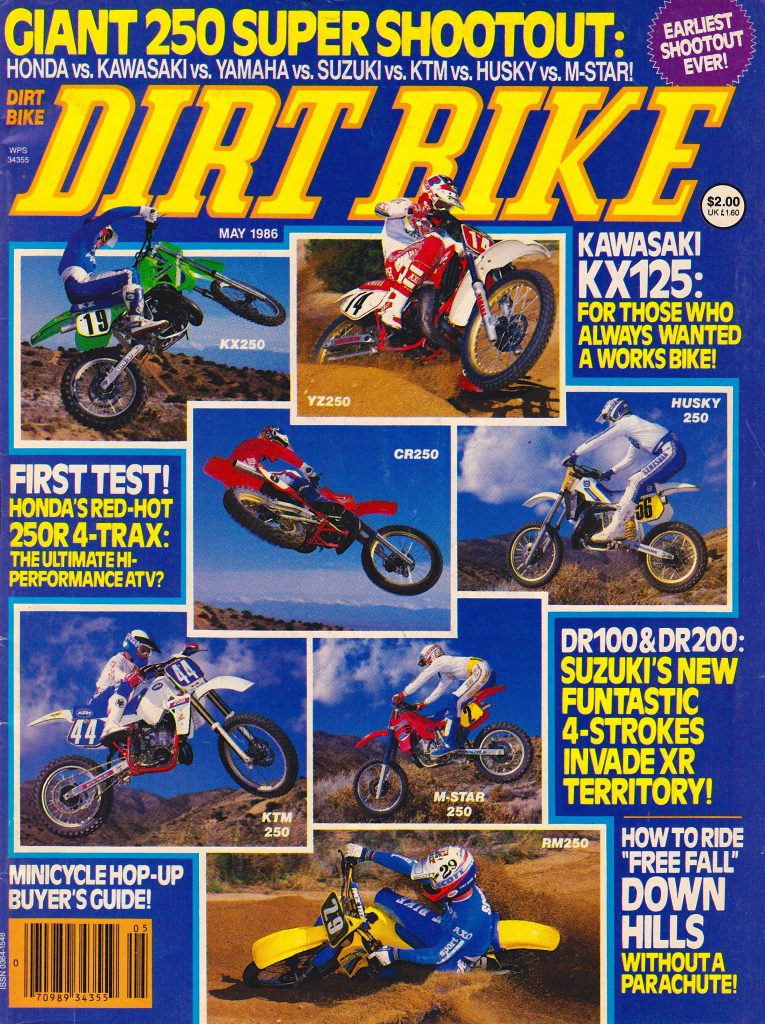 Dirt Bike certainly did a shootout right in 1986 by including everything and the kitchen sink.
While I am generally not a fan of sticking my shootout in the corner like Baby, I have to approve of this awesome shot of Ricky Johnson on the cover. Nowadays, every issue of MXA has some static shots of motorcycles (probably two-strokes) on the cover instead of the great action shots they used to use in the glory years.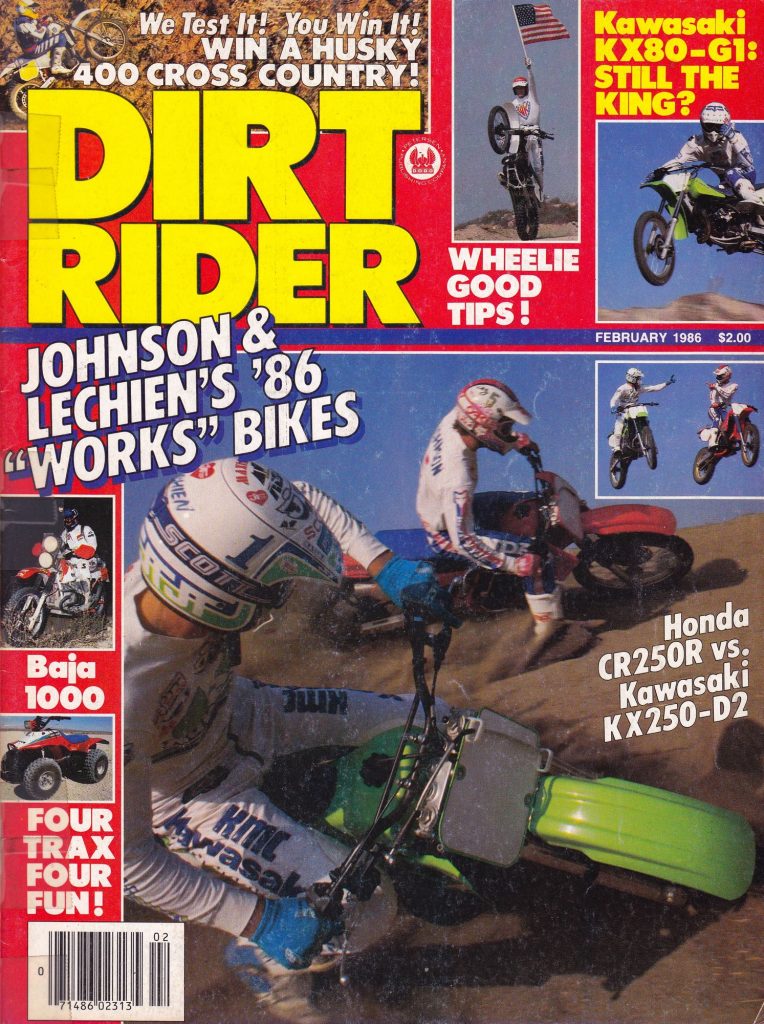 Dirt Rider actually split up their shootout into two separate comparisons between the YZ and RM, and the CR and KX in 1986.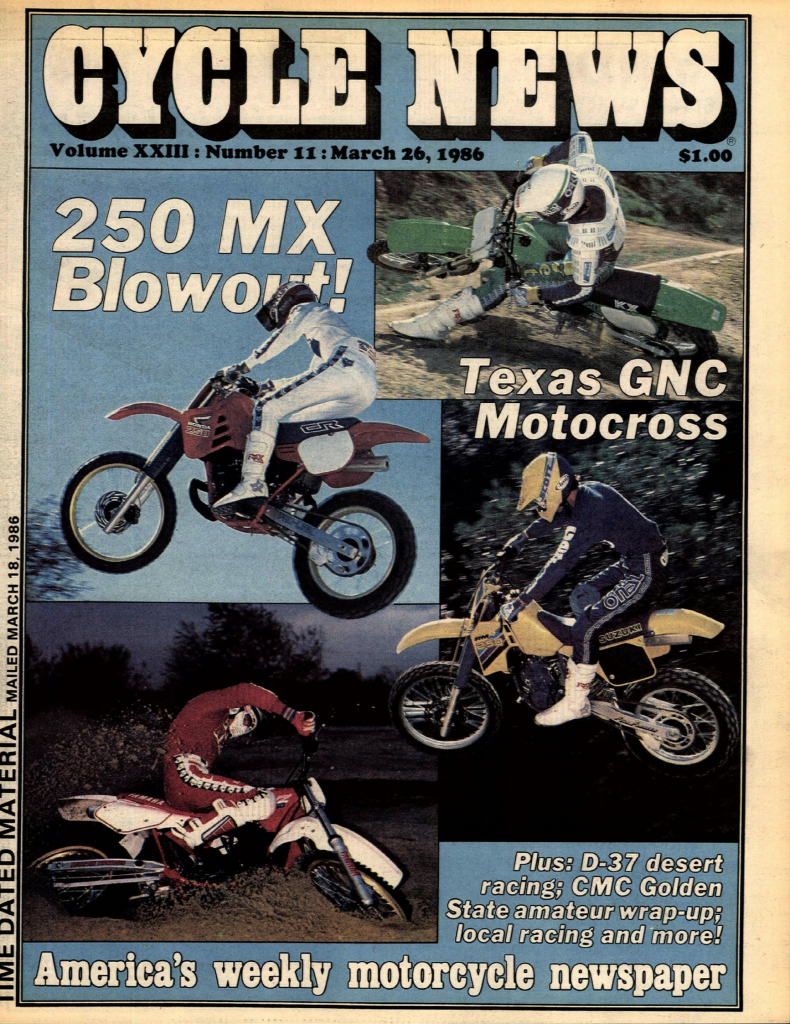 Once upon a time Cycle News was a must-have if you wanted to have some kind of up-to-date race news. Back in the eighties, it was all but impossible to find motocross on TV and any race reports in the traditional magazines were about three months old by the time it hit your mailbox.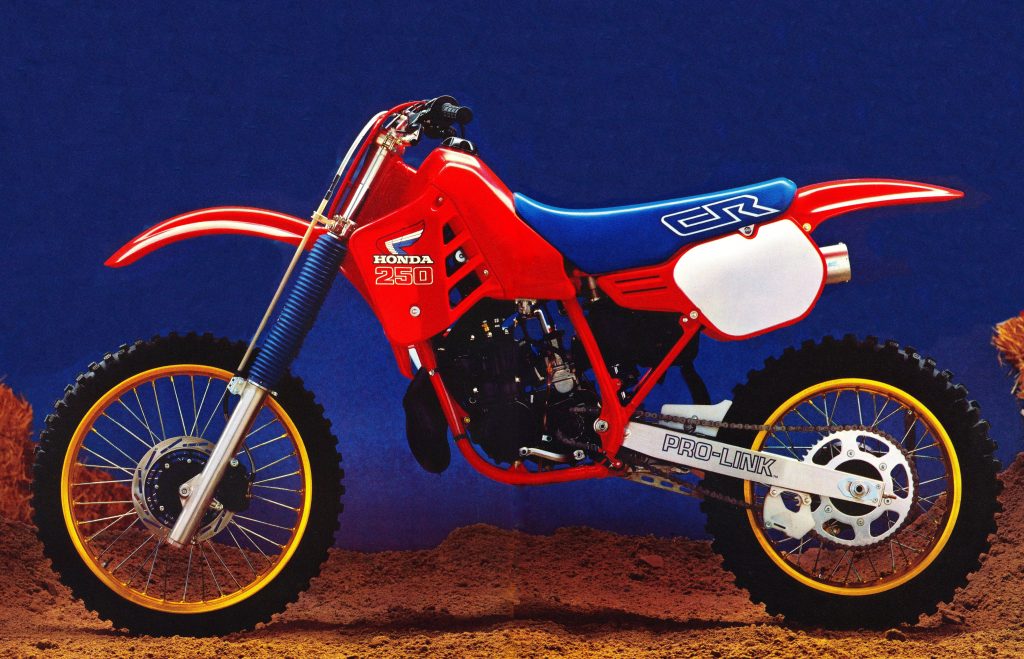 1986 Honda CR250R Shootout Rankings: MXA – 1st (out of 4) Dirt Bike – 1st (out of 7)  Dirt Rider – 1st  (out of 4) Cycle News – 1st  (out of 4)   Photo Credit: Honda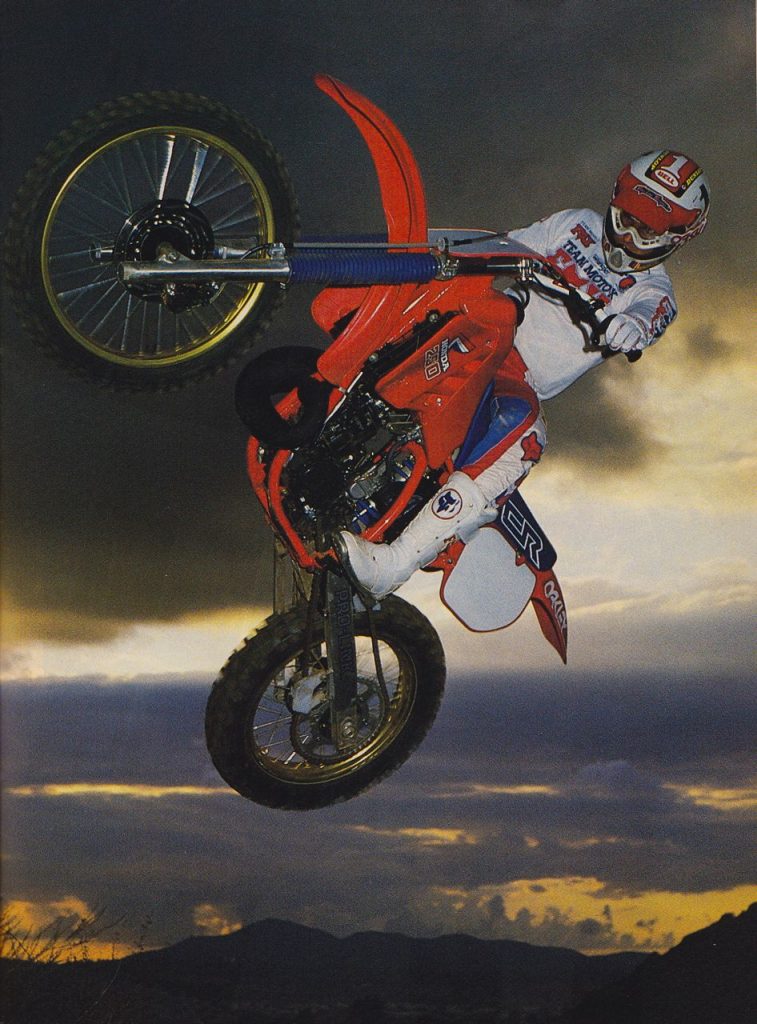 The Works: In 1986, the production rule went into effect and Honda threw all of their substantial engineering know-how into producing a machine that would take Rick Johnson to the 250 Supercross and National Motocross titles.  Photo Credit: MOTOcross
1986 Honda CR250R Overview: In 1986, nothing was even close to Honda's CR250R for overall excellence. There were bikes with more power at certain points on the curve and bikes with better stability, but none of them were as complete a package as the red rooster. 
Its all-new HPP (Honda Power Port) motor produced a broad, smooth, and powerful flow of ponies that hooked up and hauled on any surface. Its new works-style 43mm Showa cartridge forks delivered an unparalleled ride that outclassed everything else in the field by an absurd margin. It turned on a dime, went like stink and looked like a million bucks. For motocross, its only flaws were its maintenance-intensive power valves (Honda recommended servicing them every two hours, and it could take at least that long to get them right until you got the drill down), and the brown-trouser-inducing case of the shakes it developed when coming down from speed. While these peccadillos held it back from being the perfect motocross weapon, they were not nearly enough to keep it out of the top spot in all the major magazine's rankings in 1986.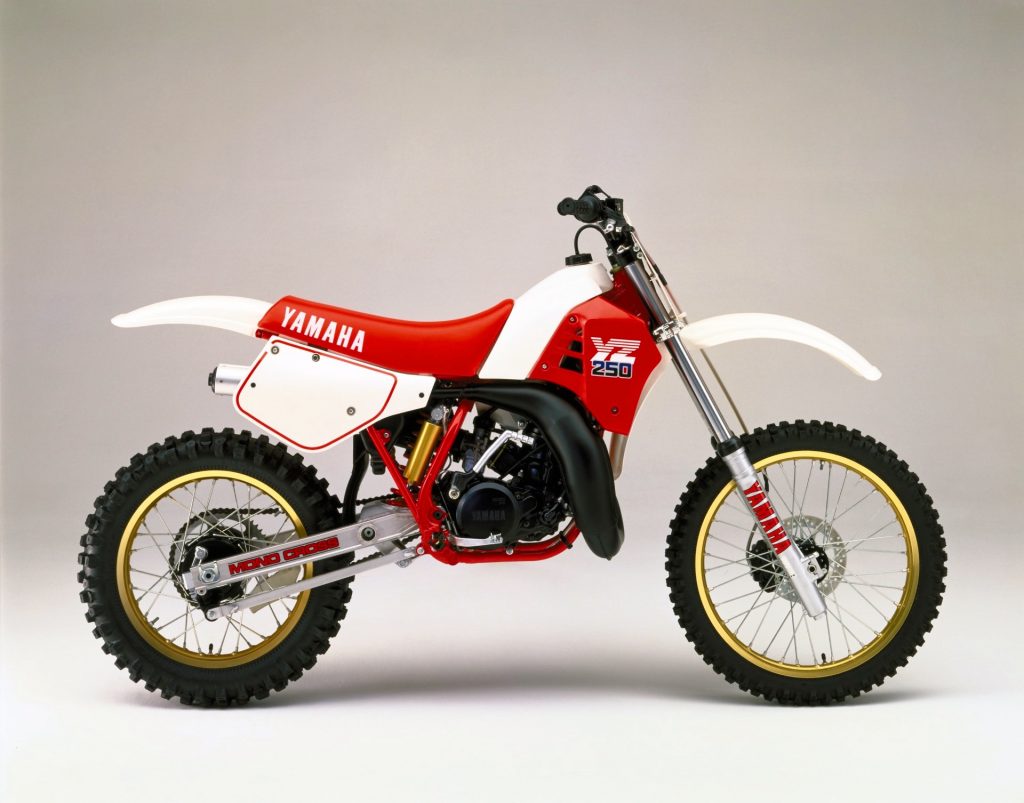 1986 Yamaha YZ250 Shootout Rankings: MXA – 2nd (out of 4, and tied with the KX) Dirt Bike – 2nd (out of 7) Dirt Rider – 3rd  (out of 4) Cycle News – 2nd  (out of 4) Photo Credit: Yamaha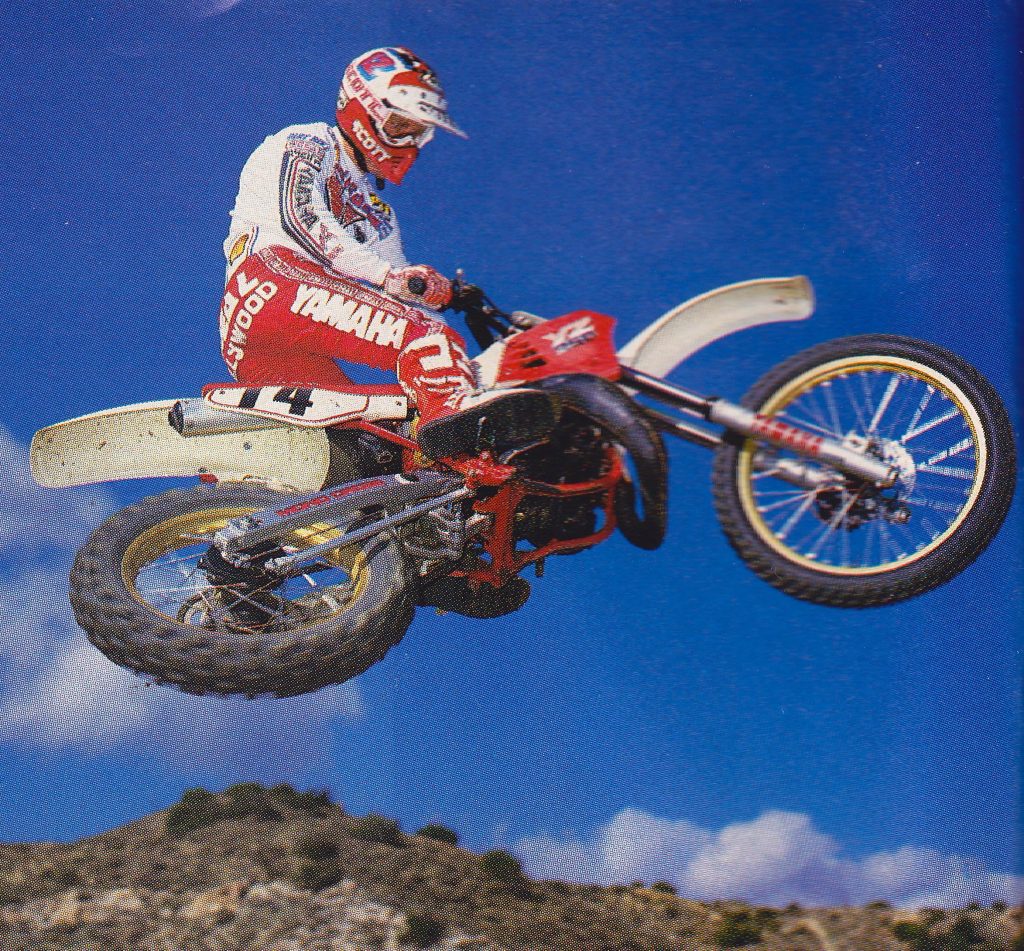 Hollywood: All new from the ground up, the '86 YZ250 offered improved ergonomics and handling, but a less-potent power package than 1985. Photo Credit: Dirt Bike
1986 Yamaha YZ250 Overview: After producing a poor-handling powerhouse in 1985, Yamaha was back for 1986 with a much more refined package. New bodywork improved the ergonomics and a revised chassis cured most of the 1985 YZ's wayward handling traits. Turning was much improved (but still not CR-sharp) and the YZ was a bullet train at speed. The non-cartridge KYB forks were still harsh in action and the Monocross rear suspension's action was only mediocre, but the bike handled well and was fast enough to win in the right hands. Its new mid-to-top powerband was not as easy to ride as the beefy and broad '85 had been, but pros appreciated its strong top-end pull. Overall, it was a fast and flexible package, held back by the outdated suspension.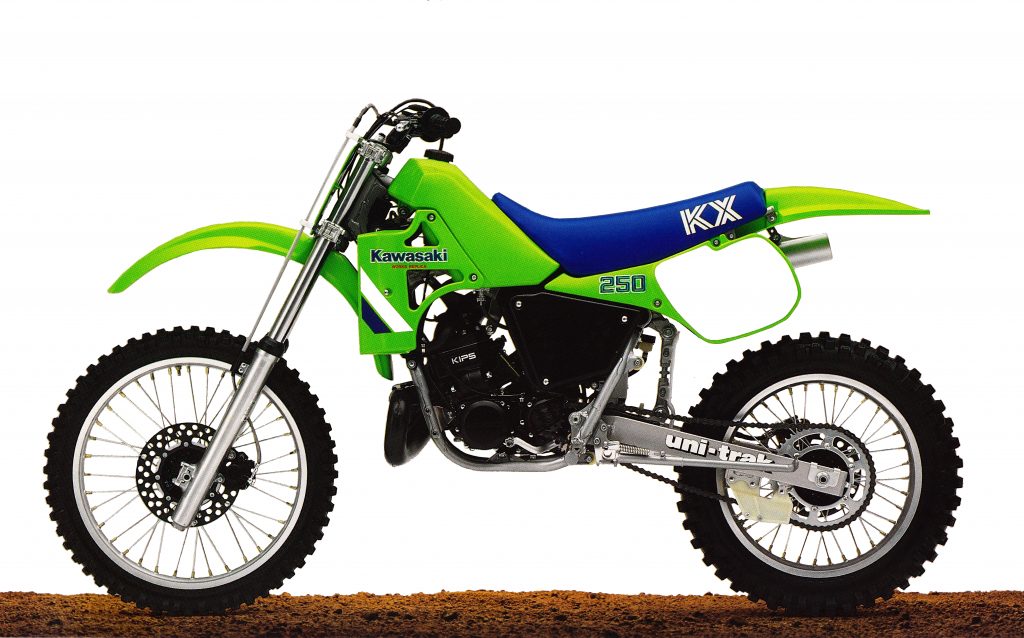 1986 Kawasaki KX250 Shootout Rankings: MXA – 2nd (tied with the YZ)  Dirt Bike – 3rd  Dirt Rider – 2nd  Cycle News – 3rd   Photo Credit -Kawasaki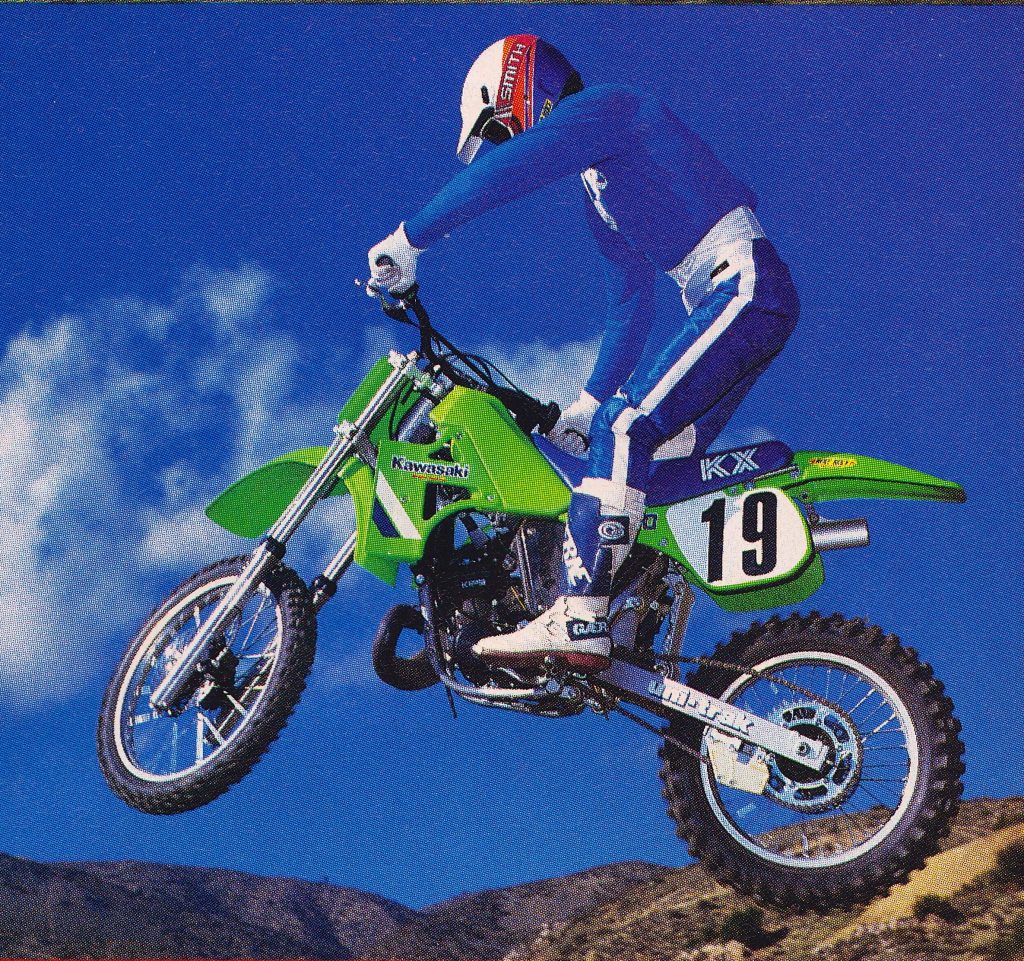 Kwacker: Trick features like a rear disc brake and the most advanced power plant in the class were not enough to propel the KX to the top in 1986.  Photo Credit: Dirt Bike 
1986 Kawasaki KX250 Overview: Like the '86 YZ250, the KX250 was a machine with several solid attributes and a few fatal flaws. First among its virtues was its excellent power plant. Using an innovative combination of Honda's ATAC and Yamaha's YPVS technology, Kawasaki's KIPS (Kawasaki Integrated Powervalve System) provided the KX with one of the most powerful motors in the class. It exploded off the bottom like an Open bike and ripped through the middle like a cheetah with his tail on fire. Past that, the power fell off a proverbial cliff, but as long as you did not try to rev it out, it was brutally fast and effective. 
 On the flawed side of the equation were the KX's lackluster suspension components. Like the YZ, the Kawasaki relied on a set of non-cartridge KYB forks. In spite of featuring a new TCV (Travel Control Valve) damping system, they performed no better than the YZ's grim units.  The Uni-Trak shock was just as disappointing and held back the KX from performing its best in the rough.  As with past KXs, turning was rather lackluster, but the Kawasaki did offer much better stability than the Honda or Suzuki offerings. With its tractor-like motor, good stability, and trick rear disc, the KX was still well-liked by many of the testers. If it had come with better forks, it might have given the CR a run for its money, but with its grim stock suspension, a second place was the best the KX could muster in any of the shootouts of 1986.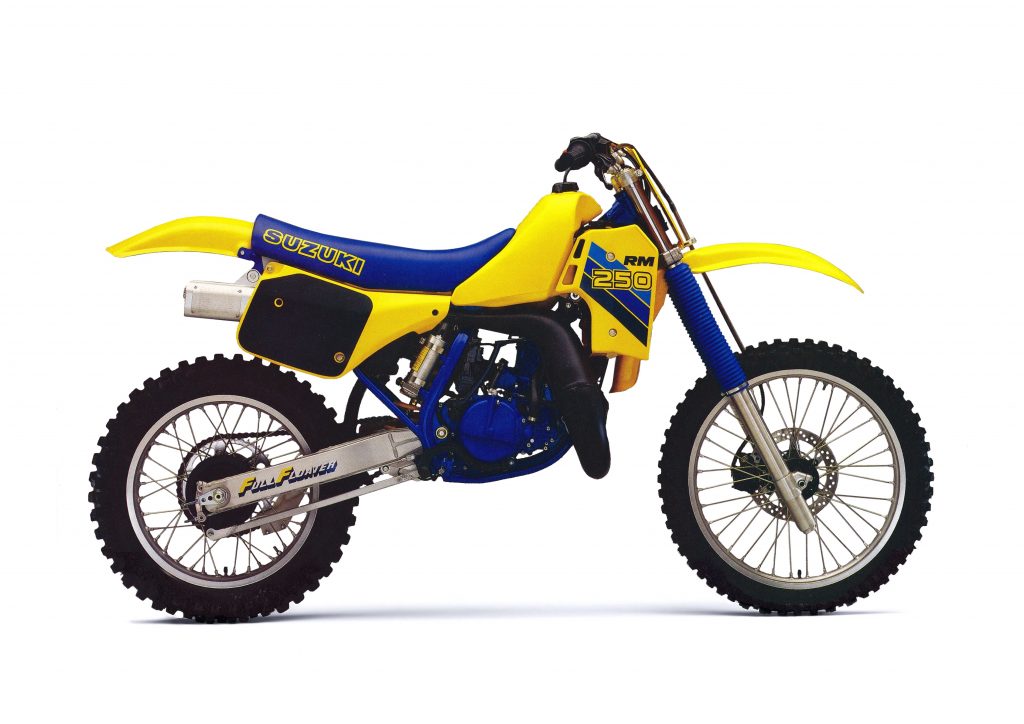 1986 Suzuki RM250 Shootout Rankings: MXA – 4th (out of 4)  Dirt Bike – 5th (out of 7)  Dirt Rider – 4th (out of 4)  Cycle News – 4th (out of 4)  Photo Credit: Suzuki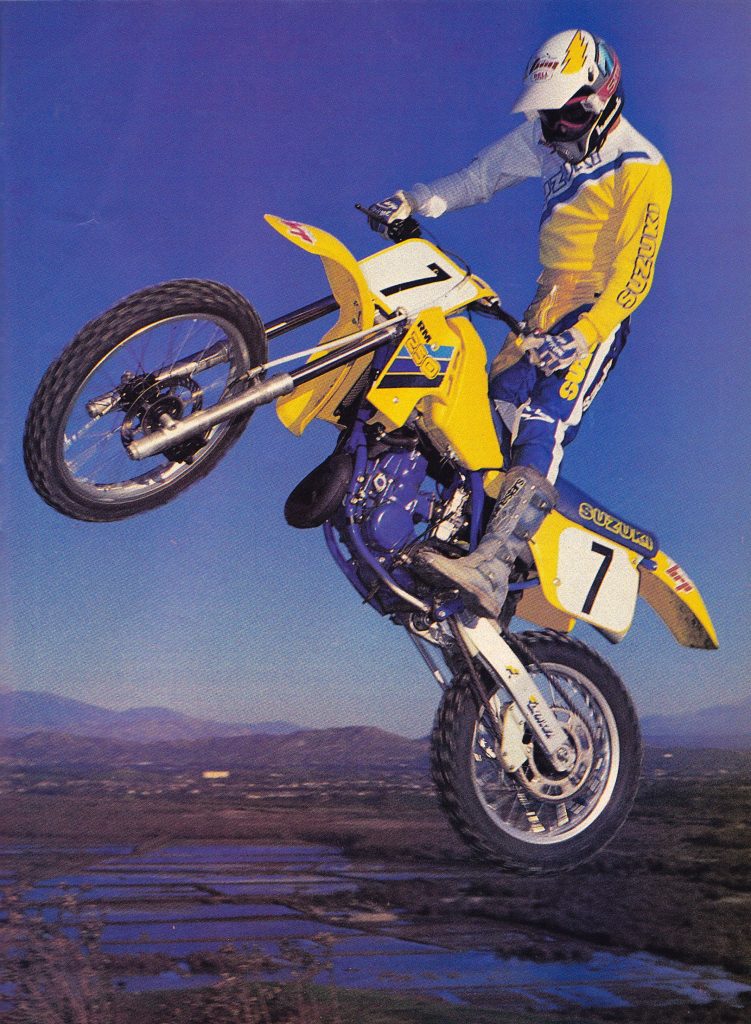 Buckwheat: After being at or near the lead of the 250 pack for the better part of a decade, Suzuki fell on tough times in the mid-eighties. Even the arrival of a superstar like Bob Hannah was not enough to bring the RM250 back to front in 1986. Photo Credit: MOTOcross 
1986 Suzuki RM250 Overview: The '86 season was a rough one if you were a fan of the yellow brand. In spite of an all-new motor and redesigned suspension, the RM finished last of the Japanese machines in every shootout. In the case of Dirt Bike's contest, it even got beat by the KTM (no easy feat at the time). The new motor offered a narrow spread and the least overall output of any of the Japanese machines. In spite of the addition of Suzuki's new EVAC (Exhaust Valve Automatic Control)  power valve, the new motor actually ran worse than the simpler '85 version had. There was no bottom, a slight pickup in the middle and moderate pull on top. It did pull farther than the torquer Kawasaki on top, but by that point, the KX had already left it in the dust. 
In addition to the asthmatic motor, the '86 RM250 was saddled with outdated and cobby bodywork, cramped ergos, a sticky linkage, and sub-par forks. After years of dominating the suspension category, even that went to crapsville in '86. The new non-floating "Full Floater" was full of stiction, stiffly sprung and way overdamped. Up front, it was the exact opposite, with wimpy springs and too little damping. In the rough, the front sagged and the rear whacked you in the kidney belt. With its stinkbug stance, it did turn decently, but high-speed action was a handful until you got things balanced out. Add in pathetic brakes, poor reliability, and an abysmal level of fit and finish, and it is not hard to see why the RM was the caboose of the Japanese 250 class in '86.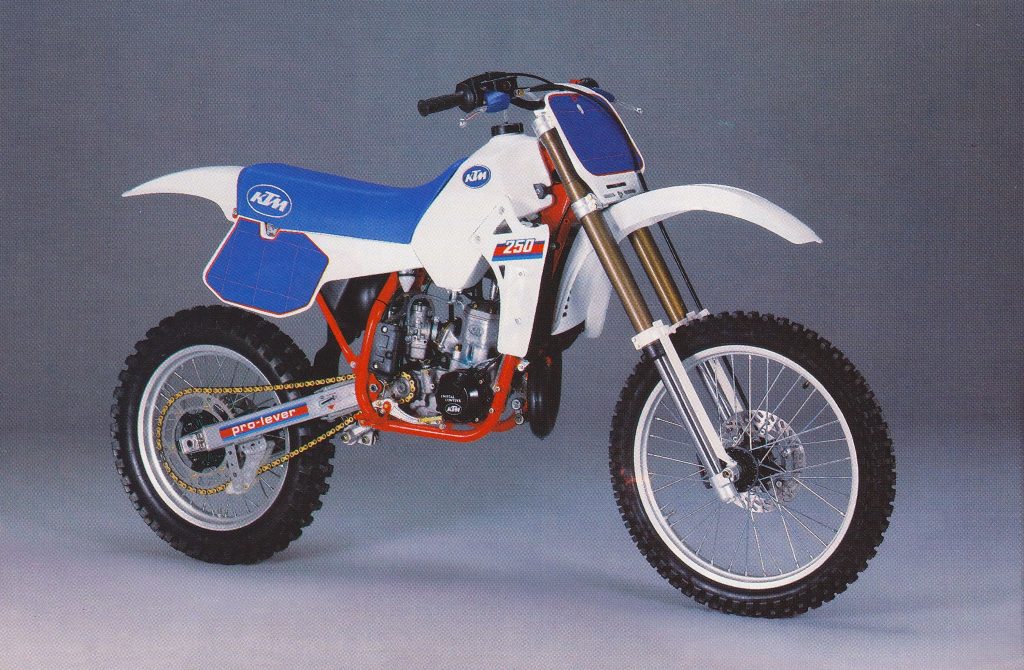 1986 KTM 250 Motocross Shootout Rankings: MXA – N/A  Dirt Bike – 5th (out of 7) Dirt Rider – N/A  Cycle News – N/A   Photo Credit: KTM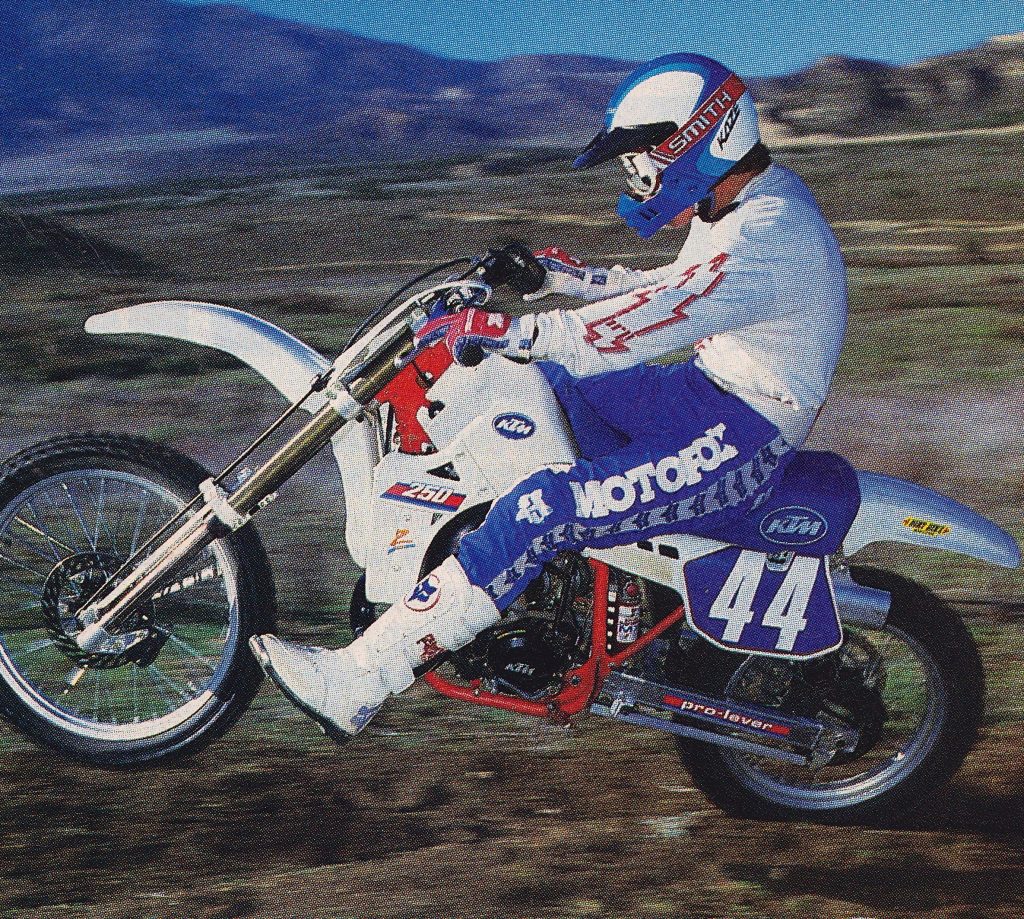 With an explosive low-to-mid blast, the KTM was one of the fastest bikes in the class in 1986. Photo Credit: Dirt Bike
1986 KTM 250 Motocross Overview: In 1986, the KTM 250 offered one of the most potent power packages in the class. Its low-to-mid thrust was only matched by the torquey Kawasaki and its top-end pull was on par with everything but the rev-happy YZ. It was not as smooth as the electric CR, but as long as there was traction, the Katoom had no equal. 
Where things went wrong for the KTM was with everything else. The clutch was grabby, the transmission was notchy, the suspension was poorly set up, the chassis didn't turn and the brake pads lasted like they were made of paper. With proper suspension setup, it could certainly compete with the Japanese, but with its crap clutch, stubborn transmission and "Euro" feel, it was destined to remain a bit player in the US for several more years to come.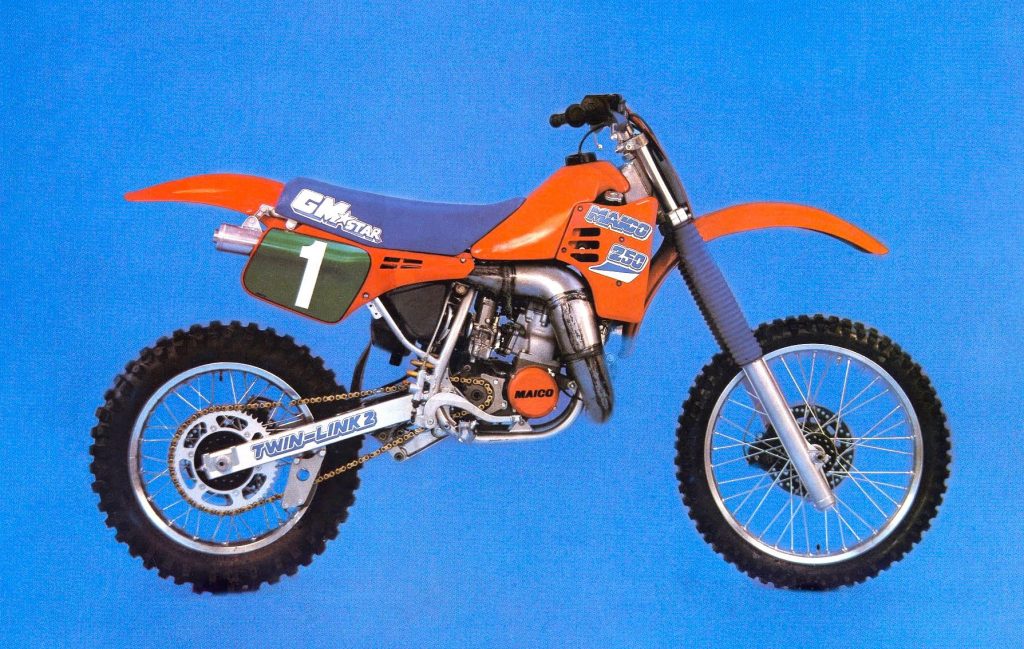 1986 M-Star (Maico) GP250 Shootout Rankings: MXA – N/A  Dirt Bike – 6th (out of 7)  Dirt Rider – N/A  Cycle News – N/A   Photo Credit: Maico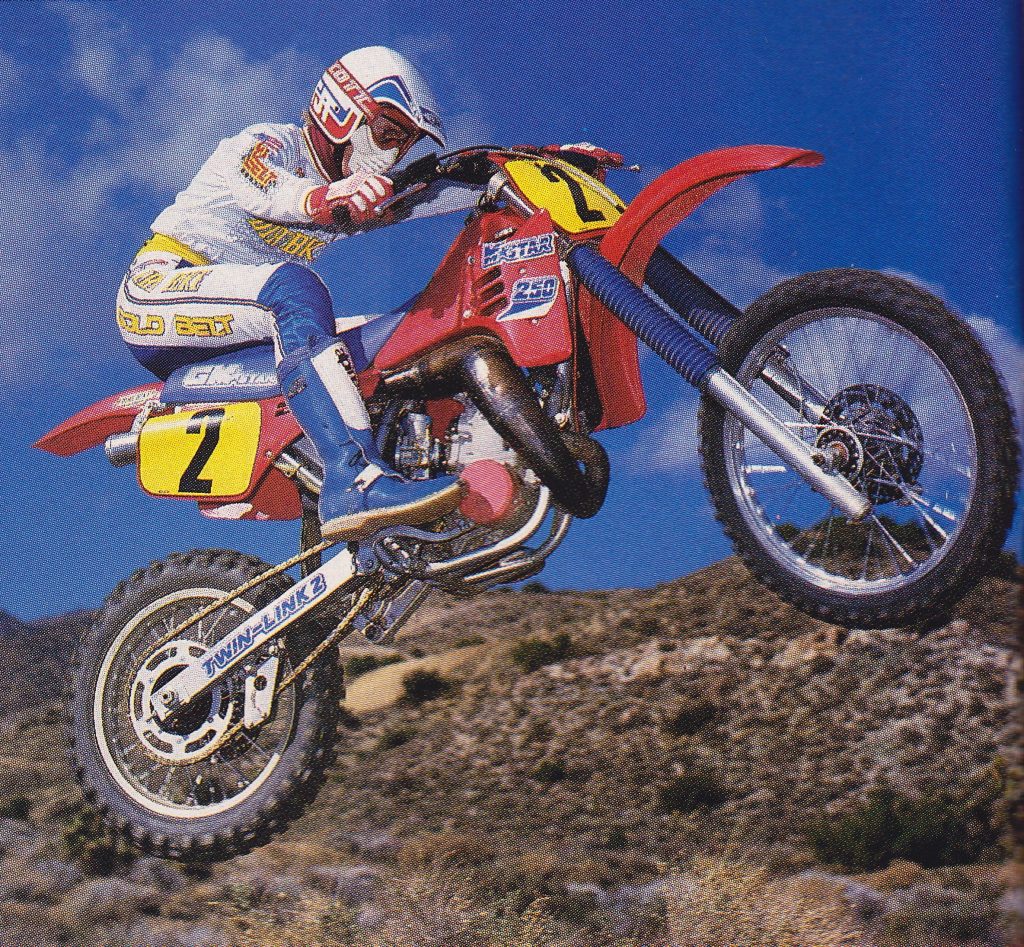 Once one of the proudest and most-successful brands in motocross, Maico was a mere shadow of its former self by 1986. Photo Credit: Dirt Bike 
1986 M-Star (Maico) GP250 Overview: Once the purveyor of the best Open bikes in motocross, Germany's Maico was nearing the end of the line in 1986.  Plagued by financial troubles, corporate infighting, and the stain (and cost) of several high-profile reliability fiascos, Maico had been forced to file for bankruptcy in 1983. After a corporate restructuring, Maico came back in 1984 with updated models and a new name – M-Star (at least in the US; European versions continued to use the Maico moniker). By 1986, however, the writing was already on the wall for the historic marque. Despite their best attempts, no amount of modernizing or re-branding looked to be enough to bring Maico back from the brink. 
In spite of all this, however, M-Star's bikes looked the part of a contender in 1986. With dual-disc brakes, liquid-cooling and modern styling, the GP250 appeared to have the credentials to run with the machines from Japan. In truth, however, its underpowered motor, recalcitrant clutch, and odd ergonomics held it back from reaching the front of the pack. The motor, in particular, was a major handicap, being out powered by even the anemic RM. Dirt Bike remarked that it would have made a great enduro motor, but for motocross, it was too slow to be effective. 
Other than the mild-mannered motor, the GM250 was actually a pretty decent motorcycle. Its rear disc gave it an advantage over everyone but Kawasaki and KTM. Its forks and shock were actually rated above several of the Japanese machines and it handled well, with better cornering than the KX and greater stability than the CR. If not for its trail-bike power plant and sky-high price (at $3220 it was roughly 25% more expensive than the Japanese machines), it might have been in the running to upset at least the Suzuki, but as it was, it was too pricey, too slow, and too niche to make it into the motocross mainstream.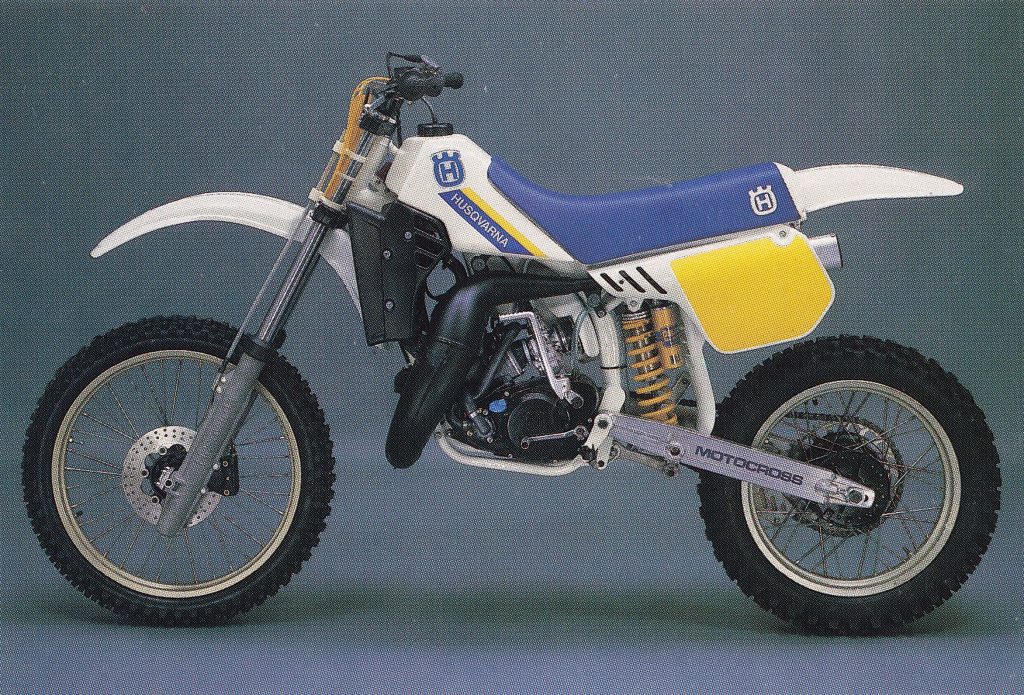 1986 Husqvarna 250 Motocross Shootout Rankings: MXA – N/A  Dirt Bike – 7th (out of 7)  Dirt Rider – N/A  Cycle News – N/A   Photo Credit: Husqvarna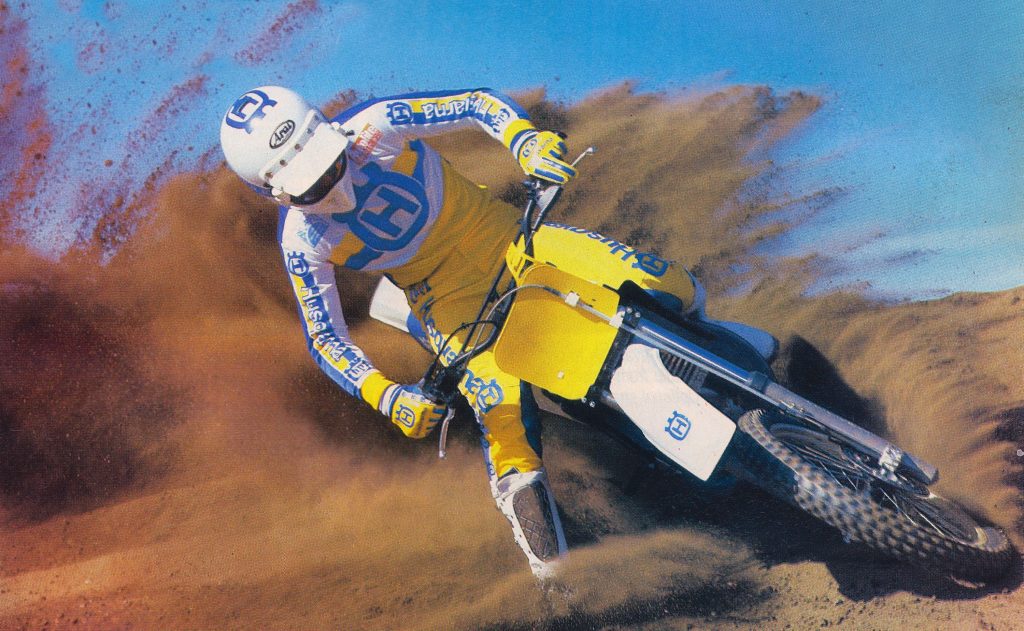 Talented riders like Husqvarna's Micky Dymond could make the stubborn-turning Swede look far nimbler than it really was. Photo Credit: Husqvarna
1986 Husqvarna 250 Motocross Overview: Much like Maico, Husqvarna was struggling to keep up with the Japanese in 1986. Their off-road machines remained competitive, but their motocross offerings lagged well behind the best machines in the class. Old-school ergonomics, stodgy handling, and lackluster power plants made the Swedes a hard sell to a generation of Americans groomed on the cut-and-thrust pace of Supercross. 
For 1986, Husqvarna dialed up some minor refinements to their '85 package, but it was not nearly enough to bring the Husky up to snuff with the Japanese. New porting and a revised exhaust pipe boosted midrange slightly, but the Hooska continued to offer one of the least-potent power packages available. Low-end torque was better than the gutless Suzuki but worse than everyone else. Top end power was totally nonexistent and trying to rev it out only made more noise and less speed. In the midrange, there was a little burp of thrust, but it was over as fast as it got started. 
In addition to an underwhelming motor, the Husqvarna offered a set of harsh and flexy 40mm forks (all the competition had moved on to 43mm sliders by '86), a skyscraper seat height (all Scandinavians must be 6'2"), and an utter aversion to turning (do they race Baja in Sweden?). On the plus side were its styling (very handsome), shock (a high-dollar Öhlins unit), stability (a nuclear detonation could not knock it off course), and quality (old world craftsmanship). Unfortunately, however, none of those virtues were nearly enough to stave off the competition. The Husky was not even tested by many of the major magazines in 1986 and generally eschewed by the majority of the buying public. A year later, Husqvarna's motorcycle operation would be sold off to Italian conglomerate Cagiva, thus ending the Swedish portion of this historic brand's story. 
So, there it is; the story of the 1986 250 class, viewed through the lens of the major enthusiast magazines of the day. If you enjoy these and would like to see me highlight another crop of machines, feel free to contact me on social media or leave a comment below. 
For your daily dose of old school moto goodness, make sure to follow me on Instagram and Twitter @tonyblazier 
For questions or comments, feel free to drop me a line anytime at TheMotocrossVault@Gmail.com