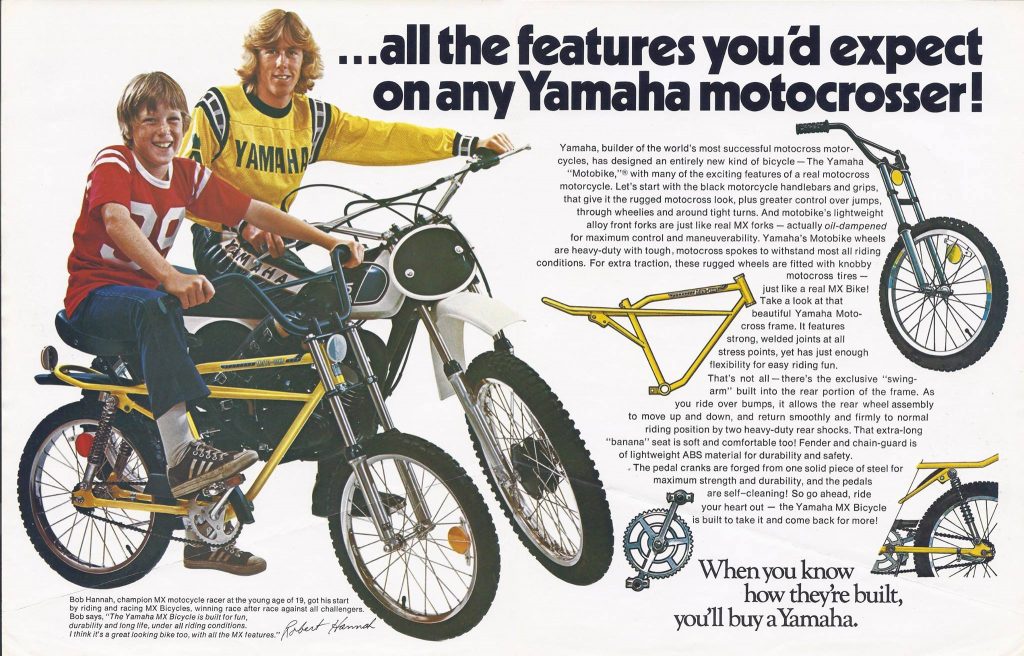 If it was good enough for the Hurricane you can bet it was good enough for me. 
If you follow my writing or videos then you know I was not a minibike kid. My parents hated motorcycles and refused to get me one in spite of a decade of constant begging and pleading. Eventually, I saved up enough lawn-mowing money in my mid-teens to get a used '78 CR250R, but by then my mini days were over.  
Like so many other kids unlucky enough to not have a "Mini Dad" in the family, bicycles became my out as a kid. In the days before helicopter parenting took hold, bikes were the freedom machine. They gave us fun, fitness, and independence in an era where kids roamed free like the Buffalos on the prairies of old. Growing up in the seventies, we would eat our breakfast, grab our bike, and head out for adventure during the long, lazy summer days.
In 1976, I was six years old and nothing in the world could compare to the coolness factor of the Yamaha Moto-Bike. My personal bike at the time was an unsuspended three-speed in yellow metal-flake with a banana seat (also in sparkling metal-flake) and long "ape-hanger" style bars. I think this bike came from Sears but honestly its origin is somewhat foggy to me after forty-four years and nearly as many concussions. All I really remember is that it was a birthday present and I was damn happy to have it.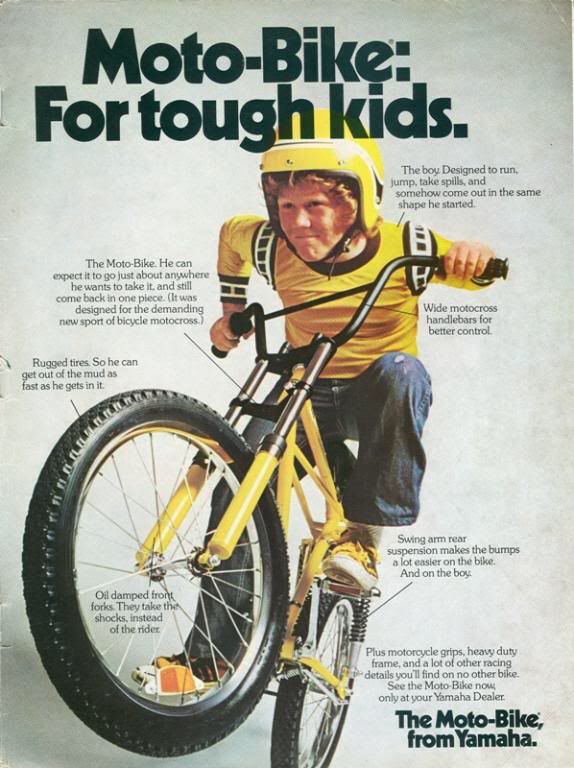 In 1976, I had no idea what an oil-damped anything was but you can be damn sure I wanted it nonetheless.
While I fancied myself some sort of a petal-powered Bob Hannah at the time, the truth was my banana-seated bomber was no match for any sort of hard charging. Over the three years I had her I literally beat her to death, but I enjoyed every minute of our adventures. That said, however, I always held out hope that my parents would pop for one of these Yamaha Moto-Bikes. 
At the time, this bike seemed soooooo amazingly cool to me. FULL suspension people! With oil-dampened (whatever that is) forks and real-life shocks! Holy moly my sugar-addled brain could barely comprehend the cool adventures that could be there for the taking on this all-terrain terror. Bob Hannah endorsed no less! 
To say my parents were not impressed would be a massive understatement. They did not know Bob Hannah from Bob Barker and were not interested in ponying up any extra cash for some bike from a Hell's Angel's dealership. About the closest thing I got to the mighty Moto-Bike was a ride on my buddy's Huffy with a cool twist grip that made motorcycle sounds. In fact, none of my friends were as lucky as Moto-Bike Mike, and like Bermhead Bob, we were all stuck dreaming of victories on our Yamahas with kisses from adoring pit tootsies.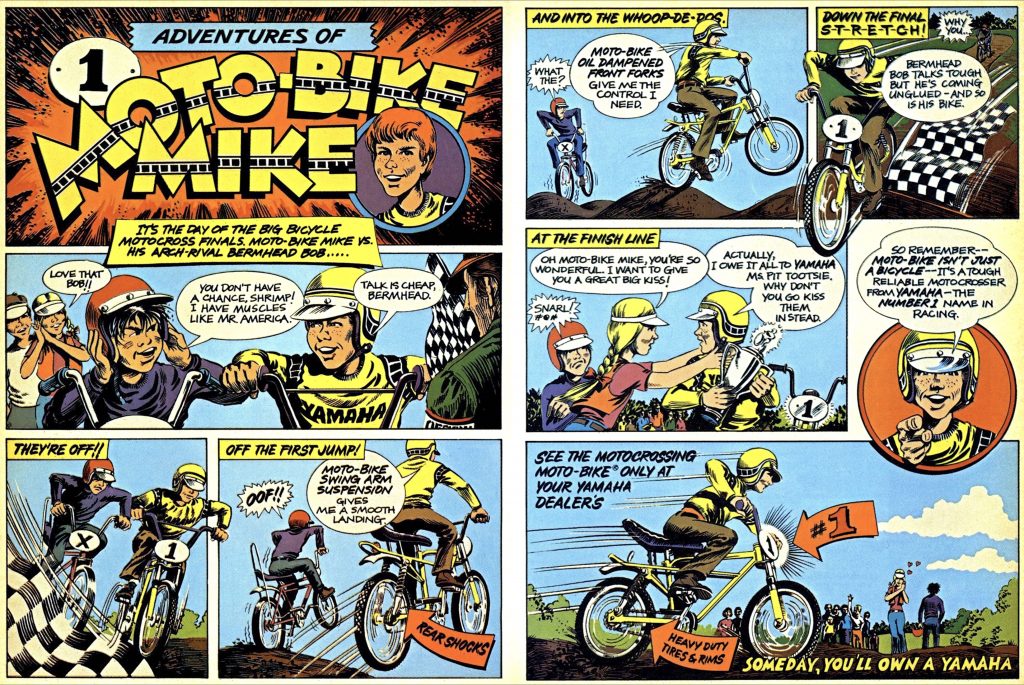 If only I had owned a Moto-Bike those pit tootsies would have been beating down my door for sure! 
In reality, the Yamaha Moto-Bike was heavy, not particularly well suspended and fragile, but of course my kid self knew none of that grown-up nonsense. All I knew was that the Moto-Bike was cool, and I wanted it. Today, I would be curious to know if this bike was actually a hit for Yamaha. Like I said, none of my friends here on the East coast had them but maybe it was more common out West where motocross was more mainstream. Today, of course, fully suspended bikes like the Moto-Bike are common, but in 1976, this was some really out-there stuff. 
Hit or not, the Yamaha Moto-Bike has to be one of the coolest pieces of moto history from an era bursting with color and character. For kids like me, the Moto-Bike was a dream machine. The reality of it may not have been as cool as I envisioned, but Yamaha's ads certainly did a great job of making it seem like the perfect machine for a suburban kid with dreams of moto glory.