The story of Donnie "Holeshot" Hansen is one of the great "what ifs" of motocross. A fast kid from Simi Valley, California, Donnie started his pro career as a member of the Kolbe Can-Am team in the late seventies. At that time, Kolbe Can-Am was the Canadian brand's last gasp at American motocross success. After several titles in the early seventies, the Can-Am brand had fallen on hard times as the decade came to a close. Sub-par results, lackluster sales, and intense competition from the Japanese had led Can-Am to pull its factory race support out of the US in 1978. After the departure of the factory team, Andy Kolbe had tried to keep the brand relevant by fielding a race team out of his dealership Kolbe Cycle Sales in California.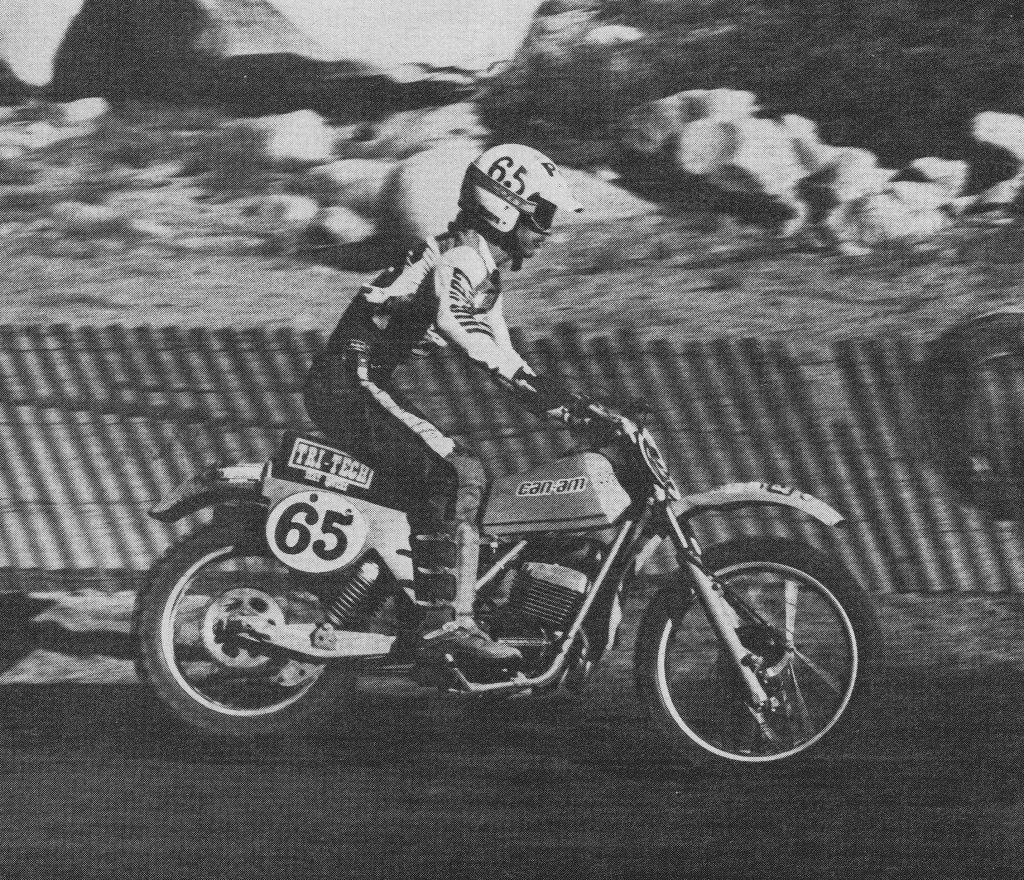 A very young Donnie Hansen on his Kolbe Can-Am at Mammoth Mountain in 1979. Photo Credit: Dennis Ketchup Cox 
While not on par with the factory efforts, Kolbe's team did help start the careers of several well-known names in the sport. They also provided a landing place for a few veterans on their way out. In the late seventies Jimmy Weinert, Tom Webb, Eddie Cole, Jim Holley and Donnie Hansen all took turns with the Kolbe squad. In 1980, Hansen parlayed his Can-Am results into a factory ride on the prestigious Honda squad. Riding with #186 on his Honda RC250, Hansen had an up and down season with his best finish being a second place at the final Supercross round in San Diego. 
In 1981, Hansen was once again on the factory Honda and teamed with Johnny O'Mara, Danny LaPorte, Chuck Sun, Jim Gibson, and Steve Wise. This season would prove more successful for Hansen as he captured several podiums and a very respectable third overall in the final Supercross standings. At the end of the season, Hansen would cap off an excellent 1981 by helping to lead Team USA to its first ever Trophée (250) and Motocross (500) des Nations victories in Lommel, Belgium and Bielstein, Germany.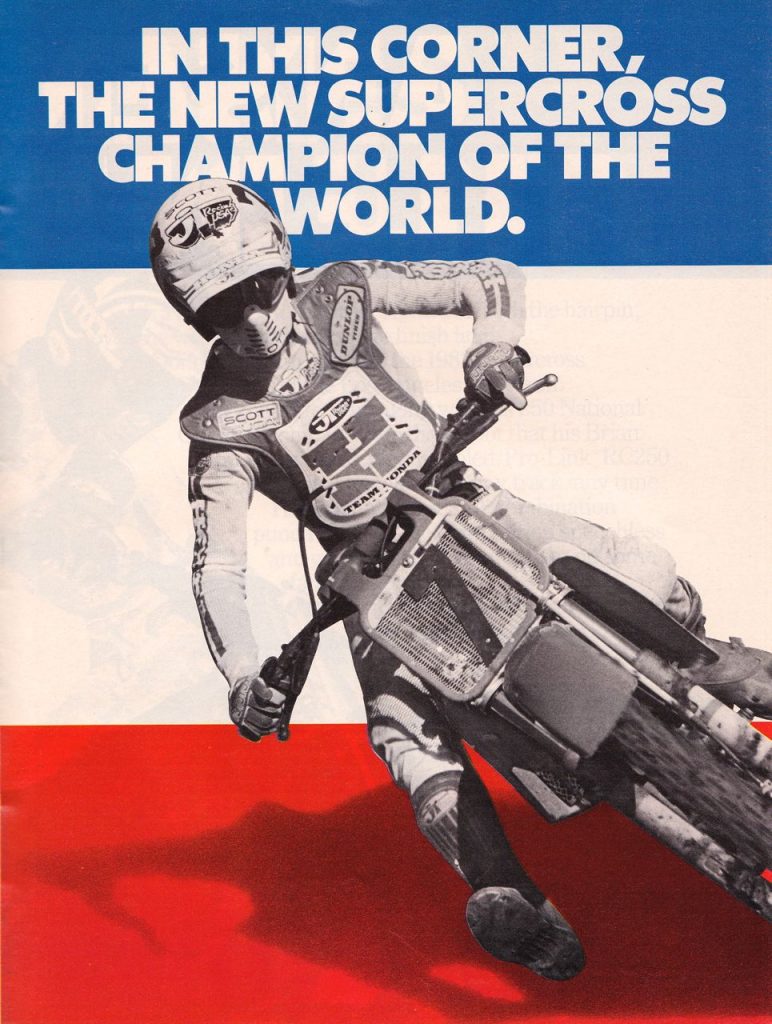 With a Supercross and 250 National Motocross title under his belt Donnie Hansen was on top of the motocross world in 1982. Photo Credit: Honda 
For Donnie, 1982 would prove to be his best, and unfortunately, last year on the circuit. Wins at the first two rounds at Anaheim and Seattle proved that Hansen was finally ready to take charge of the class on his ultra-trick Honda. Further victories at Pontiac in a double-header extended his points lead, with podiums at Kansas City, Houston, and Atlanta propelling him to his first ever Supercross title.  
Outdoors, it turned out to be more of a dogfight for Hansen. After a pair of ninths to start the season at Hangtown and Saddleback, Hansen had to claw back into contention against his blazing-fast rookie rival Ricky Johnson. Victories at Lake Whitney, Southwick and Road Atlanta would pull Hansen to within striking distance heading into the final round at Colorado, but he would need help to pull off his second title of 1982.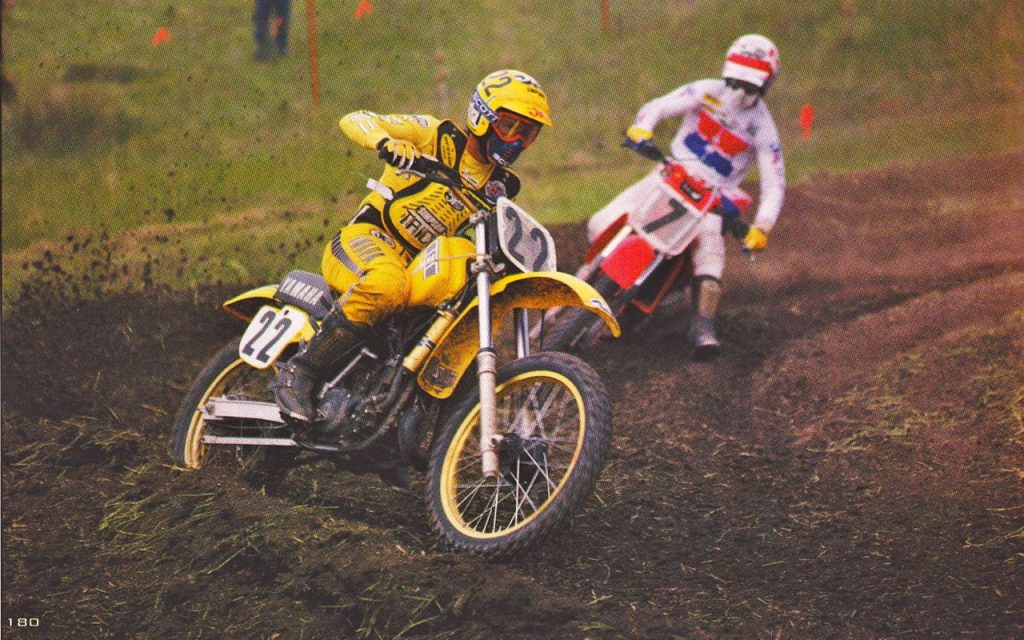 In 1982, Yamaha's 250 rookie sensation Ricky Johnson (22) gave Hansen (7) everything he could handle on the way to his first outdoor title. Photo Credit: Cycle World 
Coming into the final round, Hansen was in second, twenty points behind the series leader Johnson.  In order for him to pull off the title, Hansen would need to win both motos, with Johnson finishing no better than sixth. In the first moto, that was just what happened after an overanxious Johnson overjumped his Yamaha and crashed while trying to pass Kenny Keylon for second. The crash left Johnson with a broken front wheel and a major blow to his points lead. Eventually, Johnson would reenter the race, but by that point the damage was already done. Hansen would go on to capture the first moto victory, with Johnson racing from several laps down to capture twenty-third at the finish. After RJ's first moto disaster, all Donnie had to do was stay out of trouble and race to a consistent finish to capture his first-ever 250 National Motocross title. 
At the start of the second moto, Broc Glover ripped the holeshot, with Hansen solidly in second. With Glover out front, all Hansen needed to do was ride safe and smart in second to capture the title. At around the ten-minute mark, Johnson began to pressure Donnie for second and he was content to let the rookie by and stay out of trouble. Even with a third, the title was his and the greatest concern was avoiding the sort of issue that had befallen Johnson in the first moto. Johnson made a few attempts to mess with Hansen, but Donnie rode smart and stayed out of trouble all the way to the finish to capture his first 250 Motocross title.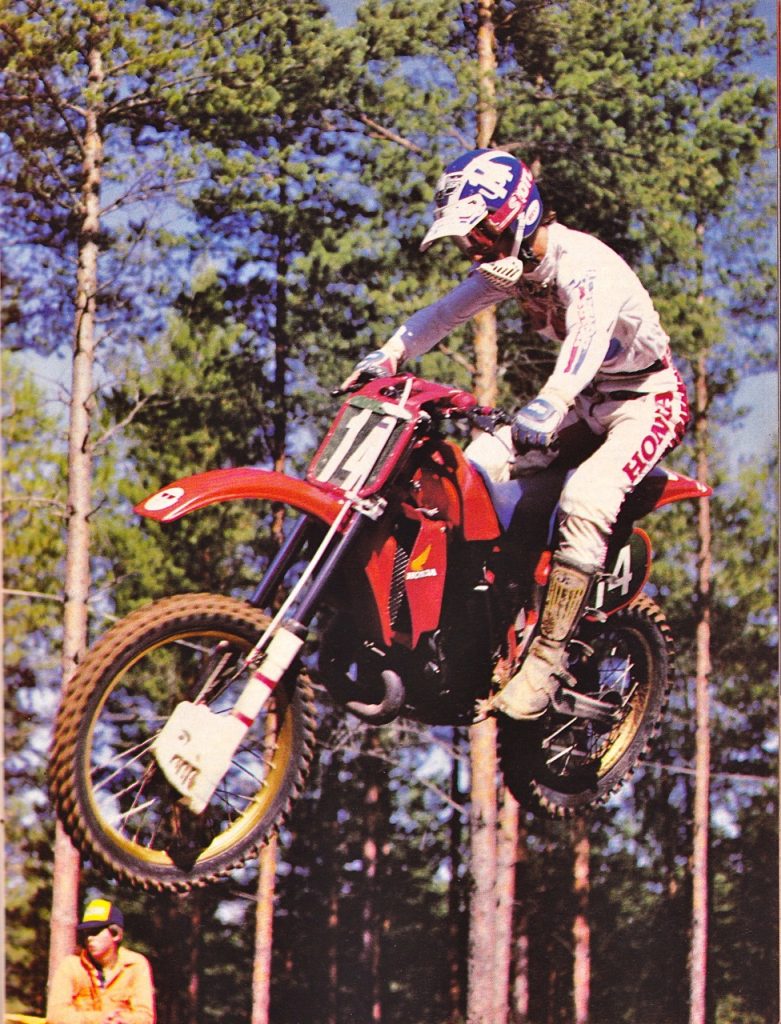 After the AMA season Hansen flew to Europe to race the Swiss GP and prepare for the Motocross des Nations. In Switzerland (pictured) all went to plan with a dominating 1-1 victory. A week later in Germany, however, Hansen's career took a sudden turn when a practice crash left him in a coma. While Hansen would eventually recover, the severe brain trauma he suffered would prevent him from ever regaining the form he had before the crash. Photo Credit: MOTOcross 
After his AMA success, it was off to Europe to race the Swiss GP and defend Team USA's 1981 MXdN title. At the Swiss round, all went to plan as Donnie raced to dominating double moto wins as Hansen's '81 Honda teammate Danny LaPorte rode to a solid 4-2 day to capture America's first 250 World Motocross Title. With the Swiss round in the books, it was off to Germany to prepare for the Trophée and Motocross des Nations, which were set to start a week later. Unfortunately, however, Donnie would never get a chance to defend that '81 title. Three days before the start of the event, Hansen suffered a serious crash while practicing at Rolf Dieffenbach's practice track in Germany. The crash left Hansen in a coma and a fight for his life.
Thankfully, Hansen would come out of his coma a few days later, but his days as a professional racer were over. The head injury proved so serious that Donnie had to retrain his body to do previously simple tasks like speaking and walking. Several months of intense rehabilitation would bring most everyday tasks back to within his reach, but his fine motor skills would never fully recover to the point they were at before the crash.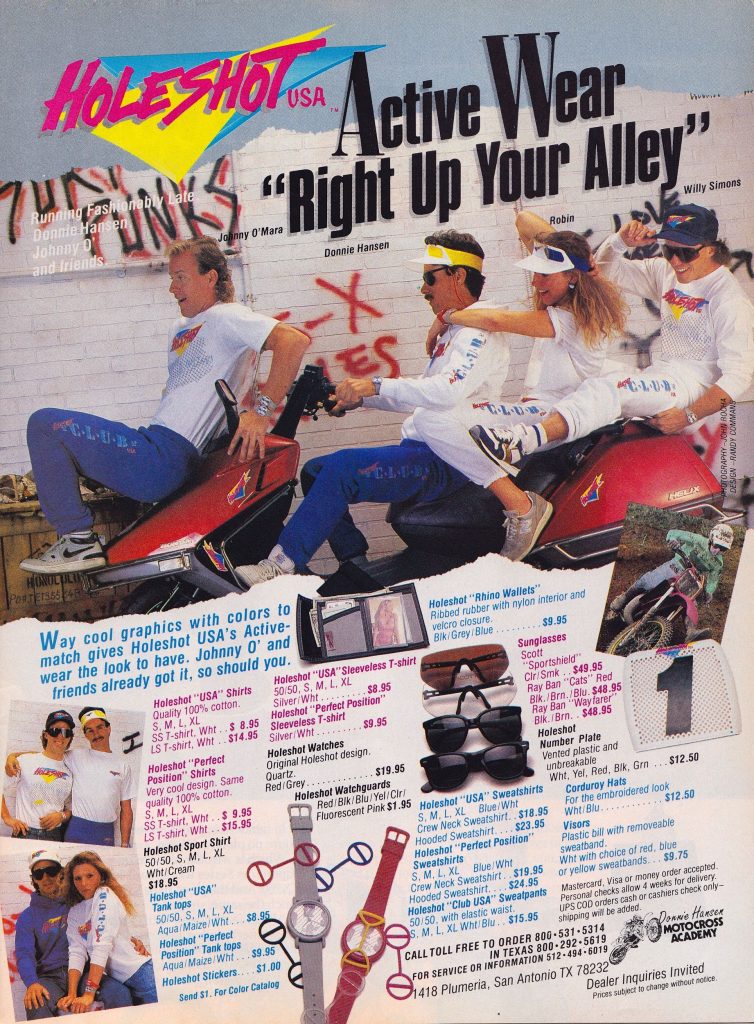 When Donnie and his wife started Holeshot USA they thought it would be a total piece of cake to make it big in the casual apparel business. Unfortunately, success would prove more elusive.  
In 1983, Donnie did make an attempt to return to racing, but it was not to be. After racing a few local events, he tried to qualify for one of the late season Supercross races, but just did not feel comfortable on the track. His mind still knew what he needed to do, but his body was no longer capable of executing those commands fast enough to race at an elite level. After practice, Donnie parked his number one machine for the last time and set about opening a new chapter in his life. 
In 1984, Donnie started the Donnie Hansen Motocross Academy as a way to pass on the knowledge that had led him to the pinnacle of the sport. Today, many riders probably know Donnie more for this than any of his exploits on the track. Continually teaching riders since 1984, the Donnie Hansen Motocross Academy is certainly Donnie's longest-lasting contribution to the sport we love. 
While his riding schools have certainly withstood the test of time, not all of his business endeavors have been as successful. In 1987, Donnie had the idea to supplement his income by starting his own line of casual apparel. At the time, there was an explosion in the popularity of printed t-shirts within the industry and grabbing a piece of this market seemed like a good bet.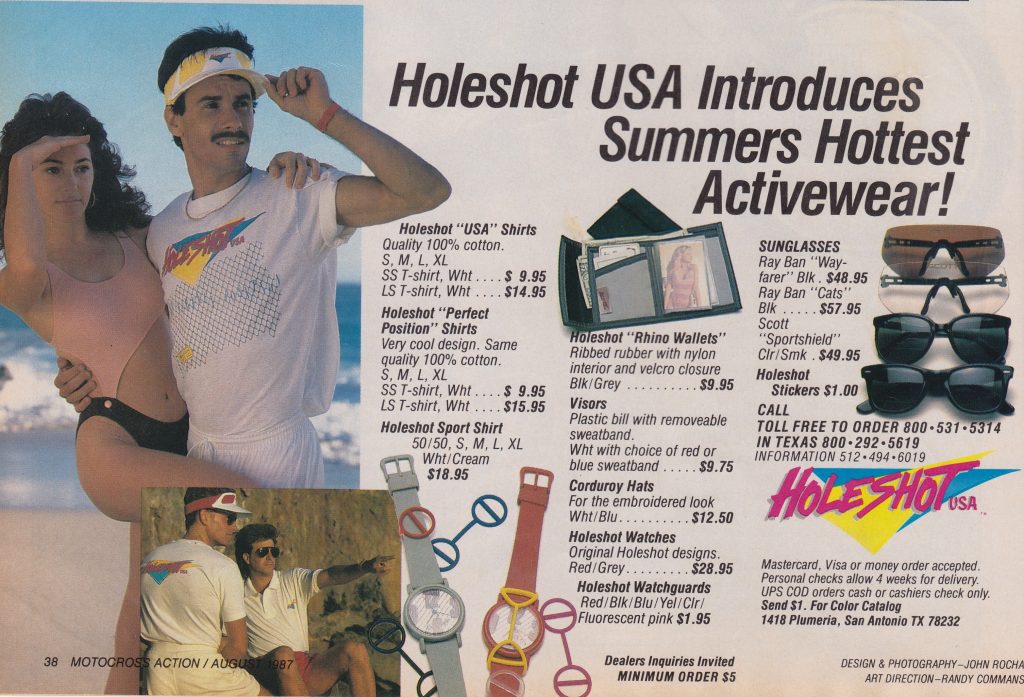 How could you go wrong with some sweet nylon wallets and a few rubber watch protectors? 
His new business took the name of "Holeshot USA" after the nickname Donnie had been given for his uncanny starting ability as a rider. His initial products were a line of short and long-sleeve shirts, nylon wallets (all the rage in the eighties), sweatshirts, sweatpants, corduroy hats (again…eighties), and visors (like Steve Spurrier wears – not for your helmet). In addition, they also offered Scott USA sunglasses and a line of Swatch knockoff Holeshot watches with that weird rubber watch guard. 
Once Donnie had the business plan mapped out, he reached out to his friends to get it off the ground. He enlisted his old buddy John Rocha to shoot and design a couple of ads for the fledgling brand and drafted his old teammate Johnny O'Mara and Dirt Rider cover boy "Wild" Willy Simons to appear in the first one. Donnie's plan was to place a full-page color ad in Motocross Action and make a big splash. At the time, MXA was the magazine in the moto industry and a huge influencer on what was cool. With big stars, colorful product, and major exposure, it seemed like a can't-miss. Print some shirts, buy some ads, and watch the dollars roll in.
 After talking to Donnie, however, this is where things went south for Holeshot USA. From the start, it was a small operation, with himself and his wife as the sole backers. There was no huge bankroll behind it or massive infrastructure in place. By pouring all his money into a bunch of product and high-priced ads, Hansen hamstrung the company before it could really get started. At the time, a full-color, full-page print ad in a major magazine was quite an investment for a small company and Donnie bet the farm that this investment would pay off.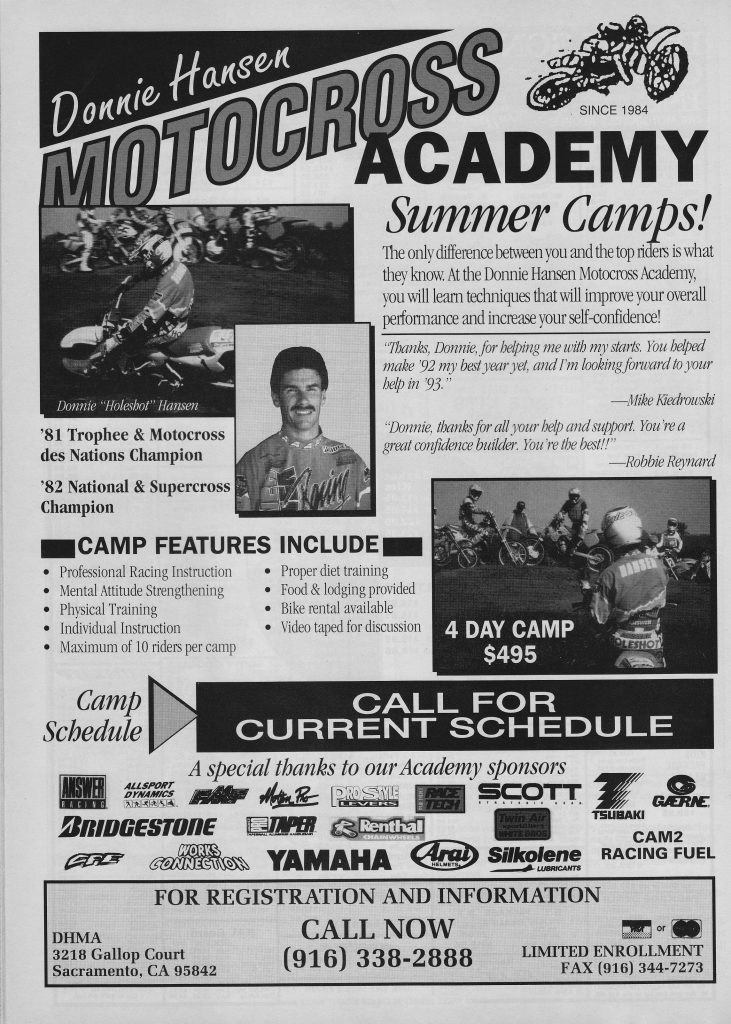 While Holeshot USA is long forgotten, Donnie's motocross academy has remained a staple of the motocross community for over thirty years. 
 In hindsight, Donnie feels he should have taken a slower approach to rolling out his brand; perhaps something similar to what Drew Lien had done with 100% Products. By relying on his connections in the industry he could have gotten his product in the hands of riders and influencers and slowly built interest in the brand before rolling out a media blitz. By building an audience slowly, he could have better gauged interest and not over-bought product in the beginning. As it was, he invested heavily up front and when his media blitz did not pan out, he was forced to close up shop within a year. 
Thankfully, Donnie's other post-racing plan has fared much better. Today, the Donnie Hansen Motocross Academy continues to educate young riders on the skills necessary to go fast on two wheels. While I think everyone enjoys a sweet set of board shorts, I think Donnie's second career has proven to be far more significant to the sport than Holeshot USA would have ever been.
Thanks for reading and if you would like to see a daily dose of old-school moto goodness you can check out my Twitter and Instagram – @TonyBlazier. 
If you like your moto in video format, check out my YouTube channel at www.youtube.com/themotocrossvault .