Photos by James Lissimore and Jeff Kardy
(Canada's Tyler Medagia is a national treasure, he's repped Canada at seven MXDN's as well as an ISDE, I thought I'd get some stories from him about these seven times as well as we did a podcast HERE about it if you prefer that.)
By Tyler Medaglia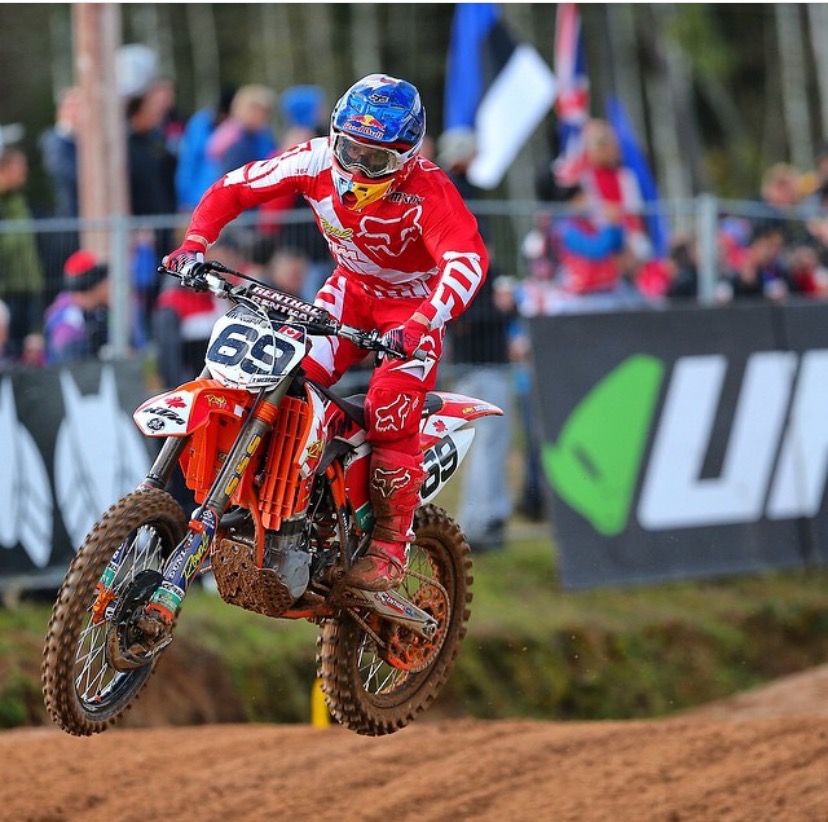 I would go to MXDN every year. I think that's kind of one of my skillsets. Similar to a Sipes. I can go into different disciplines and do okay. I can be comfortable in shitty situations and be comfortable in shitty situations and different food and lack of sleep. For some reason when I get to line up, I can sort of push through that kind of shit. We've (Team Canada) had some good years, some good efforts. Then real slapstick, shit shows, for sure. A lot of good stories though. That's always kind of our MO, right? As Canadians. Just goofy, crazy, bunch of weird shit always happens. That's kind of the way the MX des Nations always has been and always probably will be.
We don't have the time to talk about Team Canada at this race over the years, that would be an entire podcast in itself. Of course this past year, with the most Gopher Dunes like Des Nations ever, and with the most available proper racers at the same time with the best bikes, we can't make it happen, which is a huge bummer. Then it freaking rains. It could have been even better for us, but whatever. When I raced for Blackfoot too, those were a couple years that I didn't go when Canada sent a team just due to the team didn't want to send my bike or anything too. So there was that.
It's really disappointing. But I think things are going to change, and things are changing but hopefully if they have it at Matterley this year like they say they are, hopefully we can send a team. We got a good arsenal of riders right now too that are all swinging at the defensive and really giving her. So I think we have a good shot at doing well again.
FIRST ONE- DONNINGTON, ENGLAND 2008
I remember a lot from my first year in England. It was my first time traveling overseas. I was pretty young. I had been racing. Here is the thing. I raced the MX2 class because it was Dusty Klatt and Colton and myself. I led the championship half the season that year, my first full year in the 450 class. I finished up the series and then I was on 250s. But at the time, you want to race for des Nations that's a huge deal. It was my first time. I'll race a pit bike if I have to.
I was there on a 250 even though I raced 450 that year, I've done well on 250. It was really not that big of a deal until trying to get everything lined up. The only 250 I had left, it went over by boat so you can imagine. That had to go two months in advance or whatever, carrier pigeon.
I take my very first flight overseas, and I didn't really fly that much as a kid, so to me it was like mentally weird. I was just like, okay, flying over the ocean. Kind of nervous. Couldn't sleep. So I remember getting there, and Colton (Facciotti) had already been on the team a bunch. (Dusty) Klatt may have gone once or twice, so they knew Carl (Bastedo, Team Canada manager) and how he doesn't know how to drive. He couldn't drive his way out of a paper bag. Carl's a great guy. Definitely quirky. He's really old. He couldn't drive. So that was the weird thing. I was the rookie on the team. So I get there. I'm out of my sorts. I haven't slept. Now they're putting me in a car that's standard. I have to shift with my left hand. I don't drive standard cars. I never did when I was a kid. So here I am trying to learn how to drive a standard car on the wrong side of the road, on the wrong side of the car, with my left hand. I'm not ambidextrous that much. So I almost pull out into oncoming traffic. That was just the start of the shit show. So then, we get to the track and they started pulling out the bikes. We ran Hindle exhaust. It's a Canadian company and they're really popular in road racing. My dad used Hindle pipes when he raced street bikes.
It was a straight pipe, essentially. Not surprisingly it never passed sound. They sent an extra one. It was the fail safe, we called it. If you put this muffler on the bike and took all the plastics off the seat and handlebars, you would think that you were rolling around a cannon. This thing should be mounted onto a boat. It went past my rear fender. It was just disgusting. I'm fucking embarrassed. It's just ridiculous. I'm like, whatever. It's still going to be cool. Then we're going through tech. So it's the first time in tech I've ever seen the way they tech bikes. Steve Ramon was riding for Team Belgium, I think. He had a works RMZ-450. So they pull it up. They put it on the scale. I look at the weight. Then I remember when they rolled my beast up, it was 13 kilograms heavier than his 450. I'm like, great -13 kilograms. That's a lot of weight. That's 20-some odd pounds, almost 30 pounds. It was cool right off the bat to know that I had the slowest bike on the property.
I was like, maybe that's wrong. Then I'm getting ready to go up. The Stew versus Seb Pourcel's, that battle was going on. The whole thing. I was freaking out. This place was crazy. Then I remember going down the start straights to start practice and it was like, oh, my god. I feel like I could just get off and run faster; just put my shoes on and we'll go running. My bike was bad, I think with the different fuel and the pipe… It was just atrocious. I remember one of the KTM kids, I don't know who it was, but I ended up being mid-pack the entire weekend, qualifying, all the races. I did okay. I think I was around eighth in my class. It was okay. I rode my ass off. I remember there was this triple out of a corner and there was an inside roller. I remember railing the outside, sitting on the back fender and seat bouncing and landing on top, and this KTM kid rolls the inside and just jumped it no problem on a 250F. I was like, oh, boy.
We actually got 13th overall. It wasn't terrible. I went 32-22, my bike was so slow that it looked like I had fell in the first corner. That's just like everybody was going.
I was right around Harri Kullas, He was a Finn that time, and now he's an Estonian. You know what's funny, is I've battled a lot with that Harry guy. Going back to Italy, we crashed together in Italy pretty hard in one of the motos. He had some really good races, too. That guy ripped.
I also remember Dusty threw this crazy whip when he was leading the first lap. It freaked everybody out. I remember screaming. I was so stoked. We got along pretty good. Me and Dusty are still buddies. It was crazy. I can't remember. We were pretty just average. It was a lot different. That second moto was the one where he holeshotted and threw the big whip, I think, because I got to watch that race. Then he must have went down at some point, but he was leading. It was insane.
(On racing MX2, MXGP or Open at the MXDN's)
For me, usually out of the guys, I'm able to do the back-to-back 450 motos. So I usually do the Open thing. I prefer to do the Open class just because I can handle the back-to-back motos, which isn't an issue for me. I know that Colton likes having the break. He was the one guy that really needed the break. I was on the team with him quite a bit. I would always kind of volunteer for the Open class. It was just kind of my wheelhouse.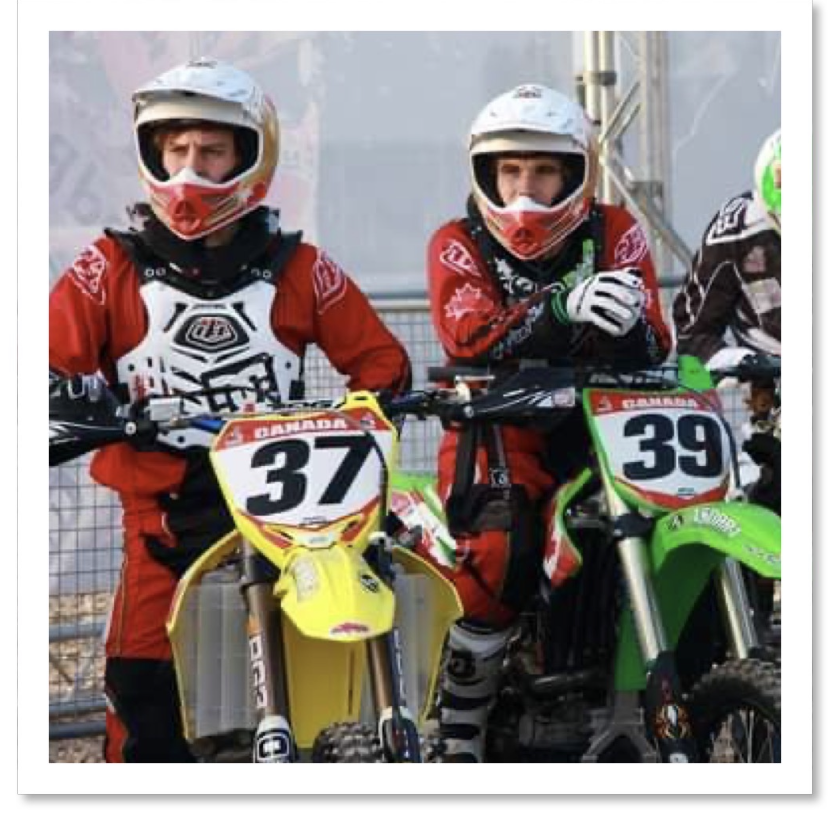 SECOND ONE- ITALY 2009 (SHIT SHOW)
On paper it was a good team, kind of. This is where there was a bit of a love story going on. This was kind of where I was courting Heidi (Cooke, his wife).
Heidi's brother Mitch and I were teammates in '08, but at the end of '08 I came out and hung out here in Nova Scotia with Mitch and we did some riding. I rode at his track. I always had a crush on Heidi from when I was a kid. Even if I told my ex-girlfriend, I love Heidi. She thought that was weird. I'm like, yup, I just do. So during the nationals, once we know that the team is going on, at the after parties at some of the races I would just joke around with Mitch and say, "Hey, give me Heidi's number." He'd be like, "Oh, you want to get with my sister, huh? Well, good luck." So he gives me the number. Then she somehow volunteered to drive his bike to Ontario to drop it off at Andre's (Laurin, OTSFF team owner) to get it shipped. She stopped in Ottawa. She made a pit stop in Ottawa. That's where we started to row the love boat. We secretly rode it all the way to Italy. It was pretty cool and exciting. Then going into the race, I was really looking forward to it. I was in a good mood. My riding was really good.
This was the race day, the Sunday morning warm up. There was an off-camber corner and I came down a hill and down into the rut and my front end went over the rut and hooked and I flipped over. The bike landed on my back. I hurt my shoulder and did something to my ribs. It was shit. Then I couldn't explain to them – because I have a gnarly scar on my back. When I was in the medics, I couldn't explain it. My back is kind of weird. There's a spot where I had some ribs that got removed from a crash. They were looking at my back and they couldn't figure out whether the bump was from the crash or not. I don't know any Italian, despite my dad's family being Italian. I don't know any Italian. I'm trying to tell them where it was hurting. So they sent me to the hospital. We saw a guy with six fingers at the hospital.
The track was unbelievable. I was so bummed that I couldn't race. They wouldn't let me race because I had an IV in the ambulance. Then going back to what happened, I told them I wasn't going to be able to race because of this IV. Then they tried that. They tried to get me in, but it would have been hard for me to even ride because of how hurt I was.
Mitch Cooke, he had a problem going on. The clutch just completely blew apart on the line when he had it held wide open. So it just hooked and flipped the bike over backwards. Well he had the auto Rekluse clutch in. Those are the earlier stages of that development in that clutch. Something went wrong pretty heavily.
Dean Wilson was on the team that year, he was Canadian then! (laughs) He crushed the LCQ. That was the highlight of that year, besides seeing – I'm not even joking, this guy had a sixth finger sticking out the side of his hand, opposite of his thumb. We were in the waiting room. It wasn't just like a little nubby. It was a full-fledged finger. The finger was clearly working, because he would flick his hair behind his ear with that extra digit. It was nuts. That stuck out to me more than anything. Apparently there's still inbreeding going on across the pond. Six finger guy, and a cool track, that's' all I got from that year in Italy.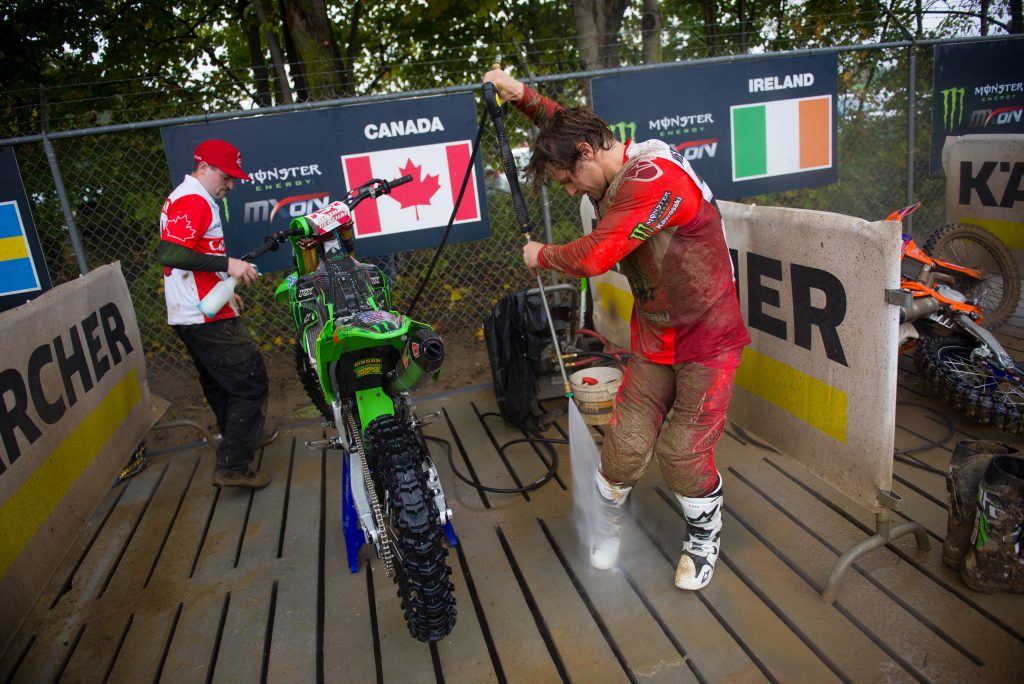 THIRD ONE- GERMANY 2013 (THE CANADIAN COLLAPSE)
This year it was my brother Jeremy, Cole Thompson and I. Here's where it wasn't terrible for me. In the LCQ on Sunday morning I came from the back and got into the position to where we were qualifying into the A main. Then I got up to Cole and I seen that were good. It was good on the pit board. I didn't want to pass him. Then I could see the Irish guys coming up. These freaking Irish guys. Then I think it was maybe the last lap or the second-to-last lap and one of those Irish guys just completely came in and cleaned both of us out.
I don't know which one it was, just one of those Irish guys. Completely cleaned my clock. I was trying to maintain my position, because I don't know if Cole had arm pump or what his problem was, but he was starting to fade and he generally doesn't really do that. He's kind of one of those guys that stays going. Then my brother had hooked his leg – you know how they have those curbs? He railed the outside curb and his outside foot hooked the side and bent his foot right backwards. Another just disaster. The thing is too, so much stuff has to go right for you at these races, especially if you go with people that haven't gone before. That year was interesting too because normally I had gone with people that were a little bit on the lighter side and wild. Then my brother and Cole, at the time extremely, extremely square. We didn't eat anything odd. We didn't have a sip of alcohol. Just as straightedge as can be. It was different. It was a different vibe for sure than some of the others, but it was really cool to have my brother there and to do that. To be on the same team with your brother is something really special.
I was on a KTM 450 that year. I remember talking to (Justin) Barcia on the line, because I hadn't really seen him much because he was just a kid that was bumming around at MTF and GPF. I was always at GPF and he'd always come over and hang out with the group of us. We were like, who's this little kid that was always buzzing around and trying to hang out? I remember being on the line with him saying, "A little bit different than GPF huh?" It was pretty cool.
I still went to hang out and watch the race. For me, yeah. It's just circumstance. You tried and it just didn't work. What are you going to do? You can't just sulk about it. You got to enjoy it while you're there. That's the way I look at it. It's a special opportunity, a hundred percent.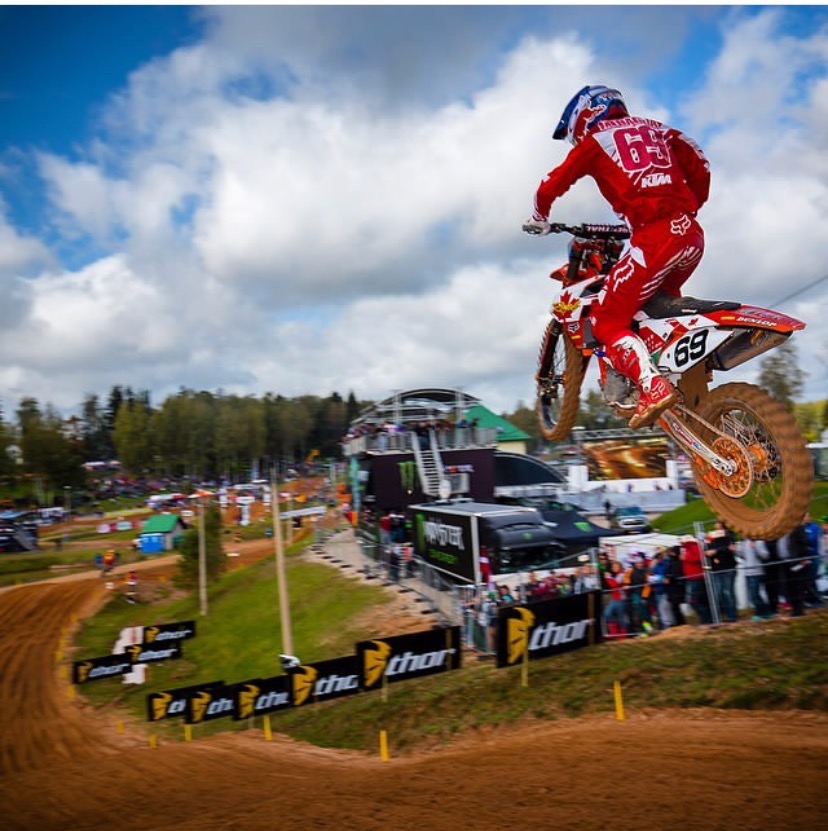 FOURTH ONE- LATVIA (CAPTAIN CANADA)
So 2014, Latvia. New team manager for this one, Ryan Gauld was now running the team, I have no idea how he pulled it off, but it was incredible. The main people from CMA usually show up to that. I think he was body checking them. They're older people. In the lounge area there, up top where the live timing is and stuff, pit lane, he almost threw the guy over the edge right onto the track.
There was a little bit of a vlog going on by Ryan. We were at the mall or something. To me, it was kind of like an old school, Crusty Demons of Dirt style video where everything's a little bit edgy. It wasn't really much. He just had his handheld camera and just kind of peeped it over the top of the bathroom while Colton (Facciotti) was pooping jokingly. It got blown pretty far out of proportion. I thought it was actually pretty funny.
As far as managing, he did a great job. It was organized. We had a sick place to practice. That was pretty cool. That place was pretty cool.
Riga, the main city there, was really nice. It wasn't tight European. The roads were kind of wide. It felt a little bit more normal.
We made it back into the A main, 17th overall for Canada. I went 27-37, but in the first moto I crashed really hard. The second moto I almost pulled the holeshot. I was up front. Then my goggle lens got blown out and I got sand in my eye. Normally I would just keep going, but I couldn't see- my eye was jacked for a good couple weeks. I had blurred vision from that for a couple weeks. It was scary. There's more to that year. It was crazy. I remember (Chad) Reed pulled out because his knee was sore, or something. So he didn't race because his knee was injured. I'm pretty sure at the after party he was piggy-backing me in the dungeon party.
We get to the after party place early. Some of USA and some of Canada get there early, and then they tell us not to drink this booze because it's for Team France, and Chad started guzzling all the booze for France. It was great. It was crazy, man. It was literally in a dungeon. That venue was freaking crazy. Then cobbled streets. I think we got taken back by a guy on a bicycle with the little thing on the back. Gauldy was out of control. It was one of the sendiest afterparties, I think.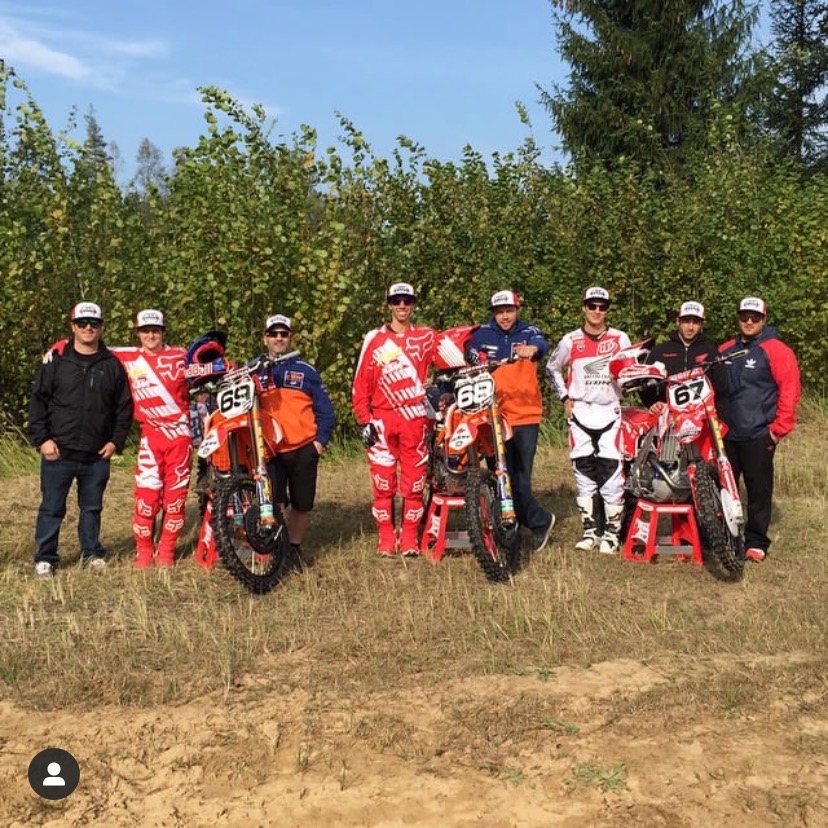 It was wild. That track was cool. It was a good track. I was just pissed that that happened to me because I had potential to do good there. We didn't go the year after Latvia, and I blame the whole Gauldy thing (Laughs!). There probably was some sort of drama in the aftermath of that with him not being able to go back. He probably went out guns blazing, too. Probably wrote something that pissed somebody off. I couldn't believe that Ryan Gauld was the manager of Team Canada, but then I got to the race and he did a really good job. It was fun. He was competitive. He kept it light. He didn't freak out. He held it together. He did a really good job.
FIFTH ONE- ITALY (INSANITY)
Italy, Maggiora, that was an insane track, insane crowd, that was the coolest experience of my life in motocross, really. That track was straight out of a video game. I've never ridden on a track like that. It was insane. It was the track and then people. That was it. It was like you were riding a track in a stadium, an outdoor stadium and you couldn't even see any bit of grass. It was just people and then it was like a dome.
The team was Kaven Benoit, Shawn Maffenbeier and myself with Benoit just crushing it. Unbelievable, he has those days where he's phenomenal. It was awesome. I was sitting there watching him in the first moto and I'm like, that gives me confidence because we've been riding together our whole lives. We're very close. We've always been close in speed and skill and stuff. I was like, man, this is amazing. We can do it! I was so pumped for him, too. That was insane. Coming down the pit row, we're all just almost falling over the thing just screaming. That was awesome. That was good to see. Benoit is a good dude.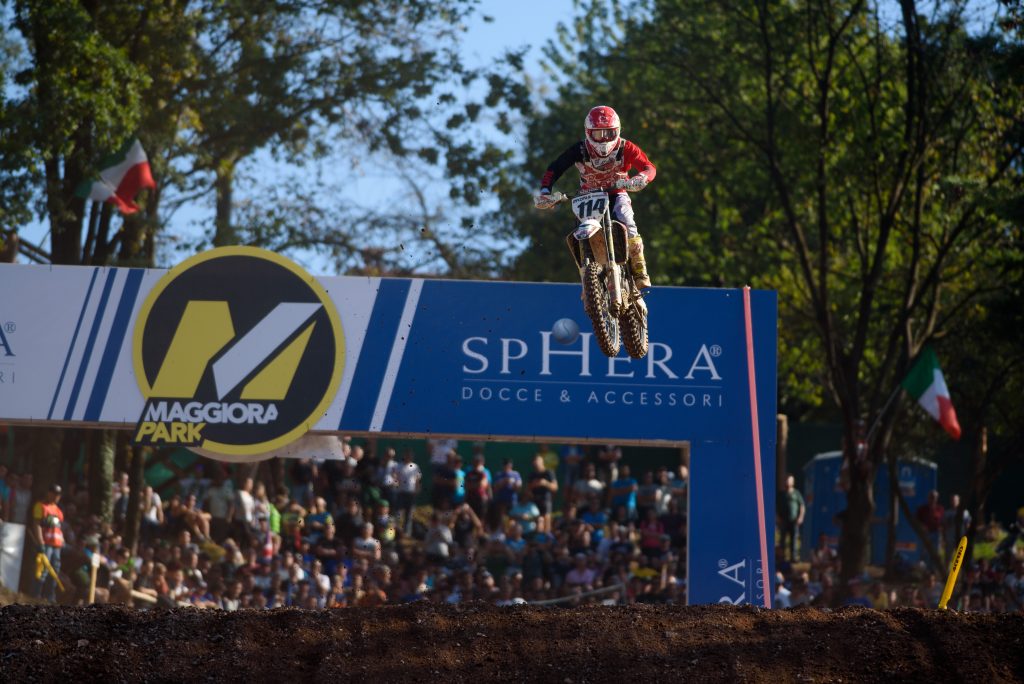 Maff was a bit nervous, It's hard. My first one, I was in England. They were saying I was crazy nervous. In Italy it was just such a surreal thing. It was hard to be nervous because it was like, this is out of control. The whole thing was out of control. The track, the people… There was more people there with chainsaws with no bars on them, than spectators at our nationals. There were probably 5,000 people with chainsaws. Of course, I was racing with (Alexander) Lupino and the other Italian for three-quarters of the time I was on the track. One of those two dummies was either ahead or behind me. So I barely heard my bike the entire race.
It was un-freaking-believable. I saw a guy who had a car engine in a shopping cart. His buddy had a big, huge thing of gasoline in a funnel. So he was holding the gas tank, which was a funnel, in the air, and the other guy that was pushing the cart, and there was a third guy with a string on the throttle just holding it wide open. It had no muffler. A car engine. Unbelievable. I almost got in a fight there, too. I was walking through this drunk British dude. He said something like, "Two kids, looks 14 years old." I'm like, "Buddy, you wish you looked this good," or however old I was. I was ready to punch the guy right in the mouth.
It was cool. On Friday before the MXDN's, there's always this introduction of the teams where we all ride in the back of these trucks. The Italian one was crazy because it was kind of muddy where the trucks were going. The people driving the trucks were jerking the throttle. You almost fall off, so it was kind of sketchy. I think that was the first year that they did that, maybe. Or maybe they did it the year before too. They've done it every year since and it's gotten a bit better. Red Bud was dicey. But that was pretty cool because even on Friday, there was thousands of people there just to watch the intros.
Yeah. I try to wear my kit, and I'm not really afraid to talk to people. So I've spent time talking to people and getting to know people. Like you say, some people say, "I'm from Canada, or I lived in Canada for a bunch of years." A lot of people like a Canadian, so it's nice. I think when you wear your Canada stuff people don't think you're American, so you get treated a little bit better too. No offense, or anything. But that's reality.
Anyways, I went 18- 35 in Italy. My chain broke. My chain derailed or something. I was doing good in that second moto, too. It was going to be probably my best finish up until that date. Again, those stupid curbs they had. They had this weird step-up and the rut kind of went into the wall of the embankment. It was so abrupt that I think it just hit my chain guide and derailed my chain. I remember too I had a battle with one of those Estonian guys. I may have gotten one ahead of them, or something. Then the team manager, one of their cronies was like, "Canada. Pfft!" Did one of those. Ever since then I just had a bad taste in my mouth for the Estonians. Other than that Harri Kullas guy, because he seems pretty cool.
We got tenth overall there. It was good. Like I said, if my chain hadn't come off in that second moto I think we would have been up a couple more spots. There wasn't much time left in the moto, either. That was crazy. Then even we were on that crazy lake and we had a castle, an infinity pool. Me and my mechanic, Kibby, we were doing this tour. Benoit's mechanic – I think he's Jess Pettis' mechanic now. We jumped the gate in the castle and got lost and we were down in this dungeon where there was a graveyard. It was super sketchy. Then we bought skateboards and we were skateboarding on top of this abandoned building and there were bums living inside and we didn't know about it. We poked our head in and there was people that were wasted on serious drugs and shit on the floor, like actual shit. So we got into some pretty sketchy situations, which kind of added to it.
This is the first year for Kourtney Lloyd as manager. She took over from Gauldy and was great, very organized.
SIXTH TIME- ENGLAND IN THE MUD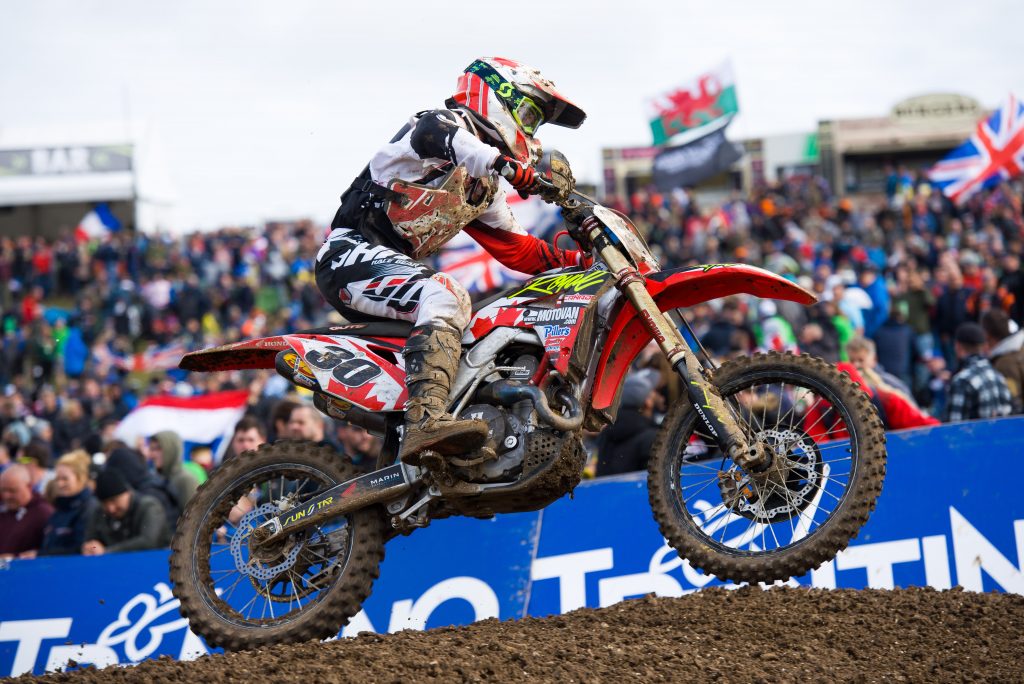 This was a disaster. I think both my scores were the two best for the team with 16-21, Tommy Searle in the second moto, he was behind me the entire race. I'm talking a bike length. I heard him the entire race. Then two corners to go, we're getting the blue flags. The last thing that I want to do is jack up (Jeffrey) Herlings who's leading the whole event in front of all these people. So I'm like, okay, bro. I'm going to move out of the way, and go ahead. I could have probably just stayed ahead all the way to the finish but there's no way I'm going to affect the outcome of the podium. So I moved over a bit and freaking Searle is an inch behind Herlings' wheel and snipes me on the blue flag. It's funny too because I've actually been talking to him a little bit on Instagram. He's got one of the My Pit Boards. I haven't really talked to him about that. It was just kind of funny.
Just a mudder. One of those races. It never stopped raining. We almost got our car stuck in the parking lot. It was miserable. The clouds seemed like they were six feet above you. Just a miserable weekend.
It was extremely cold, too. The problem there too is your goggles would fog up instantly. The vision was crazy. I think I remember seeing Tim Gajser, he probably only did one lap of the entire event with goggles on. He was in the MX1 class, so I watched him a lot. I never seen him with goggles on, not once. It was just weird. You could not see. Everything would fog up. It was strange. Your roll-off could be perfect. It didn't matter what goggle brand you were using or anything, it was just that weird kind of dampness. Then your face would get just hot enough. You couldn't even see. The dirt had tons of rocks in it. I remember I'm like, I'm going to eat shit so I better take my goggles off, but I don't want to take my goggles off because this is sketchy.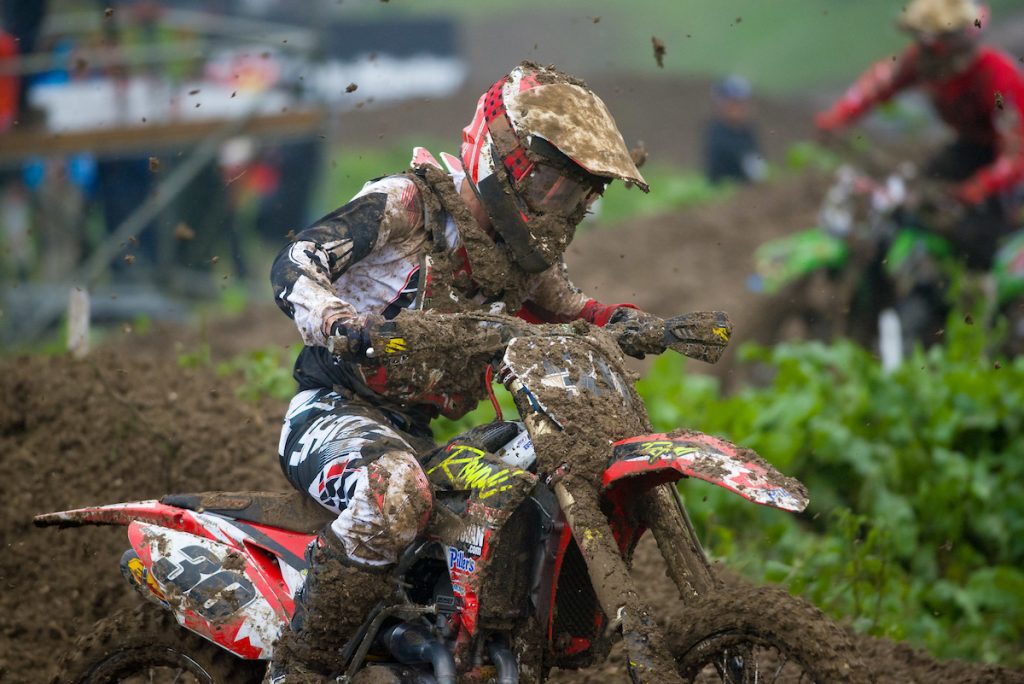 Then there was one point in the second moto when me and Colton (Facciotti) were together. I went by him, crashed. He passed me back. I went by him again. Crashed. He passed me back. It happened three or four times. He was like, "What was going on out there?" I'm like, "I couldn't fucking see."
Track was great on Saturday, fun day there. We got 13th overall. I thought we could have done a bit better just because we're good in the mud. Like you said, we had shit starts. I know Maff pulled in for goggles a couple times. It was so-so, I guess.
SEVENTH TIME- RED BUD- USA, USA, USA!!!!
In Red Bud, it was great. Second moto I was in seventh ahead of (Justin) Barcia. Barcia was behind me three-quarters of the race. Then I crashed. I crashed and then I was in eighth. There was three laps to go and then my bike, the radiator cap melted on the other side. That's an epic photo of me, for sure.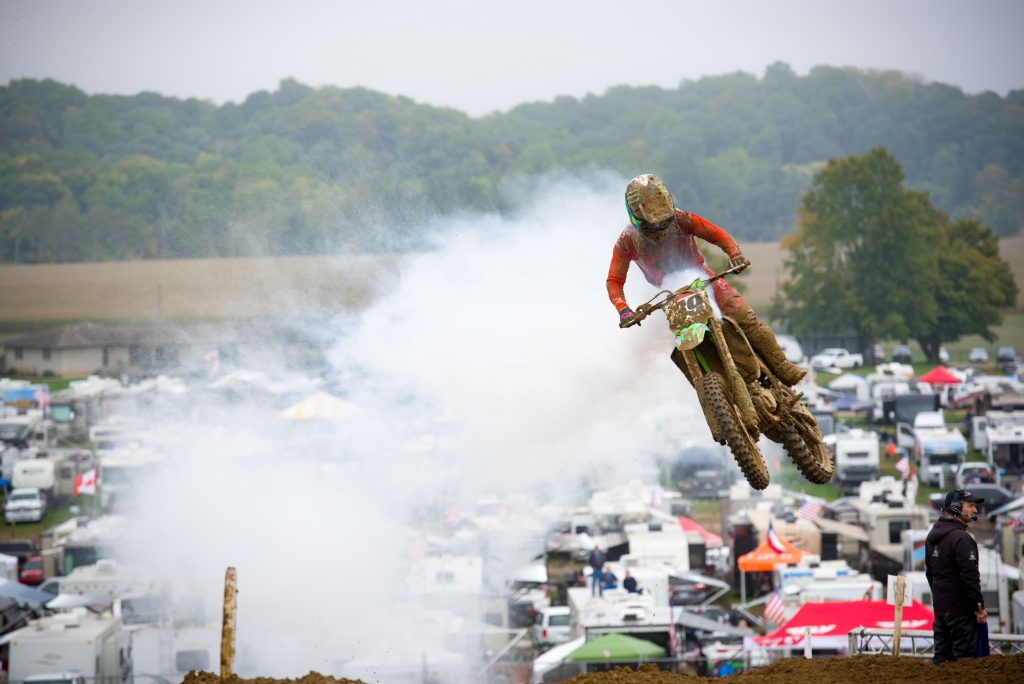 I felt comfy that whole year, man. I won Gopher (Dunes). I won the last moto at Walton. The bike was good. Then I did good at the Iron Man AMA national. So I had a really good year on the KX450. So I just felt comfortable. The bike was set up good. I like Red Bud. The dirt was good. It was kind of muddy. I enjoyed that part of it. There was definitely some sketchy moments and sketchy spots on the track. Like I said, just big bummer on that last moto. It still haunts me a little bit sometimes.
Those Canadian fans that dressed up as Mounties, those guys were awesome. That was such an awesome event. I wish the weather was a bit better. It was so cold. So many friends and a lot of my family was there. It was cool. The house we had was kind of like a castle. The place was super modern. We had awesome catering. Kourtney did, that was probably the best job. That was spot-on. I remember having a running race with the truck driver from GDR the night before the race, because he was shooting off. He was just talking out of his ass about being better than me at everything. I'm like, I'm 21. Let's have a running race right now. We'll run around the pool. So he goes to take off and runs and he trips over one of the things and eats shit. Then when I go to take off for my time trial, I trip and skin both my elbows. This was the night before the race. It was insane.
Team USA, wow yeah, it was not good for them. We'd have been close even between us if we didn't drop that race. It was legit. That was a huge surprise. It wasn't much different than normal. You're saying how much different the track was, but I had raced there a couple times and it didn't seem much different to me. It was beat.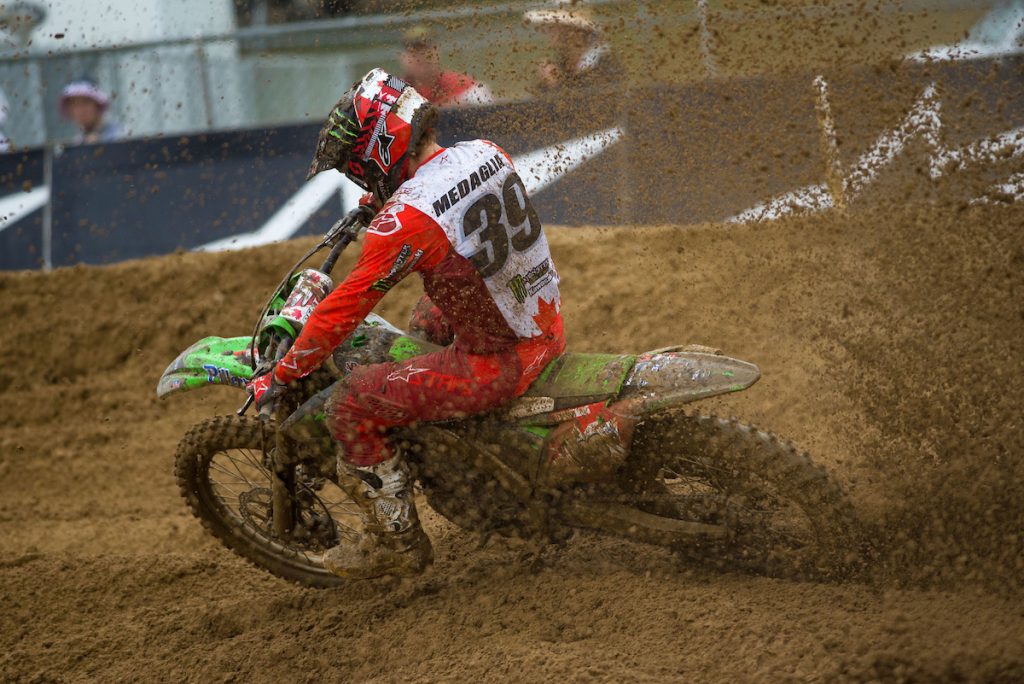 At one point, I saw (Kevin) Windham out there and I was like, "I don't know who that guy is." I remember seeing his sick helmet. I'm like, "That is the biggest helmet I've ever seen." We were joking that if you unlaced the front rim, that helmet would not fit through the rim. He was like the jungle man so he had all that hair under it.
Thanks for giving me the platform to share some of these stories with people. I hope that they really enjoy them. There's a bunch of stuff that I missed. There's probably key points that I actually missed, but it's just an awesome experience to be able to do that and represent Canada. Same thing with ISDE. That's a whole other ball game too. We hopefully can keep going for a few more years and hopefully we can beat that Canadian record. That's the goal.