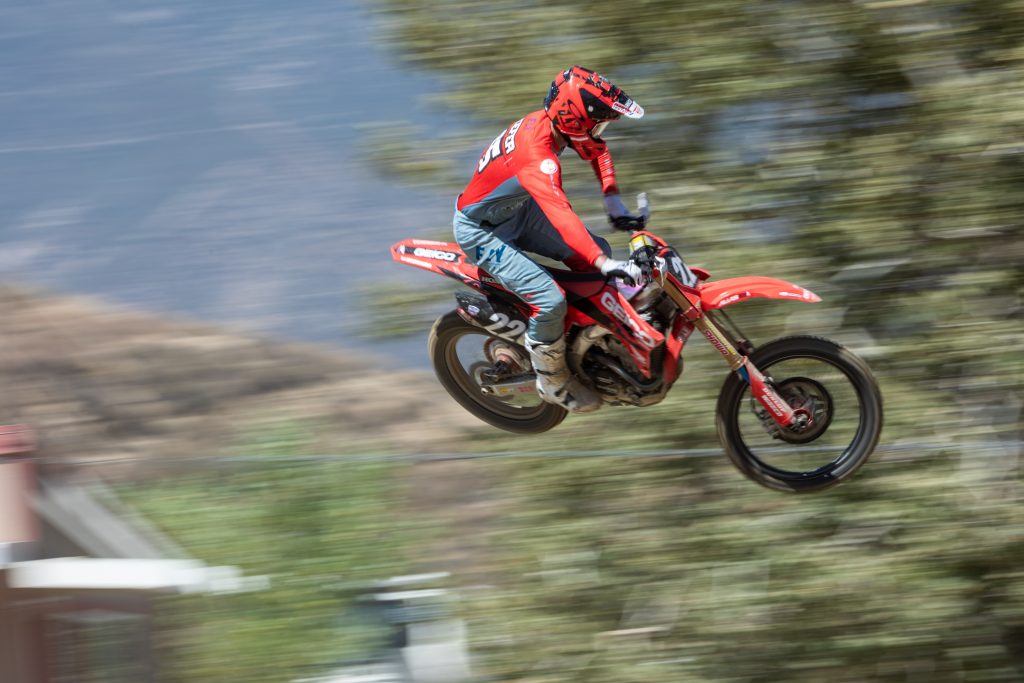 Geico Honda Bike Test
Photos by Dallas Dunn
To watch the GEICO Honda video of this day, go HERE
So I don't need to explain the story on how we got to this point, but just know that everyone at Team Geico Honda welcomed this test with open arms. Steve and I have been wanting to do this test before this whole COVID-19 thing hit, but with the pandemic, it took longer than expected to get it done. We did however manage to get to Glen Helen and put in a full afternoon on Carson Mumford and Jo Shimoda's race bikes without interruption. Usually when I do a factory race bike test I will only get a maximum of an hour to ride. The Geico Honda fellas told us that both bikes were ours until dark! I will go over each machine below and then compare the differences to you.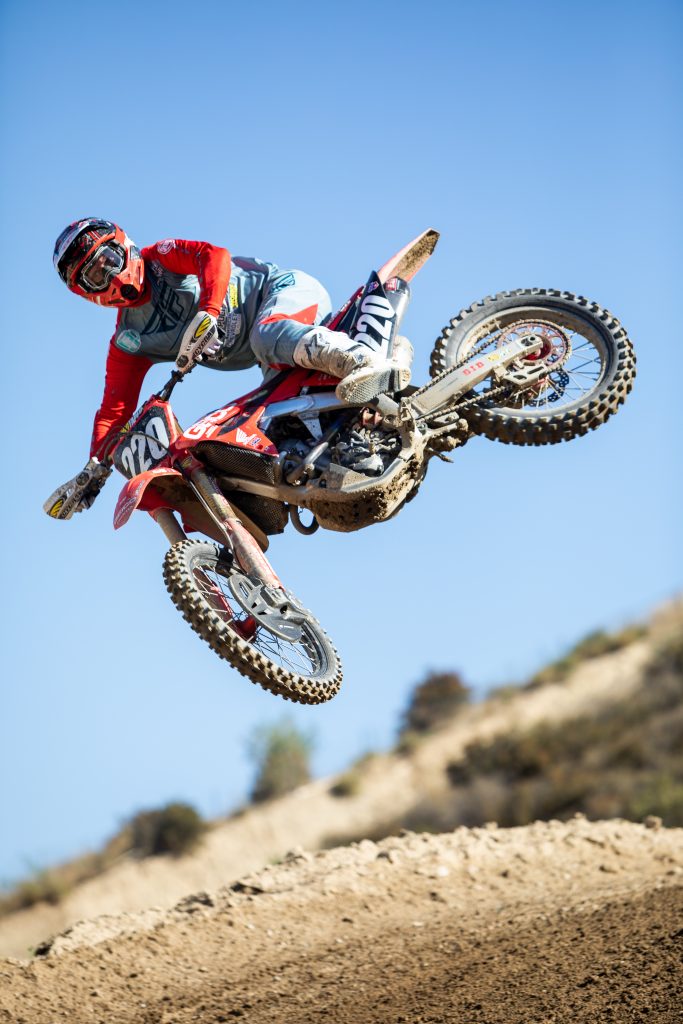 Carson Mumford's Team Geico Honda CRF250R:
I feel somewhat of an attachment to Carson as he is a part time fellow high desert kid so I decided to jump on his bike first. The first piece on the bike I noticed (while accelerating down the start straight at GH) was how crisp his throttle response was. A lot of time goes into ECU settings and I can tell you that the team has their Vortex ignition settings very crisp and clean. Carson's bike didn't wow me with tons of torque as it still retained the stock Honda-ish low end character, but just had more meat down low. Where this engine likes to be ridden is in the mid to upper rpm ranges and I quickly found that out when I went up the first hill. I could leave Carson's race steed in second gear much longer than any other Honda CRF250R that I have ridden yet or I could short shift it out of the corner and have it pull third. What was amazing to me was how fourth gear was very usable around the hilly Glen Helen track. I am familiar with Glen Helen enough to say that no other 250F that I have ridden there could pull fourth gear around like the Geico Honda can. I was literally in fourth gear on more than a few occasions.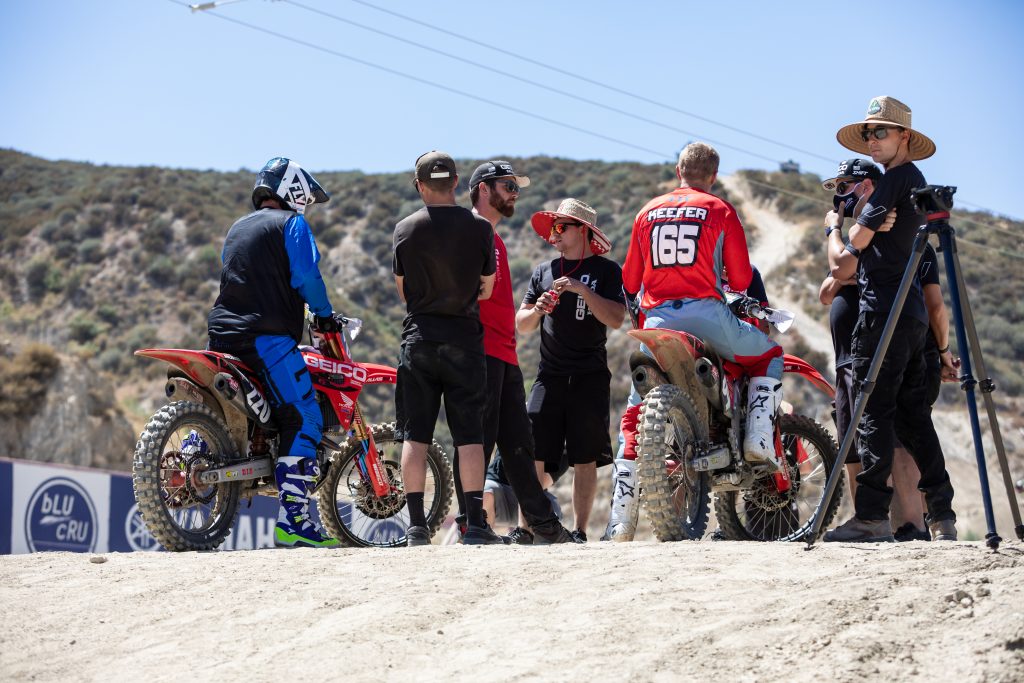 As a test rider you try really hard not to have pre-notions of anything you're about to test, but when I saw the factory clamps and the A-Kit suspension my mind went straight to RIGIDITY! However once I got used to the bike after a few laps, I was pleasantly surprised with what I felt. The SHOWA technicians have worked hard with Carson to get his suspension set up the way he wants it and it shows. The way Carson wants his stuff is much different than anyone else on the team. Carson's suspension is not lively at all and feels somewhat dead in the rear. What I love about Carson's set up is that I can charge into the first big set of bumps, leading into a corner and the Honda's chassis doesn't get upset. It stays flat and has minimal kick to the rear end. There is no pitching, but it also isn't so stiff that my old hands couldn't hang on to it. Carson's set up was very confidence inspiring to me. The harder I rode his set up, the more it rewarded me.
Carson's cockpit was easy to move around on as his Pro Taper EVO bars are very flat and straight with minimal pull back. His controls are neutral and there is nothing funky with his set up. I didn't move one thing and adapted very quickly. His subframe is standard height as is his seat height.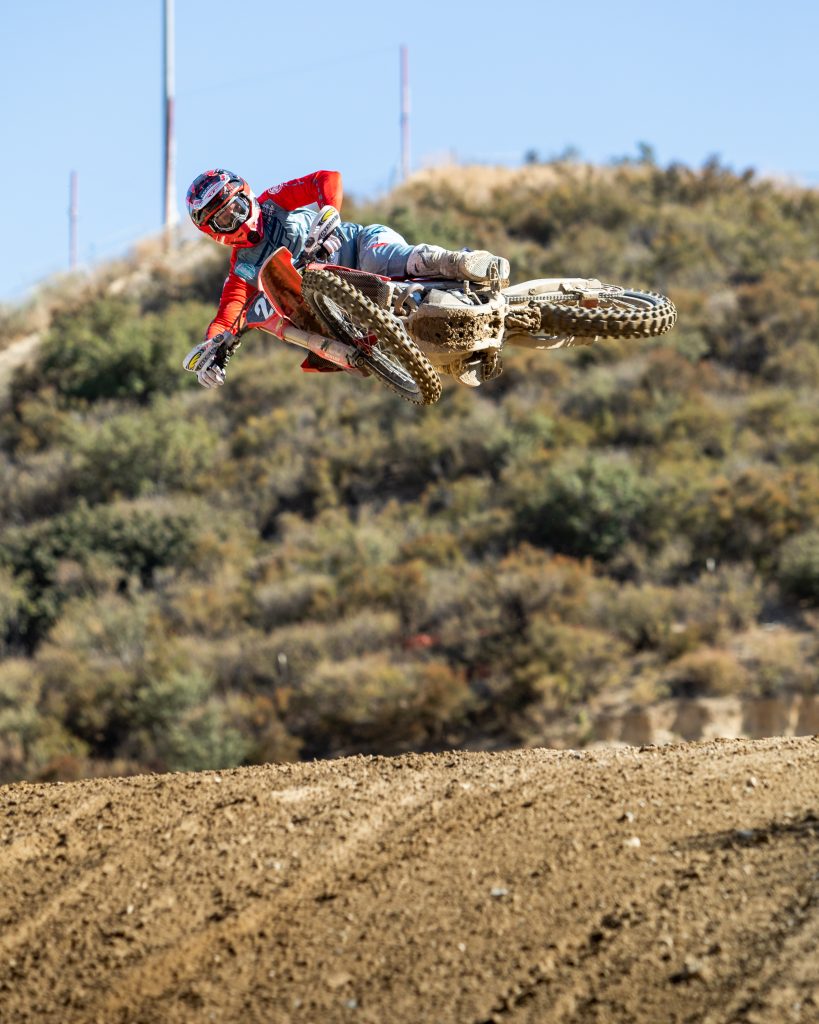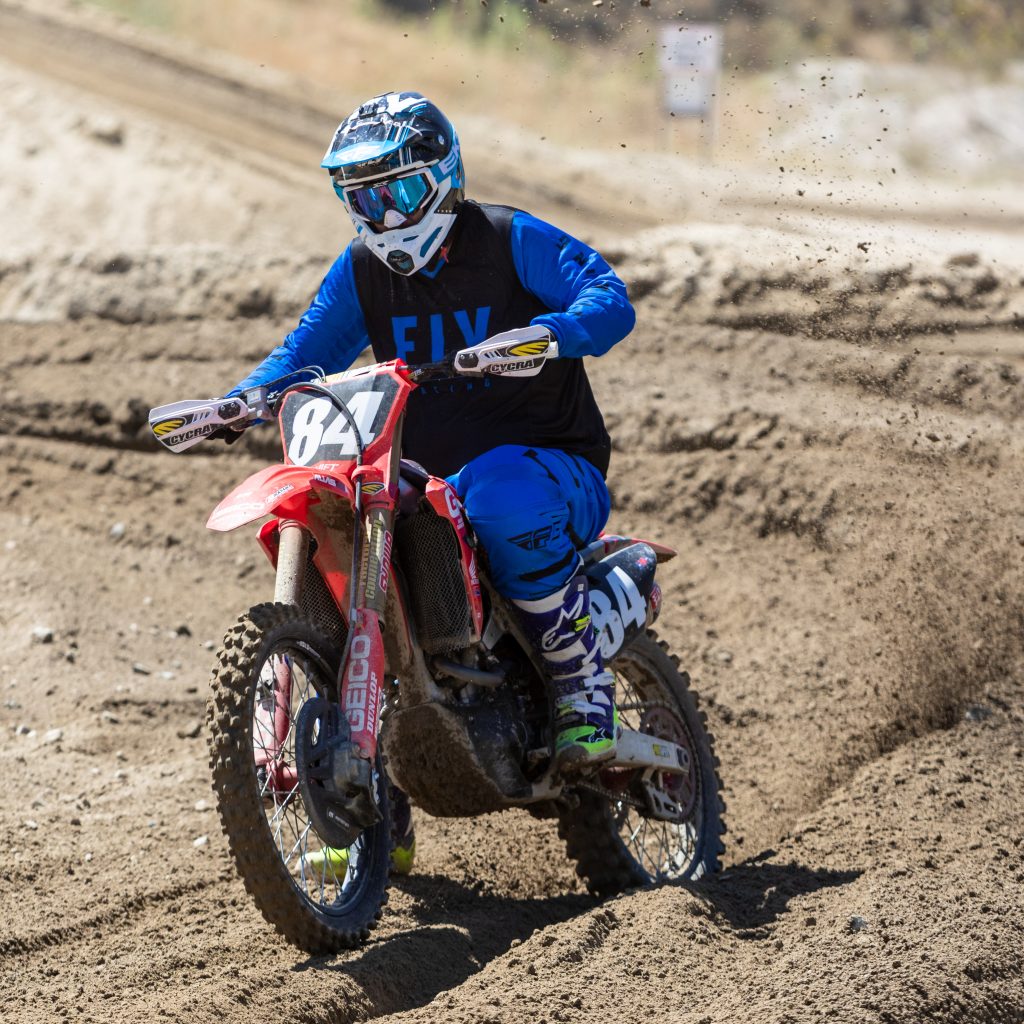 Jo Shimoda's Team Geico Honda CRF250R:
Jo is one of those riders that you love to watch. He has that Pourcel/Musquin hop, skimp and a jump style. Jo is a smooth rider for a younger kid and the only other rider that comes to mind that is this young and smooth is Michael Mosiman. I specifically told the mechanics to not tell me the specifics of each machine before I went out just so I could pick them apart. Once I accelerated out of the first corner I could tell that Jo had more bottom end to his engine than Carson and his engine was more catered to shirt shifting than the free revving feel of Mumford's machine. With Shimoda's bike I could actually feel more excitement on low rpm and I could get out of corners much better for my speed and ability. This engine character felt more like something I would want to ride as a vet rider. Shimoda's engine didn't rev out or pull as far as Carson's engine did, but still had much more than the stocker that I have been riding lately. Once I was done, the technicians told me that Jo's engine is a little different than Carson's and his gearing is also slightly different (Jo runs a 13/50 and Carson runs a 13/49).
Shimoda's factory A-Kit SHOWA suspension sat lower in the stroke and moved more than Mumford's did. This makes sense to me as I am familiar with Jo's smooth riding style. As a 450 guy I would appreciate this on a 450, but for me and my weight/ability I would be hammering it a bit more on the 250 so his set up just didn't work for me. I could actually bottom Shimoda's Showa set up when over jumping certain obstacles and that simply didn't happen with Carson's suspension.
Number 84's cockpit was much smaller and swept back than Carson's. Both use the same bend Pro Taper bars, but Jo rolls his bars back further than number 220. Shimoda's levers are a little more pointed down.
Things That I Noticed/Seen: (Keefer)
I have ridden other modified CRF250R's, but none of them have had as much pulling power from mid to top like the Geico machines.
Steve doesn't like doing sections for video that much. He literally told the videographer that he had enough tape of him.
The top engine mounts are stock with a 5mm hole drilled in the middle.
24mm clamps are used for outdoors.
Carson likes to hammer through bumps versus jumping through them like Jo.
When you ride a Geico Honda through the pits, people automatically think you're fast. I was immediately sorry to disappoint them when I got onto the track.
You have to physically change your riding styIe when you have factory level suspension. You DO NOT have to shut off when the first braking bump comes up on you. You can actually drive through the first few or so.
I like that the Geico Honda staff is a friendly bunch of dudes.
If you look close you will notice Jo Shimoda's mechanic is Broc Tickle's Doppleganger
Geico Honda uses their own engine guy (Ryan Cox) and they do their own development.
There is no map switch on the bikes I tested. One map.
I tested the bikes with Dunlop MX33 consumer tires (not spec).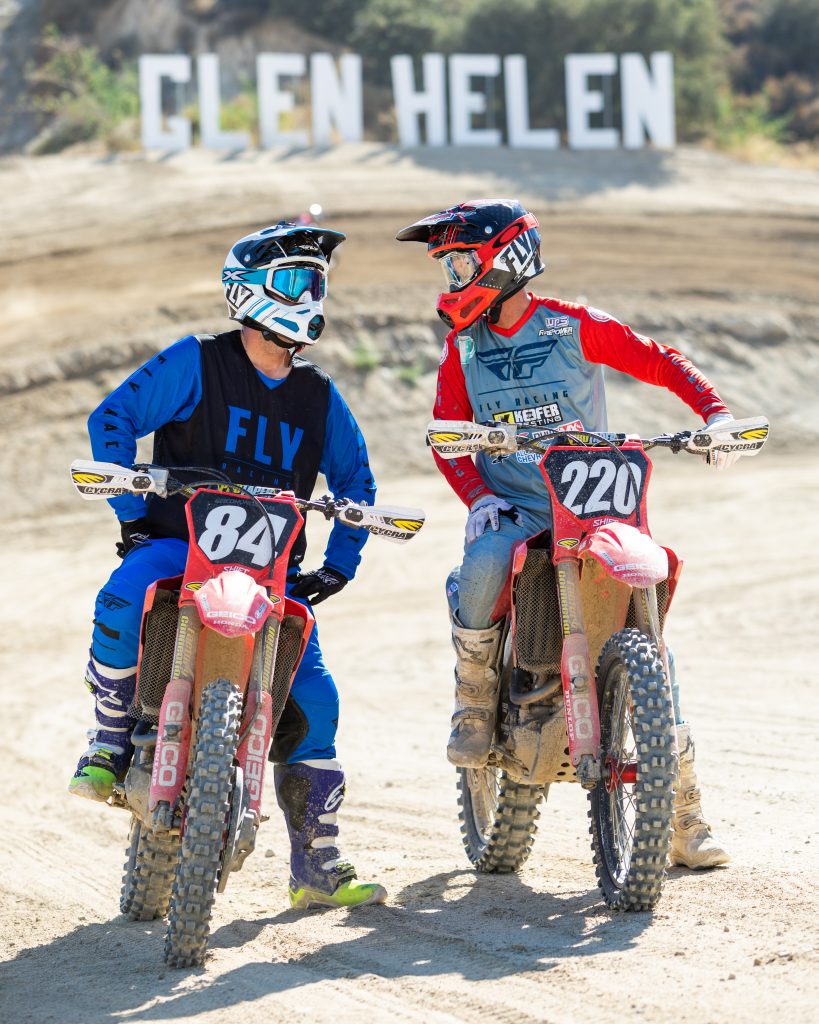 Matthes: I like Mumford, he might be one of the only amateurs that I actually like because by all accounts, he's pretty grounded and normal. I have people that I trust tell me his parents aren't crazy also, so I went into this feeling good about testing his bike. To me, Carson's set-up is very normal, bars, pegs, shifters all feel good and the bike suited me right away. I haven't ridden a 250F since 2002 and I'm also not ideal weight for a smaller bike but I felt like it was plenty fast for my size. I also kind of forgot how to ride a 250F as in, pin it and rail the outsides but when I started to TRY to do that, I struggled even more because the track was so beat.
So I went back to the insides (that were smoother!) and the bike still had plenty of pull for me. Both bikes I felt would be really soft for me (again, with my weight AND/OR speed) but honestly, they really weren't. Ahhhh, factory suspension!
Shimoda's bike seemed to not have as much pull up top as Carson's but it also didn't seem to have more bottom. I'm sure I just didn't get it high enough in the R's to use that bottom end, I'm sure I was just trying to wick the thing wide open right away to haul my ass around GH. I didn't like Joe's bars down on my lap or his high rear brake pedal but that's all just personal stuff.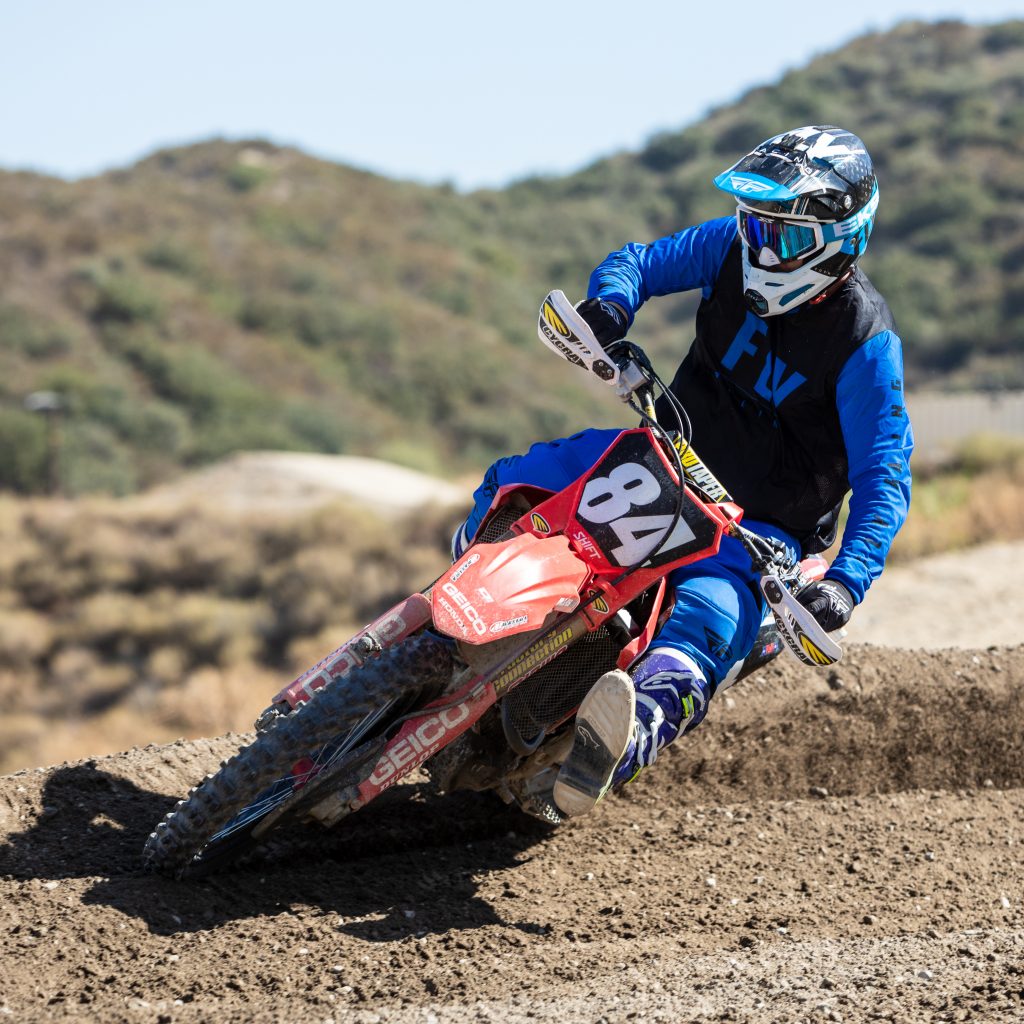 Look, I've ridden Ferry's YZ250, Reed's YZ250, Ferry's YZ450F, Ferry's KXF450 and now these two GEICO Honda bikes in terms of factory machines and they're all the same in one way- they need to be ridden fast and hard to work. Guess what? I'm out of shape and slow so bikes like these are a bit of a waste for dudes like me but it's still f**king cool to go ride these bikes! I'll take it for sure, dudes like Keefer are what these tests are made for but hey, I'll latch on and try some things out!
Thanks to Josh, Jeff and everyone at GEICO for the memories!