Last week I stated the 450 championship would be won based on 2nd moto results. While that may still be the case, through 2 rounds it looks like DNF's may be the deciding factor and the Rockstar Husky team is sitting on both sides of the coin.
On the positive side of the coin, Zach Osborne (Rockstar Husky) now has a 19 point lead after taking his 2nd 450 Pro Motocross overall win. This brings his combined Pro Motocross career overall wins tally to 15 and into a tie for 44th on the all-time list (tied with Travis Pastrana and Marty Smith). Most notably, he now has a 40 point lead over 3x defending champion Eli Tomac who had two DNF's en route to a 16th overall on the day. Tomac's previous worst place finish was in 2018 at Red Bud, also due to a DNF.
While Tomac has opened the door, Osborne still worked for his win today. It started with overcoming bike problems in qualifying and continued into the motos. In the first moto, he rounded the first lap in 31st position and then proceeded to pass his way up to finish 5th. That's +26 positions! Surely the conditions helped, but that's determination and heroics to stay in the title hunt. He clearly took motivation from the early challenges in the day. In the second moto, he continued the drive, starting in 6th position and finishing 1st. As it stands, Zach Osborne has 2 overall wins, 2 moto wins, and almost a moto advantage heading into round 3 of a shortened 9 round championship.
On the negative side of the coin, RJ Hampshire (Rockstar Husky) now has a 20 point deficit to Dylan Ferrandis and sits 4th in the championship after a DNF in the second moto. In the second moto, while running 7th with 3 laps to go, he had bike problems and wasn't able to finish the race. Given he lapped a multitude of riders, he ended up still finishing 18th position and grabbing 3 points. But that mechanical cost him 12 points in the championship and these could be incredibly important as the championship progresses.
Rather than get into more race details, let's talk ALL-TIME MOTO WINS…
Anyone that follows me on social media saw a post today highlighting that Eli Tomac is one moto from tying Rick Johnson and Jeff Ward for 7th on the all-time moto wins list with 69. Besides the fact that Rick Johnson and Jeff Ward are tied in all-time moto wins, what's most interesting is that Eli Tomac only needs another 5 moto wins to move up to 4th on the list and another 11 to move up to 3rd behind only James Stewart and Ricky Carmichael.
With 14 motos remaining in the 2020 series, it's reasonable to think that Eli Tomac will move into 4th on the list. That said, it's unlikely anyone would've bet on Eli Tomac not having a single moto win after the first 2 rounds of the championship. These first 2 rounds have been very uncharacteristic of Eli (see below for a handful of stats that highlight just how uncharacteristic its been).
Below is the Top 10 all-time moto wins list. I've also added a few other metrics, Win % and Points/Moto, to help fuel the bench racing fire. Beyond Ricky Carmichael dominating the list, I found it particularly interesting to see how Broc Glover and Rick Johnson jump up the list when you rank based on Moto Win % and Points/Moto. What do you see that's interesting?!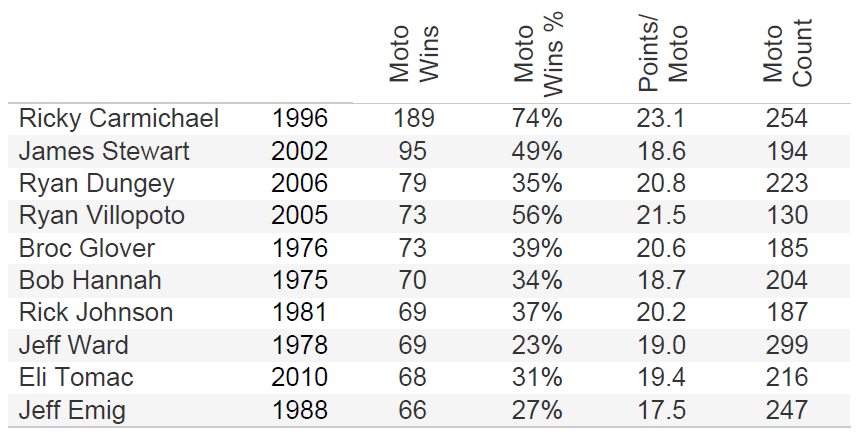 Enjoy the race stats below and as always, drop me a line on Twitter or Instagram @3lapsdown with any questions.
450 RACE STATS
Justin Rodbell (SGB Maxxis Babbitt's Kawasaki) takes Top Privateer honors this week with a 10th overall finish. Most impressive is he started both motos outside the Top 20 and moved forward a total of +19 positions.
Broc Tickle (Monster Energy Yamaha) quietly finished 4th overall on the day with 2-9 moto scores. That ties his best finish since 2015.
Max Anstie led 11 laps in the second moto before being passed by Zach Osborne and Marvin Musquin and finishing 3rd. These were the first laps led of his Pro Motocross career.
Zach Osborne had a 18.5 Average 1st Lap position and still won the overall.
Eli Tomac is having an off year. He's lost positions in 3 of 4 motos, tying his season worst totals from 2016 and 2017. In his 3 championship seasons, he didn't lose a position in any of the 12 motos in the first 2 rounds. He's also not led a single lap yet in 2020. He had led laps in 9 of 12 motos through 2 rounds from 2017-19.
250 RACE STATS
Mason Gonzales (Rock River Yamaha) takes the Rookie Spotlight this week after he starts the season with a 9th and 18th overall and sits 10th overall in the standings, the highest privateer in the class.
Lance Kobusch takes Top Privateer honors with a 9th overall. He took a 16th in the first moto after rounding the first lap in 38th!
Jeremy Martin (GEICO Honda) took his first win since Round 3 of the 2018 season.
The Star Racing Yamaha team has now grabbed 4 of 4 holeshots.