Alex Martin (JGR Suzuki) and his trainer John Wessling (Wessling Fitness) agreed to have me analyze his heart rate alongside his race results and lap times to see what we could learn and share some of the insights with all of you. What we found is how crashes, passing riders, and the ten commandments segment drove A-mart's heart rate up while getting a holeshot and leading wire-to-wire was a relative breeze.
Alex Martin went 7-1 for 3rd overall and on the podium he thanked his trainer John Wessling. It's a team effort and no question trainers are an important part of most riders success. Working together since 2017, they have a fair amount of success with 12 overall podiums along with 2nd in the 2018 championship. Wessling also worked with the GEICO Honda team from 2015-2017 and helped Malcolm Stewart grabbed his 250 East championship. Wessling's got a proven training program and has helped riders land championships, wins, and podiums.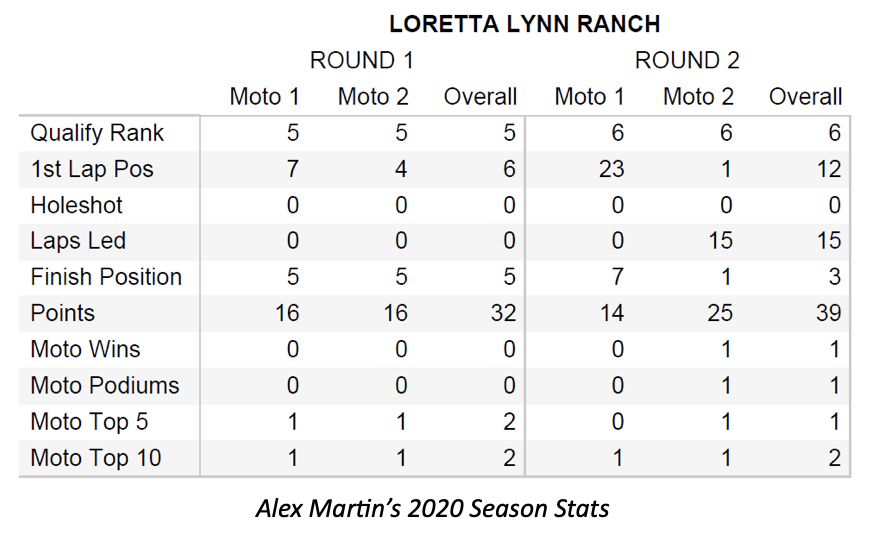 I chatted with John to learn a bit about his background and working with Alex. Like many of us, John raced his entire life before heading off to college and taking a different career path. Lucky for him, he grew up at roughly the same time as fellow Minnesotan's Ryan Dungey, Alex Martin, Jeremy Martin, Henry Miller, and Jesse Wentland and he's kept those connections to this day. But his break in moto came just after college when he connected with Christian Craig who was making his comeback back in 2016. That led to a role as GEICO Honda's fitness trainer and the rest is history.
In talking about his good friend and client, Alex Martin, he shared that Alex is "very strict" during the season but just like you or I, he enjoys a few beers and lets his hair down in the off-season. I'll go out on a limb that my 'off-season' is likely a bit more relaxed than Alex's, but it's good to hear these athletes are still able live life. He characterizes Alex as a "dream athlete" who never cuts corners and puts in all the work. Based on Alex's first moto in Tennessee, it's clear this is how he approaches life.
Lets dive into the tale of Alex Martin's Two Motos at Loretta Lynn's Ranch. In the first moto, he was as far back as 25th while in the second moto he won wire-to-wire. Each of these motos started with an amazing holeshot, but they couldn't have gone more differently. The first moto had crashes, a pit stop, and not surprisingly, some max heart rate efforts. The second moto was a bit more smooth sailing.
In the first moto, he got credited with 2nd on the holeshot and then took the lead in the 2nd turn. Unfortunately, he was on the ground moments later and lost a ton of positions. I don't know about you guys, but I was seriously bummed for A-mart in this moment. I'm a Troll Train passenger and he just threw away a possible moto win or podium. The mistake dropped him to 23rd position and cost him about 268 seconds or just under 2.5 minutes to eventual race winner RJ Hampshire. It wasn't looking good.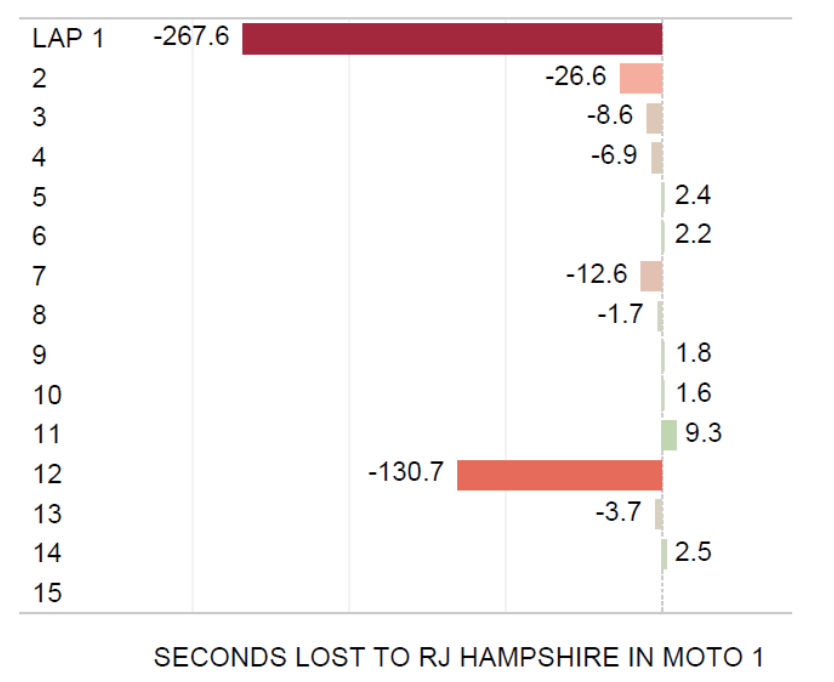 But what's interesting is that it likely saved him some energy. Between the lap 1 crash and pulling in for a goggle change, his heart rate stayed down in the 160's and 170's and didn't get into his normal race range till the end of the second lap. Maybe not the silver lining that Alex was looking for, but he used that energy to go on a tear the next few laps!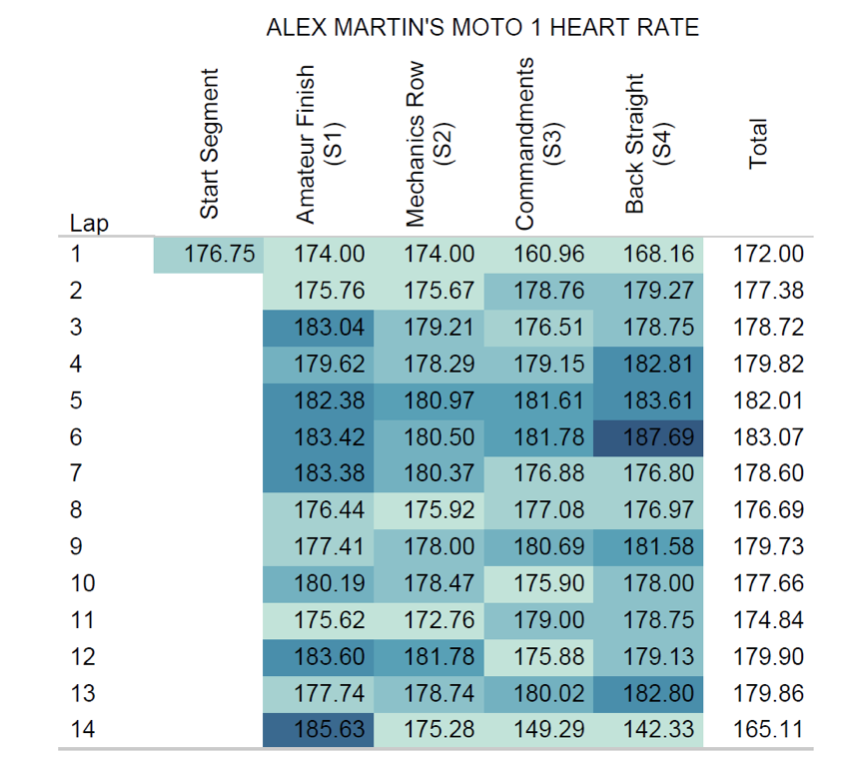 From Lap 3 to 6, he passed 15 riders and moved from 24th position to 9th. Not surprisingly, his heart rate reflects this with an average of 188 (darkest blue square above) for the entire back straight segment at the end of Lap 6. The Troll Train was on the move and the diesel was flowing!
Laps 7 and 8 was a bit of a lull and his heart rate dropped down into the mid 170's but that was short lived. On lap 9, he caught up to and passed Mitchell Harrison and Shane McElrath. Just as we saw earlier when he's moving through traffic, his heart rate jumped back into the 180's. The worst of it was yet to come though.
On Lap 12, Alex shared "there was a lapper in front of me so I decided to take a different line. It was just a tip over, but I wasn't able to pick my bike up out of the mud until I had the help of a track official. Definitely a max hr effort." He'd worked his way from 25th all the way back up to 6th, his bike was stuck in the mud, and his heart rate was maxed out. A basic tip over cost him another 2 minutes to race leader RJ Hampshire and 2 more valuable positions.
But the Troll Train doesn't quit! With 2 laps to go, he put on another charge from 10th to 7th place, repassing McElrath, Pierce Brown, and Steinke. In a moto that looked like he may have a chance at a win, he ended up with 2 falls, one pit stop, a heart rate that peaked on 2 occasions, but he never gave up and finished a respectable 7th.
Thankfully, the second moto was a lot less eventful. He got another great start on his Dean Baker tuned JGR Suzuki and won the race wire-to-wire. Not only did he win, he beat his younger brother Jeremy Martin by over a minute. To rub salt in the sibling rivalry, he was faster than Jeremy in 12 of 15 laps! Having grown up with an older brother, I imagine there's some solid trash talking happening in the Martin household this week.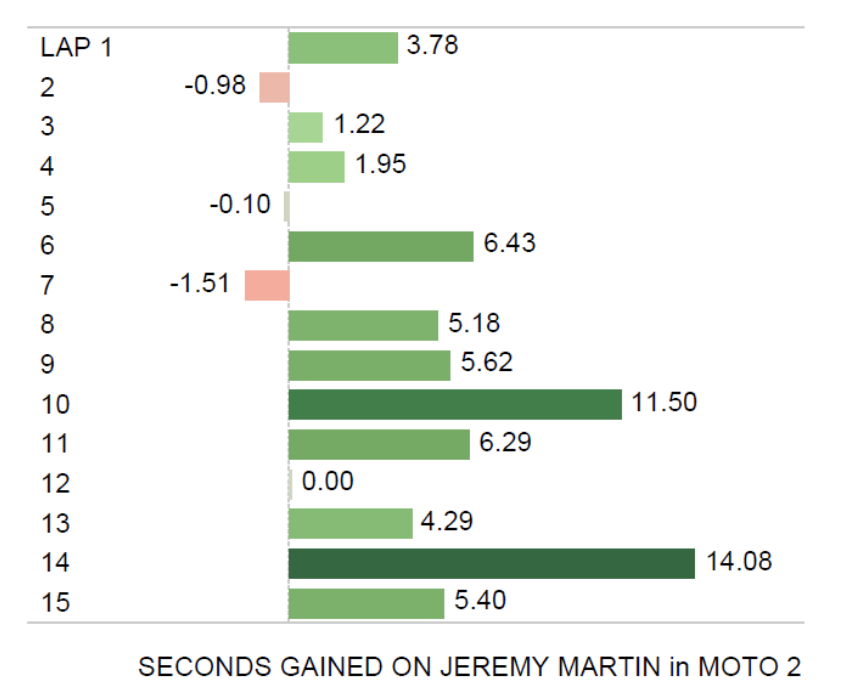 Looking at Alex's heart rate for the second moto, there's a distinct pattern. The first couple laps his heart rate is building and by laps 4, 5 and 6, about 8-12 minutes into the moto, he starts to hit his max heart rate. Talking with Wessling, he describes Alex as a "diesel engine" where he takes a bit to hit stride. No question the lap chart below and the same from above highlight this fact.
The interesting item is the difference in max heart rate between the first and second motos. In the first moto, he had an average heart rate of 178 and a max of 189 compared to the second moto average of 177 and a max of 183. The average was about the same in each moto but his first moto max heart rate was quite a bit higher. Not surprising when you consider the 2 crashes.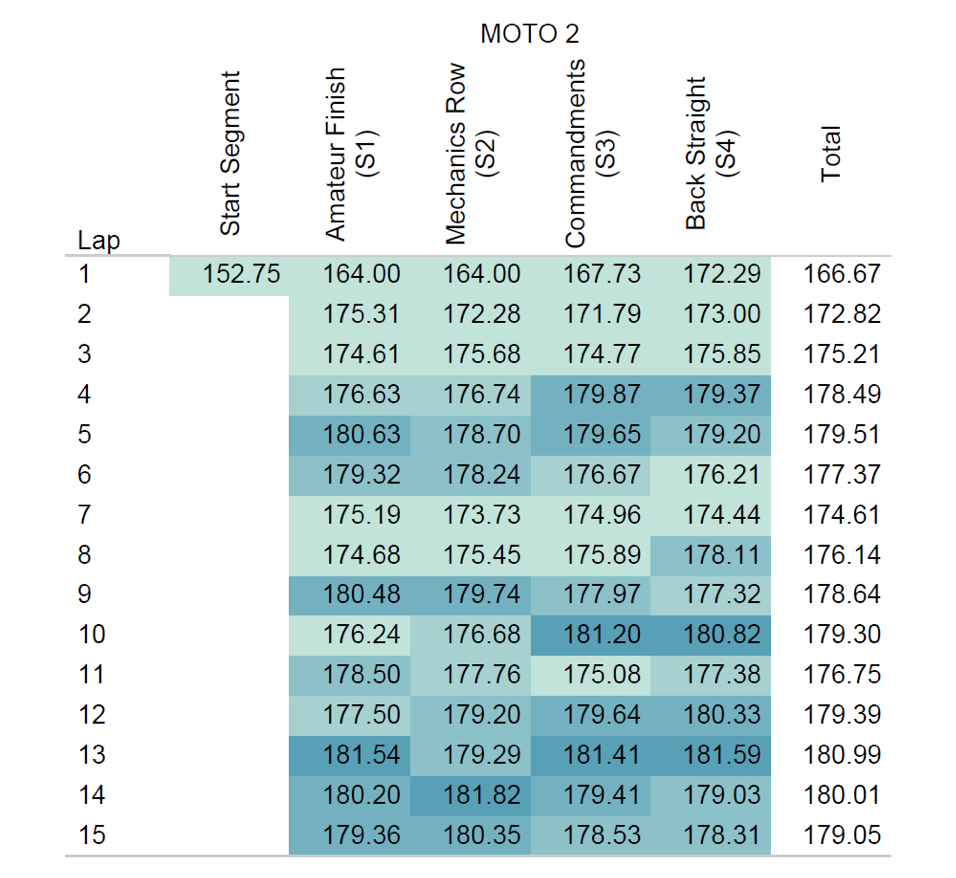 There are a few more insights that we discovered through the analysis, but those are Troll Train trade secrets and kept under lock and key. To be clear, both Alex and John are pretty open with the data and insights but this has gotten a bit long. If you like this, let us know and maybe we'll do a full season analysis and share some of the more interesting Troll Train trade secrets that can be used to improve rider performance.
Hope you enjoyed the analysis and unique insight. A special thanks to John Wessling and Alex Martin to being open to sharing this information. Looking forward to more wins and podiums in the coming weeks!