Eli Tomac has returned to form over the last two weekends of racing. With his 2nd moto win today and his 2nd overall win of the season, he moves up the ranks in the all-time wins lists.
– Tied Bob Hannah for 6th in all-time moto wins across all classes (70)
– Tied Bob Hannah for 3rd in all-time overall wins across all classes (37)
What's most interesting is that he may have been willing to sacrifice that 2nd moto win to give Adam Cianciarulo +3 points in his championship bid against Zach Osborne. It's unlikely we'll ever know if Tomac had a clutch issue or not, but the timing combined with him looking over his shoulder multiple times before and after it "fixed itself" was uncharacteristic of the Eli Tomac we've seen in past years. Regardless of potential team tactics in moto two, Eli Tomac continues to show he's one of the all-time greats of the sport.
Zach Osborne now has a +24 point lead over Adam Cianciarulo heading into the final round of the season. He's all but secured his 1st ever 450 championship and will likely become the 25th premier class champion in the history of Pro Motocross. He's done so by masterfully managing the season. As you can see below, he started the season strong at Round 1 and after a tough Round 6 where his lead shrank from 42 to 15 points, he responded with a statement ride in Round 7. This weekend was no different where he went 4-2 for 3rd overall. Tough to not be pumped for the hard working Zach Osborne!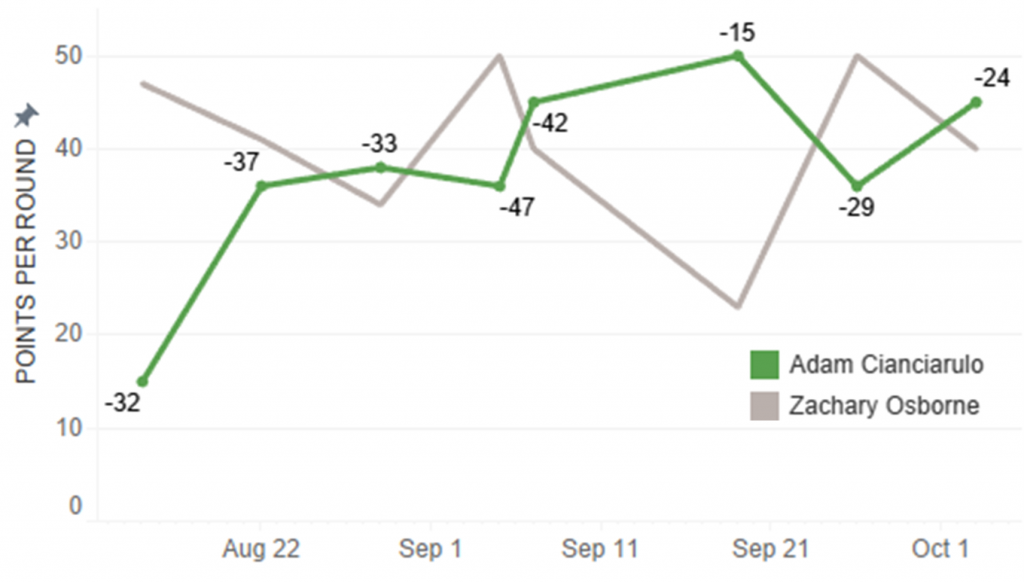 Adam Cianciarulo may not win the title this year, but he's served notice that he'll be a contender in both the 2021 supercross and motocross championships. From 7 straight fastest qualifiers to begin his rookie supercross season to 2 overall wins in the Pro Motocross series, he's demonstrated he's capable of beating the best in the world. Now the question is whether he can ride with the consistency that won him the 2019 250 Pro Motocross championship. As you can see from both is 2020 motocross and supercross season stats, it's the Position Changes of -26 and -31 that have haunted him. Eliminate those mistakes and the outcomes are likely a lot different.

In the 250 class, Justin Cooper went 2-1 for 1st overall. It's the 2nd overall win of his career and he's now tied with Alex Martin, John Down, Bryan Myerscough, Keith Bowen, and Danny LaPorte with 5 moto wins in the 250 class (all-time rank of 52nd). Justin's results today were what many expected of him at the start of the season, but a boxer's fracture in his hand limited his preparation prior to the season.
While Justin Cooper is showing he's a contender for wins when he's healthy and fit, it's his teammate Dylan Ferrandis that now has a +18 point lead in the championship. Unlike Zach Osborne who's led the premier class since round one, Ferrandis had to contend with Jeremy Martin grabbing the series lead mid-season. Ironically, it was a 1-1 day at Jeremy Martin's home track where Dylan Ferrandis took back the championship lead and has held it since. With one round remaining, Ferrandis is the clear favorite to be the 32nd rider to with the 250 championship.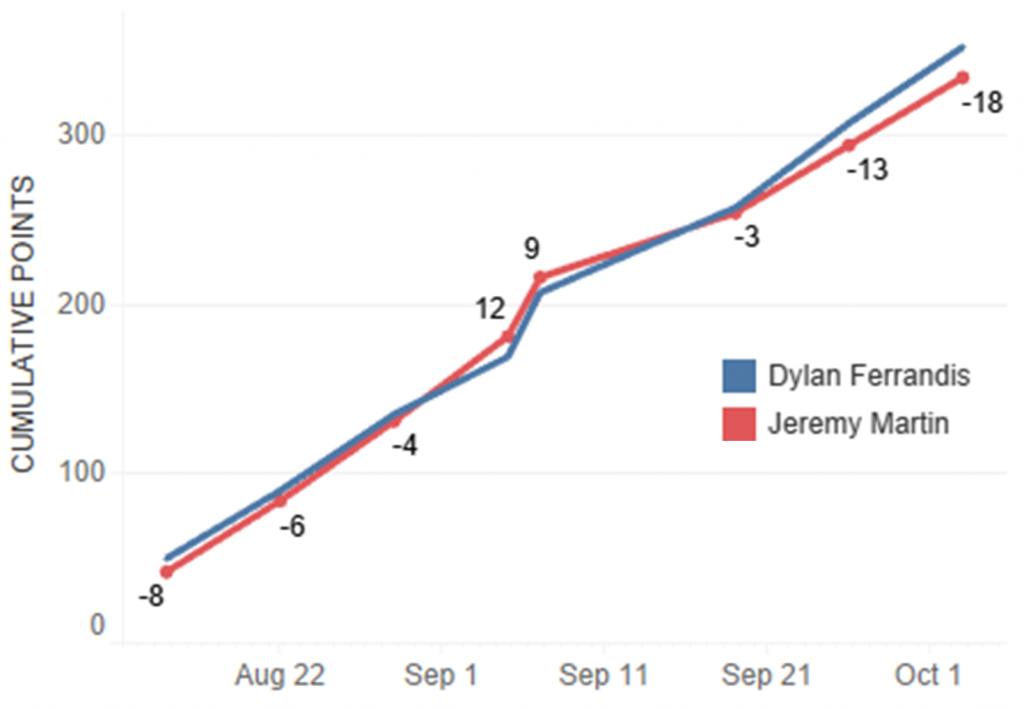 450 RACE STATS
Adam Cianciarulo (Monster Energy Kawasaki) was the fastest qualifier, had an average 1st lap position of 1st, got 1 holeshot, led the most laps (21), but -2 net position changes caused a 2nd overall on the day.
Freddie Noren (JGR Suzuki) put in a stellar ride in moto two, rounding the 1st lap in 39th position, passing 26 riders to finish 13th.
Benny Bloss (KT Tape Truck Central Donnell's Husqvarna) had a season best 8th overall on 14-7 moto finishes. It's been a tough season for Bloss and this result has to feel good.
250 RACE STATS
Star Racing Yamaha's grabbed another holeshot bringing their season total to 13 of 16. Justin Cooper's fastest qualifier on the day also brings them to 7 of 8. Keep an eye on Justin Cooper and Shane McElrath at the final round as they're separated by only 2 points for 3rd overall in the season standings. #blucru
Mitchell Harrison (Pro Circuit Kawasaki) grabbed his first holeshot of the season and went on to finish the day 8-9 for 8th overall.
Hunter Lawrence (GEICO Honda) had a season best 5-4 for 5th overall. It's also the first time he's beat his brother this season, though only by one position. I imagine there's some proper trash talk happening this evening.