ALERT! ALERT! STEVE NEEDS THESE!!
If there is one thing I can complain about on the Yamaha YZ450F it would be that the ergo are a little weird compared to the other brands. When sitting, the Yamaha feels like the pegs are high and not back enough for my 6'0 frame. I scoured the land for a lower footpeg kit and came across the FLO Motorsports 3.0 lowering footpegs. The FLO pegs are 2mm lower and 10mm back on 2018 and newer YZ250/450F's and are made out of lightweight 7075 T6 Aluminum alloy, come with rounded edges, loctite on cleats, has an extra wide 57mm wide/87mm long platform and have self cleaning mud grooves to keep them in the position they are supposed to be in under muddy conditions.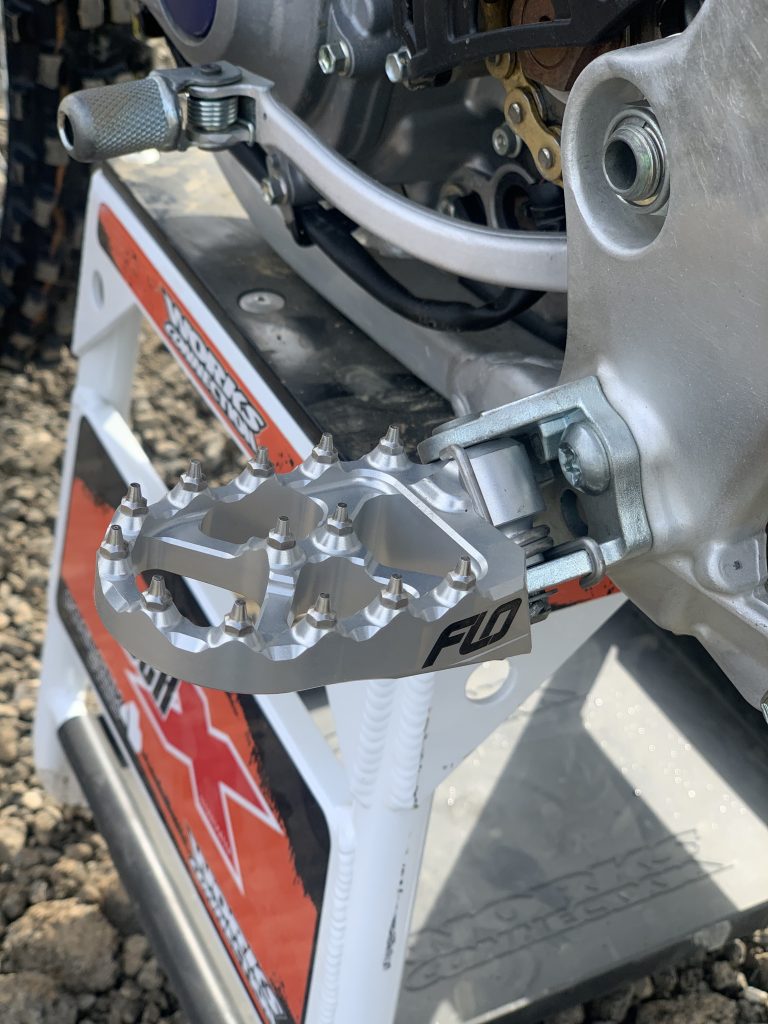 FLO advertises that the pegs are 12mm lower and 10mm back, but in reality since Yamaha went to the new style YZ450F those numbers have changed. According to Yamaha R&D the 2016 Yamaha YZ450F came with a 10mm lower peg (from the 2015 model), so if you have a 2016 or newer YZ450F you will only get a 2mm lower peg height than stock. I used the reference "new style YZ450F" because in 2018 the seat to footpeg height was changed as a lower subframe height setting was incorporated into the new style 450F. If you're riding a two stroke Yamaha then the FLO pegs come as advertised.
Installation was easy as the FLO pegs come with their own springs, but you will have to utilize the stock pins as well as re-use your old cotter pins or use fresh ones like we did. Once seated on the bike and out on the track, I could immediately notice my position on the bike was different. My gripe with the stock position is that my hips/lower body/feet always felt too far forward on the bike, which gave me the wrong body position when trying to stand through rough sections of the track. Now with the pegs moved back 10mm my feet were positioned correctly (on the balls, not arches) and my hips were slightly rotated more rearward. This allowed my upper body to relax a little when standing through long ruts. I didn't notice the height difference as much as I noticed the position of my feet/hips. I do not like the stock bar mount position on the 2020-2021 YZ450F so I am always reverting back to the rear hole and these pegs compliment that bar mount position.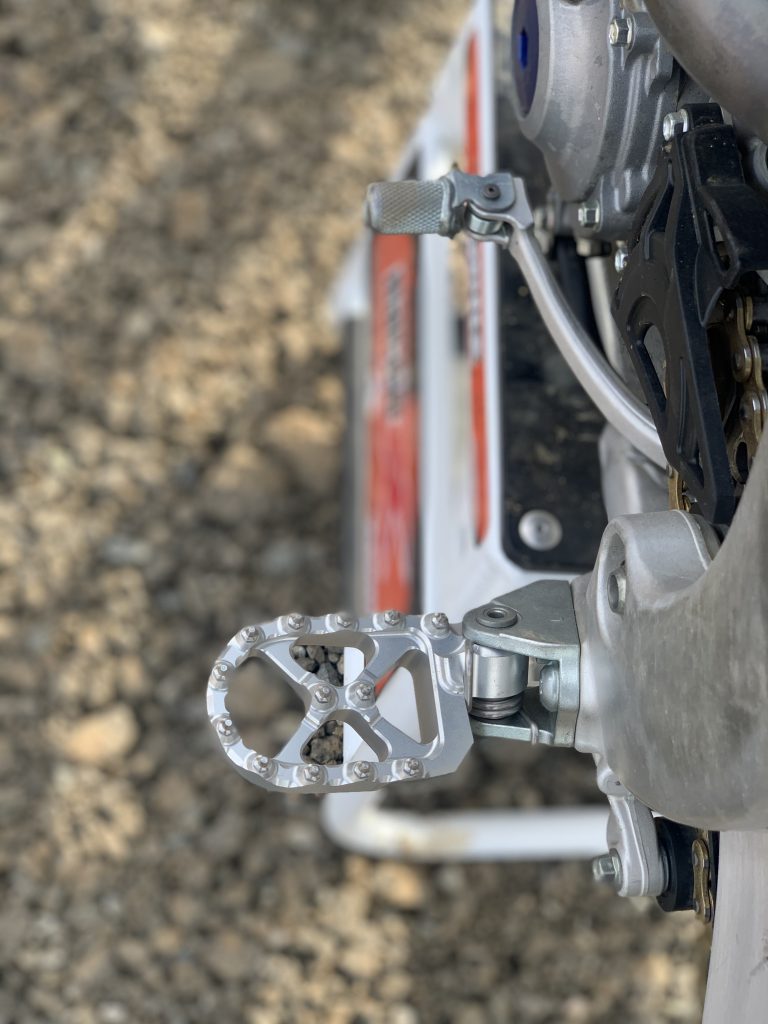 I also find that when putting my feet back on the pegs after a corner my feet fall into the correct position much easier than the stock pegs. With the stock pegs I had to really focus on sliding my feet back to get on the balls, but with these FLO pegs they seem to naturally get there easier. I like the wide platform and I like that the cleats are sharp enough to help my Alpinestars Tech 10s to stick better than the dull stock peg. I will say that I am not a huge fan of thread on style cleats as I would rather have teeth, but the cleats FLO did use were a good height and sharp enough to prevent my boots from slipping off. 
This may not be a life changing ergonomic change, but for me it does help the rider triangle a little for taller dudes that find themselves looking for better foot placement. I would like to try a lower height along with the 10m rearward position so maybe we can get FLO to design an even lower peg for the newer style YZ250/450F's. For 149.95 I think this is a good purchase for you bLU cRU riders out there that are in need of some rider triangle help. You can find/order these over at flomotorsports.com.