The 2021 Yamaha YZ250F has over 15 engine component changes as well as over 10 chassis changes. Sooooooooo. What does that mean for you, the possible consumer, or the proud new owner? Let me walk you through 6 things you should know about the new bLUcRU quarter liter four banger. If you want to get more insight on the 2021 YZ250F, head over to "The Keefer Tested Podcast" and listen to all of this and then some.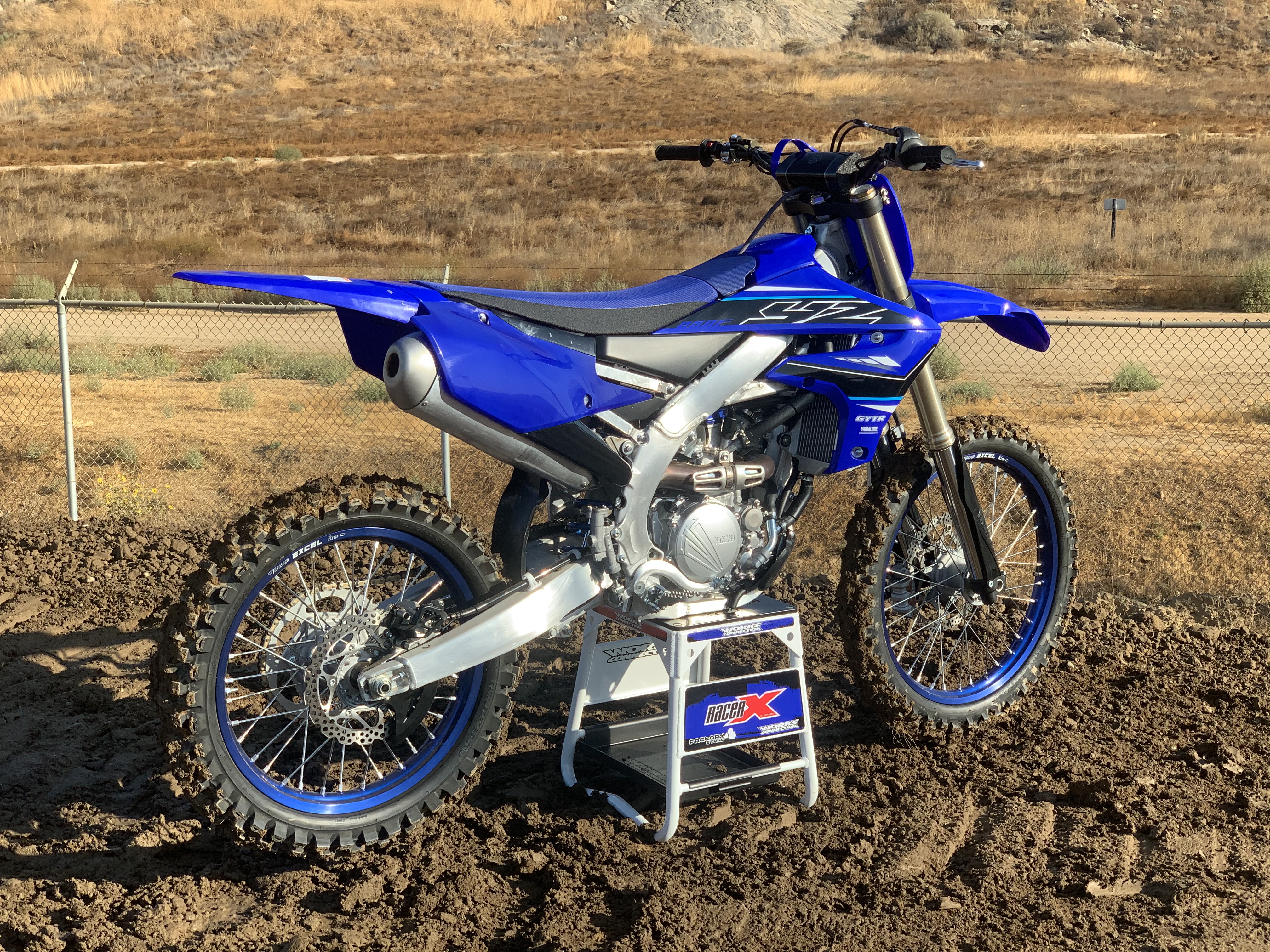 Engine: The 2021 YZ250F still has the best torque in class, but it did lose just a little bottom end roll on power compared to the 2020 version. Don't fret though as this engine is still vet friendly and very easy to lug around compared to the other more exciting top end/over-rev competitors (KTM,KX). The low to mid range pulling power is unmatched and you'll feel a free-er feel to the engine on de-cel, which makes for less pitching coming into corners. Second gear roll on is still very usable as is third gear lugability, but I was looking for more top end pull from second and third gear so I used the map shown below (Keefer Top End 1 Map). The Yamaha still has a loud note to the muffler, but with less raspyness. The muffler's volume is increased, which does give it a deeper tone. 
Chassis: With less engine braking on the 2021, the YZ250F comes into corners day and night better than the 2020 version. The updated chassis feels more compliant in braking bumps leading to ruts, which makes it easier for the rider to pick his line and get on the gas sooner through area 2 of the corner. There is less pitching when on/off throttle hard and that leaves a sensation of a more planted feel. After a few days at a different tracks with the 2021 (compared to the 2020), I could really feel how much added front end bite I had compared to the 2020. When you ride the 2021 back to back with the 2020 you can feel the chassis is firmer, yet has more comfort/connection to the ground. Usually when I get a firmer sensation from a chassis, I get some harshness/vibration/deflection, yet with the 2021 YZ250F I DO NOT get any of that. The firmer feel of the 2021 actually helps the Yamaha feel better planted to the ground on straight line stability. Riding the hills of Glen Helen back to back with the old model proved to me that the new Yamaha is catered to faster riders who want to push themselves some. If you were to ask me what I was most impressed with on the 2021 YZ250F, I would tell you the chassis is by far my favorite aspect of this new machine.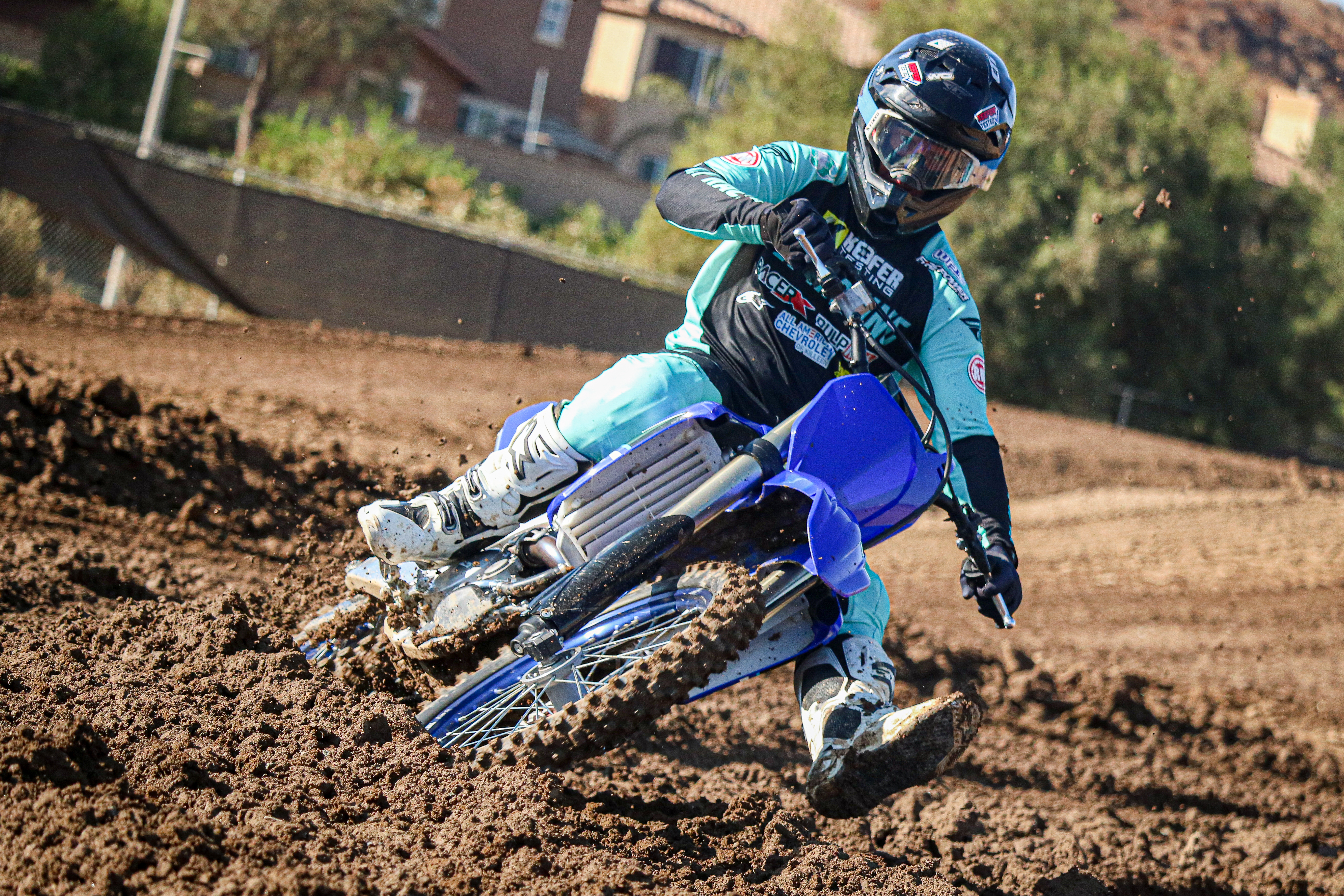 Suspension: Much like the chassis, the 2021 suspension feels firmer (compared the 2020), holds up more in the stroke, yet still has that KYB free feeling movement (unlike a Showa feel where it moves less with a dead feel) that is very active on the track. That active feel translates into a a front/rear end that follows the ground well under small chatter and bigger/softer braking bumps. I did have to go a little firmer on both ends for my style of riding, but it didn't take long at all to feel comfortable. Track Toughness of the 2021 Yamaha YZ250F is better than the 2020. *See Spec Chart Below* 
Ergonomics: The ergonomics are still a little small for my liking. I would love for Yamaha to move their pegs down and back 5-10mm and I think it would really open the cockpit up more. I have tried aftermarket pegs on the Yamaha that move them down and back and it really helped me get on the balls of my feet more and feel relaxed when seated. I love the handlebar shape (Pro Taper SX Race equivalent) and the seat although nice at first, will break down around 20 hours. 
Baseline Suspension Settings: Below are the settings I think is a great starting point for riders between 160-190 pounds. This setting will get you a blend of the most performance as well as comfort. 
Fork:
Comp: 8 clicks out
Rebound: 9 clicks out
Height: 5mm Faster Tracks/7mm tighter tracks with ruts 
Shock: 
Sag: 104mm
L/S Comp: 8 clicks out
H/S Comp: 7/8 out
Rebound:  9 clicks out 
Maps: Below are the two maps that are loaded into my test bike that will give you a blend of what I feel this bike needs.