Motocrossers are an interesting lot. We hoist ourselves onto machines with the power-to-weight ratio of a NASCAR Cup racer, fly fifty feet through the air, get pelted with sixty-mile-per-hour boulders, and dress like we are far more interested in coordinating colors than actually preventing injury. Most people would think you were nuts to jump out of a moving car wearing little more for protection than a long-sleeve shirt but we motocross kooks do it regularly. In motocross, fashion and comfort often win out over protection. 
In no area of motocross protection is this dichotomy more apparent than in the realm of chest protectors. Regardless of the brand or level of coverage, there can be little doubt that wearing some sort of chest and back protection is a good idea in a sport where hitting the ground at speed is all but assured. Yet unlike helmets, boots, and knee braces, chest protectors have practically disappeared from professional off-road motorcycle racing. Even at the local level (which typically looks to the pros for guidance), the full-on chest pro is a fairly rare sighting. Lightweight roost guards and under-protectors still find widespread acceptance, but the traditional over-the-jersey chest protector has started to feel as outdated as the cotton turtle neck jersey and open-face helmet. 
Of course, this was not always the case. Once upon a time, the biggest stars in the sport rode into battle with injected-molded plastic shields protecting their vital bits. Riders like Bob Hannah, Rick Johnson, Steve Lamson, Jeff Matiasevich and Doug Henry were all devotees of max protection on the track. Somewhere along the way, however, riders started to favor light weight and mobility above all else. Gloves lost their padding, jerseys lost their terry collars, and bulky chest protectors got relegated to the over-fifty club.  
With this protection shift in mind, I thought it might be fun to look back at the evolution of the chest protector over the last 50 years. As with our previous gear retrospectives, Matthes and I are going hit the Wayback Machine by looking mostly at the ads and promotional materials for these products from when they were new.  So here, without further ado, is the evolution of the motocross chest protector from bibs to body armor.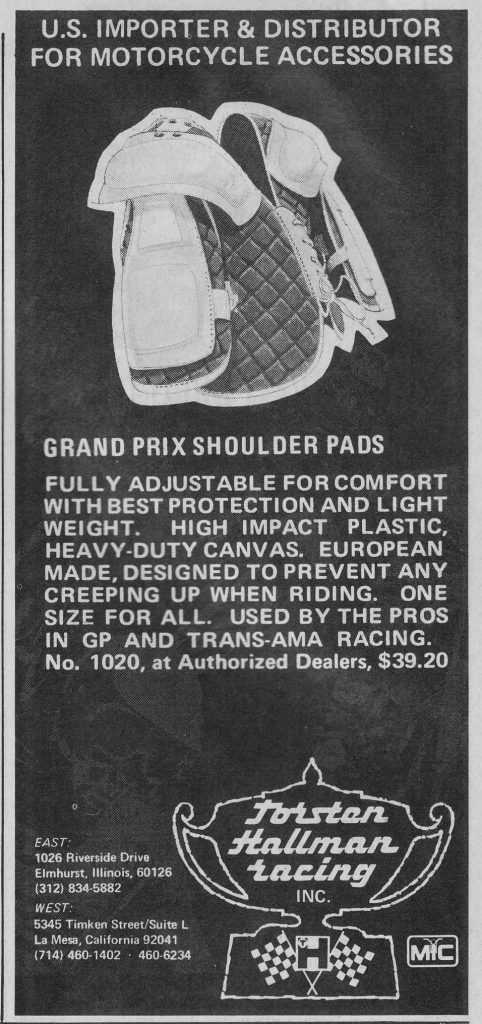 Blaze: In 1973, just as today, some riders preferred to wear their protection underneath the jersey. Shoulder pads like this Hallman (now Thor) option relied on designs developed from the hockey industry. 
Matthes: I mean, most of us of a certain age started off with something like this right? You can wear it over top or underneath and for the most part, it did its job.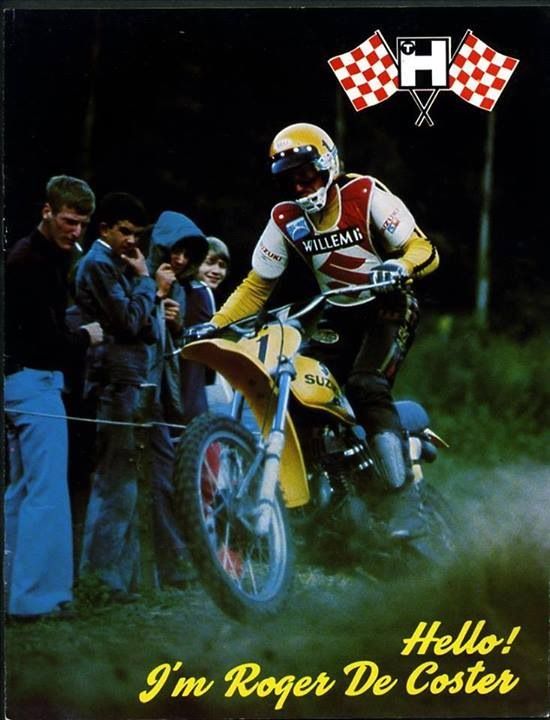 Blaze: For those who preferred to have their padding over the jersey Hallman also offered the popular "bib-style" chest protector.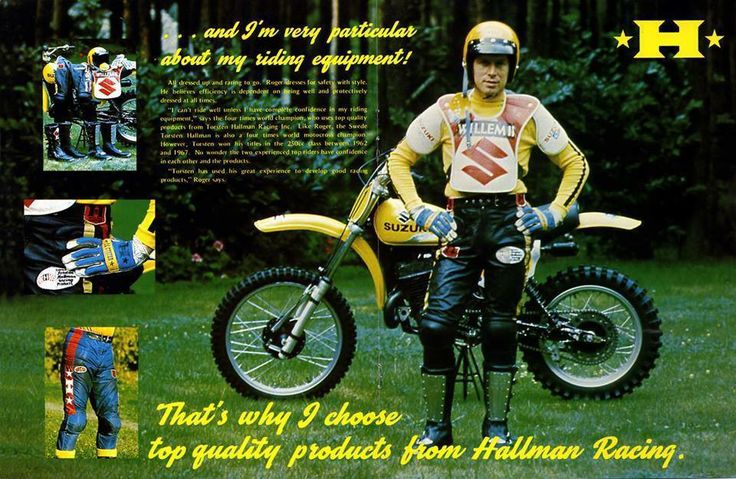 Blaze: I know Roger was one bad mofo but damn those leather pants had to be brutal to wear at Carlsbad in July.
Matthes: Roger looked pretty fucking cool back then, no doubt about it. What's the "Willem" all about on the chest pro? Did they sell it like that?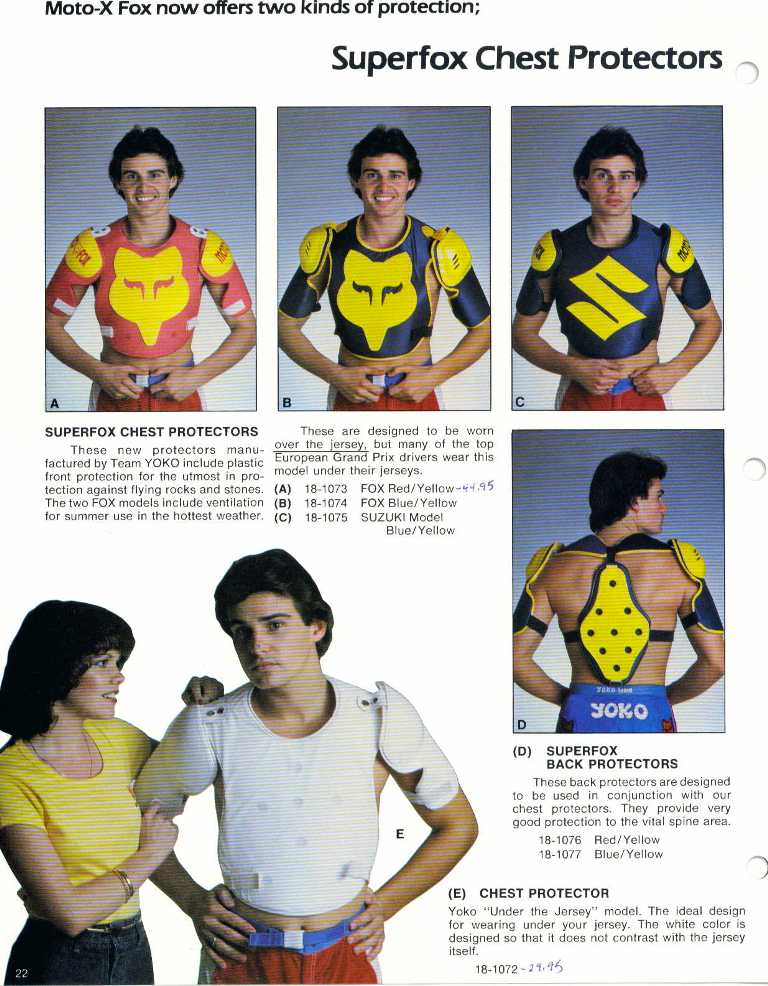 Blaze: The Superfox Chest Protector by Yoko certainly left no doubt what brand of gear you were wearing but with so little ventilation I bet that sucker had to be almost as hot as The Man's leather pants. 
Matthes: I do not remember these at all? Yoko made gear for a ton of brands for a long time and these actually look kind of cool right? Although they're made to be under the jersey so why go to the trouble to put logos and stuff on them?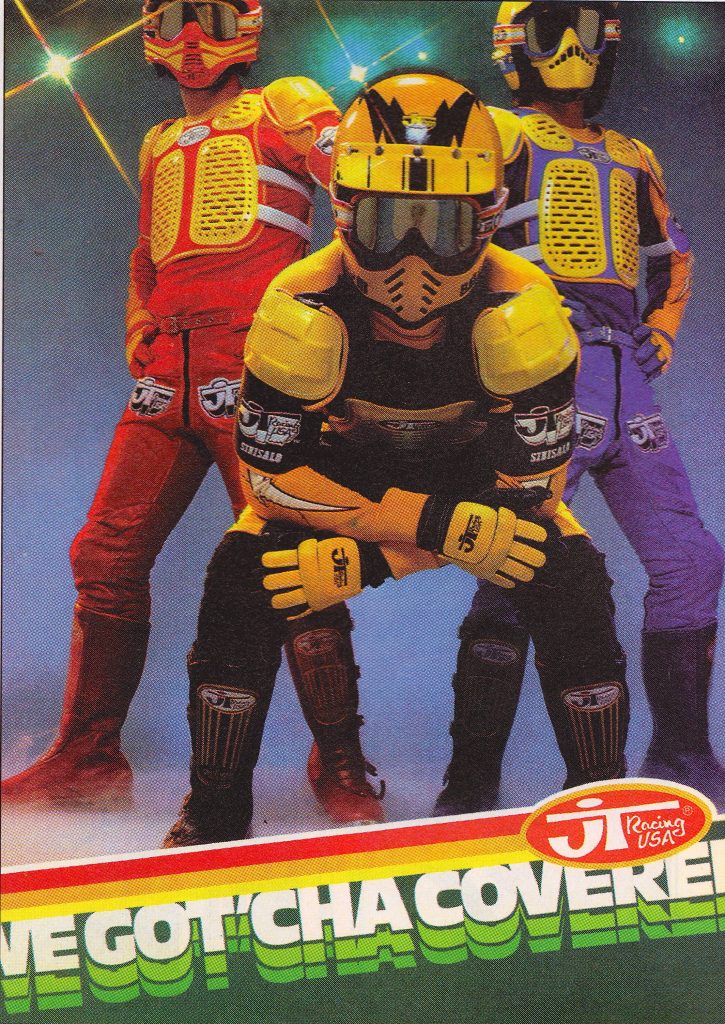 Blaze: For my money, these JT Racing Ventilator chest protectors from 1979 are the first ones I would have wanted to be seen in. I dig the colors, styling, and the fact that they actually let in a bit of air. 
Matthes: Yeah, agreed Blaze. I had one of these and really, they're patterned after that Hallman one from a few years earlier. I remember the straps on these would get stretched out easily and look like a worn out piece of bacon in no time.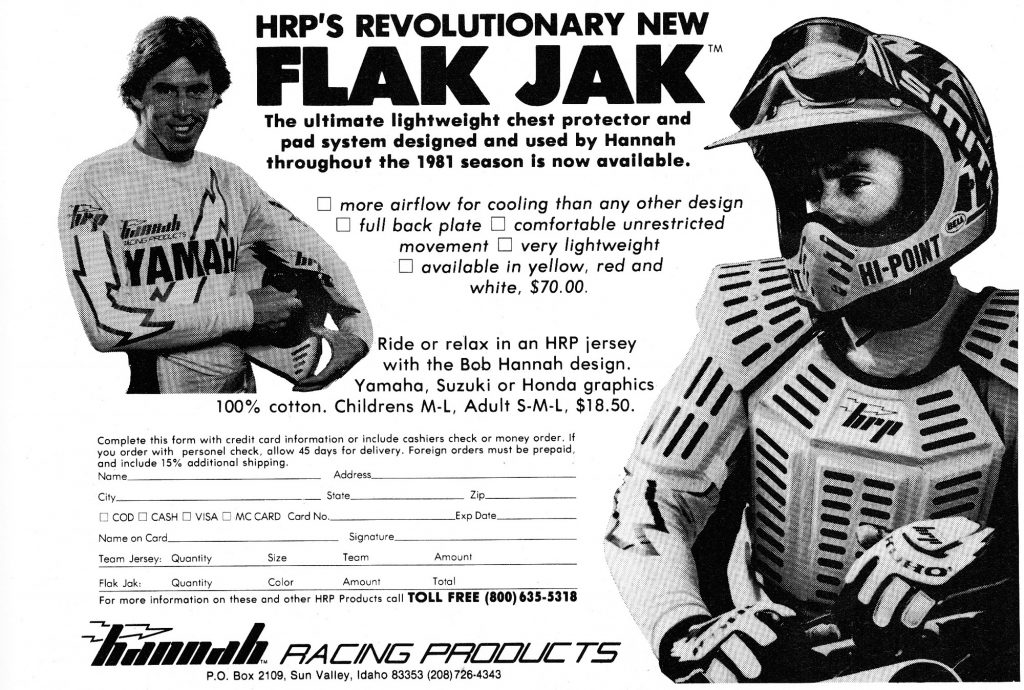 Blaze: In 1981, Bob Hannah's new gear line HRP (Hannah Racing Products) introduced the world to the first all-plastic chest protector. The new Flak Jak had plastic plates front and rear connected by a pair of floating plastic shoulder pads. Underneath the shoulders were suspension nets that offered a slight bit of cushioning and kept the hard plastic up and away from the rider's skin. While this first generation of Flak Jak was far from beautiful it did kick off the plastic protection revolution that would come to dominate chest protector design in the 1980s. 
Matthes: Yeah, this was kind of bulky right? It didn't look very good in my opinion either but HRP deserves credit for first coming out with the net system for the shoulder area. I remember Bob had a yellow front and back with black shoulder cones or something like that and it blew my wig back.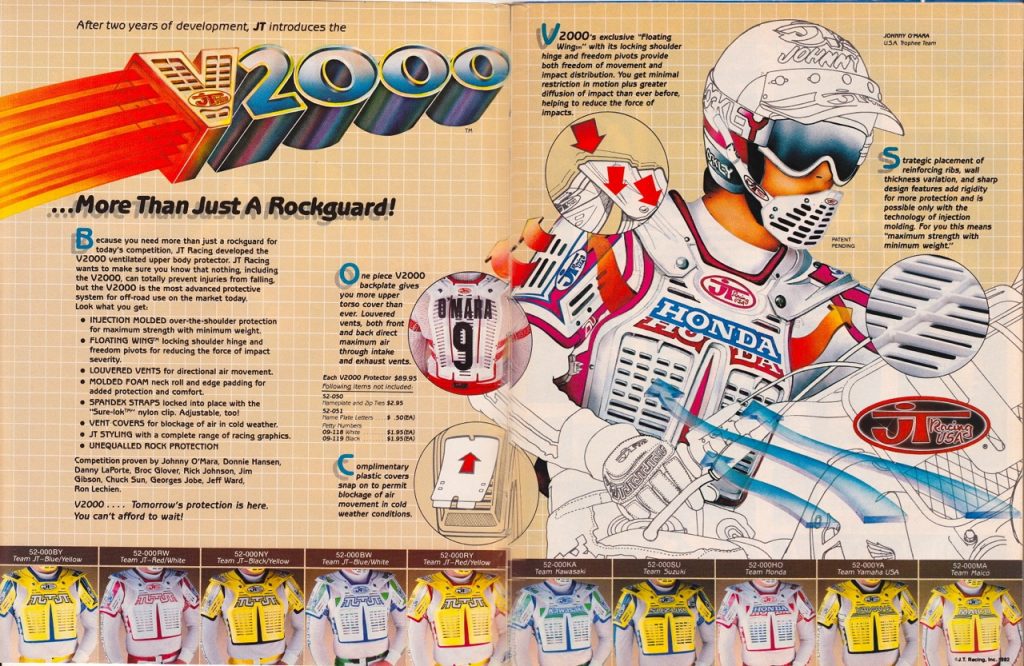 Blaze: Two years later in 1983, JT Racing would introduce the chest protector that many people would still proclaim as the most stylish of all time – the V-2000. The V-2000 was at least 200% better looking than the original Flack Jak and designed to appeal to the rider's sense of aesthetics as much as a desire for protection. I don't think this design was as protective as some others but there can be no doubt it was beautiful and incredibly influential within the industry.  
Matthes: This. Is. It. The ultimate in coolness (not actually cool at all though) and protection for a long time, John Gregory hit a home run with the V-2000 and all the other iterations. There's a reason why I still have one of these in pristine condition in my studio. These looked so fucking rad and still do. I remember that some company knocked these off up in Canada and because the real ones were hard to get we had tons of guys wearing the knock off ones. The foam was a bit off, the plastic wasn't the same but if you closed one eye, it kind of did look like the JT one. You put one of these on now and you'd be shocked at how little you can move though!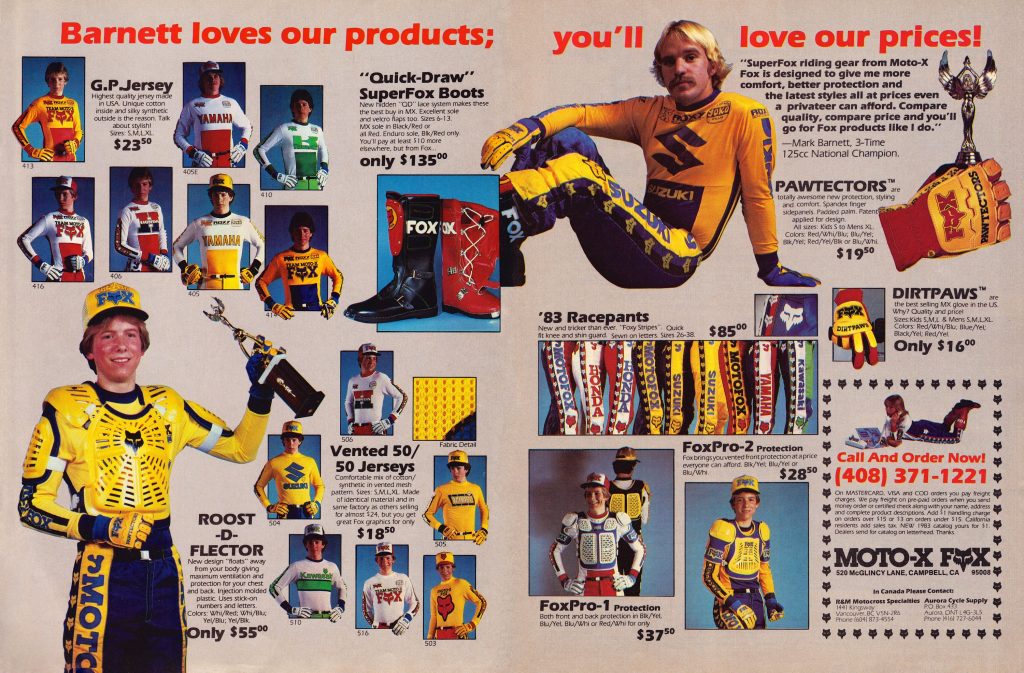 Blaze: While JT Racing blazed its trail with the V-2000, Moto-X Fox chose to flatter HRP with a near clone of the original Flak Jak in the form of their Roost-D-Flector. In an interview to SwapMotoLive.com Pete Fox commented on how influential the original Flak Jak was and how it was the direct inspiration for this design. While perhaps a bit more elegant than the original HRP design, this Fox version looked positively pedestrian compared to the sexy V-2000. 
Matthes: Yeah I could never embrace this one, didn't see many of the Fox riders wearing it much either. Maybe that was why? Not sure but it didn't look great. I rode with a guy almost every day that had a white with red stickers one so I got used to seeing a lot of it.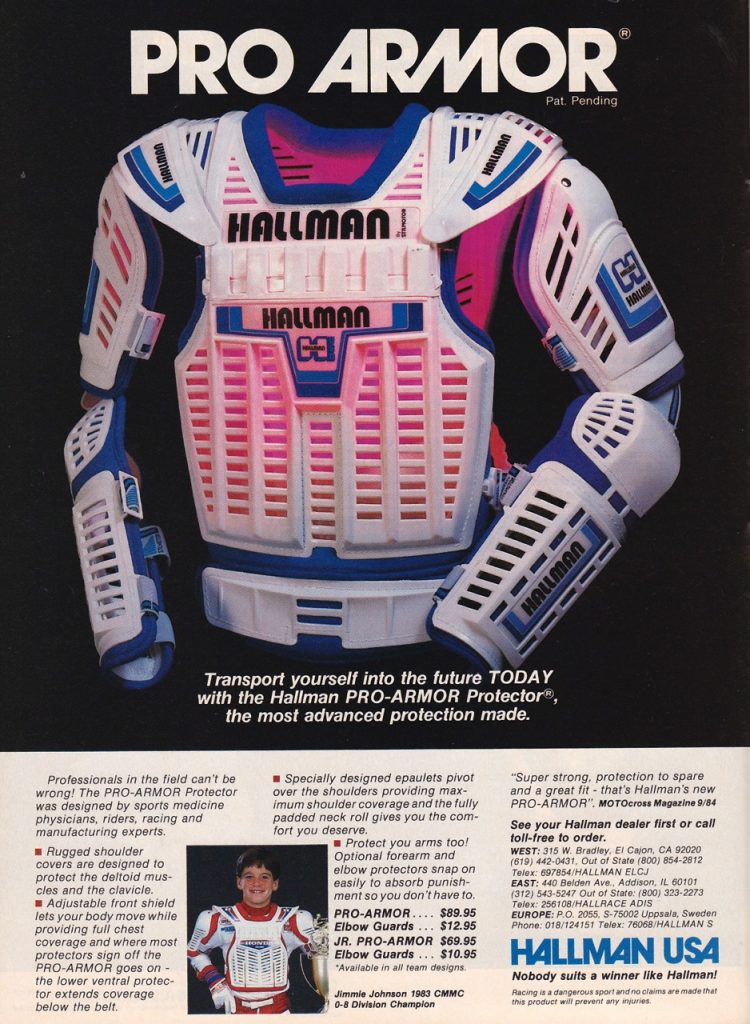 Blaze: Once HRP opened the floodgates on plastic protectors all of the gear companies were quick to hop on the bandwagon. To me, this Hallman PRO-ARMOR (the fact that the name is in ALL CAPS probably tells you a lot) is the kind of protection your mom would make you promise to wear when you first mentioned getting a dirt bike. This sucker embodies the ethos of "dress for the crash, not for the ride." 
Matthes: Yeah, this was a tad much. I think there's a photo of George Holland wearing this WITH the elbow guards also. Maybe not, maybe I dreamed this up. Look at that panel at the very bottom! That's some serious protection for sure. Scott Burnworth wore this at races though, had to have been so hot. Growing up in Canada, I don't think I ever saw one of these in the flesh in my area.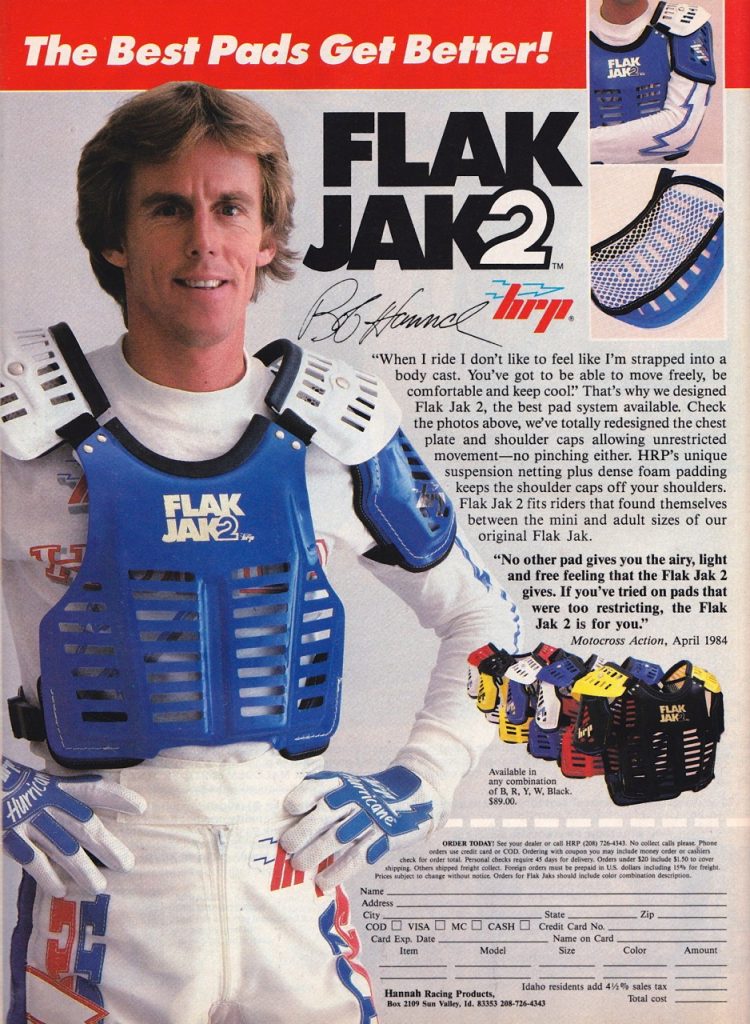 Blaze: In 1984, HRP broke new ground once again with the introduction of one of the most successful protection products of all time, the Flak Jak 2. This second version of the Flak Jak was sleeker, slimmer, and just as influential as the original. It featured a much less restrictive design with improvements to the shoulder suspension system and much cleaner styling. Only a few years after this, HRP stopped making motocross gear but the Flak Jak brand endured. Today, you can still buy a Flak Jak and the 2020 version is not all that dissimilar to this groundbreaking 1984 design.
Matthes: The cool thing about these is you could wear any brand of gear, slap one of these on, put your own stickers on the front and call it a day. Because these were very comfortable and still, as you say Blaze, work well today. Lots of pros wore these in the early 2000's STILL. I don't see them now as under the jersey protectors have come a long way (think A-Stars A1) but these by far sold a ton. I need to ask Bob, at one point did he sell the rights to HRP and who bought them and who just cranked these and these only for 25 years making tons of money?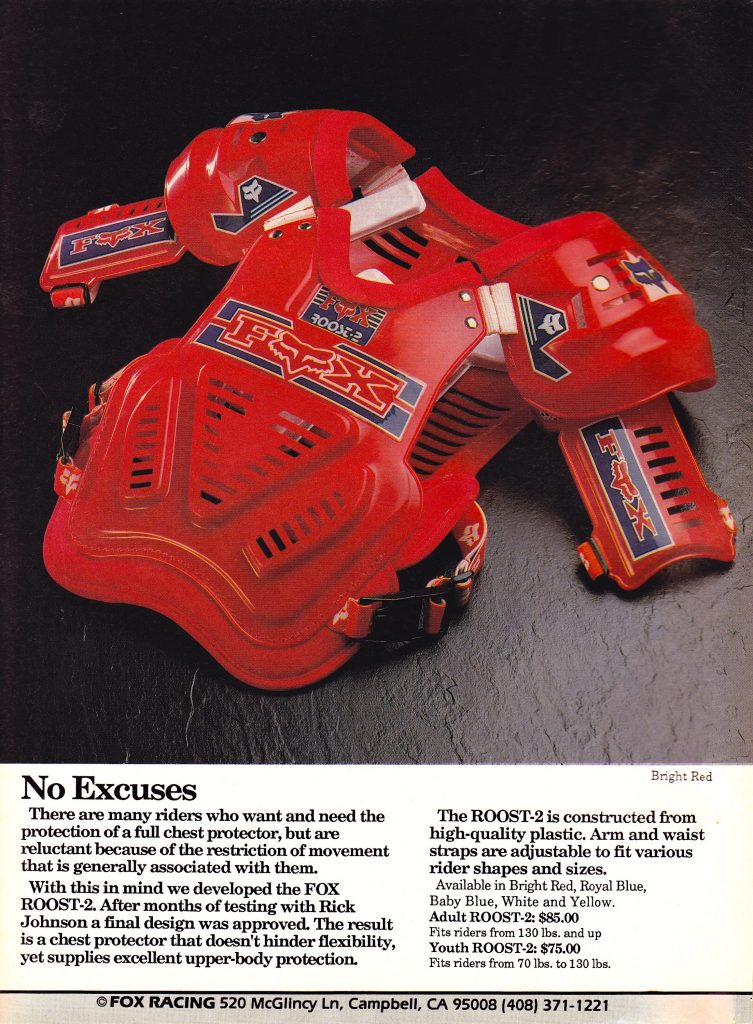 Blaze: In 1986, Fox Racing released what for my money is the best-looking chest protector of all time, the iconic Roost-2. Much like the Roost-D-Flector, this appears to be another case of industry flattery, as the Roost-2 was influenced by the improvements made to the Flak Jak 2. That said, however, Pete Fox absolutely killed it with a design that set all-new standards for comfort and style. Much like the JT V-2000, I wanted to wear this for its appearance as much (or more) as for its protection. Later versions were even cooler with all sorts of badass color combos that looked amazing with the bold gear designs of the early nineties. For me at least, no chest protector will ever be as cool as the original Roost-2.
Matthes: Yeah, these were rad. The guys at Fox did a great job and as you said, it definitely mimics the HRP design but makes it a tad cooler. I had a few of these over the years and you would get roosted in the nipple area and wished the chest piece would be a tad wider. Also, it was cool that with little plastic pins, these were adjustable also, I'm not sure the HRP ones were. The first thing anyone did was rip the arm guards off though because that's what RJ did.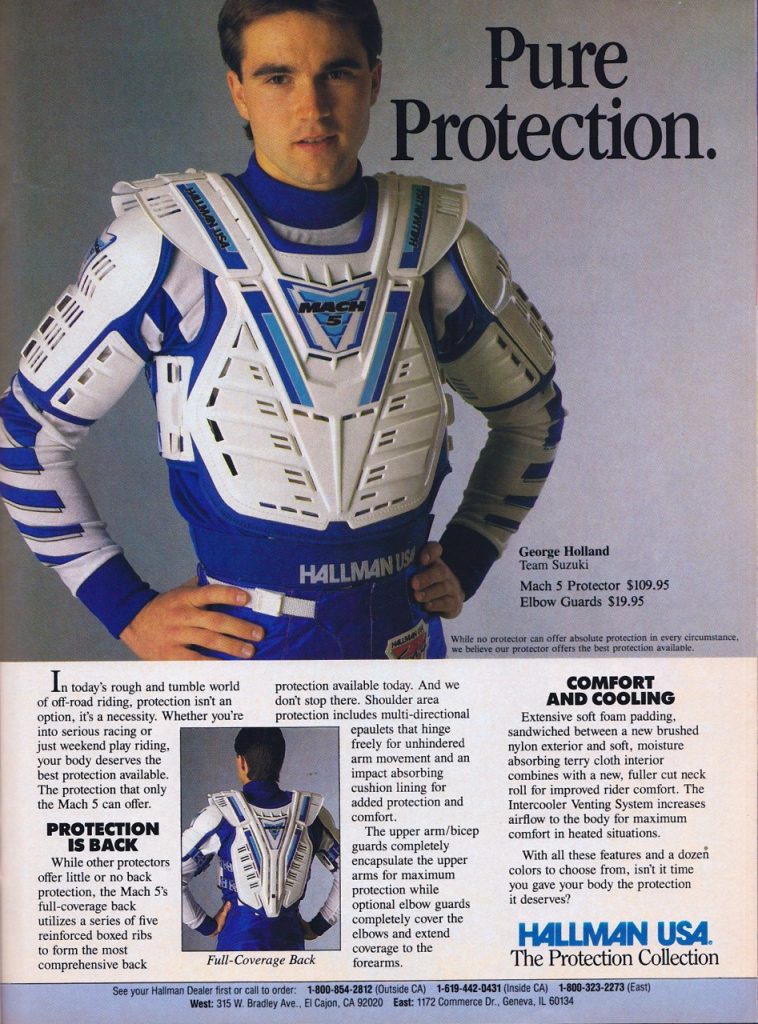 Blaze: Hallman/Thor has never killed in the chest protector realm for me. I don't think they have ever released one I wanted to wear and the Mach 5 from 1987 is no exception. If the Roost-2 is a Lambo and the V-2000 is a Porsche, then the Mach 5 is a Ford Econoline with rally wheels. Practical, and super useful, but not exactly a chick magnet. It is less ridiculous-looking than the Stormtrooper-esque PRO-ARMOR, but not by much…
Matthes: Yeah, still WAY too much Hallman. Please, stop this madness.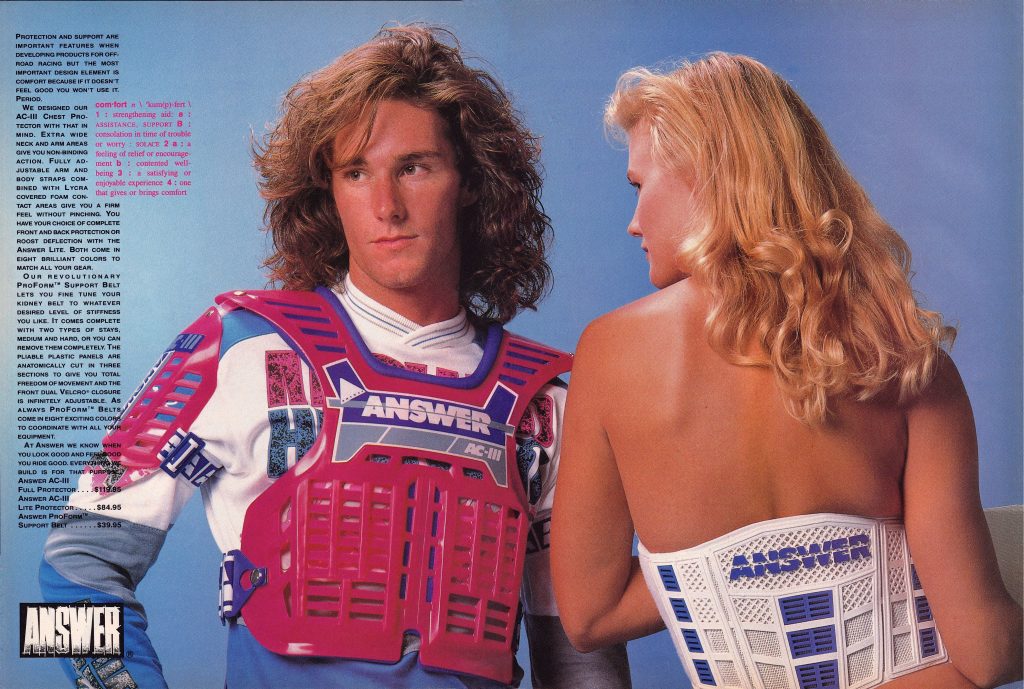 Blaze: I don't have a lot to say about this Answer ACIII from 1988 other than Micky Dymond makes everything look badass. The overall design is very minimal, and the color makes it look cooler than the basic design probably warrants. Way better looking than Hallman but not as stylish as JT and Fox, this Answer entry nails the safe middle ground. 
Matthes: This was Answer's second attempt at making a chest pro, their first one didn't really have any shoulder protection and just had these massive arm pieces that didn't look good. This was better but I think at this point, we all thought the webbing for the shoulders worked better and felt better right?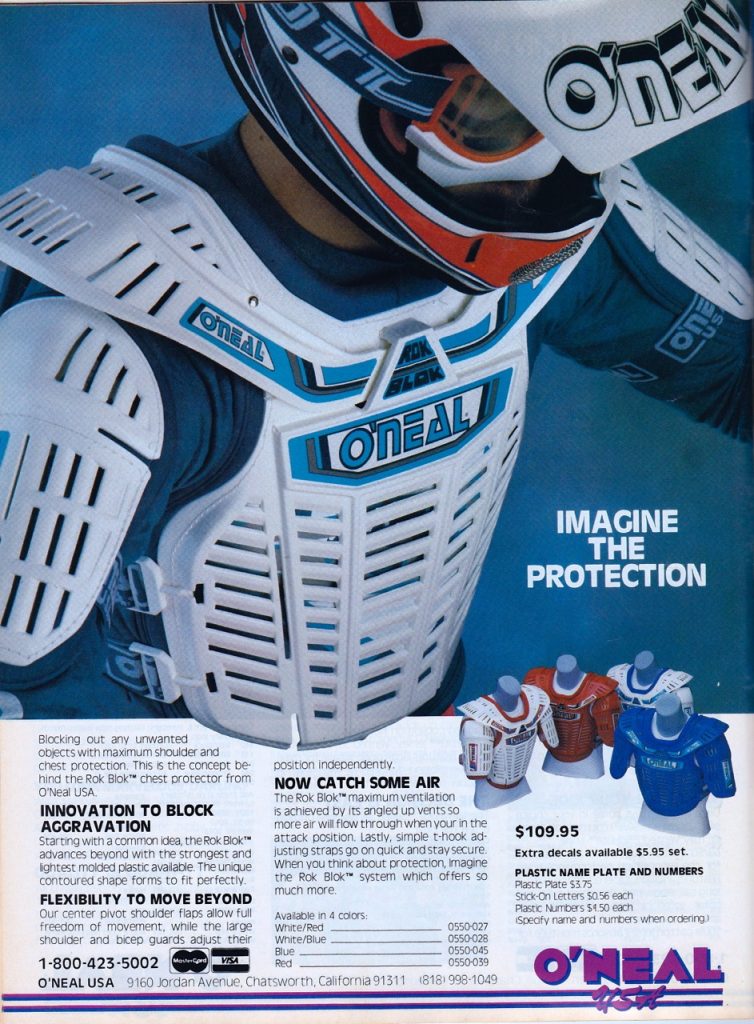 Blaze: Much like the Mach 5, the O'Neal Rok Blok is a design I never cared for. I know they were trying hard not to copy what Fox and others were already doing but this design has a Power Rangers vibe that just never did it for me. 
Matthes: This was a big chest pro, like my buddy had one and he was super skinny and this looked like a huge turtle shell on him! It did not fit him right at all. Also, I think chest pros need spots where you can put stickers on them and this doesn't work.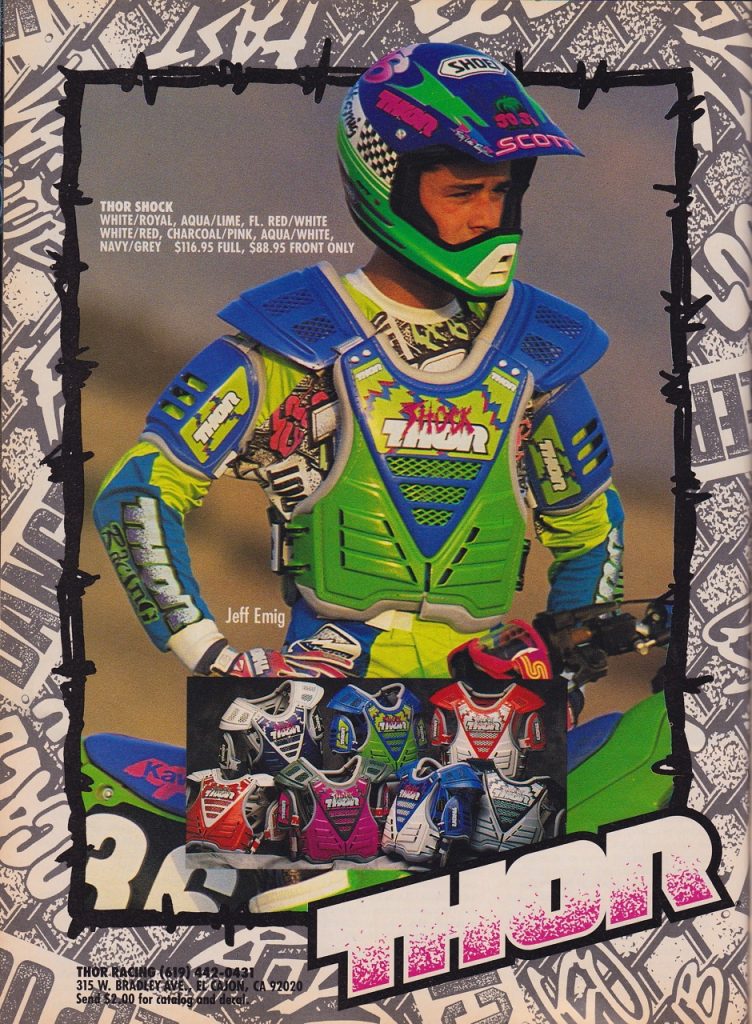 Blaze: In 1989, Thor (they dropped the Hallman name in 1988) introduced the new Shock protector, which added suspended shoulders like the Fox Roost-2 and HRP Flak Jak 2. At the time I liked these but I don't think the styling has held up as well as some of its contemporaries.  
Matthes: These had, like, a kidney protector on them and that will be forever weird. Also, by the way, taking the bicep protectors off makes just about every one of these chest pros cooler.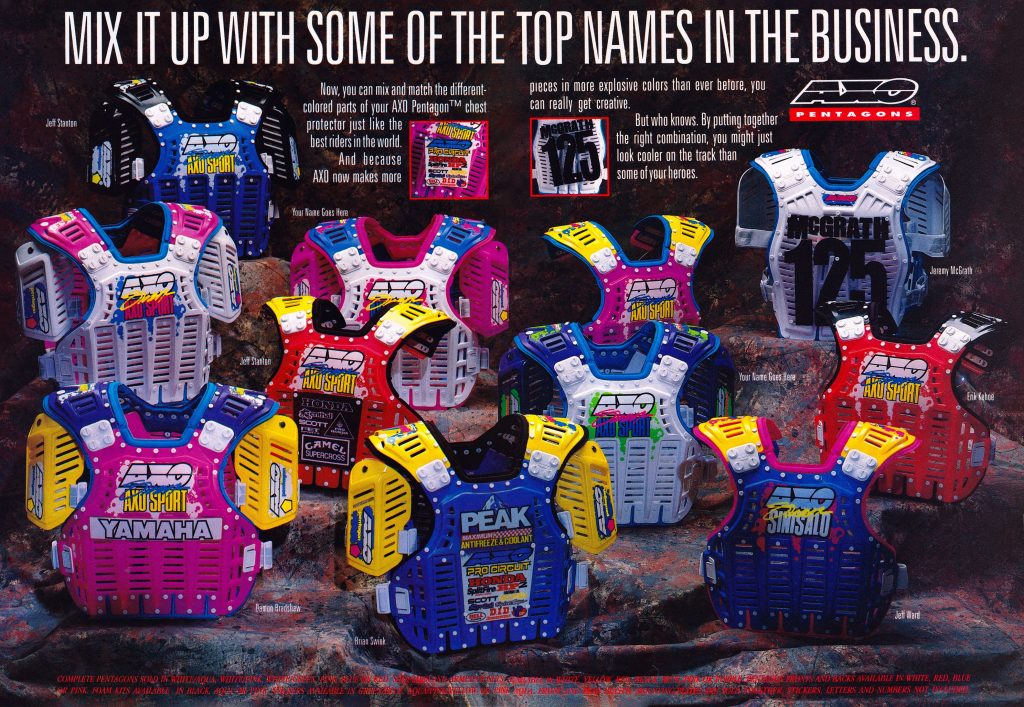 Blaze: In 1989, AXO came out with one of the most popular chest protectors of the nineties, the Pentagon. Named for its unique modular construction that allowed five different configurations, the Pentagon came in lots of cool color combos that looked great with the AXO gear of the time. Personally, aside from the colors, I never really found the Pentagon particularly appealing. It lacked the shoulder pads of Fox, Thor, and HRP and did not offer as much padding inside. I know a lot of people loved these but to me, it was style over substance.
Matthes: Yeah, bite your tongue Blaze! I had one or two of these and I loved them. Again, the shoulder netting worked well and this didn't have that but the look was sweet for sure. Like all things AXO back then, this was cool. I didn't know anyone that ever ordered the plastic clear things with your name and number on them from the factory. Some people made homemade ones and most of us yahoo's just stick dirt digits on the back.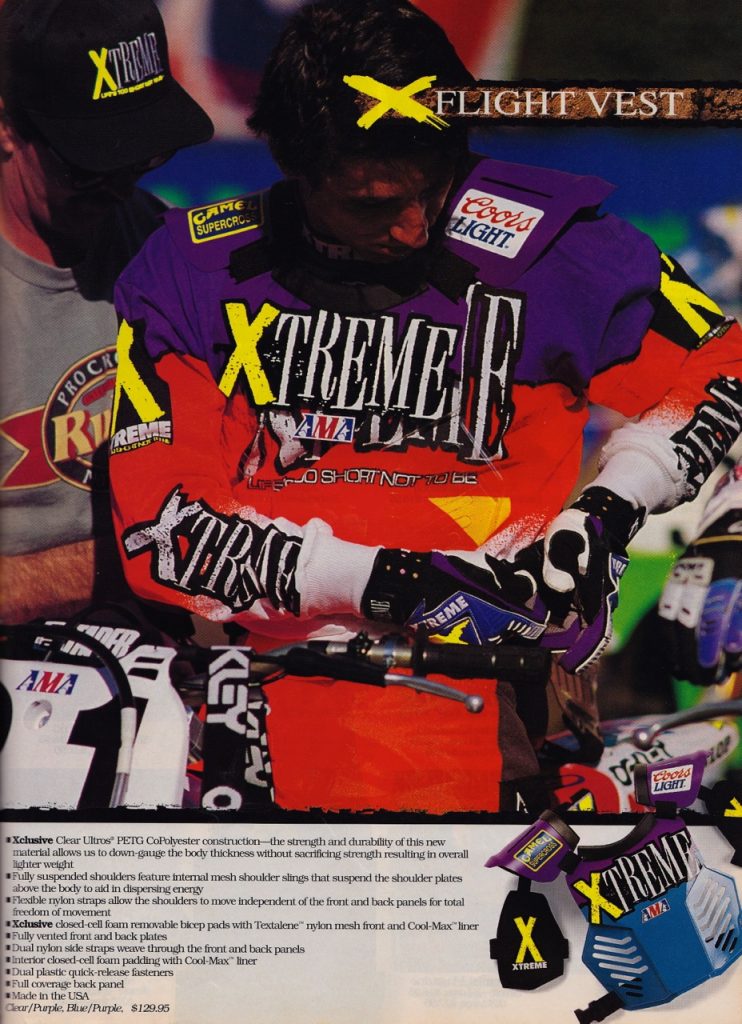 Blaze: Xtreme gear was ultra badass in general and when they came out with this slick clear Flight Vest chest protector in 1994, I just had to get one. I loved that you could see the jersey right through it and I always preferred to have the suspended shoulder cups rather than just have plastic sit on my collar bone. My only beef with this was it was easy to damage the clear plastic and if you were not careful in its care then you ended up with a scarred and scratched mess.
Matthes: I don't remember this AT ALL.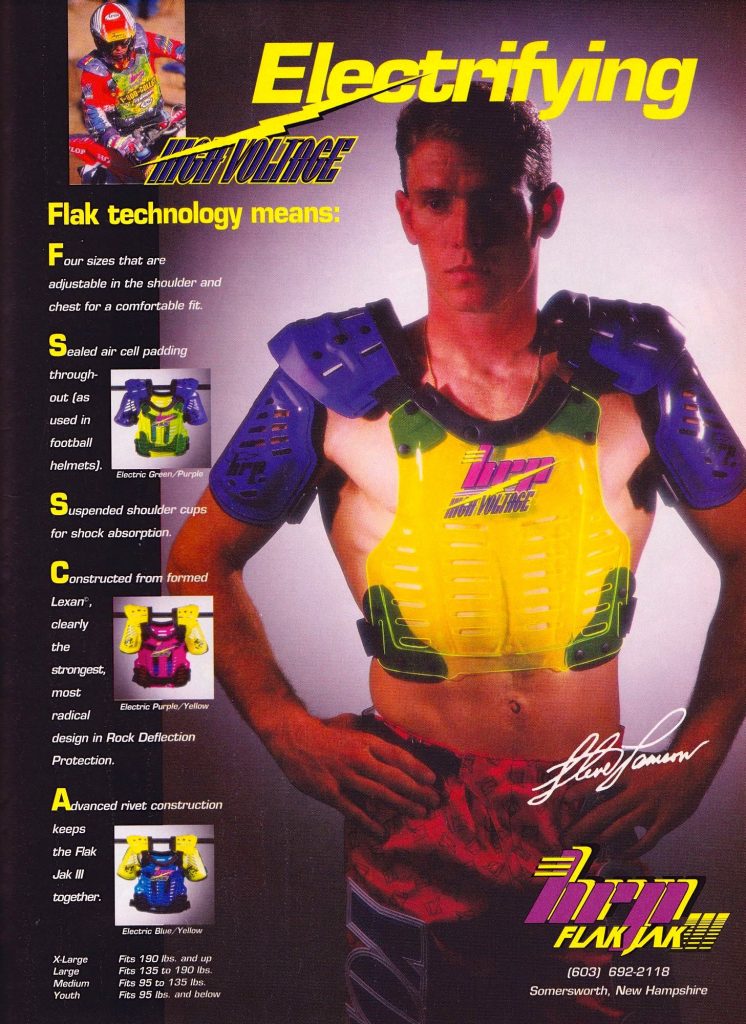 Blaze: In the mid-nineties, the HRP Flak Jak was still going strong with riders like Honda's Steve Lamson running them. This 1995 High Voltage variation added a colored translucent front and back that was probably easier to keep looking decent than the completely clear Xtreme version.
Matthes: HRP was, I believe, the first company to have clear plastic in their chest pros. I never saw one of these in person.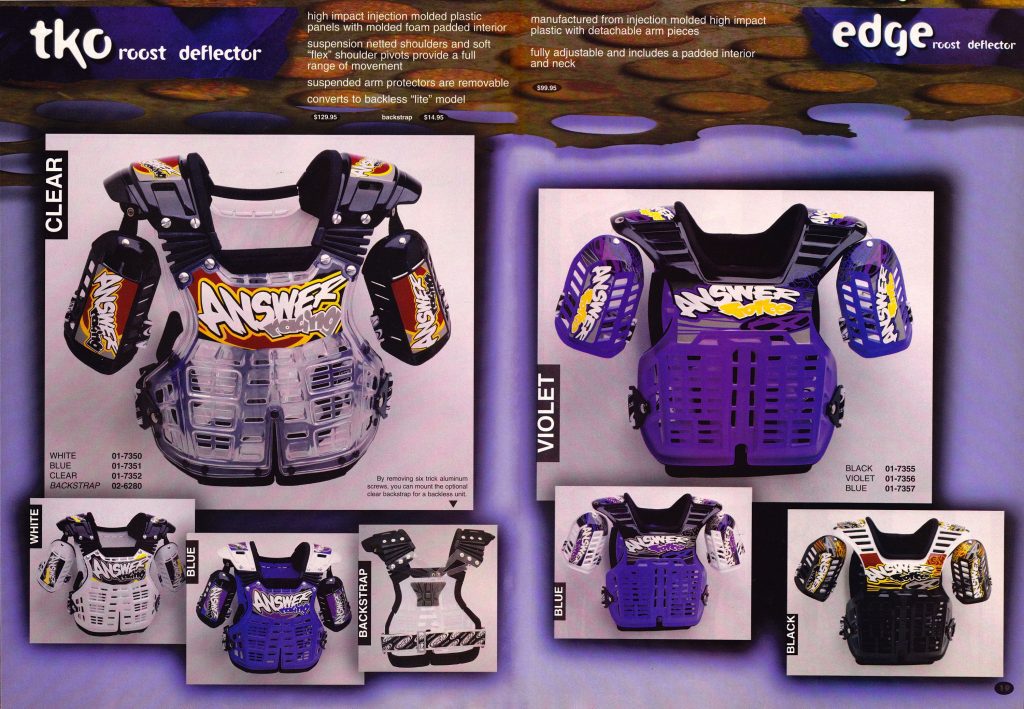 Blaze: Answer's TKO Roost Deflector also offered a clear version in 1996. Personally, I'm pretty agnostic on these. They look to offer more coverage than a Roost-2 but that weird accordion deal on the shoulder pads is not very attractive. 
Matthes: Yeah, no thanks. Answer really couldn't get their chest protectors down right? Like, who owned any of them?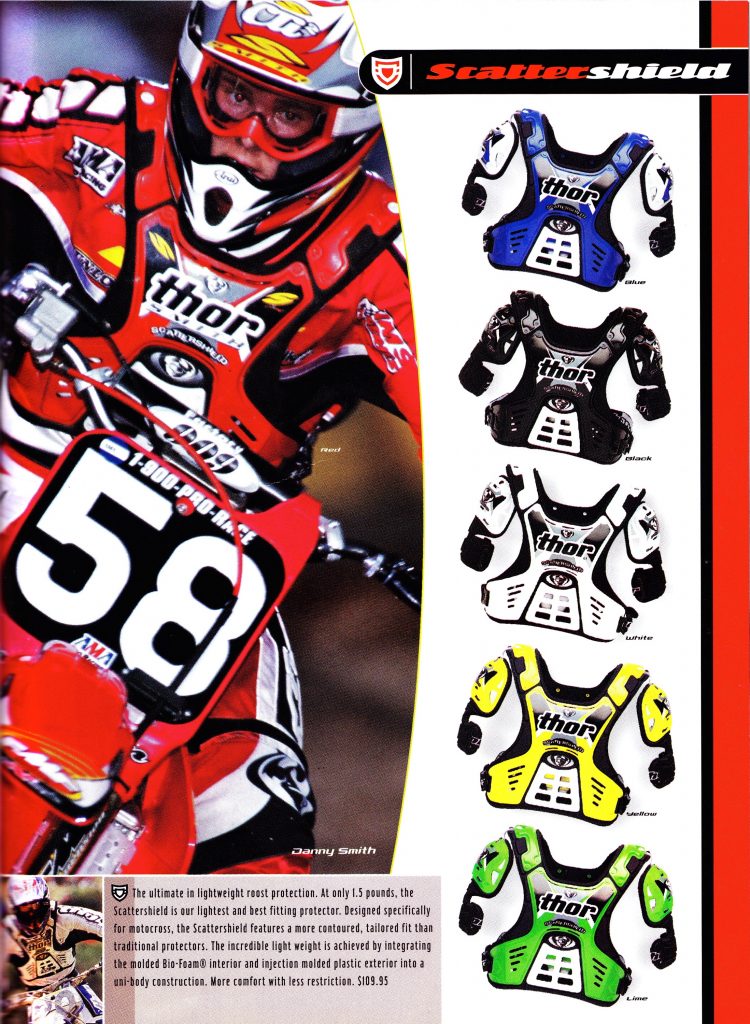 Blaze: Thor took a more minimalist approach with their Scatter Shield in 2000. I would imagine the shorter overall profile and more open design made these more comfortable to wear than the old Shock protectors but I never really cared for the look of this design. 
Matthes: I had one of these and wore it under the jersey, lots of riders did that also. It was the start of the minimalist designs that we see now.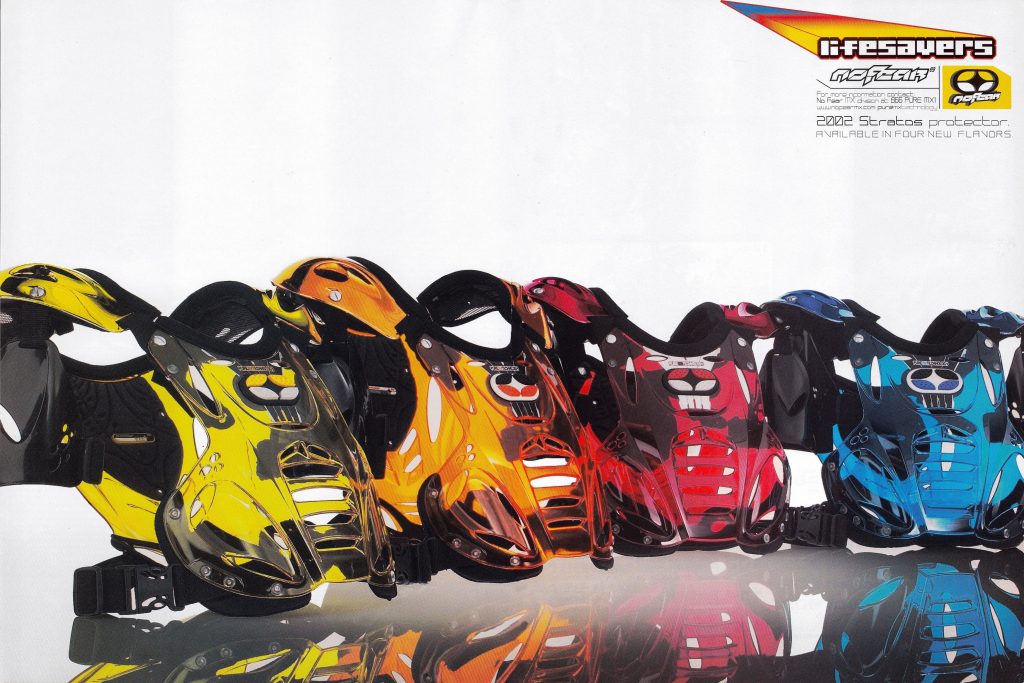 Blaze: Early No Fear gear was rad and these Stratos Protectors from 2002 are no exception. While the chrome bits might be a bit much for some, I dig the colors and the "lifesavers" tag line is a clever bit of double entendre.
Matthes: Surwall was around a long time and as the guy at No Fear, he knew what worked and what didn't. He changed just enough of the HRP to stay out of trouble I imagine.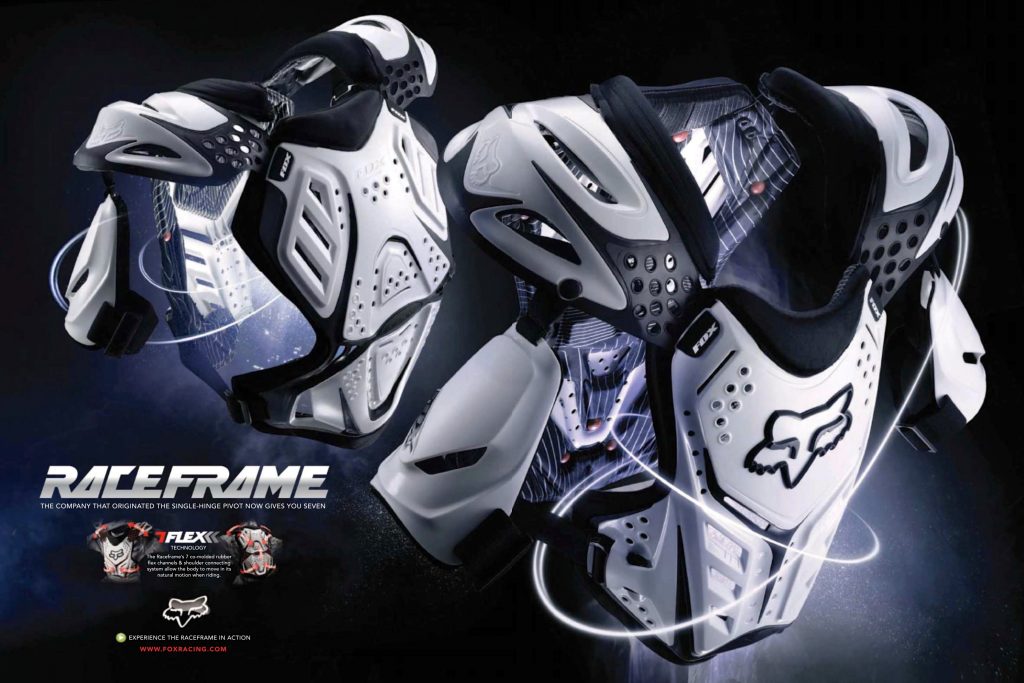 Blaze: Today, new technology has made chest protectors more comfortable and more protective than ever, but they are no longer marketed as fashionable accessories to the well-heeled motocross pilot. Modern designs look more like something from the street bike world and rarely come in color combinations other than black and white. For someone like myself who grew up on Jeff Matiasevich and his purple, yellow, and pink Roost-2s this is a bit disappointing, but I imagine it's fine for a generation who see these as artifacts only suitable to vet riders and tree dodgers.
Matthes: Yeah, we've gone from either very minimal design in chest pros to having big bulky things for people that ride in the trees. There's no in-between right? Also, because of lawsuits from people getting hurt in these things (because, duh, motocross is dangerous) companies have to toe the line in talking about protection and what these things can do.