The 2020 supercross champions had no bad days. The 2020 supercross champions won by avoiding races where they lost positions. It meant that no matter where they started the race, they finished it in a better position. They never gave up, they avoided costly mistakes, and they stayed out of trouble.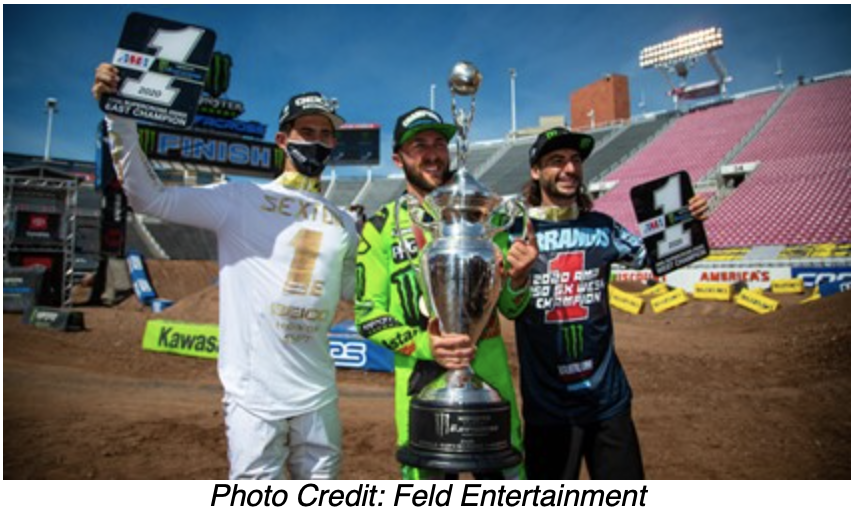 They didn't have perfect seasons – they were passed and lost positions during a race on many occasions. Just look at Dylan Ferrandis at Round 3 in Anaheim and his tangle with Christian Craig. He was on the ground and risked losing a handful of points, but he got back up and recovered. That could've been a really bad day, but he didn't let it stop his charge forward. He did what all the 2020 supercross champions did – they finished each race in a better position than they rounded the first lap – with one exception.
Eli Tomac (450 champion) didn't lose a single position in one race all season.
Chase Sexton (250E champion) didn't lose a single position in one race all season.
Dylan Ferrandis (250W champion) lost one position, in one race, all season.
The dark green bars below show that Eli Tomac, Chase Sexton, and Dylan Ferrandis went 34 of 35 without losing positions in a race. Eli Tomac finished better than he started in all 17 main events. Chase Sexton finished better in all 9 main events. Dylan Ferrandis finished better in 8 of 9 main events.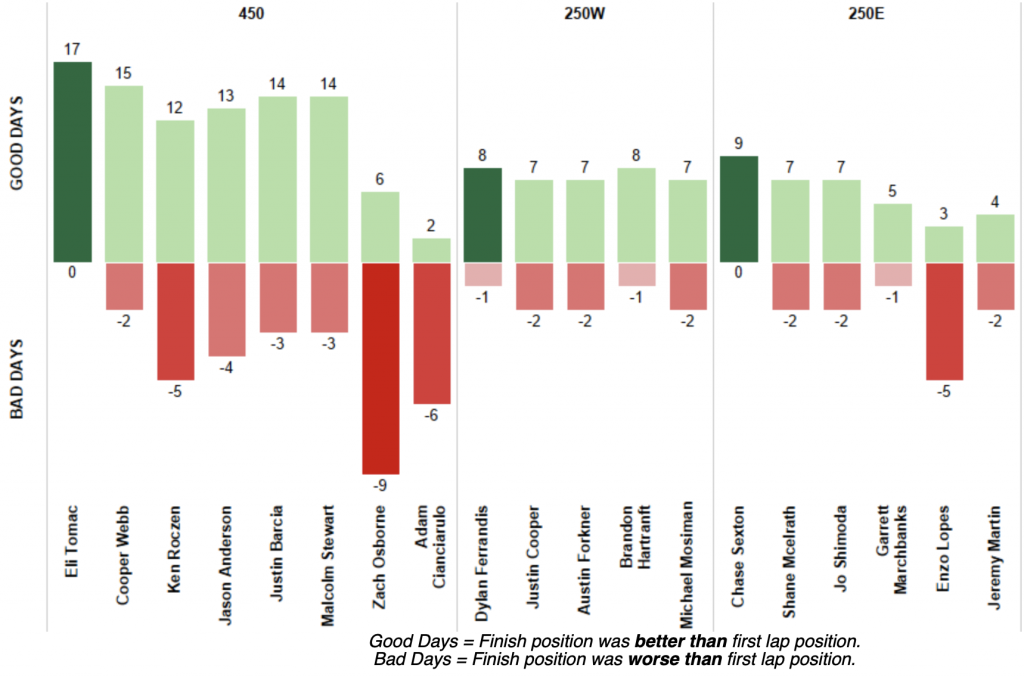 These 3 riders faced adversity throughout the season, but persevered each time. Eli Tomac provided the best example at Round 7 in Atlanta. He rounded the first lap in 7th position but crashed early in the race after an ill-advised pass attempt on Blake Baggett that dropped him to 15th place. The championship was slipping away – or so we thought. He then went on one of the greatest rides of his career, passing 11 riders and finishing in 4th place after an incredible battle with Justin Barcia. Eli Tomac turned what could've been a really bad day into a good night of racing.
Take the 3 minutes to watch the video – it'll get you fired up for 2021!
Dylan Ferrandis fought similar adversity. At Round 2 in St. Louis he crashed in the first rhythm section and rounded the first lap in 21st position. He spent the next 13 minutes charging back to 12th place, salvaged 11 points, and stayed in the championship hunt. While those 11 points ultimately didn't decide the championship (he won by 20 points), he never gave up in St. Louis. He turned what could've been a bad day into a positive.
It was the championship contenders, those that finished 2nd and 3rd, that had bad days. Cooper Webb was left laying injured on the concrete floor of the Dallas Cowboys home turf in Arlington after a horrific crash on the dragons back (the worst feature on a track). He lost -15 points to Eli Tomac that night. Ken Roczen would drop 5 positions at Round 13 in Salt Lake City and finish a dismal 10th place that cost him -13 points. He'd later announce that he had shingles and struggled to regain form the remainder of the season.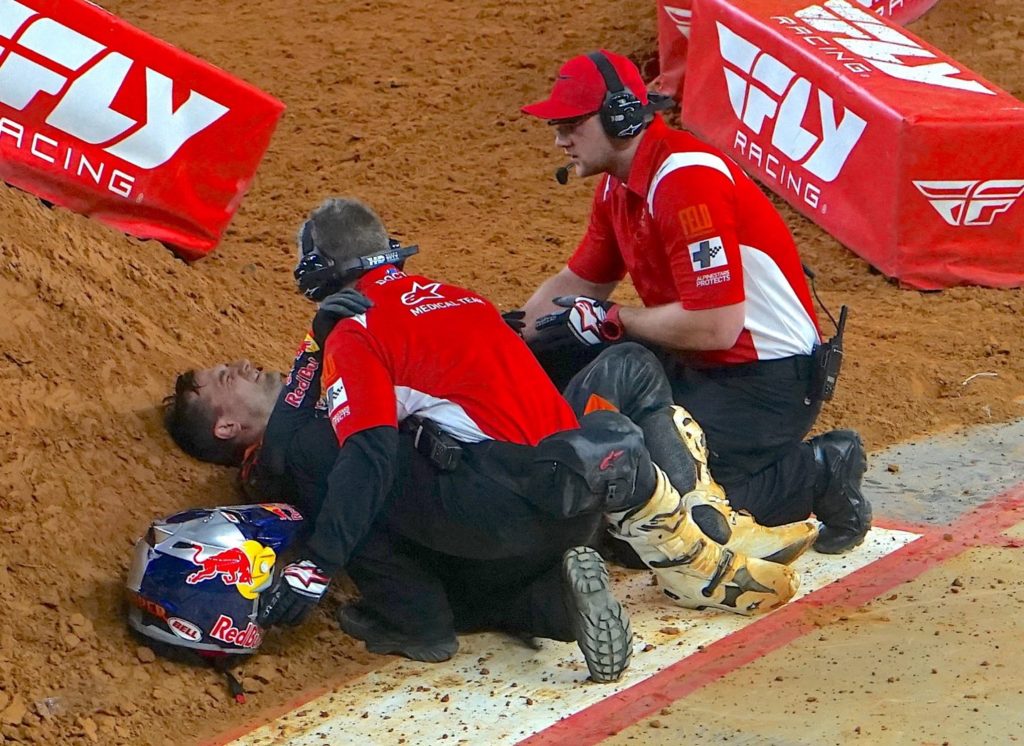 Cooper Webb lays in pain after a bad day in Arlington. Photo Credit: Supercross Live TV Feed
The list of bad days continues. Adam Cianciarulo was the fastest qualifier 7 straight races to start the season, led laps in 3 main events, but he had 6 bad days in 8 attempts. Zach Osborne started the first 5 rounds with bad days! Jett Lawrence crashed at Round 3 in Anaheim and ended his season with a broken collarbone. Jeremy Martin's crash in Atlanta knocked him out of contention. Austin Forkner had bad days at Round 1 and 3 in Anaheim – he crashed both times and lost a total of -25 points to eventual champion Dylan Ferrandis. Justin Cooper was leading the 250 West series at Round 4 in Glendale until he crashed in main event #1 and then again while leading main event #2. Each of these riders had the potential to win their respective championship but lost due to bad days.
The 2020 supercross champions didn't win because they had the most holeshots or led the most laps. Eli Tomac, Chase Sexton, and Dylan Ferrandis won their respective 2020 supercross championships because they didn't have bad days. The 2020 supercross champions refined their race craft to make the best out of every situation. They brought a complete package to every single race no matter the circumstances and they finished better than they started in every race.
No bad days wins championships.
Want more proof!? Take a walk through the stats for each series and then let me know what you think is the key to winning a championship on twitter or Instagram @3lapsdown.