Once upon a time, MSR was one of the coolest brands in motocross. Founded in 1971 by off-road legend Malcolm Smith, MSR was a mainstay of American motocross and off-road racing for nearly fifty years. Over the decades MSR has sponsored some of the greatest riders in the sport. Champions like Mike Bell, Guy Cooper, Randy Hawkins, Kevin Hines, Larry Roeseler, Denny Stephenson, Ty Davis, Mike LaRocco, Kevin Windham, Cooper Webb and Jeremy Martin have all proudly ridden for the brand.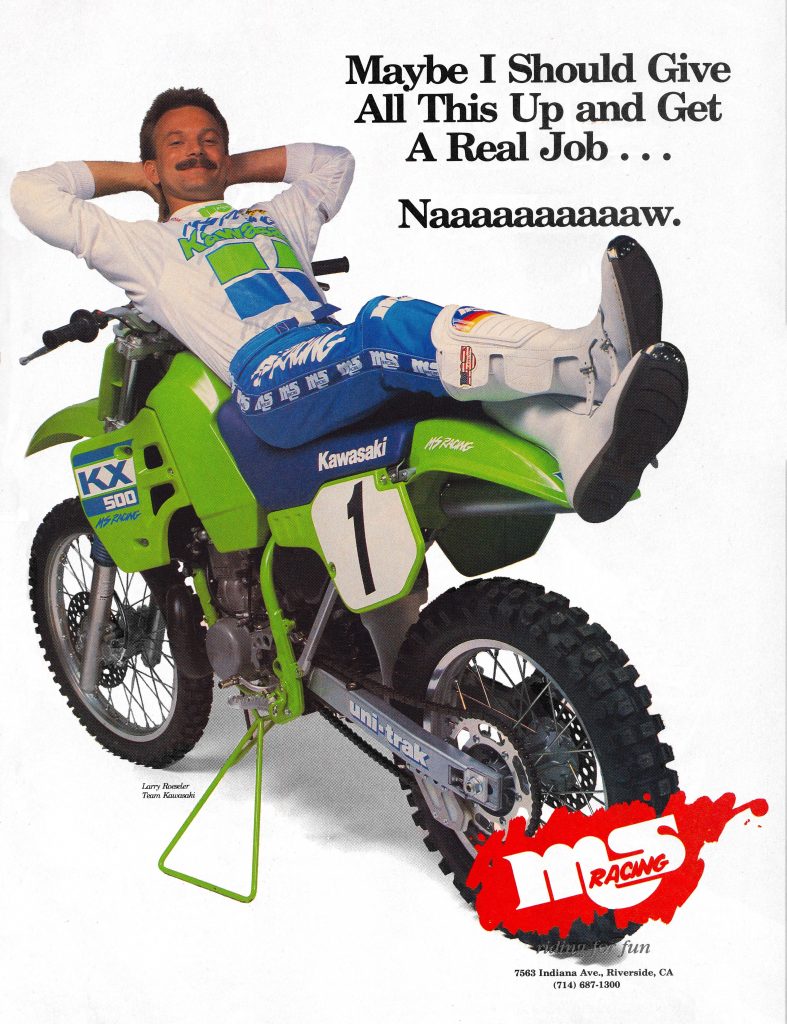 Larry Roeseler was one bad dude on a motorcycle and was a common sight in the off-road magazines of the 1980s. I know the grass is always greener, but every one of us shlubs with real jobs wishes we could get paid to twist the grip on that mighty KX500 like old Larry here. 
Today, unfortunately, MSR has all but disappeared from the motocross landscape, but in the late eighties, they were one of the highest-profile brands in the motocross and off-road world. Their Christmas Wish catalogs were pure gold to a teenage moto nerd like me and a source of countless hours of daydreaming about the latest badass products from MSR's many partners.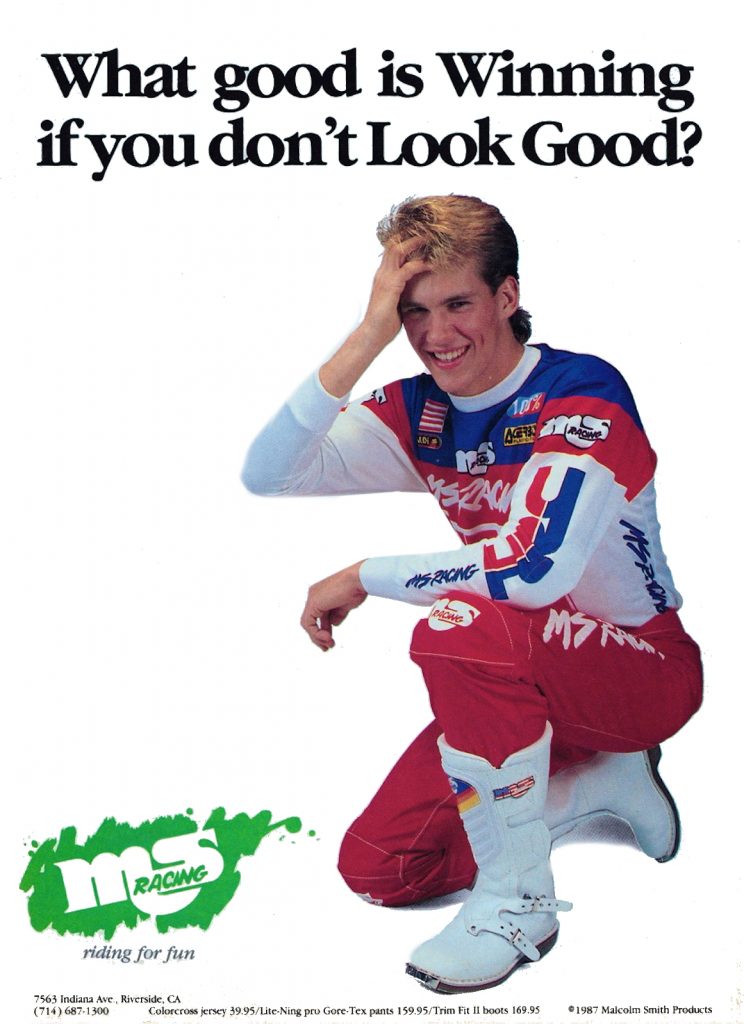 I never did a lot of winning but I definitely subscribed to this line of thinking. I had this HRC Honda gear and still think it looks rad to this day.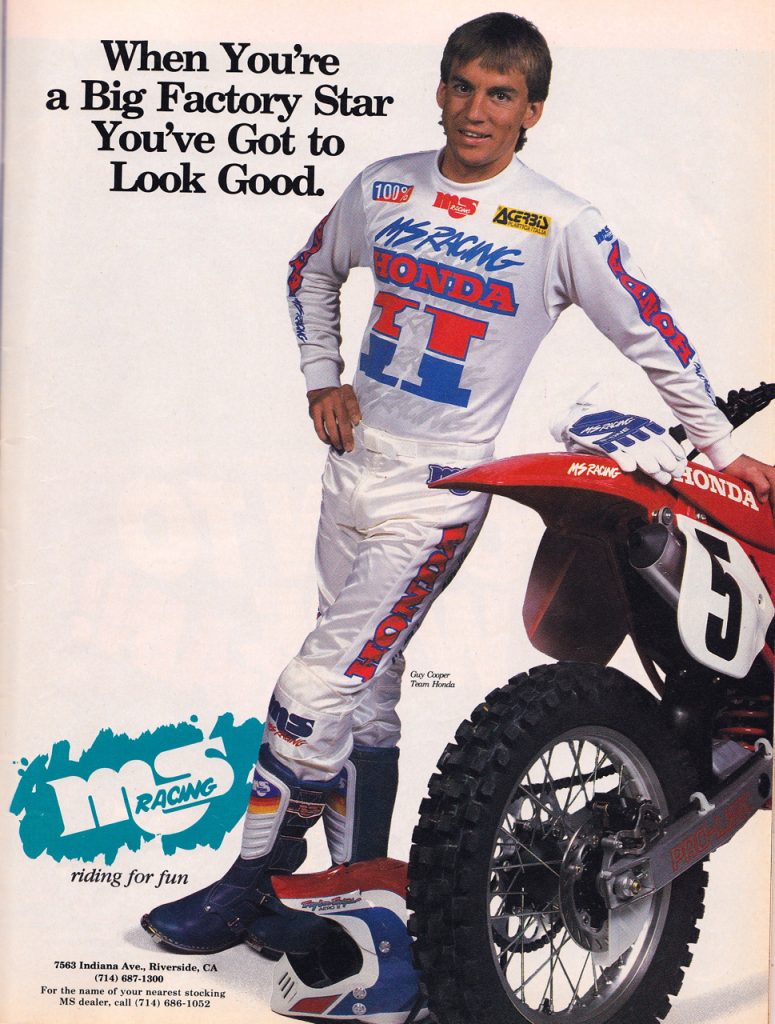 Guy was a great rider but he could not have looked less like the typical SoCal (see Brian Manley above) motocross star. That said, I think his "ah shucks" personality was a perfect fit for MSR at the time. 
In 1987, MS Racing (as MSR was known at the time) launched one of my favorite ad campaigns of the decade with their "Riding For Fun" series of ads. These ads featured riders like Guy Cooper, Brian Manley, Larry Roeseler, Ricky Johnson, Mike Bell, and Jeff Ward in very minimalist settings that stood out for their simplicity. Most of these ads were lighthearted as well, which further made them stand out in a sport that tends to take itself very seriously.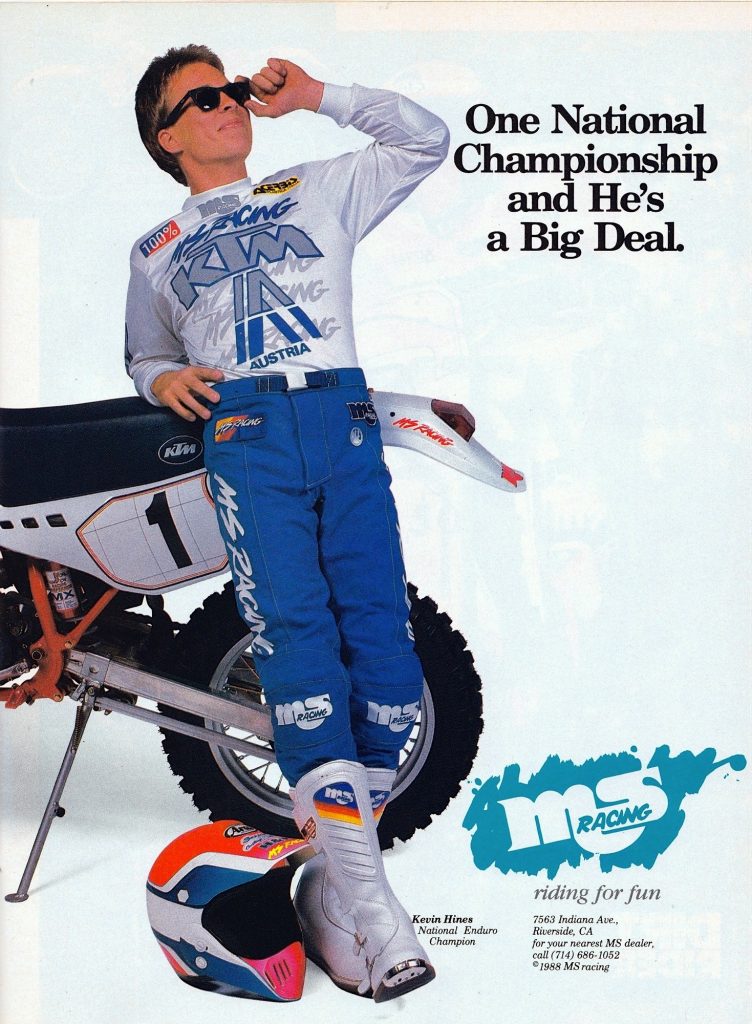 Kevin Hines' National Enduro title in 1987 was a big deal for KTM at the time. It was easily the biggest accomplishment the brand had enjoyed here in America up to that point and snapped a sixteen year Husqvarna stranglehold on the title.
Unfortunately, I am not sure what the future holds for MSR. As of 2019, they were under the control of Motorsports Aftermarket Group and being sold exclusively through Rocky Mountain ATV/MC. As far as I know, they no longer sponsor any professional riders and are nearly off of the moto landscape entirely. With such a rich history, it is hard to believe they might disappear entirely from the sport Malcolm Smith helped bring to prominence so many years ago. Maybe it's time for Roeseler to break the mullet and trusty KX500 out of mothballs and make MSR great again.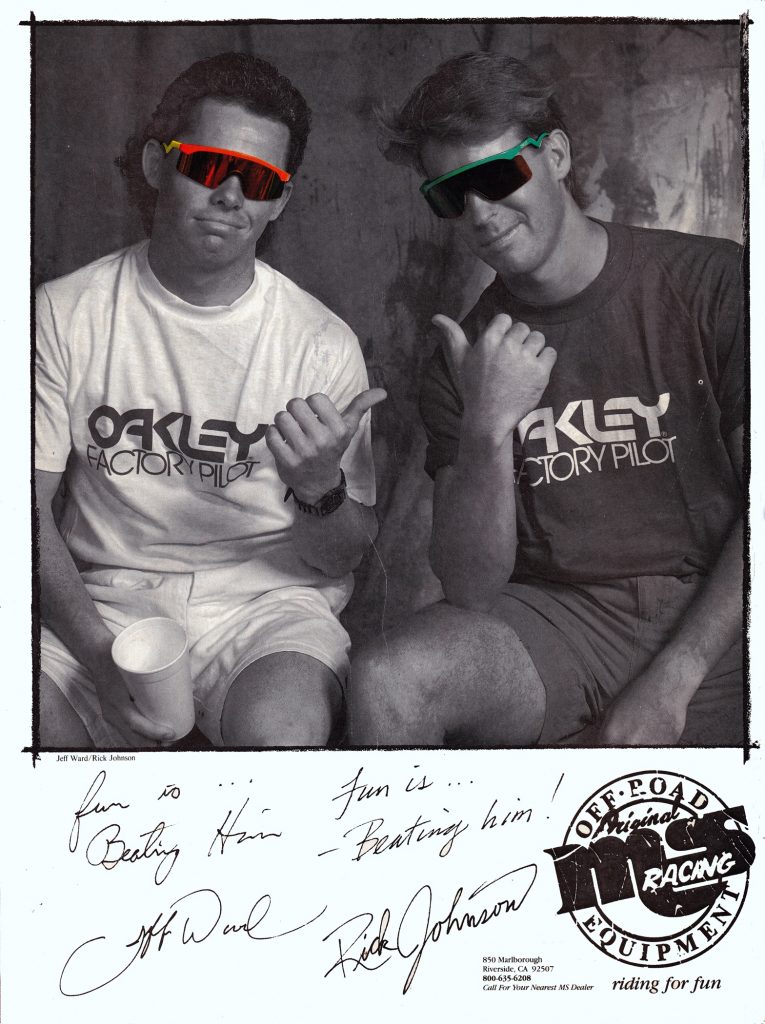 These two men are why I love motocross so damn much to this day. Their battles in the eighties were legendary and this ad perfectly sums up one of my favorite eras in moto. Riding is fun…