Standing on top of the premier class supercross podium is a dream for every aspiring motocross kid. This season there are 4 rookies and 1 sophomore rider that hope to achieve that childhood dream. Not surprisingly, it's a rare feat that only 33 riders have done in their rookie or sophomore year.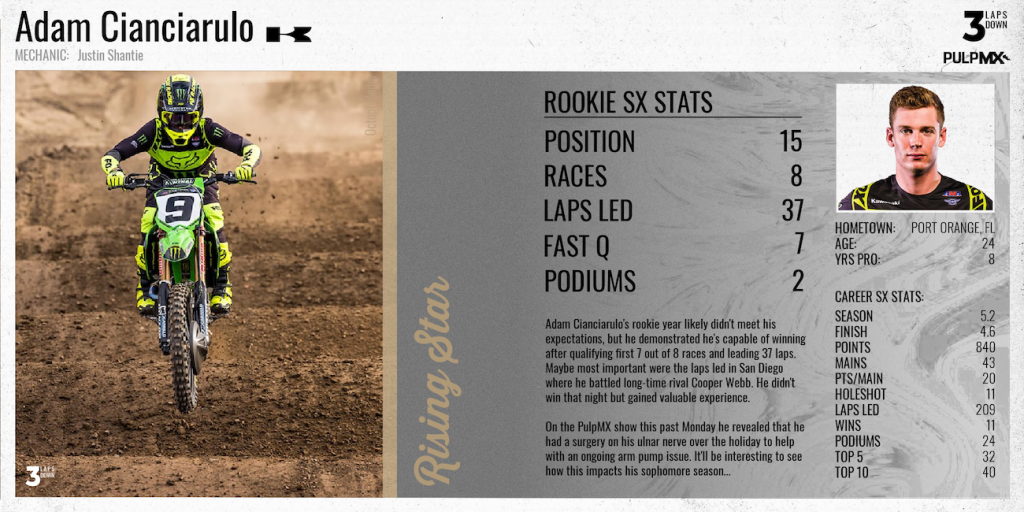 Adam Cianciarulo enters his sophomore season with high hopes for wins after a breakout rookie season in 2020. In his rookie season, he qualified fastest at 7 of the 8 rounds he raced and led 37 laps but he also missed 9 rounds of racing due to injury. Not entirely surprising – injuries are part of the prototypical rookie year. The list of greats that missed rounds as rookies includes Ricky Carmichael, James Stewart, Ryan Villopoto, and Eli Tomac. That's 4 of the top 10 winningest riders in 450 supercross history that missed rounds in their rookies season! Adam is not alone.
On the flipside, there are rare instances where rookies have immediate success. Jeremy McGrath and Ryan Dungey not only won races in their rookie seasons, but they won the title in 1993 and 2010. We also have to mention Chad Reed's rookie season in 2003 where he won 8 races but ultimately finished second in the championship to Ricky Carmichael – an amazing season that deserves similar recognition even though he didn't walk away with the title. But McGrath, Dungey, and Reed's early success are the exception, not the rule. What they accomplished is superhuman and it's not likely to be repeated anytime soon.
In general, winning main events in your rookie year is rare. There's only 19 riders in the history of supercross that have won a main event in their rookie season out of approximately 600 riders that have lined up to race over the last 47 years. Even the greatest of all-time, Ricky Carmichael, didn't win a race in his rookie season!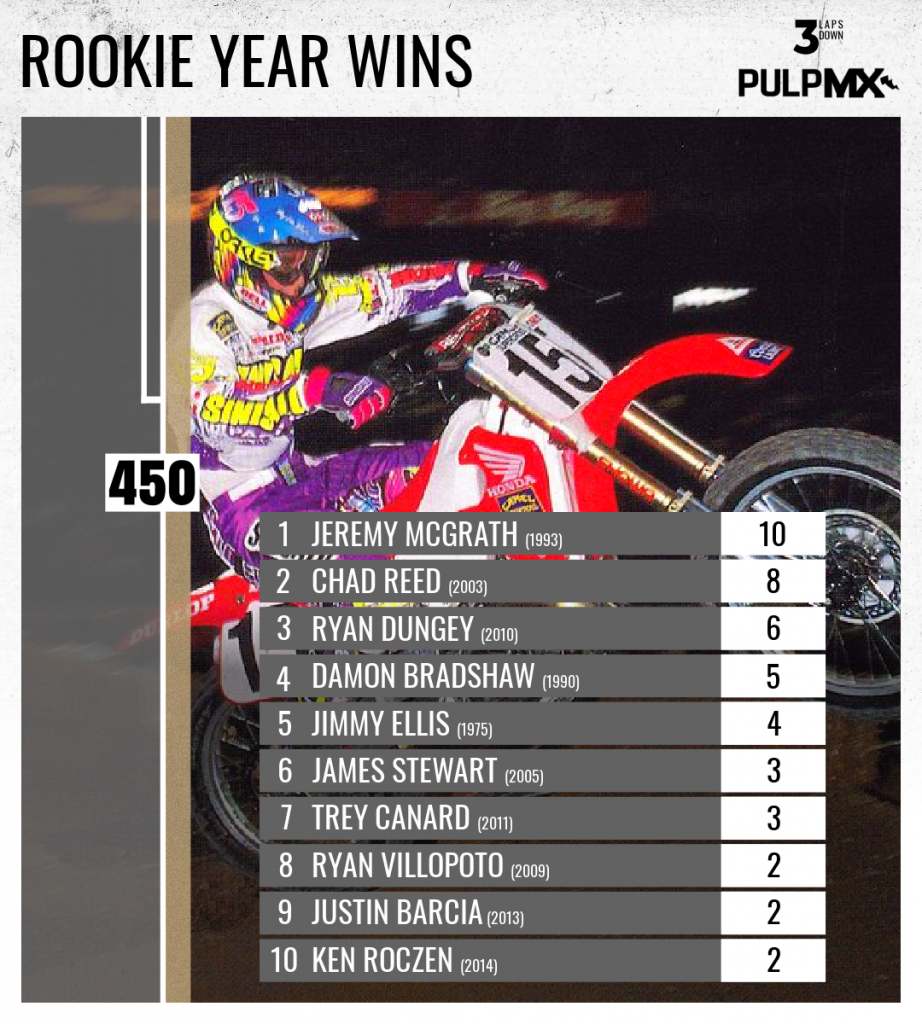 It doesn't get any easier for riders in their sophomore year either. Only 22 riders have won main events in their second season. Winning against the best in the world is not easy and it's especially difficult in your first 2 years.
Need further evidence. Look at the rookie seasons of this years title contenders Eli Tomac, Cooper Webb, and Ken Roczen. Eli Tomac was injured and missed 8 rounds in his 2013 rookie season. Cooper Webb was injured and missed 5 rounds and finished 13th in 2017. Ken Roczen is exception. Roczen is 1 of 7 riders that won a main event in both his rookie and sophomore seasons, but he's the only one of this group that hasn't won a premier class championship!
It's also worth noting that 2021 riders Justin Barcia, Jason Anderson, Marvin Musquin, and Zach Osborne are among the 33 riders that have won at least one race in their rookie or sophomore seasons. While it's rare, there's likely 5 riders that will line up in the main event at round 1 that have won in their rookie or sophomore seasons.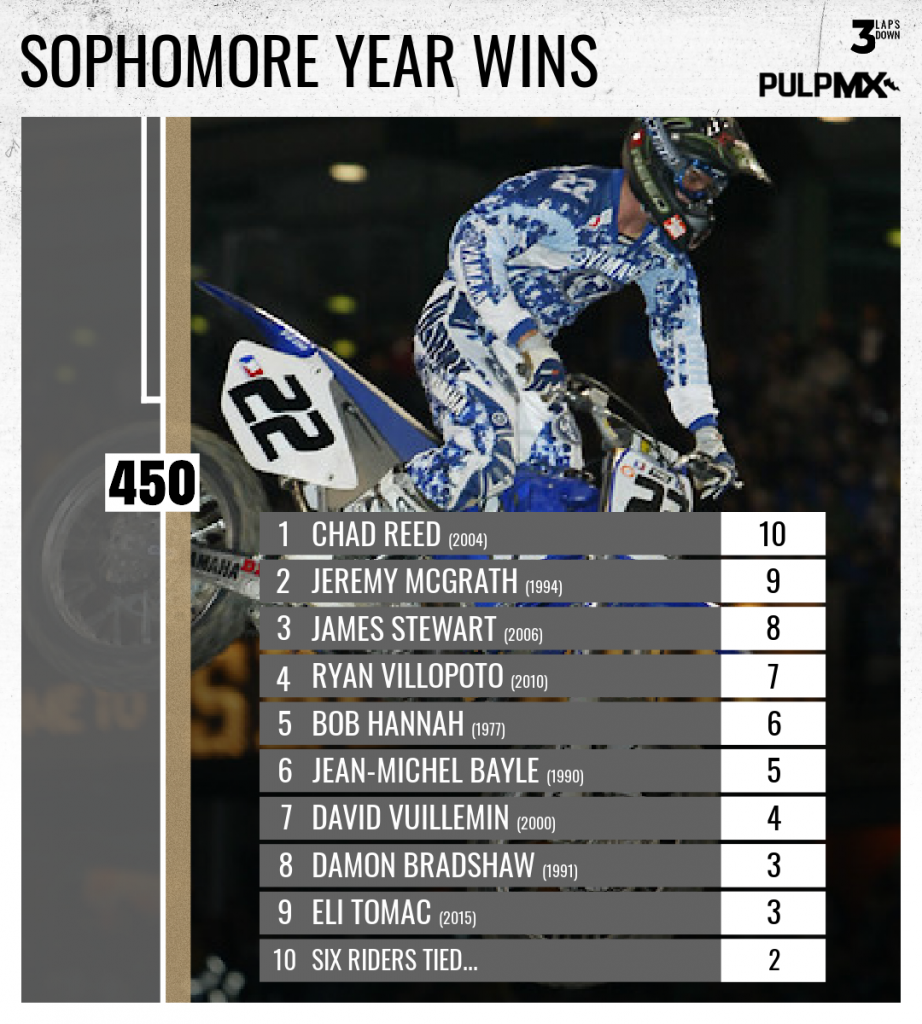 The main event will be stacked with champions at the first round and that will stack the odds against them. Actually, the odds of one of the 2021 rookies winning a race is 32:1. While 2021 rookies Chase Sexton and Dylan Ferrandis come in with a ton of momentum – winning back-to-back 250 supercross championships – it's unlikely we'll see them win a race this year. It's possible they could be the 20th rider to do so, but the house will take that bet all day long. That won't stop their drive and motivation to achieve their childhood dreams though. It's also that drive and determination that will keep us fans coming back to watch the races every Saturday (and Tuesday's too).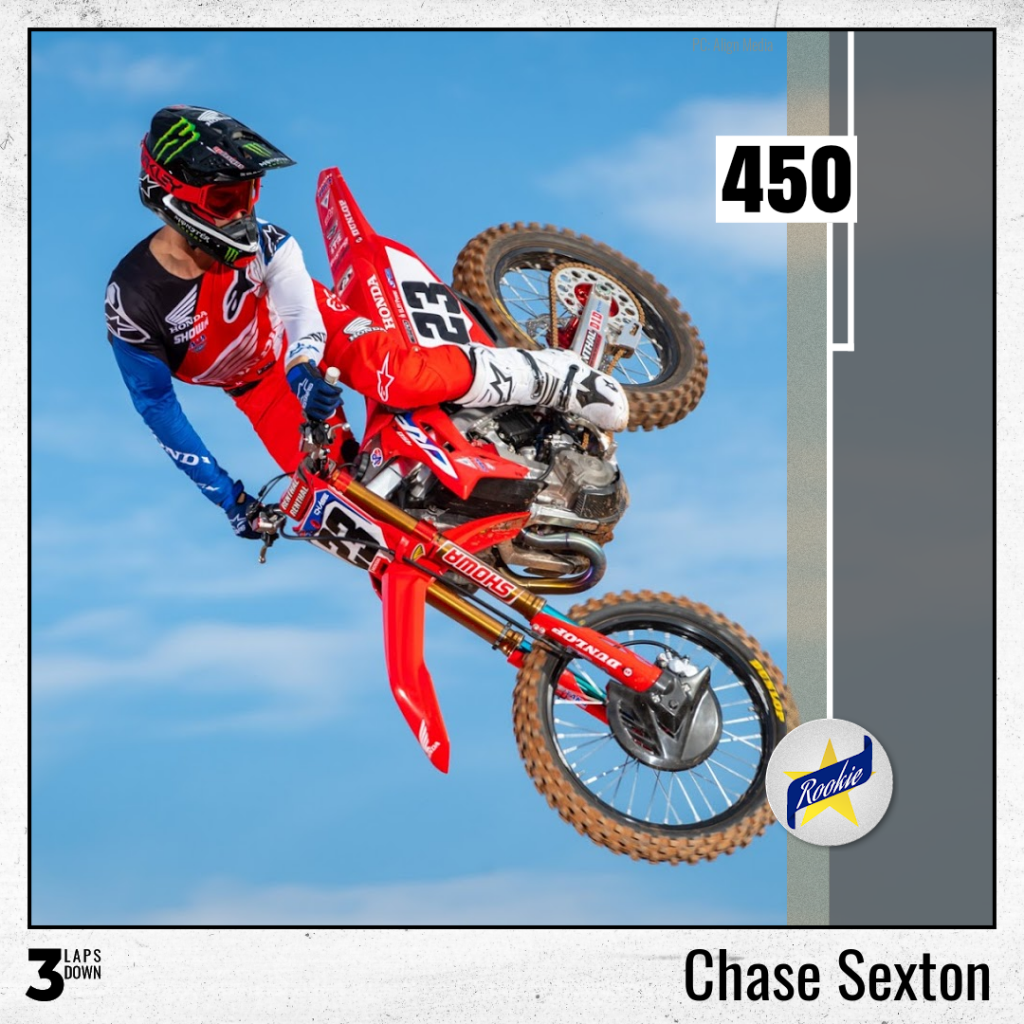 For Adam Cianciarulo, a rookie season cut short by injury is not the end of the world. Even a sophomore season that starts recovering from an injury doesn't have to be career defining. Of the 23 supercross champions, 13 of them didn't win in either their rookie or sophomore seasons!
Stay tuned throughout the year as we follow the Rookies & Rising Stars.
In the meantime, follow me on instagram or twitter @3lapsdown. I'm always up for bench racing and love new stats ideas.