New venue, new dirt on Saturday night, so that gave us some exciting racing to talk about on Daytime! Even though the weather outside was very snowy for the teams, the warm confines of Lucas Oil Stadium gave us some hot action! Let's dive in…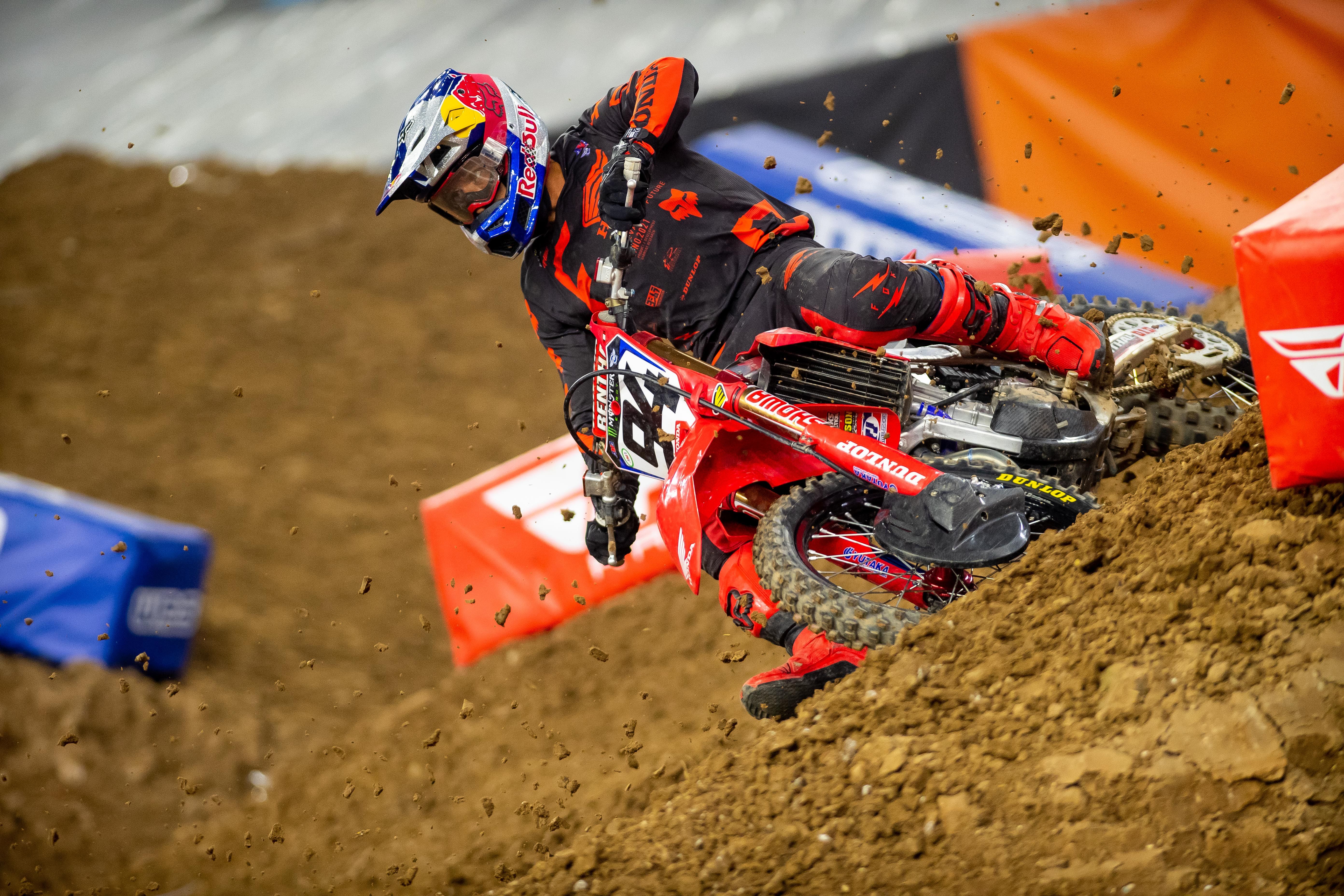 Ken Roczen: If you're a die hard Moto fan you could see this win coming right? Ken has had average qualifying time of a 4th place has had zero holeshots in the main event, but has continually put himself in position to win races. Now that he had extremes amount of pressure and came out on top one would think that this is going to get the snowball rolling faster right? Honda has worked tirelessly with Trey Canard to get Ken's bike set up to where he likes it and when watching Ken ride his CRF450R Saturday night, you can see how balanced it is. Some of the rhythms were very sharp/steep and Ken's bike was one of only two that didn't looked like it it was pushing the front end down off the face. Ken had a tendency to gravitate towards softer SX settings, but now, Kenny's suspension setting is stiffer than last year's and that is helping him tremendously through whoops and steep transitions. If you want to see an example, watch how balanced his chassis stays through the whoops before the finish. The whoops were cupped/blown out and when Ken jumps through those "V's" that are carved deep in the main event, he would make up time on Eli and Adam. Ken makes me want to ride a Honda! However, I know better.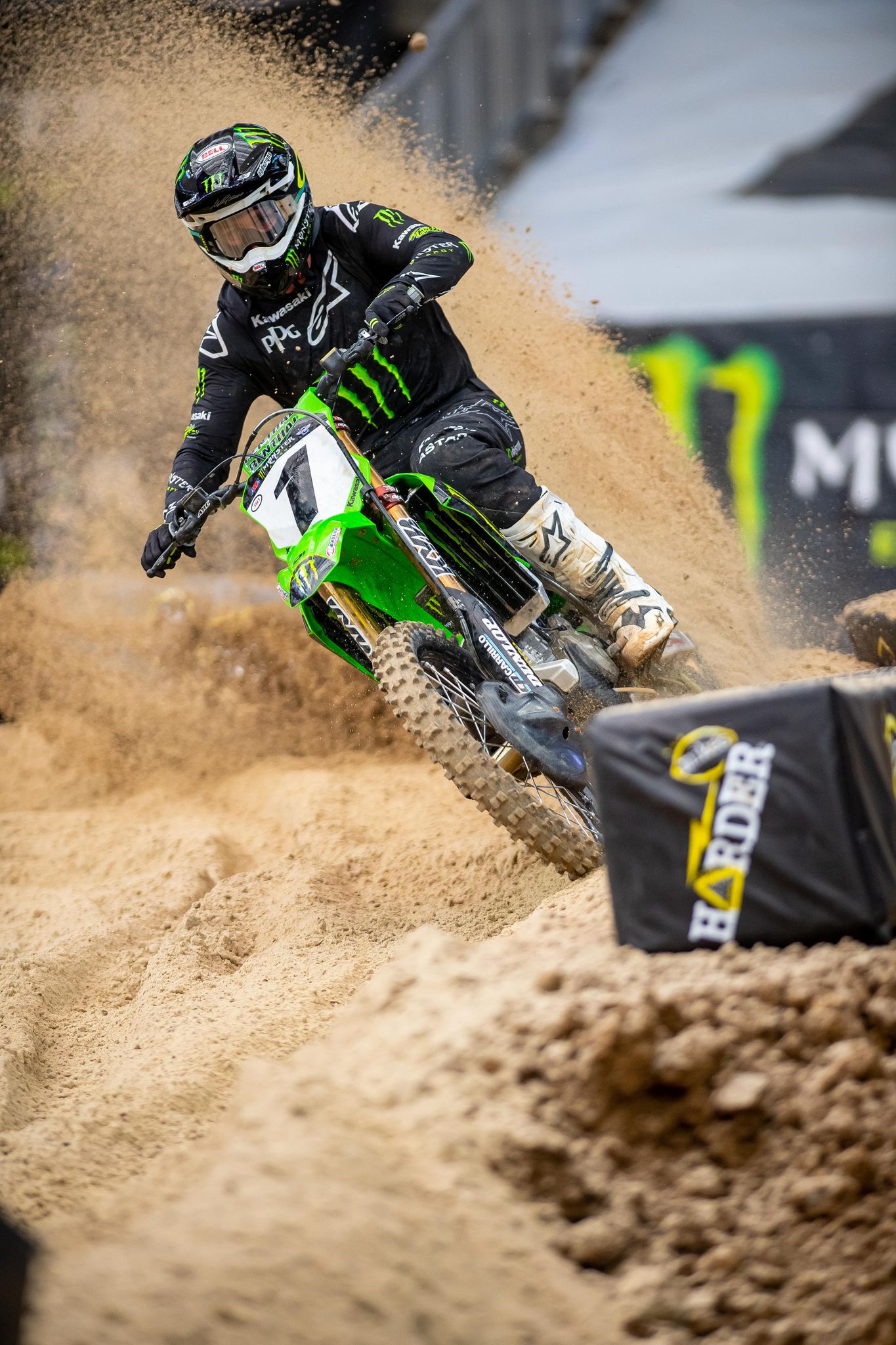 Eli Tomac: Ok, Eli! Ok! WTF did we just witness Saturday night? A freaking Holeshot from Eli? Yes, in fact, that is what we saw! We may never see that again in 2021, but when I looked up the numbers on the year, Eli has a average start of 5.5 which is better than the two rider ahead of him in the points. Eli rode great all night and looks to be mindful of the big picture. We still have the typical Eli slip ups, but his get up and recover mode is much improved this year. If you can fall and chase down Ken Roczen in a main event, I think Kawasaki is just fine with his second place showing on Saturday. Eli even had a smile on the podium! HOLY CRAP! LOVE TO SEE IT!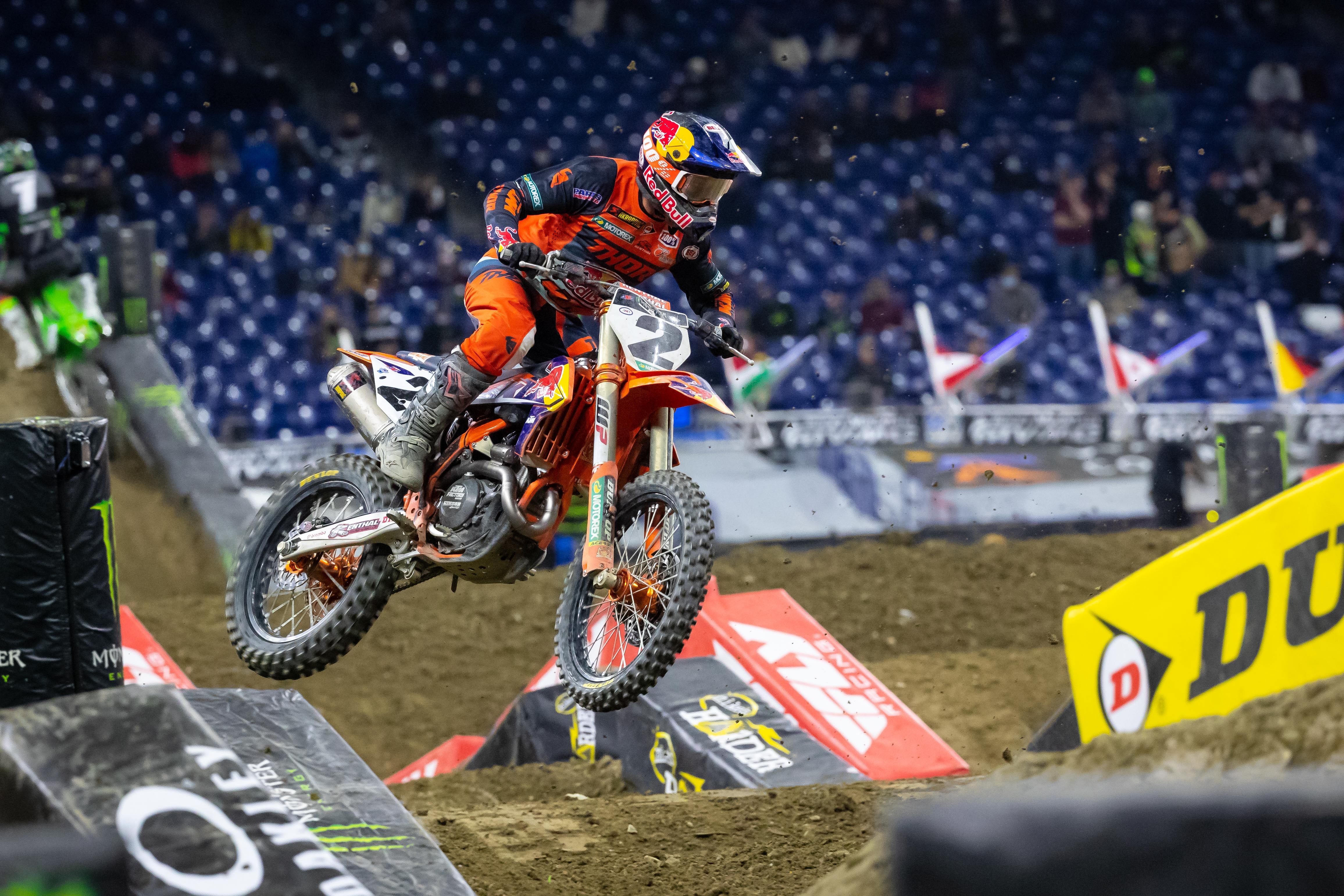 Cooper Webb: If Coop could have started with Adam, Eli and Ken, we would have have seen a race of all races. Mired in eighth place at the start is a tough way to get the leaders. Although Cooper wasn't the most impressive to me on Saturday night, he is keeping himself within reach of the points chase. Cooper needs to get going a little faster in the early stages of the race and then us fans can see a rider that has the best racecraft in the game for a full 20 minutes. Especially when we get down to the later stages in this series.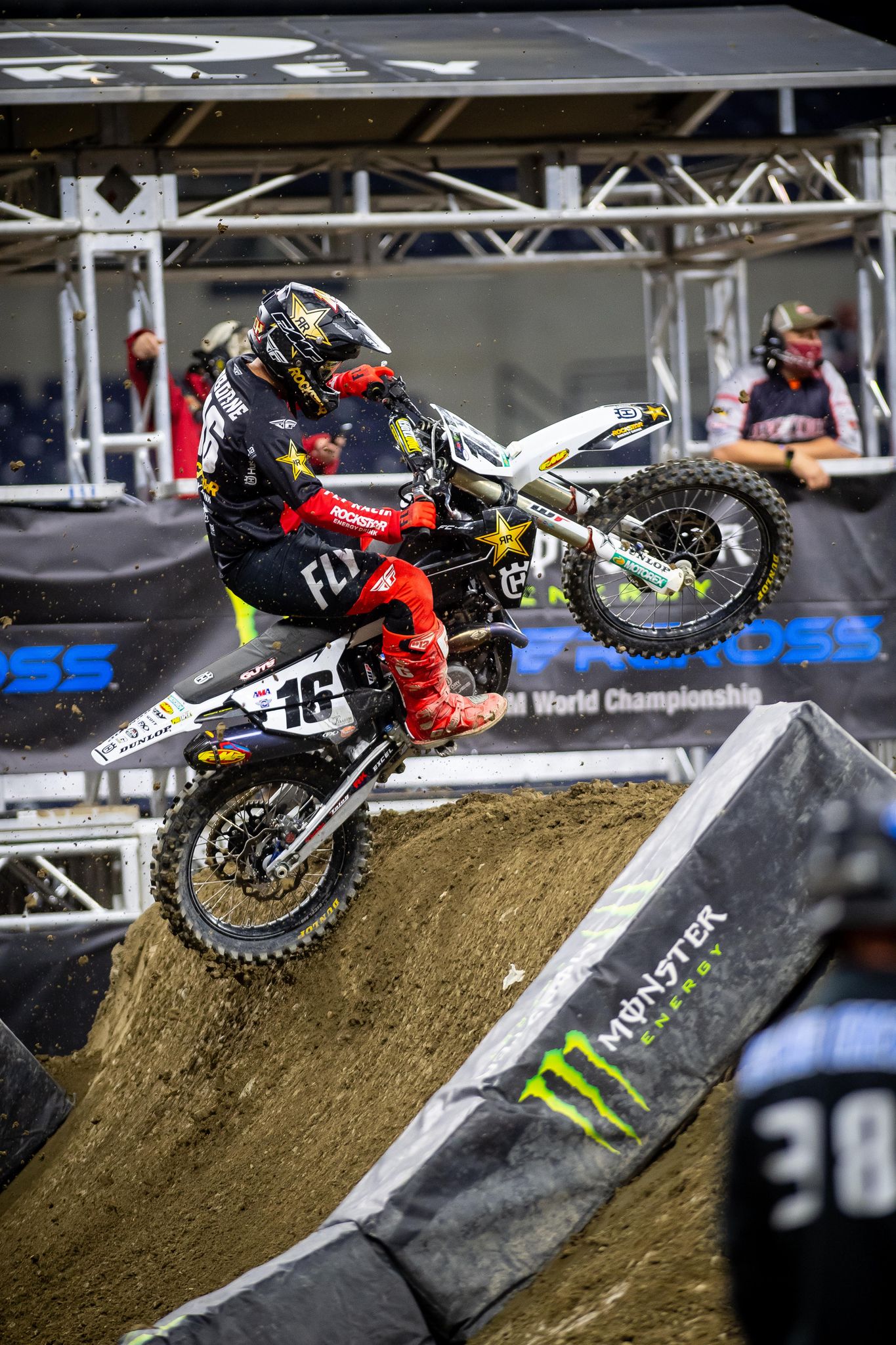 Zach Osborne: My best ride of the night goes to this guy. His lines were so creative and well thought out that it looked like he wasn't really trying in the corners. His line coming in/through/out of the tunnel was good for almost a half second per lap! His rhythm lane/line choices up the faces of the jumps were much smoother and less rough. As good as I think Cooper Webb's racecraft is, I am fairly confident that Zach is the toughest rider when racing on the track. His mental toughness will break down the best of riders and his physical strength in that small package of his, is simply unheard of. To be that small and be that strong on a 450 is NOT human. With a start of a 12th place and an average start of 12.5, this has got to be something he works on ASAP. Once he starts to get out of the gate better, other riders better watch out!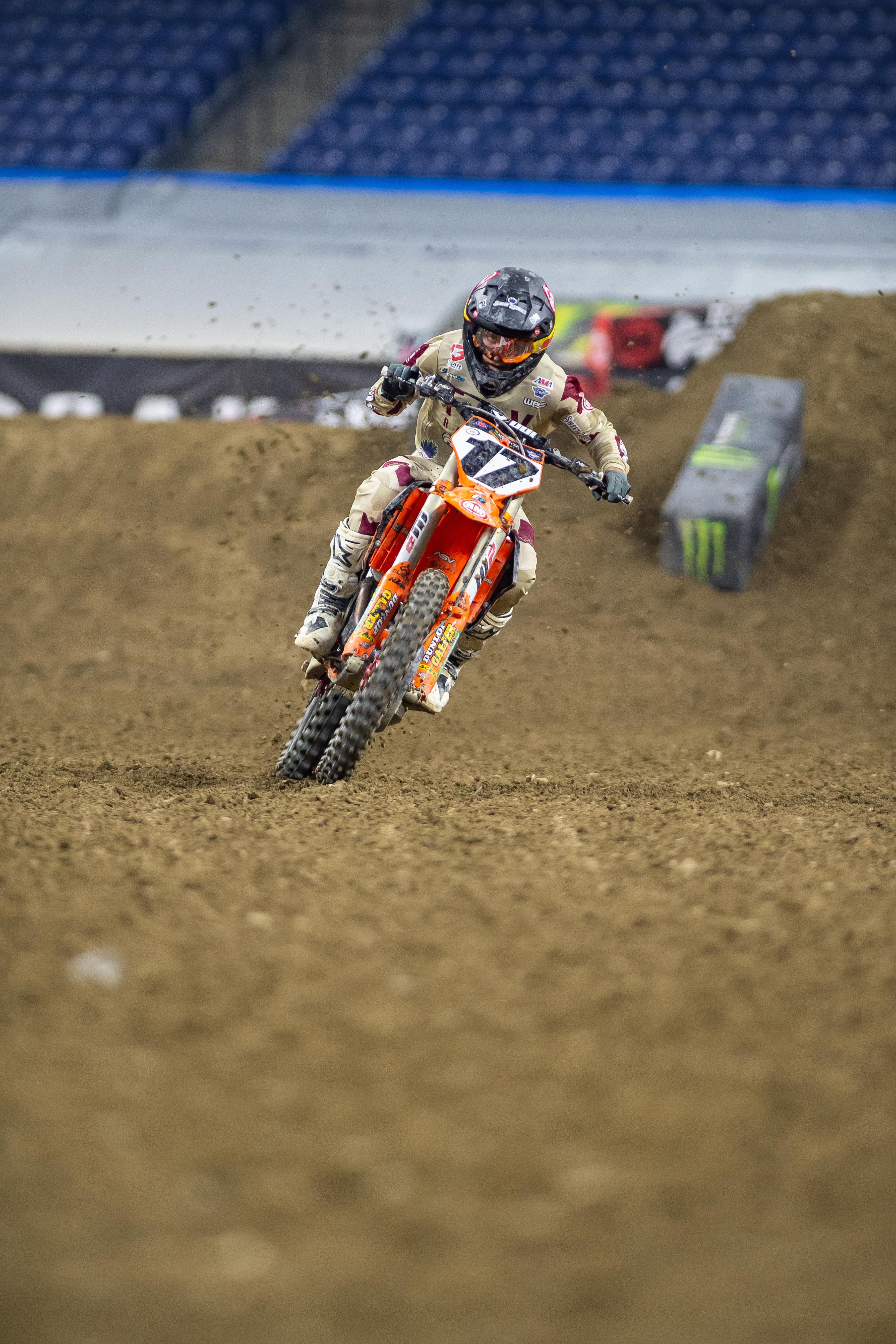 Joey Savatgy: An eighth place on paper is not much to be stoked for, but to me that eighth place is a hell of a ride for number 17. The jump out of the gate was insane and that allowed him to fell the front runners pace for a little while which will help him gain more confidence and pick up on a few things. Without Baggett this season, the RMATVMC KTM team needs Savatgy to get in the mix and stay healthy for a full season. This team has had bad luck when it comes to riders and injuries.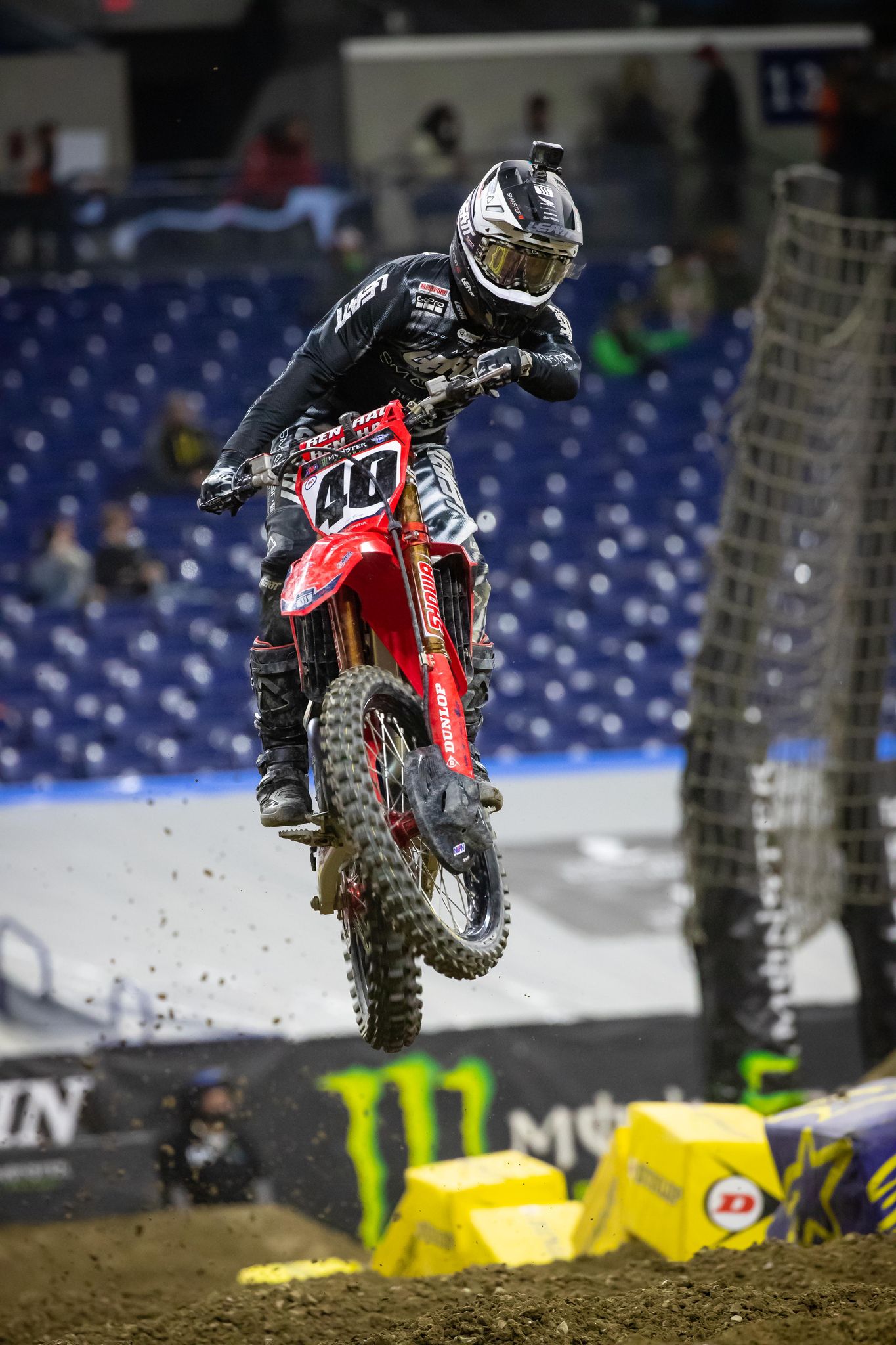 Vince Friese: I am going to go out on a limb here and say that the 2021 Honda CRF450R Vince is riding is maybe too aggressive for his riding style. I have been there before with that bike and I know the signs. When a bike has too much hit or throttle response, the things we are seeing from Vince starts happening. Again, trust me, I have been there. It's not the amount of HP's you put out, but how it's delivered. That is what is most important. Let's give Vince a little less power, maybe a slightly smoother bottom to mid range hit and I bet he starts to improve.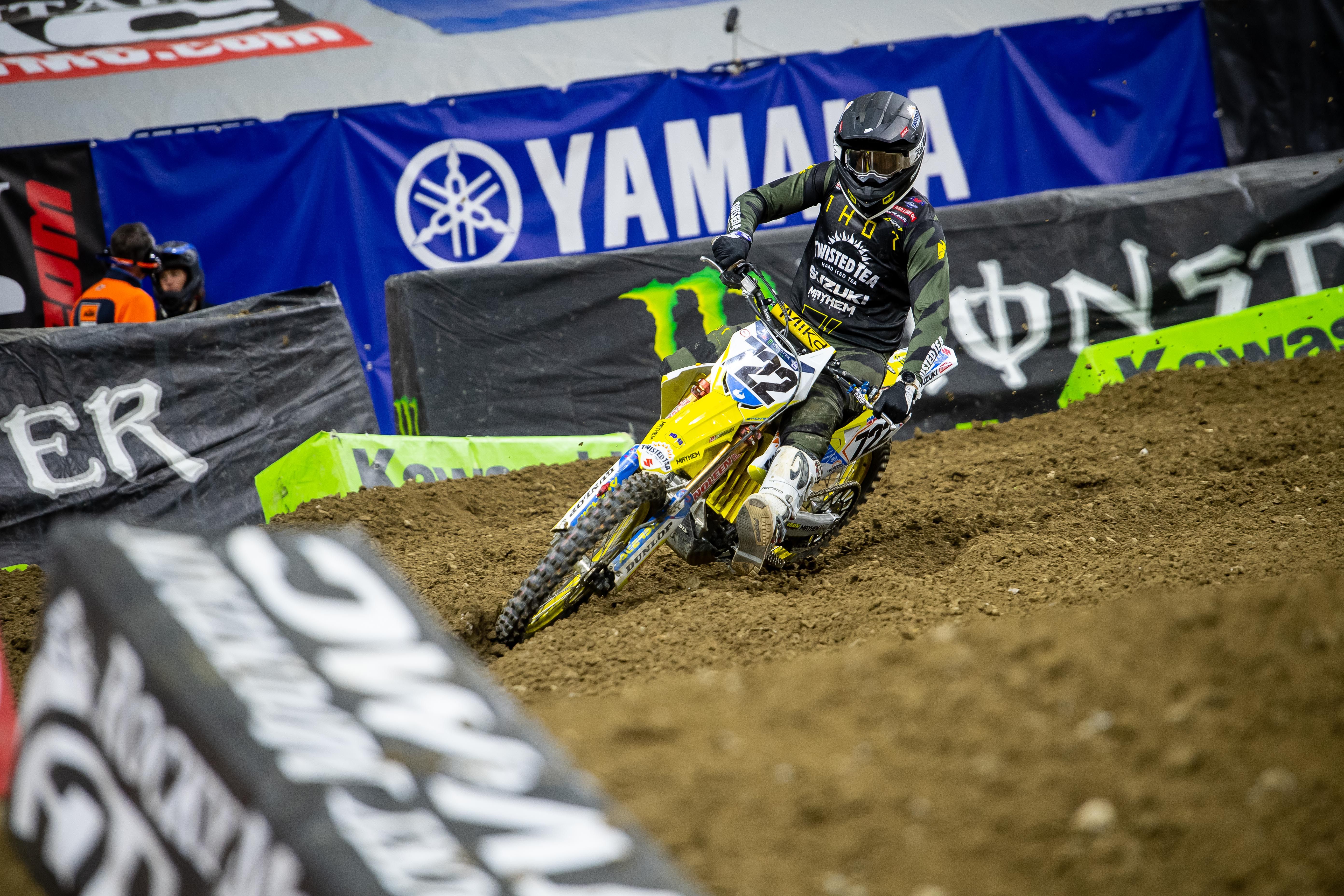 Seven Deuce Deuce: I just want to give props to Adam for getting in the main via heat race. To me, he is riding better than he did last year and even though his main event result doesn't show anything great, just getting in this year is a huge feat! Oh and staying up in the high den more seems to have made him a better rider! Imagine that!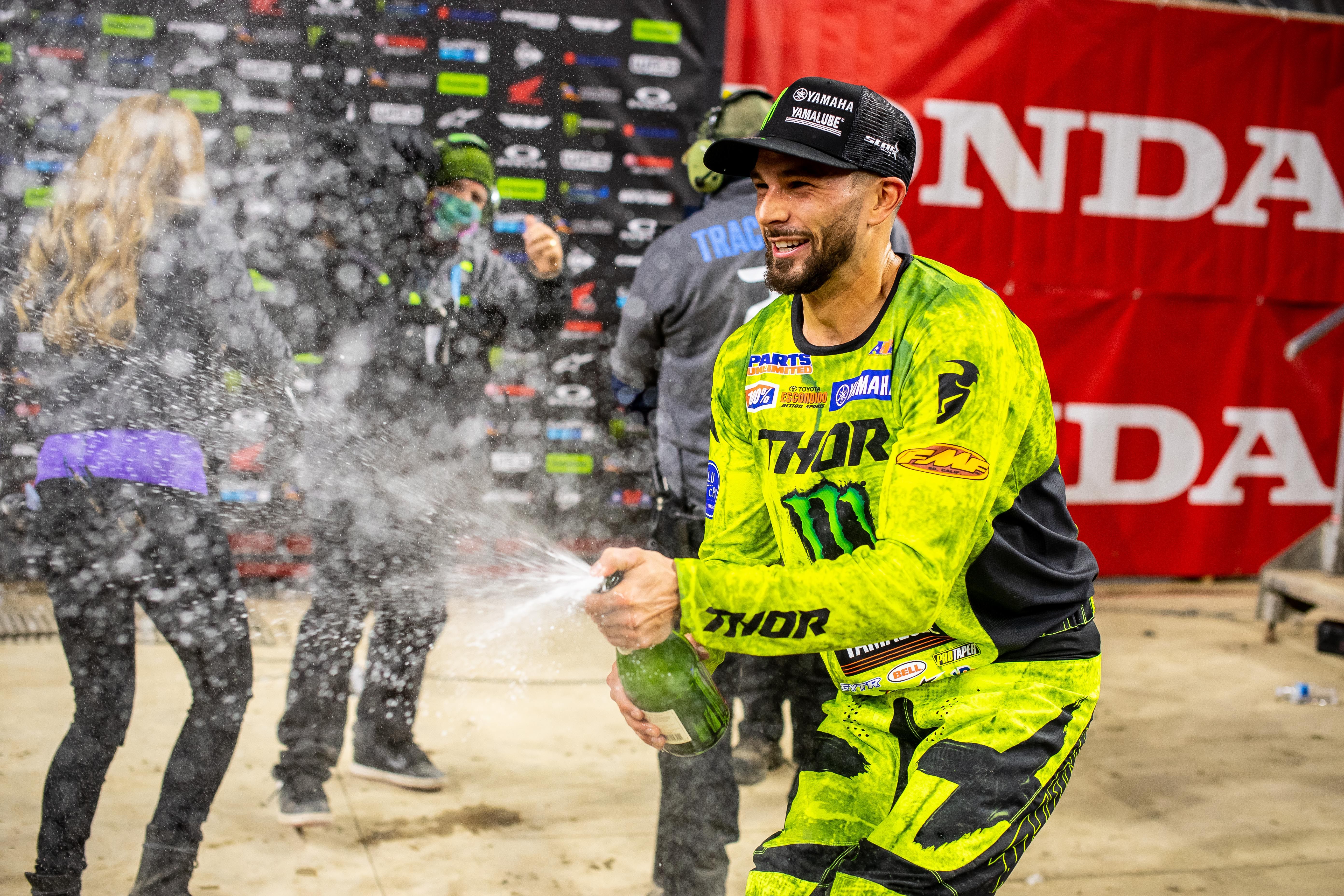 Colt Nichols: Holy shit! Obviously the people that thought Star Yamaha was insane to keep Colt on the roster don't know anything. This Colt is a Colt that we have yet to see. Yes, he's won races in previous years, but this new bucking Colt is strong and poised in 2021. It's going to be interesting to see how the other top three riders in this class try to shake this dude off his pedestal right now. With an average start of 3.3, there is not a lot of kinks in Nichols armor right now.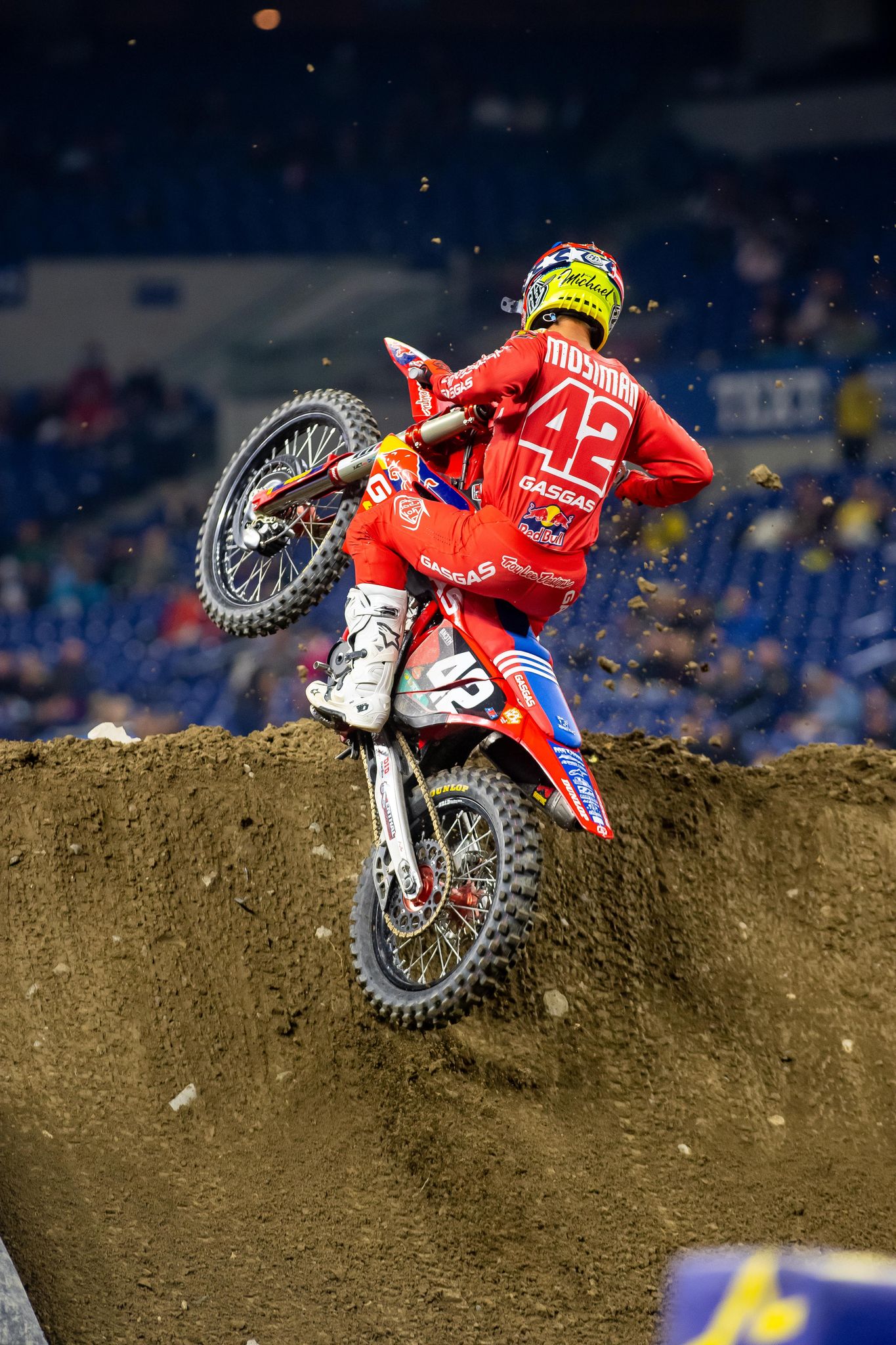 Michael Mosiman: I mean I don't know if Jesus is a savage, but Mosiman sure is! I like the fact that he isn't taking any shit. I don't know if I should swear in Mosiman's caption here, but we will keep it moving. He is letting Lawrence and others know that if you come to play, I have some tricks up my sleeve as well. It's a small island all of these top east coast riders are living on and Mosiman is letting others know that he is not going to be the weakest link on that island. Even though I feel like he is the fourth fastest out of the west coast bunch, that doesn't mean that we can't see more of M2 on the podium. Case in point, Indy 1.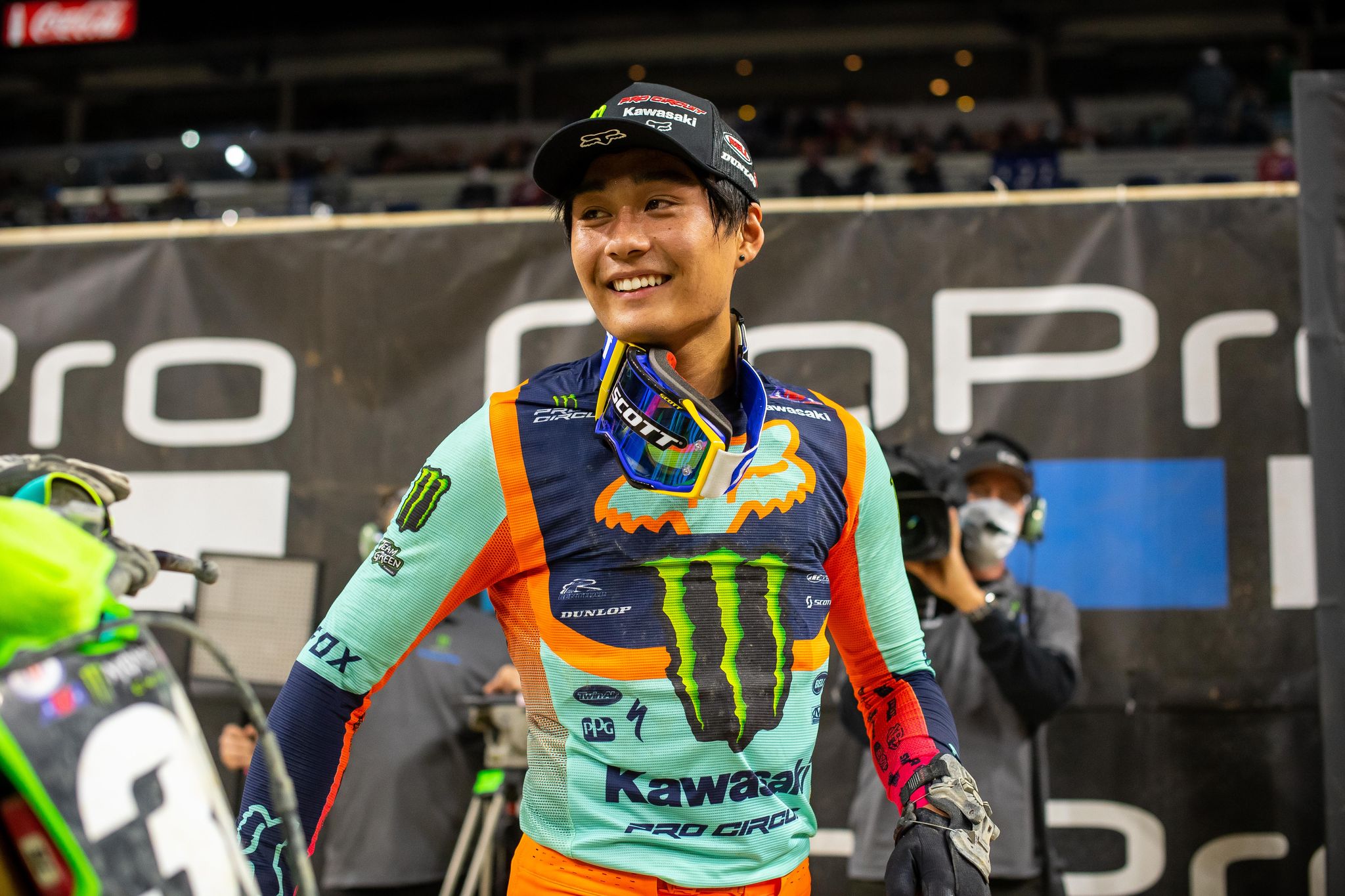 Jo Shimoda: I think we should use the term Dean's Dean with Jo. Jo's Jo. He rides his pace, he doesn't waiver when anyone is around him and he never looks too sketchy on the bike. He is not overly aggressive and seems to take advantage of other riders lapse of racecraft. Cool that he gets his first podium for Mitch, so at least the boss man can smile a little on the west coast swing. It's been a rough go so far for Mitch and the PC team.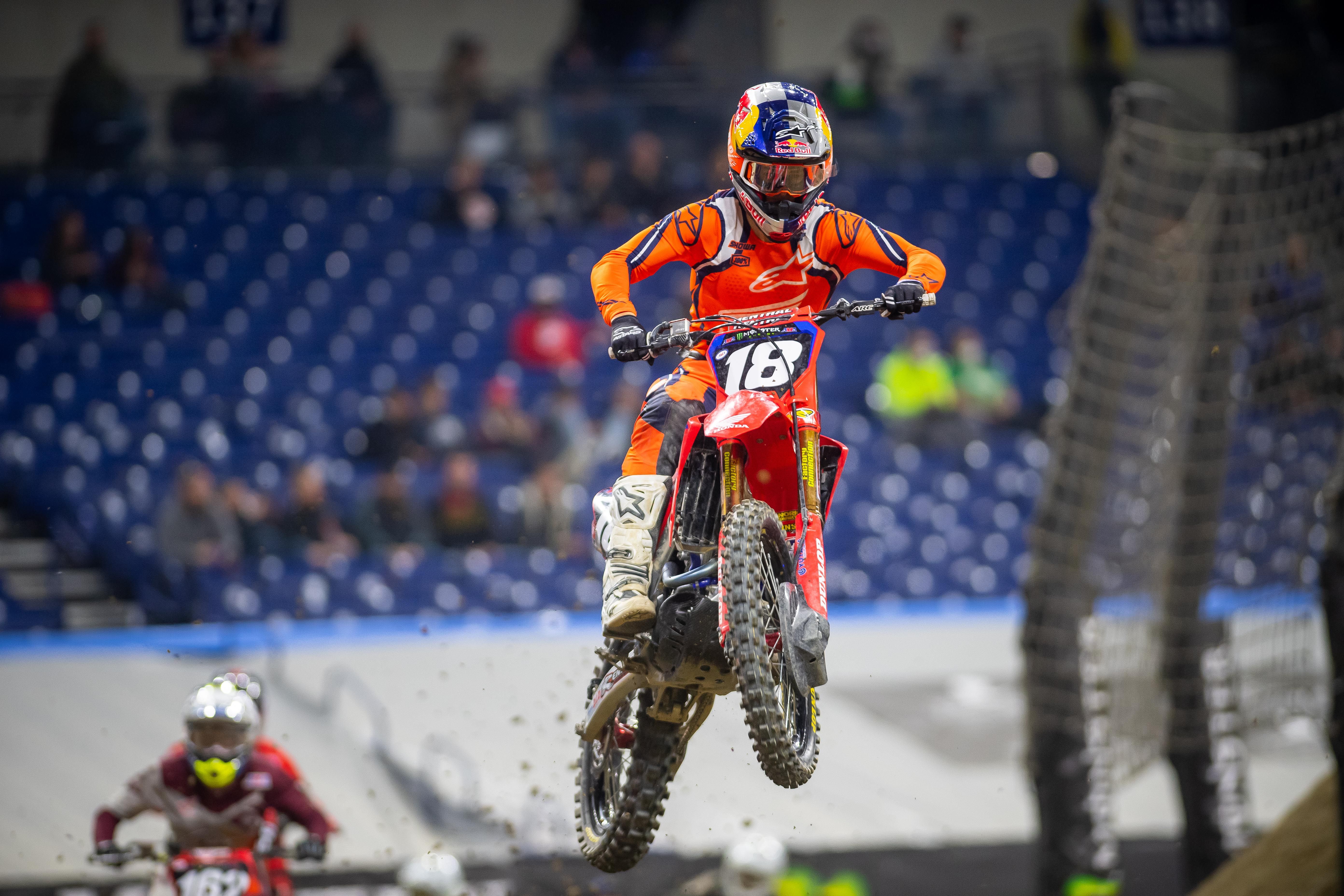 Jett Lawrence: Jett got Mosiman'd in the heat and then got Craig'd in the main. Jett was 10th off the start but to me that shouldn't matter in this class that doesn't have the depth. Jett should have been up front earlier than he was and to me it's either feast or famine with this kid so far this season. He's young, will learn and be unstoppable very soon me thinks.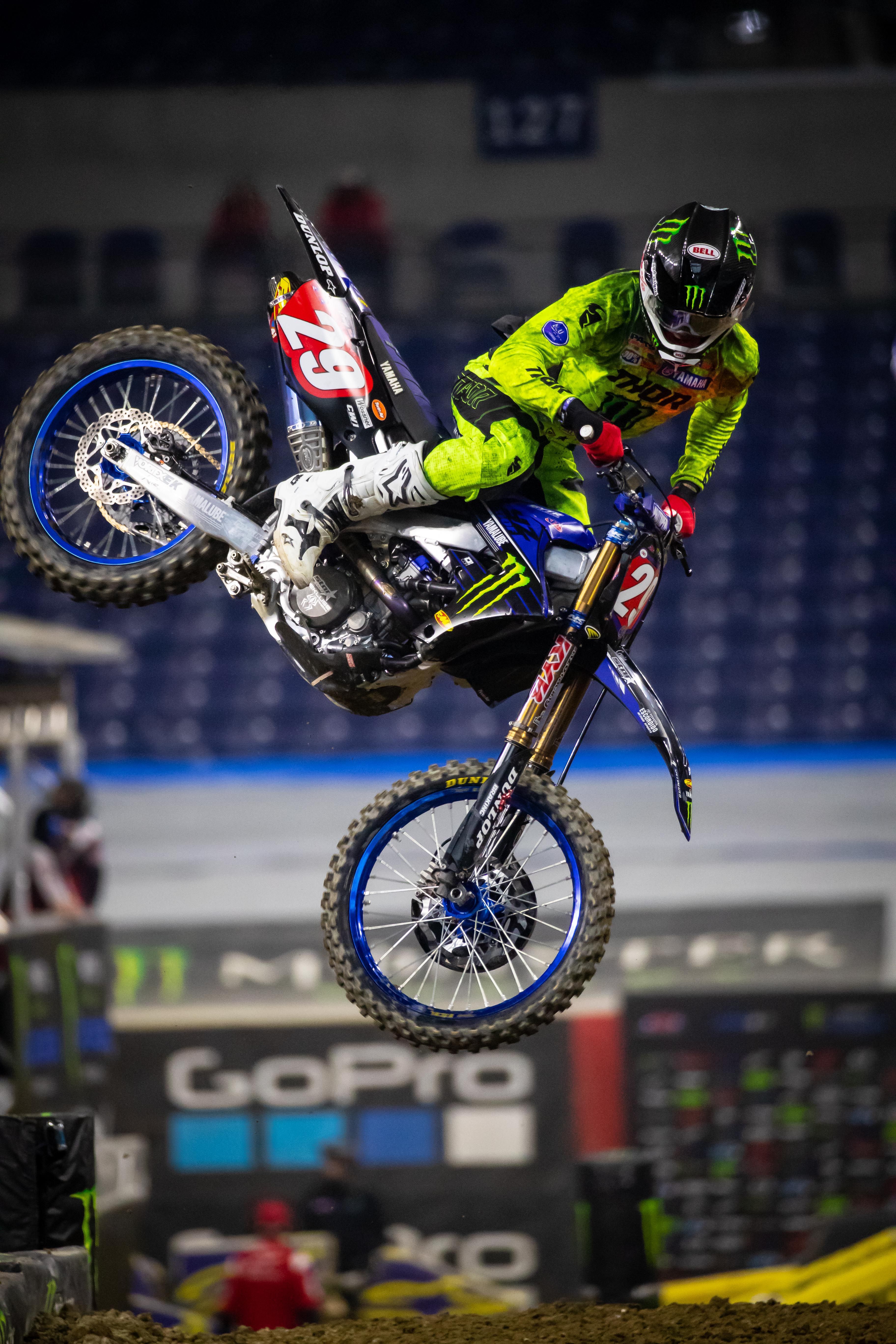 Christian Craig: What is the light on CC's bike? I hear that it's a light to remind him to breathe so his arms DO NOT tighten up. Craig to me is still the TMTB, but we need to dial down the mistakes. I mean I get it. You need to send mental messages to riders when you race because that is a race within the race. Some of us fans may not know this, but you can't just get walked all over and be happy with a third place. That starts a negative snowballl effect that no rider wants. I am confident that CC will manage this mistake as he is only 8 points back. From what I see, CC works better when the limelight (or points lead) is not on him, so working his way into a championship from second place, instead of leading it through the whole series is better in my opinion. The red plate is heavy they say and maybe there is something to be said about that. We will see…