Daytona is always an interesting race to watch/study and this year was no exception. Lots of Red Flags in the heat races/LCQ, but to me they were warranted. Nothing trumps rider safety to me and to get these guys protected while they are unconscious is the right thing to do. Here are some things I viewed from Daytona as well as a couple confessions I would like to make public. Enjoy this week's Daytime!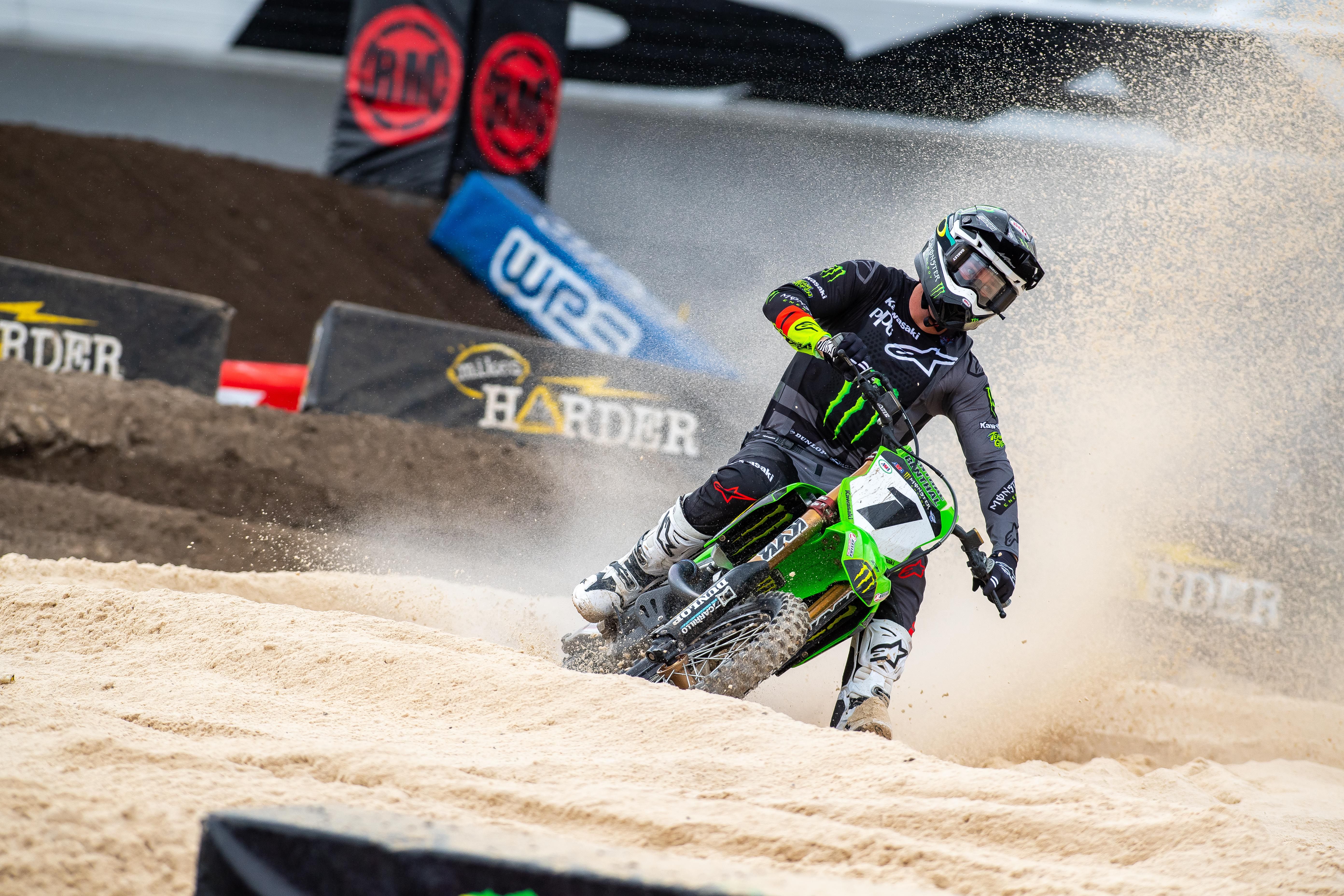 Eli Tomac: Well that was easy right? Daytona is basically like Cortez, Colorado for Eli, but with an ocean next to it. This is how comfortable he is when he gets inside the speedway and it shows. He actually makes less mistakes at Daytona, which is a track that is easier to make mistakes on. Go figure! If that doesn't make you agree that our sport is mental then you should just stop reading right now. Eli sits 24 points back from the lead and if you're doing the math like I am then you're telling yourself "so you're saying there's a chance"! YES! There still is a chance that this dude can pull off the championship. But… He will have to win the majority of the races in the series and hope Kenny and Coop play more mental games to each other like they already are. Hmmmmm.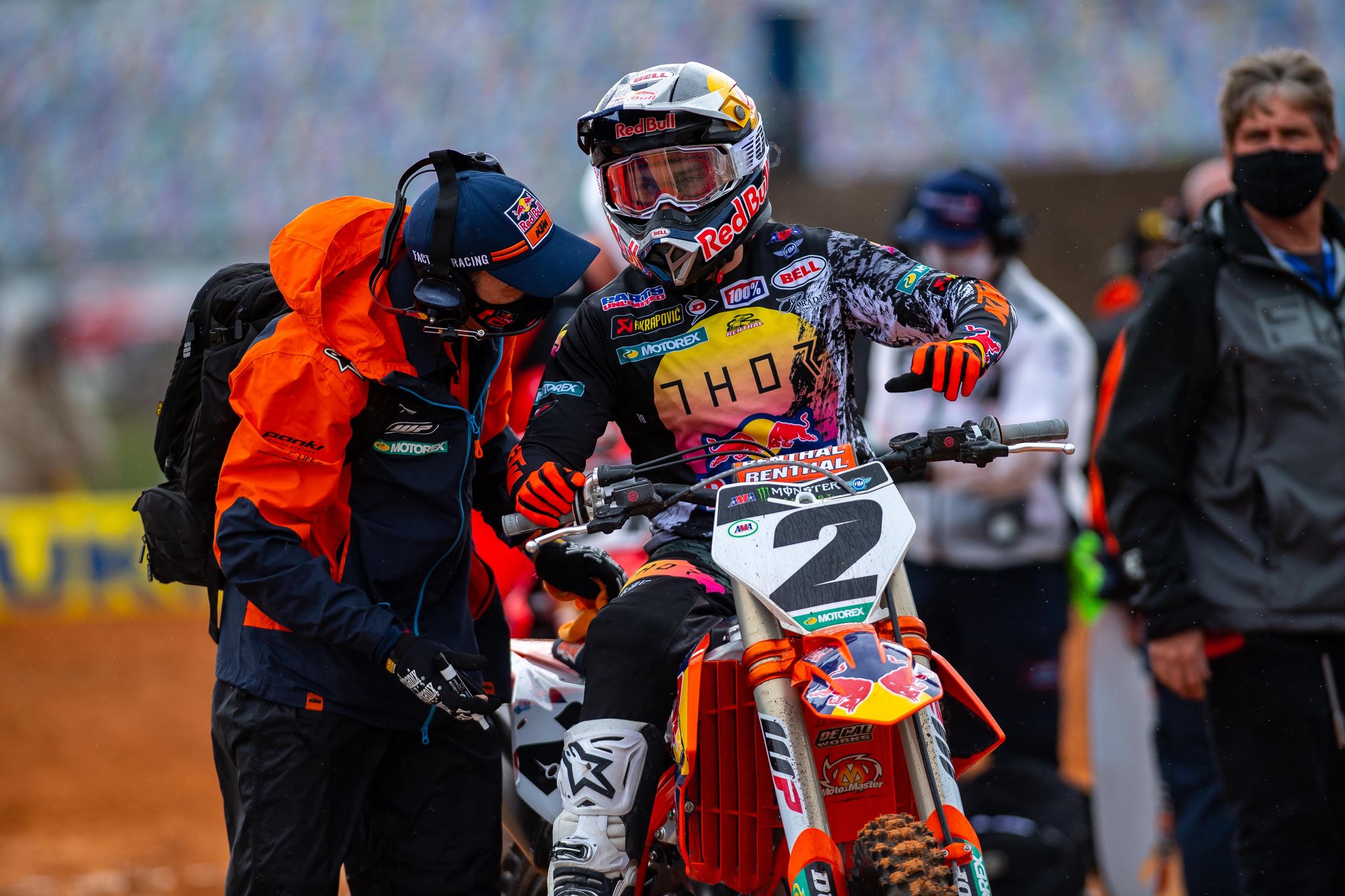 Cooper Webb: How in the hell can you NOT love this guy? He is a tough little SOB and he is not scared to screw with competitors heads. Webb is not a very dirty rider, but he is also not scared to throw it in there on Roczen in the second corner. Even though that screwed his holeshot up (which he would of had) it did work out well as it ended with a rider in between them at the finish. You know Kenny's blood was boiling during the whole race and that showed in the post race press interviews. As a fan you have to love this kind of shit, but you also have to respect how mentally put together this dude really is. If you are going to dish it out, you have to know at some point that shit that you're dishing out might be served on a platter to you at any given round.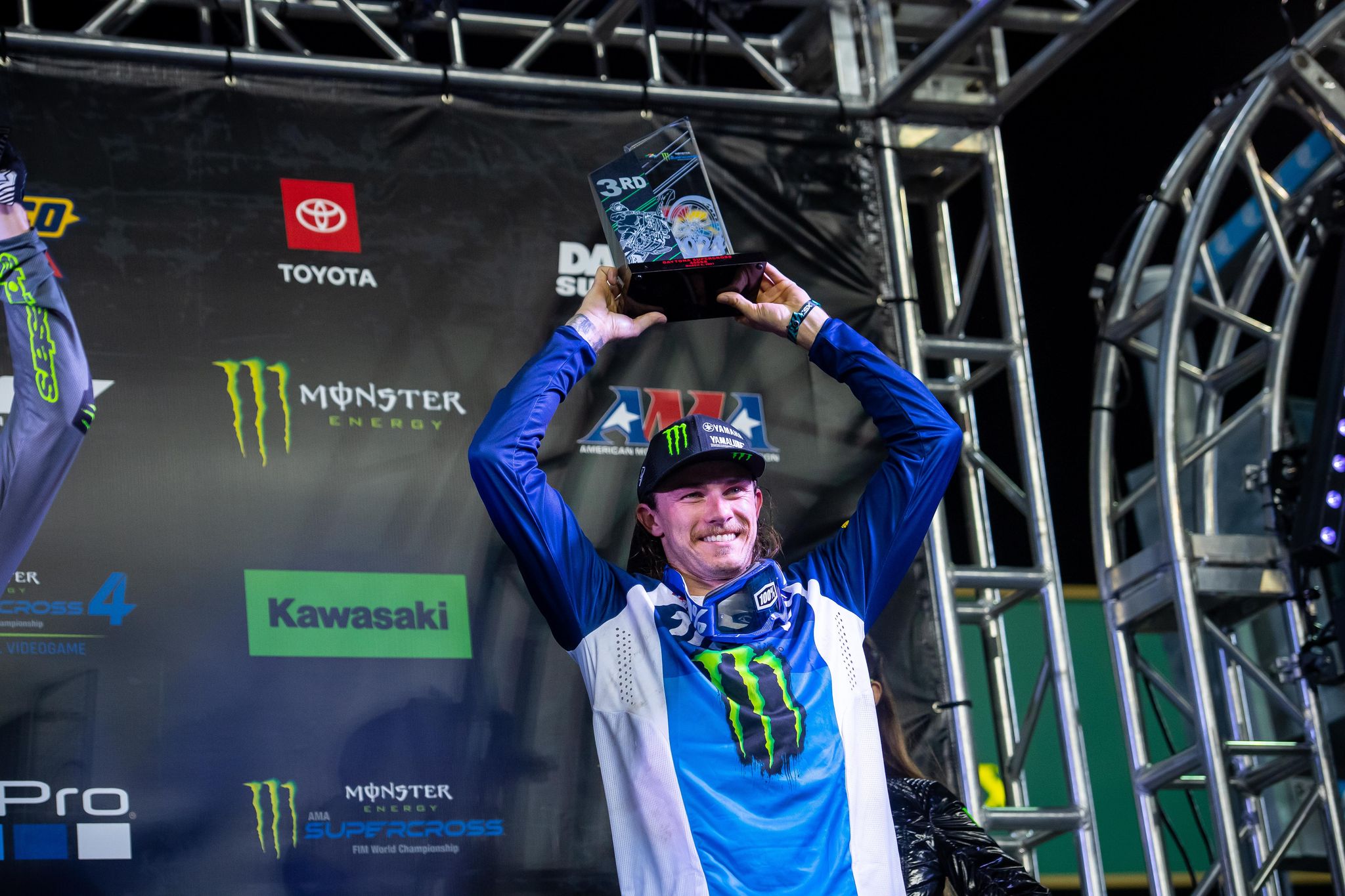 Aaron Plessinger: I mean I know AP is good outdoors, but I really didn't see this type of ride coming at Daytona from him. As aggressive as he was and to be within four seconds of Tomac most of the race is damn impressive. If you watch Plessinger ride the Yamaha he rides it like it should be ridden. If you try and be too aggressive with Yamaha it will eventually bite you in the ass, but AP seems to have that blend of aggressiveness with that smooth/lanky style that the Yamaha loves. Aaron's authentic podium speech makes me appreciate how much he loves to ride his dirt bike. The fact he has had a rough go for a while makes you become a fan for the simple fact that he kept plugging away. Also, out of all the Star Yamaha riders, AP's starts have been the best. He seems to get to the first corner better than his teammates at most races. Oh and did I mention he likes whoops! Holy crap!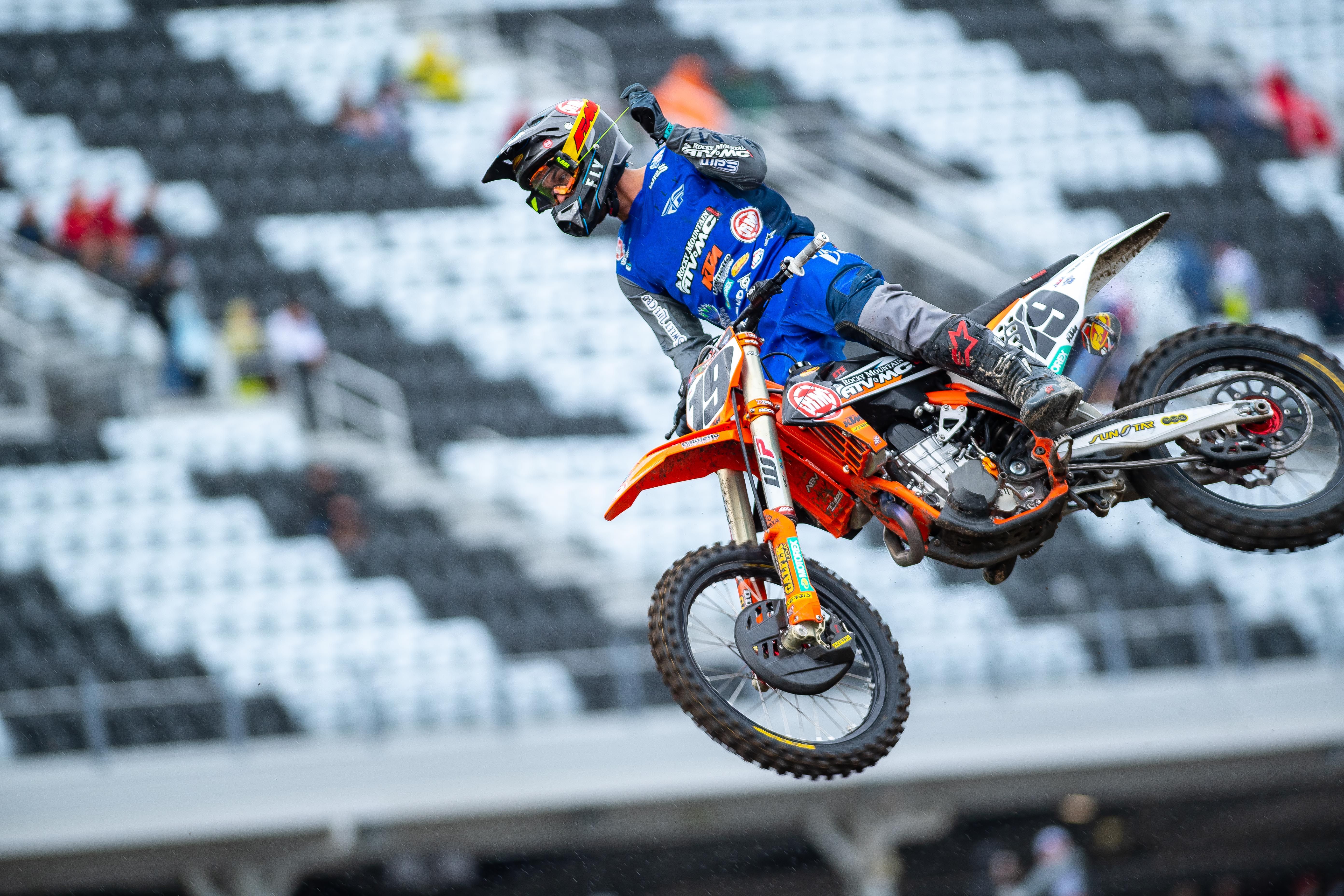 Justin Bogle: Shout out to a guy who a lot of us have written off. Bogle got in the top ten at Daytona and that is a great result. He slowly has been getting better and we could see Bogle in the top 5 by the end of the series. His trajectory has been showing that his end of the race speed has been getting better so that means that the fitness is coming around. Can we all try harder not to forget about the guy who has won a title and an outdoor national, but has had a rough couple years. Yeah, that guy… He's still good!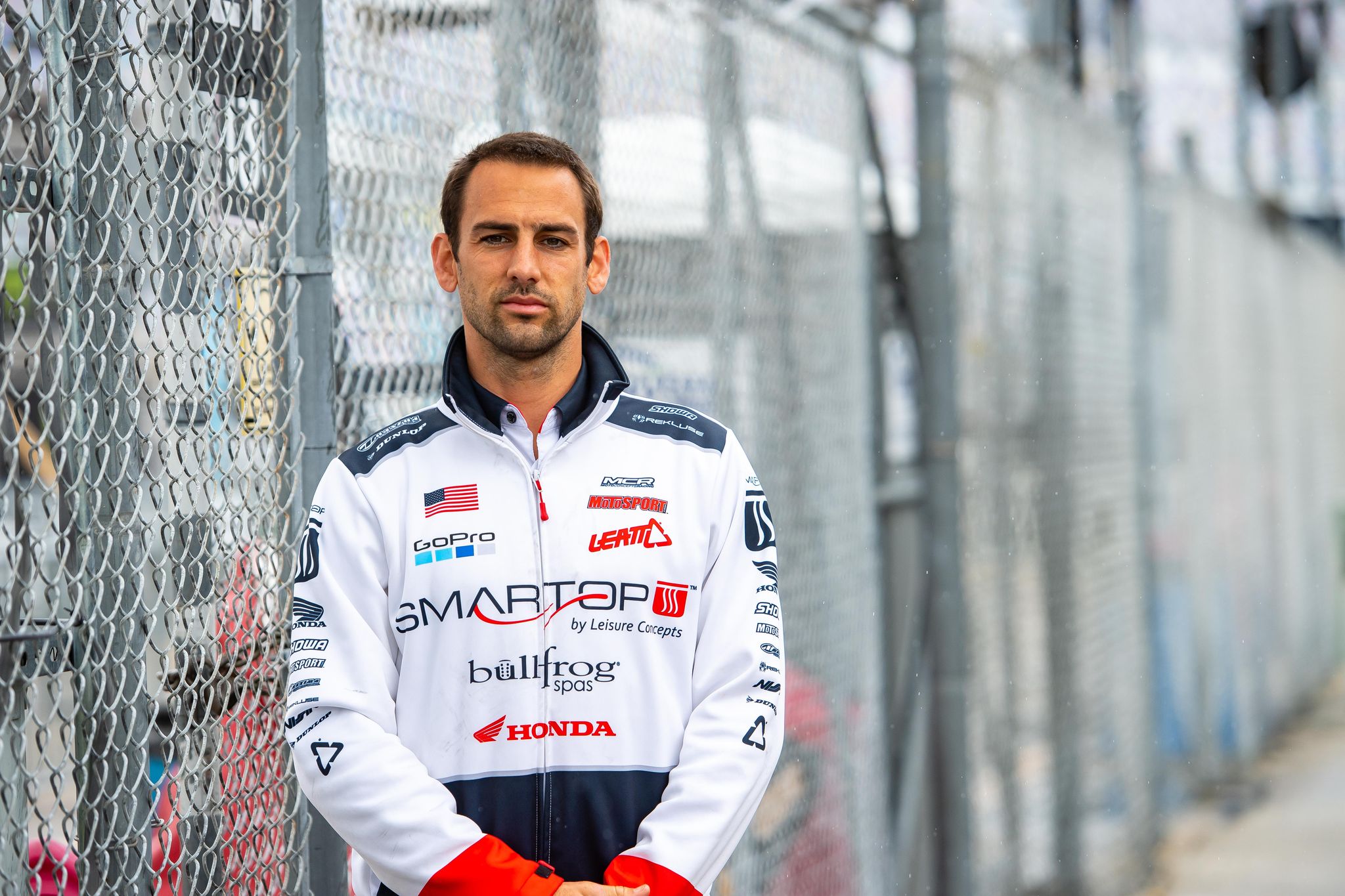 Vince Friese: Ehhhhhh boy… This might get me into some hot water. Oh well, here it goes anyway. Vince is a damn good rider that keeps putting up good rides yet all we see is he got in the way, or he's a hazard on the track. I beg to differ here. Yes, he WAS a dirty riders several years ago, I would agree with that. However the last couple years, he has mellowed out, has been trying to focus on getting into the top ten consistently and to me hasn't done anything really wrong to warrant the hate comms. So what he gets lapped! So does half of the field! Does that make him a shitty rider? Hell NO! The dude has made a living on getting great starts and finishing between 10-15 his whole career. To me that is bad ass! I could only wish I was a top 10-15 place consistent main event guy. I bet you a lot of other privateers would kill to be in Vince Friese's position. Shout out to Vince for continuing to plug away and ride well for the Motoconcepts Honda team. Broc and Vince are within 3 points of each other in the series standings. Oh and that Broc Tickle guy isn't a slouch. Remember he won a 250 title? Oh wait, us fans probably forgot about that too and just say "he sucks now". SMH! Tisk. Tisk!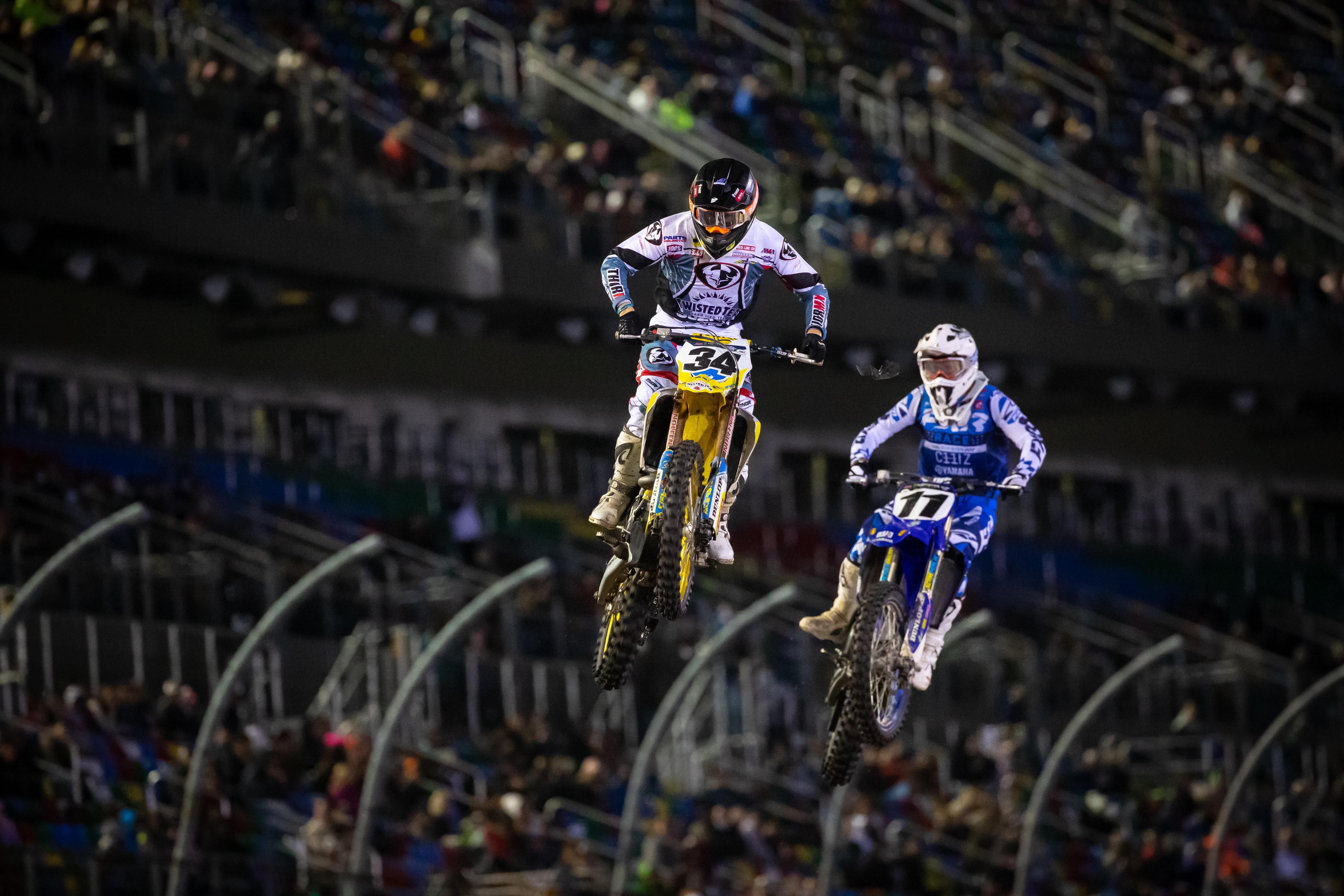 Kyle Chisholm: I am just going to put these two words in here every time Chiz makes a main now. STOCK BIKE! Just an FMF muffler and re-valved SX bumpsticks and you can be like Chiz Daddy too! I wanna be, I wanna be like CHIIIIIIIIIIIIZZZZZZZ!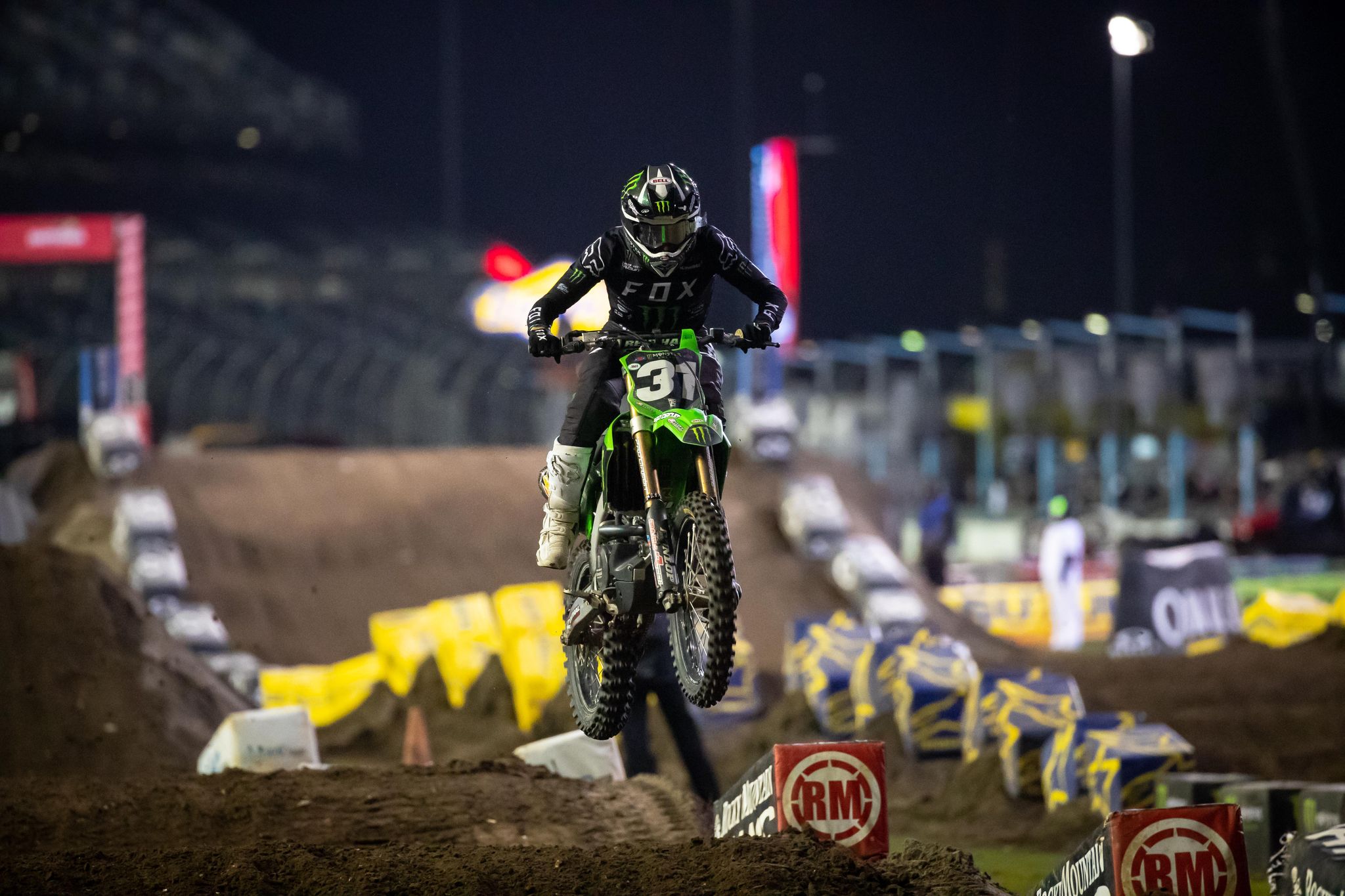 Cameron Mcadoo: Cool to see Mac win at Daytona. The dude has been working his ass off since 2018 to get here. I actually called Mac to win at round 1, but people thought I was crazy. I could see his style has changed a little since last year and having Nick Wey around has never hurt anyone. He comes from an awesome family and is one of only a few factory riders that come over to say hello to Aden and I when we are at the track. Congrats to one of the good dudes in our sport!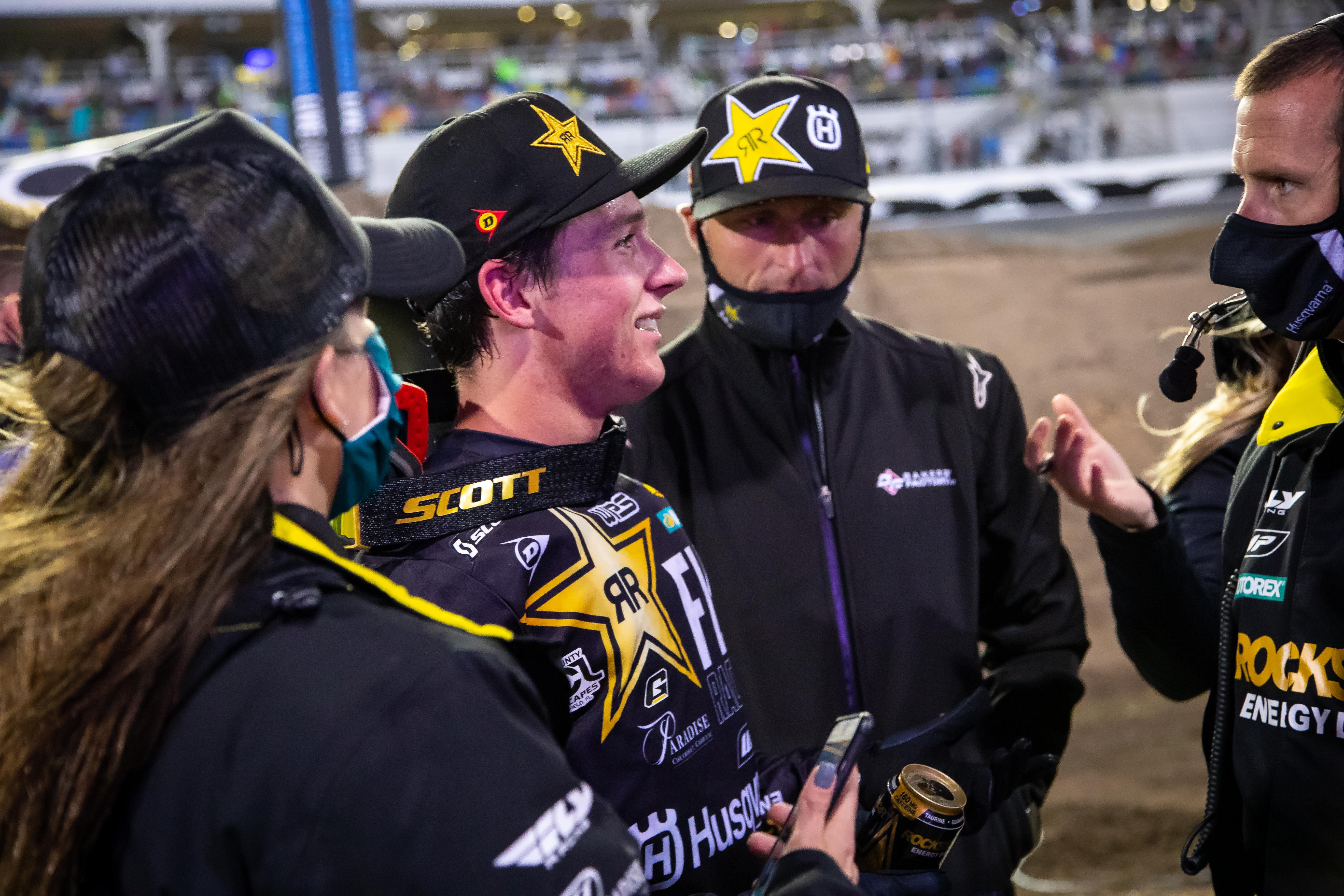 Stilez Robertson: I will go on record and say that I was wrong about Stilez and that I am an idiot. Last year after Loretta Lynn's amateur national I told the Pulp community that I thought Mason Gonzales had more upside than Stilez. After the amateur national, Mason proved to be a little better in some races outdoors, but it looks like I know nothing as this kid rode great in Daytona. He lead for a while in the main event and he held it together for a second place in only his second Supercross race! Wow. Congrats to Stilez and the Rockstar Husqvarna team. My bad, bro! My bad!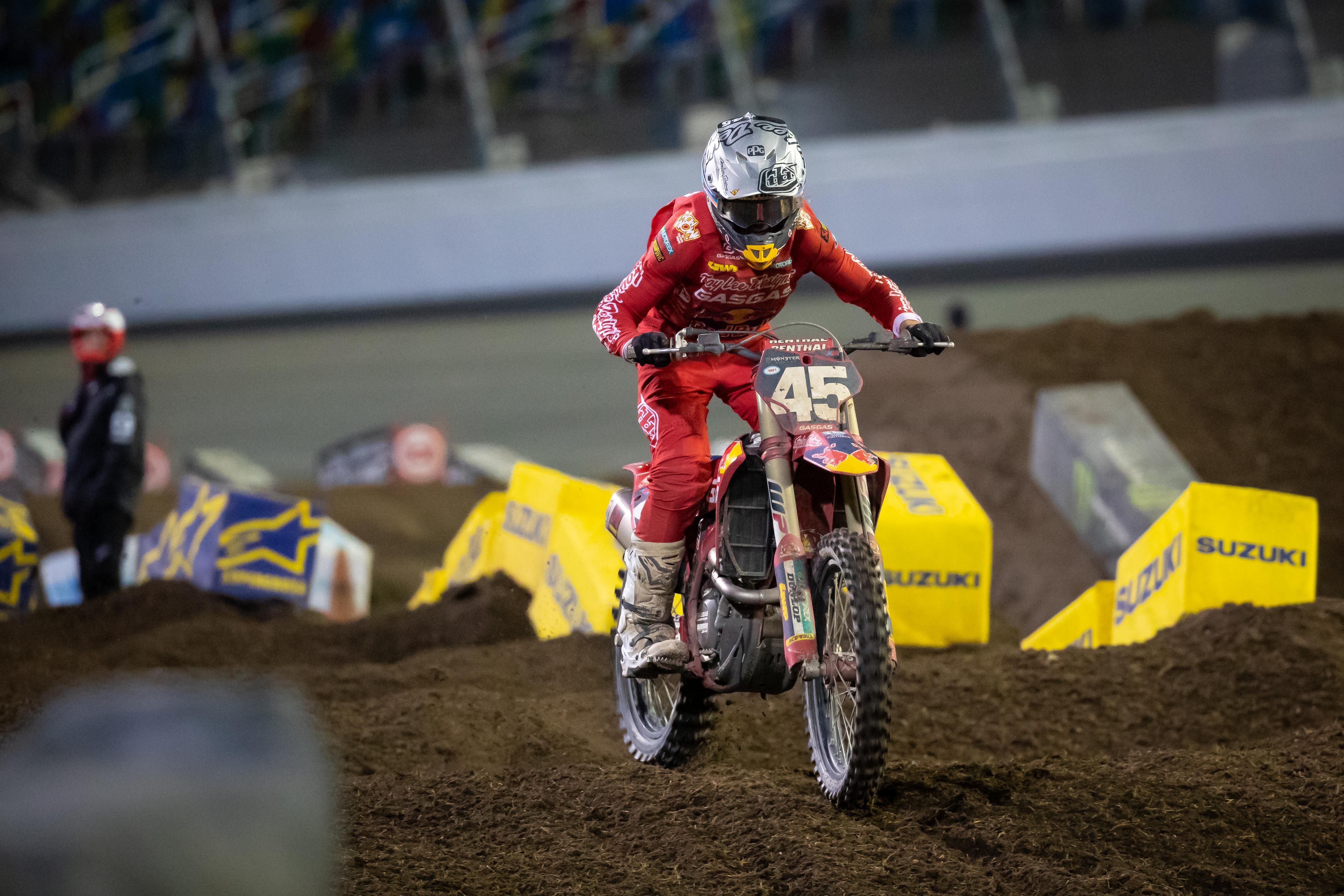 Pierce Brown: This kid is kind of polarizing to me. It really seems that the TLD Gas Gas team protects him from himself a lot and is really taking their time with Pierce. I love to see this. The kid definitely has some Supercross skills as a podium on the night proves. Let's see how well the rest of the series goes and if he can continue to streak off some podiums.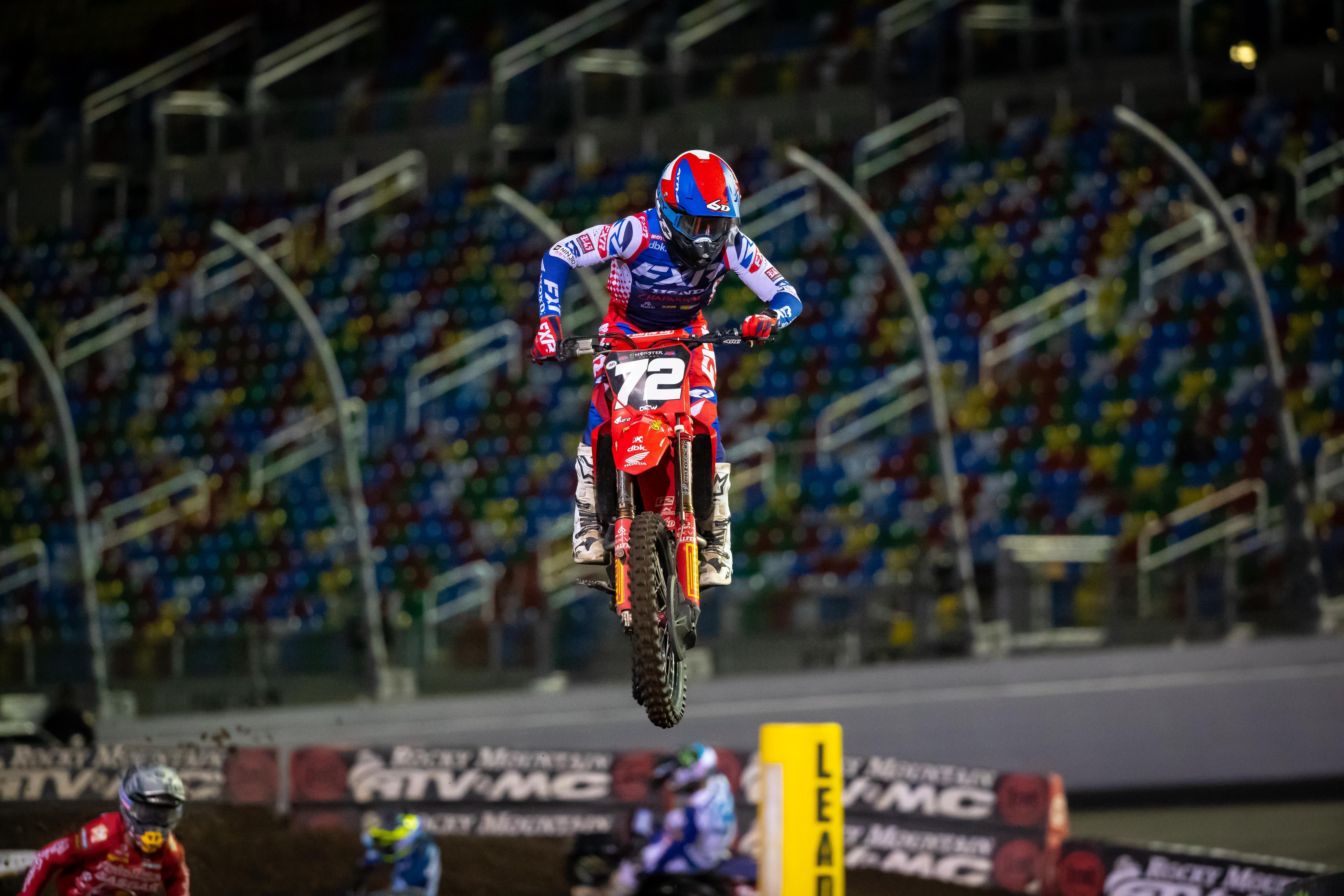 Coty Schock: I mean can we get this kid on TV more? WTF! Coty was in a podium position for almost the whole damn race and we are watching Justin Cooper back in 8th! I have had the pleasure to hang out with Coty and his family a little on some FXR shoots and I can tell you that he has a shit ton of talent along with a down to earth humble attitude. The FXR/Chaparral Honda team should be stoked about the Daytona ride and this should give Coty more confidence to run near the top 5 in future rounds.