In 1985, Kawasaki was the bike to have in the 125 class and was just starting to become a serious contender in the 250 and 500 divisions. After nearly two decades of producing highly mediocre motocross machines, the green team was on a roll. Major innovations like their Kawasaki Integrated Power-valve System (KIPS), sleek new bodywork, and redesigned chassis made the '85 green machines by far the most-competitive lineup they had ever offered.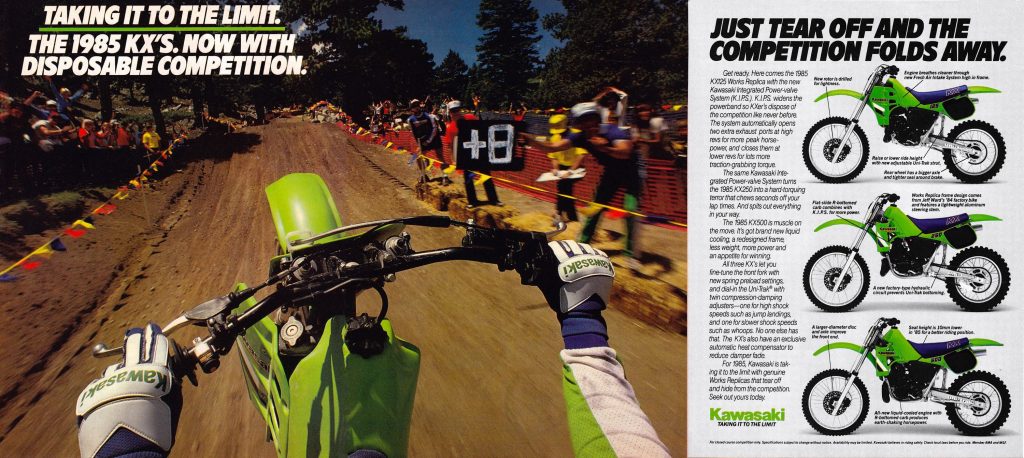 In 1985, this ad was the thing teenage MX dreams were made of. 
To herald this amazing new lineup of machines Kawasaki commissioned one of my all-time favorite motocross ad campaigns in 1985. In the magazines, the ad appeared as a three-page spread with a first-person view of a rider on the new KX125 powering up to a double jump at what appears to be Washougal MX Park in Washington. At the time, I was a total motorcycling novice who had never even been to a real motocross track and I was utterly enthralled with this photo. It was an amazing shot and unlike anything I had ever seen up to that point. Today, of course, the advent of the GoPro has made views like this commonplace but in 1985 I had never seen anything like it. The photo put you in the action and just made you want to go buy that KX and grab a handful.  I can remember staring at this photo for hours just wondering what it would feel like to fly over that double and on to victory. 
A few years later, I would finally have my chance to race and every time I see this ad it takes me back to the first time I pulled a holeshot and the amazing excitement I experienced knowing there were 30 guys behind me trying to keep up. That was one of the greatest moments I had experienced to that point and seeing this ad still brings me back to that amazing day. Now and again a special ad captures the excitement and intense emotions that draw all of us to motocross and for me this Kawasaki one from 1985 is it.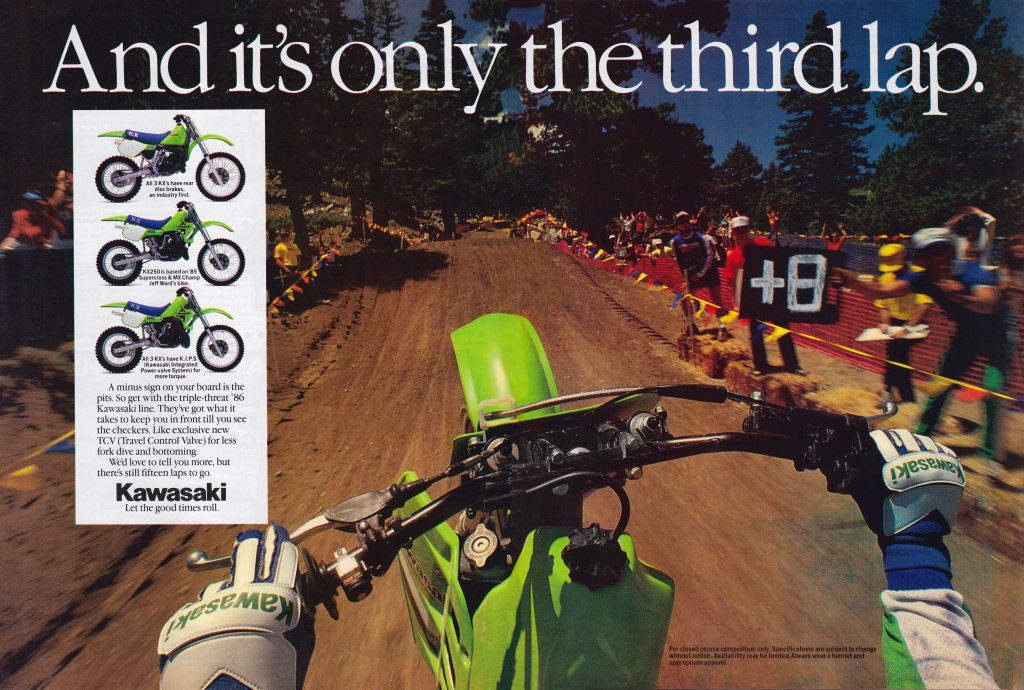 Haven't we met somewhere before? 
What is interesting is the fact that I must not have been alone in the love of this amazing photo. For their part, Kawasaki loved it so much that they decided to use it again in 1986. To my knowledge, this is the only time any of the manufacturers have done this and it almost seems like blasphemy in a sport obsessed with newer, faster, and better every year. The fact that the '86 KX125 has completely different bodywork and does not even have the same style of front fender makes that choice even stranger. Today you could go back several years on some models and not be able to tell the difference, but in the mid-eighties, it was all-new all the time. For 1986, the KX125 was a complete redesign and this would have been like showing a photo of Jeremy McGrath leading a race in 1996 in the ad for the all-new alloy framed CR250R in 1997. It was still a highly effective photo, but it feels like someone in marketing did not know the difference and just ran with what worked in 1985. 
I will say that I also much prefer the format of 1985 with the riding taking center stage and the bikes had their own spots on page three. The 1986 version crams everything onto two pages (probably to save money) and I think both elements suffer. The photos of the new bikes are downright tiny, and the beauty of the main photo is somewhat marred by the inset. It still works as an ad, but the 1985 version did it much better. These quibbles aside, both of these ads remain two of my favorites in an era where the new bike ads were one of the highlights of my year. I waited with such anticipation to see what each magazine held and combed over each ad with reverence and longing. The eighties were such an amazing era to be growing up around motocross and great ads like these take me back to a childhood dreaming of holeshots and the next issue of Motocross Action. 
For your daily dose of old school moto goodness, make sure to follow me on Instagram and Twitter @tonyblazier 
For questions or comments, feel free to drop me a line anytime at TheMotocrossVault@Gmail.com