It's been a great season of racing and we're only halfway through the year. 6 different winners in the 250's (more on that below) and some incredible battles in the 450's. That said, it's Dylan Ferrandis who now has a commanding lead and he's done so with incredibly consistent speed. He's had "No Bad Days" (more on that below), fastest in qualifying 1x, fastest in 3 different motos, fastest on the day 1x, and has the best average fastest lap rank (2.5).  He's also won 4 of 6 overalls and been on the podium in 11 of 12 motos. He's having a career year and yet he's a rookie which makes it that much more impressive.
But there's 12 more motos and 300 more points up for grabs. Ken Roczen is just 32 points behind Dylan Ferrandis and as we saw in Spring Creek, it takes one first turn pile-up to change the standings. Roczen will have to continue building on his series leading moto wins (4) and laps led (72) if he's going to catch Ferrandis. Regardless of the championship battle, it's likely we'll continue to see more great racing up front as Justin Barcia and Eli Tomac have picked up the pace lately, winning 4 of the last 8 motos.
In the 250's, we've seen 6 different winners to start the season. While it's the first time to start the season with that many different winners, it's a tie for the most winners in any 125/250F season going all the way back to 1974. The 6 other seasons we've had 6 winners are listed below. Now the question is who could be the 7th? Michael Mosiman has shown podium speed and it's possible we'll see Austin Forkner return to form in the 2nd half of the season. Once again, regardless of who's winning, we the fans will benefit from great racing.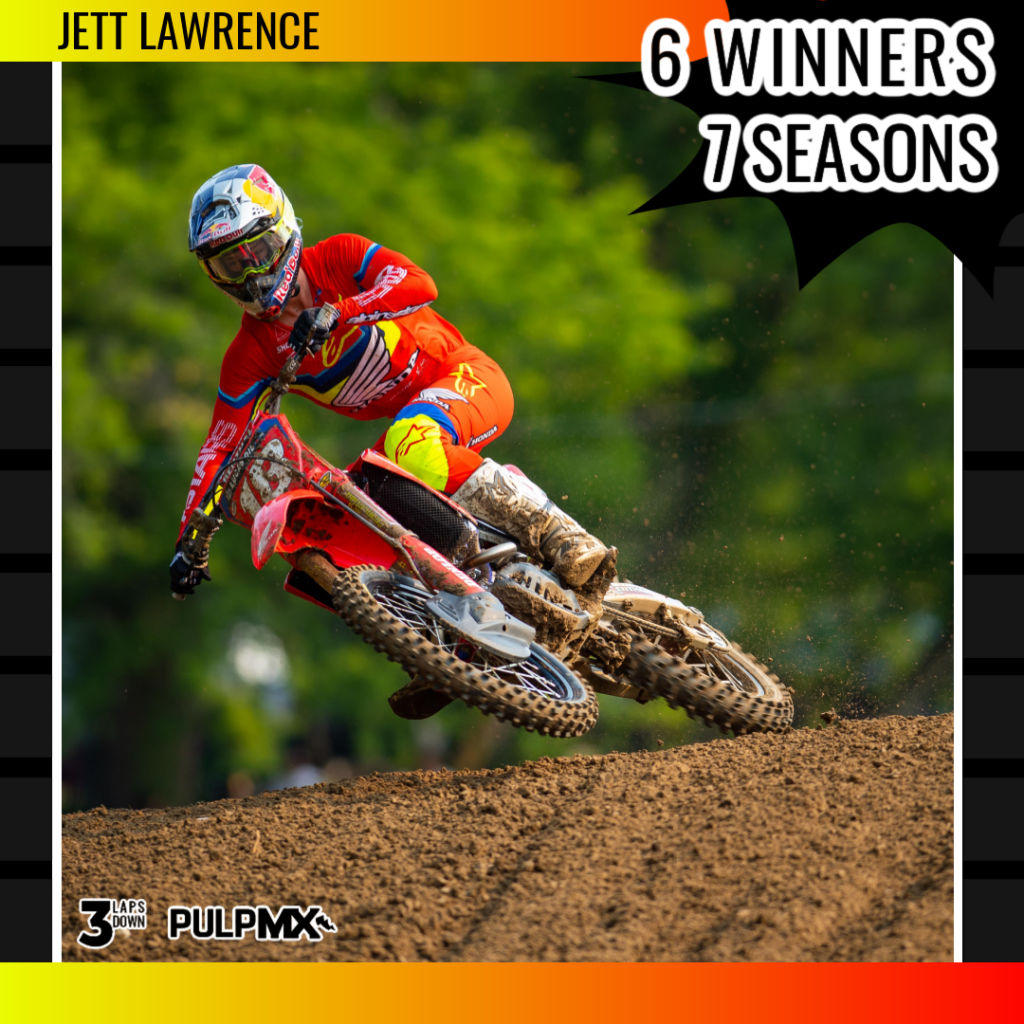 6 Winner Seasons (125/250F)
1989 (Kiedrowski, Holland, Bradshaw, L Ward, Cooper, Matiasevich)
1991 (Cooper, Henry, Swink, Kiedrowski, Larocco, L Ward)
1994 (Emig, Huffman, Lamson, Henry, Hughes, Reynard)
2005 (Langston, Alessi, Brown, Hepler, Tedesco, Short)
2016 (Savatgy, A Martin, Webb, J Martin, Osborne, Forkner)
2018 (Osborne, Plessinger, J Martin, McElrath, Ferrandis, Hampshire)
2021 (J Lawrence, Cooper, Swoll, Hampshire, H Lawrence, J Martin)
Let's take a look at the key stat(s) for the Top 10 riders in each class at the halfway mark of the season…
450 MID-SEASON RIDER KEY STAT
Dylan Ferrandis (1st, 262 Points). If you've read my column over the last 2 years, you know the importance of "No Bad Days" (not losing positions between the first and last lap). Dylan's not lost positions in a single moto all year. Many will point to 11 of 12 moto podiums and 4 of 6 overall wins, but his finishes are a result of him charging forward every single moto without any major mistakes.
Ken Roczen (2nd, 230 Points). Kenny's gotten great starts and his series leading 2.8 first lap position has resulted in him winning the most motos (4), leading the most laps (72), and leading the most motos (6)… but he's had 3 motos where he lost positions for a total of -11 lost points. Considering he's 32 points down on Ferrandis, those -11 points may prove critical to his championship hopes.
Justin Barcia (3rd, 207 Points). Justin's average first moto gate pick is 10th and second moto is 5th so it's no surprise that he's gotten 3 of his 4 moto podiums in the 2nd moto. He needs to improve his qualifying in the morning to get a better moto 1 gate pick if he wants to contend for overalls like he did in Spring Creek.
Eli Tomac (4th, 205 Points). Any of us that had doubts about Eli after the first 2 rounds were silenced by his 49th, 50th, and 51st career moto wins at rounds 3, 4, and 5. Those 3 moto wins ties him with Broc Glover for 4th in all-time moto wins at 74. It's also possible that he'll tie Ryan Dungey for 3rd in all-time moto wins (79) by the end of the season.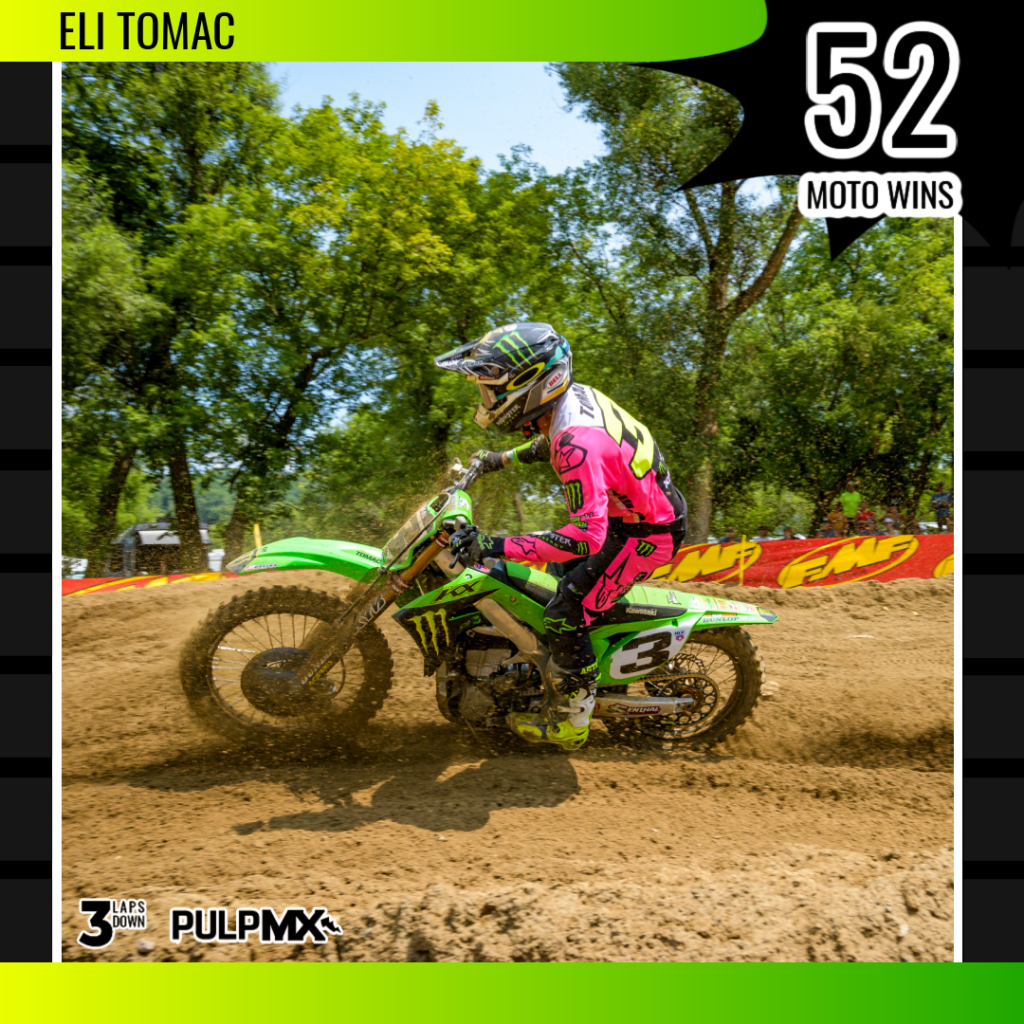 Chase Sexton
(5th, 193 Points). Chase has struggled on the start and that's resulted in the most net position changes (+58) in the class. He needs to get some better starts if he wants a chance at moto and overall wins.
Aaron Plessinger (6th, 191 Points). Powered by mullets and mustaches, Aaron has gotten the first 4 moto podiums of his career in the premier class this year. He's having a breakout season so it's no surprise that KTM is trying to sign him for 2022.
Christian Craig (7th, 156 Points). Christian has quietly finished 8 of 12 motos inside the Top 10, but yet to stand on the podium. He's going to need to find some speed in the 2nd half to break onto the podium though as he's only had one moto with a fast lap in the Top 3.
Cooper Webb (8th, 148 Points). In a complete reversal from the supercross season where he only had 2 Bad Days (the least in the series), Cooper has lost positions in 10 of 12 motos in pro motocross. That said, his average moto finish this season is 9th and his career average is 8th. We're talking like he's not living up to expectations but his results are inline with his career average. Maybe it's the 2019 season where he had all 7 of his premier class moto podiums that's the outlier!?
Adam Cianciarulo (9th, 147 Points). We can work with speed, but probably not till 2022. Adam has been fastest qualifier 2x, set the fastest lap in a moto 3x, and been fastest lap of the day 2x, but he sits 9th in the standings. He's clearly got the speed to contend for wins and the title but his ulnar nerve issue is likely going to end this season prematurely.
Marvin Musquin (10th, 141 Points). Marvin is ranked 22nd in both all-time overall (17) and moto (31) wins, so the fact that he's not had a single moto Top 5 is a bit of a surprise. Washougal is one of his best tracks (avg 3.8 overall finish) so hopefully he starts the second half of the season off strong.
Privateer Spotlight: Coty Schock (17th, 47 Points). 5 moto's inside the Top 15 in his rookie 450 campaign is a great season, but he's now lost the most net positions (-77) this season after chain issues derailed both motos at Millville.
250 MID-SEASON RIDER KEY STAT

Justin Cooper (1st, 243 Points). Justin has the most holeshots (5) and laps led (62) but he's lost positions in 7 of 12 motos. Leading the series with that many "Bad Days" is an outlier and he'll need to clean that up in the 2nd half if he wants to win the championship.
Jett Lawrence (2nd, 237 Points). Jett's got the speed but the last 6 motos have been a struggle. He's been fastest in 4 of 12 motos and fastest on the day twice but he's now been off the podium in the 4 of the last 6 motos. He was only off the moto podium once in the first six motos. If he stops making mistakes and/or gets his set-up correct, he could easily retake the championship lead.
Hunter Lawrence (3rd, 210 Points). If it weren't for 2 crashes and moto finishes of 8-11 at Mt. Morris, Hunter would be right in the hunt for this title. Given how inconsistent his brother Jett has been the last 6 motos and Justin Cooper's struggles to maintain position, there's an outside chance Hunter still contends for the title.
Jeremy Martin (4th, 175 Points). With his 1-1 moto finishes for 1st overall at his home track last week, Jeremy moves within 1 overall win of Ryan Villopoto (ranked 5th) and 2 of Steve Lamson (ranked 4th).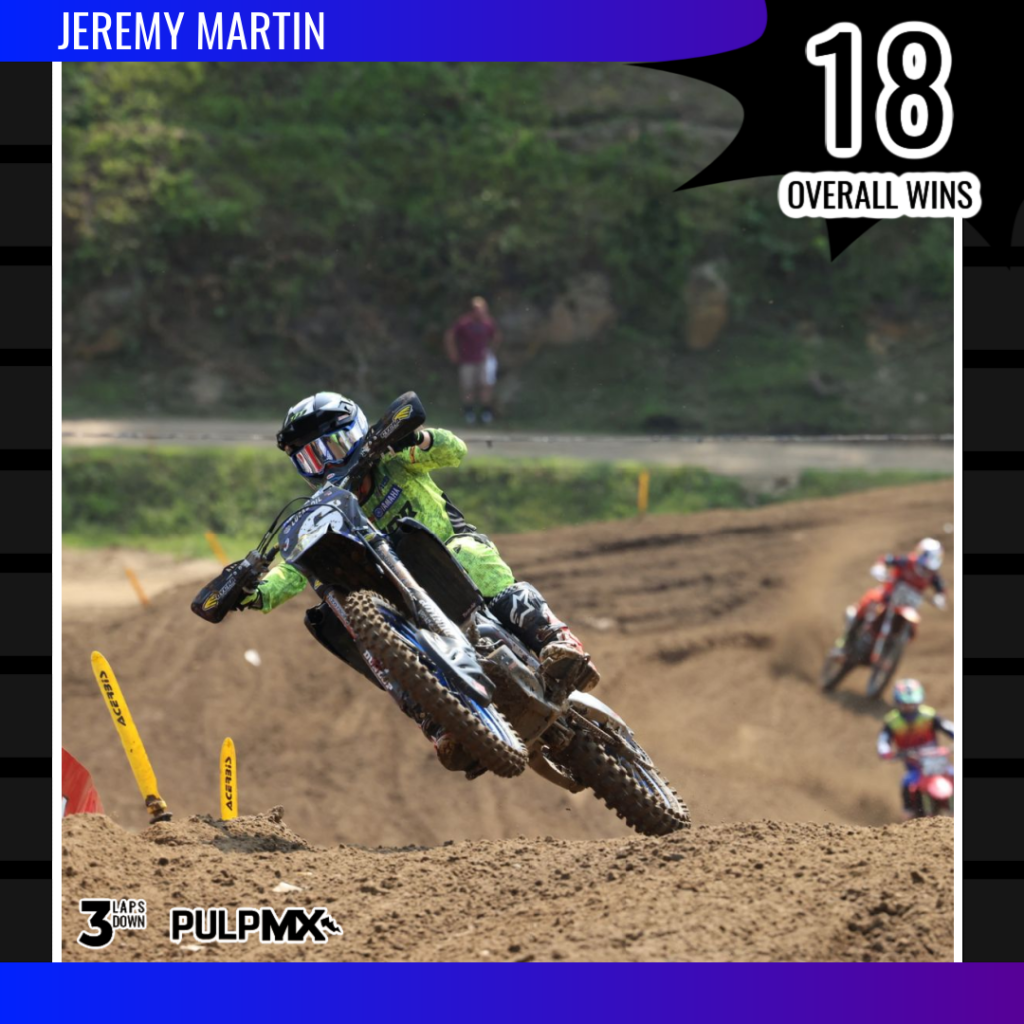 RJ Hampshire
(5th, 163 Points). RJ has crashed in 7 of 12 motos this season and that's nullified the fact that he's been the fastest in 4 of 12 motos and fastest on the day 2 of 6 times. While he's not in contention for the championship, the 2nd half of the season is an opportunity to clean up that speed and win a few motos and overalls to build momentum into the off-season.
Jo Shimoda
(6th, 162 Points). How many of you had Jo as the best Pro Circuit Kawasaki rider? <crickets>. If Jo could improve his starts and first lap position (14th), he'd likely improve his 7th place average finish. Don't believe me? When he's started in the Top 10, he's 5 of 6 for Top 5 moto finishes including one moto podium.
Colt Nichols (7th, 159 Points). Colt's pro motocross season is very similar to Christian Craig's which is fitting given they had a very similar supercross season. He's been Top 10 in 9 of 12 moto's and one moto podium at High Point.
Jalek Swoll (8th, 148 Points). First career moto and overall win at High Point is pretty awesome. But he's also been outside the Top 10 in 5 of 12 motos and lost positions in 6 of 12 motos. Unfortunately, unlike Jo Shimoda, his fastest lap time ranks show that he's finishing where you'd expect him to finish.
Garrett Marchbanks (9th, 124 Points). Garrett started the season with 6 Top 10 moto finishes and has only 2 in the last 6 motos. The -53 positions changes in 3 of the last 4 motos highlights the mid-season struggles. Let's hope he does better than his only other visit to Washougal (40-19 for 22nd overall) to start the 2nd half of the season.
Michael Mosiman (10th, 122 Points). Coming off his first career moto podium, Michael is showing he's got the speed to contend for moto and overall wins. He's also 1 of 8 riders to lead a lap in the class and he's averaging 4th fastest lap across the 10 motos he's raced. Is it possible he's the 7th winner this season?
Got stats questions or want to bench race, hit me up @3lapsdown on Twitter or Instagram.