Maybe the most profound statement of the season was Dylan Ferrandis standing on the podium by himself after moto 1 while Eli Tomac and Ken Roczen skipped the podium and immediately jumped in ice baths. You could also argue that the most profound statement in his rookie season was that he was never off the overall podium and only missed two moto podiums all season.
But for the regular readers of Advanced Analytics, you're familiar with the concept of #nobaddays. More specifically, the rider who doesn't lose positions between the first and last lap wins the championship. Maybe the most profound statement is that Dylan Ferrandis (and Jett Lawrence for that matter) have #nobaddays.
Dylan Ferrandis. Gained positions in 21 of 22 motos (only position lost so far was moto 2 at round 11 when he clinched the title).
Ken Roczen. Lost positions in 8 of 22 motos. This cost him a total of -60 points and -35 points if you exclude the Millville DNF.
Jett Lawrence. Gained positions in 22 of 22 motos. No lost points.
Justin Cooper. Lost positions in 11 of 22 motos. These lost positions cost him -59 points.
Remember, #nobaddays wins championships.
450 KEY RIDER STATS
Eli Tomac (2-1, 1st overall). Eli Tomac won his 27th overall in the 250/450F class and tied Bob Hannah for 3rd all-time. Great to see Eli back to his old form in the 2nd half of the season.
Dylan Ferrandis (1-2, 2nd overall). Your 2021 450 Pro Motocross champion. 5 wins, 7 moto wins, and a great rookie season.
Cooper Webb (4-3, 3rd overall). There's one undeniable fact about Cooper Webb – he never gives up. After 4 rounds, he was 9th in the standings and his best moto finish was single 5th place moto finish. In the last 4 rounds he has seven Top 5 moto finishes and two overall podiums.
Ken Roczen (3-6, 4th overall). Ken posted that he "…hasn't been feeling quite right and it was very noticeable yesterday". Unfortunately, the result was 2 more motos where he lost positions bringing it to 8 motos where he's lost positions.
Christian Craig (5-4, 5th overall). For only the second time this season, Christian finished inside the Top 5 in both motos (he last did it at round 4 at Red Bud). I feel like Christian's had a great season but is rarely seen on the broadcast. Is it just me?
Max Anstie (6-5, 6th overall). With four riders (AC9, AP7, CS23, JB51) who consistently beat Anstie missing the race, it's no surprise he got his first Top 5 moto finish and best overall of the season.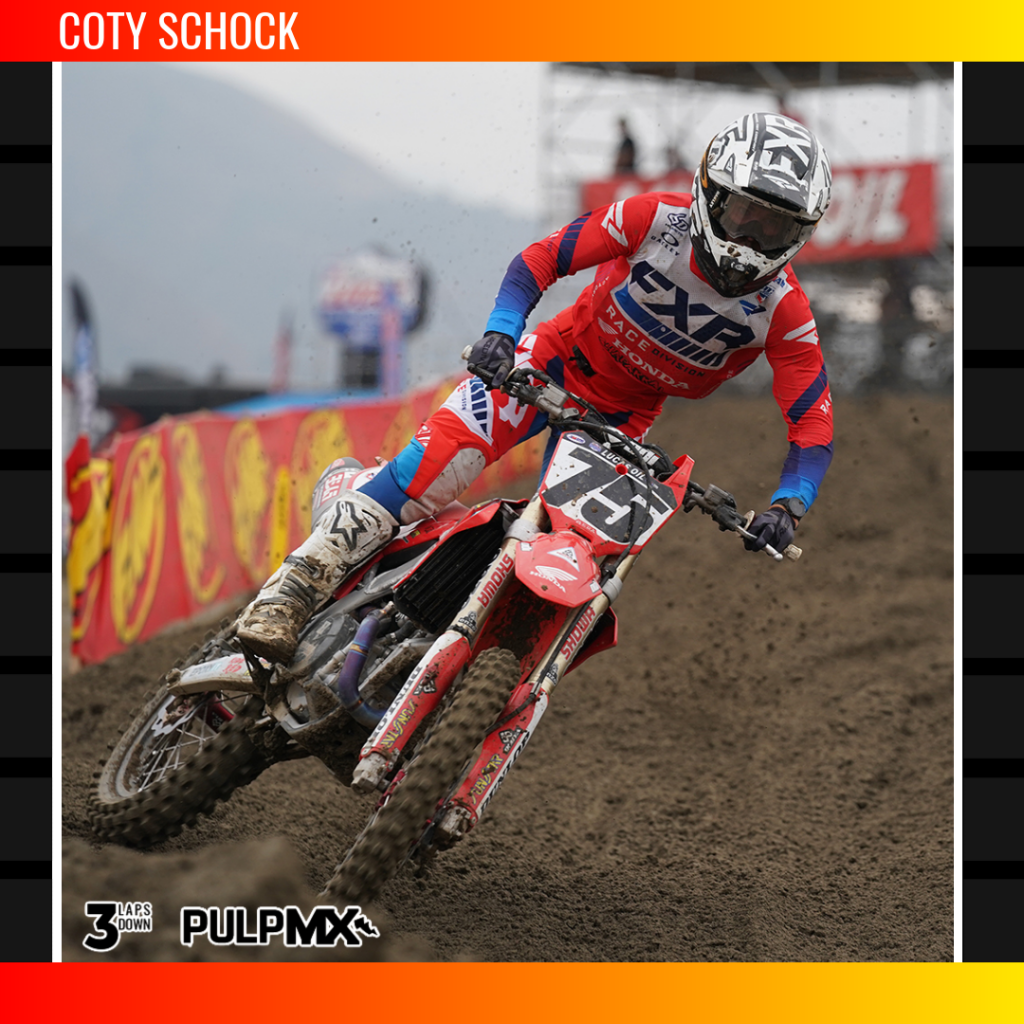 Coty Schock (7-7, 7th overall). Another great ride for the privateer. He's scored more points in the last two rounds than he did the entire 2020 Pro Motocross season. #schockwave
Brandon Hartranft (10-8, 8th overall). Regardless of injuries, Brandon got his second Top 10 in as many weeks bringing his season total to 3.
Joey Savatgy (9-9, 9th overall). After seeing Joey post "really been struggling with something lately but haven't pin pointed what exactly", it helped explain why he's not been battling for Top 5's with 4 top riders out of action.
Freddie Noren (11-10, 10th overall). Fast Freddie got his first Top 10 moto finish and Top 10 overall of the season. It's actually his first overall Top 10 since round 7 of last year!
250 KEY RIDER STATS

Jett Lawrence (1-1, 1st overall). For an 18 year old kid, he's demonstrated poise and racecraft of a wily veteran. Case in point, he pulled his first career pro motocross holeshot in the 2nd moto. He then went on to set the fastest lap of the moto by over a second in the hottest temperatures all year. #stampit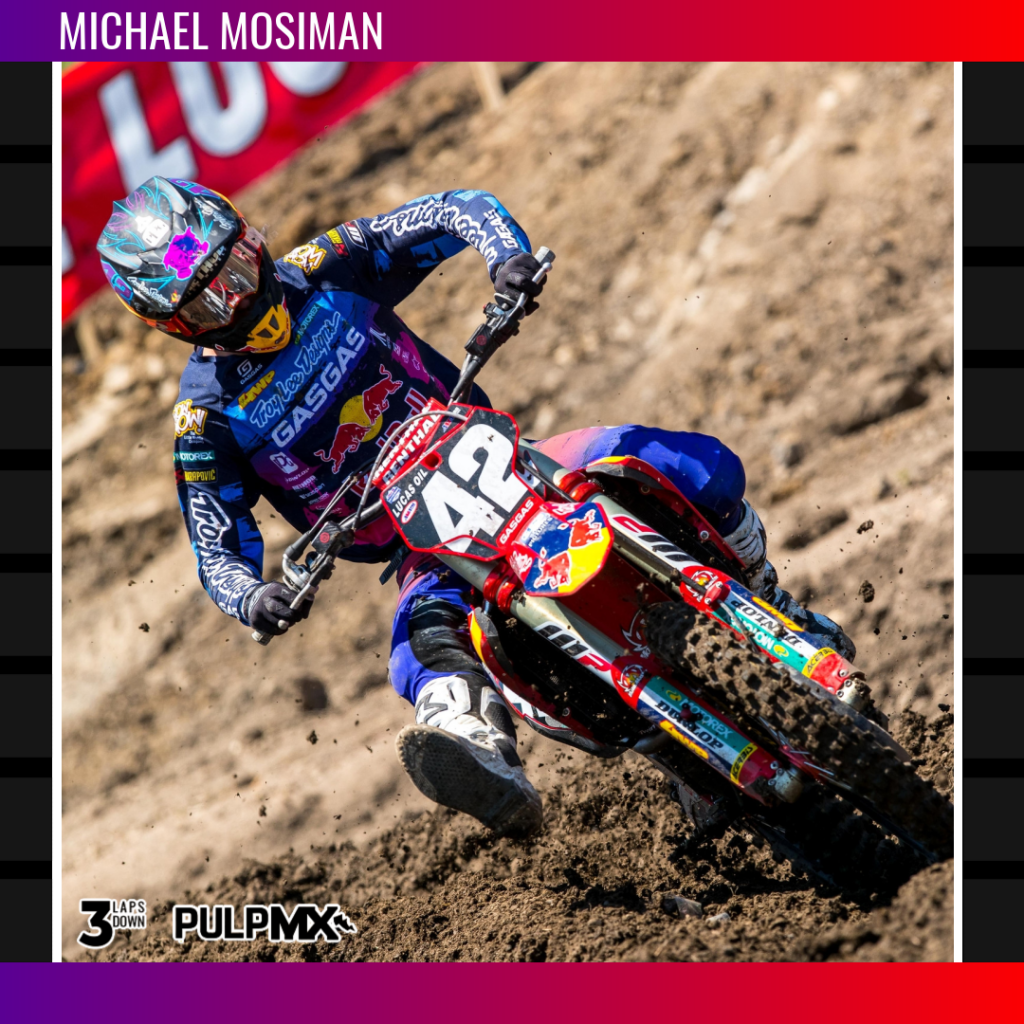 Michael Mosiman (2-2, 2nd overall). Another overall podium for Mosiman to go with 4 moto podiums in the last 4 races. If it weren't for injuries, Mosiman would be fighting for 5th overall in the championship (based on average points/race).
Justin Cooper (5-2, 3rd overall). Justin hasn't finished off the overall podium all year, but he now faces a 23 point deficit in the championship. Why!? He's lost positions in 11 of 22 motos for a total points lose of -59 points. #nobaddays
Jo Shimoda (4-3, 4th overall). In the last 2 rounds, Jo has 3 moto podiums and is all but guaranteed to pass Jeremy Martin to take 5th in the championship next weekend.
Hunter Lawrence (6-6, 5th overall). Since going 1-1 at Southwick, Hunter has only one moto podium finish. This would be an outlier to the theory of winning breeds confidence and more wins.
RJ Hampshire (3-14, 6th overall). Did you see that crash off the start in moto 2!? How he got up and charged back to 14th is impressive.
Dilan Schwartz (10-8, 7th overall). Top 10's are becoming consistent. There's a ton of talk about Coty Schock in the 450's, but Dilan has a more impressive season in my opinion. He's a rookie and has 6 motos where he's made 10 or more position changes.
Josh Varize (9-9, 8th overall). Career day to go with his first factory ride. He'd gotten three 11th place moto finishes in the prior two rounds, so you've got to think the bike helped, right!?
Levi Kitchen (12-7, 9th overall). First turn crash led salvaging a 12th place after passing 19 riders. With another 9 passes in the second moto, he had 28 passes, the most in the 250's.
Austin Forkner (15-5, 10th overall). With a crash in the first moto, Austin snapped a four moto Top 5 streak. He picked it back up with a 5th in the second moto though. Austin has the 2nd worst first lap average position (12.9) in the Top 10 of points.
Got stats questions or want to bench race, hit me up @3lapsdown on Twitter or Instagram.