We're back with another installment of all-time rivalries. This time we're bringing another old school version, Mike Larocco vs. Mike Kiedrowski.
It's not often that you end up with rivals at the peak of their careers on the same team, but this was the case for Factory Kawasaki with Larocco and Kiedrowski. It was 1994 and Larocco and Kiedrowski had finished 1-2 in the previous seasons 250 pro motocross championship. Through the first 5 rounds of the 1994 season, Factory Kawasaki's two superstars had won all 5 overalls and 9 of 10 motos. Entering the 6th round at Red Bud, Larocco and Kiedrowski held a 91 and 80 point lead over John Dowd in 3rd place.
In the first moto at Red Bud, Kiedrowski and Larocco were running 1-2 when Larocco made an inside pass that left Kiedrowski on the ground late in the race. But it didn't stop there. As both riders crossed the finish line and were exiting the track, Mike Kiedrowski ghost rode his bike into Mike Larocco. For those of you too young to have seen this or too old to remember it, you can see the key highlights here. Unfortunately, that seasons head-to-head rivalry would be cut short when Kiedrowski broke his hand at the next round in Unadilla.
There's not many examples of riders on the same team, at the peak of their careers, going head-to-head for a championship. Maybe the best examples of this are Jeff Stanton and Jean Michel Bayle (Honda, 1991) and Ryan Villopoto and Ben Townley (Pro Circuit Kawasaki, 2007). But rivalries aren't built on just one season or championship. Larocco and Kiedrowski raced head-to-head from 1988 till 1997, facing off in a total of 15 championships (7 supercross and 8 pro motocross).
So the question is, who was better – Mike Larocco or Mike Kiedrowski?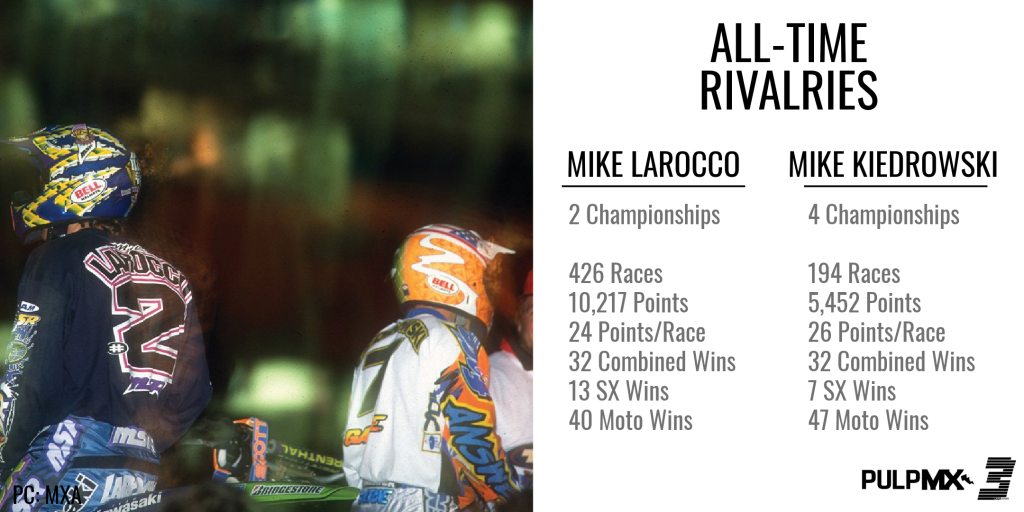 SEASONS, RACES, AND POINTS
Mike Larocco had one of the longest and most competitive careers of any rider that's raced moto. Larocco's career spanned 20 years, 426 races, and over 10K combined mx+sx points. He's ranked 1st on the all-time lists for each of those stats! There's simply no comparison.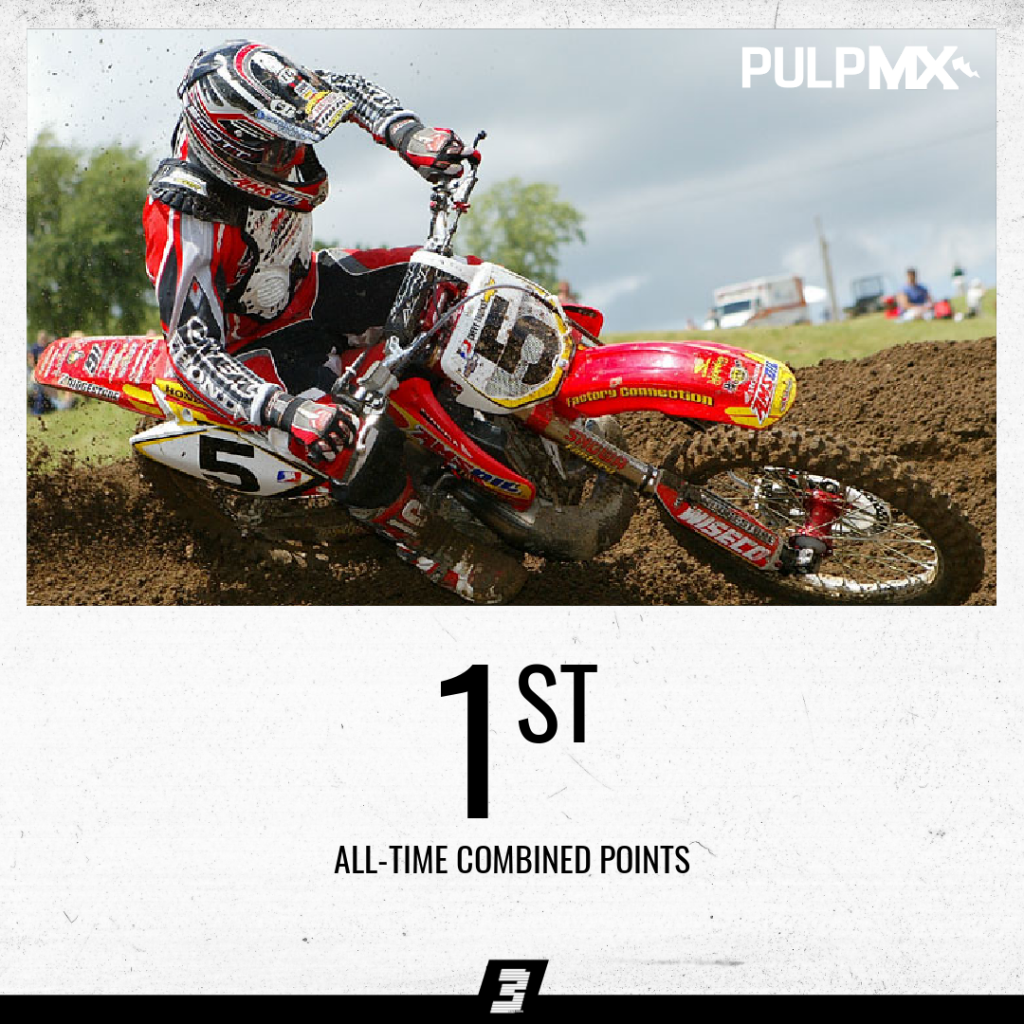 Guys like John Dowd (27 seasons), Mike Brown (24 seasons), and Barry Carsten (23 seasons) raced for a longer time but their latter seasons were one-off races or partial seasons. Larry Ward (399 races), Nick Wey (395 races), and Chad Reed (386 races) also raced for a long time. While Chad Reed definitely had more success in supercross, Larocco's combined results are equally if not more impressive. And considering Larocco scored over +1K more combined mx+sx points than any other competitor, it's not fair to compare these stats to Mike Kiedrowski's.
It's not that Mike Kiedrowski didn't have an incredible career. He raced for 11 seasons, 211 races, and scored a combined 5,452 points. That puts him inside the Top 50 for total races and ranks him 23rd in all-time combined mx+sx points. These are impressive stats that deserve all-time status, but there's simply no comparison to Mike Larocco.
Advantage = Mike Larocco. In terms of career longevity and performance, he's in a class all his own. Some will compare him to Chad Reed, but Larocco is the real ironman of the sport.
AVERAGE POINTS
While the Total Points comparison between Mike Larocco and Mike Kiedrowski is a bit lopsided, the comparison of average points is almost too close to call.
In combined mx+sx points, Mike Kiedrowski averaged 26 points per race versus Mike Larocco's 24. While that's not a big difference, Kiedrowski's average finish per race is 4.6 vs. Larocoo's 5.4 – allllmmmmooossstt a full position per race. [Ed Note: you know it's a tough comparison when you have to start using decimal places!]
Looking a bit deeper, Mike Kiedrowski averaged 37 points per pro motocross overall vs. Mike Larocco's 34. In supercross, Mike Kiedrowski averaged 17.1 points per main event vs. Mike Larocco's 16.5. Once again, there's not a lot separating these two legends!
I was struggling to call this one so thought I'd look at only their head-to-head average points. Afterall, Mike Larocco's career was twice as long as Kiedrowski's. It's possible his longevity impacted his results and looking at head-to-head points would be a better apples-to-apples comparison. Alas, in head-to-head races, Mike Kiedrowski scored 24.8 points and Mike Larocco 24.6… and breaking it down by pro motocross and supercross didn't help either (see image below).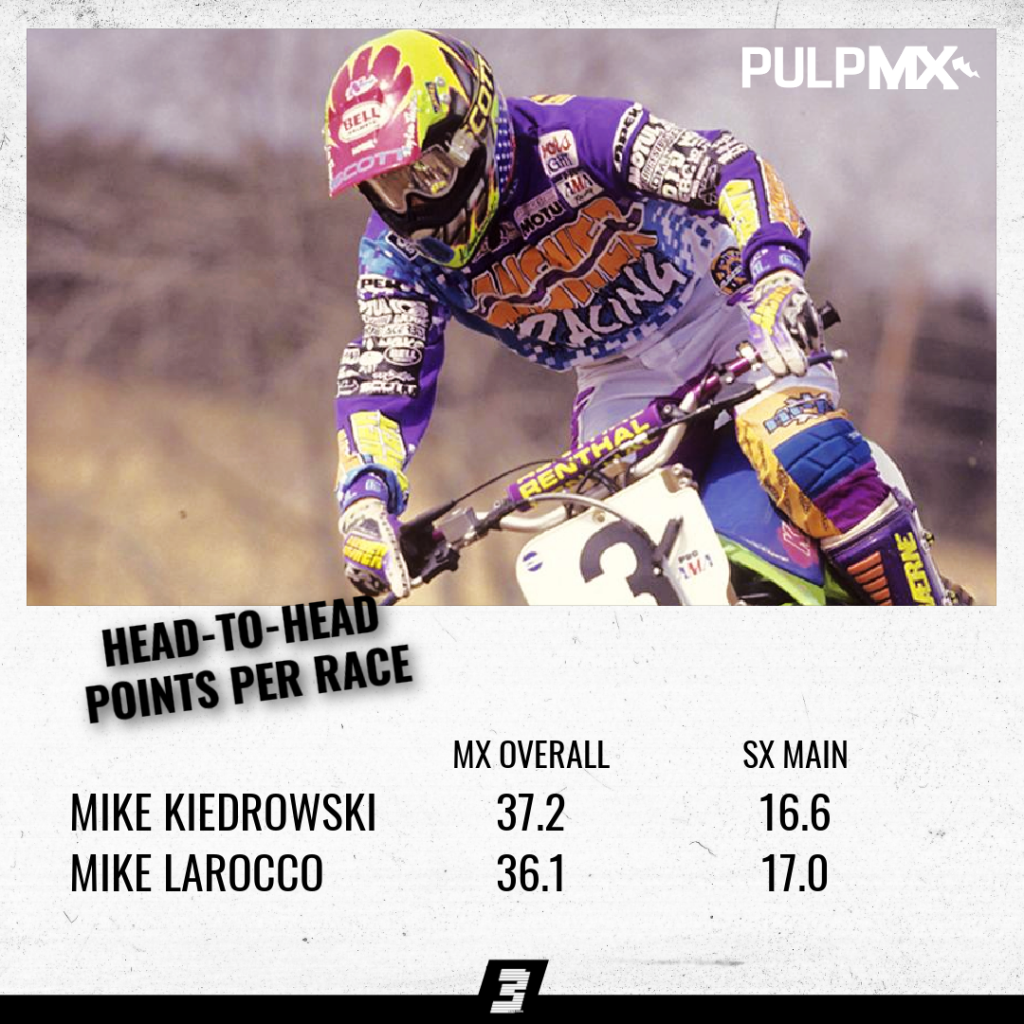 Advantage: Mike Larocco. While Kiedrowski has an every small advantage in the numbers, I have to give Larocco the advantage here. Larocco maintained his performance level for 20 years and that has to count for something! He was a Top 5 competitor in pro motocross for 16 seasons and 19 supercross seasons and his average points are on par to Kiedrowski who raced half the years.
WINS
If the average points was difficult to decide on, it doesn't get easier when you compare wins for these two legends. They both had a combined mx+sx 32 wins! Mike Kiedrowski had more pro motocross overall wins (25 vs. 19) while Mike Larocco had more supercross wins (13 vs. 7)
The only notable difference is that Mike Kiedrowski had 47 moto wins to Larocco's 40.
Advantage: Mike Kiedrowski. No question that Larocco had more wins in supercross and that's worth noting, but given Kiedrowski's career was half the length and he had 7 more moto wins, I'm giving the nod to Kiedrowski.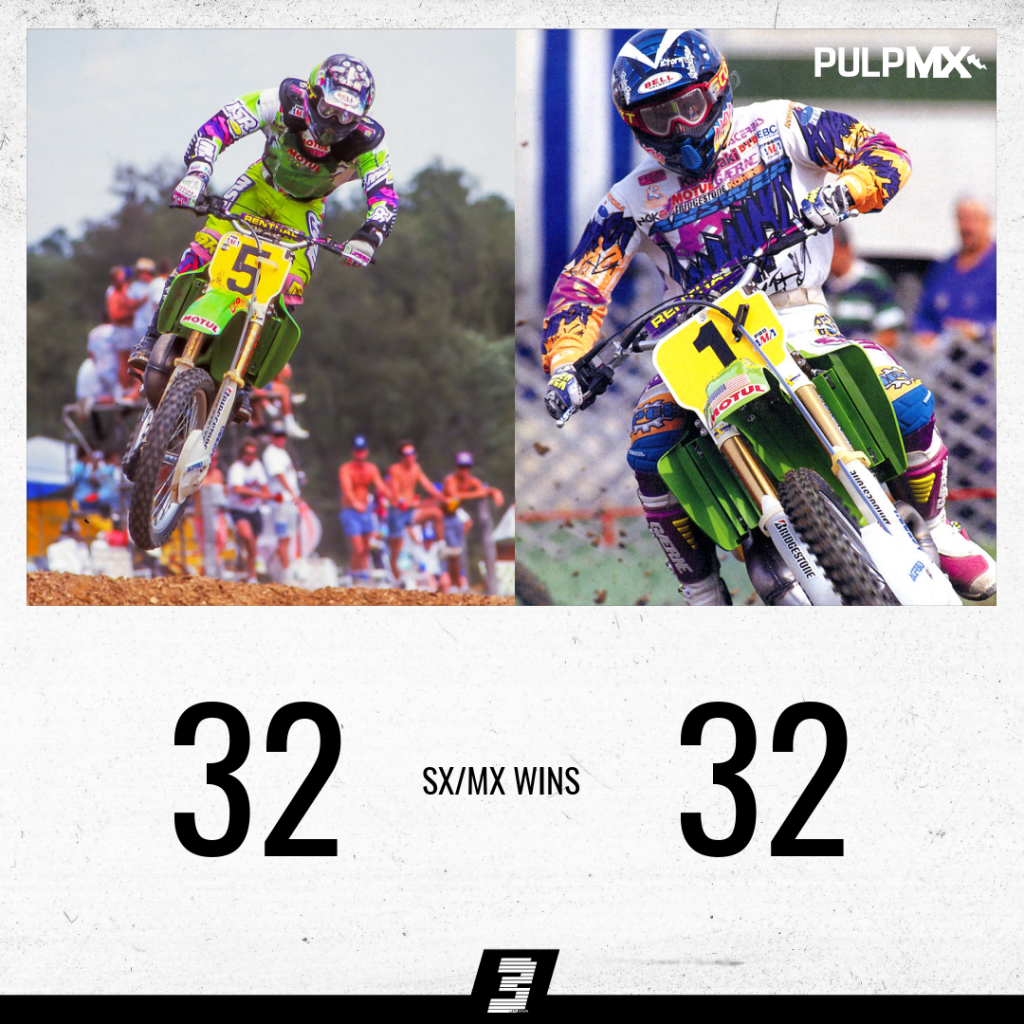 CHAMPIONSHIPS
This may be the easiest of the comparisons, though that doesn't take away anything from either rider. Mike Kiedrowski (4 – 1989 125MX, 1991 125MX, 1992 500MX, 1993 250MX) has twice as many championships as Mike Larocco (2 – 1993 500MX, 1994 250MX). Interesting to note that both had 125MX championships slip through their hands at the final round – Kiedrowski in 1990 and Larocco in 1992.
Advantage: Mike Kiedrowski. 4 pro motocross championships puts him tied for 6th all-time with Eli Tomac and Ryan Dungey. Also worth noting that neither of these legends won supercross titles – the impact of having to race Jeremy McGrath at the beginning of his incredible career.
SUPERCROSS HEAD-TO-HEAD
Larocco and Kiedrowski faced each other in 7 250cc supercross series from 1990-1997. However, they also raced each other in 4 different 125cc east/west shootouts in 1988 and 1989.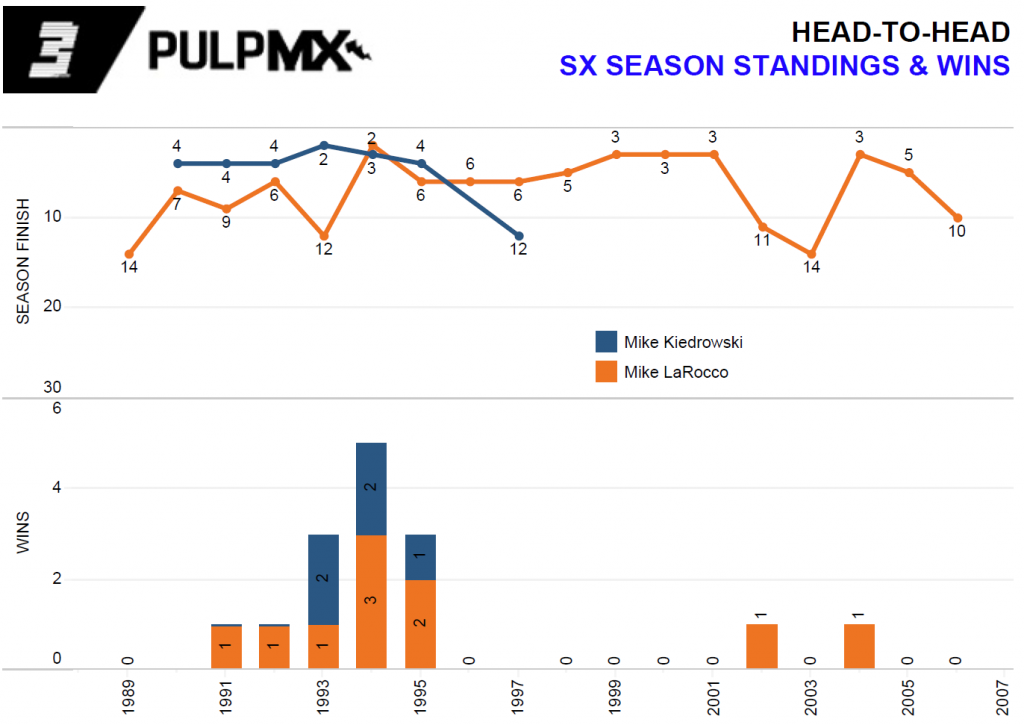 1988 125SX – Advantage Larocco. It was only one race, but Mike Larocco got 3rd at the 125cc east/west shootout in Irving, Texas while Kiedrowski finished 10th.
1989 125SX – Advantage Kiedrowski. They raced each other 3 times in 125cc east/west shootouts this year with Mike Kiedrowski taking 2nd, 3rd, and first to Larocco's 1st, 13th, and 4th.
1990 250SX – Advantage Kiedrowski. Their first season in the 250's – Kiedrowski finished the series 4th overall and Larocco in 7th (though he missed Daytona).
1991 250SX – Advantage Larocco. Kiedrowski finished the series in 4th (again) while Larocco missed 5 rounds. Sure Larocco missed rounds, but they both averaged 16.2 points per main event when they raced. I give the advantage to Larocco because he got his first premier class win this season.
1992 250SX – Advantage Larocco. Kiedrowski finished 4th and Larocco missed a bunch of rounds – 4 to be exact. I give the advantage to Larocco because he averaged just a smidge more points per main event (16.7 vs. 16.4) but mostly cause he got another main event win.
1993 250SX – Advantage Kiedrowski. Kiedrowski got his first two premier class wins and finished 2nd in the series to Jeremy McGrath. It was also the beginning of Kiedrowski's 3 straight wins at Daytona.
1994 250SX – Advantage Larocco. Larocco finished 2nd in the championship after grabbing 3 wins and 11 podiums while Kiedrowski got another 2 wins and finished 3rd in the championship.
1995 250SX – Advantage Kiedrowski. He once again finished 4th in the championship after getting his 5th and final premier class main event win. Larocco finishes the series in 6th after missing the last 3 rounds.
1997 250SX – Advantage Larocco. Neither had particularly great seasons, at least by their standards, but Larocco finished the year 6th overall with one podium while Kiedrowski finished 12th overall after only racing 8 rounds due to injury.
Advantage. Mike Larocco. It's a really tough comparison because in the 7 seasons they raced each other, there was only 1 season (1994) where they both raced every single round. Mike Larocco missed rounds in 6 of the 7 seasons while Kiedrowski was almost never injured – that's impressive! But the deciding factor for me is that Larocco had 9 wins to Kiedrowski's 4 in head-to-head supercross races and when they did race a full season head-to-head in 1994, Larocco beat him.
PRO MOTOCROSS HEAD-TO-HEAD
We already know that Mike Kiedrowski doubled Larocco's pro motocross championship total, but in head-to-head full seasons, they each won 2 championships. Let's take a look at their battles before we hand the advantage to one rider or another.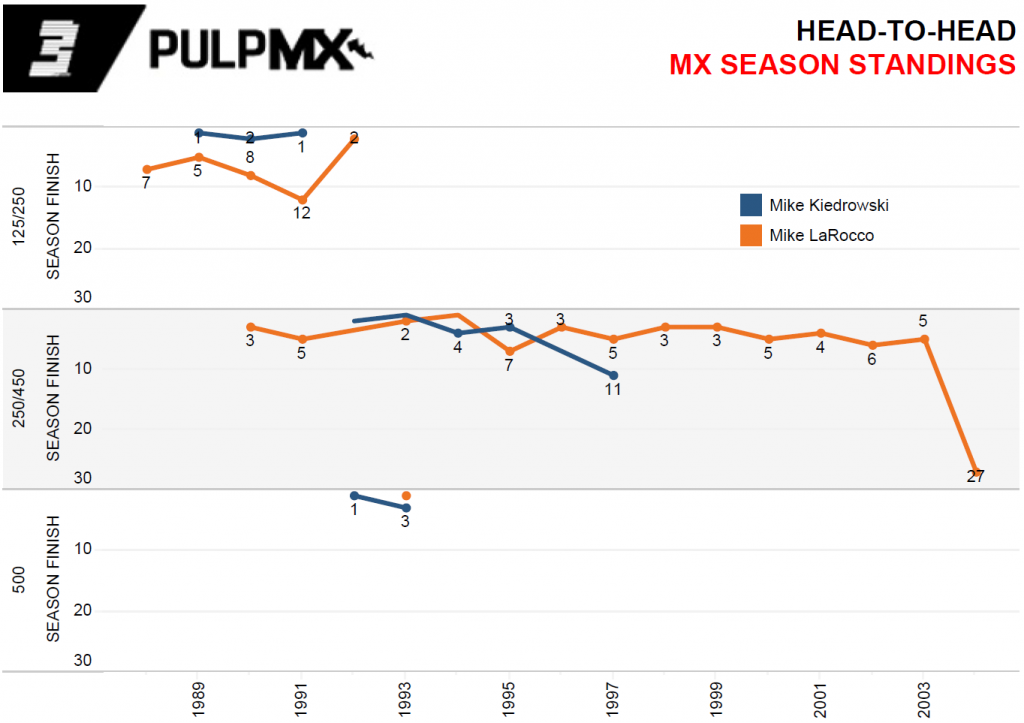 1988 125MX – It's a push. Kiedrowski was finishing his amateur career and only raced 4 rounds.
1989 125MX – Advantage Kiedrowski. Racing with the #762, the MX Kied won his rookie season championship beating the title favorite and rookie sensation Damon Bradshaw by a mere 3 points. Kiedrowski also got 3 wins and 5 moto wins.
1990 125MX – Advantage Kiedrowski. Larocco didn't race the full series so this is a tough comparison; he actually finished 3rd in the 250MX series before joining the 125MX series mid-season. In the 6 rounds he raced in the 125MX, Larocco got a moto and overall win, but it's not quite on par to Kiedrowski coming within one point of winning the championship and grabbing 4 overall and 6 moto wins. Also, in the 12 head-to-head motos, Kiedrowski bested Larocco in 7 of 12 motos.
1991 125MX – Advantage Kiedrowski. He led the series from the 4th round on while winning 3 overalls and 10 motos. Larocco again raced the 250MX series and joined the 125MX series at round 8 so it's a tough comparison. In the 12 head-to-head motos, they split them. You could argue that Larocco's 2 overalls to Kiedrowski's 1 overall in those head-to-head races is most important, but I favor Kiedrowski here given he won the championship.
1993 250MX – Advantage Kiedrowski. The MX Kied led the championship from start to finish, winning 6 rounds and taking 11 moto wins. Considering he didn't race the final round, he won 6 of 7 overalls he raced and 11 of 14 motos. On the other hand, Larocco missed the first round and then was 1 of 3 other riders to win a moto and 1 of 2 other riders to win an overall.
1993 500MX – Advantage Larocco. The Rock led the championship from start to finish, winning 2 of 4 rounds and 4 of 8 motos. Kiedrowski was his primary competition, winning 1 overall and 3 motos.
1994 250MX – Advantage Larocco. The Rock led the championship from start to finish. While there was drama in the Factory Kawasaki rig at Red Bud's, Larocco won 7 of 12 overalls and 13 of 24 motos. Kiedrowski netted 3 overall and 5 moto wins before breaking his hand at round 7 of the series.
1995 250MX – Advantage Larocco. This was a bit of a changing of the guard as Jeremy McGrath and Jeff Emig went 1st and 2nd in the series. While Kiedrowski took 3rd in the championship along with 2 overall wins and 1 moto win, Larocco beat him in the 11 of 14 motos they raced head-to-head. Sure, Larocco was injured for 5 of the 12 rounds, but he had Kiedrowski covered when they both raced.
1997 250MX – Advantage Larocco. Neither had particularly great seasons by their standards, but Larocco finished every round and had 2 overall podiums. Kiedrowski's best finish on the season was a 6th overall in just 7 rounds raced.
Advantage: Mike Larocco. While wins and championships went to Kiedrowski, when you look at the season breakdown, I think Larocco has him covered, especially in the premier 250cc class. No question that Kiedrowski was a better 125cc rider, missing out on a 3rd championship by only 1 point. Alas, I give more weight to the big bike class. I'm guessing Matthes will debate the 1995 season, but I'm still going with Larocco.
So based on my super sophisticated PulpMX + 3 Laps Down algorithm, it's very obvious that Larocco was better! 🙂