What? A two stroke? You don't ride those, Keefer! That is the comment I get a lot when I am seen riding one or talk about one of these funny sounding machines. But to the contrary, I do ride/test two-strokes and actually spent quite a bit of time on one during the holiday break! The 2022 Yamaha YZ250 isn't as radically changed as the YZ125, but there are some key changes that warrant this article. Below is a breakdown of those changes and what I thought about the machine. Use the suspension reference chart below to get you started on some settings.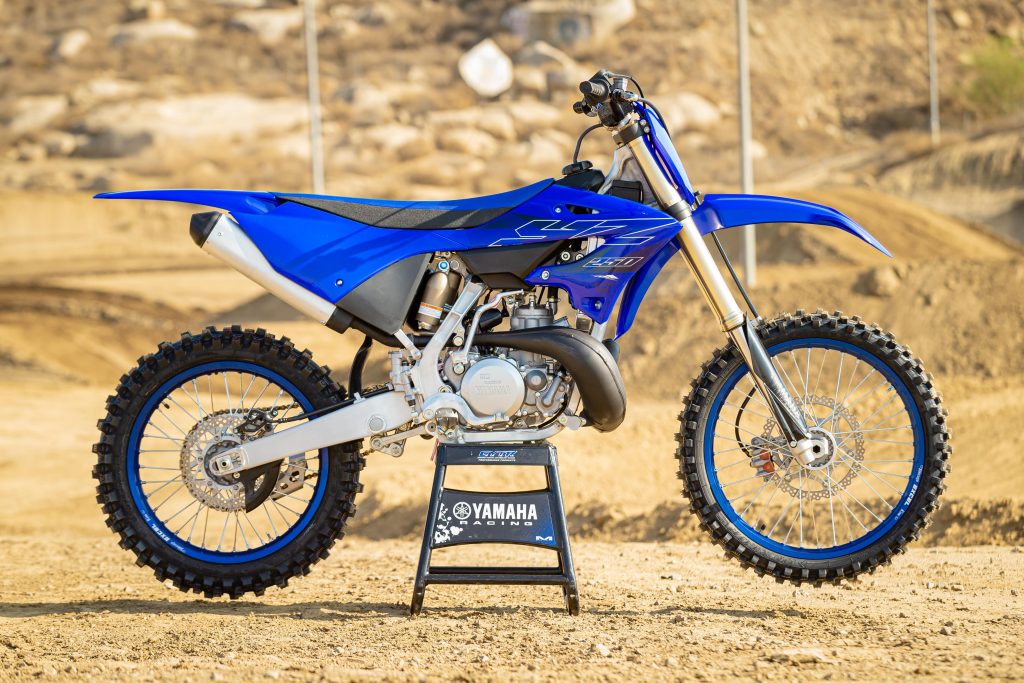 What's New?
Bodywork: A new seat, front and rear fender, front number plate, radiator shrouds/louvers, side panels, airbox, subframe, and fuel tank make it fairly easy to distinguish the 2022 YZ250 from prior-generation models. There are fewer 10mm trim bolts, and an 8mm T-handle is all that's needed to remove the majority of plastic. There's now a single seat bolt with a new mounting location
Suspension: The internals of the KYB Speed Sensitive System (SSS) fork are updated and share structure and spring length with the YZ-F models, along with setting revisions for stronger damping force at low-to-mid speed as well as a stiffer spring rate of 4.4 Nm. The existing fully adjustable KYB shock with its 18mm shaft is retained, but with new internal settings and a stiffer spring rate of 50 Nm.
Brakes: Major updates were given to the YZ250′s brakes. The front sees an increased piston size (22.7mm to 25.4mm), a 30 percent increase in caliper rigidity, larger brake pads constructed of a higher friction material, and a disc featuring 16 percent more surface area. Out back there's a new caliper and hanger, said to be 0.26 pound lighter, along with a 240mm disc, 5mm smaller than the prior generation model's. Both front and rear discs have optimized heat absorption capacity.
Tires/Drive: The chain and rear sprocket are both said to be lighter (73 grams and 42 grams, respectively). Dunlop Geomax MX33 tires are race-ready and replace the discontinued Geomax MX52 tires.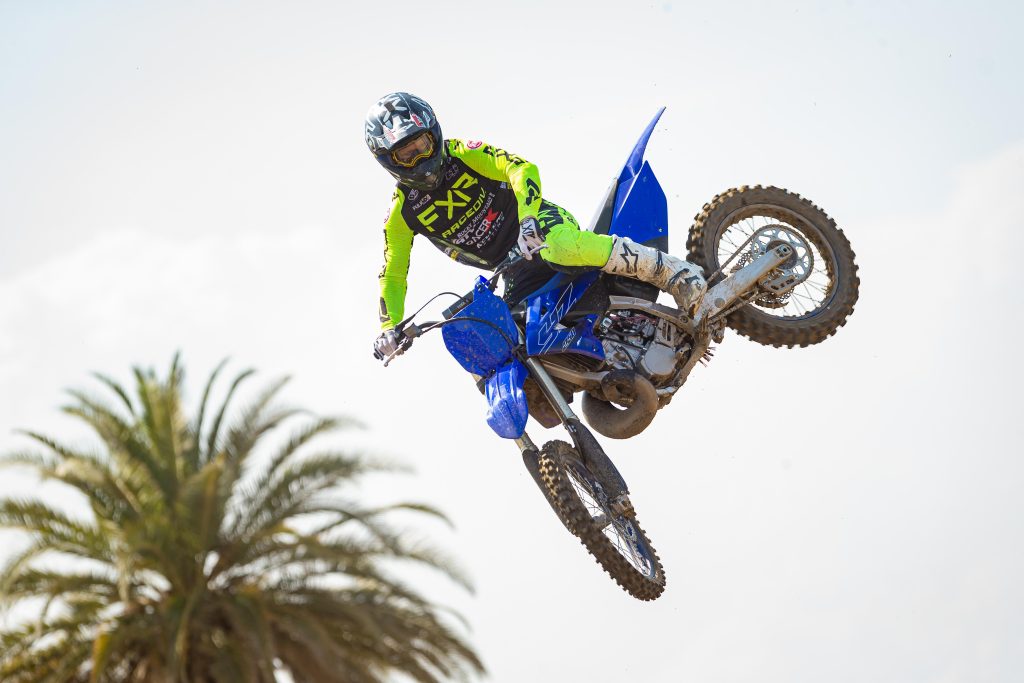 Engine Feel:
The '22 YZ250 retains the same powerplant, which means your engine modifications that you have done in the past can still work. The YZ250 is not that arm jerking power that everyone (including me) thinks that a 250 two stroke is. It is actually quite smooth and manageable for a 250cc two-stroke, with power that transitions from a smooth bottom-end pull to a broad midrange and a top-end that is a little shorter than a KTM 250SX. To me, it has a nice blend of RPM excitement and smoothness. There are class competitors with more bottom (KTM), but it isn't as rideable and generally get me more tired than the YZ250.
The Keihin PWK 38S carburetor is surprisingly crisp and needed no changes. Jetting specifications are identical to the 2021 model for good reason; there's not much room for improvement. From a hot summer day in California to a cool winter evening in the dez, the Yamaha didn't give me jetting fits. Also, because intake airflow resistance was reduced by 15 percent with the new styling, riders can expect even more performance when favorite mods are added.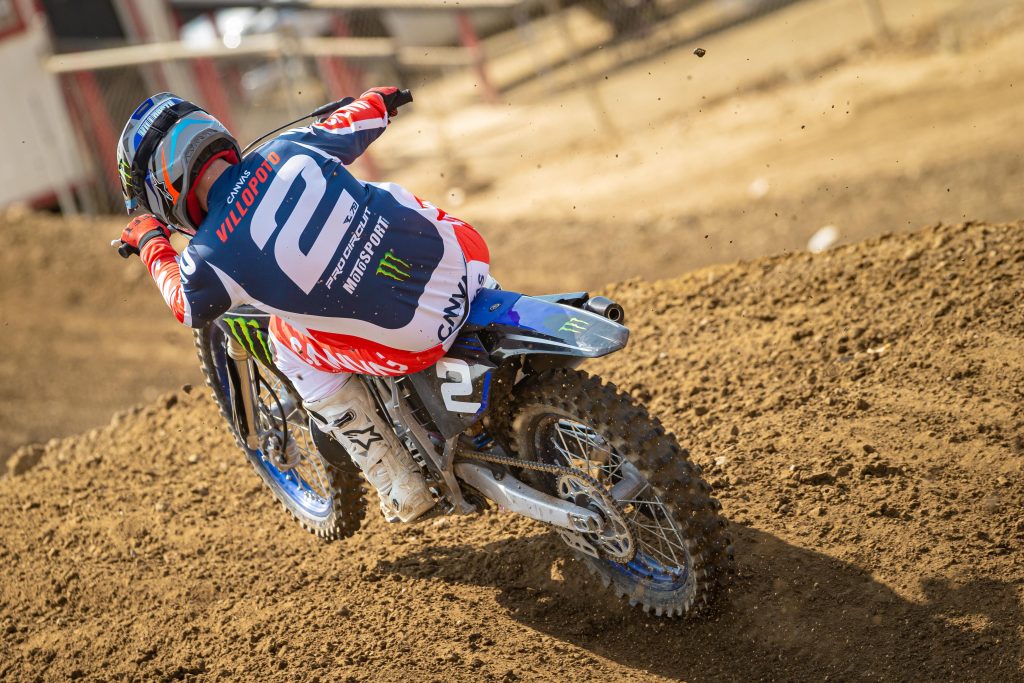 Suspension:
The 2022 YZ250 standard settings are as follows:
Fork:
Spring: 4.4 Nm
Height: 5mm
Compression: 9 out
Rebound: 14 out
Shock:
Spring: 50 Nm
Sag: 104
LSC: 9 out
HSC: 1-1/8 turns out
Rebound: 8 out
The YZ250′s target weight is approximately 155 to 175 pounds, so to me the YZ's suspension was soft. If it was me, I would go to a 4.6 Nm fork spring and 52 Nm shock spring and start with the standard clicker setting. The KYB suspension can work for a wide variety of riders, it just doesn't have the track toughness that the four stroke settings do. Going up a spring rate and leaving the stock valving really does work and it makes it easier for the consumer to simply to a spring swap and live happily ever after! If you simply can NOT get springs and want to dial in the current stock springs/valving here is a recommended setting that I lived with around Southern California for a while.
Recommended Fork Settings:
Spring: 4.4 Nm
Height: 3mm
Compression: 5 out
Rebound: 12 out
Recommended Shock Settings:
Spring: 50 Nm
Sag: 104
LSC: 6 out
HSC: 1 turn out
Rebound: 7 out
Handling:
It's amazing what a light-feeling bike can do when you haven't ridden one in a while. If you're coming off a four stroke, you are going to trip out on how much you can flick around this YZ250!  The YZ250 may not be the lightest 250cc two stroke motocross machine, but you'd never know it when railing a corner with a massive grin on your face. The balance of the chassis is exceptional and only gets better with heavier springs, but there's a reason why Yamaha kept chassis updates to a minimum. This bike is stable and also can carve an inside rut with ease and blending those two together is NOT easy to do. Trust me, I know! With the amount of rear wheel traction I have from this two stroke and the blend of stability/cornering this machine has, it's no wonder some weekend warriors prefer this blue two stroke! I get it.
Overall Opinion: 
Now I am not going to sit here and say I am packed and ready to board the two stroke train just yet, but there is a lot of "fun" to be had on this bike. The key word here is "FUN". If I want to just have fun and not worry about my lap times, I would want this bike. Or if I am on a budget, yet still want some newer technology in a motocross bike, I am choosing this YZ250. I still prefer a four stroke, but riding this machine for a while these past couple months has brought me back to my youth and the reason why I started riding in the first place. FOR FUN!