San Diego has one of the more picturesque views from the TV booth and the downtown setting is unique (and a far cry from the Oakland scene). There's the hustle and bustle of an urban center and all the energy that comes with it. It seems this past Saturday both classes of supercross racing fed off that energy and delivered chaotic racing.
Case in point – the 14 point gap between 1st and 10th after 3 rounds is the smallest points gap in the history of supercross. It eclipses the 2019 mark of +19 points and the 2021 mark of +20 points. As Ken Roczen said on Instagram, "back in the day, I would've been 30 points down by now with the results the last couple weekends, but I'm only 7 back".
Embracing the theme of chaos, let's take a look at some of the chaotic finishes of various riders through three rounds of racing…
450SX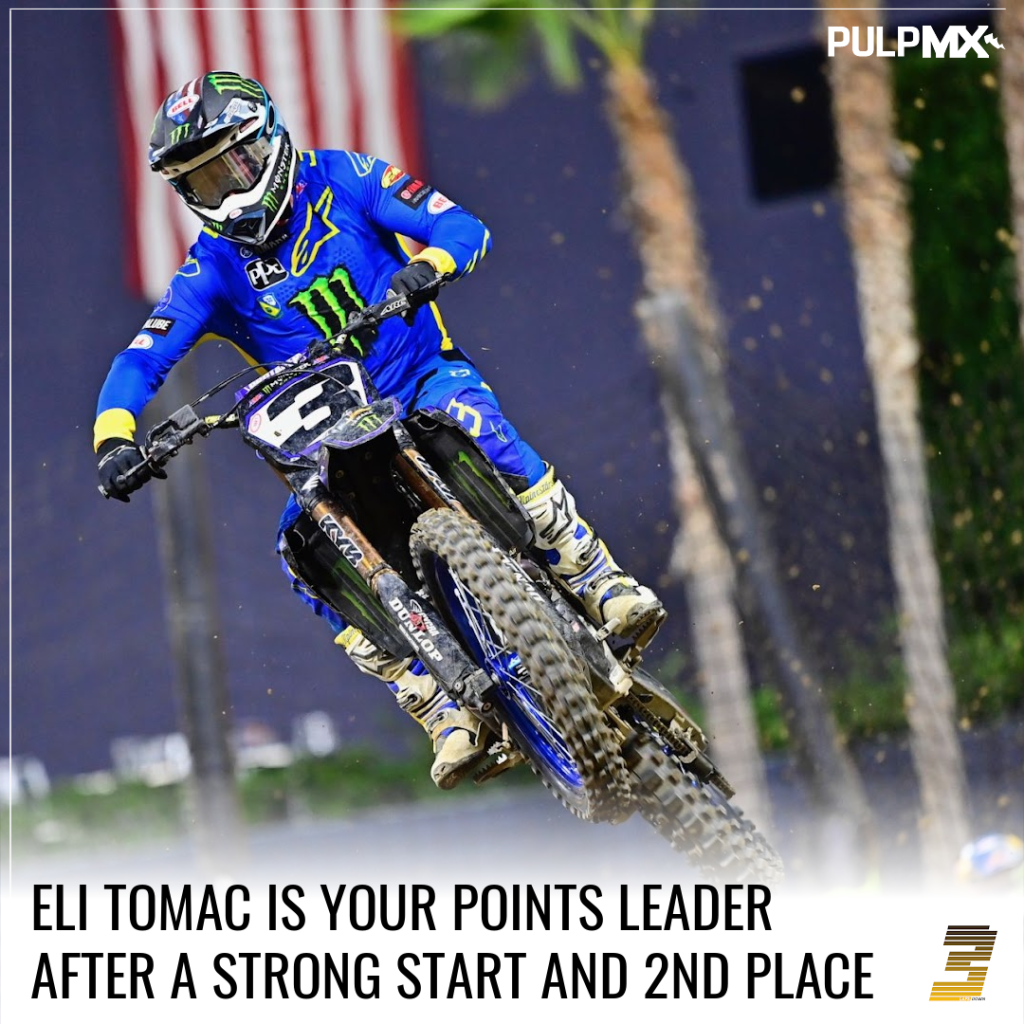 Eli Tomac (6-4-2).
Sitting in the booth with Diffey and RC after the race, RC looks over and says it's not surprising the Star Yamaha's are up there, they finally got starts. Here's the evidence – Eli's first lap positions combined with his finish positions are 11th to 6th, 8th to 4th, and 3rd to 2nd.  We may be tired of hearing RC say that the start is the key to the race, but the start is a key to the race.
Chase Sexton (5-9-1). Chase set out to eliminate the mistakes of his rookie year and in the first two rounds he made mistakes – a total of 3 costly crashes. Consider this – in his 14 career 450SX starts, he's lost positions in 8 races! In those 8 races, he averaged 12th place. In the 6 races he's gained positions, he averaged 3rd. It's no surprise to see that when he didn't make any mistakes, he became the 66th winner in the history books.
Justin Barcia (3-3-9).
Beyond the fact that 3×3=9, there's nothing surprising about his finishes. Justin has led 6 rounds of 450SX in his career. They've all been round 1 or 2. He averages 5th at the first round. He averages 6th at the second round. Guess what he averages at the 3rd round?! 9th. Unfortunately, Justin lived up to his historical expectations.
Aaron Plessinger (9-2-6). Before I dive into the stats, can we all agree his Red Bull cowboy hat is absolutely amazing?! Cool. Here's the stat about Mr. Mullet & Mustache that's a bit baffling… he averages 15th fastest in qualifying yet he's currently 6th in the standings. Beyond this somewhat baffling stat, I can't explain the chaotic nature to his finishes with numbers.
Jason Anderson (10-1-8). No question that Jason should be leading the series right now. Get rid of one 'Bam Bam' moment and one mechanical and he's looking at a 2-1-2 box score. The switch to green, excluding that radiator induced mechanical has been good for Jason. While many will say woulda, coulda, shoulda, the reality is he's put down the 3rd, 2nd, and 2nd fastest laps of the main events. He's for real and for the sport, he's an amazing personality to have re-emerge as a title contender. #teamfried
Ken Roczen (1-13-7). Ken currently sits 7th in the standings. Do you know how many times he's been 7th or worse in the standings (excluding injury)? Never. The good news for Ken is he's only -7 points back of Eli Tomac. He was nearly flawless at round 1 in Anaheim, but the surprising thing for me is that the whoops have been his downfall in the last 2 races. In Oakland, he crashed in one set of whoops in qualifying and then again in the other set of whoops in the main event. In San Diego, he got sideways in the whoops which ultimately led to the door being opened for Anderson to slice under his front tire. It's been uncharacteristic Ken the last 2 rounds.
Marvin Musquin (4-8-10).  Marv's current finish trend is not good (profound statement, right!?). At the first round he had the 15th gate pick, finished the first lap in 9th and made his way up to 4th. It was a great race for him minus the incident with Malcolm Stewart. At the second round he had the 12th gate pick, finished the first lap in 9th and only made his way up to 8th. At the third round, he had 4th gate pick, finished the first lap in 1st, but finished 10th. To see him drop the anchor like that was not what I expected. I was expecting to see him get a win like he did last year at round 16 in Salt Lake City.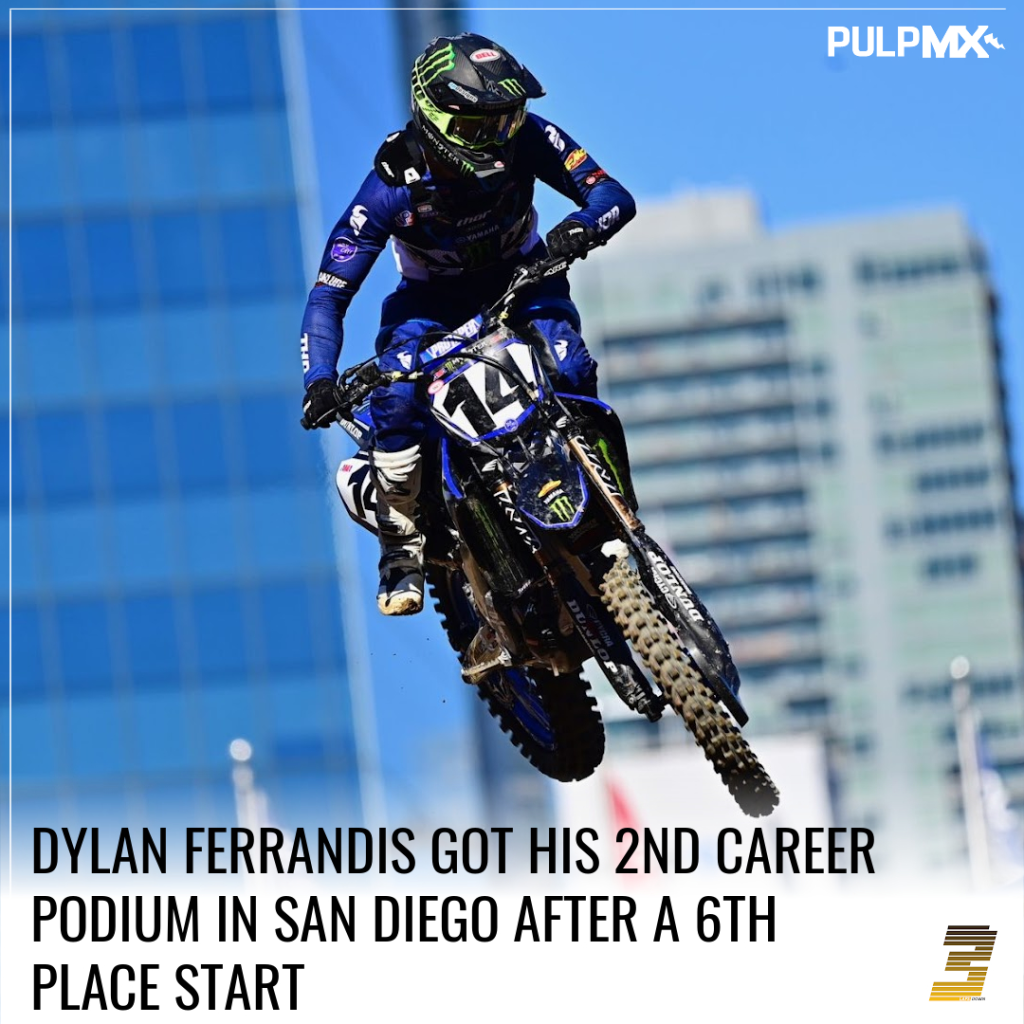 Dylan Ferrandis (16-6-3).  
Did anyone question whether Dylan's success or failure would be based entirely on improving his starts?! Not unlike his teammate Eli Tomac, his results mirror his first lap position. He's gone from 14th to 16th, 13th to 6th, and 6th to 3rd. While the first round was hindered by a brake problem, it's clear as a sunny day in San Diego that when he gets a good start he's going to finish strong. Maybe more interesting is that he's doing it with consistent speed vs. raw speed – his fastest laps in each main event are 7th fastest.
250SX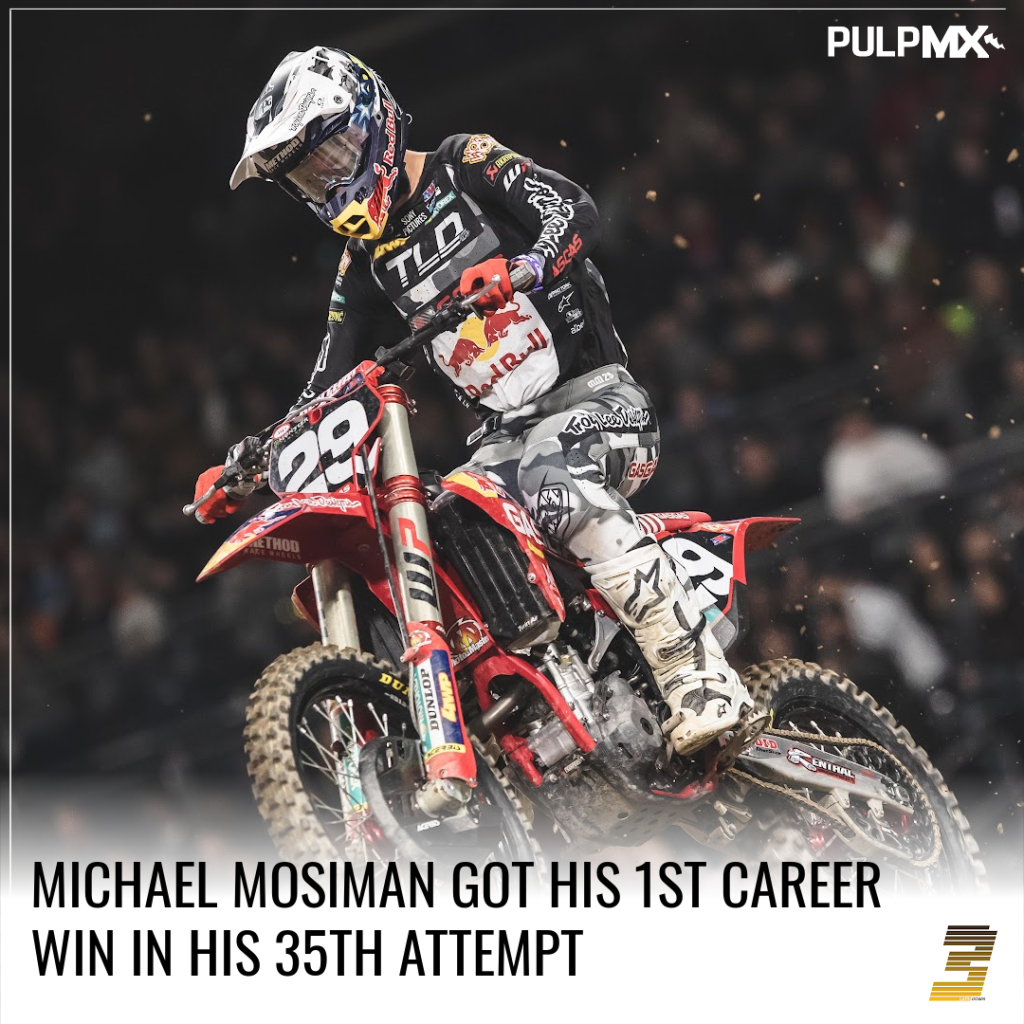 Michael Mosiman (6-4-1).
Congrats to Michael on his 1st career win – becoming the 117th winner in the 125/250F class. With the exception of one mistake at the first round in Anaheim which left him in 22nd position at the end of the first lap, he's been good. Good enough to be 1 of 2 riders to put down faster laps than Christian Craig. Once in the first qualifying session at round 2 in Oakland and again last Saturday in San Diego when he set the fastest lap of the main.
Nate Thrasher (12-5-8). Nate has 2 career wins, but has averaged 10th place in the other 9 races. His 2022 season highlight was 3rd fastest qualifier at round 2 in Oakland, but he's been on the ground in at least 2 of the main events, Anaheim and San Diego. I don't believe we've seen his best quite yet. It'll be cool to see how he does when he doesn't crash.
Carson Mumford (10-14-6). A career best 6th place for Carson is what is expected of this young talent. He only made 4 of 7 main events in his rookie year, but he's now 3 for 3 this year. That alone is a good start to the season. At San Diego, he was in 3rd for a good portion of the race before losing a few positions. It'll be interesting to see how he does over the next couple of rounds.
Garrett Marchbanks (4-8-22). Garrett's in his 4th season and he's now got enough experience (29 mains) that we should expect consistent results but it's been more of the same. He started strong in Anaheim, almost getting a podium before losing a position to Hunter Lawrence late in the race. He was under weather in Oakland and didn't have the same performance so that's a push. Then in San Diego, he was unfortunately part of the first turn crash that resulted in a torn radiator hose that ended his night early.  Now the question – can he return to A1 form at A2?
Dylan Walsh (17-DNQ-11). From New Zealand, riding for a British team, Dylan Walsh is living out his dream to race American supercross. He won the LCQ to make his first main in his first attempt at the opening round. He missed the main in Oakland but returned to form in San Diego. He was as high as 4th place in the first 2 laps and did well to finish 11th, but his fastest lap in each main is ranked 16th. He'll need some more speed to replicate last weeks result – or just get a start against a gaggle of factory bikes! Not sure which is easier.
Hope you enjoyed a look into some of the riders with chaotic finishes this season. Stay tuned to PulpMX.com each week. I'll be diving into different stats topics throughout the year
. If you have any ideas, hit me up on Twitter or Instagram @3lapsdown.