We've had some great racing this season. 4 different winners in 4 different rounds in the 450's. Eli Tomac and Jason Anderson have adapted nicely to their new teams and bikes based on their early results. Cooper Webb and Ken Roczen seem to be struggling but we all know better than questioning their results too soon. It won't keep us from wondering though. In the 250's we've seen Christian Craig mostly dominate while the younger riders – Michael Mosiman, Hunter Lawrence, Jo Shimoda, et al – not quite be able to run his pace, at least not every single round. Mosiman has definitely shown the speed but not all 4 rounds. Hopefully we continue to see close racing.
Rather than dive into the normal top riders, I thought it'd be cool to highlight some of the best privateers in the 450's along with the 250 riders that have made their first ever main event. These guys are putting in the same effort as the factory riders, but don't always get the limelight.
TOP 450 PRIVATEERS
Kyle Chisholm (19th – 3 mains).  Maybe the most successful privateer the sport has seen, Kyle's now raced in 134 main events, including 3 of 4 this year with a season best 16th at Anaheim 2.
134 times. https://t.co/gXZnL2IFZC

— Clinton Fowler (@3lapsdown) January 30, 2022
Notable, Chiz has won 2 LCQ's this year (SD and A2). That got me thinking… how many LCQ's has Kyle raced?! The answer = 39. I expect more considering that Adam Enticknap has raced 111 LCQ's but 39 is still a couple handfuls. What's more amazing is he's transferred to the main event in 32 of the 39 LCQ's. He's transferred in 82% of the LCQ's he's raced. That's Chiz chizzing.
Ryan Breece (23rd – 3 mains).  After missing an entire season due to injury, Ryan has returned and had immediate success. He shared via a text conversation that he 'expected to be in all 4 main events and competing with the factory guys'. With a triple crown up next in Glendale, he could get a good start and combined with confidence, maybe he gets a career best. He's finished 14th at 4 different rounds in his 23 career main events. His last 14th was 2020 at the Arlington triple crown!
Freddie Noren (24th – 3 mains). Freddie missed the first round due to COVID protocol, so with 3 main events, he's started the season making ever main he's lined up. Looking through the stats, I saw that he's transferred via two 9th place finishes in heats and one 4th place finish in an LCQ. Those are the final transfer spots. When asked if it's nerve racking, he said "it used to be a lot more nerve racking but I've had a great off season at ClubMX and we ride very intense everyday racing each other". That hard work looks to be paying off but I wondered if that daily grind got to him. He said "it's both. I love racing so it's fun but it's also a grind, it's a lot of work and time spent riding, training, and nutrition".
Justin Starling (25th – 2 mains). I connected with Justin via Troy Dog over at Vurb and got the rundown on Justin's season so far. His kit looked great at the first round in Anaheim and he went out and won the LCQ and finished 21st in the main event. A great start to his season. He also made the main in Oakland but he's missed the last two. He shared he wants to be in every main, but in Anaheim this past weekend, he said "I was nailing everything but the starts, whoops, and my intensity was just not there". With a career best 15th back in 2019 along with 12 career main events, I anticipate we'll see him back in the mains soon!
Joan Cros (27th – 1 main).  Joan has come so close to making all 4 main events this season with 5th, 4th, 6th, and 7th place finishes in the LCQ. That 4th in the Oakland LCQ was the 3rd time he's transferred to the main event in 45 career attempts. I asked him how that 3rd career main felt and he shared "It was awesome cause I lost the last transfer spot on the last lap at the first round so it was good redemption." You've gotta be pumped for both him and his Madd Parts Kawasaki team. They put together a factory level presentation and effort on a privateer budget.
View this post on Instagram
250 Main Event 1st Timers
Dylan Walsh (A1). Dylan's a Kiwi racing for a British team. He's also the 2019 British MX2 champion. Anaheim 1 was his first ever supercross race and he put it into the main event with an LCQ win and has now made 3 of 4 main events this season. He shared his goal is to break into the Top 10 and that looks pretty reasonable given he's finished the last two rounds in 11th place and now sits 15th in the standings.
Kaeden Amerine (A1). Kaeden's racing for the Team Tedder KTM team. He's made 3 of 4 main events and taken 20th each time and now sits 25th in the standings. Most important, he had a breakout qualifying session this past weekend finishing 11th fastest. "Saturday, I felt like I had good speed and I felt that my confidence was good in the whoops which helped a lot".  As far as goals for the year, he's "happy building each weekend". Considering he's already made 3 main events and qualified 11th fastest last week, I think we'll continue to see him transferring direct from heats and knocking on the door of Top 10's in the main.
Brandon Ray (San Diego).  Brandon's just 4 main events into his rookie season and he's already got his first main event, finishing 19th in San Diego after getting the final transfer spot in the LCQ. The Partzilla Team PRMX Instagram summed it up nicely on Instagram – "Every moto kid dreams of one day making their first supercross main event. Last night in San Diego that dream came true for Brandon Ray."
Richard Taylor (Anaheim 2). Richard came into the season with a goal of consistently making main events and then get better and better finish positions. He achieved the first step this past weekend in Anaheim with his first career main event. Unfortunately his bike blew up and he wasn't able to showcase his best. I asked him the toughest part of making main events and he shared "it's been executing a good start and making smart decisions on the first lap." He was part of the LCQ first turn carnage in San Diego, but in A2 he "came out of the first corner with no issues and rode it into the main event".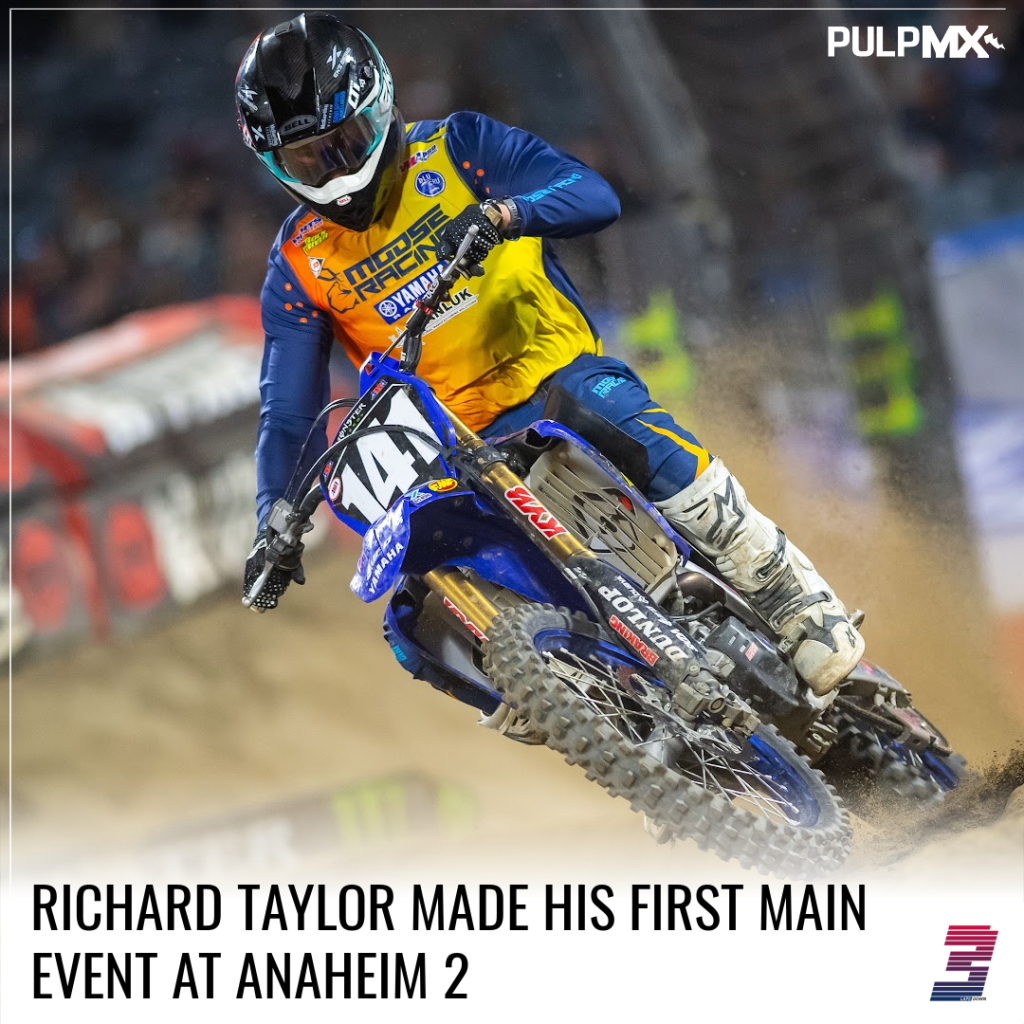 Not unlike fellow rookie Kaeden Amerine, he mentioned that one of the biggest things he's learning is the whoops. "During the morning qualifiers, they are so gnarly. So steep and tall and the bottoms are straight V's". Seem like he's starting to get those figured out with his first main event under his belt. I bet we see him in the mains a lot more moving forward!
McClellan Hile (Anaheim 2). Richard wasn't the only one to make his first main event at Anaheim 2. McClellan put it into the main via the last transfer spot in the heat race. Funny enough, he thought he was in 11th or 12th. "My dad got hit in the lip with 2 laps to go so he didn't put the pit board up for me so I really didn't have any idea. I think it helped me just stay calm and not think about it." Congrats on your first one McClellan!
If you've got stats questions or ideas for future Advanced Analytics posts, drop me a line @3lapsdown on Instagram or Twitter.