For this edition of Classic Ink, we are going to take a look back at Suzuki's colorful ad for their 1987 RM lineup.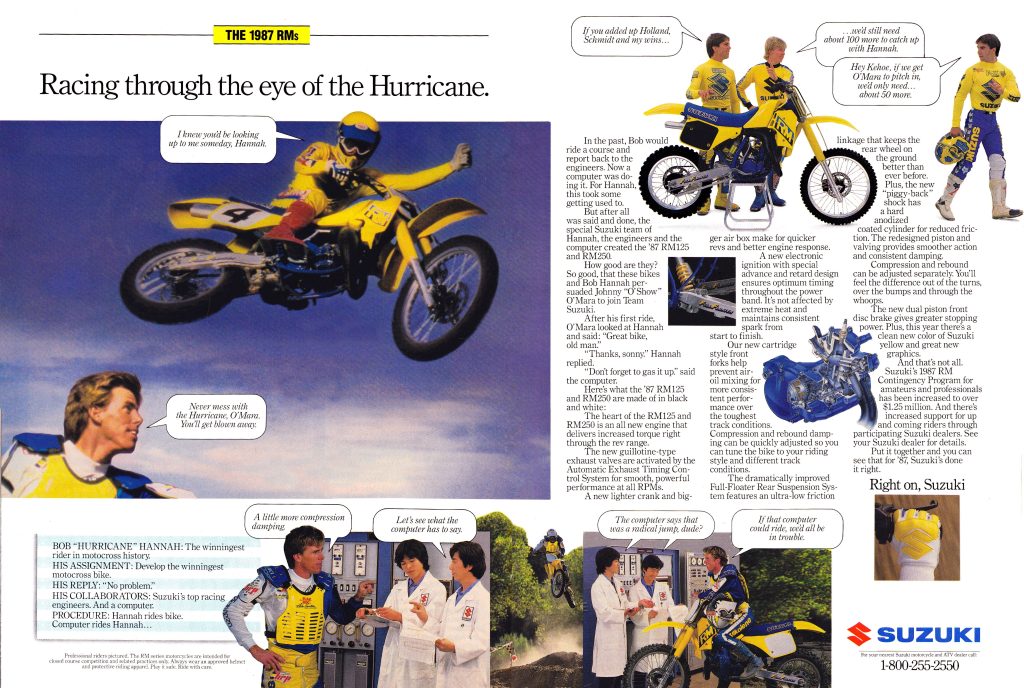 Considering Suzuki's fortunes of late it might be time to bust that computer out of mothballs. Photo Credit: Suzuki  
The mid-to-late eighties were not a great time for Suzuki's motocross program. After dominating much of the sport throughout the seventies and early eighties, team Yellow Magic took it on the chin with a series of lackluster machines that failed to impress on the track or in the press. 
In 1986, this fall from grace reached its zenith with the introduction of an all-new and entirely disappointing lineup of machines. The redesigned RM125 and RM250 looked old, ran poorly, and lacked the suspension finesse of their forebears. The all-new "non-floating" Full Floater rear suspension did not work half as well as the original and nearly everyone found the new RMs to be massive disappointments. 
For 1987, Suzuki went back to the drawing board with the RMs and looked to erase the embarrassment of '86 with a pair of much-improved machines. Both the RM125 and RM250 were once again completely redesigned with revamped motors and all-new suspension. The stiction-prone eccentric-cam linkage of '86 was replaced with a much more conventional design and both machines adopted Kayaba's version of the game-changing cartridge forks Honda had introduced in 1986. All-new motors featured redesigned power valve systems and much more potent performance. About the only thing that remained from 1986 was the styling, which continued to make the Suzukis look several years older than their competition. 
In addition to improving their machines, Suzuki spent serious capital on upgrading their race team for 1987. In 1986, Suzuki hired legendary rider Bob Hannah to be a development rider for the team. Just as Roger DeCoster had done for Honda in the early eighties, it was hoped that The Hurricane could help turn around Suzuki's flagging race results. At the time, Hannah was only 30, but the seven-time champ was no longer interested in racing a full schedule so his efforts would be focused on supporting the team and improving the production machines.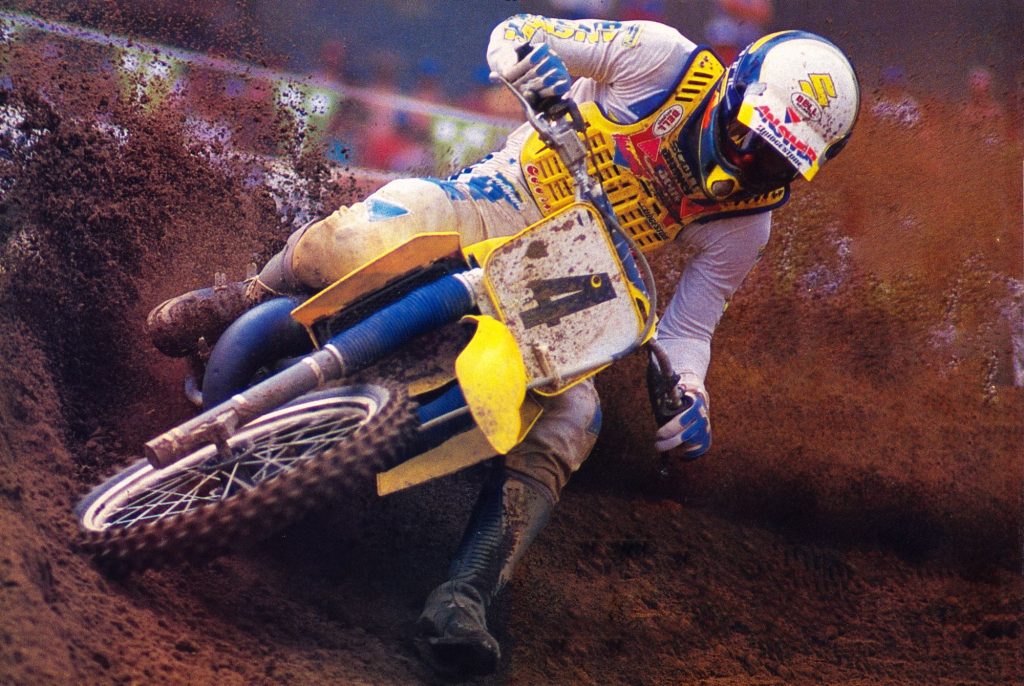 Johnny O'Mara's move to Suzuki was big news in 1987. While his first two years on the RMs would prove disappointing, an all-new machine in 1989 would finally see O'Show back at the front once again. Photo Credit: Dirt Bike 
For 1987, Suzuki added another major piece to their winning puzzle by signing 1984 AMA Supercross champion Johnny O'Mara to the team. A casualty of budget cuts at Honda, O'Mara had been one-third of perhaps the greatest 250 motocross team ever. In 1986, O'Mara and his Honda teammates Rick Johnson and David Bailey had dominated the standings, sweeping the podium in both the 250 Supercross and National Motocross series. Then the trio had traveled to Italy and put on a clinic by dominating the Motocross des Nations with a 1-1-1 sweep of all three divisions. After more than half a decade with Honda, the O'Mara signing was a big deal for Suzuki in the fall of 1986. Already a two-time AMA champ and still in the prime of his career, many thought the O'Show coming to Suzuki was just the thing to bring the yellow team back to the promised land. Unfortunately, there were also probably just as many naysayers in the pits that believed the move might be the end of his winning ways. 
With all-new machines to tout and an exciting team of riders in their stable, Suzuki took a more lighthearted approach with their advertising in 1987. Instead of just listing all of the updates and improvements for 1987, Suzuki's ad agency crafted a funny little skit with Bob Hannah and the Suzuki engineers consulting a Hal-9000 style computer for its opinion on Hannah's riding. The entire team of O'Mara, George Holland, Erik Kehoe, and Donny Schmit get in on the action with the three younger members joking about all the wins it would take to equal Hannah. There is even a funny and a bit cheesy exchange between Hannah and O'Mara that probably had both cringing once they saw it in print. 
While I'm not sure this ad sold Suzuki any more motorcycles in 1987, it certainly made an impression on me at the time. It was so different from every other motorcycle ad I had seen up to that point and more in line with the pun-laden "win" ads common to Cycle News at the time. I remember seeing it for the first time and thinking it was silly, but today it is far more memorable to me than any of the other ads from the Big Four this season. Since catching a reader's attention is any ad's main job, I would say that computer was pretty damn smart after all.