We sent JT to Spain to ride the all new electric Stark Varg bike, we did a podcast HERE with more details about the bike itself but here's a bit more on the trip- Matthes
When I first heard about the media intro for the Stark Varg, I didn't pay too much attention. Kris Keefer was tasked with covering the event for Racer X and PulpMX in a cooperative venture. Keefer tests motorcycles and products for a living and seemed the obvious choice for this project. As we have all experienced, though, Covid restrictions and challenges don't always care for our best laid plans. Unfortunately, Kris was unable to attend and I was asked by none other than Davey Coombs himself to fill in. For those that don't know Davey, he doesn't ask much of anyone. Further, he has done countless things for me, including pushing me across the MavTV broadcast finish line. When he asks, I say yes. Next stop, Barcelona!
When I started really wrapping my head around the trip, I had to be honest and realize I hadn't ridden in a while. Boise winters aren't exactly moto friendly and I had been a tad busy with FLY Racing duties and attending every supercross round. Riding isn't exactly a foreign concept, though, and I knew I would be fine within a few laps. Still, I had to rummage through my garage and make sure everything was ready for a Euro riding trip. It was actually a fun walk down memory lane while preparing. I have done well over 100 races in Europe alone and getting the chance to go through that process again was enjoyable. I wasn't racing, of course, but it was similar enough to evoke old feelings.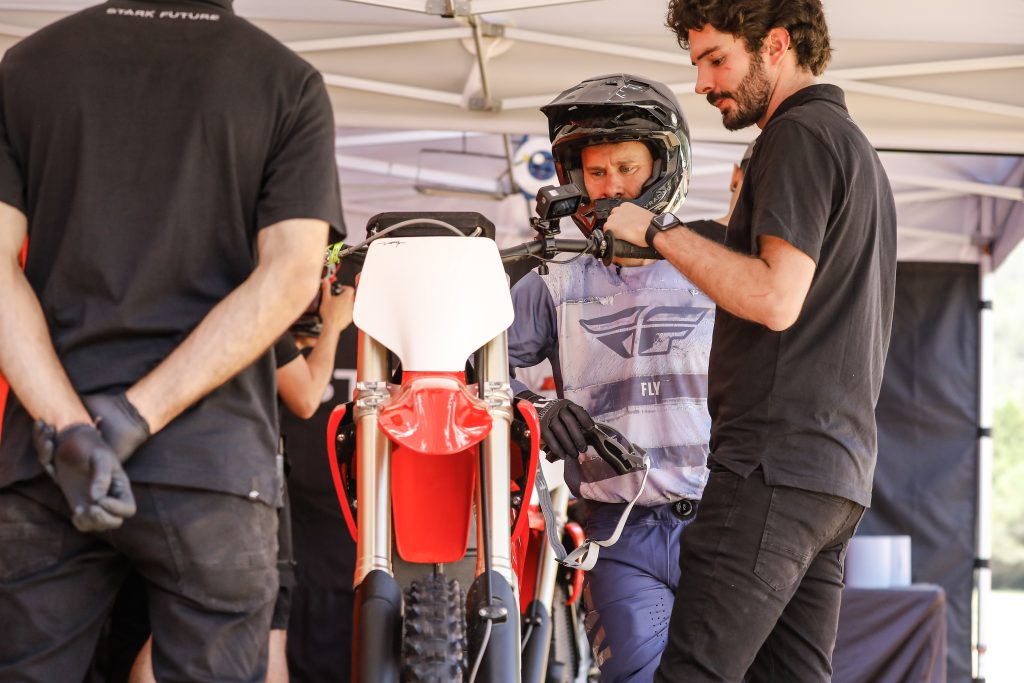 Traveling to Europe since Covid is a whole thing. Testing, vaccine requirements, contact tracing, masks, and more. I have been ten times or so since and while it's getting easier, it's still a hassle compared to yesteryear. Arriving into Barcelona, I had my vaccine card checked about 5 times before I even left the airport. Once I was out, though, it was smooth sailing! I never got asked again and never wore a mask the entire time! My driver (fancy, right?) was waiting for me outside customs and ushered me up to the Catalan countryside where our hotel and track were waiting.
Arriving to the small host city, it was typical rural Spain. Fundamentally old but historically beautiful, Spain is easily one of the best countries in western Europe. The weather was absolutely picture perfect, too. I had almost a full day of recovery before I needed to be ready for the Stark test so I made the most of it. I went for a long walk, visited the thermal spas, and even got a workout in. By nightfall, I was completely exhausted and likely fell face first into my bed.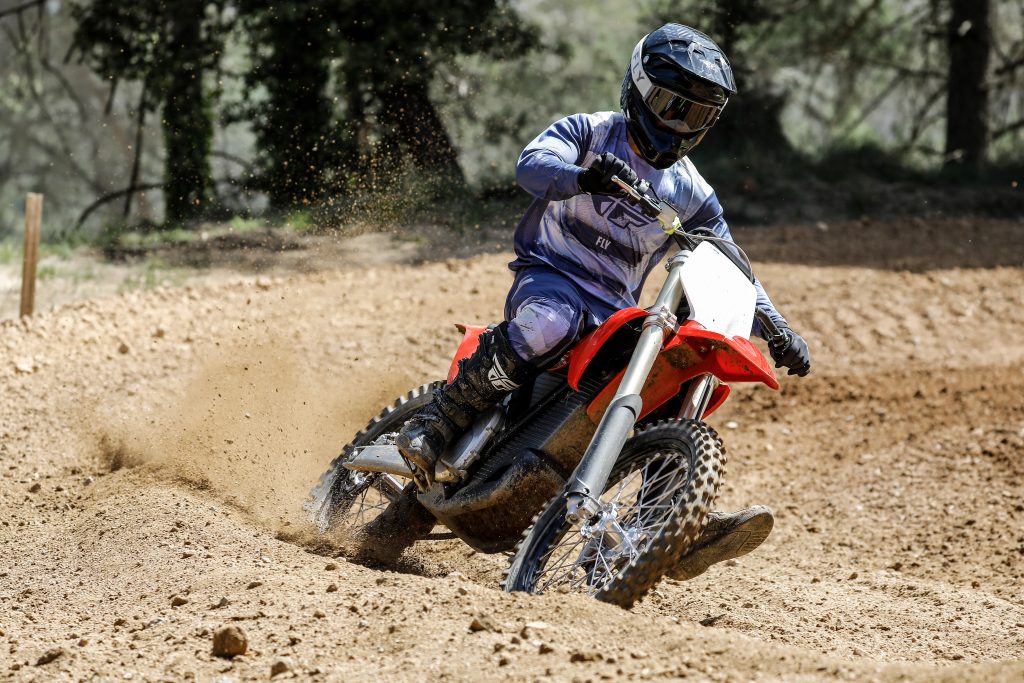 Morning came quickly and my nerves were kicking in. Again, I hadn't ridden in a while and this electric bike revolution was all new for me. I wanted to give the best feedback I could, not only for the media outlets that had sent me, but also because Stark's developmental test rider is none other than Sebastien Tortelli. Seb and I go way back, spending countless days together during the early 2000's. He had moved to Florida to train and ride, conveniently right down the road from where I grew up. Geography created friends and we got on so well that I was actually the best man in his 2003 French wedding. Seb was an incredibly wise choice by the Stark crew and I was very excited to see my long lost friend.
Stark rolled out the red carpet for us at the MXGolf track, maybe 20 minutes northwest of the hotel. Five prototype Varg's sat pristinely waiting for us to do our worst. Each media member had their own designated mechanic for the day, as well as photographer. It was an impressive rollout and made us all feel like we were factory Stark. With engineers, mechanics, drone operators, photographers, videographers, test riders, ownership, and PR firms all on site, there was a very official feel to the event. No detail was left to chance. From catered lunch to video presentations to showers on site to clean up afterwards, we were absolutely dialed in.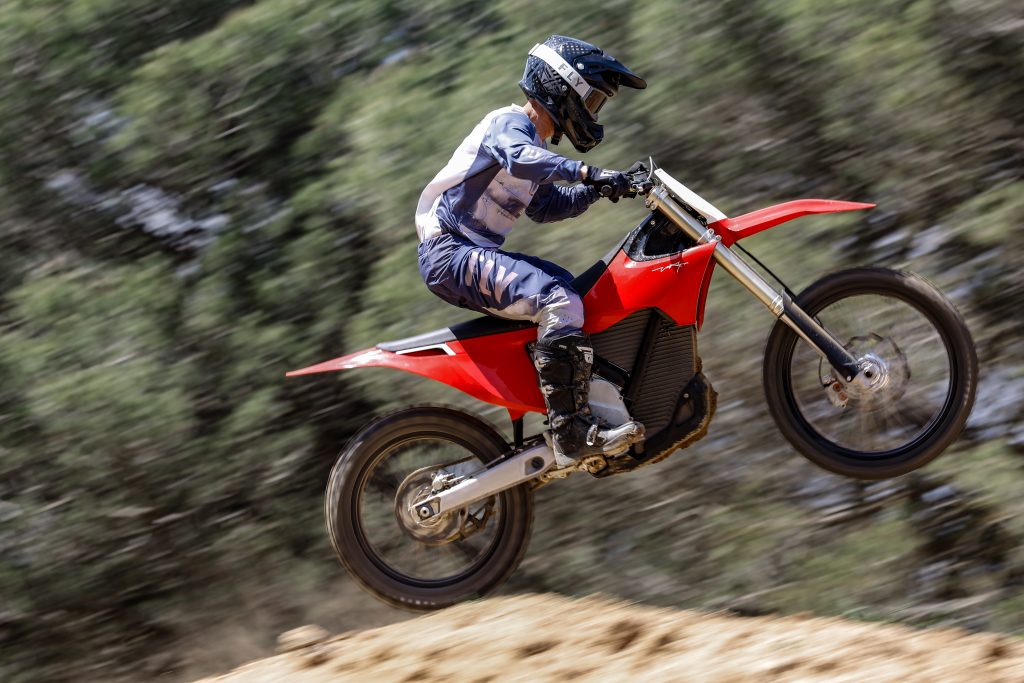 As for the bike itself, I left impressed. The power performance is unlike anything I've ever experienced. The ability to go from zero to top speed is mind blowing. Without RPM to ramp up and any gears to shift through, simply rolling on the throttle takes you to Neverland in a heartbeat. I was only on the 60hp software, too! With an 80hp offering scheduled for production, I cannot even imagine what that acceleration will be like. It's a bit scary to think that power on that level will be handed over to novice riders. The cool part of that dynamic is that the power is completely programmable. If you want the Stark Varg to perform like a TTR90, that can be arranged. If you progress and want more 125-ish level power, that can be done with the simple press of a button. Every possibility is on the table thanks to computer programmed maps.
The chassis was designed to take the best of current 450 geometries. It felt most similar to a Honda, in my opinion, but most importantly it wasn't an awkward, unbalanced ride. Having a fundamentally different build (no ICE in the frame) would surely require a lot of engineering to replicate the same balance and characteristics as the incumbent models. The Stark Varg comes equipped with KYB front and rear suspension so there isn't any real adjustment period to work through. The main challenge was the lack of a clutch, ability to downshift, and engine braking. I found myself missing the apex in every corner as I would come in with too much speed and didn't have the normal ways to slow down. When I mentioned this to the engineering team, they knew just what to do. The "engine braking" setting can be manipulated to 14 different positions. I ramped my setting up pretty high to help with my cornering troubles. That allowed me to set up for the corners in a similar manner that I am accustomed to. Different process to do it but the result ends up being the same.
Overall, the Stark Varg venture seems to have a bright future. There will be big hurdles to overcome as they head towards production. Scaling at the desired size will be expensive. They are building a 180,000 square foot factory and a battery cell robotics process while in the midst of global supply chain issues. Normal challenges are much more troublesome in the current environment. Further, the cost of capital is rising around the globe, creating more headwinds for a project as ambitious as this one. Still, I'm rooting for Anton Wass and co. The people behind Stark are passionate and determined. They see a future where electric motorcycles are the norm, not the outlier. I tend to think they're right but I also think it's going to be a long and tenuous journey to get there.