For this edition of Classic Ink, we are going to take a look back at the heyday of Answer Racing's two-stroke racing silencers.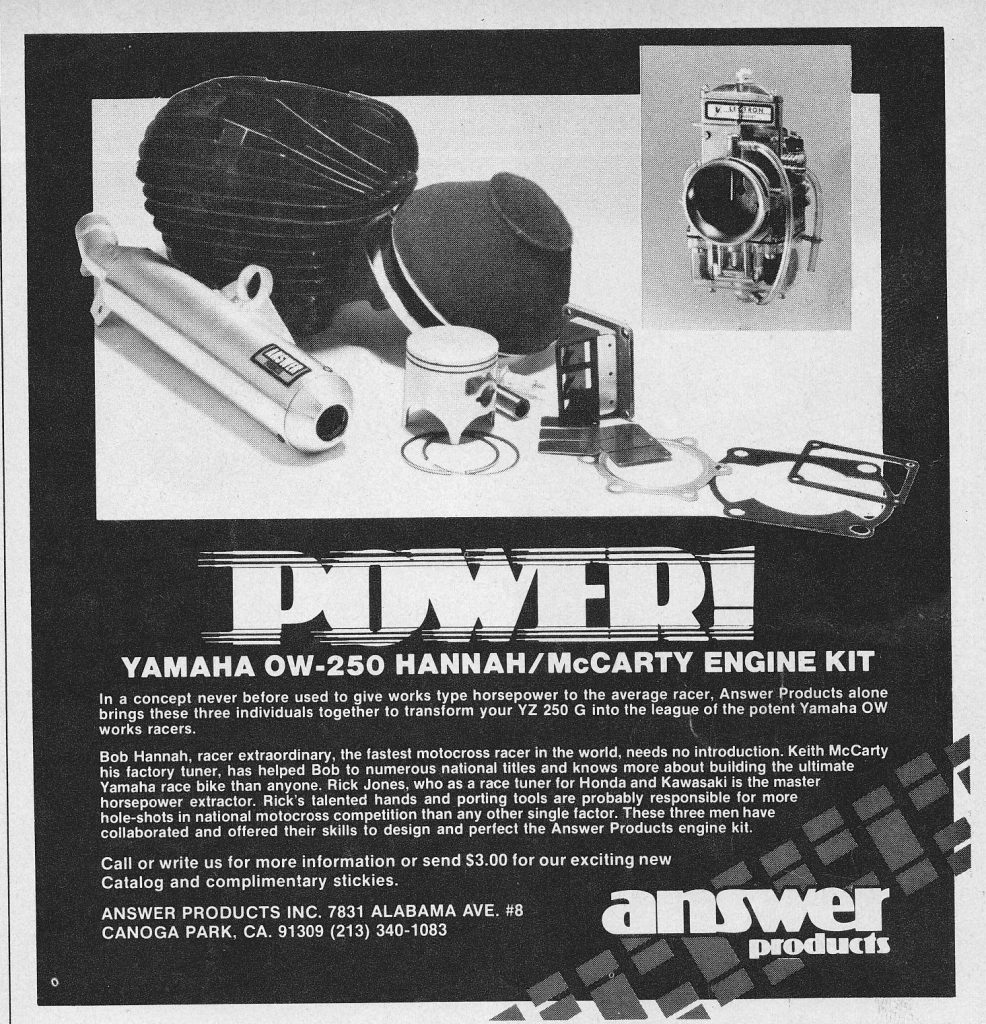 Today, it would be hard to imagine a "works replica" engine kit that did not include a full exhaust but in 1980 this Hannah/McCarty OW-250 kit included everything but. 
Today, the slip-on muffler is one of the most popular accessories for racers on a budget. Most average riders are not going to pop for a $5000 engine package on their new 250F, but nearly every racer and casual rider thinks about swapping out that boring boat anchor of a stock muffler for a sexy aftermarket alternative. Four strokes have made the slip-on muffler a hot property once again.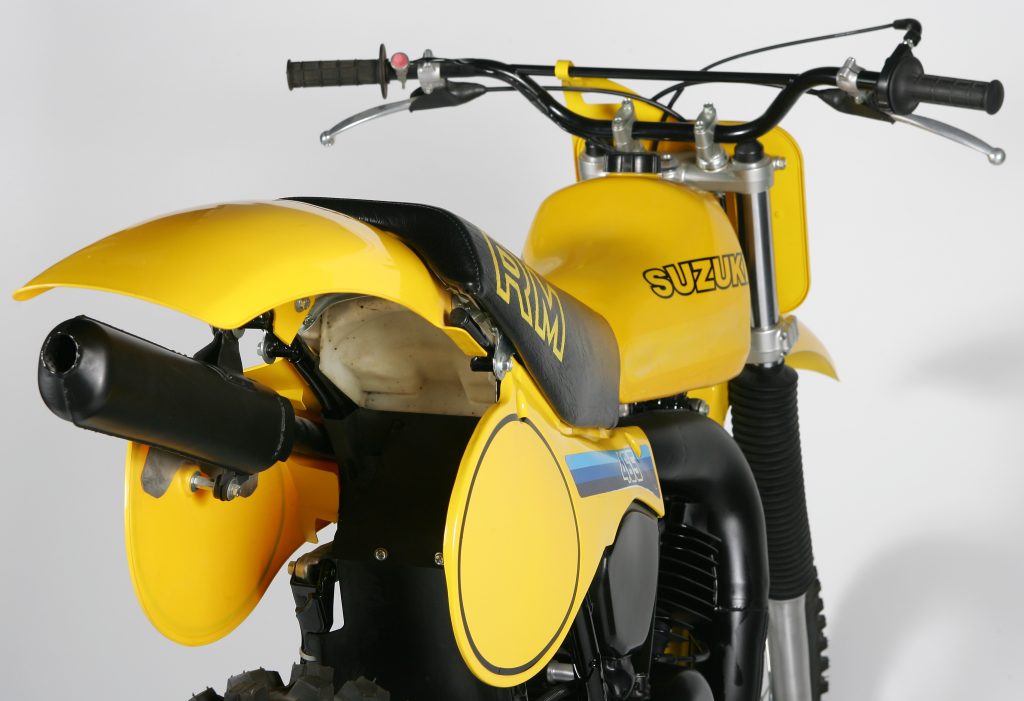 The prevalence of large and heavy stock steel silencers in the seventies and early eighties led to significant demand for lighter alloy alternatives. Companies like DG and Answer made a killing replacing these boat anchors with lighter and tricker aftermarket alternatives. Photo Credit: Stephan LeGrand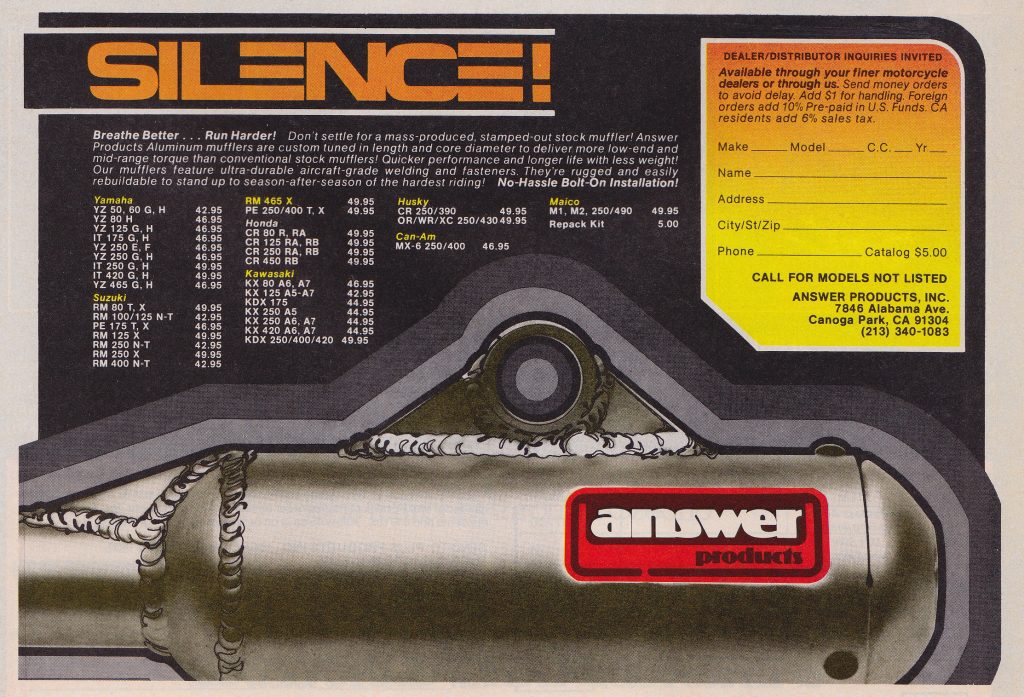 In 1981, just about every rider wanted one of these trick Answer silencers for their new scoot.
In the seventies and eighties, the market for aftermarket mufflers was just as hot as riders looked to replace the heavy and often unrebuildable stock steel silencers that came from the factory on their machines. One of the most prominent brands to step in to fill this void was Answer Racing. Today, Answer is thought of mainly as an apparel brand, but in its early days, they were one of the premier hard parts providers in the sport. Boost bottles, handlebars, and alloy silencers were all big sellers in the Answer catalog long before they began selling gear. Their trick alloy silencers were lighter than the stock steel units, rebuildable, and an easy way to get that "factory look" for your new Elsinore or Full-Floater RM. Riders snapped them up in droves and Answer was quick to expand into off-road with their innovative line of S.A. Pro silencers that incorporated a special turbine core to prevent sparks from escaping without hindering exhaust flow and performance. With their lineup of S.A. Pro (off-road), S-II Equalizer (two-stroke), and S-IV Equalizer (four-stroke) silencers Answer Racing had a silencer powerhouse in the 1980s.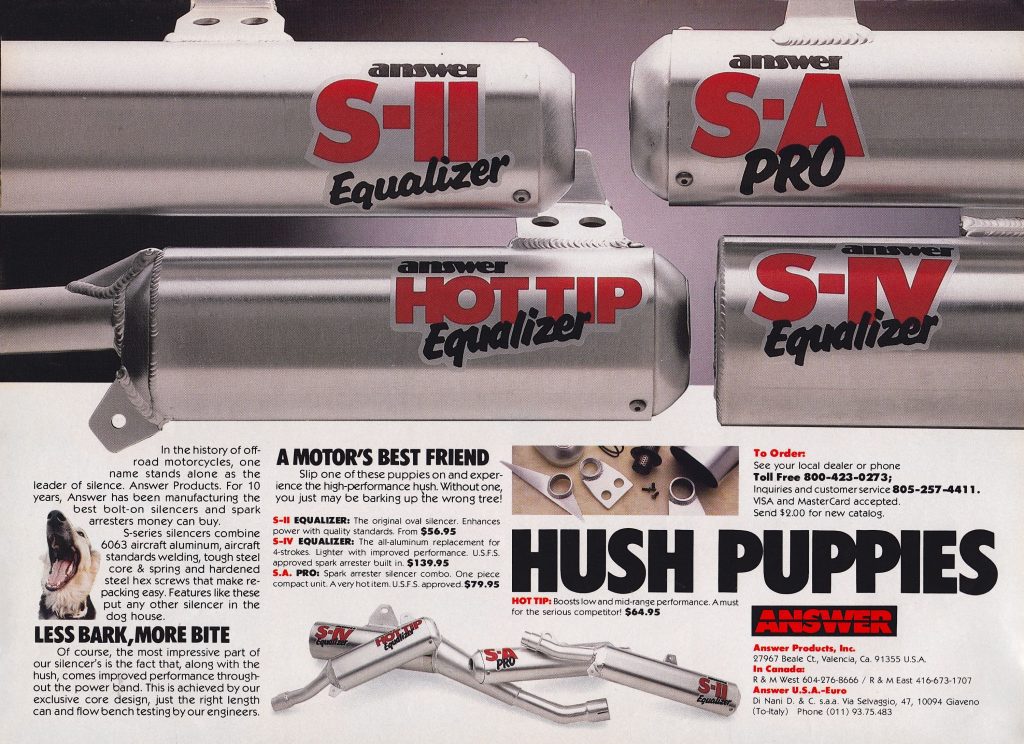 By the mid-eighties Answer had a full lineup of silencers aimed at every corner of the off-road and motocross market. 
By the late eighties, the switch to light and rebuildable alloy silencers by the OEMs had begun to put a pinch on the aftermarket silencer market. Most riders looking for a performance upgrade had begun to gravitate to pipe and silencer combos tuned by companies like FMF and Pro Circuit. Innovations like the VFC (Variable Flow Chamber) Silencer looked to capture back some of that market share in 1989 by adding a "power valve" to the silencer. By using a spring-loaded valve in the silencer core, the VFC claimed to be able to increase low-end torque and reduce sound output. While both may have been true, the VFC failed to catch on in the marketplace.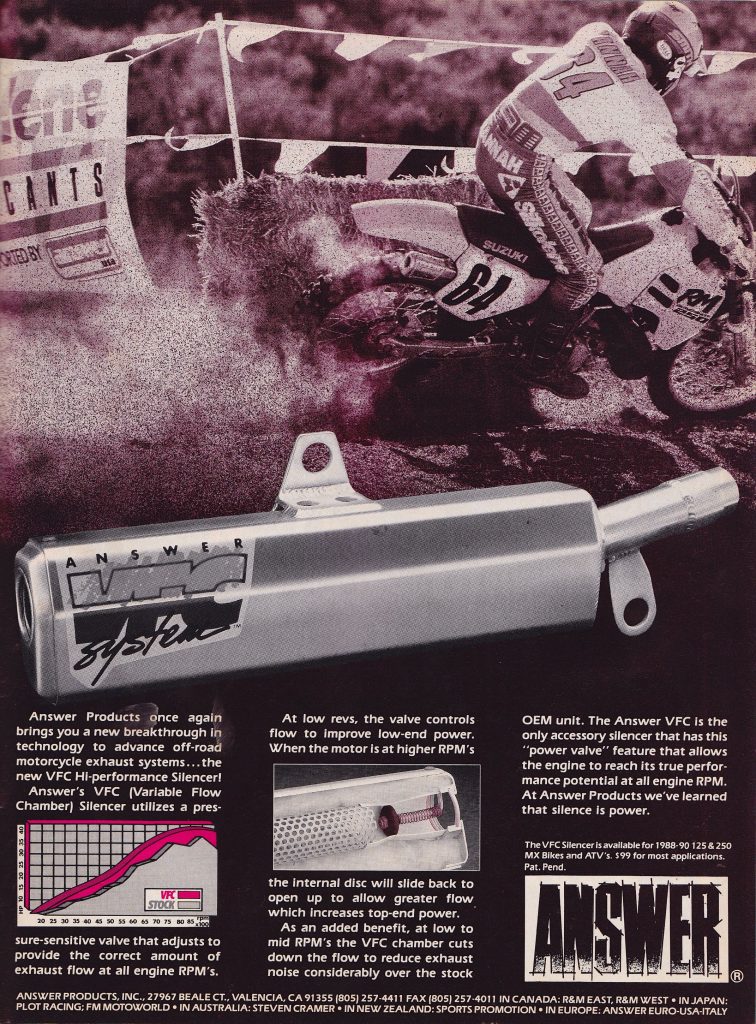 Answer's S.A. Pro and Legalizer line of spark arrestors and silencers were a huge hit with riders looking for off-road compliance without the penalty in performance and maintenance hassles common to many OEM and aftermarket off-road alternatives.
By the mid-nineties, the market for stand-alone aftermarket two-stroke motocross silencers was quickly drying up. Slick new products like the Answer RS.2 alloy and RS.2 carbon fiber silencers looked great but never sold in significant numbers. Even during the neon color craze, competitors like Acerbis' unique 035 plastic mufflers failed to gain traction.  Without a complete exhaust solution, it was tough to compete in a market dominated by performance powerhouses.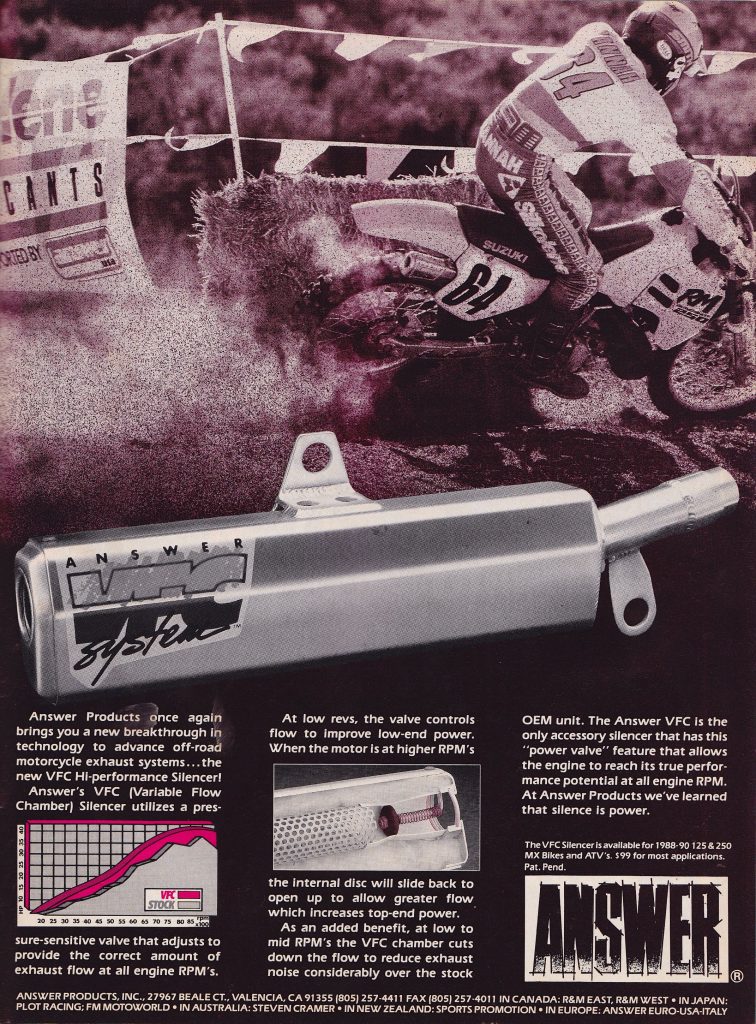 Answer tried reinventing the silencer in 1989 with their new VFC (Variable Flow Chamber) Silencer that promised reduced noise and improved performance. Innovative or not, the VFC met with a tepid response in the marketplace.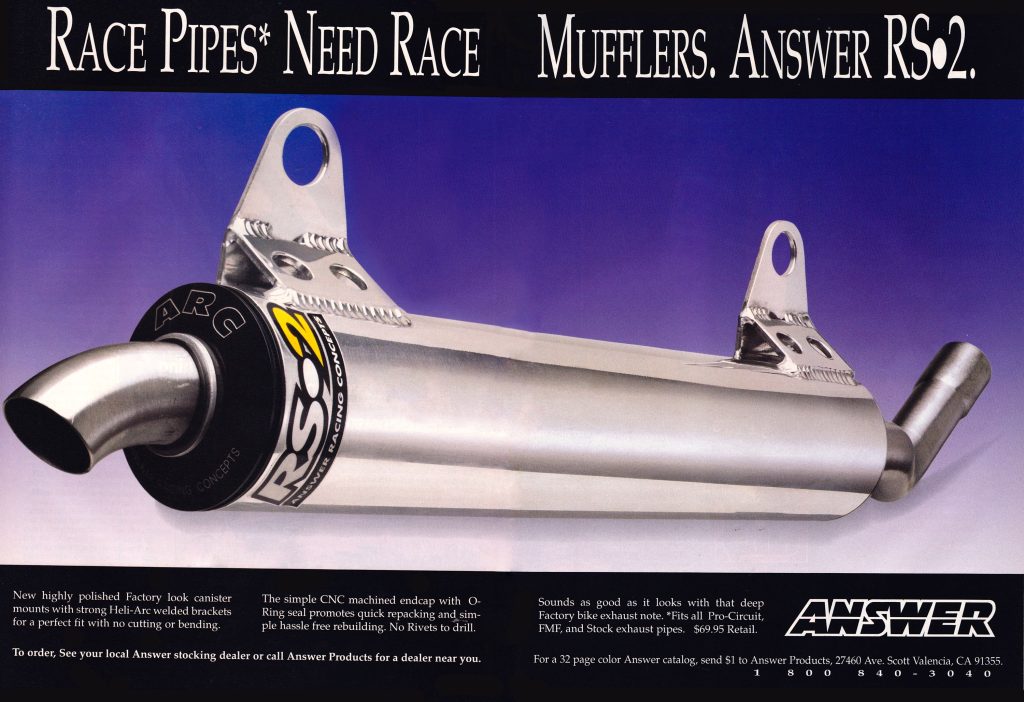 I loved the look of Answer's new RS.2 silencer and bought one for my CR250R in 1994. It looked trick and sounded great but did not do anything as far as I could tell for the red machine's performance.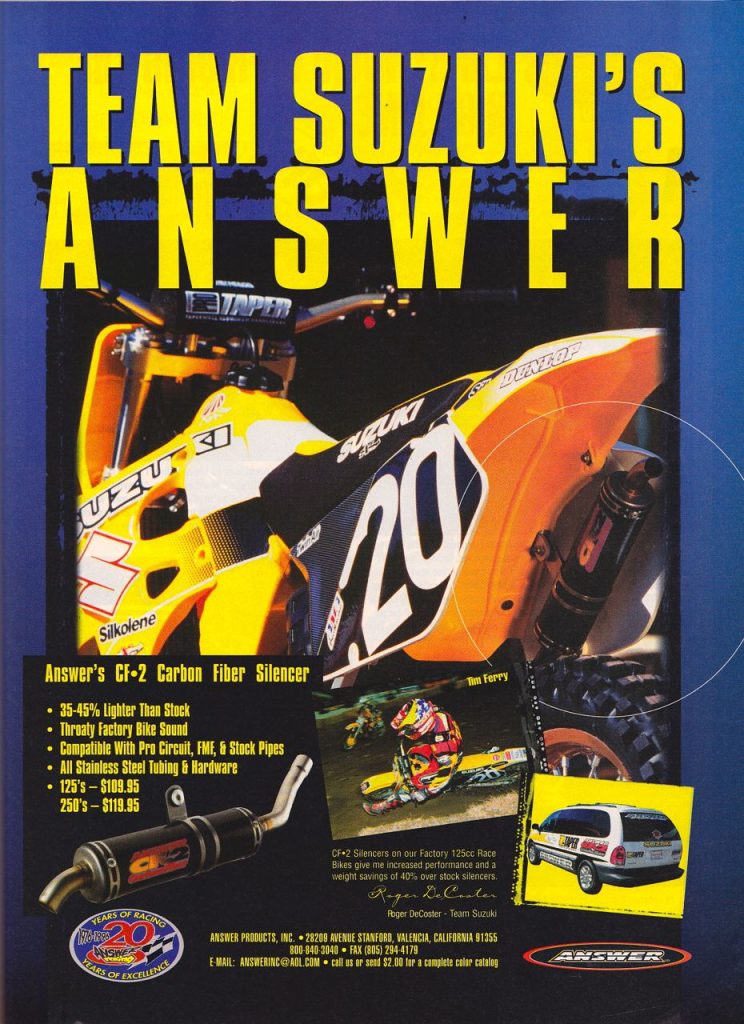 Answer's CF.2 carbon fiber silencer was a slick bit of kit in 1996. 
By the late nineties, Answer was ready to move on from the silencer market. Big hits like their Alumilite and Pro Taper bars and successful gear lineups pointed the way forward for the brand. The arrival of the Yamaha YZ400F in 1998 would eventually kick off a revival of the slip-on silencer market, but for Answer, that ship had already sailed.