The 2023 KTM 450 SX-F is a little stiff natured when comparing it to the 2022 and earlier models. If you were coming off of an 2018 KTM and hopped on a 2019 version you know that frame generation was stiffer than its predecessor. The steel frame evolution is trending to a stiffer natured chromoly steel feel. With that being said, I do think that the 2023 KTM 450 SX-F is better in certain parts of the track than the 2022, but the parts that I dislike are key for me to go fast out here on west coast intermediate to hard terrain tracks. When I tested the KTM 450 SX-F in soft east coast type dirt, I didn't notice as much firmness through the chassis as I do out here on the west coast. Out here on the west coast, I feel like the new generation chassis is better on the edges of my tire (when on throttle) but when off throttle, coming into a corner, with some braking bumps, I get a lot of side to side movement from the rear of the bike and just a general loose feel (not planted). I originally wanted to try some aftermarket engine mounts to see if those could help the negative off throttle feel, but Adrian at Ride Engineering and I thought we could try some different triple clamp offsets to see if that could help some of my woes.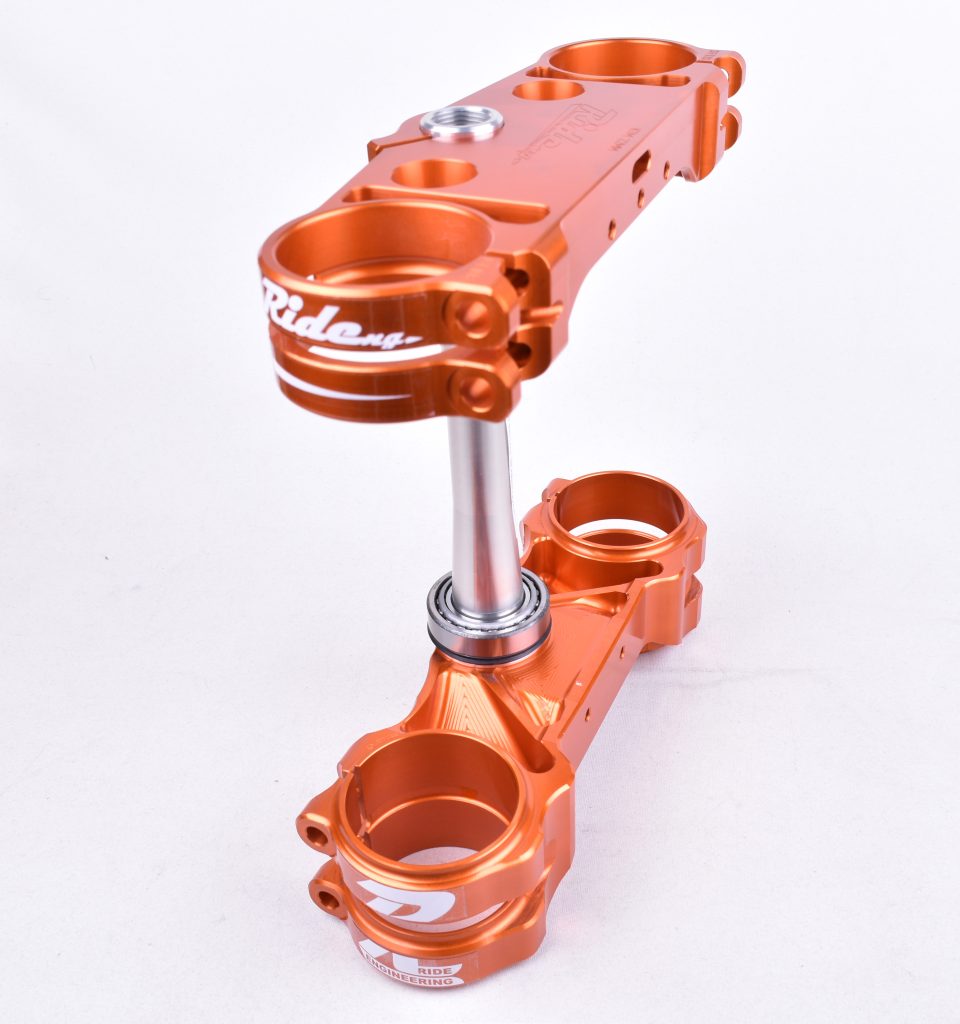 Ride Engineering's all new triple clamps for 2023 KTM and Husqvarna motorcycles come in two offsets (22mm/stock) and (23.5mm) with 4 color choices silver, black, orange and blue. Originally when I tried the prototype 23.5mm offset I complained about some vibration and rigidity but really liked the planted feel I got with the clamps when coming into corners. Ride Engineering addressed my complaints with flex pockets on the top clamp and a full rubber-mounted bar mount design (sold separately), which I feel all vet riders need. The bottom portion of the Ride clamp has also been redesigned and made narrower for added comfort as well as more rotational frame clearance without losing any steering precision. The 23.5mm split clamp design is made out of 2024 aluminum and is the same weight as a stock KTM clamp. So you weight sticklers don't freak out. 
So what does the 23.5mm offset do to the 23 KTM 450 SX-F? The difference you'll feel is in tire contact patch. This is the best way to describe what this offset brings to the KTM versus stock. When I am leaning into corners (off throttle), it allows for a more planted feeling as well as help with straight line stability (when off throttle). If you have a hard time initializing your corner entries then this 23.5mm offset will help make that initial part of area 1 of the corner, much easier. I especially like when I am loading the front wheel into a flat corner because the KTM with the 23.5 offset now is calmer and doesn't allow the front tire to tuck (or oversteer). Sometimes I had to tip toe my way around flat corners because the front end would want to tuck then stand up, which made for pushing into corners with nothing to bank off of difficult. I also noticed less vibration with these 23.5 Ride Engineering split clamps versus the stock clamps now as well. I couldn't say that with the prototype split clamps that I tried, but with this finished product, I can feel less through my hands on slap down landings (when compared to the stock clamp). I am sensitive to vibration and when I can get less of it on the KTM, I get excited. Coming from Japanese bikes, like a Yamaha and Kawasaki, you almost feel no vibration and then you get on a KTM and go, "WTF"? So much vibration, but with the 2024 aluminum split design, I get less of that on the orange bike and to me that is a welcome attribute to these Ride clamps.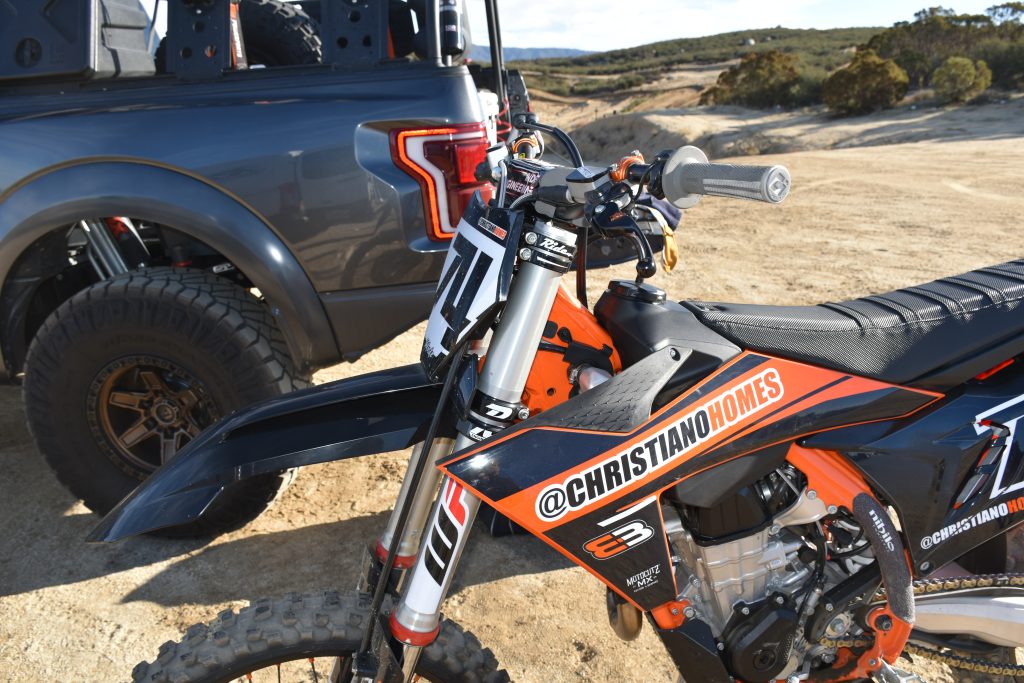 So, I am getting a calmer KTM chassis feel, with less vibration and all the while I am improving my "lean in" coming into corners. So is there a negative? If I can point out a negative about the 23.5mm clamp is that you might get a little front end pushing on area 3 of corners (exits). To compensate for that I adjusted my fork height. Going up 2mm on the fork height improves this vague area 3 feel and doesn't sacrifice too much of that nice "lean in" front tire (non knifing) feel. For 799.99 the 23.5mm Ride Engineering split clamps improve your 2023 KTM chassis and gives your hands a little reprieve from some of that chromoly steel vibration. I think these are a great buy and with the 20% discount you can get with the KT20 code, it's really not a bad purchase for your new KTM chassis.