For something different this week, we will go with the first Futures event of 2023. Loads of amateur talent packed the gates Saturday night so why not break down some of these amateur kids that you may not know much about. Here is a breakdown of a few kids that I think are worthy of our first "Daytime Program" Futures edition.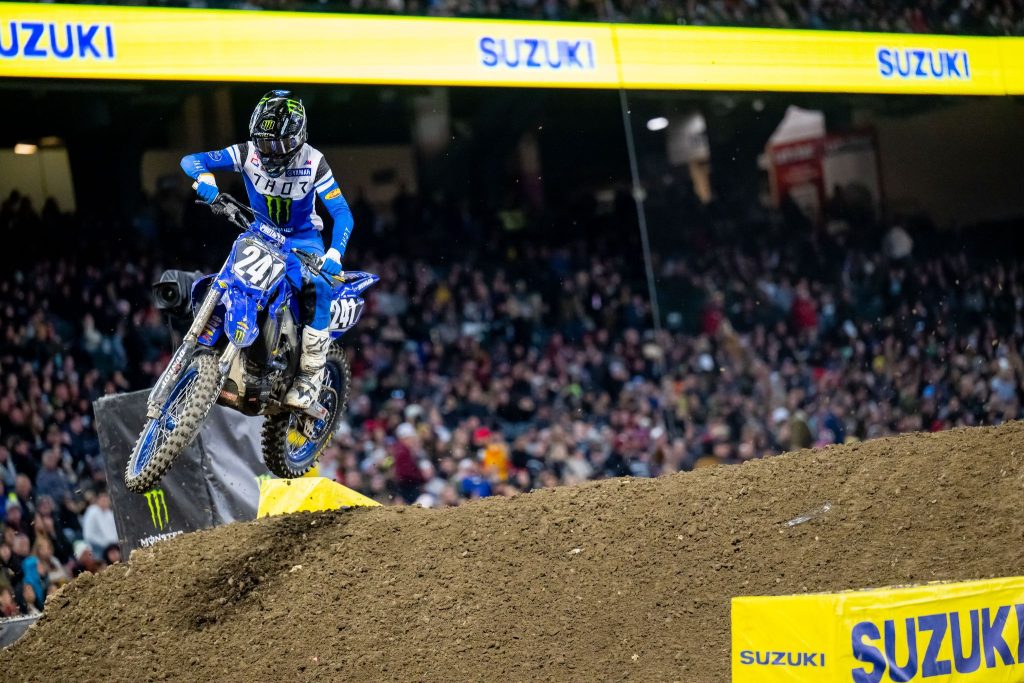 Daxton Bennick: Daxton is new to the Powerhouse Monster Energy Star Racing Yamaha team and in theory is their premier amateur rider for 2023. Unlike Haiden, Bennick will be staying down to race all of the amateur nationals as well as Loretta Lynn's so Star Racing Yamaha is putting all of their eggs in the Bennick basket. Unlike in years past where they had multiple "A" class riders, in 2023 Bennick will be the guy. Bennick looks smooth on the bike and even though I have seen him crash a few times in the past, he looks to be smoothing out since he got off of the KTMs. I was at the GOAT Farm for the 2023 YZ450F intro and at that time Bennick had just started with the team, but he was out grinding on the SX track with Jennie Carmichael. Jennie made hime hit the whoops at least 25 times or so and at the end of the day, you could see the poor kid was smoked. Fast forward a couple months later and Daxton wins the first Futures race of 2023. I guess that Jennie smoke was well received! Look for Daxton to be the guy to beat this season!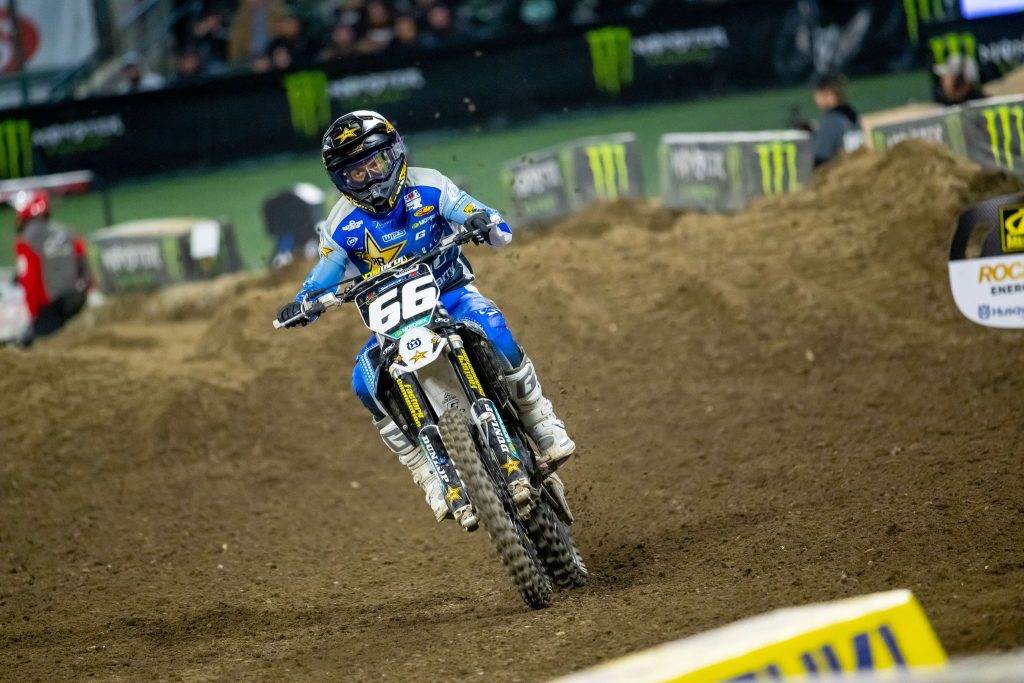 Casey Cochran: One of Mike Brown's pupils, Casey has been an orange brigade kid for quite some time but the switch over to the big bikes as well as Husqvarna seems to have made quite an impact. Cochran is only a B class rider but looked to have A class speed Saturday night. If you're being trained by Mike Brown, you know you're going to be a tough SOB so all of these B class kids better take note and work a little harder. Yes, that means you Aden!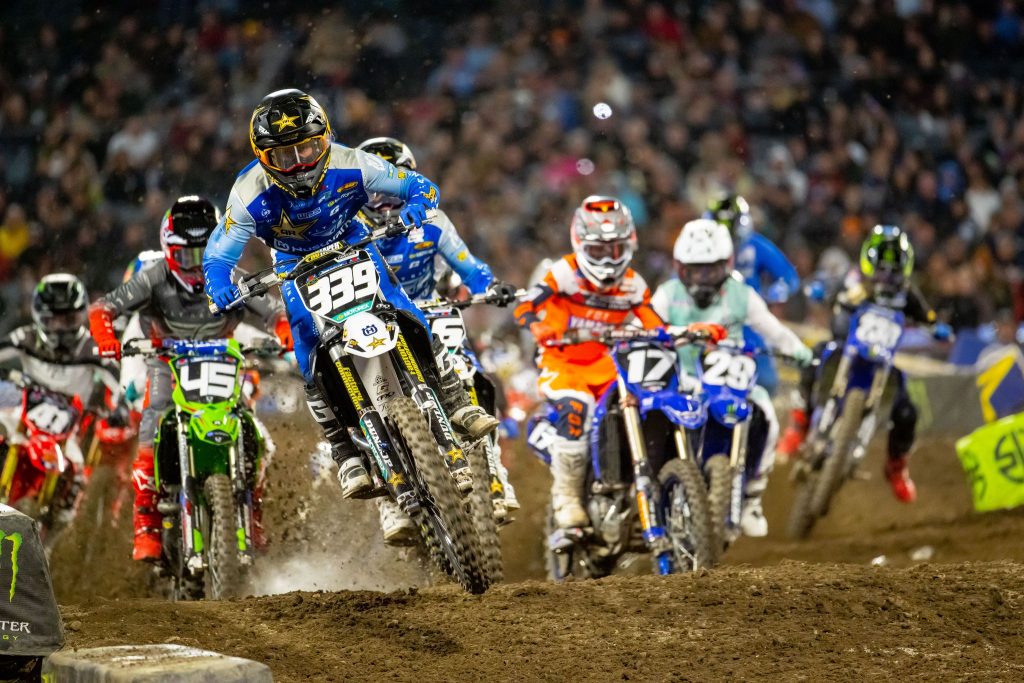 Talon Hawkins: Talon has had some bad luck the past couple years and we haven't seen what this talented kid can do until Saturday night. I have seen Talon cartwheel his brains out at some amateur races, I have seen bike failures, I have seen bad luck strike this kid more times than I would like to remember, but Husqvarna has stuck with him and I commend this. So many teams don't allow a kid to grow within our sport and they are here one minute, gone the next. Hawkins will have to deal with Bennick all year, but it looks like he has something for him as long as he can minimize the mistakes. Talon also has been down in Florida training with Brownie so he will not be lacking any fitness. If it wasn't for a late race mistake, Talon gets second. 
Cole Davies: Sorry, at the time I typed this up, I could find ZERO photos of this kid, but you can see him above (he's the number 17 on the Yamaha). From what I was told, Davies is a bi-product of Ben Townley and the kid looked spunky all day. He was a tick off the pace of the top three but he was the best of the rest and I guess I need to study up on this kid a bit. Anyone got any info on this kid, hit me up at kris@keeferinctesting.com.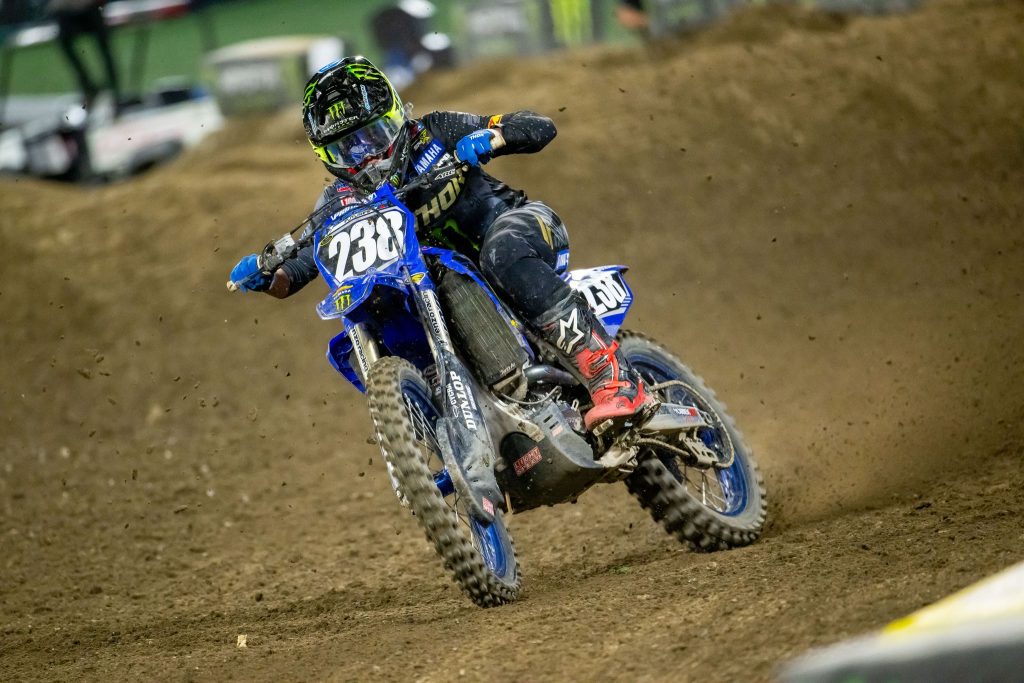 Haiden Deegan: Do we really need to say anything? Yes, we do! I spent time with Brent Duffe (Haiden's mechanic) on Friday to discuss his "Futures Bike" and I found out that there is a claim rule in effect for all of the amateur bikes which I didn't know about. Guess I forgot this is an AMA race as well, eh? Duffe re-assured me that this Deegan race machine is just a GYTR engine with a Vortex and Enzo suspension so anyone can claim this bike and not have a field day like at Loretta's. Haiden looked unreal on Friday's practice sessions and I thought there would be no way anyone could beat him on Saturday, but a crash in the main hurt that. He is great at not seat bouncing out of corners, his roll speed in bowl turns are next level and he has a great sense of early sprint speed that is hard to beat. On Saturday night however, Deegan didn't get the greatest of starts and got bitten by a corner that bit A LOT of pros as well. Deegan is the real deal and from what I heard we would have seen Deegan line up at Houston in the BIG SHOW if he would of won. Damn it! Guess we will have to wait! Looks like the era of Deegs is starting soon though. Some of the industry thinks that this kid could podium his first year out and honestly I am not far behind them. I think if he can stay on his bike, he has that kind of speed. It will NOT shock me, if he gets top 5 next weekend!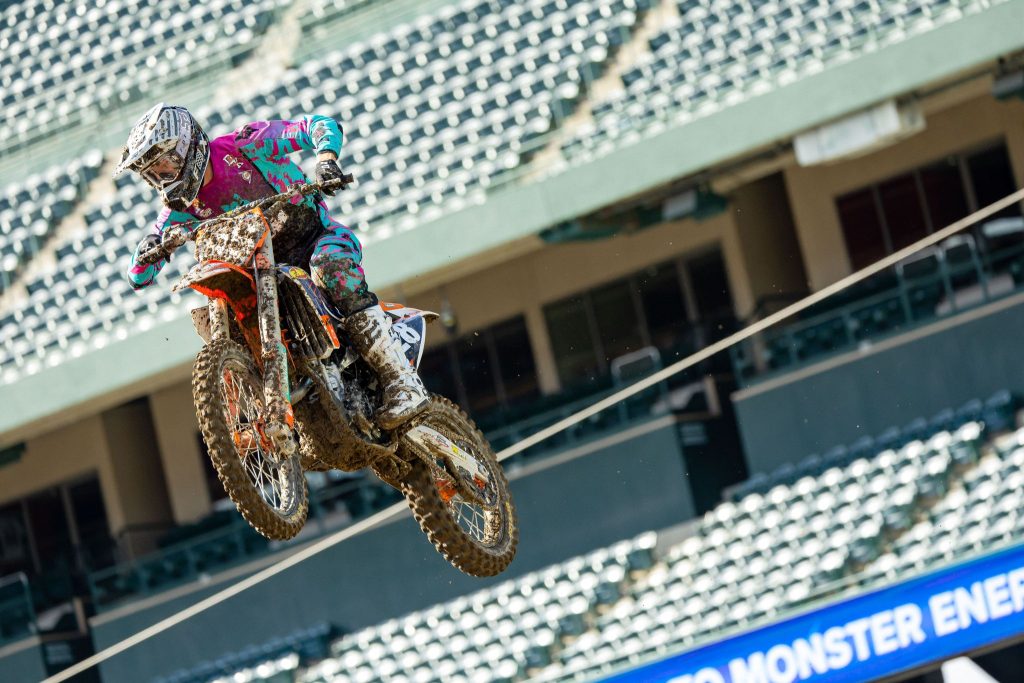 Preston Boespflug: Pronounced "Base-Flug". Preston was a Team Green amateur prospect last year but with lack of championships at Loretta's, they let him go, so the Orange Brigade snatched him up. He rides a lot like Levi Kitchen and coincidently they both come from the state of Washington. Preston is still getting used to his KTM but looks comfortable and it wouldn't surprise me if he won a round this year. This is his first year in the "A" class and I like that he kept his long time suspension sponsor, REP so getting his KTM to work shouldn't be a problem. Fun fact about Preston is that he can skateboard fairly well and has kept his mechanic Ty Davis (no, not the old one) with him for quite some time.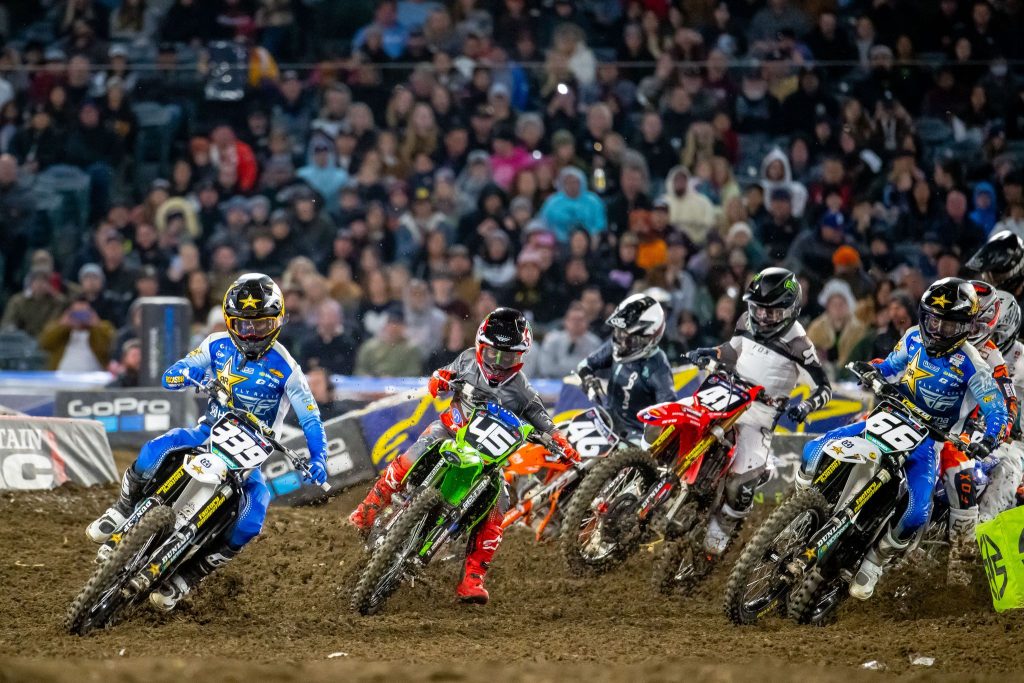 Slade Varola #45: Slade hails from the 805 which should make Matthes a fan, but Slade comes from a hard working middle class family that I can respect. Slade's dad is at the track with him in work boots and doesn't seem like your prototypical amateur dad. Slade is also built like Jason Thomas as his inseam is not the longest in the paddock, but the kid has some heart. I have watched this kid battle from the back of the pack and not give up the entire Moto even when it doesn't go his way. He made the switch from Yamaha to Kawasaki in 2023 and it looks like it fits him way better than the blue bike. Slade floated in the top ten most of the day on Friday but looked to be more comfortable Saturday and damn near got the holeshot in the Main on Saturday night. His whoop speed needs work, which is not shocking for a small guy, but there is something in him you can't teach, that is hard work and heart. Look out amateur world, we have a new "Troll Train" coming!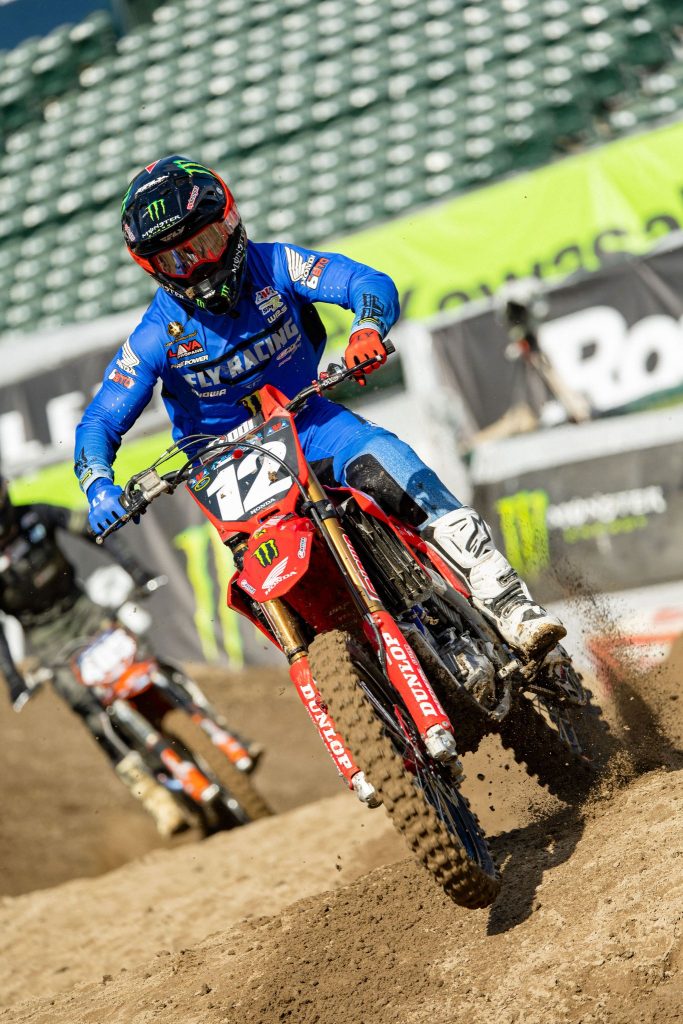 Parker Ross: Parker is someone I have got to act ride for a couple years since we've been doing this damn amateur thing and he has this old school style about him. He reminds me a lot of Jeff Stanton as he is a bulldog ape of rider with a blend of new school flare over the jumps. Parker got a chance to ride on the newly formed SLR Honda amateur mx squad and to me this is a great opportunity for him. He has a more solid foundation over at SLR Honda, a trainer in Ryan Hughes and more structure than ever before. With a little more races under his belt, this kid could be a sleeper in some upcoming "majors" this season!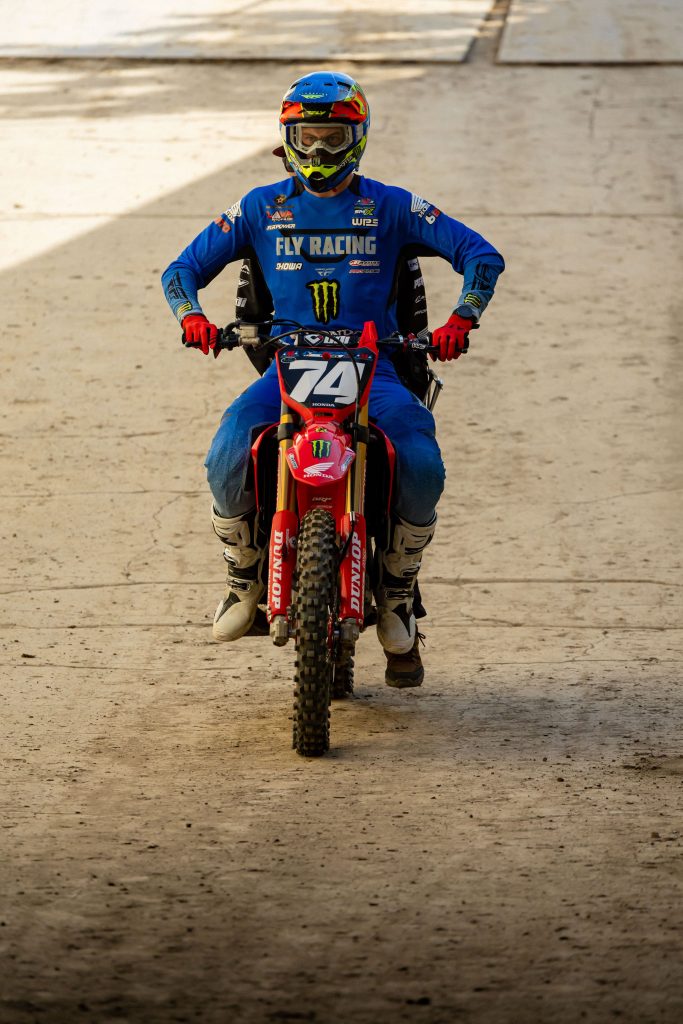 Jaxon Pascal: Jax is like my second kid. He and Aden have been friends for a long time and he hails from my wife's hometown state of Colorado. Jax is a tall drink of water and I tease him about looking like a mutant on the bike, but it has slowly been getting a ton better. He got a chance to prove himself this year on the SLR Honda team and to me he looks less like a mutant now that he is on a Honda and is wearing Fly Racing gear. His strengths are whoop speed, mental positivity, great parenting and the belief he can run with these top 5 kids. Much like Slade, Jax has something you just can't teach, and that is mental fortitude. Jax has been knocked down ten times but has got up 11 and that is something that all of us parents want in our kids. A 15th is not what he came for, but running top 10 times all day is something he can take home and feel good about. Remember this whole "Futures" thing is about getting these kids to learn how the professional side works. Racing SX is NOT easy. These kids are learning that right now.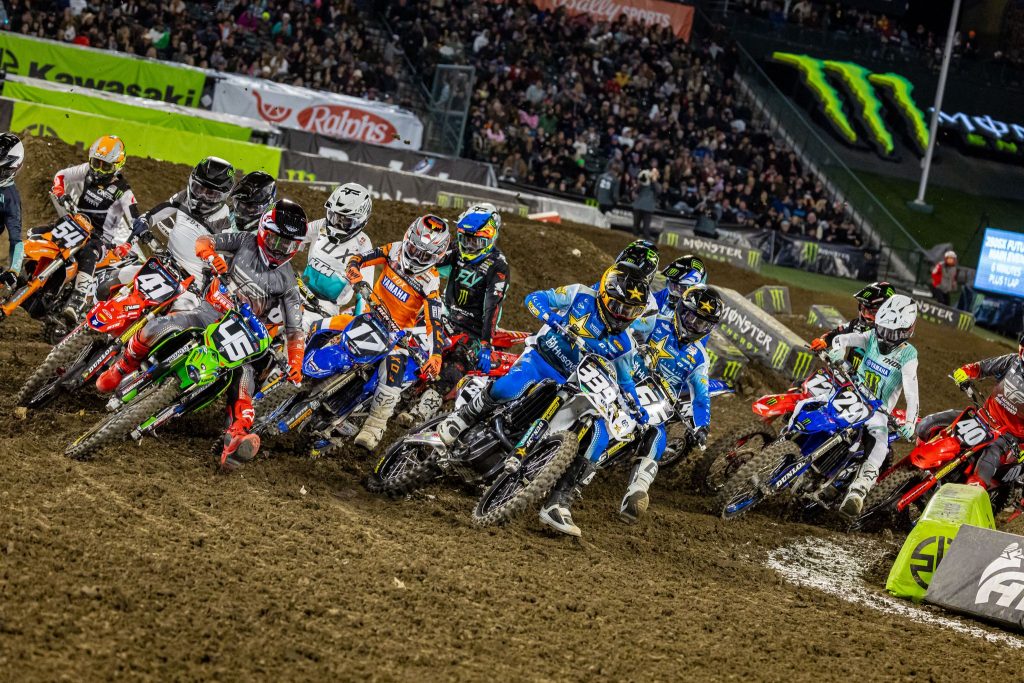 Julien Beaumer: Again, not a lot of photos of Ju Ju, but he's on the inside of the first corner here (#29). Surprise, surprise! Julien hails from Lake Havasu, Arizona and is a Davi Millsaps kid! I spoke with Davi a little about Julien and he told me he has only worked with him about a month and has seen a huge improvement. He told me that he could barely do two laps a month ago but has since a huge upside to the fast jet ski racer kid. Yes, that is right, Julien is a bad ass when it comes to jet skiing and being that he is from Lake Havasu, Davi immediately was drawn to him. Beaumer was your fastest qualifier and was one of the first kids to jump a quad in practice on Friday. Davi also said he has no lack of balls but it is a matter of getting Julien in race shape as well as keeping him off the ground. In the main event Julien had a mishap with his bars as they slipped down on him after he cased a jump on the first lap. If it wasn't for that mishap we could of seen a kid that has no official factory support win this whole damn thing!
Top 5 Fastest Times In Main Event:
P1- Bennick
1:02.161
P2- Beaumer
1:02.304
P3- Deegan
1:02.574
P4- Hawkins
1:02.801
P5- Cochran
1:03.548