My dad Tommy got us into racing when we were pretty much in diapers. Except I didn't really like riding that much, I prefered to play Star Wars…
My dad Tommy got us into racing when we were pretty much in diapers. Except I didn't really like riding that much, I prefered to play Star Wars…
My brother Jason was the one that showed interest at first and raced for a long time while I would come out here and there to try out the 60 class. I was really slow for a long time, I think I raced 80B for three or four years! My dad also didn't buy me a new bike so I rode a 1984 YZ80 for three years while Jay got all the cool stuff. Eventually he turned expert with three bikes and was going to lay the hurt down on everyone in Manitoba. But it kind of didn't happen, well actually it never came close to happening and Jason got frustrated and quit shortly after turning pro. Not without some yelling matches between him and my dad however. Good times. Here's a couple pictures of us racing back in the day.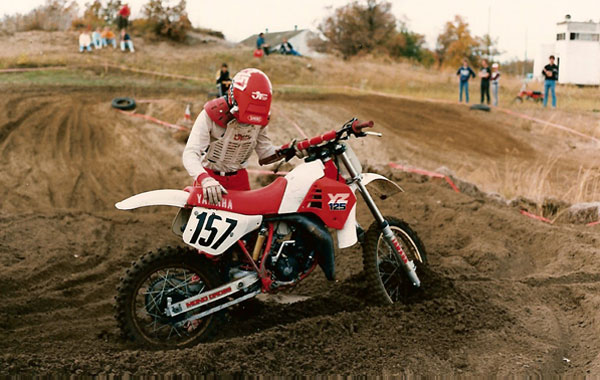 Here's my brothers whole expert career in a snapshot. Picking his bike up with no one around him. He was a good rider and always made sure his gear and bikes were looking good tho! Open face Shoei with Oakley goggles and mask was the way to go back then. He also had one of the first HRP chest protectors that I can ever remember seeing. This is 1986. Photo by G-Force.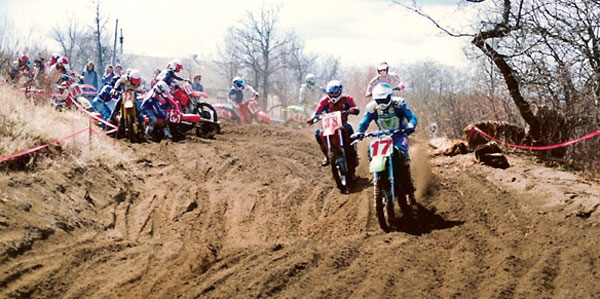 And here I am in 1989, streaking away from the pack as a 125 novice. I rode 80's back then and dabbled in the 125's despite me being six feet tall (for an image of what I looked like on an 80, watch the Morgan/Matthes video). Not sure if I dropped an oil slick or what back in the first turn but pretty much the whole pack is caught up in it. That's my buddy Curt behind me trying, but not able to, give chase. Check out my Bradshaw Zebra Fox pants. Photo by G-Force.