After I got back from Hangtown I decided to check out the AMA Supermoto series that was in my hometown of Las Vegas.
After I got back from Hangtown I decided to check out the AMA Supermoto series that was in my hometown of Las Vegas.
It was being held at the South Point Hotel and Casino, which is a little south of the strip. Supermoto is a cool deal and I was heavily involved at Yamaha when Ferry was hurt building a bike, dynoing the crap out of stuff and then going to the track with Mark Burkhart.
I really enjoy watching the races, I love the X-Games event and was an early fan of Supermoto racing. I was TIVO'ing the series when they were on OLN and thought that the potential of the series was huge. KTM, Yamaha and Honda through TLD were all into it and looking forward to bigger and better things.
Then something happened. I suppose a big part of it was the economy but there were some promoters that were a little shady, some races that didn't work out, some AMA bungles and so on and so on. It's a shell of its former self and that's a real shame. Thanks to guys like Troy Lee and Carey Hart for still throwing money into and supporting the sport but what I saw on Sunday wasn't….ummmm…progress.
The racing was great though, the 450 main event took off and saw two or three lead changes, some block passing and crashes by some front runners. It didn't matter that there was no one there, it didn't matter what mistakes had been made in the past. For about twenty minutes on Sunday, it was a real good time. Here's some crappy photos.
The attendance wasn't great, it wasn't actually good either. The track was cool and the racing was pretty good. When I asked Ping how many people inside actually paid, he said "Five."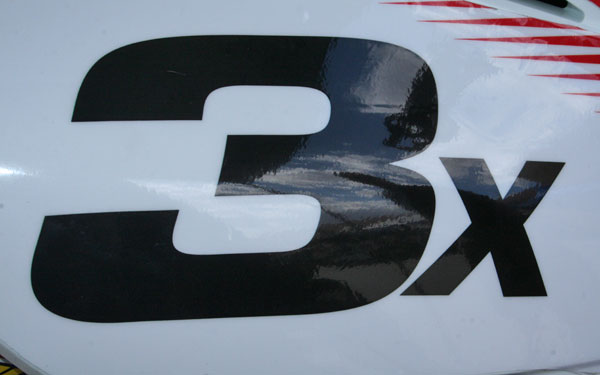 There's only one man who runs this number. The incomparable Jeff Ward.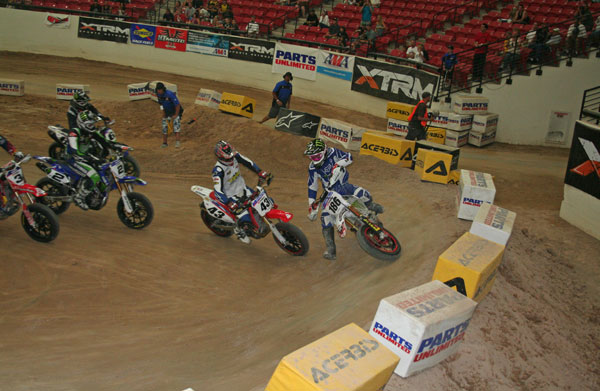 This is the second turn of the 450 main event. #43 is Micky Dymond. #186 was the eventual winner and local Las Vegas guy Derek Costella. #2 is Brandon Currie, Wardy's on the inside and Burkhart is on the outside.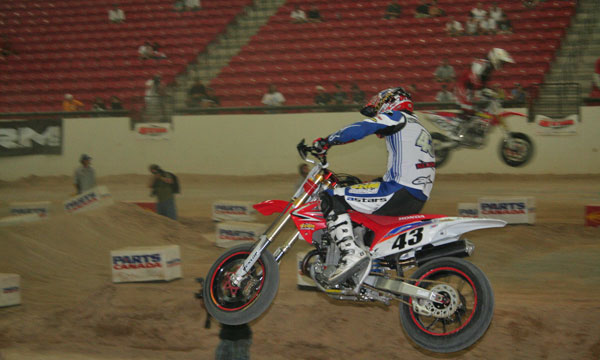 Here's Dymond out front, he passed Carlson at one point and was looking good for the win before getting caught late in the race. The Mick and I talked about the podcast we did and he said that some of the comments on the bottom really pissed him off and he was going to reply but thought better of it. That's a good idea Micky. He still looks great on a bike.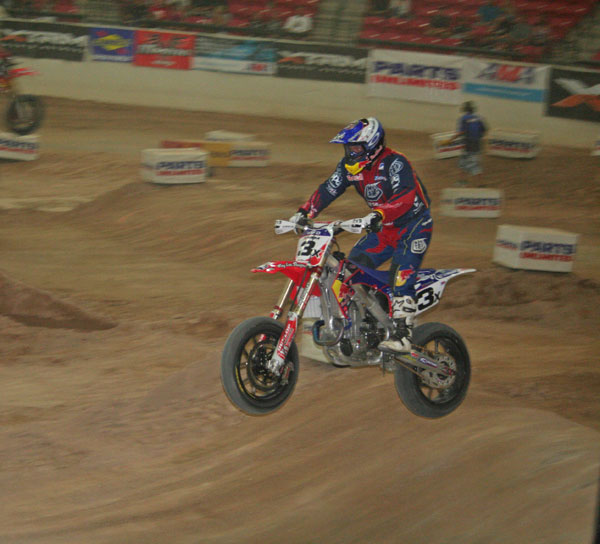 Ward in the main event. I walked around for a bit but mostly hung out with Ping and Wardy bench racing. I told him that I just returned from Hangtown where Rollerball got third in '87 behind him and RJ. Then he told me that he broke his ankle and had surgery the week before. Which caused Ping to crack up and ask me "How's your hero look now?"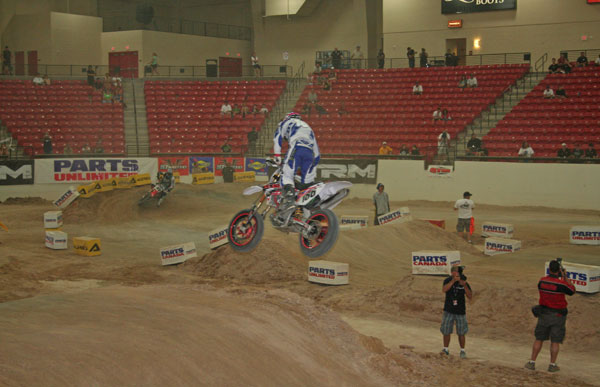 Here's the winner Costella. He's a ringer brought in for this one race and also races some sx, mx and mini-moto. I think he's a champion in mini-moto, for whatever that's worth.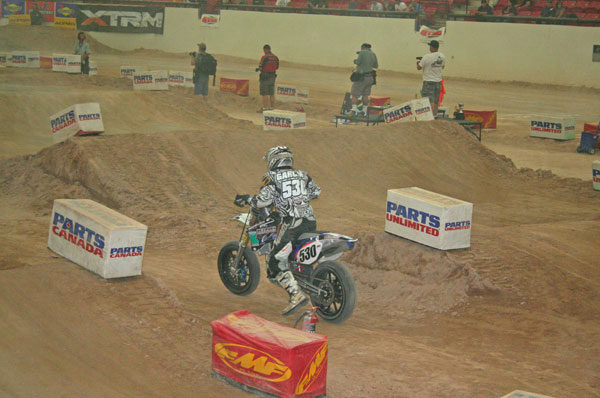 This guy was in the main but I'm not sure how he did. He had the longest pony-tail though that would fly behind him in the air. For that split second when he was in the air, pony-tails were cool. The other 99.95% the pony-tail was funny.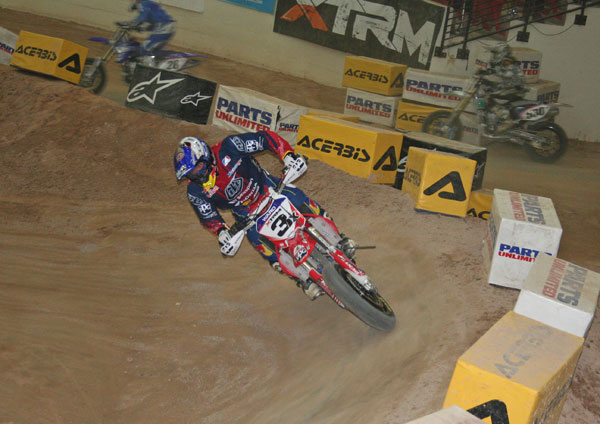 Another shot of Ward. Look for a podcast and a "Tell Us a Story"with hm soon. Hanging out on the bumper with the Flying Freckle was cool and for the 2,497th time it reminded me that I have a cool job.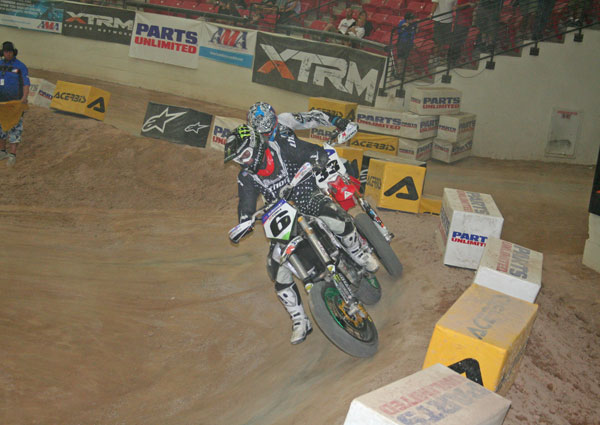 Here's Burkhart on a KTM executing a nice block pass. Burkhart was a Yamaha factory rider making some pretty good cash a few years ago. He's still really fast for sure. He's in third in the points right now behind Ward and some French dude.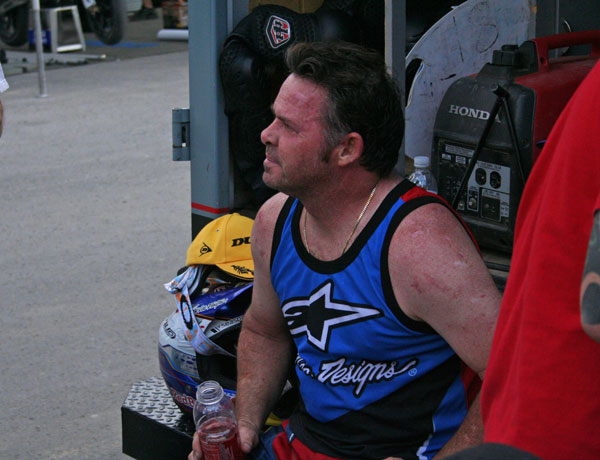 Here's Wardy after the race. He had a lot of middle-aged dudes coming up just to shake his hand and wish him well. They all had a Jeff Ward story for sure. He broke his ankle like three weeks ago and is just toughing it out at the races. I wish I was half the man he is.