This interview took place before Texas and is a bit out-dated. Sorry man, I was busy!
This interview took place before Texas and is a bit out-dated. Sorry man, I was busy!
Me: Chad you had a great supercross season and even though you lost the title, were you happy with your results?
Chad Reed: Yes and no, it started out real well. Some may say it was him not being comfortable coming out of the gate but we all come in as prepared as we can be. I think we were better and although I came close a few times, I never put it together and got that win early. I struggled with starts in the beginning of the season, at Anaheim 1 we had a good battle but we crashed or whatever.
If I had won in the beginning like I needed to, the series would've been different but I wasn't able to do it. With saying that, I think I learned a lot and this year I felt like I learned a lot. I think 2010 will be great, I have a good head of steam going into it and the rivalry with James is at an all time high and there have been things that have been said and done. That's good and healthy for the sport and for me, I'm ready to go racing and take what I learned and go into next year.
Your bike seemed to really agree with you. Most guys who switch say that they love the new ride and all that but I truly think you and the Suzuki got along well.
I think it wasn't really anything in particular but I had a broader base with the bike. I just felt comfortable on it right away. From even sitting on it, it felt great to me. It felt like it was made for me, you have to tailor it to me of course but you know what I mean. I was also coming to a team that had Ricky Carmichael and they how to work but had to accommodate a totally different rider. He's 5'4 and light, my sx settings were far off his just because of our size and the way we ride. I think we struggled with that a bit, to find where we were at. The US Open weekend was the best one for us, on paper it was horrible but we had to put our heads together and come up with some settings that would work. Normally we would be going for $250,000 and trying to win that but instead we were working on getting a base set-up. This time we used it for testing and everytime I rode the bike on Saturday night, it was different. I did six more races in Australia and got more time on it, my base was better because of all this racing. The starts were disappointing and the clutch is a little different from what I was used to. The clutch is really aggressive and I'm an aggressive rider and those two things just didn't add up (laughs).
It takes me some time to think about it and calm myself down on the starting line, normally you would be getting all amped up and ready to kill each other but now I had to get relaxed more to get off the line better.
Do you think that your Australian series helped you or hurt you? Those six rounds were good for racing but you really had to travel a lot back and forth?
I really believe it helped me, it helped me in more ways than riding. I had a lot of fun being in Australia and being around the other racers and fans. I hadn't raced there since 2000 and a lot of people were pumped to see me. It was a double-edged sword because it was a lot of work being the promoter and the athlete was hard work. I took the series with pride and tried to make it huge and big for everyone. If the track wasn't what the other riders wanted, I was right there front and center to try and make it right. I was the go to guy.
Normally I'm the athlete complaining and I saw the sport from a little different angle and look at things different. As a rider, you do question why some promoters do the things that they do but I now see that they have a reason, maybe they're not even happy about it but for safety or whatever else, it has to be done. My series over there helped me see it that way. One of the tracks we had, it was real small and we had to be twelve meters away from the fence, not the fans but the fence. So you learn things like that and go with it. I might not have understood it before, I learned a lot and got to know my mechanic, Mike Gosselaar better also. If we were in California, I might not have been able to hang out with him as he would've been in the shop working away all the time like you mechanics do. So I think in an evioroment that was fun and relaxed, it was good and I felt like I was ready to come into the season 100% ready. And this year is isn't going to be any different either, the bike is basically going to be the same and I talk about the bike but I guess I don't even have a contract yet! (Laughs)
I plan on staying there though, we need to work on some contracts and I don't really want to go anywhere else.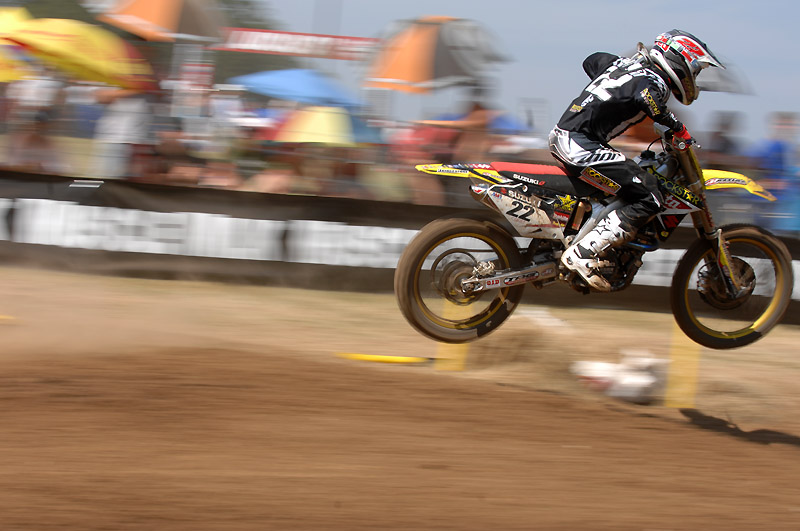 Reedy in Texas at speed. Photo by Stone.
I know there are things that were said and done in supercross and there was also a lot of money at stake but now that it's all over, are you able to look at things a little different and be calmer about it?
Yeah for sure, I'm still pissed at that stuff. I believe what I saw and the reality of what I think happened is what really happened. I'm not the only one out there that saw and heard things. I fully believe that I've been around this sport along time and have watched the incident with Chisholm over and over again to see if I saw what I saw and that maybe I was overreacting. I'm holding onto it, I'll never forget it and I'm moving on but I'll never forget it. It's in the back of my kind and this 2010 championship is going to be a fight. I'm going to carry all the craziness of the '09 series and bring it with me to the fight. I won the '08 championship without James there and everybody wants to take away a championship away from someone.
I want to beat him and take it back, he deserved the title, he rode hard and won a lot of races. But I want to take it back from him in a fight and not by him getting hurt.
Looking at the season, the Seattle supercross really hurt you and I suppose that would be one that you would want back?
Yeah but Seattle was just really the end result of how I was throughout the mid part of the year. It's just that it caught up with me in Seattle. I wasn't feeling good, I started so strong and then it went to shit. I got kind of sick there and couldn't really eat and drink everything that I wanted to. I had some kind of stomach bug and it affected me. I lost a bunch of weight, it's not excuses they're facts and basically I got away with it in Jacksonville. I've always been a guy that's gotten stronger as the race goes on but this year that happened more than a fair share of times. It s really disappointing to not be able to run the pace at the end of the race, that's not normal for me. It wasn't from lack of training or anything like that. That's the disappointment for me of the season, that I had to deal with that. None of my results or my riding really bums me out, I really thought that was what my biggest issue of the year. Unfortunately, I'm seeing this problem spill into the outdoors and I'm not pumped about that. The second race was a bit better than the first race and I'm working with the doctors to get it sorted out. I'll have my finger wrapped around it soon and then start going for the win.
Let's talk about the decision to race the motocross season, what went behind it?
I guess my Australian series taught me a lot. I had a lot of fun and was around the people that I grew up with racing. I was actually teammates with Cameron Taylor over there and when I turned pro in '98, he was teammate then. It was funny because I was, like, sixteen and he was probably twenty-five, twenty-six and I remember thinking, man what a dinosaur, what an old man! Now here we are, in 2008 and I'm still teammates with him, he's holeshotting me and finishing in the same position that he was all those years ago.
I felt like I did sell myself short as far as the racing goes. Some of the political side of the sport had taken over and being at Yamaha, I think I got worn out. I loved being there as far as the people are concerned but I didn't like some of the things that I could or couldn't do. Suzuki seems low-key and I love working with Roger. They call him 'The Man' for a reason y'know? I don't feel like I have a girlfriend that I have to check in with all the time, he lets me do my thing and get ready the way I know how to. I don't have to justify my every move, he gives his opinion and leaves it at that. He gives you the tools and lets you make the most of it and if it doesn't work out, he hires the next guy.
My old team manager is kind of like the guy you have to talk to all the time and that drains you and takes up a lot of your time. But anyways, I'm back and having a lot of fun and chose to come out and race.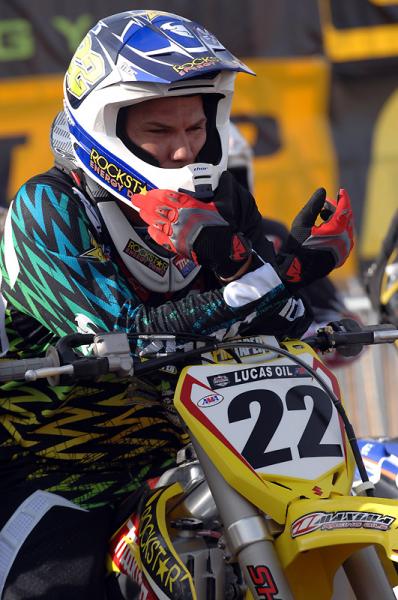 Chad ponders what life would be like on the water in Florida. I think
he deserves major props for coming out. His decision might just
get him a title that he's always missed out on. Stone photo
So we're a couple of races into the outdoors and you've had your work cut out for you with bad starts and eating some roost, are you still having fun?
I really am. Serious. I expected to come in and do well, I've been on the box a few times and I know the kids are fast and know how to ride. It's a long series and a lot can happen between now and the end. Really, I'm stressing kind of. Everyone around me is getting used to me racing motocross and I still think roger and some of the guys on the team question if I really want to be here.
I really questioned it as well.
Yeah, you too! Everybody wants to question it, I got off the plane from Australia on a Wednesday and showed up at Glen Helen on a Thursday. It was hot, crappy, dusty and I have a smile on my face. I kind of look at the track and say that 'it's not my favorite track' but it's what I signed up for. I'm committed all the way. All the guys are like, 'Don't you wish you were on the boat or jet-skiing' and I'm like nope, this is what I signed up for. I've been there and done that and I want to focus on racing and winning. Some of the kids are getting a little cocky and it's time to bring them down a bit now. I'm going to try.
I really believe that when you were racing outdoors the last time against RC and KW, your steel framed YZ450 was not as good as the Honda's and now you're going to have an equal bike. You agree?
Oh yeah, for sure. You were there then and people have to respect that. You were working on those bikes and that plays a bit of a role in why I'm back. I feel this bike is one of the best ones out there and that it's going to be fun to ride. I knew the first two races were going to be tough but I really believe that I could've won but I'm not heartbroken that I didn't. I think at both races I proved that I was fast but I just didn't pull it off.
I'm third in the points and nineteen behind (Mike) Alessi and it's the outdoors, anything can happen. I have to work on my starts and my first ten minutes. I feel good and I feel like my speed and technique is coming around, the pace of the guys didn't surprise me or anything. My feeling for the track when it's wet and nasty is what surprised me. That's what I lost in all that time away.
Like you don't trust your tires or your bike to hook up in certain spots?
Yeah, exactly. I feel like my ability to see what it is and trust it is what I lost. I don't think that is something that I've ever been strong at actually. So it's not too bad really, racing these outdoors is going to make me a better supercross rider next year as well. I'm going to get practice in that area! I can bring it next year and win when it's wet or dry. My decision has a lot of reasoning behind it and it's a matter of putting my head down and make something happen.
Before Glen Helen, I tested twice and spent ten days at home and in no fashion was I at home training and getting ready for the outdoors (laughs). I was not pounding out motos like the other guys but that's going to my key at the end, I'll be into it at the end. I feel like these kids don't have a clue how to train and that I'll get them when we crest half-way point of the season. That's where my training will come in.