Live from Germany, it's Saturday night GP stuff!
Live from Germany, it's Saturday night GP stuff!
If you're reading this and am surprised I'm in Europe attending the German Grand Prix at Teutschenthal please don't take great offence to this but you're kind of an idiot. Y'see, that would mean you don't read Racer X online and why the hell would you read Pulp and not RXI? I've been blogging on RXI all about my adventures and unfortunately, the adventure is coming to an end here. One last monument to check out (a TM), one last ancient artifact (DV-kidding) to see and that would be this weekend's Grand Prix.
My travelling buddy, Alan Brown and I made our way to the countryside and came up to the track which looked like it was pretty cool. We got our passes squared away and dropped our stuff off in the media center, then headed on out to see what was going on in the world of grand prix motocross.
We walked around for about five minutes before we came upon Le Cobra, David Vuillemin and that was the end of our pit walk for a while. We caught up with him for about an hour or so, DV12.com is a good dude and was interested in what was going on back home and filling us in on what's going on there. There had to have been about 249 laughs in the hour also as David is not shy with his opinions and thoughts about other riders and teams. He's one of the good guys for sure. His teammate Gauthier Paulin is currently second in the MX2 class and DV says he's looking for a ride in America next year. As a matter of fact, some teams have contacted him already!
After we left there, it was time for timed practice at which point Alan and I took advantage of our pit lane passes and climbed up to the second level to check things out. This is kind of a cool deal because the riders are pulling in and out of the staging boxes and their spare bikes are right there also, you can really get up close to the factory bikes. One thing that struck me as odd was the fact that there were a lot of teams with really trick bikes. You know how, if you want works parts in America, you better be riding on one of the big five? Not over here, factory Honda stuff abounds on CAS Honda and Martin Honda. Kawasaki has three teams with cool bikes, KTM has about 7 million bikes that are all outfitted with the best stuff, Yamaha and Suzuki seem to have one team each (Rinaldi Yamaha and Geobors Suzuki) but they also have some MX2 efforts as well.
So after practice we hung around just for a bit before the qualifying races began which don't really mean anything but I suppose the fact gate position is up for grabs is something. That might explain the little intensity I saw from a lot of riders today. I mean, are you really going to kill yourself and T-bone the dude in front of you for the all-important seventh gate pick instead of eighth? The MX2 points leader, Marvin Musquin just switched teams from a privateer Honda to the factory KTM and he went wire to wire in the MX2 quali. As a matter of fact some dudes were telling me that the switching of teams is going to go before the courts and poor old Marvin might be forced to honor his contract and go back to the Honda team. I heard he was making no money there, just expenses and took the KTM deal so he could eat. I suppose we'll see.
In the MX1 class, Max Nagl who won the last GP and happens to be a German, took off early on and had the crowd going nuts for him. They were leaning over the fences, waving their schnitzels and eating their flags (maybe I have that backwards?) trying to urge him to victory. But it was not to be as slowly but surely, Antonio Cairoli chased him down and passed him on the second last lap for the win. Again, all these dudes were fast but no one looked to be going flat-out on the track.
Let's talk about the track. I thought it looked super cool with the big table-tops and racing in and out of a valley but by the end of the qualifier it was turning out to be pretty one-lined and rough. I asked DV and Josh Coppins if they were going to groom it and they both just laughed at me! So as it is now, it's rutty in some spots, dry and slick in others and doesn't look very fun to race on to me. But it is a great spectator track though as everyone looks down on the track and you can see a lot. The MX2 class surprised me with their scrubbing and hard charging American style, the MX1-not so much. Even DV looked to me to have lost some of his trademark Cobra style. I'm sure we'll see tomorrow what everyone has got.
Oh and by the way, even though I'm 5000 miles away, don't think for a minute that I didn't get the royal treatment with food. The Martin Honda team served us a great Italian meal with a little smoothie machine set up at the same time. Oh yeah!
Here's some pictures and look for a full report next week sometime.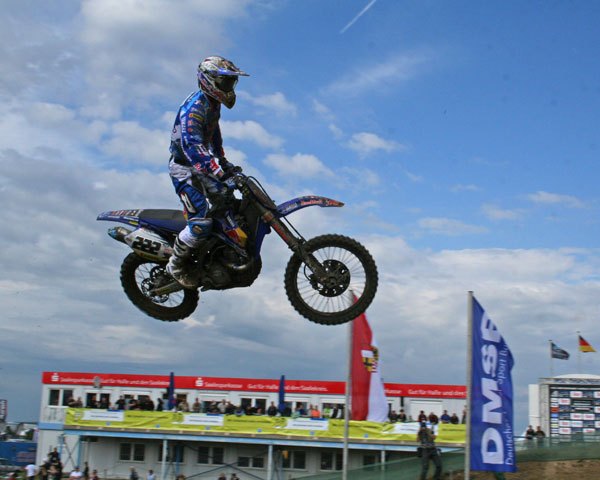 Antonio Cairoli looked to be the class of the MX1 today. He wasn't as hyper as I remember him in Budds Creek. He just wore the comp (in a nod to the always laughable Alessi Weekly) down and moved by Nagl late in the race. His bike isn't as trick as the Rinaldi's but seems to be working well for him.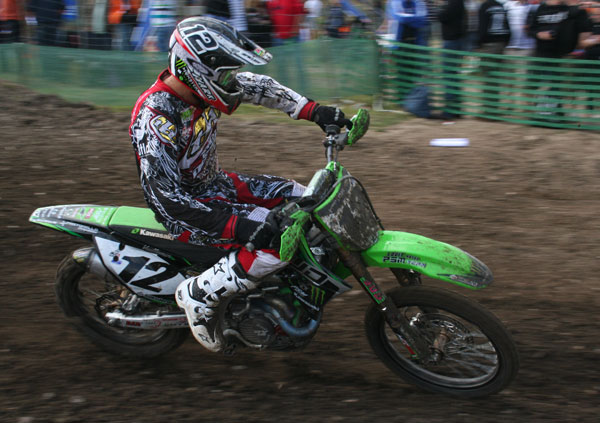 DV12.com. That's cool that he got to keep the number, DV smashed his foot in the qualifier today and just kind of rode around. He's got a jacked up finger also but as you can see from his front plate and fender, he wasn't up front.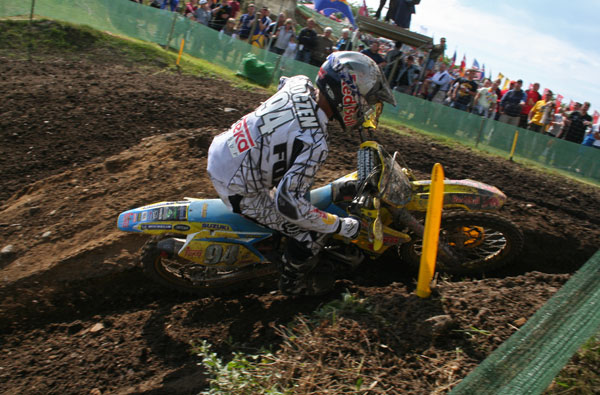 This kid was good, forced to miss the first four GP's because he was only 14, Ken Roczen turned fifteen and despite missing those races, is already in tenth in the points. He's got a good future in America according to some who know. He finished second in the qualifying race and rides very aggressive.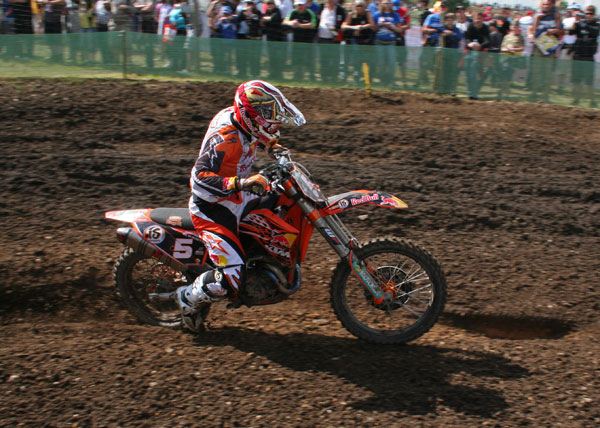 Here's Max Nagl, the German hope. Following in the footsteps of Pit Beier and Rolf Something or another, Max is trying to be the next German star. I can't imagine all the beer that will be drank in his honor should he win tomorrow. Actually, the beer will be drank anyways. ** Note-this is actually Rui Goncalves as I am an idiot and didn't notice the number plates.**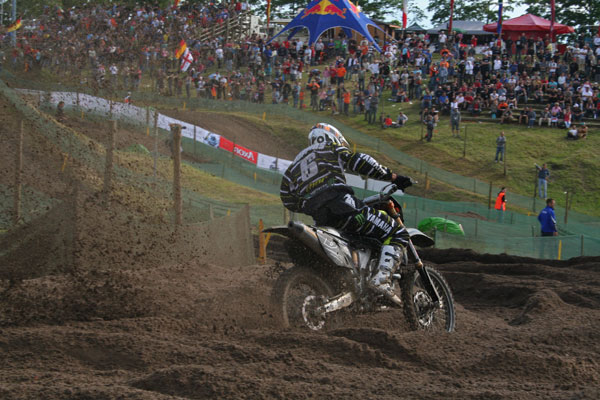 Here's Josh Coppins, he made some mistakes and dropped back to sixth in the quali race but looked to pull away from his teammate David Phillipaerts and up on the front back pretty easily. He could win tomorrow. After the race I sat with him and we shot the shit for a couple of hours, he told me a few very interesting things. The Lizard is in my top six or seven favorite riders.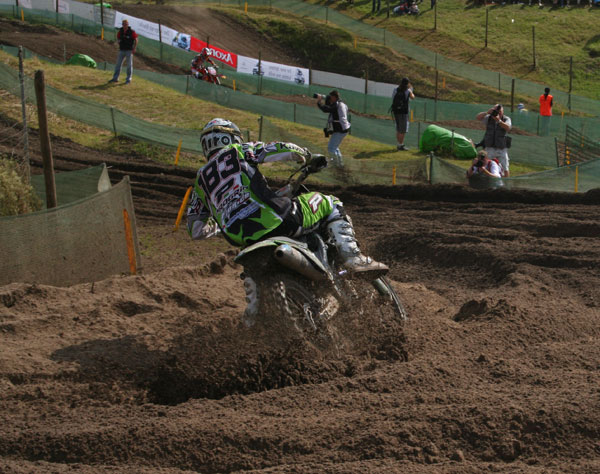 This guy impressed me in the MX2 class, actually about half the country of France is currently racing in the MX2 class and they all haul ass. This is Steven Frossard and he was third in MX2.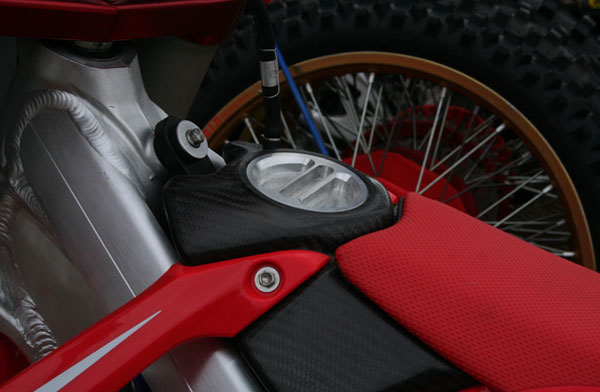 Ahhhhh, the Grand Prixs. Maybe I'm jaded because I've been around and worked with all the cool American stuff but you just get to see the trickest shit over here. This is one of those things, a carbon gas tank with this gas cap.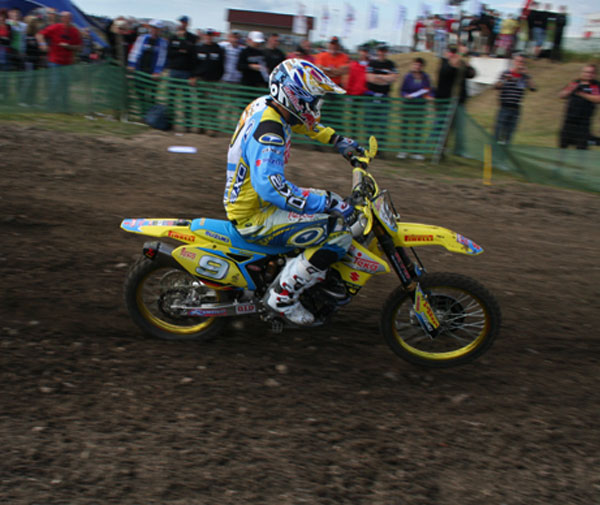 Even though this is a shitty picture, I had to put a shot of a giraffe racing the Grand Prixs. Ken De Dycker is a massive man.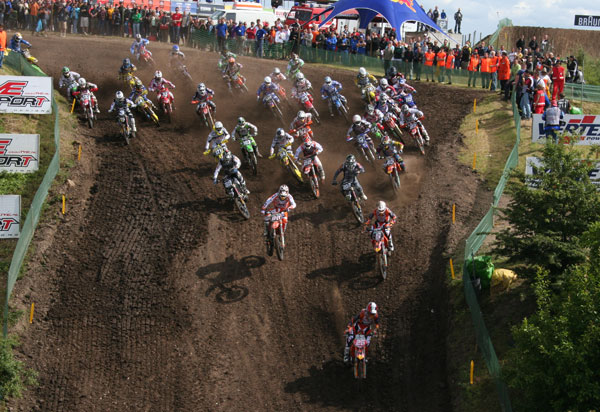 The start of the MX2 race. Marvin "The Martian" Musquin wouldn't get a speck of dirt on him as he led wire to wire.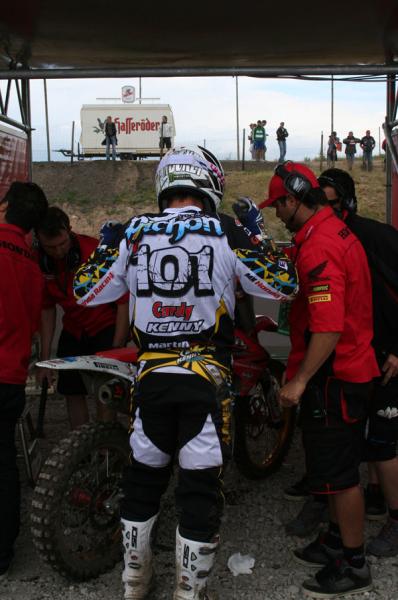 The prodigal son returns. Fresh off the couch, Mickael Pichon
is on the last of his three race deal to help out Martin Honda. He's
still got it in case you were wondering.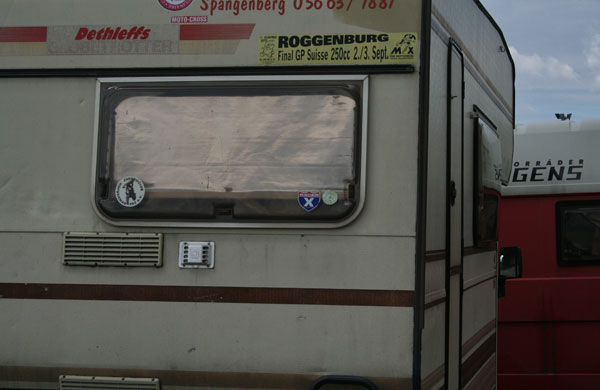 I'm in Germany and I can still spot the shield.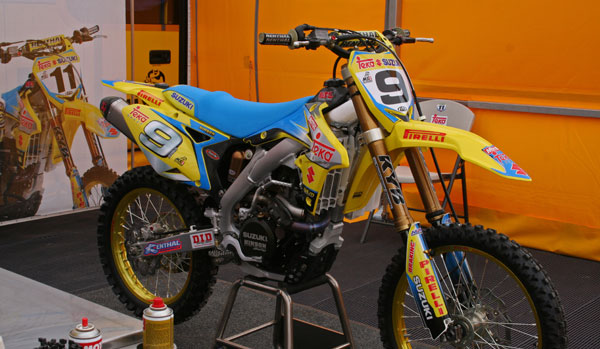 I think the Suzuki's were the trickest bikes, I got up close and personal with them (thanks Wobbles) and they have a ton of super cool trick parts on them. Rumor over here is that Teka, the sponsor might be showing up in USA next year. They make kitchen cabinets I think.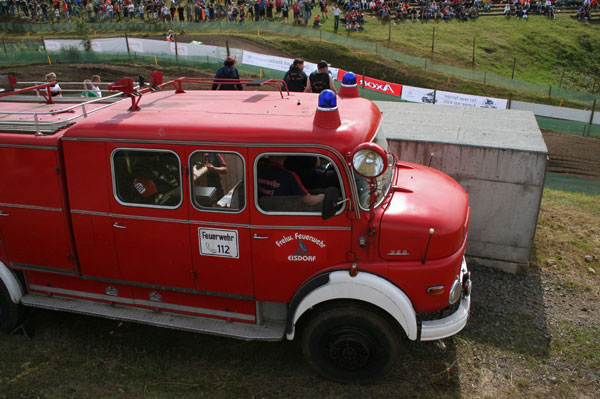 The firemen were ready. How much you wanna bet this thing has been sitting at the track since the war and doesn't run?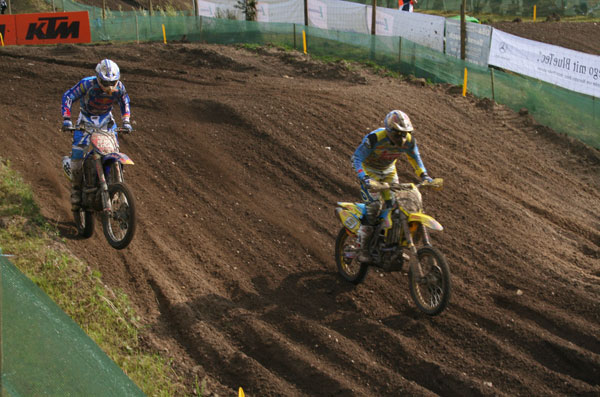 Here's Cairoli moving in for the kill on De Dycker. He would just slowly chip away at these guys until he won.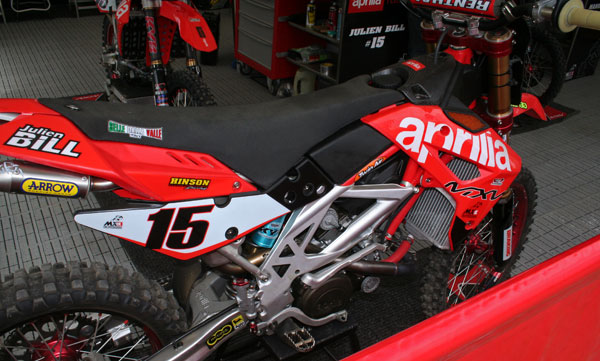 The Aprilla's were cool and different looking but apparently not very good. This guy is Julien Bill and he finished 11th. Nice number!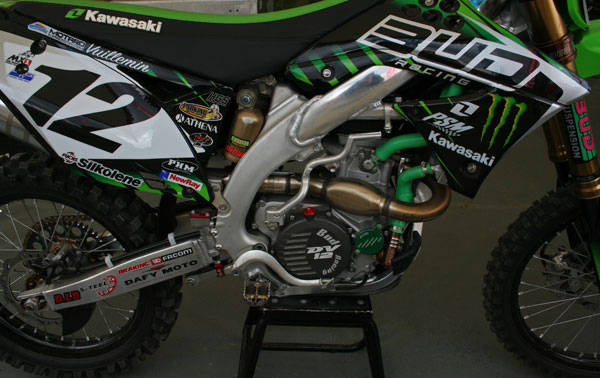 A side shot of DV's bike, he gets a custom clutch cover. BUD Racing is a French distributor that imports Jerry Lee Lewis movies. I'm kidding.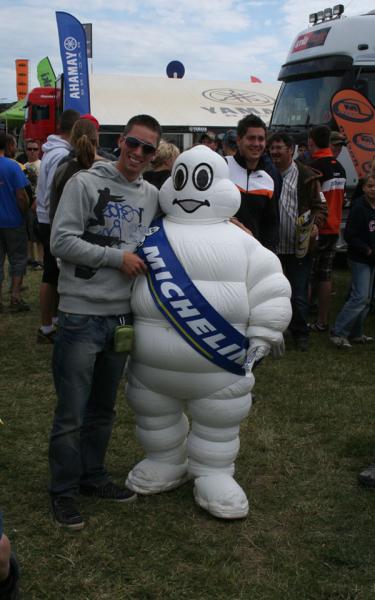 There were more people around this guy than half the teams.
Oh those crazy Germans.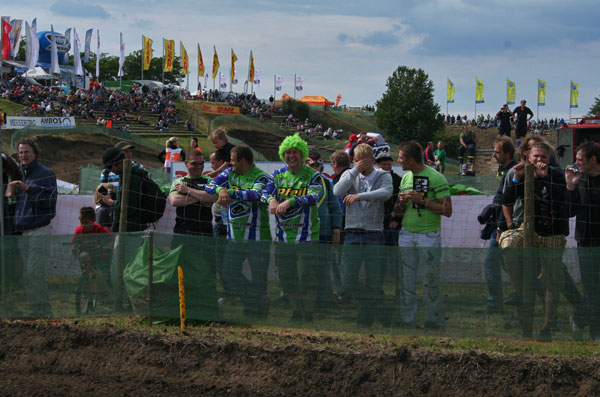 The green brigade was out in full force. Team Pfeil is a local German Kawi team that JSR used to ride for.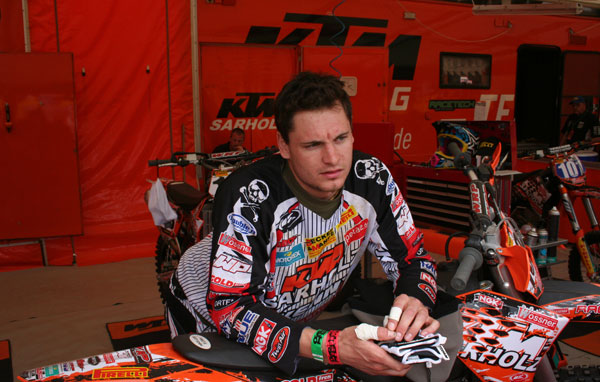 The Hungarian Warrior, Kornell Nemeth fresh off his second moto second two weeks ago in Kamloops Canadian National is looking forward to the sand of Gopher Dunes. He struggled a bit today but says that when Nagl races at home, he can keep him in sight. So he's better than what he showed today.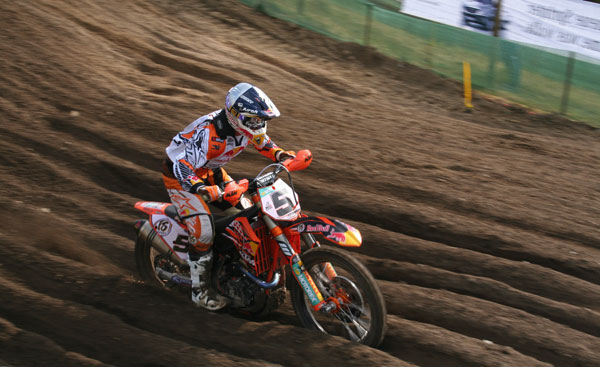 Another shot of Nagl. He has the crowd behind him and if you look at the Rocky movies, you can see that's never a bad thing.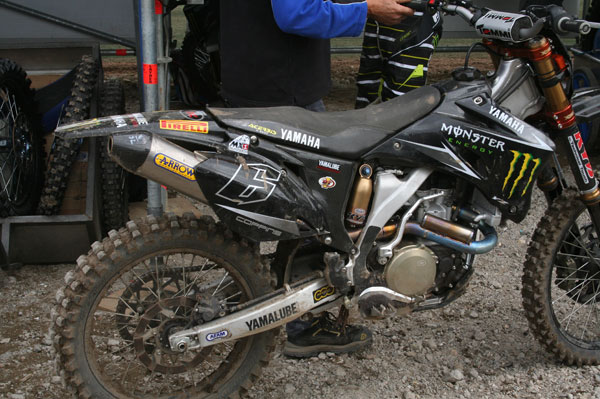 The sound is 94 DB and the Rinaldi Yamaha's are forced to run this mega-long muffler to meet it. These bikes are sweet, I love that one piece carbon subframe/airbox.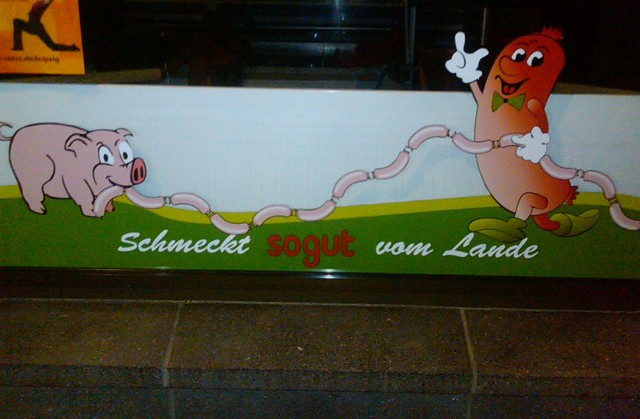 What better way to end this photo report than with a pig and a giant weiner holding sausage links? I just can't think of anything better. Uhhhh Mr Pig? You're going to be those links soon, I wouldn't be so pumped if I was you.