Read all about it here…
Read all about it here…
Well we're halfway through this little series called the Lucas Oil AMA Motocross Championships and, for the first time in a while, we really don't know who's going to win either series. There has been seven first time winners out of twelve possible and the 450 class in particular seems to have a new hero each week. I thought it would be fun (although I'm sure the riders won't think it is) to go through the points standings in each class and talk about that riders season. This is just my opinion, it doesn't make it right and if you disagree, well that's cool and write me at steve@directmotocross.com and tell me why. Thanks to Carl Stone for his bitchin photos.
1- Chad Reed 240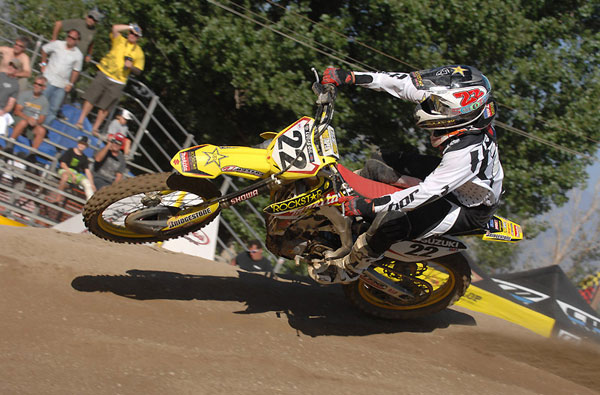 I thought Reedy would be more dominant and have more than one win at this point right now. I know for a fact that he's got some real stomach issues and has trouble keeping food down. No, I haven't been there to see him throw up or anything but that's what I've heard from good sources. A dominating performance at Mt Morris showed everyone what he can do. He's still the favorite to win this thing and if he has to do it with just two or three wins and be his usual consistent self, well, that's fine. I'm glad he's racing the outdoors and it's amazing that Mt Morris was his first ever 450 win. Right now, Windham is reading this saying, "Uh yeah, tell me about it."
2-Andrew Short 219
With all these first time winners (Alessi, Grant, Reed, RV and Tedesco) you would sure as hell think that Shorty's number is going to come up pretty soon. A real fighter, he's not going to make anything easier and whenever someone tells me he should be better, I think back to something he's told me a few times and that is- he does everything he's supposed to as a pro rider, he trains right, eats right, rides his balls off and maybe, just maybe, his ceiling has been reached and he needs some things to happen to win a race. He's giving it his all already…no matter, I really like Andrew. He's a good dude.
3-Ivan Tedesco 200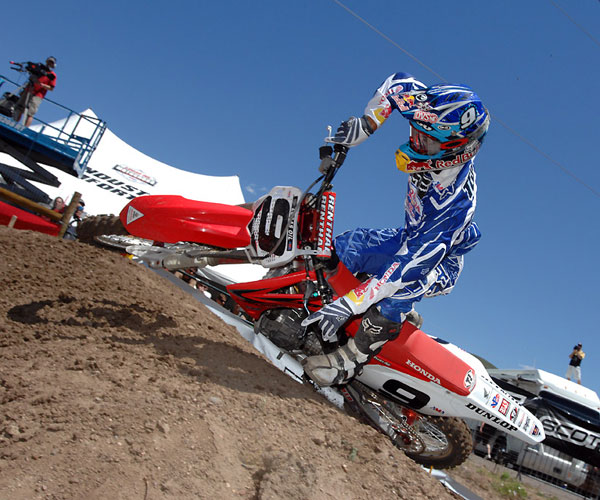 I'm telling you people, IT9's Lakewood race is right up there for me in greatest unexpected rides I've ever seen. It was just a dominating day and we all know RC, Stewie, KW and all those types of guys can win and dominate certain races but when Ivan pulls of a race like at he did at Colorado, well, that makes him one of the guys that can win this title. I've been saying since Hangtown that he can do it because a real big thing with champions and winners is the ability to look back and know that you've done it before. Ivan can do that.
4- Josh Grant 198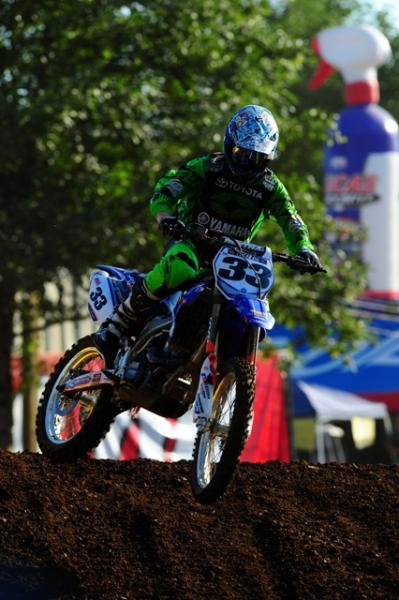 Well this little JGR/Josh Grant thing is working out pretty well, wouldn't you say? Just an amazing rider to watch as he throws his bike around in the air effortlessly, Josh is really putting in the work and showing that he's in shape and can ride a 450 for 35 minutes. A complete surprise to me, it's awesome to see another guy in the mix. He could win this thing and wouldn't just be an amazing story?
5-Michael Byrne 145
Byrner came into the season hurt and has been off the lead pack at most races but he's right there if one of the top four have some problems. Hell, he might even make it a top five pack before the end of summer. Last season he came on strong at the end and he's also riding for a contract as is Tedesco, Wey, Ferry, Alessi and a hundred other guys.
6-Mike Alessi 142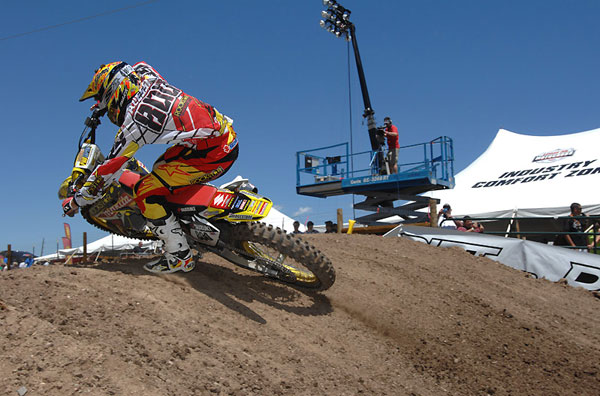 Mike was the class of the field at Texas and won Hangtown as well to make him the favorite when RV went out. I don't know, maybe the motocross gods just don't want an Alessi to win a title after all the amateur hi-jinks they have pulled over the years. You have to feel for Mikey as this was probably going to be his year. The guy is just a starting machine and for that, you have to always count him in every race. That was going to be the hard part for the other guys to beat. Believe me, there were a lot of other riders that wondered why he was riding at High Point just six days before the national as the guys that I spoke to didn't think it was going to help much as the tracks are so different for the actual race. Things like that are what amateurs do and the family can't seem to get away from that mode.
7- Cody Cooper 135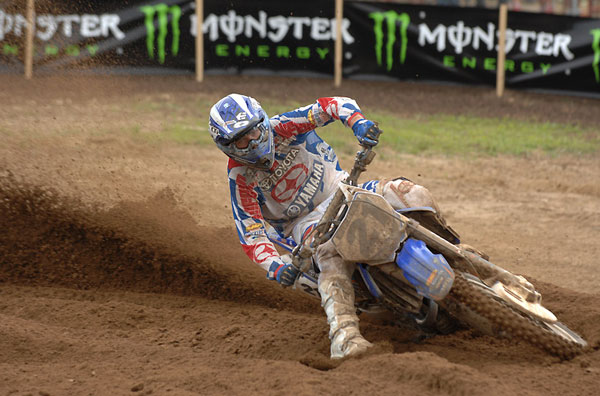 Chicken Coop has been getting better and better lately. I think the Yamaha's all struggled in Colorado due to having a carb. It was too much of a coincidence that none of the blue crew could get up front on the starts but other than that, Coops has been pretty underrated and very good. His best race was this past weekend at Redbud for sure. The other part of having Cody around is listening to all the stories from his team and friends about just how absolutely clueless he is in regards to real life stuff. He just rides his dirt bike and that's about it.
8-Tommy Hahn 123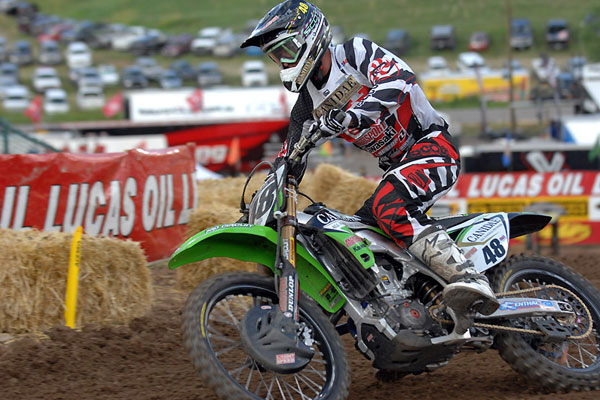 The surprise of the series to me, T-Hahn was a real force in Colorado and was ahead of Cooper and Byrne before having to skip Redbud due to a first moto crash. Tommy has been great on the 450 and too bad for him the factory teams are cutting back instead of hiring new riders because he would be on the top of a lot of team's lists. He's a nice guy as well and seems to be coming into his own this motocross season.
9-Ricky Dietrich 119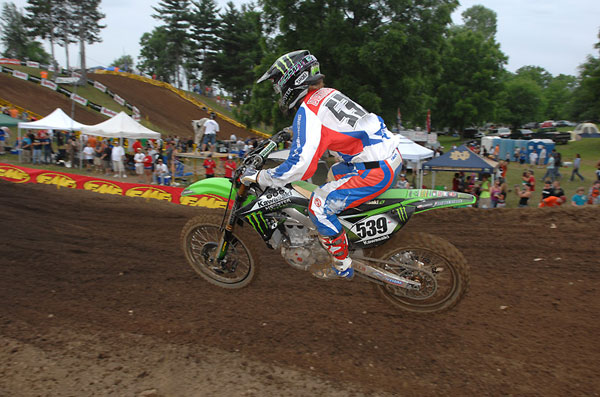 Ok, maybe this guy is the surprise of the series. The WORCS rider was a strong eighth in the first 450 moto of the year before getting a flat and having to slow down. He eventually ended up 12th and that next week, his bosses at Kawi pulled him aside and yelled at him for racing MX because I guess he really didn't ask them if he could. I imagine he was told that he's paid to race with the tortoises and cacti. Then they put him on the team after injuries to RV and Ferry and he responded with a 5th in his first race! One thing about RD is that he won't shock you with his blazing speed but man, he can ride his pace for the entire moto. He has probably passed 329 riders so far in the last five laps. That's Dietrich time! Imagine that, a desert racer that can ride fast for a long time, who'd a thunk it?
10- Nick Wey 101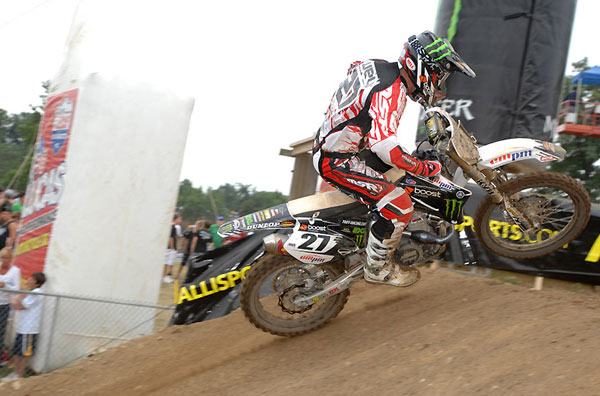 Wey is leasing a JGR engine from the guys there and seems to be getting along with it pretty well. His best race was this past weekend in Redbud and that's no surprise there. NYK is one of the nicest guys to watch ride a bike and tries, really, really hard. Sometimes he thinks too much out there about what his bike is doing. He needs to just turn his brain off and pin it. I've told him this a million times but he doesn't seem to think I know what I'm talking about. And it's quite possible I don't. Anyways, Wey is one of those riders that others look at and admire, he's got nice form.
11-Justin Brayton 99
Justin had a horrible Colorado otherwise he'd be higher up in the standings. He needs a ride for next year as well and look for him to be on a different brand next season. He's had a quiet season with his best moto being a seventh. JB114 is a good rider with a bright future and hopefully he can get up in the mix more.
12-Jimmy Albertson 82
Top Jimmy didn't have a great start to the year but that could be because he was racing Honda's for TLD in the supercross season. He just got his Yamaha's before the season and last year's vunder-kid is getting better and better. He was in sixth in the second moto and probably would've finished seventh OA which would have got me a ton of fantasy points but his piston exploded and that was all she wrote. I don't know for sure but I have a feeling that Jimmy is making due on a shoestring and that's tough to do. He has had his best motos the last couple of weeks.
13- Dan Reardon 68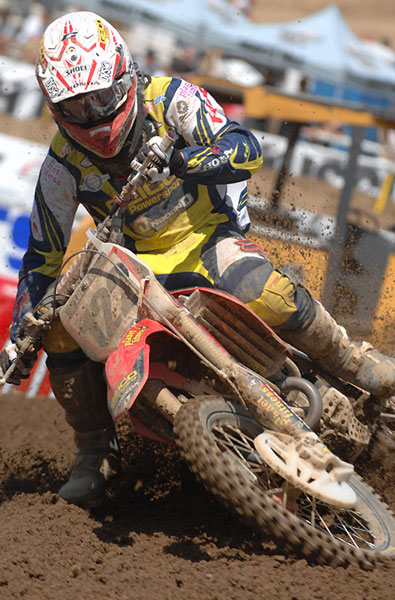 Poor Dandy Dan, he needs a ride as well and was finally coming through with rides that everyone thought he could do when he was hired. Then he crashed hard at Mt Morris and will be out for the season with shoulder injuries. At least we know he's a 450 guy now but I have a feeling, with the tough economy and all, we'll see Dan back in Australia next year and that's a shame.
14-Jeff Alessi 60
Y'know a couple years ago I was pumped on Jeff in sx. He has some real skills indoors and a few years ago I think he was better than Mike at the jumpy-jump stuff. Now, not so much. At this point, he is what he is and that's just a top ten guy maybe and he still isn't in the shape that he could be. That's according to Mike by the way.
15- Ryan Villopoto 50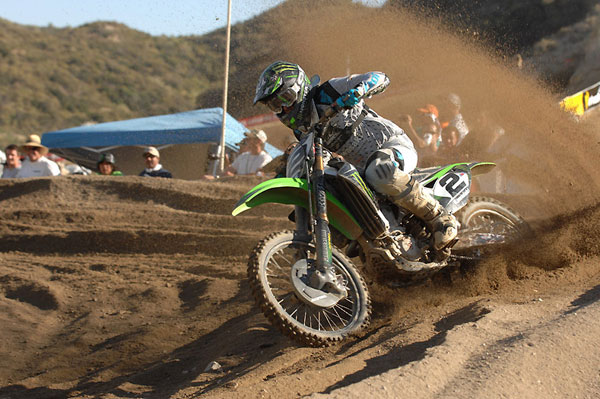 RV had a dominant ride at Glen Helen and really shut dudes like me up that thought he was going to have a bit of a problem riding the 450 like a 250. RV was great at the opener and he had Alessi covered at one of Mike's best tracks. He'll come out swinging next season and will be a favorite. So far whenever I've talked to him he's been really into RC cars. Like, really, really into them.
16- Weston Peick 47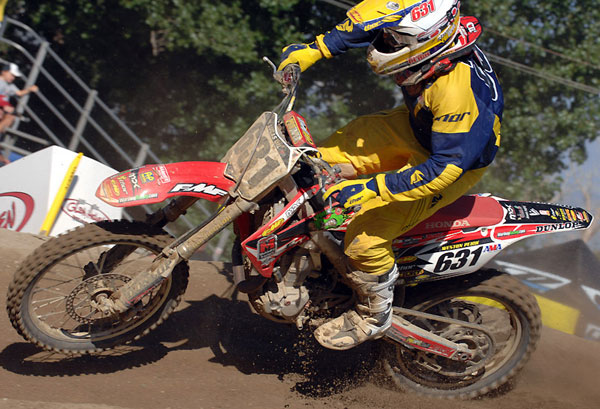 Eyebrows were raised when Motoconcepts hired Weston after his great ride at Glen Helen. A track like no other on the circuit and one that he'd had a ton of laps on. His ninth OA was great and all but the question was, could he back it up somewhat? He did at Texas with another ninth OA but that's been about it for Weston. I'm cheering for him as he represents the "beefier" riders out there.
17-Jake Moss 45
I don't know why Star Racing let him go and he's going to be a good rider in the future. Well, not that he's not a good rider now, but you know what I mean. Jake is a real throttle jockey and isn't scared to get out of shape or just grab a handful. Next year he'll be back on TLD and they are doing the full motocross season so we'll see what he has then. He's been good in limited races so far…
18- Matt Georke 41
Matt always seems to be on the verge of really breaking through and then either the season ends or he gets hurt. I thought choosing to race the 250 class in sx was a bad move as he's proven to be a good 450 guy. This year he had some problems at the opener but had put some good motos in before getting hurt again.
19-Antonio Balbi 41
The Brazilian Bomber is one of those guys that you don't really notice but he can ride, no doubt about it. He's the first real privateer on this list and he's not national number 37 by accident y'know? Antonio can't seem to start up front so you don't really notice him coming through the pack. His best moto was at High Point when he, shocker, started up front.
20-Chris Blose 40
Chris is another good rider that the TLD team has over there. He's been around for a while and hasn't done much but sometimes it takes guys a few years to figure things out.
21- Tyler Bowers 39
I haven't thought much about Tyler since he turned pro. Maybe all the internet hype and some of his past actions left me cool about him but still, he hasn't done what a lot of people thought he could do since he turned pro. The switch may have flipped though as Bowers has now put together three strong motos in a row.
22- Josh Hill 39
What the hell is up with Josh? I don't know but he absolutely is not performing up to what he is capable of. This kid should be right there with Byrne and Cooper but he might be hurt or something. As a matter of fact he HAS to be hurt right now. It's not possible, with his talent, to suck this bad.
23- Davi Millsaps 37
Hopefully he comes back and pulls it together. He's not in a contract year so not sure if that will happen or not. Right now, Davi is, without a doubt, a real mystery out there. So much talent, so little results. I really believe in the burnt out theory, this kid has been a little moto monkey for his whole life and maybe needs to step away to appreciate what he's got. KW did the same thing when he got hurt and it worked out great for him.
31- Tim Ferry 15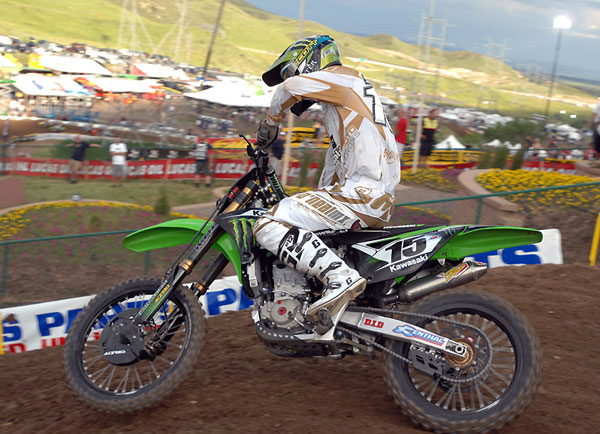 Appropriately enough, the big one-five has 15 points. Ferry has struggled in his two races with no points in two out of the four motos that he has raced in and he's fighting it right now. He isn't confident enough to get good starts and then he makes the race a lot harder on himself when he's literally 30th off the start. He'll come around but you wonder if it's going to be enough to save his ride at Kawasaki. Let's hope he does because I've gotten used to the gourmet coffees and pizza and steaks for dinner.
250 CLASS
1- Christophe Pourcel 255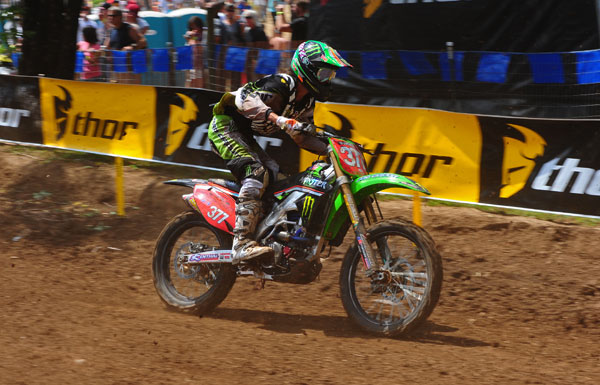 The Frenchman has been getting better and better since the first round and is now on the move towards the title. He is so fast it's ridiculous, to see him cut through the pack in Colorado and Redbud was really, really amazing. He wastes no effort on the bike and is a very cerebral rider. One thing about him that I notice is he's starting to show more personality with the media and others over here. When I was in Europe I had more than a few people tell me that he was hard to read and can be a real ass but I don't see it. His English is still not there but it's getting better.
2- Ryan Dungey 246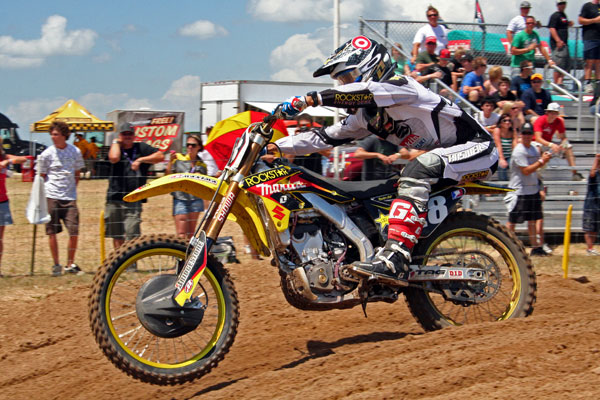 I thought it was telling that RC said in his RXI interview that he thought RD would be doing a little better than he has been doing. One thing is that Ryan can't seem to stay out of trouble on the opening laps or off the start and makes it hard on himself. He's still almost winning the damm thing so maybe I shouldn't be so hard on him. He and Pourcel have yet to really go head to head as well but that will come soon.
3- Tommy Searle 191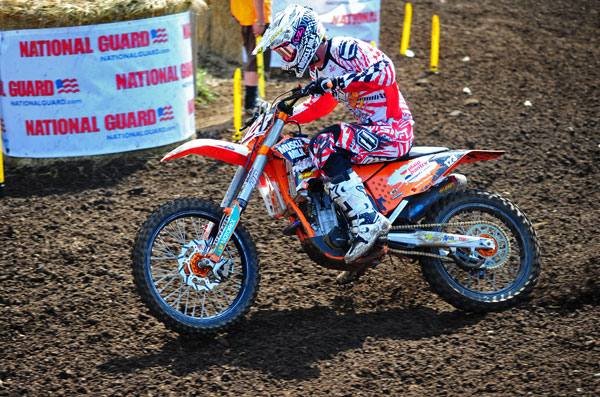 Tommy has gotten better and better and now had three straight 3rd OA's. He's making the KTM sing and he'll be a hot property next year. How can he do in supercross? Who cares, with Dungey out of the class and Pourcel trying to get a 450 ride, he'll be one of the favorites to win the title. Tommy seems to be a real attacking type of rider, a little more American style than his buddy Rattray. Also looks to be in shape as well.
4- Brett Metcalfe 179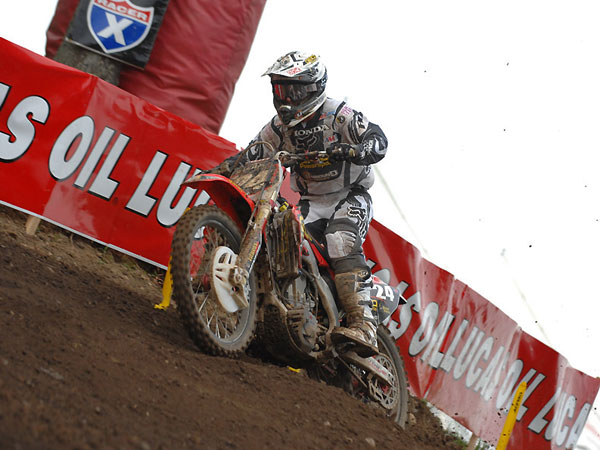 Man, I want Brett to get a win here soon. He was my pick for "underdog guy that could possibly win the title if Pourcel or Dungey both spontaneously combust" and I want him to win a race real bad. I wonder if he falls into the Shorty thing, you know where he's doing all the right things and what you see is a guy riding to his ceiling. Let's hope not as Brett's good people and deserves to get a win somewhere.
5- Tyla Rattray 175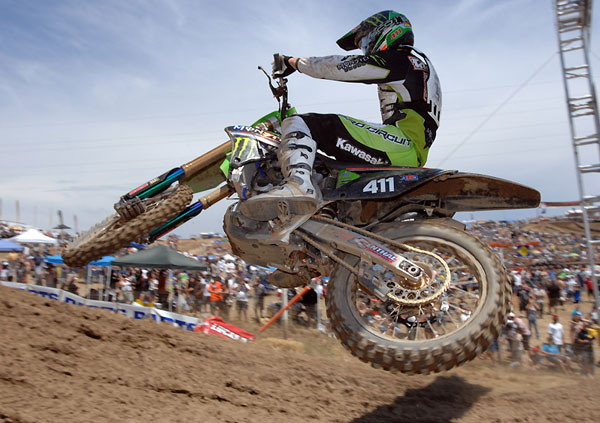 Rattray will be out for a while with a broken thumb. He's been ok but I think a lot of people, myself included, thought he would be challenging for the win here and there. That hasn't been the case at any race this year and he looked to be getting passed by some of the guys that started figuring things out. He's got a deal for next year so I'm sure he'll be better. After all, you don't become World Champion by accident.
6- Blake Wharton 156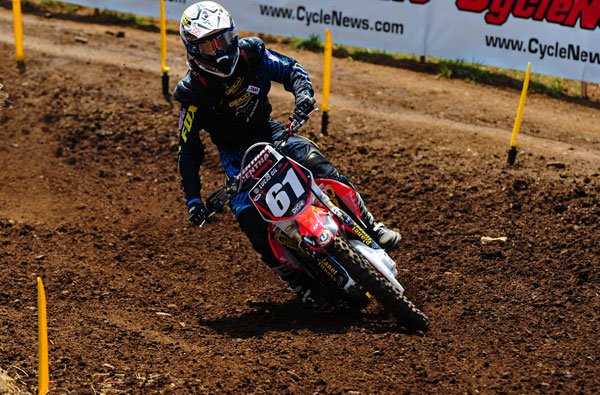 I was actually surprised that Blake was ranked 6th in the points. He's been one of those guys that you haven't noticed much but then at the end of the moto, he's right there. Remember he also won a supercross this year and looks to be one of those kids that have a bright future. That's if the money and the bitches don't get him first. I've always wanted to type those words and now I have.
7- Jake Weimer 153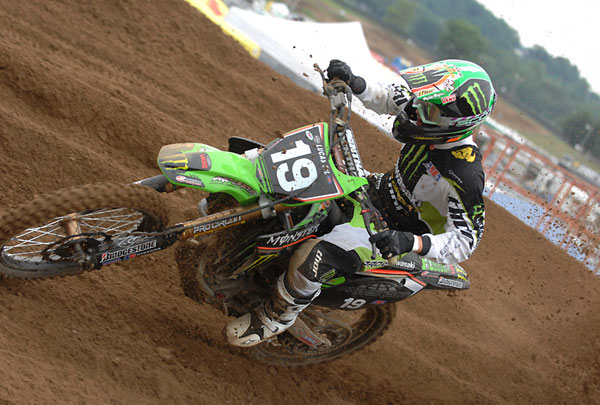 DING! The light went on for Jake and he's a winning machine right now. It's always hardest to get the first win and he rode great at Lakewood to get it. Not sure what happened because he was on the "Biggest Bust" list for his riding at the beginning of the nationals. I think he was one of those guys that just focused on supercross at the expense of outdoor training and testing. Probably because he was in the title hunt and then was behind a bit come Glen Helen. Good for him, his contract is up and he's going to be a rich guy next year.
8- Justin Barcia 151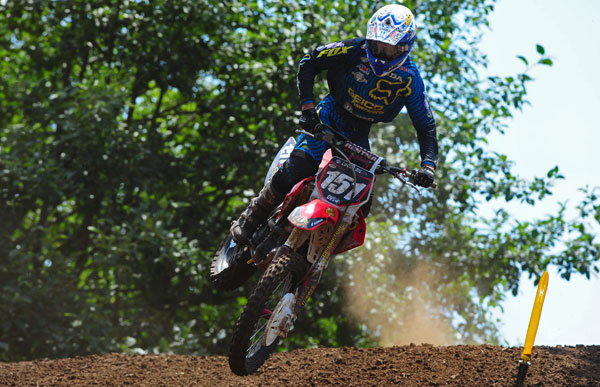 The rookie of the year so far in motocross, "Sugarbear 2" is just a treat to watch out there. He also has 151 points so far. Weird huh? Anyways you know how I was talking about Pourcel and how he doesn't waste much motion on the track? Well the complete opposite of that would be Barcia. The kid just throws the bike around and works his body to the extremes. He got tired at Glen Helen and Hangtown and probably threw a win away. Well, he's figured it out and I think he will win a moto here real soon. This NJ born rider (Weege told me that) is going to be amazing in supercross next year because of the way he scrub-a-dubs his CRF.
9- Broc Tickle 141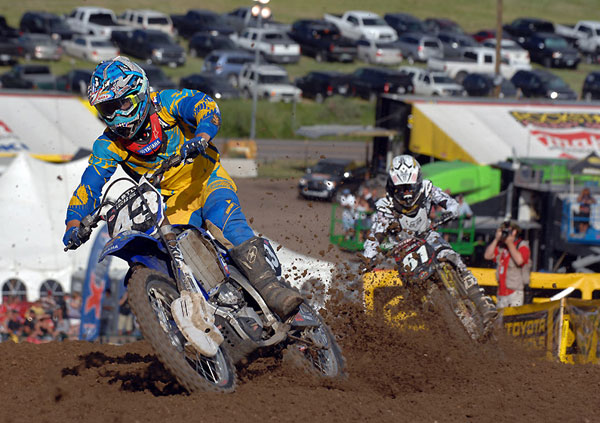 Star Racing doesn't have a whole lot to be pumped on this year but Broc's riding in the nationals is something they can be happy about. He had his worst race at Redbud but has generally been in that 5th to 10th spot almost every moto.
10- Trey Canard 139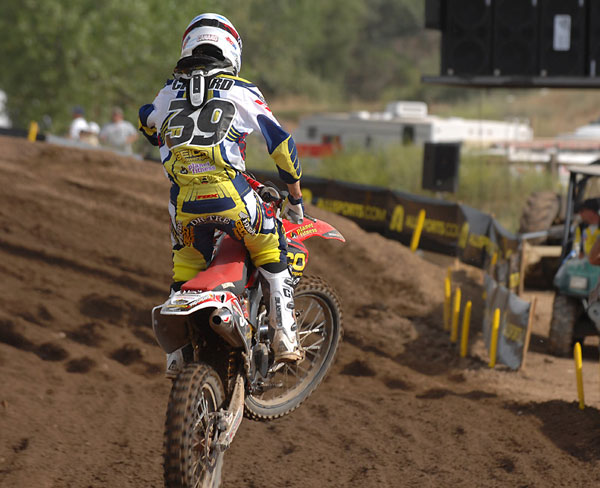 Canard was just coming around and ready to break into that top echelon of guys when he broke his wrist with two laps to go at Mt Morris when he was in position to grab the overall win. Poor Trey but he's hoping to come back for the last few nationals and that's a good thing. His contract is up and he needs a ride but I think he'll end up back at Geico Honda for one year and then onto a 450 ride.
11- Matt Lemoine 99
You watch, Matt Lemoine will be a winner in the future. This kid has some serious skills but just hasn't put it together yet. Lemoine and Durham are so inconsistent that you wonder if they can ever take that next step up. I think Matt has the skills to do it.
12- Will Hahn 89
I thought Will would be better. I'm not sure what's going on with him but I know he didn't have a guaranteed ride for the outdoors so maybe he wasn't testing and getting ready the way he needed to be. I do know that he's way faster than 12th in the points. He was really coming on late in supercross.
13- Kyle Cunningham 85
You think that Cunningham is struggling but he has more points this year than last (I know he didn't race every race but still…) and he came on strong in the second half the season. Let's hope for him that a repeat happens. He still crashes a lot but can go really, really fast at times and now that I think about it, I don't think he's gotten the best of starts this year.
14- Ben Evans 83
The first true privateer in the bunch, Ben has scored points in every moto this year, has never been higher than eleventh in a moto and generally gets between 11th and 13th most of the time. He's a bit big for the bike and is doing it on his own. In short, he's got some things working against him so this fourteenth place in the points is pretty good.
15- Darryn Durham 72
I don't know what is up with Durham. He's got a good bike and is one of the amateurs coming out that got the hype. Usually the Horizon Award winners of the past few years can step into the pros and do some damage but him and Larsen seem to be more like the mid-90's amateurs where it takes them some time to get into the deal.
16- Max Anstie 65
I know that Max jumped into the pro class to duck the new age rules that are coming in and I'm thinking that, although he may benefit in the coming years, he's not ready to race at the front yet. Although his one moto at Redbud was very good, outside of that, he hasn't done much. You have to be careful in the pro ranks, if you get beat down early on it's hard to rise up from that. Confidence is critical in a young racer.
17- Steven Clarke 52
Clarkes coming off an injury into the outdoors and has just been there filling in the spot. He'll be good at Southwick and it's funny to me that there is three Englishman in the class.
18-Sean Borkenhagen 47
Sean is doing it on his own as a privateer at the rounds that TLD isn't going to and that's admirable to me. You would like to see him do a little better than he was doing last year as he's on better equipment and seems to be doing about as well. Cool that the kid loves racing so much he's willing to do it out of a van.
19-PJ Larsen 43
Like Durham, PJ has just been there riding around. He's fast but just never made you go "WOW, PJ LARSEN IS ON IT!!!" and now he's got a broken wrist and we won't see him for a while. Still too early to judge him on what kind of pro he's going to be.
20- Austin Stroupe 34
Stroupe was one of my favorites to win races and maybe, if the top two guys imploded, win the title. He's seriously pretty fast and talented but wasn't showing it early on before getting hurt at Hangtown. I'm not sure if he's focused off the track as well.
22- Martin Davalos 28
Martin, by all accounts, is a nice guy and deserves credit for making himself into a top rider but I'm afraid his window is closed. He won't be that guy anymore that can win, there are too many fast kids coming up through the ranks. Still, he's run up front in two of the last four motos and he honestly surprised me at Redbud but it was cool outside.